Posts Tagged 'sally fitzgibbons'
SCOTW
We promised to show you what newbie sailor chick Sally Fitzgibbons had to say to our Senior Editor yesterday, and here's your delivery.  Big thanks to Land Rover Sailing, the Extreme Sailing Series, and the M32 Series for helping us put this short shoot together.  And a huge shout out to Petey Crawford for working overtime to convert some shitty iPhone video into something pretty – Sally's looks certainly helped that, and she'll be our Sailor Chick of the Week at least until the Hobart!
Learn more about this awesome athlete (and check out lots of bikini pics) over here.
December 11th, 2014 by admin
The first day of the first-ever Sydney stop on the Extreme Sailing Series tour was called off today just minutes after a press conference which highlighted the fact that they'd only lost a couple of days in the entire history of the event.  Ironic, perhaps, but Mr. Clean didn't care; he got to watch 23-year old top pro surfer Sally Fitzgibbons bounce around on an Extreme 40 and then grabbed 3 minutes on video with the ridiculously cute sailor chick.  As we reported last week, she'll race to Hobart on the big Loyal, and you can hear more from her on her sailing history, how she's preparing for the Hobart, and how she likes zipping around on a cat when we publish her video later tonight.  Sexy shot from Mark Lloyd; live video from the Extremes begins tomorrow at 1530 local.  We give up on trying to calculate what that means everywhere else!
December 11th, 2014 by admin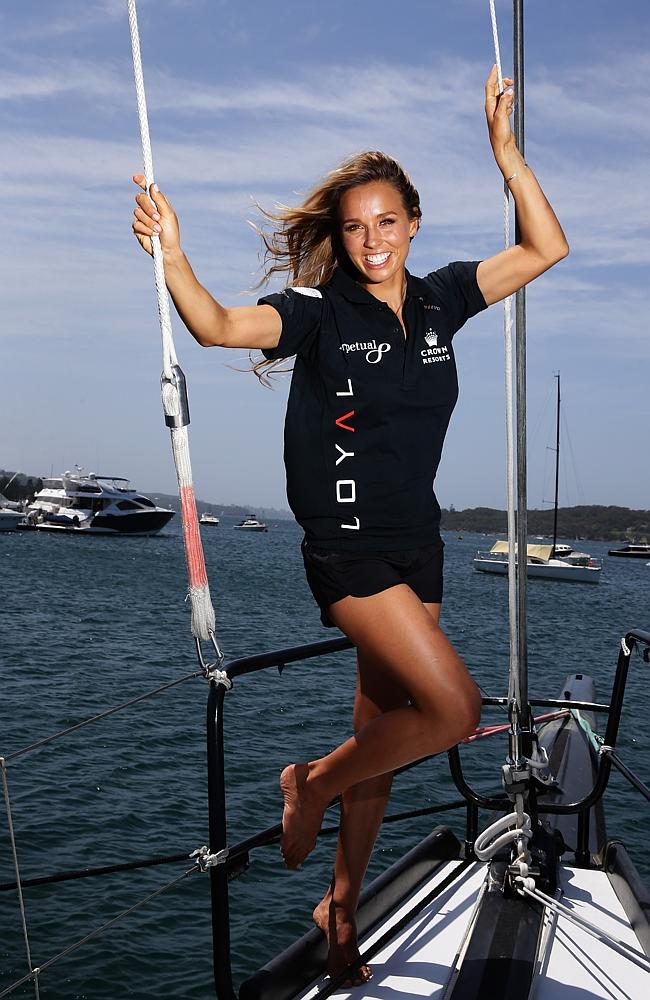 Sure, Wild Oats XI has only been beaten to Hobart twice, and her skinny bottom means she's one of the best all-rounders ever built for the coastal races she was created for.  And sure, Comanche has Stan Honey, Jimmy Spithill and Kenny's entire Puma Team, and a design that should be faster than the once-frightening Perpetual Loyal (ex-Speedboat).  But Loyal has several secret weapons – among them Sydney supersailmaker Michael Coxon and a brand new kite said to be 'the biggest spinnaker ever built'. Plus, they have a new website!
And then there's this weapon – ASP surfing world title contender Sally Fitzgibbons, who joins Anthony Bell's charity-driven campaign for this year's crowded Hobart race (remember when Clean grabbed a midnight interview with Jess Watson aboard Loyal last winter?).  She'll certainly add some motivation to the boys, and they'll likely not waste a chance to have another crew hiking and packing kites.  She'll also add thousands more eyeballs – and hopefully, the donations that go along with them – to one of the greatest spectacles in yachting: Sydney Harbour on Boxing Day.  And this year, it might be the greatest ever.  At least until they let the multihulls in.
Lou Reed is responsible for the title.
December 4th, 2014 by admin