Posts Tagged 'sailor down'
Anyone who's ever sailed a regatta at Detroit's famous Bayview Yacht Club has benefited from this man's big voice, bigger smile, and no-bullshit attitude when whipping yachties into action in the boat park.  We'll miss you, Angelo.
In lieu of flowers, donations may be made to the Bayview Yacht Club Junior Sailors program, or the Temple Baptist Church. Please leave a condolence message or share a memory here.
Visitation: Thursday, January 29, 2015 2-9:00 pm
Kaul Funeral Home
28433 Jefferson
St. Clair Shores, MI 48081
Funeral Service: Friday, January 30, 2015
Instate 10-10:30 am with service to follow
Temple Baptist Church of Roseville
15975 Martin Rd
Roseville, MI 48066
January 28th, 2015 by admin
Luna Rossa skipper Francesco Bruni shares a few words with the SAers about a giant in Italian sailing, who died over the weekend after a long fight with cancer. 
Valentin Mankin was one of the greatest people in our sport. He won 3 gold medals and 1 silver in 3 different classes – that's not something that happens to anyone!
My memories of this great man are not only linked to his victories, but to the way he taught me how to always fight for every win. I will always remember him saying: "Do you have a problem with gybes? No problem! Do 10000 of them and you will see that the problem will be gone!" He would wake up at 5am every day and start drawing on dozens of pages all his crazy ideas for the day's training. His scribbles were very difficult to read and understand, but they were obviously the work of a genius.
Val was the hardest worker I have ever met in my life, and if I had just listened to him more and had 10% of his mental strength, I would have achieved a lot more in sailing.
For me and many Italians on the Olympic teams of the past, Valentin was far more than a coach. He was a mentor, he was a life teacher, and he was a friend. Thanks you Valentin! You will always be in our hearts!
June 4th, 2014 by admin
Deneen Demourkas took a minute from her regatta to share some thoughts about a tragic accident yesterday; we're pleased to report that Flavio Favini's doctors are optimistic after a long day of surgery to fix many of the serious injuries he suffered when his balcony collapsed on Wednesday, dropping the well-regarded pro racer some 30 feet to the ground below.  Flavio's not out of the woods yet, and we want to add to Deneen's thoughts and wishes for a rapid, complete recovery.  Flavio is one of the best human beings in the sport; a consummate professional with a huge smile and generous heart, and one of the most ethical, honest sailors you could ever hope to race with or against.  Feel the love, brother.
Here's Deneen, from Groovederci's Facebook page:
Flavio, from the first day I met him when starting my sailing career was always kind, always generous, always a friend. I have watched his children grow, his career soar… a lovely man, a truly lovely man, one hell of a sailor. And now, I ask that you join me in saying a prayer for him and his family. Flavio, I love you, you are one of my biggest heroes and I can't imagine not having you on the starting line. The entire Groovederci team are thinking of you and your family, sending our love to you and your family with wishes for a fast recovery and looking forward to your schooling us once again on the race course. God's speed caro amico! Groovederci will dedicate this week to you, your family and your recovery. Keeping all of you close to our hearts.
April 3rd, 2014 by admin
We have learned that surfing and sailing Legend Hobie Alter has passed away in his home yesterday. A sad day for all of of who have indeed surfed or sailed on something with a Hobie Logo on it.  And really, who hasn't?
Hobie was an innovative and dedicated pioneer in surfing, and  he did much the same in sailing, in both cats (Hobie 14,16) and monos (Hobie 33).  He'll be missed by many, but the legend lives on every day at a beach, wave or marina near you, and we encourage you to share your condolences or stories in this thread.
Back in 2009, we had the privilege of doing the only long-format interview anyone had done with Hobie for a couple of decades; it's a three-part, wide-ranging interview that will help you reminisce…from the 2009 "Coolest Cat" thread.
March 30th, 2014 by admin
In life, if you are lucky, you will meet a person who changes your life; someone who takes you under their wing and helps you to be a better person; someone who makes a difference.  Today we lost one of those people, today we lost Hans Fogh.  My condolences and thoughts are with his family as they mourn his passing.
Hans touched the lives of many people, sailors and non-sailors alike, all over the world.  His sailing career was impressive with many Olympic appearances that included winning a silver and bronze medal; America's Cup; World championships wins in Flying Dutchman, Soling, Etchels and many local championship wins in a variety of classes.  I was fortunate enough to have raced with Hans in Solings, Stars, as well as on my 8 Metre.  I was also fortunate to have worked for Hans for many years where I learned many things about myself, things that Hans could see and helped me to realize.  "Do it right, and do it right away." was what Hans would say.  "There are no such things as problems, only solutions" was another saying of his.  Those of us who called him friend also know many of his "Hansisms" for which he was famous.  Many of us would try to immatate him and in our best Danish accent,  "Once you have boats speed you have nothing to worry about!" is always the first one that comes to mind.
I will remember Hans as a person who made a difference in this world; he made a difference in my life and I will be forever greatful for what he taught me and the opportunities he gave me.
Fair winds and slack tides Hans.  Rest in Peace.
-John Mitchele
Add your thoughts and/or stories about this inspirational Canadian mentor and sailor.

March 17th, 2014 by admin
One of the most important figures in the history of disabled sailing died earlier this week, and while there are piles of stories in the thread about Hugh Elliot's life, we liked this obit from SA'er "flatearth".  Share your own stories or condolences in the thread, and for a truly SA-worthy story about Elliot from "Baygal", click this link.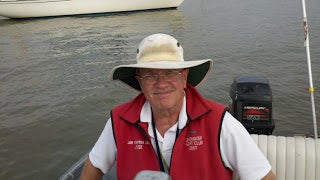 Hugh Elliot had more character then just about anyone I know. While he hung up the sailing pretty much after a paralympic Sonar campaign in 2000, his time on the water didn't slow down at all. Hugh became an International Judge in 2006, and his well travelled and weathered RIB Allegro was usually in tow with him and greatly appreciated by many regatta's as he brought a boat.
When you're a double amputee, the amount of energy required and spent to move around and accomplish daily tasks is enormous. When the judges met at 8:00, you might get up at 6:30 or 7, but you knew Hugh needed to be up at 4:30 to get his legs together and prepared for the day. He went out on the water, never complained, got beat up pretty well and came back the next day.
Every winter he would head to the Tampa/St Pete area and do numerous regattas, but his real joy was that his leg maker was there and he would get a tune up or a new leg.
Hugh had a dry humor, but as a well educate brit, schooled at Eton and Cambridge, knew a good joke and also how to make a bit of mischief.
This past year, I sensed that he was more tired than usual, not at just the end of the day, but in the mornings.  He lived alone and was self sufficient and knew if something was wrong to get to the doctor. He slowed down a bit, but was more than happy to be in Florida as much has he could during the winter months.
He lived up to end, doing what he enjoyed. It sounds like it happened very quickly and he no longer is in any pain.
Godspeed Hugh Elliot,  Godspeed.
February 6th, 2014 by admin
António João Bartolomeu has been identified as the deceased sailor from the dismasted Bavaria 54 Bille.  From Pierre at Vsail.info:
The 47-year old from Angola's capital city of Luanda wasn't a sailing "rockstar". In fact, he wasn't even a professional sailor, his day job being sound technician at the National Radio of Angola.
However, the sea and the ocean were his big passion since early childhood. At the age of 9 he joined the Sailing Academy of the Angola Sailing Federation at Ihla de Luanda. Five years later, he moved to the Vaurien class, a simple and affordable two-person racing dinghy, popular in Africa. He was one of his country's best sailors in the class and had an equally successful number of races in various regattas in bigger, cruising yachts.
January 6th, 2014 by admin
The start of the bi-annual Cape Town-Rio De Janeiro Race may have been warm and ultra-light as the Maserati Turbo Volvo 70's video shows, but the 34-boat fleet knew it was in for a major hammering from a deep cold front and its associated low pressure system at the start.  No one chose to sit out the start and delay a day or two, though many of the boats chose to sail North rather than West into less breeze and easier seas; amongst those that didn't was the Bavaria 54 Bille, which paid the ultimate price; one unnamed crew was killed, the skipper and another crew injured, and all crew have now been taken off onto South African rescue vessel Islawana.  
Various other boats have sustained major damage; rudders, engines, flooding, and we're sure there's plenty more, but at the moment, everyone is accounted for and most of the fleet continues on its way to South America.  As a CAT 1 classified ocean race of thousands of miles, the fleet needs to be able to weather this kind of storm, but questions are already arising about the Royal Cape and whether, with the well-forecast front, they should have postponed the start, as we increasingly see in even the most hardcore of offshore races.  We're still on the fence; a delay can easily turn into a budget-busting, month-long drama like the Mini Transat fleet saw in November and can make skippers complacent about their ultimate responsibility, but it's hard to argue that a human life is worth more than all that.  One thing is for certain:  This race is yet another reinforcement that robust trackers like the Xtra-Link stuff used by much of the commercial shipping industry is no longer an option, but an absolute necessity for any major race; only thanks to the highly accurate GPS info coming off the yachts that Bille could be quickly located in the 8 meter seas that would otherwise make her almost invisible from the water until a mile or so away.
Get in the thread for more info, and hit the tracker for the fleet position or to replay some of the bad parts.  The Cape2Rio Facebook page is the best source for the latest news from the event organizer.
January 6th, 2014 by admin
Please keep your eyes open for Charleston's Ed Brennan, who was last seen at City Marina on New Year's Eve.
This is not the kind of guy to disappear; if you know anything, get in touch with CPD right away at (843)743-7200.
Like any of us who spend our time around boats and the water, we're all just one slip away from disappearing forever; we hope that's not what happened to Ed, but if you can help, please do!
January 5th, 2014 by admin
Larger-than-life Floridian Dennis "Buck" Gillette was a staple in SORC's illustrious history, and a major cheerleader for the new and successful SORC that's come to prominence over the past few years.  Buck loved mentoring kids on offshore races, and had about a trillion miles under his keel before falling off his boat and not coming out of the water at a LYC event at Ocean Reef on Sunday.  Here's a pic exactly the way Buck would have wanted it; enjoying a sail with Mimi at his side.  Our thoughts go out to everyone Buck has touched, and here's to hoping the next generation produces another one like him.  Here are the details about the memorial ceremony, and from the obit:  Buck will be greatly missed by his wife of 54 years, Mimi, his 102 year old father Delno, his children Rex (Karin) Gillette, Sarah (Tom) Fox, Rebecca (Marcio) Pancera and his grandchildren Jake, J.T., and Mack Fox, Max and Cole Gillette, and Tess and Siena Pancera. A Celebration of Life gathering will be held at Lauderdale Yacht Club from 2-4 PM 1725 SE 12th Street 33316. In lieu of flowers please send donations in Buck's name to a charity of your choice.   
Share condolences on Buck's Facebook Page.
December 11th, 2013 by admin