Posts Tagged 'sailor down'
Anyone who's ever sailed a regatta at Detroit's famous Bayview Yacht Club has benefited from this man's big voice, bigger smile, and no-bullshit attitude when whipping yachties into action in the boat park.  We'll miss you, Angelo.
In lieu of flowers, donations may be made to the Bayview Yacht Club Junior Sailors program, or the Temple Baptist Church. Please leave a condolence message or share a memory here.
Visitation: Thursday, January 29, 2015 2-9:00 pm
Kaul Funeral Home
28433 Jefferson
St. Clair Shores, MI 48081
Funeral Service: Friday, January 30, 2015
Instate 10-10:30 am with service to follow
Temple Baptist Church of Roseville
15975 Martin Rd
Roseville, MI 48066
January 28th, 2015 by admin
Luna Rossa skipper Francesco Bruni shares a few words with the SAers about a giant in Italian sailing, who died over the weekend after a long fight with cancer. 
Valentin Mankin was one of the greatest people in our sport. He won 3 gold medals and 1 silver in 3 different classes – that's not something that happens to anyone!
My memories of this great man are not only linked to his victories, but to the way he taught me how to always fight for every win. I will always remember him saying: "Do you have a problem with gybes? No problem! Do 10000 of them and you will see that the problem will be gone!" He would wake up at 5am every day and start drawing on dozens of pages all his crazy ideas for the day's training. His scribbles were very difficult to read and understand, but they were obviously the work of a genius.
Val was the hardest worker I have ever met in my life, and if I had just listened to him more and had 10% of his mental strength, I would have achieved a lot more in sailing.
For me and many Italians on the Olympic teams of the past, Valentin was far more than a coach. He was a mentor, he was a life teacher, and he was a friend. Thanks you Valentin! You will always be in our hearts!
June 4th, 2014 by admin
Deneen Demourkas took a minute from her regatta to share some thoughts about a tragic accident yesterday; we're pleased to report that Flavio Favini's doctors are optimistic after a long day of surgery to fix many of the serious injuries he suffered when his balcony collapsed on Wednesday, dropping the well-regarded pro racer some 30 feet to the ground below.  Flavio's not out of the woods yet, and we want to add to Deneen's thoughts and wishes for a rapid, complete recovery.  Flavio is one of the best human beings in the sport; a consummate professional with a huge smile and generous heart, and one of the most ethical, honest sailors you could ever hope to race with or against.  Feel the love, brother.
Here's Deneen, from Groovederci's Facebook page:
Flavio, from the first day I met him when starting my sailing career was always kind, always generous, always a friend. I have watched his children grow, his career soar… a lovely man, a truly lovely man, one hell of a sailor. And now, I ask that you join me in saying a prayer for him and his family. Flavio, I love you, you are one of my biggest heroes and I can't imagine not having you on the starting line. The entire Groovederci team are thinking of you and your family, sending our love to you and your family with wishes for a fast recovery and looking forward to your schooling us once again on the race course. God's speed caro amico! Groovederci will dedicate this week to you, your family and your recovery. Keeping all of you close to our hearts.
April 3rd, 2014 by admin
We have learned that surfing and sailing Legend Hobie Alter has passed away in his home yesterday. A sad day for all of of who have indeed surfed or sailed on something with a Hobie Logo on it.  And really, who hasn't?
Hobie was an innovative and dedicated pioneer in surfing, and  he did much the same in sailing, in both cats (Hobie 14,16) and monos (Hobie 33).  He'll be missed by many, but the legend lives on every day at a beach, wave or marina near you, and we encourage you to share your condolences or stories in this thread.
Back in 2009, we had the privilege of doing the only long-format interview anyone had done with Hobie for a couple of decades; it's a three-part, wide-ranging interview that will help you reminisce…from the 2009 "Coolest Cat" thread.
March 30th, 2014 by admin
In life, if you are lucky, you will meet a person who changes your life; someone who takes you under their wing and helps you to be a better person; someone who makes a difference.  Today we lost one of those people, today we lost Hans Fogh.  My condolences and thoughts are with his family as they mourn his passing.
Hans touched the lives of many people, sailors and non-sailors alike, all over the world.  His sailing career was impressive with many Olympic appearances that included winning a silver and bronze medal; America's Cup; World championships wins in Flying Dutchman, Soling, Etchels and many local championship wins in a variety of classes.  I was fortunate enough to have raced with Hans in Solings, Stars, as well as on my 8 Metre.  I was also fortunate to have worked for Hans for many years where I learned many things about myself, things that Hans could see and helped me to realize.  "Do it right, and do it right away." was what Hans would say.  "There are no such things as problems, only solutions" was another saying of his.  Those of us who called him friend also know many of his "Hansisms" for which he was famous.  Many of us would try to immatate him and in our best Danish accent,  "Once you have boats speed you have nothing to worry about!" is always the first one that comes to mind.
I will remember Hans as a person who made a difference in this world; he made a difference in my life and I will be forever greatful for what he taught me and the opportunities he gave me.
Fair winds and slack tides Hans.  Rest in Peace.
-John Mitchele
Add your thoughts and/or stories about this inspirational Canadian mentor and sailor.

March 17th, 2014 by admin
One of the most important figures in the history of disabled sailing died earlier this week, and while there are piles of stories in the thread about Hugh Elliot's life, we liked this obit from SA'er "flatearth".  Share your own stories or condolences in the thread, and for a truly SA-worthy story about Elliot from "Baygal", click this link.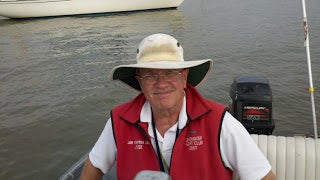 Hugh Elliot had more character then just about anyone I know. While he hung up the sailing pretty much after a paralympic Sonar campaign in 2000, his time on the water didn't slow down at all. Hugh became an International Judge in 2006, and his well travelled and weathered RIB Allegro was usually in tow with him and greatly appreciated by many regatta's as he brought a boat.
When you're a double amputee, the amount of energy required and spent to move around and accomplish daily tasks is enormous. When the judges met at 8:00, you might get up at 6:30 or 7, but you knew Hugh needed to be up at 4:30 to get his legs together and prepared for the day. He went out on the water, never complained, got beat up pretty well and came back the next day.
Every winter he would head to the Tampa/St Pete area and do numerous regattas, but his real joy was that his leg maker was there and he would get a tune up or a new leg.
Hugh had a dry humor, but as a well educate brit, schooled at Eton and Cambridge, knew a good joke and also how to make a bit of mischief.
This past year, I sensed that he was more tired than usual, not at just the end of the day, but in the mornings.  He lived alone and was self sufficient and knew if something was wrong to get to the doctor. He slowed down a bit, but was more than happy to be in Florida as much has he could during the winter months.
He lived up to end, doing what he enjoyed. It sounds like it happened very quickly and he no longer is in any pain.
Godspeed Hugh Elliot,  Godspeed.
February 6th, 2014 by admin
António João Bartolomeu has been identified as the deceased sailor from the dismasted Bavaria 54 Bille.  From Pierre at Vsail.info:
The 47-year old from Angola's capital city of Luanda wasn't a sailing "rockstar". In fact, he wasn't even a professional sailor, his day job being sound technician at the National Radio of Angola.
However, the sea and the ocean were his big passion since early childhood. At the age of 9 he joined the Sailing Academy of the Angola Sailing Federation at Ihla de Luanda. Five years later, he moved to the Vaurien class, a simple and affordable two-person racing dinghy, popular in Africa. He was one of his country's best sailors in the class and had an equally successful number of races in various regattas in bigger, cruising yachts.
January 6th, 2014 by admin
The start of the bi-annual Cape Town-Rio De Janeiro Race may have been warm and ultra-light as the Maserati Turbo Volvo 70′s video shows, but the 34-boat fleet knew it was in for a major hammering from a deep cold front and its associated low pressure system at the start.  No one chose to sit out the start and delay a day or two, though many of the boats chose to sail North rather than West into less breeze and easier seas; amongst those that didn't was the Bavaria 54 Bille, which paid the ultimate price; one unnamed crew was killed, the skipper and another crew injured, and all crew have now been taken off onto South African rescue vessel Islawana.  
Various other boats have sustained major damage; rudders, engines, flooding, and we're sure there's plenty more, but at the moment, everyone is accounted for and most of the fleet continues on its way to South America.  As a CAT 1 classified ocean race of thousands of miles, the fleet needs to be able to weather this kind of storm, but questions are already arising about the Royal Cape and whether, with the well-forecast front, they should have postponed the start, as we increasingly see in even the most hardcore of offshore races.  We're still on the fence; a delay can easily turn into a budget-busting, month-long drama like the Mini Transat fleet saw in November and can make skippers complacent about their ultimate responsibility, but it's hard to argue that a human life is worth more than all that.  One thing is for certain:  This race is yet another reinforcement that robust trackers like the Xtra-Link stuff used by much of the commercial shipping industry is no longer an option, but an absolute necessity for any major race; only thanks to the highly accurate GPS info coming off the yachts that Bille could be quickly located in the 8 meter seas that would otherwise make her almost invisible from the water until a mile or so away.
Get in the thread for more info, and hit the tracker for the fleet position or to replay some of the bad parts.  The Cape2Rio Facebook page is the best source for the latest news from the event organizer.
January 6th, 2014 by admin
Please keep your eyes open for Charleston's Ed Brennan, who was last seen at City Marina on New Year's Eve.
This is not the kind of guy to disappear; if you know anything, get in touch with CPD right away at (843)743-7200.
Like any of us who spend our time around boats and the water, we're all just one slip away from disappearing forever; we hope that's not what happened to Ed, but if you can help, please do!
January 5th, 2014 by admin
Larger-than-life Floridian Dennis "Buck" Gillette was a staple in SORC's illustrious history, and a major cheerleader for the new and successful SORC that's come to prominence over the past few years.  Buck loved mentoring kids on offshore races, and had about a trillion miles under his keel before falling off his boat and not coming out of the water at a LYC event at Ocean Reef on Sunday.  Here's a pic exactly the way Buck would have wanted it; enjoying a sail with Mimi at his side.  Our thoughts go out to everyone Buck has touched, and here's to hoping the next generation produces another one like him.  Here are the details about the memorial ceremony, and from the obit:  Buck will be greatly missed by his wife of 54 years, Mimi, his 102 year old father Delno, his children Rex (Karin) Gillette, Sarah (Tom) Fox, Rebecca (Marcio) Pancera and his grandchildren Jake, J.T., and Mack Fox, Max and Cole Gillette, and Tess and Siena Pancera. A Celebration of Life gathering will be held at Lauderdale Yacht Club from 2-4 PM 1725 SE 12th Street 33316. In lieu of flowers please send donations in Buck's name to a charity of your choice.   
Share condolences on Buck's Facebook Page.
December 11th, 2013 by admin
Well-regarded Canadian yacht owner Dick Oland (Southern Cross 52 Vela Veloce) was murdered more than two and a half years ago, allegedly bludgeoned to death with an axe handle while sitting at the desk of his New Brunswick office.  This sort of thing isn't really a regular occurrence in the Canadian Maritimes, so the lack of suspects or arrests for some 28 months was surprising to everyone, though with last week's arrest of Dennis Oland on the charge of second-degree murder, things are becoming perhaps a bit more clear.
Police say Dennis Oland and his father had a sometimes combative relationship, and that Dick's son found himself in financial straits in 2011, owing his father more than half a million dollars.  Police also found a blood-spattered jacket in Dennis Oland's home with DNA belonging to Dick, and evidence that Dennis had lied to investigators about wearing a different jacket on the day of the murder.
As damning as this evidence may be, Oland's family hasn't made it easy; the St. John police seem to have spent a lot of time trying to keep the investigation secret, and six months passed between the DNA evidence and this arrest.  And now, the family says the police are just flat-out wrong. "We wish that the police would turn their attention to finding out who is really responsible for Dick's [Richard Oland's] death," a statement from them reads. "We know that Dennis is innocent. We are devastated that this nightmare for Dennis and for all of us is going to continue."
It's certainly a nightmare, but will justice ever come for the killer of this passionate Canadian sailor?  It's hard to be optimistic, but you can talk about it in the thread.
November 18th, 2013 by admin
As the days grow shorter, sailing videos grow more important. Here are your weekend selections from SA's staff:
The Wire
An entire season of racing all over the world, and it's all down to the final day of the final event:  Can Morgan Larson win Brazil outright, putting a boat between Alinghi and The Wave Muscat to take the 2013 Extreme season?
As much as we'd love to see US skipper Larson take it, we have to admit that, with MacMillan at the helm, Muscat has been smart, fast, and consistent for the better part of two years now, and they should fairly easily claim the first back-to-back Extreme Sailing Series title in the event's history after a solid, conservative, and winning start to the final event.
But desperation makes for good TV, so you better watch as Larson will do everything he can to screw the Wave's day up.  Watch it here starting at 1300 EST/1000 PST.
Everybody, Again
One of our favorite sailing videos ever is nearing a million Youtube views, but "Everybody" – the high-speed action shoot with various ORMA 60, Open 60, kiteboards and windsurfers – is getting decidedly long in the tooth for the late night party/yacht club TV screens it is most suited for.   So we've got a new one for you; it's video producers GZ Company's 2013 highlight reel, and it's got everything from 12 meters to sport boats to maxi catamarans to Volvo boats.  Enjoy.
Bert and I
The 'Bert and I' collections of humorous maritime stories may be from Downeast Maine rather than the Chesapeake, but they capture some of what Annapolis sailor Bert Jabin was all about. We remember a leader, a legend, a mentor, a boatbuilder, a racer, and the founder of Junk Jungle Lane, and our most sincere condolences to the entire Annapolis community on Bert's death.  Share your own thoughts in the thread.
Kiting With Crocs
For all the talk about snakes, sharks, and jellyfish, Far North Queensland aborigines will tell you there's just one animal to be truly afraid of:  The Saltwater Croc.  Check out this Naish-produced video to see how Ewan Jaspan, Will Smallacomb, and Ant from Kitesafari Australia just don't give a shit.
Hot Tomales
Who says you need to wait for a big downwind day to practice wave sailing?  And who says you need a surfboard to go surfing?  Screw it! Grab your Zuma and do what SA'er 'wrybread' does at the mouth of Northern California's Tomales Bay.  Wanna know more?  Ask him here.
November 16th, 2013 by admin
Back in May we told you about the family of Claudene Christian suing the owners of HMS Bounty for some $90 million for her wrongful death after idiot 'captain' Robin Walbridge took the floating museum into the teeth of Hurricane Sandy with predictable results.  We finally had a chance to check out the allegations, and they are almost beyond belief.  We recommend you take a few minutes to read  the complaint or the 4 consecutive requests for time extensions by the Bounty org, but for the lazy, here's how far beyond shocking this goes (and keep in mind that, while damning, these are just allegations – except for the piles of documents and evidence the Christians seem to have):
71. BOUNTY ORGANIZATION by and though its officers, agents and servants including Captain Walbridge, committed acts of negligence, gross negligence, willful, callous and reckless conduct the following respects;
a. Continuously failing to provide proper supplies, gear, equipment, provisions and necessaries to insure BOUNTY was in a seaworthy condition.
b. Ignoring unmistakable evidence of rot and deterioration existing at the 2012 dry- docking, and the clear adverse consequences of concealment rather than proper corrective repairs.
c. Ignoring the warnings of project manager Kosakowski that BOUNTY not be sailed in heavy weather.
d. Ignoring the repeated warnings of crewmembers between departure from Boothbay to departure from New London, that the bilge pumping system was deficient and the most likely cause was the failure to have cleaned debris in the bilges from the yard work.
e. Ignoring the warnings of National Hurricane Center, Marine Advisories, news and other media ("public warnings") as to the approach of the largest Hurricane in the century and taking BOUNTY to sea.
f. Allowing BOUNTY to proceed to sea contrary to public warnings about SANDY contrary to the "moored attraction" limitations imposed in her USCG certificate.
g. Allowing BOUNTY to proceed to sea contrary to public warnings about SANDY with a vessel known to have a deficient and inadequate bilge pumping system which was further compromised by debris in the bilges, and whose back-up hydraulic and gasoline powered pumps had not been operated, tested or overhauled in years.
h. Allowing BOUNTY to proceed to sea contrary to public warnings about SANDY with a voyage plan that intentionally violated the fundamental principles of hurricane avoidance (i.e. the 1-2-3 Rule) and which violated the mandate Never to Cross the "T".
i. Allowing BOUNTY to proceed to sea contrary to public warnings about SANDY without the resources and radio electronic equipment which would have allowed the application of the aforesaid rules for hurricane avoidance.
j. Allowing BOUNTY to proceed to sea contrary to public warnings about SANDY with an untrained, unprepared and inadequate size crew of "green seamen" who were not trained in abandoned ship procedures.
k. Allowing BOUNTY to proceed to sea contrary to public warnings about SANDY with a vessel whose framing and planking was known to be rotted and deteriorated, the full extent of which was undetermined.
l. Allowing BOUNTY to proceed to sea contrary to public warnings about SANDY with a vessel known to have incorrect fuel oil filters and with a vessel whose day tanks contained unfiltered and contaminated fuel oil.
m. Allowing BOUNTY to proceed to sea contrary to public warnings about SANDY with a vessel whose planking was caulked with cheap non-marine materials and who caulking was largely performed by non- professional caulking personnel.
n. Allowing BOUNTY to proceed to sea contrary to public warnings about SANDY with a vessel lacking proper electronic communication and weather receiving equipment and whose satellite phone and high frequency radios were not tested.
o. Allowing BOUNTY to proceed to sea contrary to public warnings about SANDY with a vessel which was modified in violation of her Stability Letter by the placement of excessive and unsecured lead weights and liquid tanks to an aft position thereby warranting imposition of the Pennsylvania Rule.
p. Allowing BOUNTY to proceed to sea contrary to public warnings about SANDY with a vessel whose master was manifestly incompetent by reason of having made bizarre public statements trivializing the most dangerous of sea perils – hurricanes and failing to conduct an inquiry to determine his fitness for command.
q. Allowing BOUNTY to proceed to sea contrary to public warnings about SANDY with a vessel whose master lacked basic rudimentary knowledge as to weather forecasting, meteorology, oceanography, hurricane tracking, and hurricane avoidance.
r. Allowing BOUNTY to proceed to sea contrary to public warnings about SANDY with a shore side support staff unknowledgeable in weather forecasting, meteorology, oceanography, hurricane tracking, and hurricane avoidance and who took on the responsibility of provided and interpreting vital information about SANDY .
s. Allowing BOUNTY to proceed to sea contrary to public warnings about SANDY without a competent shore side staff of professional maritime personnel capable of providing 24/7 support for weather forecasting, meteorology, oceanography, hurricane tracking, and hurricane avoidance.
t. Following departure New London, ignoring continued and upgraded public warnings and information as to SANDY's movements which made absolutely clear that BOUNTY should abort and return to the nearest safe port.
u. Failing to report to the Coast Guard that irrational and contradictory communications received from Captain Walbridge indicated he was acting in a manner which was detached from reality, highly reckless and likely to cause the destruction of BOUNTY and loss of her crew.
v. Failing to send "Pan-Pan and Mayday messages directly to the Coast Guard in a timely manner when her unseaworthiness from flooding was obvious. At the outset, such messages should have been sent at least 30 hours prior to her capsizing.
w. Failing to send "Pan Pan" and Mayday messages on the occasion of each of the approximate 25 instances of equipment failures, breakdowns, material failures, fires, electrical shorts, power outages, shuts downs, and crewmember injuries cited in paragraphs 50 and 51.
x. Failing to contact the Coast Guard as required by 46 CFR 4.05: at each occurrence in which BOUNTY'S bilge pumps manifested deficient, commencing with departure from Boothbay Shipyard and thereafter.
y. Failing to contact the Coast Guard as required by 46 CFR 4.05: at each occurrence materially and adversely affecting BOUNTY's seaworthiness or fitness for service or route including failure of lifesaving equipment, auxiliary power-generating equipment or bilge systems.
z. Failing to contact the Coast Guard as required by 46 CFR 4.05: at each occurrence of a serious crewmember injury.
aa. Hampering Coast Guard Rescue efforts by sending or causing to be sent erroneous, misleading and confusing communications stating BOUNTY was "seaworthy", "not in danger", "doing great" "ship is doing fine" when in fact BOUNTY was coming apart, progressively flooding, and in extreme imminent danger.
bb. Failing to abandon ship in a timely manner prior to capsizing.
cc. Intentionally placing the lives of the crew at extreme risk for the sole purpose of financial gain.
If you get through all that and you are still looking for some more Bounty drama, there's a new book out about the sinking and rescue. We'd normally steer clear of 'quickie' post-accident tomes, but this one has a lot of good things going for it.  To wit, from Page 228 of the Greg Freeman book:
"The Web site Sailinganarchy.com even started an "Official Trash the Bounty Thread" in its forums to criticize the decisions that lead to the ship's sinking, and the Bounty in general. The harsh Monday morning quarterbacking was rebuffed in kind  by those who thought the ship's captain should be given the benefit of the doubt. It produced a spirited debate, with hundreds of posts. A typical comment: "Trying to thread the needle of the Gulf Stream and the Hatteras Shoals in a HURRICANE 1,000 MILES WIDE takes either balls of titanium or brains made of Swiss cheese. You decide." "
Get more than any book can offer in the Trash The Bounty thread.
November 11th, 2013 by admin
Details are sketchy, but Queensland Police have reported that a 23-year old Black Mountain man died today after his race boat capsized.  UPDATE FROM BRISBANE 18 FOOTERS:
It is with great sadness that we have to report the passing of one of our sailors during yesterday's racing.
David "Casper" Hansa was crewing onboard Team Pendeo yesterday.  Despite the best efforts of the Team Pendeo crew, our rescue boats and the Coast Guard, David was unable to be revived.
For all the people who knew him as "Casper" he was the most enthusiastic blokes that wanted to sail on an 18.  When he couldn't get a crew position, he was often down at the Club having travelled from the Sunshine Coast to assist on the start boat or rescue boat, and was wrapped about the whole 18 thing.
Club officials and crews have been assisting authorities with investigations, and our Commodore Bruce met David's family this morning to pass on condolences on behalf of all Club members.
Counselling is being arranged for the crews involved in the rescue attempt yesterday through the Yachting Queensland consultation psychologist.  If anyone else requires assistance seeking counselling, please contact the Club at [email protected]
We will pass on details of the funeral once we have been advised.
Our thoughts and prayers are with David's family in this tragic time.
Ours too, mate.  Ours too.
November 9th, 2013 by admin
Antony Hussey, better known as "CAPPA" started sailing in Sydney, spending the last 20 years racing on the bow of some of the world's biggest and most famous yachts.
Cappa was the guy you always wanted as your 'right hand man' and a sailor of the highest caliber and standards.  He completed over 25 transatlantics, 4 Hobarts, a couple of Fastnet and Bermuda Races, every Caribbean 600 and some 250k miles at sea.  He was aboard for Playstation's Miami-Newport record run and most recently on the bows of Shamrock V, Salperton IV, Athos and his final race with Swan 90 Nefertiti.
So, if you see a bloke with big ears and feet like waffles with a bunch of chicks hanging off him as he dances his own unique dance, it's not Cappa; it's an imitation.
Sail on brother. We'll miss you always.
A small ceremony & big party will be held in Palma de Mallorca TOMORROW September 18 & again in Australia on September 27 at the Terrigal Surf Club.
September 16th, 2013 by admin
Today we mourn the loss of Dick Newick.  Rebel, author, artist, wanderer, philosopher, innovator, designer, anarchist and most of all, sailor, Newick profoundly changed our world for the better.  From an extremely well written piece by Steve Callahan in Professional BoatBuilder (and we really urge you to read the whole thing here):
Like most art that has reconfigured the future, designer Richard "Dick" Newick's creations threatened some as much as they enlightened others. At times, his trimarans' simplicity, structural reliability, and astounding speed seemed like grenades tossed into yacht clubs. One sailing magazine editorial, titled "Unsafe on Any Sea," took all multihulls to task, and featured a photo of Newick's Trice — despite the fact she never suffered a structural failure or other mishap until destroyed by hurricane Hugo in 1989.
Indeed, many of the concepts and design features that arose from Newick's explorations have so shaped the norm of all sailboats over time, that we now might wonder why there was such a fuss in the first place.
Share your stories and condolences about Newick here.
August 30th, 2013 by admin
Charleston-based telecom exec Patrick Eudy stormed onto the southern sailing scene back in 2006, diving into the sport with the Big Booty program.  He learnt the ropes on big boats – a J/105 and an orphaned Lutra GP42 – but quickly got hooked on one-design, and was a top-tier Melges 20 owner right through April's Charleston Race Week.
Yesterday, during a routine recertification flight with instructor Robert Ulrich, Eudy's Rockwell Turbo Commander crashed into the lowcountry swamp near Mclellanville , killing both Pat and Ulrich.  A 911 caller near the crash site noted that the motor sounded like it was acting up immediately before the dive and crash.
Pat was an extremely generous and larger-than-life kind of guy, always good for for another drink or another great conversation.  He created major opportunities for dozens of sailors, tried just about every sailing discipline he could, and was the very rare kind of owner who comes into the sport with new ideas and a fresh attitude.
The community and sport are just a little poorer today for his loss, and we offer our condolences to Pat's children, his family, his friends, and his team.
June 21st, 2013 by admin