Posts Tagged 'sailor chicks'
Will Canfield continue to humiliate the Euros or will the Dark Hammer or Taco Matt climb their way over him to take the ultimate Scandinavian prize – a meter tall trophy and likely an instant invite to the million-dollar 2016 WMRT?  Only one way to find out, and with 15 knots hitting Lake Malaren again, the final day of the M32 Battle of Stockholm is fucking ON!
September 13th, 2015 by admin
Clean Report
Opinion amongst Volvo vets is unanimous that Newport is light years beyond any of the recent US Volvo Ocean Race stopovers in every way, and we're extremely glad we're here to be part of it this week thanks to our friends at Sperry and the Volvo Ocean Race Boatyard.
With so much staff coverage available from the teams and VOR media, we wanted to give you something different this week, and today at 1130 PST/1430 EST/1830 UTC, we're bringing you Sailing Anarchy's first-ever live, two-camera talk show from the Volvo Ocean Race Boatyard – in front of a live audience!  We haven't skimped on guests, either, and since we've been wanting to sit down with the leaders of Team SCA for some time now, we asked, and they thankfully agreed!  Team CEO Richard Brisius, Performance Director Brad Jackson, and the afterguard of Dee, Sam, and Sally will sit down with co-host Nic Douglass and me for an hour-long chat about everything VOR.  We want to know all about their race, and all about them.  What's the future look like for Team SCA, and what does their race mean for their careers, for their fans, for their families, for their sponsors…
You've already given us some great questions; please head over to the thread and post more, or hit us up on Twitter and use the hashtag @asksailinganarchy if you want yours answered today; the best three questions win Team SCA t-shirts, but you only have a couple hours to get 'em in.  Wanna learn more about the girls?  Check out the brand new well-produced reality series No Ordinary Women.  We've enjoyed the first two episodes, and we think you will too.  And don't fret if you miss our show today; it will be archived for your pleasure here.
And if you have questions for VOR CEO Knut Frostad, Boatyard Director Nick Bice, the two guys tussling for the race lead; Ian Walker and Charles Caudrelier, or Vestas skipper Chris Nicholson, get those questions in too; we're recording their show tonight for publication tomorrow morning at around 1000 EST.
Nic's been doing a great job getting interviews with all the boys and girls; head over to her channel here for a stack of interviews that go far beyond the usual tripe.  And be sure to keep an eye on SA Twitter and Facebook for many more face-to-faces coming up this weekend, especially for the last-minute pre-race Dock Walk video posted to our page, 20 minutes after dock out for the In-Port Race and Leg Start.
May 15th, 2015 by admin
Torqeedo are all over Charleston, with three electric-powered media boats, dozens of sportboats running their outboards, a display booth, charging stations, giveaways, and above all else; girls.  Good for the environment and good for the soul!  Thanks to Torqeedo for the shot.
April 12th, 2014 by admin
Nicky, Hillary, Emma, & Lindsay show off their eco-warrior 11th Hour Racing colors during an all-day postponement at the Moth Nationals.  This mix of wags, volunteers, and moth racers shows us the way to more sustainable regattas – more pics and news on the US Moth Facebook Page.  Meredith Block photo.
March 22nd, 2014 by admin
With their pink boat delivered and plenty of hard miles already under her keel, the girls of Team SCA Racing's Volvo effort are light years ahead of the rest of the largely unannounced Volvo fleet.  Pierre Orphanidis from Vsail grabbed SA crush Sam Davies for the world's first guided tour of their Volvo 65 in Lanzarote.  Check it.
November 27th, 2013 by admin
Mad Men
It doesn't matter how lazy, nepotistic, incompetent, or corrupt you think ISAF is; its World Sailor Of The Year award is still the biggest honor that can be bestowed upon a sailor for his or her performance over the course of a year.  So it's kind of a big deal (even though you win some shitty mid-range watch as an award).  The public nominated the slate of potential awardees, but of course the only voting happens at this week's ISAF meeting in the bastion of yachting that is Muscat, Oman.
We think it would be a miscarriage of justice if anyone besides Paul Larsen wins the men's award this year.  To so utterly destroy the most important record in the sport (by 20%!), and then go on to sail a recreation of Shackleton's voyage weeks later, is just incredible.  Adding to all that is Larsen's undeniable stature as one of sailing's best communicators and cheerleaders; he does more for the sport every time he gets in front of a news camera (and it happens a lot) than any other talking head.
Francois Gabard's accomplishment winning the Vendee at age 29 could have landed him the award, but ISAF delegates don't like the French; you'll note that no French man has ever won.  Besides, he'll get one when he breaks Francis Joyon's solo RTW record with his new boat in a couple of years.  As for the rest of them, Heineken's accomplishments are awesome, but in a discipline that's in its infancy with extremely inconsistent competition.  Williams wins the WMRT in a year when much of his best competition is racing catamarans.   And Matt Belcher had some kind of good results in something called a 470, whatever that is.  Go Larso!
Pro-Choice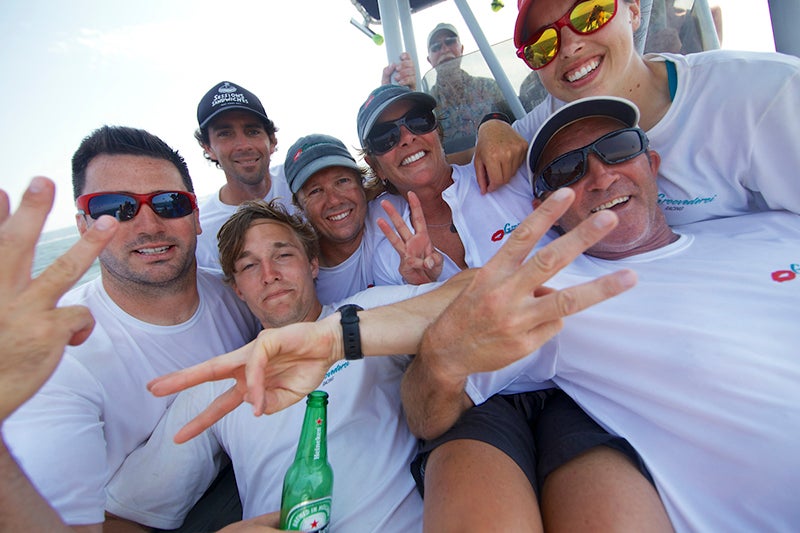 For the women, the choice is even easier; Deneen Demourkas dominated the Farr 30 Worlds, becoming the first 3-time World Champion in the class, beating some of the world's top male owner/drivers and tacticians in the process.  She also brought the class back from the brink of disaster, leading it to new growth in the US as well as Southern Europe and Scandinavia.
Competing with Deneen for the award is a Omani girl whose sole accomplishment seems to be that she is female and a sailor (quite an accomplishment in arabia, but still), another course-racing kiteboarder (same family name as Johnny, same reason she shouldn't win), and a couple of girls that got some kind of good results in something called a 470, whatever that is.
So there you have it:  The two sailors that should, without a doubt, win this year's mid-range luxo-watch.
And all joking aside, every one of these nominated sailors wins our respect.
November 12th, 2013 by admin