Posts Tagged 'sailor chick'
Our gal pal Nic Douglass continues to burn up the internet airwaves with her Adventures of a Sailor Girl radio show, and this week, she says her show was 'massive!'  We don't know about that, but we do know that we love this petite blonde dinghy sailor's attitude and pluck, and encourage you to give her show a listen. It's an hour's worth of mostly music peppered by interviews and monologue about racing sailboats. Nic tells us about her show:
At 5:36, we caught up with the awesome Howie Hamlin after his 5o5 North Americans win, and all that is ahead for him this year.  So many adventures to draw from that no doubt make him the fantastic sailor that he is today, and always great to talk to!
At 18:00, I managed to catch  Red Bull Youth AC skipper Jason Waterhouse straight from the Alps at the GC32 Austria Cup – too awesome! With his team, skippered by Sebastian Cole, they had two bullets just before I spoke to him. Great to hear that all is going well for this dedicated cat sailor.
At 36:13, last but definitely not least, Stacey Jackson, a great friend, called in from the Canary Islands to touch base about all that is happening for Team SCA leading up to the Volvo Ocean Race. She has promised to be in touch regularly, after the Canary Island race, and also following the UK/Ireland race when all the boats should be out racing. We chatted for a decent amount of time off air as well – and it is just amazing to hear what she has been up to.
At 56:30, I talked about my adventure for the week, involving a very serious story about M&M's post-racing at the CYCA Winter Series race today!

June 4th, 2014 by admin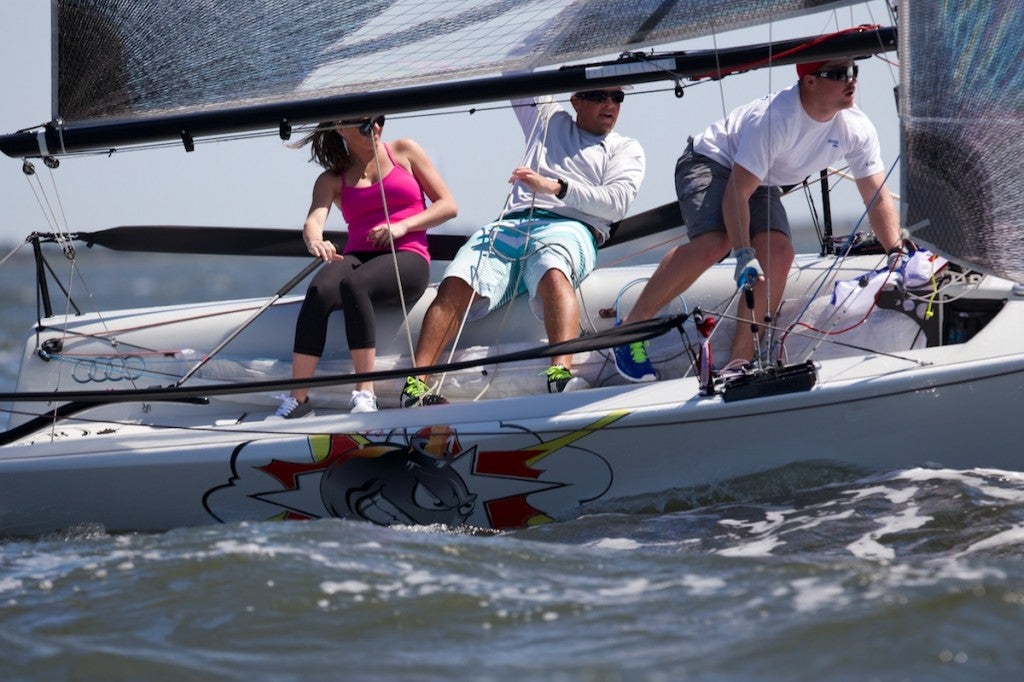 This week's Sailor Chick of the Week was a no-brainer; 23-year old Grace Lucas is smart, sassy, fast as hell, and just helmed her way to fourth place in an extremely competitive Charleston Melges 20 fleet, losing the podium spot she'd held through 6 races after a last-leg charge from Michael Kiss's Bacio.  Grace is finishing her college career this year after 3 years on the CofC sailing team; here's hoping she doesn't get so sucked up in the employment world that she gives up sailing.  Get to know Grace more in two interviews our own Mr. Clean did with the young NJ native, and enjoy tactician and Melges fixture Sam Rogers' new nickname.
April 14th, 2014 by admin
We'd name rocking Swede Emma Aspington as our SCOTW this week but we already did back in Dubai 2010…so we'll give this one to the latest chick to continue the Moth class tradition of super hot sailor chicks jumping into boats in between races (we all remember SA's most-downloaded pic in history, don't we?).
You're looking at college athlete Nikki Medley sailing on 18-year-old Tyson's purple dinosaur…she got it going better than most of the boys today in a light air day at Nationals.  Anthony Kotoun leads by a long way, with the aforementioned Emma taking a win and 8th place overall…plenty more news, pics, and videos on the Class's Facebook Page here.  Meredith Block photos with a gallery here.

March 22nd, 2014 by admin
Texas J/24er James K sends this gem in and wins Sailor Chick of the Week honors for his lovely wife.  We won't say this is her best angle, but it's a damned good one.
I finally talked my wife into buying a second boat that still only has a bucket (ladies like real heads for some unknown reason) and restoring it. Here is my most incredible lady – Linda Kondziela – cleaning the keel sump of our Evelyn 32-2 prior to glassing and installing frames.  
October 29th, 2013 by admin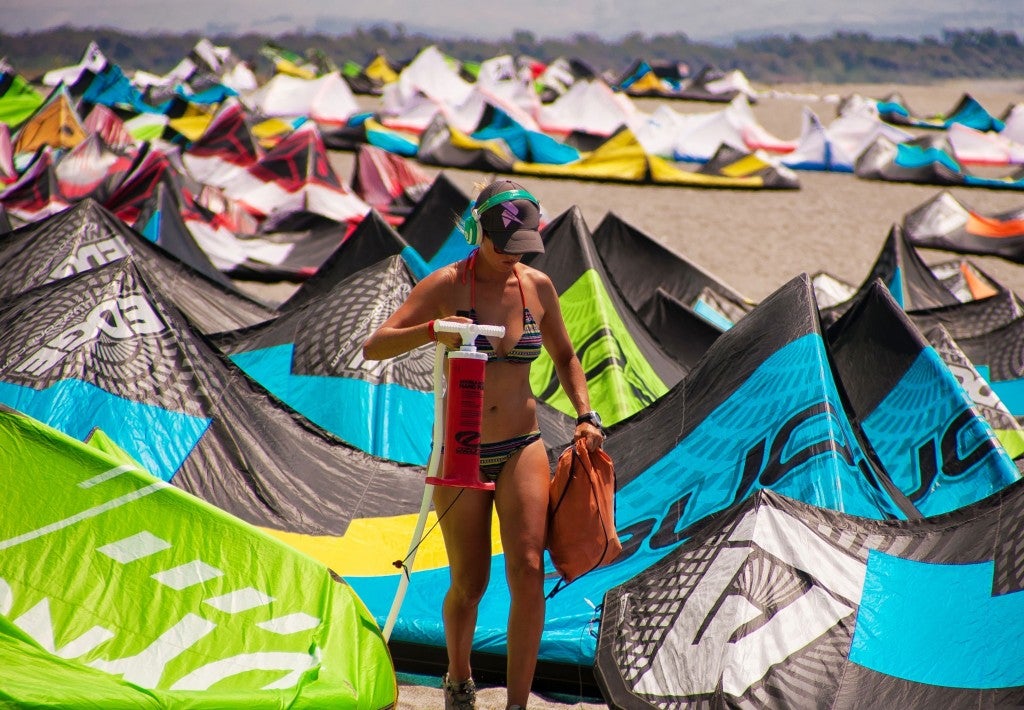 There are plenty of sailors who say kiteboarding isn't sailing.  Frankly, we don't care.  As long as images like this keep coming our way, we're all in.  Shot from the HangLooseBeach European course racing champs thanks to Icarus Media, with galleries here.  For a video with voiceover from Robocop, go here.  And of course Hans and Frans inspire our title work…
September 9th, 2013 by admin
A big welcome back to the front page for one of Anarchy's OG sailor chicks; yogini and spiritual guru Hellion!  She joined one of the very few long-running mixed-multihull events in the US last weekend, and here's her report: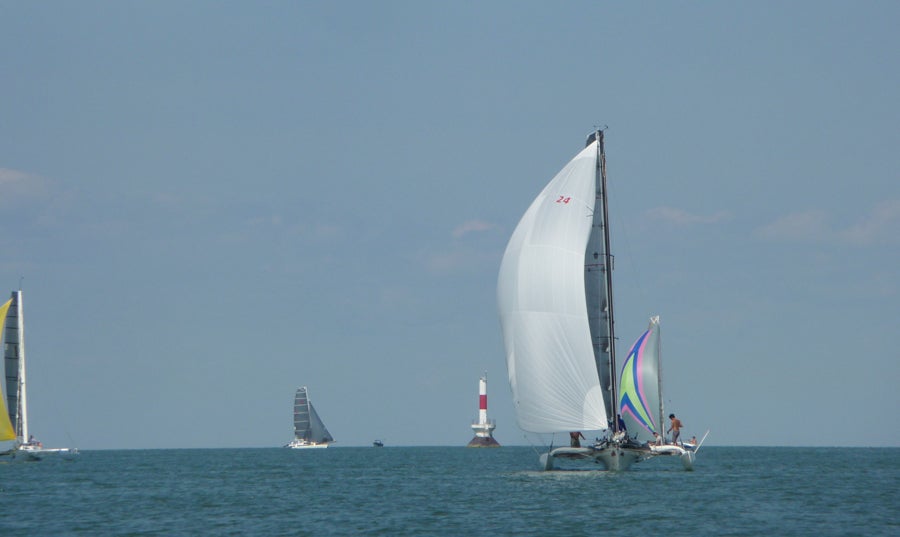 WHEEEEEEEEEEEE!!! I've taken that step toward the Dark Side.  Multi-hulls, trimarans, high speed, firehosing and adrenalin. What an amazing first experience into the multihull world it was at the Great Lakes Multihull Championships hosted by the Bay City Yacht Club in Michigan.
One of the big pleasures for first-timers here is to meet the epoxy guru himself – and one of the longtime drivers behind multihulling in general and the GLMC specifically; Meade Gougeon.  The thoroughly handsome, debonair gentleman was sailing late brother Jan's innovative trimaran Strings, which unfortunately lost her rig during the regatta.
I was lucky enough to get onto an F-25C trimaran; "the greatest small trimaran ever built" as quoted by Matt Scharl, former owner of the all-conquering F-25c Gamera. This one is owned by Ryan and Todd Howe and called Panic Button;  You may not know Ryan and Todd, but if you've been in the Great Lakes
scene you know the boat they were raised on – the monster 60 foot trimaran Earth Voyager.  Lots of SA players showed up on Saginaw Bay; longtime SA'er Geff was recruited on the F-31R Cheeky Some of the players in the regatta were SA's own Geff, who crewed on Cheeky, plus the illustrious Vegas on Adagio, and of course Matt Scharl and Mark Zaranski on Mark's recently purchased modified F27 Blue Green Dragon. Ron White made an appearance on his Tornado gearing up for next year's Everglades Challenge; truthfully it's hard to mention all the wonderful people I met in Bay City; thought of by some as multihull outcasts, they are a most amazing little clan, totally welcoming and gently helping me from any future leaning over or pushing water on my beloved monohulls.
Oh what am I to do? Let me begin with Friday, our first of three days. I arrived a little late and ran into the skippers' meeting looking to see if I could locate the brothers I was to sail with. I didn't know them, nor them me, and so walking right into the meeting was a little bit intimidating. It took less than a minute to have someone walk up to me and say, "Hellion?!" It was Vegas!  He brought me over and played up my sailing skills, telling the Howe brothers that they were lucky to have me. My red cheeks must have said it all. I am no expert in anything, and I told them so;  I told them that I had zero multihull experience and they said 'no worries'.
As always, it's do or die for me; straight into the fire, and off we went for our first three races with winds to 18 knots from the NE.  Even before the start we were soaked to the skin. We saw speeds of 18kts and my grin grew! I mean I blinked and we had moved so fast that I realized right away that thinking too much was not how things play out in this realm. It's a DO IT NOW! kind of thing. Three 6 miles races, each over in about 40 minutes.  Unbelievably wet and wild, and a steep learning curve on positioning, choreography, and line management.   Thankfully these multihulls aren't too complex, and Panic Button took three bullets and a first overall for our first day! A toast for each win meant plenty of blood-warming alcohol, while carnage for Zaranski and crew (a blown out main clew) meant a reefed main for the rest of their day. Greg Bull flipped his Gougeon 32 during the third race; that's what the anti-turtle 'blimp' on the masthead is for…Meade caught the worst of it on Strings when their rig went over the side.
Cut to Saturday morning, the day of the "long distance race". No wind to speak of, the two fleets headed out without much hope. After an hour delay the race was started; the tiniest puff makes these boats zip right around.  A shortened course of 18 miles saw another Gougeon design – Ollie – cross the line first with us second, though under the handicap we took another bullet! Yes, more alcohol was in order.
Day three, muscles sore, knees raw, and shoes and gloves still wet, the water flat, the winds were about 12 kts building to 20. Perfect conditions for these 'pitchforks'. We headed out with such promise, and the knowing that we'd really have to screw up to lose, our spirits were tremendously high. The two races went smoothly and were over quickly, and I noted that, for being aboard a boat with people that were strangers to me on Friday morning, we were already in tune with each other and feeling as if we'd been through a year's experience.
Sunday's awards ceremony went quickly to let people get home, and with Panic Button taking first on the day and first overall, I was hooked!  Could we possibly fit any more alcohol in?  Yes, I believe we did. Flight Simulator took second, and Ollie took third.
Things I learnt at this fun-filled, first time ever, multihull regatta:
1. The dark side is quite seductive. "We have cookies!"
2. Lake racing proved to be just as adventurous as racing in the ocean. Even my racing experience in Hawai'i did not seem to be that much more challenging looking at Friday's conditions.
3. This group of racers are a tight-knit bunch. Super competitive on the race course, and family-like on land.
4. Racing at these speeds has one's mind and body working at triple speed.
5. These amazing vessels pack up on trailers like birds folding in their wings.
6. And finally, see number 1 again. When is the next one?!
August 27th, 2013 by admin
Beautiful weather: Check.
Hot Anarchist-owned racing yacht: Check.
Hot Russian 'dancer': Check.
We don't really understand why anyone prints magazines anymore, but if they made more like this one, we might actually buy one.  Okay – maybe not.  Here's the real story from Anarchist tuf-luf:
"This smokin' Russian model was in a photo shoot on a media boat near the startline of the IRC fleet at King's Cup Regatta last month in Thailand and we just happened to cruise past in between race starts just as one of the photogs was banging out some frames.
"Turns out she (the photog – Elena Volkova) works for SEA Yachting magazine and now we're on the cover of the Jan/Feb issue!
"Good times. Even Mrs Tuffie thought so. Enjoy, you bunch of fackwits!"
Get the full story in the thread, and go see the version of the title song that  made it a worldwide phenomenon.
January 16th, 2013 by admin