Posts Tagged 'sailor chick'
After noticing the near-complete absence of women anywhere near Bermuda this month, we asked "Where The Women At?" for about the thousandth time last week.  One of the sport's female pioneers – Olympian, World Champ, and Team SCA alum Sally Barkow – answered.  We have one thing to add to Sally's view; if you own a boat, add women to your crew.  We all benefit!  Check out more at the excellent Magenta Project website, and thanks again to Sally and the rest of you who've given us your views on this important subject.
June 8th, 2017 by admin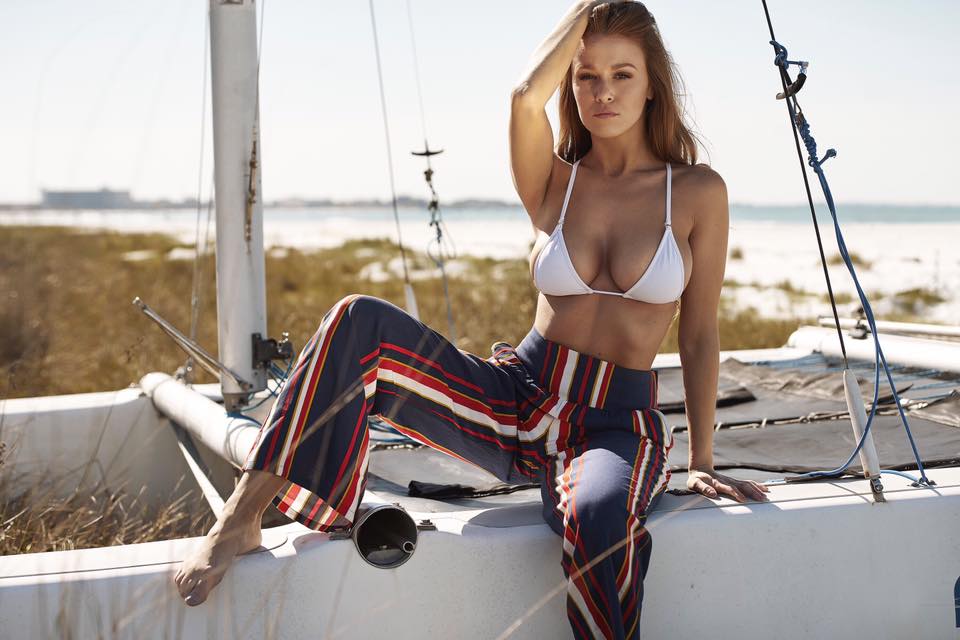 She probably doesn't sail, but one can dream (or fantasize!).  Pic of Vegas-based model Leanna Decker from her FB page, with thanks to "Les Behan" for the find of this week's long overdue SCOTW!.
April 12th, 2017 by admin
May 9th, 2015 by admin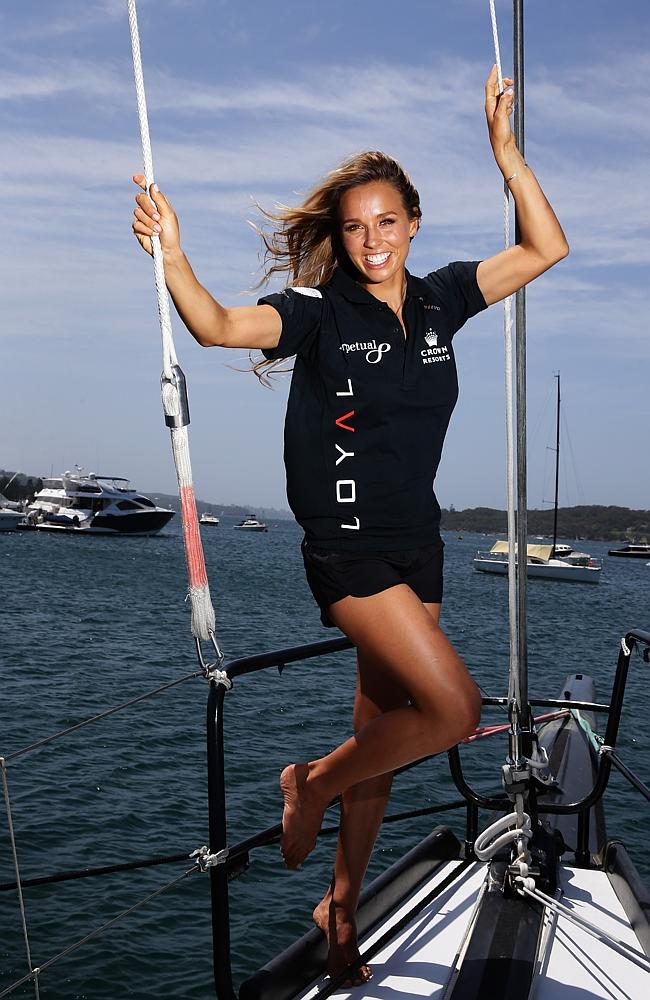 Sure, Wild Oats XI has only been beaten to Hobart twice, and her skinny bottom means she's one of the best all-rounders ever built for the coastal races she was created for.  And sure, Comanche has Stan Honey, Jimmy Spithill and Kenny's entire Puma Team, and a design that should be faster than the once-frightening Perpetual Loyal (ex-Speedboat).  But Loyal has several secret weapons – among them Sydney supersailmaker Michael Coxon and a brand new kite said to be 'the biggest spinnaker ever built'. Plus, they have a new website!
And then there's this weapon – ASP surfing world title contender Sally Fitzgibbons, who joins Anthony Bell's charity-driven campaign for this year's crowded Hobart race (remember when Clean grabbed a midnight interview with Jess Watson aboard Loyal last winter?).  She'll certainly add some motivation to the boys, and they'll likely not waste a chance to have another crew hiking and packing kites.  She'll also add thousands more eyeballs – and hopefully, the donations that go along with them – to one of the greatest spectacles in yachting: Sydney Harbour on Boxing Day.  And this year, it might be the greatest ever.  At least until they let the multihulls in.
Lou Reed is responsible for the title.
December 4th, 2014 by admin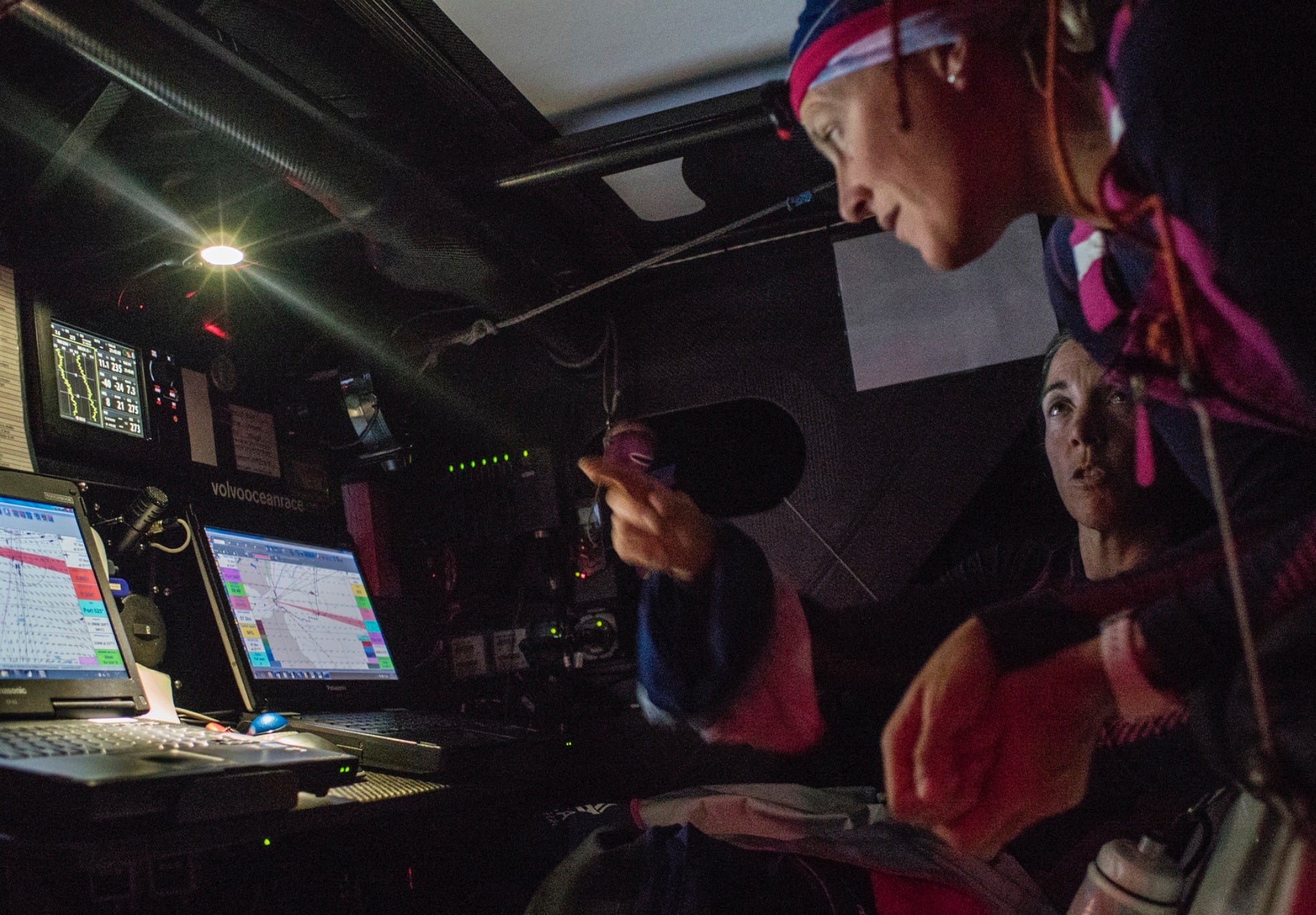 While it's a little early to burn your bras in support of Team SCA, the pink ladies have most certainly answered any questions the world may have had about their ability to hang with the men of the VOR.  That's thanks to a brave call from Libby G to split from the fleet toward the Spanish shore, where shift and velocity launched the girls clear into the lead at the last real geographical constraint until they get into the islands.  Will the Northerly position pay as the fleet heads out into the Atlantic?  Discuss it in the Leg 1 thread.  And check out the girls Flickr page for more great shots from Corinna.  Track the fleet here.
October 13th, 2014 by admin
Face of a fashion star, kiteboarding ability of a superstar, body of a porn star.  An unabashed self-promoter and a fan of Sailing Anarchy.  Could this be the perfect woman?  Maybe not, but she's certainly our Sailor Chick of the Week; watch the video to see why.
And head over to Hannah Whiteley's Facebook Page for much, much more.
October 9th, 2014 by admin
In the audio player above, Our favorite sailor chick/radio host digs deep into Hamilton Island Race Week as Day 2 of the tropical regatta wraps.  Nic's got Seve and Ricko from Wild Oats XI, Gavin Brady from the TP52 Beau Geste, David Chapman from the big MC38 fleet on Ginger and much more, including her own adventures aboard and ashore at a regatta that's gotta be on everyones 's bucket list.  Results are here.
August 18th, 2014 by admin
In heartbreaking news from England's South Coast, the body of one of Britain's top young sailors was found late last week near a car park in the New Forest.  17 year-old Jess Eales uploaded the pic you see at left to Facebook just hours before her death, which neither police nor coroners have explained, though news reports say they are not treating it as suspicious.  There are only a few scenarios where a dead 17-year old in a car park in a forest isn't suspicious, but it shouldn't be long before we all know more so we'll just keep our mouths shut until the government has a chance to explain.  Jess had celebrated her 17th birthday the day before she was found.
Jess had just returned from the Youth Worlds in Portugal, a rising star in skiffs and cats.  We're told her sailing circles in the Lymington and Hayling Island communities are in shock; despite not knowing Jess, we're pretty shocked too.  This shit isn't supposed to happen to 17 year olds.
We will update you when there is more information available.  Until then, share your thoughts in the thread.  As for the title, it's rare that Morrissey and sailing ever mix, but there's a first time for everything.  NOTE: Don't click if you don't want to be even more depressed. It's a Smiths song, after all.
August 5th, 2014 by admin
Our favorite blonde bombshell hits the airwaves with another edition of Adventures of a Sailor Girl; for this weekend's edition, Nic Douglass mixes rock and funk songs with some of Australia's biggest sailing talents.
At 7:05 – She's got one of the winningest one-design pros in history on the line and a longtime friend to SA; Darren 'Twirler' Jones, a show regular called in from the farm, ahead of going to the Farr 40 Worlds.
At 18:52 – She spoke with Josh Chant, the founder of 33 South Racing, about the scholarship program and where the program is headed (including an Extreme 40).
At 39:18 – Nic got 'the big get' with 'the Big Fella' – Australian AC Team CEO Iain Murray who took some time out of his busy schedule to chat about the sails, foiling cats, and the America's Cup.
At 53:05 – Nic gets into the CYCA winter series with her own report from sailing on the Harbour.
Enjoy, and if you dig Nic like we dig Nic, go give her some Facebook love over here.
June 16th, 2014 by admin
Our gal pal Nic Douglass continues to burn up the internet airwaves with her Adventures of a Sailor Girl radio show, and this week, she says her show was 'massive!'  We don't know about that, but we do know that we love this petite blonde dinghy sailor's attitude and pluck, and encourage you to give her show a listen. It's an hour's worth of mostly music peppered by interviews and monologue about racing sailboats. Nic tells us about her show:
At 5:36, we caught up with the awesome Howie Hamlin after his 5o5 North Americans win, and all that is ahead for him this year.  So many adventures to draw from that no doubt make him the fantastic sailor that he is today, and always great to talk to!
At 18:00, I managed to catch  Red Bull Youth AC skipper Jason Waterhouse straight from the Alps at the GC32 Austria Cup – too awesome! With his team, skippered by Sebastian Cole, they had two bullets just before I spoke to him. Great to hear that all is going well for this dedicated cat sailor.
At 36:13, last but definitely not least, Stacey Jackson, a great friend, called in from the Canary Islands to touch base about all that is happening for Team SCA leading up to the Volvo Ocean Race. She has promised to be in touch regularly, after the Canary Island race, and also following the UK/Ireland race when all the boats should be out racing. We chatted for a decent amount of time off air as well – and it is just amazing to hear what she has been up to.
At 56:30, I talked about my adventure for the week, involving a very serious story about M&M's post-racing at the CYCA Winter Series race today!

June 4th, 2014 by admin