Posts Tagged 'sailor chick of the week'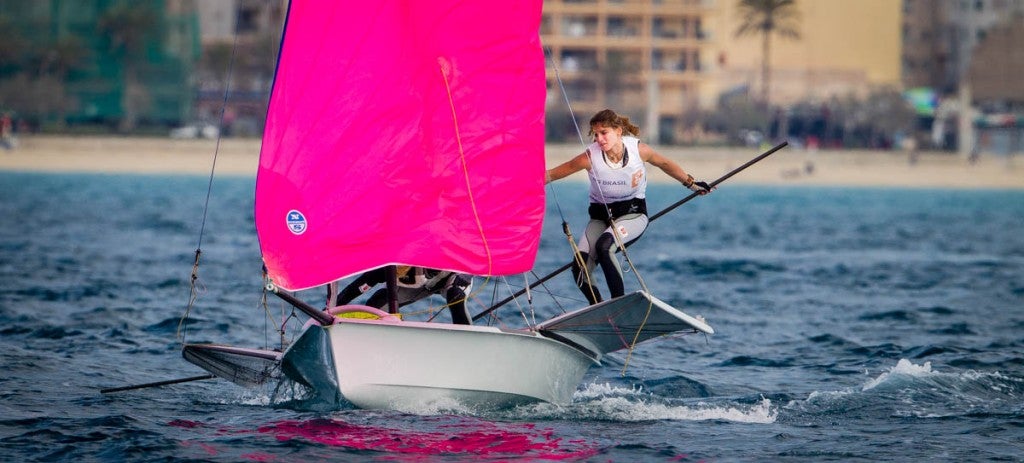 Check out the moves from Martine Suffiatti-Grael, daughter of Brazil's ultimate rock star sailor Torben Grael as she takes her first Sailor Chick of the Week award!  The young Brazilian, with Kahena Kunze on the front, took the win yesterday by over 30 points as the Arenal Training Camp Trophy wrapped up in Palma.  This event – the prelude to the Pricess Sofia Olympic Class event – has exploded in popularity recently despite a tiny budget, pulling a strong mix of next week's World Cup competitors and young sailors who want to share the same line.  The US team didn't enter, though after Miami we have high hopes for them at next week's event, and French and British sailors dominated the event with Spain taking some scalps as well, most notably in the 30-boat Nacra 17 class.  Full results here.
In other Palma news, the World Cup re-branding continues to prove how incompetent ISAF can be, with costs continuing to explode, still more format changes for seemingly every event, and dismal worldwide interest except in a few sailing-crazed nations.  To make matters worse, most of the live coverage from Palma promised to the public is now gone along with title sponsor MAPFRE; the Spanish company chose to spend their millions on a new Volvo Ocean Race campaign rather than throwing good money after bad on a dinghy regatta with a comparatively tiny ROI.   This is the last year of the Palma event's contract with sailing's international overlords, and if the island still has to come up with the money that ISAF wants to remain part of the 'World Cup" for 2015, our sources tell us the awesome Mediterranean venue will be out of the running.  Frankly, as great a venue and event as the Palma regatta is, we'd be surprised if the event isn't just as big without ISAF as it is with them.
Thanks to one of Europe's best sailing photographers – Spain's Jesùs Renedo – for the shot of the wonderful Martine, and get over to her campaign's Facebook page for more info.
March 17th, 2014 by admin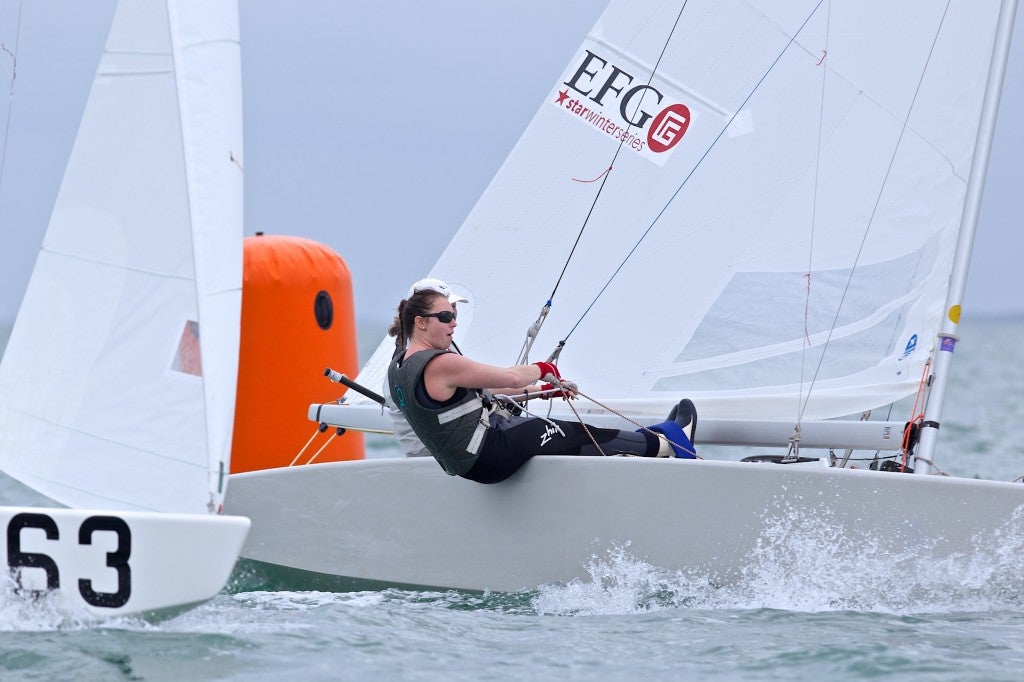 Like Colin Kaepernick in the frozen Midwest last week, Sailor Chick of the Week Laura Beigel (Annapolis, MD) shows off her guns despite a chilly and wet Saturday at Star Winter Series event number 3.  Beigel, along with her aunt and longtime Star skipper/Class Exec Barbara Vosbury-Beigel pulled a nice midfleet finish of 14/22 on the weekend despite tipping the scales at about half the weight of most of the fleet.  One-legged Brazilian badass Lars Grael/Sam Goncalves finally knocked Augie Diaz off the top spot in a regatta, but only on a tie-break; Augie continues to dominate the Series as the biggest event – the 26-boat, 8-nation, world champ and medal-filled Midwinters kicks off on Thursday.  Hit up the Series Facebook Page for event reporting from our boy Clean, with more photos like this one from Meredith Block.
January 8th, 2014 by admin
You'll be forgiven if you think Victoria's Secret did a sailing shoot for their latest catalog, but it ain't the case: Meet University of Hawaii FJ skipper/crew Kellie Yamada trying her hand at some Moth sailing after Worlds racing finished up last night.  This Hawaiian native is not only one of the most drop-dead gorgeous Sailor Chicks of the Week we've ever had the privilege to show you, but she's a bad-ass sailor chick with no fear and plenty of talent.  She's so fearless that, when Jonny Goldsberry rocked up to the Worlds media boat and offered a ride to the group, Kellie stripped off her shirt and shorts and jumped in the water wearing nothing but lingerie.  "I have GOT to give it a try," she said, ignoring cameras and giving it her all.  Now Kellie just needs a little more breeze…or not…we don't really care so long as she keeps sailing.
Wanna get to know more about the Rainbow sailing team?  Meet them on Facebook.  For more mothy bikini girl pics (yes, you're all lecherous dogs), go here.
October 17th, 2013 by admin
Known as "Red Lady" in Cruising Anarchy, Jessica is the ideal Sailor Chick of the Week, and exactly the kind of soul this sport needs more of. Far more than just a pretty face on a yacht, she's an owner and liveaboard in the Big City.
She singlehands her boat, races on several other boats in many crew positions, and has a great time doing it.
She splices, does rigging, and can handle nearly every kind of boat maintenance that you can think of. And, she looks great doing it all. More impressively, she's learned it all in just about a year.Keep rockin' it, Jess! We're proud of you!
October 9th, 2013 by admin
The first group of candidates for the all-women's SCA Volvo Ocean Race team left Southhampton for their training base in Lanzarote yesterday, and judging from the quality of the sailors, this ain't no publicity stunt-seeking campaign.  You can check out some video of the departure here as well as words from some of the girls, including our favorite racer of all time; Sam Davies.  Will our extreme disappointment losing Sam from the Vendee fleet deliver a silver lining in following the exploits of Cap'n Sam for the next two and a half years?  One can only hope!  We also hope that the second group of candidates – due in to the Canaries in a few weeks – will include at least one of our awesome American racers.  Photo thanks to Rick Tomlinson/SCA.
February 3rd, 2013 by admin