Posts Tagged 'sailor chick of the week'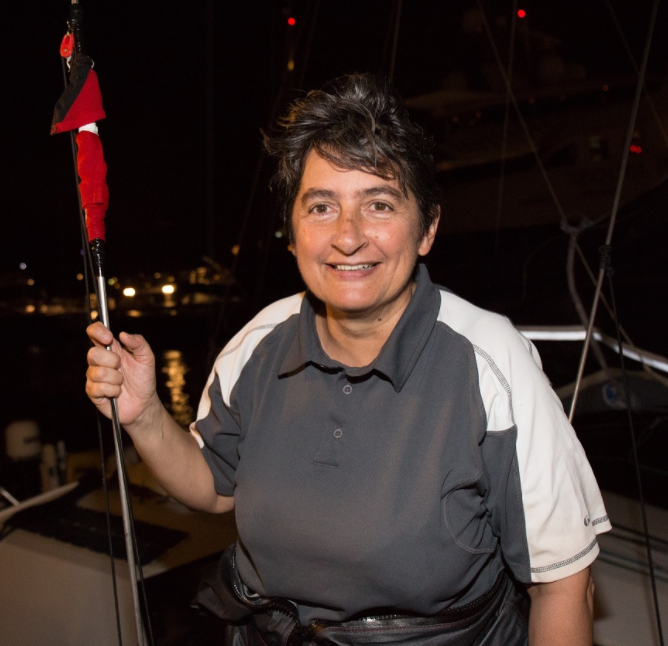 Sailor Chick of the Week
If you thought the Class 40 was full of soon-to-be Vendee stars, you'd be right, but that doesn't mean the shorthanded speciality Class can't be won by less glitzy sailors. Witness Catherine Pourre, who's Eärendil just won the Class 40 section and set a Class record for the extremely tough Caribbean 600 course that's been well-attended by top Class 40s since its inception.  From the folks in Antigua:
Eärendil took line honours for the eight-strong Class40 Division in an elapsed time of 2 days 13 hours and 15 seconds, breaking the previous record set by Gonzalo Botin's Spanish Tales II in 2016 by over three hours. Eärendil, with a French, Spanish and Italian crew won the Class40 division for this year's race by just under three hours. Louis Burton's BHB was second in class and Arnt Bruhns racing his German Class40 Iskareen was third.

"The team did a fantastic job. I didn't know we were going to break the record, but we have two crew from Tales who had the record and said we could do it with the forecast conditions," commented Catherine Pourre. "We had 25 knots almost all the time, with 30 knot gusts. It was very, very wet on deck and inside the boat it was very rough as we were bumping on the waves. When we were upwind I got seasick and it was difficult for me to recover because we had no respite; even reaching was really rough. The RORC Caribbean 600 is part of the American Trophy for the Class40s. It is one of the fiercest and most challenging races for Class40 because of the number of manoeuvres, and this year because of the weather conditions. I hope we will have many more boats next year. There are 58 potential candidates for next year's Route du Rhum," continued Pourre.

Click below for an interview with Catherine after the finish with thanks to Louay Habib.
March 1st, 2018 by admin
One of five sailor chicks (out of 35) entered in the all-important Solitaire Du Figaro, rigger, pro sailor, and former minista Alexia Barrier is one of a new breed of sailor who understands marketing, social media, and the web.  Above is Episode 1 of what we hope will be a long-running series, bringing her audience into the folds of an event that has remained mostly hidden from non-French eyes.  Alexia is a daily SA reader and an extremely cool Sailor Chick of Week, and she gives us a reason to give a shit who wins the Figaro.  Then again, with Justine Mettraux and Cecile Laguette on the line, we're gonna have a hard time deciding who to pull for.  If she keeps entertaining us with capsizes in other boats, we'll never get bored. Follow Alexia here on Twitter and here on Facebook.
Title thanks to solo women everywhere.
February 15th, 2017 by admin
New England graphic designer, illustrator and leather artist Bryn Bachman is one of the most in-demand non-pro sailor chicks anywhere, and she's proved herself countless times in the Melges, Etchells, and now C&C 30 fleets.  Brynn's dexterity on a big air tack in Key West earlier in the month got superstar video producer (and C&C 30 crew) Petey Crawford's creative juices flowing with this video, and her Extreme 2 team's continued dominance in the Class convinced us to name her our Sailor Chick of the Week!  Learn more about Bryn here.
January 30th, 2017 by admin
SA'er 'Trispirit' thinks his sailor chick deserves the world's admiration.  We agree!  Meet Sailor Chick of the Week Claudia.
I'm not sure I want the sailing anarchy fraternity drooling over my misses, but she's one hell of an inspiration.  We started to do a full refit last year on our old Formula 40 trimaran Spirit (ex-Spirit of England).
This refit was done in the tropics (actually in the Whitsunday Islands) over the hottest period of the year (summer) with temps averaging the low to mid 30's daily.  It took us six months of twelve-hour days seven, days a week, and throughout the whole period Claudia was working just as hard as the guys if not harder. She carried the biggest smile on her face as though she knew the whole time the amount of joy we would get once we were back in the water and cruising again.  After everyday Claudia would then head home and cook for all the boys a big healthy feed, still smiling and loving life!
Look through the photos on the refit gallery –  I dare you to find one photo where she's not smiling.  Claudia ground, sanded, glassed, laid up foam panels, coved, and painted like a pro and all the while, she smiled and made us all feel great.  There is nothing more you could ask for in a women, a sailor,  or a person, for that matter.
Fair winds to all, Trispirit
Before anyone comments on the sanding without a suit.  She's covered in talc, and it's fucking hot!
March 18th, 2016 by admin
It's a rare day when we send people to another in a sea of shitty "cruisin couple sailing the same old milk run" blogs, but as you can tell from the pic to the left, this one is, well, somewhat different.
Meet model and 2014 Playboy cover girl Elizabeth Ostrander, who's somehow raising an infant while cruising the South Pacific in a winnebago while wearing any number of tiny-bikinis with her very, very lucky man.
Close your office door and browse Ostrander's modeling photos on Instagram here, and young couples – even those with young kids – can get some inspiration for casting off the mooring lines themselves by reading their blog here.
December 20th, 2015 by admin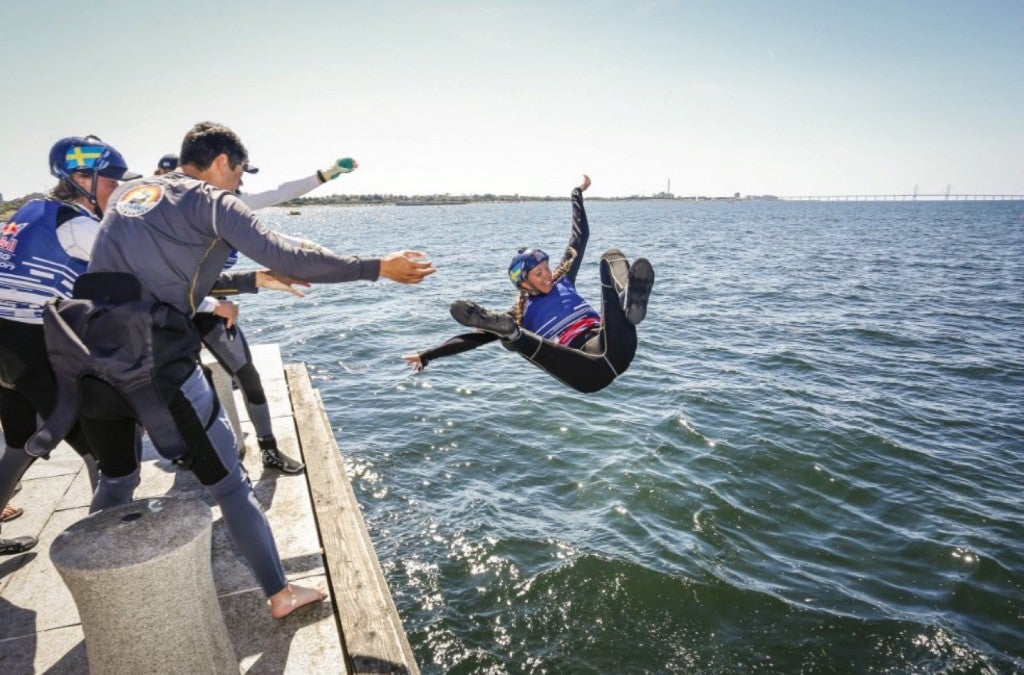 SCOTW
Catamaran crew Celina Burlin became the first chick in history (we think) to win a foiling regatta this weekend, and we salute her as the Sailor Chick of the Week, and we applaud the Red Bull Foiling Generation event that's putting Flying Phantom foilers into the hands of 16-20 year olds to find out if any of them have a future in flight.  We haven't paid much attention to a Red Bull series that seems like more of a carnage hunt or PR stunt than real racing,  but with sailors like Celine in the mix, we just might start.
Congrats to her and skipper Oscar Bengtson on their Malmö victory, and thanks to Mario and the RB boys for the note and Richard Ström for the shot.
August 10th, 2015 by admin
May 9th, 2015 by admin
At a scarily beautiful 18 years old, Lauren Gineo was one of the earliest Sailor Chicks of the Week.  And now, nearly a decade later, the URI college racer, windsurfer, and longtime Gunboat crew is now our first-ever Sailor Mom of the Week.  She's sailing aboard the G55 Toccata with husband Adam this week, but she took the time to begin indoctrinating the next generation of high-performance sailor aboard the G4.  Meet 8-month old helmsmen Ben, who will likely be Gunboat racing on Friday in Antigua, and almost definitely racing foiling boats in about 18 years.
April 30th, 2015 by admin
Clean's obsession with Ted Kravitz's Formula 1 'Notebook' inspired his series of SA 'Dock Walks' this past year, and it's quickly become a crowd favorite whether at the Melges Worlds, VOR starts, or Key West.  Thankfully, awesome Aussie broadcaster Nic Douglass picked up the torch in Auckland, and her 40-minute dock walk gives you 'the real feel' of being an insider in a race like this as well as some shit you'd just never see otherwise.  It's long, it's rambling, and it's real – and quite a bit more interesting than the pretty but incredibly dull leg start…
Big thanks to Nic for sacrificing her spot on a start boat for this piece, and to photographer Jen Edney for making it all look good.  Two sailor chicks of the week?  Hell yes.
March 18th, 2015 by admin
Nebraska's Jen Edney has been one of our favorite young photographers for the last couple of years, and her growth and maturity in the face of a nasty sailing accident last year has been phenomenal.  Jen's work has a uniqueness about it that's hard to pinpoint, but a few minutes with her body of work shows that her onboard 'human' shots are some of the best we've ever seen in the sport.  Jen will be working on some special projects surrounding the VOR over the next few months, but was embedded with Team Vestas Wind in Cape Town, and she put this story together for the Anarchists after the team's recent drama.  Go and like her Facebook Page for more about this exciting young Sailor Chick of the Week.  And wish her a Happy Birthday while you're at it.
The boats are gone. The village is empty. My friends, my 'family' are at sea. It's a strange feeling after so much excitement, movement and anticipation over the past few weeks. Everyone is going about their daily lives as usual around me, but today, I am in another world. I find myself thinking about what my friends are eating for the next 25+ days while I eat breakfast. About the bashing they must have received overnight while I slept in the comforts of my own bed, feeling a tad guilty. I am thinking about my 30 hours+ of flight time home, realizing that I have it easy.  Call me crazy but I am also thinking, "I wish I was out there with them."
Back home, I open my eyes to see the bright orange and pink colors of a Nebraska sunrise, having stirred from yet another dream of open water and blue sky.  It's a recurring dream these days and a stark contrast to my landlocked location.  The first thing I think about upon waking is my mates at sea and how they are getting along, but it is Thanksgiving morning and I have so much to be thankful for. This morning I am thankful for my 'real' family in the Midwest as well as my 'sailing family.'
Changing Colors
I thought about a recent experience I had during this past trip to Cape Town, when I was sitting in a circle of more than a dozen friends from all over the world; a night when I realized how special this sport can be.  I was sitting across from a person who helped me with my first-ever sailing story seven years ago and who I credit for getting me into this mess that I've grown to live, love, and long for.  As we all swapped stories from years past – stories that were in some cases older than I am! – nostalgia set in, and we talked about the way this race has really become life for so many.  We talked about the Whitbread days, how the race has changed and grown, stories of sadness, joy, and drama.  Nights barely remembered and nights whose impact will be felt for decades…we all have those.
Throughout the next 9 months, I will constantly be "changing colors" to tell my own stories of the Volvo Ocean Race.  My loyalty and allegiance lies not with one team, but with the sailors…all of them. I've realized how special this opportunity is, and that is one that wouldn't have existed in this way during the past few editions of the race. Everyone has talked about how 'One Design' has changed the dynamics of the race, making for the tightest racing in history and opening the door for more sailors to compete, but that's not all that has changed. The race has nearly always been won by the best-designed yacht and in recent years by the team with the biggest budget, forcing the sailors to work extra hard behind closed doors. And now, the doors are all open; and the new feeling in the Boatyard, the team bases, the Sailor's Terrace, the hotels, parties, and media centers is one of camaraderie and togetherness.  It's something that dominated many of the less professional days of the Whitbread, but it's back – and the public, the sailors, and their families love it.  Of course they do – that camaraderie is one of the things we all love about the sport, isn't it?
This was most recently illustrated as Team Alvimedica diverted from the race to stand by and assist in the rescue of fellow Team Vestas Wind after they ran hard aground.  Charlie Enright said, "The only thing that matters was that everyone was OK, they are our competitors and our friends but in addition to that we are each other's support networks when we are sailing in remote corners of the world."  And anyone who watched Will Oxley's wonderful radio chatter and interviews knows that there was nothing that he wouldn't do to help save his friends, perched on a reef in the middle of the ocean.
It is moments like these that highlight this precious aspect of the sport. Humbling moments that remind us to stop, take a breath, look around, and truly appreciate and respect where we are, and who we are with. As usual, Bouwe Bekking said it straight: "We are someway, somehow, one big family in this race."
December 2nd, 2014 by admin