Posts Tagged 'sailing'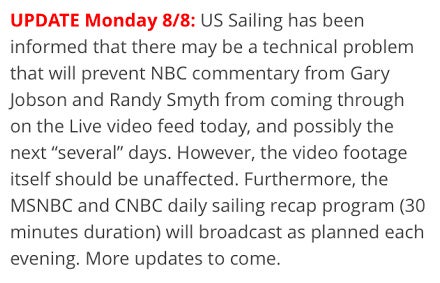 While overall US ratings are down an astonishing 32% from London, it's amazing how every other sport has superb coverage, yet sailing always seems to have some sort of fuckery associated with it. Not hearing Jobson, however, is hardly a loss at all, but let's face it – while a few hardcore watchers are happy with pretty pictures alone, sailing video without informed commentary will struggle to hang on to real fans, much less earn one new interested observer.  The production team's fuckup reaches monumental proportions against the political backdrop: After London's production of the sailing events ranked almost at the bottom of all Olympic sports in total viewership, the IOC told World Sailing they needed to figure out how to pull their weight or risk consequences, and their solution; hire the same producer who pulled those shit ratings, and hope he doesn't fuck anything up…
From Anarchist Bill: Olympic streaming commentary: just watched the RS:X race. Really outstanding video, and wonderful without commentary. I don't need someone telling me what's going on, particularly as their occasional graphics were excellent. Gary and Randy may be great, but sailing is so much better without talking heads.
Americans with cable can watch the coverage, for what it's worth, over here.  Those without can find legal, free streams through one of these links.  Sketchier stuff for our visitors from far-off lands with good anti-spoofing software and smart clicking, you can brave these spam-filled feeds for live sailing.
August 8th, 2016 by admin
The Clearwater, FL 49er and 49er FX Worlds are live for the final two days of the important qualifier.  Watch Pete Burling and Blair Tuke humiliate everyone else.  The iconic Peter Lester leads the commentary over a mix of drone and on-board video, and it's worth a watch.  Results over here.
February 13th, 2016 by admin
Wild Oats XI crossed the finish of the 69th Sydney-Hobart Yacht Race just after 7 PM today, horizon-jobbing the fleet after a brilliant night of sailing that saw them turn a 12 NM deficit into a 42 NM lead at the finish.  It's her 7th line honors victory in nine tries, equalling Morna/Keruwa IV's record from the '50s.  Great job all around; here's a shot of the dock celebration amongst thousands of 'Strayans, and here's 4 and a half minutes with Navigator Tom Addis as they hit the dock.  Jump in the thread for more, and keep an eye on the McConaghy Boats Facebook Page for a full night of action as well as some awesome contest giveaways – Perpetual Loyal is just entering the Derwent as we go to press, and Clean is on the scene…Meredith Block photos.
December 28th, 2013 by admin