Posts Tagged 'Russell Coutts'
Thanks to SA'er 'Francis' in the Saxophone piece below we've already heard how much better the AC folks – with help from NY Organizers – have gotten at the overall ACWS atmosphere – at least if you are on the ground.  Unfortunately for the sport and fans of competitive sailboat racing, they seem to have gotten worse at everything else.  Here's what the world – and the Anarchists – had to say about the actual race viewing in Manhattan.
Manhattan Mixer
Ben Ainslie echoed the sentiments of all sailors in this piece decrying the ridiculous race management necessitated by choosing an idiotic venue, and wondering how much more the AC is going to sacrifice in the name of the almighty dollar, and how far down on his knees Russell Coutts is in search of the almighty dollar.  SailorGirl Nic Douglass caught up with Ben here.
SA'er '_____' brought his family, with a mostly negative review:
We were there on Sunday. The damn buildings…completely wrecked what would have been a puffy enough NWerly.  The course was too short. The boats looked like pinioned ducks trying to fly off the pond.  The crowd cheered to "let's hear it for team USA". Which I found bemusing.

I said to my kids, "I'm cheering for the French Team–I bet there are Frenchmen on it!" Apparently there was a french couple near us that heard me. Not sure they appreciated that bit of boorish Yankee humor–I'll never know (my kid speaks french but didn't hear anything other than a few words here and there).  There were a lot of foreign languages–I heard French, German, Spanish, possibly Russian. Lots of people there.

I was glad to have seen it, but frustrated by what was obviously a PR spectacle.  The Newport event without hydrofoils was much better in last go around–the boats got up to speed at least.

It feels like these toys are expensive, and the guys paying for them need their exposure, and that that is more important than making a viable set of races. Which is too bad. At least NASCAR builds tracks big enough.  The ferry terminal with the tarpaulin design got in the way of watching. So did the sculpture. And the buildings on far side problem.  Not sure this is such a perfect location. Somewhere else along the river would have been better perhaps. Maybe not really.
'6924' snarks in:
I was there all day Sunday, great event, plenty of noobs, plenty of brooze, and beaucoup ladies. My group got pleasantly tipsy, watched a little sailing, and tried to behave adult.

Only a killjoy would complain about the corporate vibe, the stupid courses, the dumb Sh"t commentary, and the overbearing security

They should do this every year – maybe have a night race with flaming torches on board the boats or topless dancers on a barge in the river too.
Live: Dead
'pwormwood' summed up the wholesale failure of the live racing feed, echoing hundreds of comments on SA and the various social channels.  We searched high and low, in three different languages, and still could not find even a remotely positive review of the broadcast, whether you paid for it on the app or watched it on pay TV.
Unbelievably bad TV programming – they interrupted 11 minute races with 2 minute commercials, completely missing the finish of one race and spoiling the ever changing plot in the other two.  Then they fill the time between races with fluff bullshit rather than get the commercials out of the way.  WTF – the commercials so destroyed the continuity that it was frustrating rather than pleasurable to watch the racing.  With three 11 minute races in an hour of programming, there are 27 other minutes for commercials.  A normal TV show has about 15 minutes of commercials, so there is more than enough time for commercials without interrupting the racing.  It is amazing to me that a good sailor like Russel can watch that hour of programming and think to himself: "I can't wait for my sailing buds to watch this – they'll love how we captured & clarified the racing…".  Frankly, I was embarrassed for having invited a sailing friend over to watch it…and I won't do that again.  Fortunately, with the M-32's, the GC 32's, the TP 52's, and even the Stars, there's plenty of performance sailing to watch that allows you to view an entire race, start to finish.  In terms of quality of content, the AC is looking up at ALL of those programs.  I was glad to hear that the on-site experience was much better; but you are not going to develop a sustainable financial model just filling the "stadium".  If you're going to completely bastardize the racing to fit a TV program, you ought to at least make it a good TV program.
In an unrelated note, Longtime SA'er and New York Times reporter Chris Museler stayed away from criticism and grabbed a meaty look at how the young guns were displacing veterans in this piece.
People like the fawning Jimmy Spithill and the foreign sailing press can be forgiven for their ignorance of the realities of New York; the 'huge crowd' along the water was anything but impressive to folks who know a hundred thousand new yorkers and tourists will turn out to watch paint try if it's colorful enough.  When we asked a highly respected journalist about the AC's claim that '75,000 spectators lined the banks on Saturday', he gave us a great answer: "If bullshit were music, they'd be the Kings of Jazz!"
And while surely the handbag-sellers, watch-purveryors, and financial product pushers will be overjoyed with the b-to-b and hospitality trips that New York makes so easy, but by any logical metric, the ACWS New York failed to deliver anything of value to the sport or to a meaningful portion of the public.  Friends of Sailing Anarchy at the NYFD estimated around 50,000 people combined over two days, which would be a great number in a small town, but in New York, isn't much higher than the number that would be through there on a typical weekend.  Remember when 50,000 people for the Volvo Ocean Race Miami was a huge failure?  New York makes Miami look like a country town, and with the joke of a competition put on by the event, there's not much to build on when and if they return.
Once again, the Bermuda America's Cup cycle confirms what we've said all along; the greater public, the sailing community, and the sport are all just an afterthought, and you should feel lucky that they give you and the rest of the peons even this piddling amount of consideration.  While the in-person experience is worth the trip if the venue allows decent sailing, the rest of the decisions – format, venue, TV and internet, marketing, commentary – are destined for history's dustbin as soon as someone competent takes over in (hopefully) a year and a half's time.
Read the ACWS NY thread for the most complete wrapup of the event.
#nevercoutts
May 11th, 2016 by admin
New teams continue to sign up new sailors and sponsors for Russell Coutts' Flying Circus as the Bermuda plans start to take shape, but it didn't take long for a supermajority of Bermudians to see what the rest of the world already figured out:  The tens of millions of dollars flowing out of Bermuda's coffers and into those of the fifth-richest man in the world ain't gonna benefit most of Bermuda in the least.
With a major part of Bermuda's recovery plans being pegged to the hosting of the America's Cup, the vast majority of voters felt that the economic benefits would accrue to only a select few rather than to the country as a whole.
  Nearly 7 in 10 voters (68.8%) felt that economic benefits would go to a select few, while 3 in 10 (28.3%) felt that the event would benefit all of Bermuda.  Less than 1 in 20 (2.9%) were unsure.
By race, more than 8 in 10 Blacks (84.8%) felt that the economic benefits would go to a select few, compared to 4 in 10 Whites and Others (36.9%) of who felt that way.  Whites and Others were more inclined to believe that the event would benefit all Bermudians (58.4% compared to 12.9% for Blacks).
By gender, females were more likely than males to believe that benefits were for the select few (72.7% versus 62.2% respectively).  On the other hand, one-third of males felt that all Bermudians would benefit from hosting the races (35.6% versus 23.6% for females.)
Read the full survey at Today in Bermuda.
June 9th, 2015 by admin
#LunaRossaChallenge is distinctly opposed to the proposal to change the Class Rule for the 35th America's Cup

— Luna Rossa Challenge (@lunarossa) March 26, 2015

To no one's surprise, Luna Rossa Challenge just said 'fuck you' to Coutts and Doc Harvey's plan to cut down the America's Cup to 40-footers, and judging by the silence coming from Bermuda's media, it appears they were blindsided as well.  Is this one of those changes that requires unanimous consent from all parties?  ETNZ seem to think it does.
What do you think?  Join the discussion raging in America's Cup Anarchy right here.
March 26th, 2015 by admin
While the world's sailing media is reporting an Antipodean battle between Sydney and Auckland for the right to host the "America's Cup Qualifiers", it emerged this morning that Sydney has most likely lost it to the Kiwis, meaning ETNZ should have the funding soon to get their challenge really rolling.  Did the Harbour ever have a real shot, or do they join Rome, Newport, and San Diego as yet another pawn in Coutts' repeat-as-needed negotiating program?

Premier Mike Baird's events team has been slammed for "wasting everyone's time" after it let the opportunity to stage prestigious America's Cup races on Sydney Harbour slip away to Auckland.
The America's Cup organisers are set to award the qualifier races to New Zealand after Sydney's events tsar, Destination NSW chief executive Sandra Chipchase, told them she needed another eight weeks to make a decision on whether to lodge a formal bid.
It is believed Auckland secured the event — which organisers estimated could have attracted 40,000 international visitors and 15,000 domestic tourists to Sydney — for less than $10 million.
"For this opportunity not to be treated seriously is just a massive waste of everyone' time and a missed chance,'' said veteran promoter Tony Cochrane, who was trying to generate interest from Sydney.  "This is not how world-class event organisations operate when it comes to securing what is clearly a world-class event."  Opposition Leader Luke Foley said he feared the government had been "asleep at the wheel". "We have to show we are hungry for these lucrative money spinners otherwise you miss the boat,'' Mr Foley said.
Read on, and shout about it in America's Cup Anarchy here.  Tip o' the hat to previously self-exiled but recently returned AC Anarchy addict "Stingray".
February 16th, 2015 by admin
Cat 4 Hurricane Gonzalo visited many of our favorite sailing destinations yesterday, and Antigua, Anguilla, St. Martin and St. Barths are all reeling.  Despite accurate forecasts days ago, dozens of yachts were tossed onto land in SXM and sunk in its lagoon.  It wasn't just boats damaged, either – the 120 knot winds tore roofs off homes and sent shanties toppling, one person lost his life in the lagoon and at least two people are missing…thus far…and there's still no power and therefore not a ton of information.  There are some decent damage reports, pics, and video on local Yana Gibbs' Facebook Page and keep an eye on the thread for more.  And if you have some info, please post it – because Gonzalo ain't finished by a long shot.
The NHC's warning map makes the tiny island nation of Bermuda look like a slow pitch down the middle for Gonzalo's 140 knot bat, and he's taking aim tomorrow with no real weakening in the forecast.  If you're visiting or living in Bermuda, don't take the laissez faire attitude many did in the French caribbean; get your shit tucked away, be sure you have potable water and food, and get to high ground long in advance.
And if you're a fan of the America's Cup, now's the time to figure out what to do when a hurricane comes straight at your fleet of AC62s, cruise ship hotels, and super yachts.  Our suggestion: Ask Russell.
October 16th, 2014 by admin
We're fortunate to have made some very intelligent friends over the decade or so we've been working for Sailing Anarchy, and when they ask us serious questions about our reporting, we listen.  So when we  got an email a couple of months ago about the tone of some of our America's Cup editorials from one of the top people at a highly respected team, our ears perked up – partly because this dude is almost frighteningly smart and extremely respectful, and partly because his questions were reasonable and not defensive.  He agreed that much of our criticism of the ridiculous delays and the lack of transparency in the AC was accurate, but asked me if 'killing the event with negativity is really a step forward?'  He also challenged me to 'explain what changes in the AC would encourage us that things are changing?'
With the full competitor lineup about to be released during today's dog-and-pony in London, it's time for me to answer his questions.
Q) Is negative criticism or 'killing the event with negativity' a step forward?
A) Whether criticism is a 'step forward' is irrelevant; we don't work for the America's Cup and we have no duty to 'move the AC forward'; this is similar to the criticism we've gotten for writing about regattas that allow littering in the sea and for writing about classes that are being run into the ground, and our answer is always the same:  We are firm believers in transparency, and to us, letting the sailing public know what is really going on behind the scenes is always a step forward, especially over the long term, and even more especially when reality is shrouded in secrecy and bullshit.
We advocated for and applauded the move to catamarans when the majority of the world's sailing publications were shrieking tradition and sacrilege – actually, we've been asking for it since about 2003.  We approved of the format for AC34 and prayed for a great venue like San Francisco.  And we lauded the beautifully sorted and widely available coverage for the most exciting regatta in sailing history.  But we could not remain quiet in the face of the mounting fuckups while ACAlphabet paraded their stunning incompetence in front of the world.  That's what the other publications did, and if no one questions the bullshit, it will always be repeated.  We'd prefer not to see an AC35 with the same problems as AC34: Woefully low North American ratings and broadcast pickup, failure to meet any of the in-person audience/SF occupancy/ACOC sponsorship raising goals,  a fatal accident whose cause has – until today – still not been properly reported on, safety rules that changed the outcome of the event, and a venue that feels lied to and abused by the sport of sailing.
What my friend was really asking was "do we understand that our negativism is actually hurting the America's Cup?"  My answer is very simple: That's not our problem.  We didn't cheat.  We didn't fuck up the broadcast deal.  We didn't cut the promotional budget to pieces halfway through the cycle.  We didn't make up a bunch of ridiculous projections for the SF government and fail to get close to them..  And we certainly didn't cover up the cause of death of a famous sailor.  So quit blaming us.
Q) What moves would encourage you that things are changing?
A) As we've said ten million times, lack of transparency is one of the sport's biggest problems.  It's got its own language, complicated and esoteric rules, centuries of history and tradition, and is mostly run – at least in America – by a cultish bunch of odd rich people in archaic clothing.  AC33 had the potential to change all that in huge ways, yet it failed spectacularly, and somehow, the guy responsible has never even acknowledged his abject failure or explained how he will prevent the exact same failures from happening again.  That's what we would need to see in order to think about getting behind the next AC – a little openness and honesty instead of the same old back room deals that have governed the America's Cup for a century.  So when you are watching the press conference today, consider the following questions that we'd like answered; get us that, and we'll believe that times are changing.  And consider the fact that, for four years, Russell Coutts has consistently refused to sit down for an interview with the world's most widely read sailing website.  There's only one explanation for that: Fear.
WHY DID BART DIE?
As we've said over and over, we're not at all happy that there still has not been a single official comment on the cause of the accident that led to Andrew Simpson's death, and we frankly don't understand it.  We remember Formula 1 legend Ayrton Senna's death all too well, and while the public investigation process was not an easy one, it's amazing to us that AC organizers did not insist on even the most basic investigation or transparency for Andrew Simpson's cause of death.  The Senna case resulted in a finding against Williams co-founder Patrick Head after a massive investigation that included a 600-page analysis of the crash; while Head would never go to jail for his 'omitted control' culpability, at least the Italian courts provided closure for hundreds of millions of Senna fans around the world.
We know that Artemis Racing conducted their own investigation into Simpson's death, yet no one we've met will admit to seeing it.  We know the Coast Guard had a think about it too.  And we know that the San Francisco police are required to investigate any death.  Yet when we asked the America's Cup where those documents were, they had no answer, and that's ridiculous.  These reports should have been required by ACRM to be released to the public, and an open inquiry into the design, build, and management of Big Red – and the responsibility for her failure – should have been undergone immediately after the accident.  We don't blame Artemis for the silence – they have good reason to be quiet.  But the event's organizers have a duty to do more if they want to be considered anything but a failure and a joke.
We hate that we've had to, but we've done a pile of sleuthing ourselves, and thanks to Johntommy Rosas and the America's Cup Trust, we finally got our hands on the SFPD's official 86-page investigation into the Artemis accident, and for the first time today, we're sharing it with the world. We'll leave the conclusions to you guys, but it's not brain surgery; as we all knew when he loudly acted like he never said it, Nathan Outteridge's words to his dad were pretty accurate –  the boat 'folded like a taco' when it dug the hull in during a bearaway.  There wasn't a pitchpole – according to Artemis design coordinator Adam May's witness statement, the hull failed.  Why did it fail?  Is anyone responsible, as they were for Senna, or was it just a non-racing 'racing incident'?  We don't know, but if the America's Cup is to be the 'tier 1 sport' that Coutts, Ellison, and new AC Commercial Commissioner Dr. Harvey have repeatedly claimed is their goal, it's time to act like a tier 1 sport, where you investigate deaths and hold people accountable for them.
Until then, the only place in the world you can find the investigation report is right here.  Warning: It's not for the faint of heart.
Why Did AC34 Miss Every Media/Comms/Audience Target?
We're not going to re-hash this one – we've done it too many times.  The dismal ratings are public knowledge, as was NBC's refusal to pick up the final races for a national broadcast audience – even when the comeback was in full swing.  But Russell Coutts has somehow not been called to the carpet to explain this abject failure.  Were they the wrong targets?  Is it impossible to make sailing a mainstream sport in America?  We'd all like to know.
What Happened To Continuity?
Coutts told us a dozen times that one of the AC's big issues is continuity; that it's incredibly tough to run a commercially viable sports league when it isn't owned by a reliable group.  This is surely true, and Coutts' solution the last time around was a financial windfall of several million dollars for the winner of the AC if they maintained some part of the AC event management structure he planned in AC34.
Yet when Oracle won, there was no continuity.  Near as we can tell, there was no management; just Russell and a couple of trusted advisors secretly shopping venues around and trying to create a bit of a bidding war.  The incredible action we saw in San Francisco?  Forgotten.  The 'reliable pro-sports league'?  Gone.  Instead we have a year of silence while all the excitement fades into the background, and we're right back on the same old Coutts train.  And we'd like to get off it.
If you would too, start asking the AC folks the same questions we have, and don't let up. Hit them over here and over here.  If Russell Coutts or his new commercial chief are serious about what they claim, they'll answer.
But if all the talk is bullshit and smokescreen, designed to cover up the fact that Coutts' job is really to win the Cup and neither he nor Larry gives a shit about the rest of it, they'll continue to say nothing, admit nothing, and accomplish nothing – besides retaining the Cup, of course.
September 9th, 2014 by admin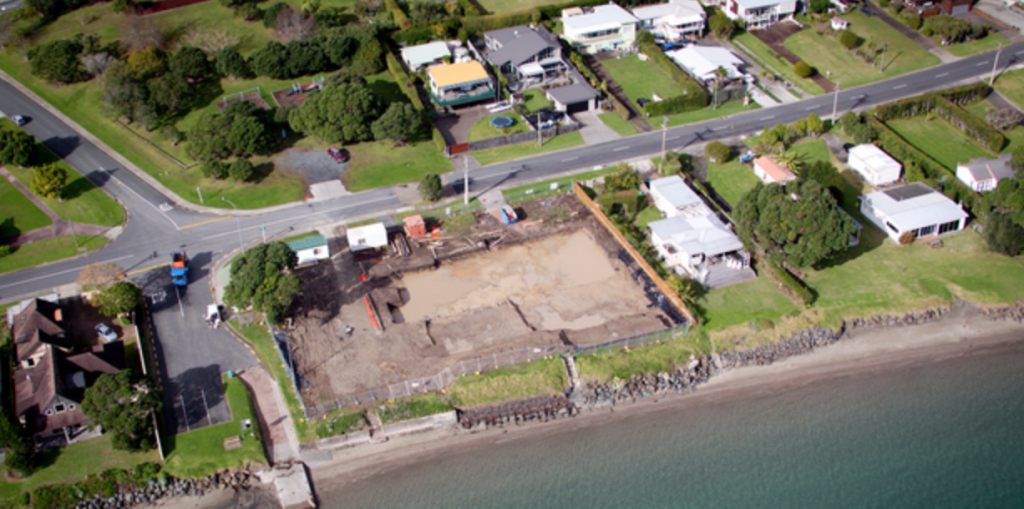 Any of you kids thinking about going into professional sailing after college?  Do it well, and you just might be able to build a $10M beachside mansion like Sir Russell Coutts!  Check it out; according to the NZ Herald, Coutts' contractors have just finished their demolition of the three houses on Tindall Beach in North Auckland to make the property ready for Sir Russell's 5-bedroom, 6-bath, 667 square meter (7200 s.f.) home.  This goes into a Coutts' real estate portfolio that includes apartments in Auckland and homes and farmland in Otago; he ain't Larry Ellison, but not too bad for a 52 year old sailor…
July 7th, 2014 by admin
The Bermuda Sun didn't take kindly to our analysis of potential AC35 venues last week, devoting half a page of text to Sailing Anarchy's 'naiveté' in criticizing the tiny island as an America's Cup venue.  The Sun's confidence comes in part thanks to a single source they cite; a retired sailing coach named Paul Doughty, the Bermuda media's go-to guy for quotes.  "Sailing Anarchy…have no idea what this tiny island gave the sailing world," said Doughty.
We do, in fact, know what Bermuda gave the sailing world, Mr. Doughty.  But your island's 17th century contribution to upwind sailing has precisely fuck-all to do with the logic of holding an AC in Bermuda, especially one held by a US-based team.  Doughty says "I think it would be a tremendous shot in the arm for Bermuda…In terms of world exposure, it's massive. Every single yacht club in Europe would see us and the incredible place that we sail in."
You know what, coach?  It would be incredible for the economy of, say, Haiti, if FIA decided to hold a Formula One race there.  The whole world would see how pretty it is – imagine the world exposure!  But it's still a stupid fucking idea.
So listen up, all you dicks in those stupid shorts and socks: Sailing Anarchy likes Bermuda just fine.  It's a pretty island with good sailing conditions (once you get there, at least!) and a great lagoon.  But it's also got a British culinary culture, some of the most over-priced goods anywhere, and is right in Hurricane Alley.  And with just 60,000 inhabitants, a Bermuda AC would be a luxurious but very, very quiet affair – perfect for Louis Vuitton to get back on the scene, anyway.
More importantly, if Bermuda is picked as a Cup venue, it will be an outright admission by the folks running the AC of something that we already know, and an indicator of something far worse: Larry Ellison and Russell Coutts' stated mission before AC34 – transforming the Cup into a worldwide brand with sustainable commercial appeal to a worldwide audience – has failed.  Choosing a major US city might mean Coutts is giving it another try, but a Bermuda Cup would mean that they've all given up, and that the AC is, indeed, solely for the super rich.  And of course, for 60,000 Bermudans.  For everyone else, there's Youtube.
What were we saying about Chicago again?
June 25th, 2014 by admin
We're still a few days (and a transpacific flight or two) away from the comprehensive SA "Report Card" on the 34th America's Cup.  It will perhaps not surprise or amaze you, but it will lay out the reality behind the event, without qualifications or a worry that somehow Sailing Anarchy will be excluded from future Cups for being honest in front of a massive audience.  In the meantime, Pierre over at Vsail continues to be run one of the few sailing publications unafraid to tell it like it really is, and here's a portion of his own solid analysis of what went right and what went wrong in San Francisco.
Does Larry Ellison really want an America's Cup with many challengers?
Despite Larry Ellison's own statements as back as February 2010 and Russell Coutts' frequent claims, the 34th America's Cup wasn't conceived and implemented in order to attract a great number of competing teams. We will not go once again into the details of the high costs, enormous complexity and mind-boggling logistical needs of the AC72 boats, these aspects have been exhaustively covered by this and many other sailing and mainstream media. If Ellison truly wanted to have 12 challengers and 3 defenders, he could have easily done it in the three and a half years since his victory in Valencia in February 2010. The end result was that only three challengers were able to afford the necessary costs to mount a credible challenge and one of them, Artemis Racing, had no interest whatsoever in the commercial and media return of the event since they were entirely privately funded.
Having just two challengers with serious commercial interests makes it much easier for any defender, in general, and Larry Ellison in particular. He's only goal was and is to retain the America's Cup, not to organize a challenger selection series with 12 teams, avoiding a great deal of headaches that come with that. The less, the merrier. We can't see why it will be different this time.
The question is of course whether it really matters if there are 2 or 12 challengers. The America's Cup was never meant to be a a "big" TP52 circuit. Each one has its own place in the sport of sailing and the America's Cup isn't meant to be for everybody, even if they can afford it! Take for example Niklas Zennström, the founder of Skype. He's an avid sailor, his fortune could eventually allow him to fund a Cup campaign and he spends a lot of money in his TP52 and Mini-Maxi 72 campaigns, nearly 7 million euros per year! Yet he's not interested in the America's Cup because he wants to helm his boat, not write checks and watch her from the dock. Other, equally wealthy businessmen, prefer to race in the RC44 class.
Bob and Sandy Oatley, the father and son billionaires from Australia and Challenger of Record, stated a couple of days ago they would like to see a significant reduction in costs so that more teams can enter but then again it's up to Larry Ellison to decide the future. Vincenzo Onorato, Challenger of Record for the 34th America's Cup, agreed with Ellison's protocol because he thought Ellison would also fund his campaign. When he saw that he wouldn't get a single euro from the American billionaire he withdrew since he was unable to find the necessary funding for Mascalzone Latino. This shows that the Challenger of Record doesn't have a say in shaping the event and Larry Ellison doesn't seem to bother if the challenger he chose withdraws…
However, one thing that Larry Ellison's organization should refrain from doing again this time is to embark on a PR campaign preaching their desire to have "multiple" challengers while at the same time doing everything possible in order not to have more than a handful.
October 9th, 2013 by admin
Randy and Beau are at it again, this time getting in on our Hurt Locker competition with a video response.  Nice work, boys, and check out all the hilarious BTC videos over here.
And if Bangin' doesn't crack you up, a new Hitler AC video is always good for a laugh.
September 12th, 2013 by admin