Posts Tagged 'route du rhum'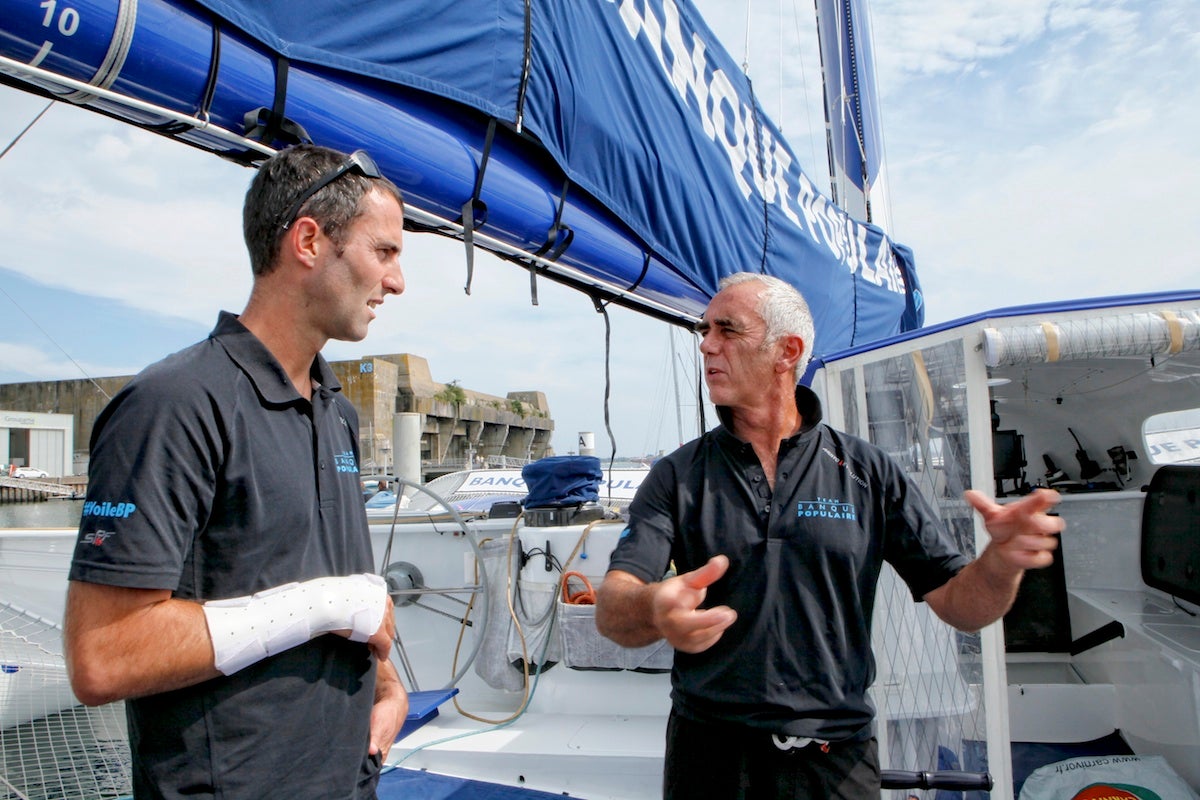 We were even more enamored than usual with our old pal Löick when we learned of his plan to take the historic and pretty little trimaran Happy across the pond for this year's Route Du Rhum.  Mr. Clean even chatted with him about it in Austria a few months back, and we were extremely excited to follow such a quirky story with one of the sport's most entertaining characters. Alas, it was not to be.
M. Peyron has just been promoted from a 30 footer to a 130 footer; thanks to a non-sailing related hand injury to Banque Populaire VII (known as Groupama 3 when Franck smashed a thousand records with it) skipper Armel Le Le Cléac'h,  Loick just got the last-minute nod to singlehand the second-most insane boat in the race (#1) across the pond.  While he may not be the hard-charger that the much younger Le Cléac'h is (and he'll need it when going for line honors against the bigger and faster S2), you'd be hard-pressed to find a smarter, more humble, or more wily sailor entered in the race.  He's also one of the few who knows what it's like to be completely screwed in the middle of the Atlantic on a big multihull during this race, he certainly knows his way around monster multihulls as the Jules Verne trophy holder (on the boat that is now his primary competition), and he might just have more solo race crossings of the Atlantic than anyone else in the race.
We know who our money is on.  Go tell him congrats on his FB page.
Christophe Launay photo from about 30 seconds ago, with a full gallery over here.  Screenshot from a very clever little press release.
September 4th, 2014 by admin
A coiled-up fireball of enthusiasm and intensity and one of the smartest sailors you'll ever meet, Matt Scharl defies labels; the 43 year old commodities trader and math wiz is also a fitness freak and adventurer – and he looks about 20 years old.  Despite his financial acumen, Matt spends much of the months between June and October farming soybeans on his own acreage in the middle of Michigan.  The longtime shorthander has either won or broken a record for just about every singlehanded race in the Great Lakes, mostly on his neon-green former ride Gamera, an F-25C Corsair. He's also done well in the double handed Atlantic Cup, winning the last edition in a hard-fought battle and setting up his next big adventure – the Route Du Rhum.
With SA Favorite Mike Hennessey (Dragon) pulling his long-anticipated RdR plug after losing months due to his well-publicized prang of a well-known brick, just two American skippers are left to represent the USA in the world's most famous singlehanded transoceanic race, both in the Class 40.  Since one of them sounds French, we'll focus on Matt's attempt at the ultimate singlehanded glory outside the Vendee Globe.  He checked in with us a few hours ago from due East of Newfoundland; track Matt right here.
Picture the scene: Lying back on your Fatboy thinking about taking a nap, but it just won't come. Pan out a bit and you realize that you're on the ocean, on a boat with every ounce of weight stacked in the back, beam reaching at 13-18 knots on a Farr designed Kiwi Class 40…it's a Bodacious Dream, no doubt, and the song with the line "How Did I get Here?" comes to mind.
Flash back to Nov, 2012, while Dave Rearick was prepping for the round-the-world Global Ocean Race.  I had lunch with Jeff [Urbina, BDX co-founder] one day, mentioning the Route Du Rhum as a possibility once Dave finished his circumnavigation. He thought "Why not? The boat will be there anyway."  When the GOR got pushed back a year or two and Dave went off to fulfill his lifelong dream of solo circumnavigating,  I figured the Route Du Rhum opportunity was gone for four years, at least.  Then I was told that Dave would be finished in time for me to do the Route Du Rhum.
Upon Dave's return, the boat's been gone through with a fine-toothed comb.  Parts replaced, fixed, and purchased to get up to snuff for the most competitive race on the calendar.  I worked hard to secure sponsorship, getting some personal support and help from friends and family as well as Chicago's excellent Skyway Yacht Works, but was disappointed to find that, other than those mentioned above, none of the many companies I spoke to saw the value in such a sponsorship.  To those who did, I thank you from the bottom of my heart.
I left alone (not counting my monkey mascot) on Monday for my qualifying passage between Rhode Island and France, and it gives me some time to learn the boat better, test sail combinations and in general get a feel for longish time spent alone. Anyone who knows me knows I spend plenty of time alone, but this time it's been a little different – I'm leaving behind someone recently met but very special, thankfully she is very close to me in spirit even if I cannot feel her touch.
It took a few days to get in a rhythm, but I'm starting to feel it, moving well, motivated by making as much speed as possible. Thanks to an overheating generator I am learning to love the whine of the hydro-generator, even if that's had mounting issues too – fortunately, my Macgyvering skills are up to snuff thus far!  I generally hate deliveries – hence the trailerable trimaran I owned for years – but this is different.  I am not delivering to St. Joe's or Mackinac City – I am delivering to the Queen of solo racing; to crowds of over a million spectators; to the land where tiny frenchmen race 140-foot trimarans across the ocean alone.  I am delivering to the Route Du Rhum, and that's just fine.  I couldn't really believe it before, but I can now.
A final note: Without the extreme generosity of Gaye and Jeff, there's a whole pile of guys around the world – as far away as Finland and New Zealand – who are able to do some of the greatest adventures and races in the world. None of us – especially me – will be able to ever thank you enough.  We'll try, but it will still never be enough.  So thank you.
I'll be speaking to Mr. Clean later in the week via Satphone for a Sailing Anarchy Innerview, so feel free to post in the Route Du Rhum thread or hit my Facebook Page if you have anything you'd like me to address.
-Matt Scharl, Skipper
Class 40 Bodacious Dream 
September 4th, 2014 by admin
This autumn's single-handed Route Du Rhum may have a pile of insane 100-foot multihulls with bicycle pedestals, a huge Class 40 fleet, and the usual Open 60 and "Rhum" class boats everywhere, but none of them gets us going quite like our old friend Loick Peyron and his newly restored trimaran Happy - the perfect name for anything associated with one of the smilingest men in the sport. Instead of some monster trimaran, the dude found a decades old trimaran that actually competed in the Rhum, restored it at Multiplast, and…well, we'll let his PR answer the rest.  Keep updated with Loick's endeavor here.
With the highest technology available from historic systems, Loick is recreating history. "In honor of Mike Birch, my Jedi master, as well as Walter Green (designer and builder), and every multihull pioneer, reviving this legendary trimaran and sailing it using the methods and systems of its time has gripped my heart."  Jean Marie Liot photo/jmliot.com
June 20th, 2014 by admin
At 111 feet long and 72 feet wide, the old VPLP Gerononimo was a groundbreaking racer in many ways. When Olivier De Kersauson launched her back in 2001, record breakers like Fossett and Peyron and Lewis were positive that giant catamarans were just better, and they'd proven it so clearly that many thought De Kersauson a nutter for risking so much on a boat that clearly couldn't accomplish anything.  But 100,000 mostly trouble-free miles and a Jules Verne (and several other) major records later, the boat's clear advantages – safety, ability to be driven hard, motion, upwindedness – emphatically ended the era of the maxi-catamaran.  Geronimo would become the basis for the most dominant record runners ever, as well as the boat that took the America's Cup back from Alinghi: Franck Cammas' (and now Armel Le Cle'ach's) monstrous Groupama 2/BP6, Pascal Bidegorry's (and then Loick Peyron, and now Yann and Dona's) BP5/Spindrift 2, and the BMW Oracle Racing 90 all came out of VPLP's computers and all owe their heritage heavily and directly to Geronimo.
This history lesson may bore some, but to us, ocean racing is all about history and legend, and that's why we share it with you.  And with 2014/15 seeing Thomas Coville rebuilding, refitting, repowering, and restoring Geronimo for his own Route Du Rhum, record aspirations, and Ultime solo 100+ footer class racing, we can't wait to see history come roaring to life again on the starting line.  Coville was just a kid when he first began racing with De Kersauson, and the brilliant Frenchman has now been part of most of the last decade's Jules Verne Trophy runs as well as a Volvo Ocean Race victory.  His narrow Nigel Irens Sodebo trimaran came tantalizingly close to claiming the Solo RTW record, but it's clear that Coville has given up on that concept in favor of the heavier and far more powerful Geronimo.  Above is an Yvan Zedda shot of the boat as her refit moves ahead quickly at Multiplast's yard; go here for a full gallery, here for a thread about the boat, and here for discussion on November's Route Du Rhum.
March 17th, 2014 by admin
Our old friend Mike Hennessy – owner/driver of Class 40 Dragon is one of at least two Americans to be sailing one of our all-time favorite races this year. It's a race named after booze, and every four years, the world's best offshore singlehanders use the race, known as the the Route Du Rhum, to test themselves against the Autumnal gales of the Atlantic.  
If you don't yet know Mike, he's been a member of the SA family for ages, and we've watched right here from the very beginning of his Dragon's racing program; Mike has shared the highs and the lows with all of us, and we will be there in St. Malo to wish him off again this coming November.  If you have some vacation time, it's one spectacle every sailor should see; not just because of St. Malo's beauty, the mouth-orgasmic seafood/wine/desserts/women, the offshore racing history, or the ability to see and touch everything from Tabarly's legendary yachts to the biggest racing trimaran every built – which will also be sailing to Guadeloupe with just one guy aboard.  No, the reason you go to St. Malo in November is for the crowd; nearly 1 and a half million people make their way through the race village in a week, with some 500,000 watching the start in person on race day.  It's a site worth seeing, and you only get it once every four years.

March 14th, 2014 by admin
IMOCA's Open 60 rule has a maximum width rule for the front of the boat; its goal is to prevent the 'scow-bowed' type of design that has proven so successful (at both racing and raising hackles amongst sailors) on David Raison's TeamWork Mini.  We're not sure why IMOCA felt the need for the rule other than the fact that most sailors find blunt noses fugly, but to that, we say 'speed is beauty', and we salute German Class 40 performer Joerg Richers for having the balls to get it done.
We're told that you're looking at Joerg's last-generation Farr-designed Open 60 Mare (ex-Foncia) under refit at the old stomping grounds of the recently departed Hubert Desjoyeux – CDK Technologies, which recently announced they won the build contracts for the new Safran (now without quick-release keel!) and Banque Populaire.  And here we thought France was broke!
Mare will sail the singlehanded Route Du Rhum this November as well as the doublehanded Barcelona World Race a month later.  Will a blunt weapon be a dangerous one?  We'll find out this winter.  Stay in tune with the latest and greatest coming out of IMOCA world in the thread.  Big thanks to secretive Anarchist "Kalitmotxo" for what we think is a world's first look at the scowbilly Open boat.  More discussion in here.
February 7th, 2014 by admin
Vendee hopeful Ronnie Simpson continues to shine a spotlight on some of the world's coolest race boats.
 Keep posted on his exploits here, and head to Ocean Racing Anarchy to find threads for each of these efforts.  Photo from Marcel Mochet.
Almost overnight, three maxi-trimarans are conducting an all-out assault on Francis Joyon and three of his most famous sailing records. With Armel Le Cleac'h' Banque Populaire VII, Thomas Coville's Sodebo and Lionel Lemonchois' Prince de Bretagne all currently racking up miles in the trades or headed there, there will be no shortage of high-speed and tactical drama over the next two weeks to two months. With the MOD circuit nowhere to be seen, this ménage à trois of solo maxi-multihulls are a stunning preview to the biggest single spectacle in all of sailing: The singlehanded Route Du Rhum, which attracts some 1.5 million people to incredible St. Malo and its environs in November.  And this year that number will be even bigger, with Wunderkind Francois Gabart's new 100-footer facing off against Coville, Joyon and Le Cleac'h for the new Collectif Ultime maxi-multihull league debuting next year.  Here's the breakdown on this month's action:
Sodebo attacks Joyon's solo, non-stop round the world record
Thomas Coville and his 105-foot Sodebo have left Brest and crossed the start line off Ushant for the second time this season in an attempt to break Francis Joyon and IDEC's solo, non-stop, round the world record. The first attempt of the season was short lived with a gennaker attachment failing early-on, sending Thomas back to port. Waiting out the same brutal fall and winter that has wreaked havoc on every other offshore race crossing Biscay, Sodebo's dock lines were cast off nearly 5 days ago in what is Coville and the big tri's fifth attempt at breaking Joyon's six-year old record of 57 d, 13h! Thomas is as determined as ever, having completed two racing circumnavigations in pursuit of this record only to come up just a handful of days short on two attempts.
Conditions upon departure were less than ideal for setting records; Thomas left Ushant only to beat into 15-20 knots out of the southwest. Throwing in two tacks to clear Finisterre, Sodebo had a deficit of 150 miles almost from the start. Joyon's 57-day pace is no easy record to beat, and Coville is having to fight tooth and nail for every mile to get back onto record pace, still sitting some 135 miles behind the reference time. Smashing along at 25 knots in the northeast trades, just west of the Cape Verde's, Coville and Sodebo should stay in healthy trades until the doldrums. The doldrums crossing itself looks pretty straightforward but a passing low could create a tricky split-Saint Helena High scenario in the South Atlantic. Thomas must be back to the finish off Ushant before the evening of March 15 if he is to break the record.
Upon Sodebo's return to France, she'll promptly be put up for sale to make room for Coville's new ride; Olivier de Kersauson's old Geronimo. Sodebo purchased the boat in order to modify her for solo sailing with the goal to be ready for Coville to sail in this November's Route du Rhum, as well as the inaugural Collective Ultim circuit to take place from 2015 to 2018.
The Sodebo tracker is here and the boat site is here.
Lionel Lemonchois and 'La Mauricienne'
Lionel Lemonchois and his 80-foot maxi tri Prince de Bretagne (ex-ORMA 60 Sodebo with some serious mods) have departed Lorient to attempt to break Joyon's 'La Mauricienne' record. The 9,000 mile record attempt involves sailing down the Atlantic, around the Cape of Good Hope and up the Indian Ocean to the Mauritanian port of Port Louis. The reference time was established by Joyon in 2009, taking IDEC just a tick more than 26 days. In a stark contrast to Coville's somewhat lackluster start in comparison to the reference time, Lemonchois has jumped out to a staggering lead of 351 miles over Joyon's reference time in just four and a half days!
Sailing about 50 miles east of Sodebo, Lemonchois and Prince de Bretagne are flying past the Cape Verde's at 25 knots of boat speed looking at very much the same weather scenario as Sodebo down the Atlantic, including what looks to be a tricky rounding of the Cape of Good Hope and partial ascension of the Indian Ocean to Mauritius. So far, the shorter, lighter Prince de Bretagne is showing good pace in comparison to the 20'+ longer and much more substantial Sodebo. The team's main objective with this record attempt is a training run and shake down before the Route du Rhum.
Armel and Banque Pop attempt the Cadiz- San Salvador 'Discovery Route' record
Twice Vendée Globe runner-up Armel Le Cleac'h is back at it in his 105-foot maxi-trimaran Banque Populaire VII (ex-Groupama 3). After smashing Thomas Coville's Trans-Mediterranean record in October, Cleac'h has gone on standby in the Portoguese port of Vilamoura to attempt to break Francis Joyon's 2013 'Discovery Route' record from Cadiz, Spain to San Salvador, Bahamas, via the Canary Islands.
Legendary weather router Marcel van Triest has given Armel the thumbs up for a departure sometime tomorrow. With the Azores High looking formed and stable, the route should be a tactically straightforward test of boat speed and handling along the 3,884 route which must be completed in less than 8d, 16h if Banque Pop is to break IDEC's record.
Le Cleac'h and Banque Pop VII are planning to have the boat back in Europe by the end of February before taking her across the Atlantic to tackle another one of Joyon's records; the solo Trans-Atlantic from New York to Lizard Point in June.
Le Cleac'h is also training for what is already shaping up to be a thrilling Route du Rhum in November.
-Ronnie Simpson
January 23rd, 2014 by admin
Update: the TJV is postponed to now start Monday at 2:15pm France time – Hannah Jenner took us through the weather here…
As ocean racing classes get more and more powerful, their wind range continues to shrink; first the 'bulletproof' minis lose an entire month to 'waiting for the weather' only to see their race abandoned after the start and a total clusterfuck of minis spread across Biscay.  Now, a TJV organization already feeling the pinch after JP Dick's MOD went over has thrown in the towel for the Saturday start of the world's biggest double handed race, hoping for a Tuesday reprieve, while the MODs are doing some kind of 'coastal' thing while they wait for something less than terrifying for the ultra-fast trimarans to sail off in.  The start was already kind of strange; the huge Classe 40 fleet lobbied the TJV organization for a much earlier start than the rest of the fleet for this edition; finally they might get to the finish in time to see the faster boats.  
It was a nice dream, anyway!  Most of the skippers are happy with the call, but a million-odd fans and hundreds of French media that help keep this event at the forefront of French sport won't be.  Is this the new reality of the French shorthanded scene, or just an incredibly unlucky autumn for North Atlantic racing?  We don't know, but we do know that you now have time to read Ronnie Simpson's excellent form guide to the TJV, which follows.  Photos from Christophe Launay, with a gallery here.
With no Vendée Globe, Barcelona World Race or Volvo Ocean Race this winter it would be easy to think that there's not much going on in the world of top-flight professional ocean racing right now. Fortunately for all of us Anarchists, you would be sorely mistaken with this assumption as the Transat Jacques Vabre is preparing to begin its thrilling 11th edition on Sunday. With a fleet of 44 boats spread out amongst four one-design and box rule classes, this classic Transatlantic throwdown is celebrating it's 20th anniversary with twenty-six class 40's, ten IMOCA 60's, six Multi 50 trimarans and two MOD 70's racing doublehanded from Le Havre, France to Itajal, Brazil.
One of the premier offshore yacht races on the planet, this year's TJV fleet reads like a who's who of sailing while boasting one of the most technical, challenging and tactical courses in all of ocean racing. Beginning from the famed Paul Vatine Basin in Le Havre, France, the course takes sailors first through the English Channel which can be downright gnarly this time of year with intense weather, massive tides and fully one-fifth of all the world's shipping traffic all positioned within one narrow, confined passage between two major coastlines. If the fleet manages to survive this first daunting test, they must next brave the often treacherous and boat-breaking Bay of Biscay, which has been battered by intense gales and low-pressure systems all season long, with more on the way as the fleet heads out. Once rounding Cape Finisterre, if they're lucky, the fleet can turn downwind and begin running before the Portuguese trades.
Don't assume it's all fun and games from here on out though. Not only must the fleet navigate more heavily-trafficked waters, but they must do it in what is often a carnage filled heavy-air downwind romp, all the while battling their competitors through the first major tactical challenge of the race; negotiating the Azores High. After this first major battle of wit and strategy, the fleet will finally see some tradewind sailing before entering the doldrums near the equator, which is oftentimes a complete crap shoot. If the boys and girls in the race are lucky enough to escape without losing, or even better yet, gaining positions, then they will lock into a tradewind drag race in the southeast trades south of the equator.
Concentrating on boat speed, boat speed, boat speed, this fleet of nearly four dozen boats will then face one final challenge from Cabo Freo to Rio and beyond to the finish in Itajal as small low-pressure systems oftentimes rip across these waters, wreaking havoc on competitors both due to challenging conditions and the painfully slow glass-off calms left in their wake. Only one thing is for sure in this 11th edition of the Transat Jacques Vabre; there will be drama, action and suspense from start to finish. Here's SA's class by class guide of who to watch and why.
IMOCA/Open 60
There is a clearly defined "A" fleet and "B" fleet in the TJV. The top 5 programs (MACIF, Maitre Coq, PRB, Safran, Cheminees Poujoulat) have all been training doublehanded out of Port La Foret over the past couple of months and the class winner will almost surely come out of this group. Of these 5 boats, 4 are VPLP's with Cheminees Poujoulat being the exception. (Juan K design)
MACIF: With two Vendée Globe winning sailors on one Vendée Globe winning boat, MACIF is the boat to beat in the premier IMOCA 60 fleet. Reigning VG champ Francois Gabart has again teamed up with his Barcelona World Race partner and mentor Michel Desjoyeaux onboard the VPLP designed rocket. The duo recently won the Open 60 division in the Rolex Fastnet and have been training their asses off with 4 other boats out of Port La Foret (PRB, Maitre Coq, Safran, Cheminees Poujoulat).
Maitre Coq: Having acquired Armel Le Cleac'h's VG runner-up Banque Populaire as the new Maitre Coq, Jeremie Beyou has a point to prove in this race. The two-time Figaro winner now has a sistership to MACIF and is keen to prove that he can win in the IMOCA class. Finishing an über-close second in the Fastnet race and putting in some solid work during the "pre-season", Jeremie looks to exorcise the demons that have plagued hims since entering the class.
Cheminees Poujoulat: Just like in last year's Vendée predictions, Bernard Stamm and "the sooty pussy" are again our dark horse pick. (The boat's logo is a black cat sponsored by a chimney company…) The Juan K-designed boat was hampered by hydrogenerator problems in the last VG, but aside from that, has shown some serious potential. In the extreme and gnarly upwind and close-reaching conditions of the English Channel and Biscay, CP could excel and may prove to have an advantage over the VPLP's, while also being notoriously fast when the shit hits the fan in the potentially heavy-air downwind Portuguese trades. Besides, Stamm is the man and an avowed Anarchist. Gut instincts tell us that Bernard likes the heavy air forecast for the start and may be able to push extra hard where other boats are throttling back a bit.
PRB: Many in the IMOCA scene believe PRB to be the fastest boat in the fleet, owing much to its light weight. The big question remains whether or not the boat is "too" light and fragile; a question we asked in Les Sables d'Olonne last year and are still asking after PRB broke in the VG. Skipper Vincent Riou is a tactical genius and Vendée Globe winner, and in teaming up with Jean Le Cam and his incredible hair, the duo may present the single biggest challenge to MACIF. If they can keep the boat together, watch for them to seriously contend for the win.
Multi 50
One of the most exciting divisions in this year's TJV will be that of the Multi 50's. With their biggest fleet for a major race in a while; six boats on the startling line; any of three or four could realistically win, making this fleet a fantastic one to track. Picking a favorite is no easy task in this class. The newest and arguably fastest boat in the fleet is Arkema-Région Aquitaine. A 2013 build in which Guillame Verdier had a hand, Arkema won the inaugural Route des Princes, besting three of the other Multi 50's that will contest the TJV. Defending TJV champ Actual is also in it to win it. Skipper Yves Le Blevec has teamed up with VG star Kito de Pavant to form a formidable challenge at a title defense onboard their four year old boat. The third major contender is that of FenêtréA Cardinal. Also a 2009 build, the crew consists of skipper Erwan La Roux and two-time Figaro winner Yann Elies. Having mounted one of the greatest comebacks in all of sport to win two consecutive Solitaire du Figaro's (2012 and 2013) just a few years after breaking his femur in the Southern Ocean and being rescued in the 2008-09 VG, Elies is an SA sentimental favorite any time he shows up to a starting line.
MOD 70
Arguably the most high-profile boat in the race is the one that won't be sailing, after JP Dick and Roland Jourdain's dramatic capsize onboard Virbac Paprec 70 a few weeks back. With their capsize, dismasting and resulting withdrawal from the race, just two MOD 70's will be taking to the start in Le Havre on Sunday. No worries, if this summer's AC taught us anything, it's that two 70 foot multihulls can provide incredibly close racing and the TJV should be no different. The two MOD's in this race are fortunately the cream of the crop, having finished 1-2 in the Route des Princes this summer. Skipper Sébastian Josse and crew Charles Caudrelier just won the TJV prologue onboard Edmond de Rothschild while their sole competitor OMAN AIR-MUSANDAM need no introduction. Skipper Sidney Gavignet and co-skipper Damian Foxall are arguably the two most accomplished ocean-going multihull sailors in the entire TJV. While short on boats, the MOD 70 class may ironically end up being the most exciting.
Class 40
Not only is the Class 40 division big, but it's also full of quality. Boasting the biggest fleet in the race and with any of probably twelve or more boats that could win, expect the leading Class 40's to gross gybes all the way to Itajal. The odds-on favorite certainly has to be Sebastian Rogues and his current generation Manuard designed GDF SUEZ. The former Minista has been on an absolute tear this season, winning five of the last six Class 40 events leading up to the TJV. But don't count out class standouts like last year's Atlantic Cup winner Jorg Reichers aboard MARE, who is likely sailing in one of his final Class 40 events before moving into the IMOCA class. Another SA favorite will be that of 11th Hour Racing. Skipper Hannah Jenner is not only one of the most beautiful women in all of sailing, but she is also one hell of an ocean sailor. Having teamed up with an American to claim a hard-fought podium in the last TJV, she is using that same recipe for success this year in teaming up with another American; Rob Windsor. Windsor has established himself as a Class 40 guru and top-tier ocean sailor. We expect big things from them. Another one to watch will be the entry of DUNKERQUE – PLANETE ENFANTS. Winner of the last Route du Rhum in a 44-boat Class 40 fleet and '09 Mini Transat winner Thomas Ruyant is co-skipper alongside skipper Bruno Jourdren and the duo will present a major challenge from the get go. The slowest fleet in the race, the Class 40's will likely be battling a major incoming tide with up to 7 knots of current during the first night in the English Channel. Blink and you may miss a world class 26-boat navigational face off before Biscay. Stay tuned to SA for all your updates over the next three weeks as the drama and suspense unfolds in real-time. -
Ronnie Simpson
November 2nd, 2013 by admin