Posts Tagged 'route du rhum'
We couldn't be more gutted for Alex Thomson and the UK-based Hugo Boss team after the world's best known English-speaking ocean racer crashed headlong into the rocks on Guadeloupe Island at nearly 20 knots.  Thomson was able to motor his smashed Open 60 off the island, finishing the Route Du Rhum first-in-class a day later, though the 24-hour penalty he copped (for firing up the motor) from the International Jury drops him well out of first place.  Alex was half a day away from winning his first-ever Route Du Rhum  – the most prestigious race in the entire Open 60 world after the Vendee Globe – when, according to the above post-race interview, a sleeping Alex's proximity alarms failed and only sideways reality and the sound of crunching, smashing carbon woke the Brit.
Just a couple of days earlier and in a commanding, 230-NM lead over the Open 60 fleet, Thomson ironically told the fans in a video interview that he just needed to avoid making mistakes.  He then went and made the most dangerous mistake of all – taking a nap surrounded by rocky bits of land.  As the world's most important solo sprint race, the RdR has seen dozens of crashes due to sleep deprivation over the years, and it won't stop anytime soon.  And while it's a bummer to see the current VPLP/Verdier Hugo Boss take a hit like this to the foil and hull, the team thinks it will be able to repair the boat and continue the campaign to sell what is clearly one of the fastest Open 60s on the planet.  If you've been eyeing the sexy black beast, maybe it's time to put in a lowball offer?
The english-language portion of the RdR arrivals video including Alex's interview is above, and it should start automatically at around 8:30.  Rewind to beginning for the French portion.  The thread is humming with info about the race, the penalty, and the various other collisions and capsizes on the course.  Go there.
Here's a translation of top sailors' thoughts regarding the grounding and penalty (from a Ouest-France piece, with thanks to SA'er Bebmoumoute for the translation):
Alain Gautier

Whoever laughs at Alex aboutt he situation doesn't understand anything about sailing! It is very sad, even stupid. But you have to understand, after 12 day's racing, it is very hard on the body. Did he fall asleep on purpose or not? When you are that tired, you don't control anything: you can sit at the chart table et fall asleep in a fraction of a second. Alarms? If he didn't chose to fall alseep, he didn't put them on. We all did it anyway, it buzzes, you press the button to stop it, and just close your eyes for 10 seconds…

It is quite common in Figaro. We'll have to wait for the jury decisions, but Paul and Yann have had a great race as well, wherever they finish. Yann impressed me! He fell in a wind hole at Cap Finisterre, didn't have any luck in the low pressure, and since then he pushed really really hard, very impressive! I am a bit more surprised about Vincent. His broken wind mode on his autopilot doesn't justify everything for me, I bet there are more problems. Even in compass mode, he should have been able to go faster.

Jean Le Cam

An alarm? You can have all the alrms you want, sometimes they won't wake you up when you are that exhausted. If the pilot what in wind mode, the boat just followed the wind. It happened to Joyon after his round the world record – same thing. He ended up int he rock in North Finistere. I once had to fend off rocks under my Figaro. My pilot was in wind mode, and we ended up in rock mode!

Aaprt from that, well done to Tripon, 3rd on the line. Congrats! Beautiful victory. And what Paul and Yann are doing, it is also great. Yann was 50 nm behind at Cap Finisterre. Since, he pushed so hard, what a nice job he did! I guess he is still 100%. I know him: I raced halfway round the globe with him. He never lets go, he is a great competitor. Whether he is solo or not, he is always thinking about everything to stay at the front. Hell of a job Yann!

Yves Le Cornec

I think Alex kind of let go when approaching Guadeloupe, with his 180 nm lead. When you finish that race, you are proprely fried. I remember in 1990, getting closer to the finish, I was told about Florence Arthaud's victory, I was really happy for her and I stopped thinking about the race for a bit. My 20/30 min naps turned into a 4 hour one, despite all the alarms! There is a limit when you so tired and you just stay awake due to stress. I think Alex slept deeply and for a long time. He must have gone down for 30 minutes and didn't wake up.

Non-sailors will say that it is unbelievable to make such a big mistake and still possibly win! It is not that crazy. It was a tough race on tough boats. He gave 100% from the start and built fatigue. I think he is exhausted! It is not the same rythm on a Vendee Globe or Route du Rhum. When ou know what Route du Rhum is like, it is understandable. I can only imagine what a nightmare it's been. What a way to wake up! Hit the cliff at 19 knots in the dark and wake up in the middle of the rocks, mayhem! He mustn't have known if he was dreaming or if it was reality! You can't wish that happening to your worst enemy. I have been there, it is a big cliff!  He was lucky to get away, he could easily have lost his boat, ehich would have been really sad. DSQ? I leave this to the jury, but in my opinion he still deserves to win! It could be a 10 hour penalty. And for Paul, Yann or Vincent, winning like that is never satisfactory. In the 1984 OSTAR, Yvon wins when Philou was the first over the line. What a sad story, none of them really won at the end.

Bernard Gallay

Alex had a great race, it is really sad it is ending up like that. For me, the only opposition for him was Charal, but the boat was too recent.

DSQ? I don't know. I didn't really give it much thought, but for me, he can't win. He would never has gone off the rocks without using his engine. I can't see how you can grant him the victory in these conditions. It is complicated and could lead to strange things in the future. An english jury would'nt even think about it… unless if the other ones are 3 days behind… and even though… It is a complicated story! It is difficult to give him a time penalty, with no engine,he would have been DNF! I am not part of the jury though…
November 16th, 2018 by admin
We've been in awe of Francis Joyon for a long time, but even his incredible record-shattering solo circumnavigation aboard IDEC pales in comparison to his overall victory and course record yesterday in the Route Du Rhum. "But all the way round the world is so much tougher", you might say – but you'd be wrong.  Because of its relatively short length, the Route Du Rhum is far more competitive than a record attempt, and it puts orders of magnitude more pressure on competitors.  Severely restricted communications with the outside world probably doesn't bug Joyon much, but at 63 years old in the most physically demanding of any racing class, he just beat the top sailor of his generation and a kid half Joyon's age – sailing a much quicker boat (and no, the fact that Macif limped home with just half the designed number of rudders and foils doesn't reduce the impact of Joyon's accomplishment at all…choosing the equipment is often as important as sailing fast).
We salute Joyon for yet another awesome run, and we'll leave you with a congratulatory note for Francis from the guy whose Route Du Rhum course record he broke, the inimitable Loick Peyron, writing from his tiny yellow trimaran Happy (See Loick's sketch of the boat above).
Another rum full of twists; the flying boats lose their wings and the one who does not fly wins for the third time. Bravo Francis! you confirm not only that old pots make good soup but that an "old" chef always has a surprise under his cap. You who sometimes gives the impression of not liking the competition, you would be the same to make your stars not to be under pressure and continue to concoct this discreet cuisine, without artifice but terribly effective. Obviously this kind of dish sometimes has a bitter taste for those who do not have your palate. Everyone knows that you do not need honors, and to avoid overdoing it, I am almost certain that you will soon find a way to escape the earthly obligations by claiming the urgency of bringing your ship back by the sea, and enjoying your kingdom again.
November 12th, 2018 by admin
The boat that will soon start smashing records as the world's fastest ocean racing sailboat had a minor hiccup over the weekend when a fitting broke in the main hull of the VPLP trimaran Macif. The team's press release says it's no big deal, but is anything 'minor' in a 105-foot singlehanded foiling trimaran?  Stay on top of the Ultime Class in the thread.
Photo from MerConcept.
September 28th, 2015 by admin
Leg 1 of the Volvo is over, the Rhum fleet screams towards the Caribbean, some Midwest college action, remembering the memories, and much more in this week's edition of Video Anarchy.
The King of the Atlantic
it was a different Banque Populaire Maxi that Loick Peyron took to the ultimate record smash, but today's accomplishment is almost as good; the affable Francais and SA fan is just a few hours from breaking the absolute Route Du Rhum record, more than a hundred miles ahead of the bigger, faster boat he once skippered!  Peyron needs to average around 15 knots to break the Lemonchois record (of 7d aboard a boat he was only recruited to sail a couple of months ago, and with Michel Desjoyeaux and Franck Cammas flailing around in their own pursuits lately, Peyron cements his legendary place as today's king of the Atlantic.  The Route Du Rhum thread just keeps getting better and better, especially now that Anarchist "Laurent" is back putting English translations on the best videos from the course like today's note from Loick; thanks Laurent! The latest page of the thread is here, or read from the beginning here.
Heart of Darkness
The last time we got excited about a sailing movie was when Peter Weir brought Patrick O'Brian's incredible Master and Commander to the big screen with the help of at least one Anarchist rigger.  The movie was badass to sailors and mostly well-received by critics, though it never got close to making up the USD$150 million it cost to make – part of the reason we haven't seen another big budget nautical movie in the intervening decade.
But now there's a new one, and it's based on the scariest fish story of all time.  Heart of the Sea is directed by one of the best of the generation, adapting a spectacular book written by a guy who once won a major Sunfish championship.  You can learn more in the thread, but for now, just click "HD" and turn the sound up.  This one is worth it.
Final Fourth
It's full of clips that any real Volvo fan saw days or weeks ago, isn't really targeted at knowledgable sailors, and occasionally forgets that it's telling stories about a race rather than a cruise, but the fourth installment of Volvo's Life at the Extreme TV series continues to improve on earlier episodes, even if only in fits and starts.  If anything, it's a great show to share with non-sailing squares – students at school or your friends, families, or whomever has shown an inability to really comprehend what you do on Saturdays and Wednesday nights, or why you always have bruises after some of those long weekends.  For our part we don't expect to embed these for you after this one – there's just better stuff coming from the teams and VOR and we prefer to highlight that.
We're not particularly bullish on cable TV and we don't expect to get bowled over by the race's American TV ratings now that NBCSN is running the series, but we're not at all sure it matters.  With over a million Facebook fans and a monster news, social media and video footprint right now, it's clear the investments they've made in staff, one-design boats and communications are paying.
The race's biggest problem is the typical Sailing Anarchy reader, because they need you.  It's your support that keeps interest up between races and it's yachtie brand-loyalty that sustains interest in this race over the decades.   But you know too much, you expect too much, and it's impossible to keep you happy, which is why we tell everyone that the Ocean Racing Anarchy forum threads are really the best tool to follow the race.  Let the Anarchists curate the information coming out of the boats and race HQ for you, and follow along there yourself.  Relive the leg 1 thread here, and be ready for Leg 2 by subscribing to the thread.  Check the short Leg 1 review reel here.  Those of you coming over to Cape Town for the festivities, the schedule is here.
The People's Skipper
Whitbread skipper, sailmaker, and everyone's favorite Cork character Joe English died last week, and we salute the Irishman with this short film following Joe and wife April's journey with the early-onset Alzheimer's that eventually took his life.  If the film (or Joe's memory) touched your life, consider donating to The Alzheimer Society of Ireland.  Thread here.
Big Fish/Little Pond
Our friend Sarah Sloan over at the Michigan Sailing Team hits us with a little news from the Big Ten Team Race last week in Ann Arbor; scores and details here, and thanks to U of M sailor Zachary Frankel for the movie.
Six months after the Worst Winter Ever and the resulting perpetually froze lake caused the University of Michigan Sailing Team to postpone and reschedule the Big 10 Team Race regatta, six teams from the MCSA came to Ann Arbor to compete for the top prize (in this case, a giant jar of Halloween candy and their name on an impeccably polished trophy).
In an uncharacteristic display of charity, Michigan Weather decided to provide us with exceptional fall weather and wind Saturday and Sunday. The University of Michigan, the University of Wisconsin, Northwestern University, Marquette University, the University of Notre Dame, and the Ohio State University sailed all day under blue skies and with a blowing breeze. Michigan ended the day undefeated in first, and everyone returned back to campus for a night of relaxation and warm showers.
Even though there was a decrease in temperature and wind speed on Sunday, the level of competition was still incredibly high, with the day ending in a sail-off between the University of Michigan and the University of Wisconsin. Michigan won the final race, but subsequently lost off the water when a protest brought to the judges went in the favor of Wisconsin, who clenched the top spot for the weekend.
It seemed, however, that everyone drove away Sunday afternoon feeling victorious. UofM isn't going to name names, but we overheard members of another team claiming they haven't had as much fun at a regatta as they did at Big Ten since they were freshman. It's hard to stay upset about your performance on the water when you put your accomplishments in perspective; how many college students can say they got to spend the weekend on the water with the coolest kids across the Midwest?
November 9th, 2014 by admin
Solo Figarists Nick Cherry and Henry Bomby continue with Sailing Anarchy's 2014 Route Du Rhum coverage, sponsored by Bruce Schwab Energy Systems. Please get in touch with the Vendee veteran to find out how his energy storage, solar power, and charging systems can benefit your cruising or racing boat today, and enjoy Nick and Henry's latest analysis.  Hit the thread for all the latest news, photos, videos, and analysis.
Big conditions meant a premature end to the huge 'thank f*** they're gone' party for Route Du Rhum shore crew and race staff in St. Malo on Sunday night, just as it has for some 13 official abandonments on the race track.  A further 20-odd boats are in less-dire-but-still-bad shape, headed to port or to find some shelter in order to fix damaged sails, rudders, and bodies.  Obviously the weather has been heinous, with two solid fronts kicking the fleets in the face with gusts reported up to 60 knots and some nasty seas, especially rounding the corner at Brest. The most high-profile casualty has been Thomas Coville, who managed to prang a cargo ship in the night just in front of the TSS off Ushant. With closing speeds between the ship and trimaran of 40 knots, dark skies, and awful visibility, it's a wonder that more of these guys haven't hit anything. It's yet another blow for the Sodeb'o campaign, which adds this failed attempt to something of a pile of them over the past few years.  Coville may be one of the world's best, but we wonder if he didn't piss off an old gypsy woman sometime over the past decade…
Perhaps most worrying amongst the early dropouts are two keel losses/failures on the new Sabrosa Mk II Class 40 sisterships of Francois Anglouvant (picked up by a chopper from his capsized hull) and Marc Lepesqueux, who managed to fill ballast, drop sails and sail downwind to Guernsey. I'm no mathematician but the chances of both these guys hitting a submerged object seems pretty low, and we guess their design and build team (which included Anglouvant) is trying to figure out what happened right now, while thanking their lucky stars that no one was killed.
The decision by race director Gilles Chiorri to send the fleet off into this storm is refreshing in the light of so many big races being delayed in recent years. Many skippers – particularly in the handicap Rhum class –  chose to do something we rarely see these days; they waited out the worst of the storm before going yachting.
Ultimate Update
All the fleets have spread out by now, but none more so than the Ultimes, where Loic Peyron is having an absolute blinder aboard BPVII, steadily pulling out a sixty mile lead over Yann Guichard on the Spindrift (who isn't showing any signs of using his extra nine meters of length to catch up). Watching these guys go off the start was jaw dropping, with Coville looking picture perfect early on and Sydney Gavignet giving the spec fleet some 'oohs' and 'aahs' flying his center hull as he weaved through the spectator boats.   We caught up with Sidney here; click the link for a video interview where we chatted about 'Oh, Sheet' release systems and weather routing.
Given that sailing a big multi alone is a full-time job, these guys are aiming not to go downstairs at all during the race. Yann Ellies on Paprec has a staff of three top guys holed up in a house in Brittany running a watch system looking at forecasts and on-board data basically playing a full-on version of the virtual race game. He's planning to have Skype messenger on 24/7 and regular sat phone calls, leaving him free to ease sheets off one of these bollard/cleat arrangements at any time. Whatever you think of shore-based routers they are here to stay, and this race pits the best weather guys against each other across the Ultime fleet.
Macif Attack
Francois Gabart is, once again, showing why no one has been able to touch him for the past couple of years; 30 miles over Jeremie Beyou in a sistership and 50 over Marc Guillemot aboard Safran. Vincent Riou and Tanguy De Lamotte are all but out of this race with mainsail track issues and rudder damage respectively. These guys are in for a fast crossing with few passing lanes; look for Gabart to continue to push his lead right through the finish line.
Rogue Racing
True to form over the last couple of years, Seb Rogues in GDF Suez is leading the way as the 40s reach down towards Cap Finisterre. There's been a definite split in this class, with the first fifteen or so boats who made it out of the channel in good shape having put some serious miles on the B fleet of stragglers as they get into better and better breeze.
Fifty First Dates
The prize for most dropouts goes to the Multi 50 fleet, where currently only six out of eleven starters are left in the running, with the three favourites occupying the top spots. On the dock some of these boats looked like they might be better off in a museum than a storm and it seems that maybe Neptune agreed!?
Fast Forward
Looking ahead at the weather, things are starting to calm down for the big trimarans and IMOCA fleet, and with the Azores high still located quite far north, these skippers should be able to sail a fairly direct route for the next few days before the wind drops a little and goes further aft.  Then it'll be lots of gybing to line up their approach to Guadeloupe.  The slower boats will have to negotiate another (hopefully less violent) front toward the end of the week, which could create some lanes for some of the early losers.  We'll keep you posted.
-Nick and Henry
UPDATE: DAMAGE REPORT FROM DAYS 1-3
Sunday 2 November
-9h00 : Luc Coquelin (Classe Rhum) hit by dive boat when at anchor, damaged bowsprit.
-13h15 : Jean-Édouard Criquioche (Class40) rig problems, starts at 1900hrs.
-15h00 : Ricardo Diniz (Classe Rhum) diesel problem and other issues. Arrived back in Saint-Malo at 1800hrs left Monday 1700hrs
-19h00 : Charlie Capelle (Classe Rhum) stops in Saint-Quay Portrieux to let worst of weather go, restarts Monday 0800hrs
-19h45 : Jean Galfione (Class40) strikes unlit buoy off Bréhat and damages hull. Arrives Saint-Quay Portrieux at 5h30 Monday, aims to leave 19h Monday
-20h15 : Giancarlo Pedote (Class40) sail problems heads for Roscoff. Arrives at 7h, leaves Monday 11h
-23h00 : Marc Lepesqueux (Class40) loses keel fills ballast heads to Guernsey under engine arrives 10h Monday Abandon.
-23h30 : François Angoulvant (Class40) loses keel, helicoptered off at 00h40 Monday to Brest. Abandon.
-23h35 : Loïc Féquet (Multi50) float damaged, towed by SNSM to l'Aber Wrac'h at 8h Monday. Abandon.
-23h45 : Thomas Coville (Ultime) hits a cargo ship. Damages main bow and starboard float. Arrives Roscoff at 11hrs Monday. Abandon.
Monday 3 November
-0h30 : Bertrand Delesne (Class40) has problems with sails halyards and headsails. Heads to Perros-Guirec then Roscoff. Arrives 9h, depart 13h.
-1h15 : Bob Escoffier (Classe Rhum) sail and rig problems. Heads to Roscoff, arrives 08h Monday. Aims to leave Tues 06h.
-1h45 : Thierry Bouchard (Class40) wrist injury, heads to Saint Malo. Arrives 16h Monday. Abandon.
-4h20 : Brieuc Maisonneuve (Class40) pilot problems, heads to Roscoff arrives 10:45 Monday.
-5h35 : Gilles Buekenhout (Multi50) breaks rudder, towed by SNSM to Roscoff arrives 16h Monday
-6h30 : Nicolas Troussel (Class40) twists ankle, routes to Brest arrives 15h Monday. Abandon.
-7h00 : Hervé de Carlan (Multi50) breaks daggerboard, heads to Saint-Brieuc.
-7h15 : Erik Nigon (Multi50) shreds mainsail, heads to La Rochelle, Abandon.
-8h10 : Pierre-Yves Lautrou (Class40) loses two wind vanes. Heading to Camaret. Arrives 17h Monday.
-8h45 : Alan Roura (Class40) water ingress, other varied problems. Heads to Roscoff, ETA 19h
-9h45 : Tanguy de Lamotte (IMOCA) rudder damage, route towards Brest since 1400hrs.
-10h00 : Vincent Lantin (Class40) various problems, heading to Camaret.
-10h10 : Patrick Morvan (Classe Rhum) various problems heading to Camaret. due 18h30 Monday
-10h15 : Alain Delhumeau (Multi50) dismasted, heading to Brest Abandon.
-10h45 : Julien Mabit (Classe Rhum) pilot and electronics problems heading to l'Aber Wrac'h. Arrives 14h00.
-12h00 : Bertrand de Broc (IMOCA) pilot problem and injured elbow. Heading to Lorient. Abandon.
-14h00 : Arnaud Boissières (Class40) crack on deck and other pbs heading to Les Sables d'Olonne. Abandon.
-15h00 : Philippe Fiston (Class40) technical problems. Arrived Camaret at 17h Monday
-14h00 : Benjamin Hardouin (Classe Rhum) arrived Roscoff to repair leak, plans to restart Tuesday 06h
-16h00 : Conrad Humphreys (Class40) arrives Camaret 16hrs sail problems, batten car damaged
-16h30 : Nils Boyer (Classe Rhum) arrives at Roscoff to replace life-raft
-17h15 : Vincent Riou (IMOCA) damaged mainsail track mounting, heading downwind slowly to repair.
Tuesday 4 November
-Afternoon: Pierre Antonie (Multi 50) lightning strike; holed.  Airlifted to safety.
November 4th, 2014 by admin
Plenty of breeze and hundreds of thousands of eyeballs for the 92-boat Route Du Rhum fleet as they head to Cap Frehel into some brisk weather.  Watch the highlights above, and eyes on the thread for weather, analysis, links, videos and everything else the Anarchists can find.  We're pushing the organizers to make the full replay available worldwide – it's gorgeous coverage, and well worth watching – even if you don't speak French.
UPDATE: Our old friend Alessandro Di Bendetto draws first blood in the race to update the fans with onboard video.  Check it.
November 2nd, 2014 by admin
Solo Figarists Nick Cherry and Henry Bomby begin our 2014 Route Du Rhum coverage with a great form guide for the fleets.  Follow Nick here, learn more about his Figaro campaign here, and tune in for all the info when the race starts in less than two days.  There's always the Ocean Racing Anarchy thread for the very latest.  Huge thanks to Bruce Schwab Energy Systems for supporting our coverage of this great race.  Please get in touch with the Vendee veteran to find out how his energy storage, solar power, and charging systems can benefit your cruising or racing boat today.  Photos from Christophe Launay.
Anyone who's never been to the start of this race needs to go, and it seems like most of France has. The population of St Malo swells from 45,000 to around 2 million over the ten-day period before the race, with massive park-and-ride car parks set up outside of town; getting to and from the boats is an absolute nightmare for the shore crews. There's something about the simplicity of this 3500-mile solo race across the Atlantic every four years that really captures the nation's hearts. Walking around town and jostling with thousands of the non-sailing public just to get around is cool and rare in our sport, and seeing just how rock-starrish the 91 skippers are – and how real a return they can offer to their sponsors – offers solo skippers hope of what may be achievable.
Beat Down?
At the moment it looks like the fleet will be starting in post-frontal westerlies, beating out through the chops of the channel before cracking sheets a little and heading across Biscay into quite a lot of pressure. Early indications are that the trades are developed quite a long way north and most of the boats should have a fairly straightforward and fast run to Guadeloupe. Things are still fairly unstable with some models predicting a very fast race and others showing a lot of the boats having a tough time due beating towards Cape Finisterre in some mildly heinous conditions.
Run Down
Ultime Class
This is the blue ribbon, main event, 'real deal' part of the race. Eight proper rockstars of the French sailing world lining up in, without a doubt, the filthiest boat porn on the planet (hopefully as a precursor to an imminent race around the planet, but more on that in a future installment).
In the last edition in 2010 'Petit Franck' Cammas showed us the light (albeit in fairly straightforward conditions) by going against conventional wisdom that said that the smaller, more manageable tris would probably beat his 105-ft Jules Verne trophy winner Groupama 3 when it came down to a solo race. Pundits say Yann Guichard will have a hard time handling Spindrift (ex-BPV) all by himself, that this time (with 200tm of righting moment compared with 160tm in BPVII and 28 in an IMOCA) it really is too big. He has the fastest boat, that's for sure; can the Jules Verne Trophy holder be handled by a lone, mortal man, or is the old G3 the maximum?
Sticking my neck out a little bi,  I'm going to put Thomas Coville in the new (to him) Sodebo (the heavily modified ex-Geronimo) as favourite. He will benefit from a lot of up-to-date design work on the floats and foils as well as plenty of time sailing these sorts of boats alone thanks to his 4,5 failed attempts.  Or is it 6???! Watching him go through the start line on his last failed RTW record attempt with all three rudders well clear of the sea shows that he certainly isn't lacking for balls for this race – almost a sprint in monster-multi terms.
Loick P is the final podium bet, having already done this race 7 times! On top of about 45 transats in total. Seriously.  And he's a nice chap. Many are sad we didn't get the incredible story of him racing across in his little yellow boat 'Happy' which would have gone down a storm in France, being the man he is and the name he has there. But he was the only man Banque Pop (the Ex-G3) could go to after Armel hurt his hand (in a freak car washing accident?), the boat is fast, it's been breaking records throughout 2014 and may be the best optimized for a solo run.
Never to be discounted, in his somewhat conservative (by modern standards), Nigel Irens-designed 105 footer, we have Francis Joyon. Probably the hardest man in sailing and a true solo obsessive. We have been wowed by stories of his solo transatlantic records attempts for years, and by solo we mean no shore team whatsoever, sailing on and off mooring bouys in New York harbour all by himself. (Is this true or just a rumour?!) If this race gets rough and decimates the fleet like the 2002 storms that destroyed piles of ORMA 60s, IDEC and Joyon are the combo I would back to be the last one standing.
Watch out for the race-within-a-race in this fleet between the three somewhat modified MOD 70s. These boats have shown they can be pushed hard with a crew and hopefully the improved emergency sheet release systems mean that Sydney Gavinet's prediction that he has a 50% chance of capsize won't come true. The other two MOD-touting skippers Seb Josse and Yann Ellies both have a reputation for pushing hard, and whilst it would take something odd to happen for a MOD to come in first you can be guaranteed a good old battle going on here. Yann has the least time in the boats and the least modified, but he has been smashing the Figaro Circut for the last 3 years, and could pull something impressive out of the bag. As a pair of Figaro sailors ourselves, we would love an underdog victory from Paprec in this one. It would probably be rude not to mention the race record holder from 2006 Lionel Lemonchois in his deeply modified former Orma 60 'Prince de Bretagne'. If the four more powerful boats have some sort of major calamity or follow each other into a meteorological black hole then Lionel is our man! He should really beat the MODs, but they've shown themselves to punch well above their weight…
The extra dimension is this class compared to the others is that outside weather routing is allowed, which to us, makes sense – you wouldn't want to be stuck at a computer for any length of time downloading the latest gribs whilst the boat careens down a wave at 35 knots into a full somersault. All the big French names in French Meteorology are on the payrolls here and it will be interesting to see how the different approaches pay off once things kick off on Sunday.
IMOCA 
There are 9 boats in this fleet. Four favourites in order are: Francois Gabart, Vincent Riou, Jeremie Beyou and Marc Guillemot. It would be brave to bet against Vendee Globe golden boy Francois, but rumours from recent training sessions in Port La Foret have Riou's PLB being right on form with a lot of caginess surrounding modifications to aft ballast arrangements in relation to the new rule; IMOCA is the land of big secrets, and nothing is easy to call in this class as a result! There's no doubt Jeremie has a good boat in Maitre Coq, sister ship to Macif and he delivered the goods again in the world's toughest one-design race – the Solitaire du Figaro. Guillemot's Safran certainly has form in the transatlantic races of recent years and I'm sure he'll be keen to make a mark in his last race before Morgan Lagraviere takes over the new boat next year.
The most interesting thing here is dock gossip regarding the six new Vendee-bound boats due off the drawing board of VPLP next year under the new rule, and the wide variety of foil solutions they've come up with.  DSS, outward-facing J and L foils, canting, raking, in and out and up and down and potentially adding a few more letters to the foiling vocabulary.  As in every new generation of Open 60, these new boats are going to be a big jump faster, and when reaching in big breeze, they could be light years faster.  Hopefully older boats can be retrofitted, and even more hopefully, the new one-design mast spec will be able to handle the added load of a faster, foiling boat. No one wants to let their cat out of the bag too soon in the build up to the all-important Vendee and we will have to wait for this exciting installment a bit longer.
For a potential spoiler, we'd love to see one of the nicest guys in sailing, Tanguy De Lamotte, get some real speed out of his new 'Initiatives-Coeur' (ex-Foncia, ex-Mare).  This older boat was heavily modified by Class 40 sailor Joerg Richers before he pulled out of the project, and she's potentially quite quick.
Class 40s
Loads to choose from here, and special props to youngest competitor in the race Paul Hignard who slept in and missed a big sponsor/press do on Tuesday after rumours of a big night on the sauce/with some chick.  Legend! Otherwise, there's a load of good boats, good skippers and not a lot of recent bust ups to show form.
Seb Roues is undefeated in his Mach 40 GDF Suez in 2014, although some questions remain regarding his solo skills. A lot of people rate Spaniard Alex Pella highly in his sexy looking Botin designed Tales 2 but there are plenty of boats with a reasonable shot at the top spot. Yannick Bestaven has a very new Verdier boat and a reputation for pushing hard, Halvard Mabire is sailing a new Pogo s3 and has a lot of experience and a good track record. Stepping down from his laughing cow Open 60, Kito de Pavant should be in the mix and whilst he's had a bit of a break from solo sailing, brit Conrad Humphreys seems to have a good sponsor in Catphones and plenty of motivation.
Our wildcard favourite is Nicholas Troussel in his Humphrey's designed Credit Mutuel de Bretagne. A real last-minute campaign but this guy has a record of winning two Figaros with well-judged flyers. His boat is quick enough and if there is a good corner to be banged, expect Nico to be right in there, making it work.
Multi 50s
A walk down the Multi 50 dock in St Malo is quite interesting, a history lesson in the development of offshore trimarans over the last thirty years. It would also be interesting as a standalone race but I think we'll be too busy following the big tri's and the 40s to get too bogged down here once the race starts. Four top contenders here based on previous form and newness of boat are: Erwan La Roux, Yves Le Blevec, Lalou Roucal and Loic Fequet. Fair play to everyone involved in this class as sailing solo across the Atlantic in a 50ft tri takes some proper balls, and it's great that there's 11 of them out there doing it. Interestingly, this class prevents foils, and you can't argue with their numbers, but would it certainly kick off big time if foil development was allowed? Imagine these lightweight 50 foot tris flying solo across the Atlantic. There is definitely some Frenchman out there crazy enough for it.
The Rhum Class

As far as we're concerned, it's cool that the race has this class. They might not look as cool as the big tris and the 60s but it does allow retired doctors from La Trinite, bearded blokes with odd looking cruising boats, and the living legend that is Robin Knox-Johnson to add some colour to this French classic. We won't be watching too closely to see who wins this fleet but expect some nice stories and that. Shame Loick isn't here with his Happy project, but hopefully he'll be back in 2018.
The start on Sunday morning is set to be a massive affair with literally thousands of spectator boats predicted, and the major viewing headlands along the Brittany coast rammed with fans. Due to tidal constraints in the St Malo Basin, the boats will be docked out by shore crews under cover of darkness before the sailors rib out after breakfast to race across an ocean. We'll be standing by to cover the start and offer a bit more insight into goings on as the race unfolds.
October 31st, 2014 by admin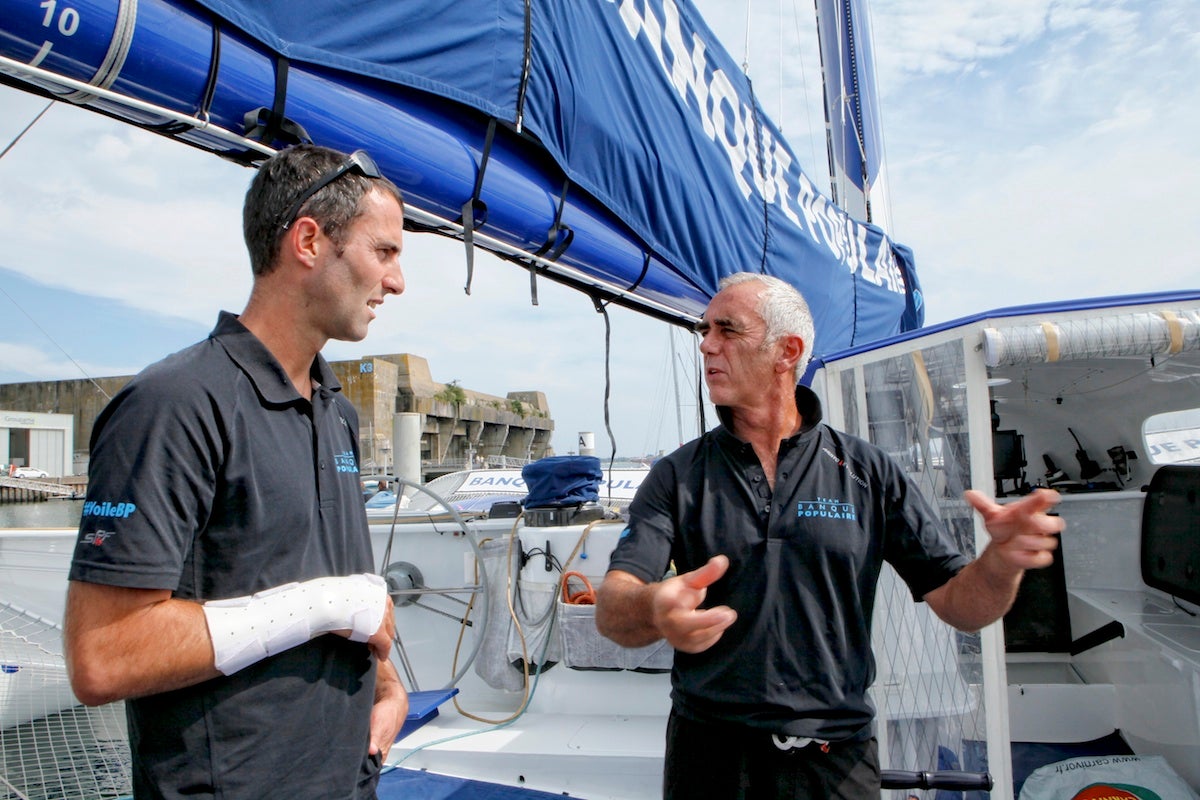 We were even more enamored than usual with our old pal Löick when we learned of his plan to take the historic and pretty little trimaran Happy across the pond for this year's Route Du Rhum.  Mr. Clean even chatted with him about it in Austria a few months back, and we were extremely excited to follow such a quirky story with one of the sport's most entertaining characters. Alas, it was not to be.
M. Peyron has just been promoted from a 30 footer to a 130 footer; thanks to a non-sailing related hand injury to Banque Populaire VII (known as Groupama 3 when Franck smashed a thousand records with it) skipper Armel Le Le Cléac'h,  Loick just got the last-minute nod to singlehand the second-most insane boat in the race (#1) across the pond.  While he may not be the hard-charger that the much younger Le Cléac'h is (and he'll need it when going for line honors against the bigger and faster S2), you'd be hard-pressed to find a smarter, more humble, or more wily sailor entered in the race.  He's also one of the few who knows what it's like to be completely screwed in the middle of the Atlantic on a big multihull during this race, he certainly knows his way around monster multihulls as the Jules Verne trophy holder (on the boat that is now his primary competition), and he might just have more solo race crossings of the Atlantic than anyone else in the race.
We know who our money is on.  Go tell him congrats on his FB page.
Christophe Launay photo from about 30 seconds ago, with a full gallery over here.  Screenshot from a very clever little press release.
September 4th, 2014 by admin
A coiled-up fireball of enthusiasm and intensity and one of the smartest sailors you'll ever meet, Matt Scharl defies labels; the 43 year old commodities trader and math wiz is also a fitness freak and adventurer – and he looks about 20 years old.  Despite his financial acumen, Matt spends much of the months between June and October farming soybeans on his own acreage in the middle of Michigan.  The longtime shorthander has either won or broken a record for just about every singlehanded race in the Great Lakes, mostly on his neon-green former ride Gamera, an F-25C Corsair. He's also done well in the double handed Atlantic Cup, winning the last edition in a hard-fought battle and setting up his next big adventure – the Route Du Rhum.
With SA Favorite Mike Hennessey (Dragon) pulling his long-anticipated RdR plug after losing months due to his well-publicized prang of a well-known brick, just two American skippers are left to represent the USA in the world's most famous singlehanded transoceanic race, both in the Class 40.  Since one of them sounds French, we'll focus on Matt's attempt at the ultimate singlehanded glory outside the Vendee Globe.  He checked in with us a few hours ago from due East of Newfoundland; track Matt right here.
Picture the scene: Lying back on your Fatboy thinking about taking a nap, but it just won't come. Pan out a bit and you realize that you're on the ocean, on a boat with every ounce of weight stacked in the back, beam reaching at 13-18 knots on a Farr designed Kiwi Class 40…it's a Bodacious Dream, no doubt, and the song with the line "How Did I get Here?" comes to mind.
Flash back to Nov, 2012, while Dave Rearick was prepping for the round-the-world Global Ocean Race.  I had lunch with Jeff [Urbina, BDX co-founder] one day, mentioning the Route Du Rhum as a possibility once Dave finished his circumnavigation. He thought "Why not? The boat will be there anyway."  When the GOR got pushed back a year or two and Dave went off to fulfill his lifelong dream of solo circumnavigating,  I figured the Route Du Rhum opportunity was gone for four years, at least.  Then I was told that Dave would be finished in time for me to do the Route Du Rhum.
Upon Dave's return, the boat's been gone through with a fine-toothed comb.  Parts replaced, fixed, and purchased to get up to snuff for the most competitive race on the calendar.  I worked hard to secure sponsorship, getting some personal support and help from friends and family as well as Chicago's excellent Skyway Yacht Works, but was disappointed to find that, other than those mentioned above, none of the many companies I spoke to saw the value in such a sponsorship.  To those who did, I thank you from the bottom of my heart.
I left alone (not counting my monkey mascot) on Monday for my qualifying passage between Rhode Island and France, and it gives me some time to learn the boat better, test sail combinations and in general get a feel for longish time spent alone. Anyone who knows me knows I spend plenty of time alone, but this time it's been a little different – I'm leaving behind someone recently met but very special, thankfully she is very close to me in spirit even if I cannot feel her touch.
It took a few days to get in a rhythm, but I'm starting to feel it, moving well, motivated by making as much speed as possible. Thanks to an overheating generator I am learning to love the whine of the hydro-generator, even if that's had mounting issues too – fortunately, my Macgyvering skills are up to snuff thus far!  I generally hate deliveries – hence the trailerable trimaran I owned for years – but this is different.  I am not delivering to St. Joe's or Mackinac City – I am delivering to the Queen of solo racing; to crowds of over a million spectators; to the land where tiny frenchmen race 140-foot trimarans across the ocean alone.  I am delivering to the Route Du Rhum, and that's just fine.  I couldn't really believe it before, but I can now.
A final note: Without the extreme generosity of Gaye and Jeff, there's a whole pile of guys around the world – as far away as Finland and New Zealand – who are able to do some of the greatest adventures and races in the world. None of us – especially me – will be able to ever thank you enough.  We'll try, but it will still never be enough.  So thank you.
I'll be speaking to Mr. Clean later in the week via Satphone for a Sailing Anarchy Innerview, so feel free to post in the Route Du Rhum thread or hit my Facebook Page if you have anything you'd like me to address.
-Matt Scharl, Skipper
Class 40 Bodacious Dream 
September 4th, 2014 by admin
This autumn's single-handed Route Du Rhum may have a pile of insane 100-foot multihulls with bicycle pedestals, a huge Class 40 fleet, and the usual Open 60 and "Rhum" class boats everywhere, but none of them gets us going quite like our old friend Loick Peyron and his newly restored trimaran Happy – the perfect name for anything associated with one of the smilingest men in the sport. Instead of some monster trimaran, the dude found a decades old trimaran that actually competed in the Rhum, restored it at Multiplast, and…well, we'll let his PR answer the rest.  Keep updated with Loick's endeavor here.
With the highest technology available from historic systems, Loick is recreating history. "In honor of Mike Birch, my Jedi master, as well as Walter Green (designer and builder), and every multihull pioneer, reviving this legendary trimaran and sailing it using the methods and systems of its time has gripped my heart."  Jean Marie Liot photo/jmliot.com
June 20th, 2014 by admin