Posts Tagged 'rolex'
ISAF World Sailing started playing the 'blame the Jews' game with their recent release about the Malaysian visa denials, sending  ISAF 'Investigator' Chris Atkins (who was part of the team that negotiated the Malaysia ISAF Worlds agreement) for his 'deep' investigation of the situation.  Atkins is clearly working hard – so hard that he could only spend a minute giving a quote to the "Free Malaysia Today" newspaper for their article entitled "Country's Reputation Not Effected By Visa Denials To Israelis."
No, we're not making that up.  And yes, ISAF knew long ago that Malaysia was a problem.  According to 'Investigator' Atkins, the event's success is a 'result of the commitment shown by the sailors taking part and the hard work of the Malaysian Sailing Association to ensure the smooth running of the tournament.' "This tournament will be the beginning of a journey for these young surfers towards the 2020 Olympics and that's why we call this championship a jewel," said Atkins.  A smooth-running jewel, as long as you ignore hundreds of articles, worldwide outrage, and sponsor problems.
But fortunately, ISAF World Sailing has given everyone attending the London Boat Show a chance to weigh in on the issue on Friday.  As posted yesterday by SA'er 'winchfodder' in the contentious thread, you can go and chat with ISAF, so PLEASE GO AND ASK GARY JOBSON WHY ISAF IS SENDING THE GUY WHO HELPED LAUNCH THE MALAYSIA WORLDS TO INVESTIGATE THE MALAYSIA WORLDS.  While you're at it, ask them how much it cost them to buy Matt Sheahan off.
AN AUDIENCE WITH WORLD SAILING
15:45 January 8th 2016
London Boat Show Theatre | London Boat Show | ExCel
You are invited to join World Sailing for a 30 Minute interactive discussion on the direction of the sport. With topics to be covered including:
The Road to Rio
The Emerging Nations Program
The launch of new World Sailing website
World Sailing TV
World Sailing's new in-house production facilities
Speakers to include World Sailing's Vice President Gary Jobson and Chief Marketing Officer Malcolm Page along with special guests including World Sailing TV Series Editorial Director Matthew Sheahan.
January 6th, 2016 by admin
UPDATE: Yahoo!7 has finally sorted out its shit and the full replay of the start of the Hobart Race is up in all its glory.  And now that you can click past the commercials, it's a pretty awesome spectacle, and other than the SD quality, the production is just fine.
It's almost like Yahoo!7 is a decade behind in digital thinking, assuming that the world should be grateful for a stuttery, low-res feed that doesn't even start on time, and we really can't understand how the normally brand-aware Rolex allows such a crappy broadcast partner to mess their pristine image up for the world to see.  At least Andrea Francolini is still making beautiful shots like the one above, and Nic Douglass's two-hour start commentary is massively entertaining – it's not everyday your commentary comes between bouts of feeding the fishes.
In the race itself, Wild Oats is beginning to shine in the lighter breeze down the course, and now's the time for the skinny maxi to build as big a lead as she can before the big monster comes blast reaching again later tonight. Track 'em here.
With a big bad fleet like this one, only a Big Audio Dynamite song is appropriate for inspiration.
Latest news in the thread.
December 25th, 2014 by admin
Big Pimpin'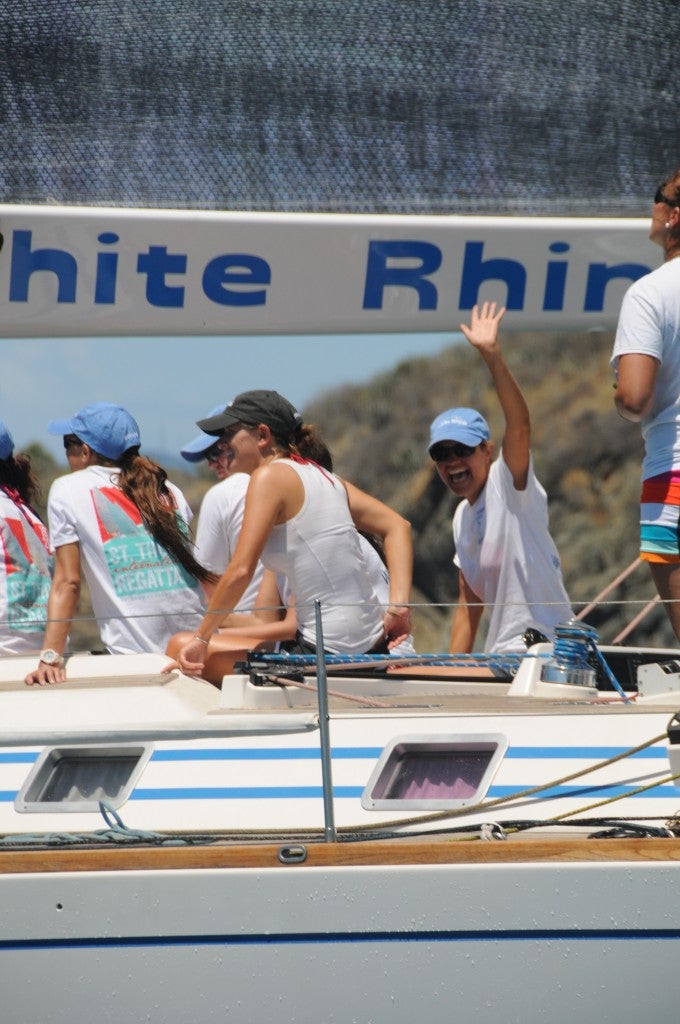 If, like many of us, you've just about HAD IT with this insane winter weather, now's about the perfect time to register for the St. Thomas International Regatta and save $150 off the entry fee if you sign up by this Friday the 31st.  You'll be in good company regardless of what you race; the big boat IRC class is looking ultra-competitive with Highland Fling XII, Tonerre, Scarlet Runner fresh across from Cape Town via Rio and loads more, while the STIR always gets awesome turnout from the diverse cruiser/racer crowd racing CSA.  Add in the triple threat of Melges 32s from Puerto Rico, a great beach cat class, and the big IC-24 fleet and you've got a recipe for success in the 41st year of the "easy button" for Caribbean racing. "St. Thomas has the best combination of high quality race administration, great competition, and affordability, and the STYC is an awesome atmosphere whether you're with the family or the party animals," says Melges 32 owner/driver Jaime Torres. For more information, visit www.stthomasinternationalregatta.com. Or, follow for the latest information on Facebook www.facebook.com/rolexregatta, Instagram #IRRSTYC and Twitter @IRRSTYC.  Dean Barnes photo.
January 29th, 2014 by admin
Big Pimpin'
The 41st St. THOMAS INTERNATIONAL REGATTA is set to once again provide some of the best racing in the Caribbean, with warm water, hot racing action, and most importantly – a truly EASY regatta to come and sail. Based out of the legendary STYC inside Cowpet Bay, there are tons of apartments, condos, and hotels within walking distance or a short drive away, and rental cars are cheap and easy to pick up when you fly into the airport – which is an easy hop from Miami or dozens of other direct US cities. If you've done the logistics for St. Barths, St. Maarten, or even the BVI you know it can be a challenge to get everything sorted out on time and on budget, but not in St. Thomas; it's just easier here!
With a strong big boat lineup planned and consistently awesome racing for beach cats, IC24s, and cruiser/racers in the 30-45 foot range on CSA handicap, we've also got big boat legends like the Kerr 46 Tonnerre De Breskins 3 on the list as well as already three TP52s: Highland Fling of Monac0, Near Miss from SUI/FRA, and the Aussie Scarlet Runner, currently racing over from Cape Town. Get your 52 or other IRC weapon on the list right away and take advantage of some of the best race courses anywhere in the world; we've got flat water and swells, the awesome Pillsbury Sound between St. John and the West End, the exciting race to Charlotte Amalie, and more 'round the rocks' action; everything a real racer wants from their Caribbean fling.
Want to have some REAL FUN with your J/70? Ship it down from Florida with the special deal arranged by Kestrel Shipping, with a simple roll-on/roll-off from Palm Beach to Roadtown in the BVIs. Bring her over for the action in St. Thomas and then back for the BVI Spring Regatta; warm water and big breeze is what these things are made for! Contact Steven at Kestrel or Chris at Island Shipping for more info.
January 7th, 2014 by admin
Mad Men
It doesn't matter how lazy, nepotistic, incompetent, or corrupt you think ISAF is; its World Sailor Of The Year award is still the biggest honor that can be bestowed upon a sailor for his or her performance over the course of a year.  So it's kind of a big deal (even though you win some shitty mid-range watch as an award).  The public nominated the slate of potential awardees, but of course the only voting happens at this week's ISAF meeting in the bastion of yachting that is Muscat, Oman.
We think it would be a miscarriage of justice if anyone besides Paul Larsen wins the men's award this year.  To so utterly destroy the most important record in the sport (by 20%!), and then go on to sail a recreation of Shackleton's voyage weeks later, is just incredible.  Adding to all that is Larsen's undeniable stature as one of sailing's best communicators and cheerleaders; he does more for the sport every time he gets in front of a news camera (and it happens a lot) than any other talking head.
Francois Gabard's accomplishment winning the Vendee at age 29 could have landed him the award, but ISAF delegates don't like the French; you'll note that no French man has ever won.  Besides, he'll get one when he breaks Francis Joyon's solo RTW record with his new boat in a couple of years.  As for the rest of them, Heineken's accomplishments are awesome, but in a discipline that's in its infancy with extremely inconsistent competition.  Williams wins the WMRT in a year when much of his best competition is racing catamarans.   And Matt Belcher had some kind of good results in something called a 470, whatever that is.  Go Larso!
Pro-Choice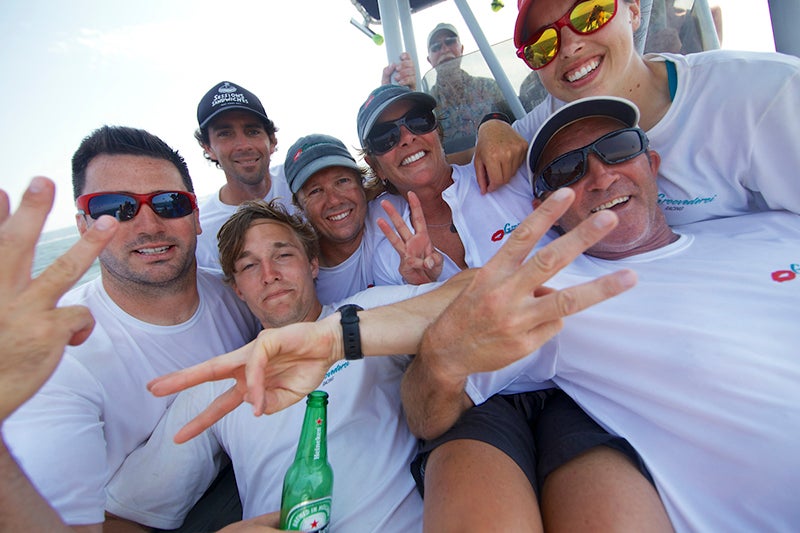 For the women, the choice is even easier; Deneen Demourkas dominated the Farr 30 Worlds, becoming the first 3-time World Champion in the class, beating some of the world's top male owner/drivers and tacticians in the process.  She also brought the class back from the brink of disaster, leading it to new growth in the US as well as Southern Europe and Scandinavia.
Competing with Deneen for the award is a Omani girl whose sole accomplishment seems to be that she is female and a sailor (quite an accomplishment in arabia, but still), another course-racing kiteboarder (same family name as Johnny, same reason she shouldn't win), and a couple of girls that got some kind of good results in something called a 470, whatever that is.
So there you have it:  The two sailors that should, without a doubt, win this year's mid-range luxo-watch.
And all joking aside, every one of these nominated sailors wins our respect.
November 12th, 2013 by admin
Post Of The Week
The annual Sydney-Hobart 'Let Multihulls Race' thread is raging nicely in the forums, and the rambling discussion turned to the reasons behind the Hobart fleet's shrinking trend, both in fleet size and worldwide stature.  Compared to the record fleets of recent Fastnets, Caribbean 600s, and Middle Sea races the Hobart is stagnant, even with one of the best Maxi/Canter/Mini Maxi fleets in recent memory on the line.  
Longtime SA'er and master debater 'Chris 249′ got deep into the reasons for the Hobart's decline, and his opinion is our Post Of The Week.  Continue the debate in the thread.
The Hobart is very much a big-boat fest these days, whereas when it was more popular the fleet was mainly composed of much smaller boats. That means that very few people can now afford to run a "competitive" boat, as in one that will finish close enough to the bulk of the fleet and among a group of similar boats.
The change can be seen by looking at the Hobart itself over time, and in comparison with the Fastnet both now and then. The fleets used to look quite similar in terms of the proportion of big boats to small boats; now the Fastnet has a vastly stronger small-boat and medium-size boat fleet.
Looking at the last races (and throwing Hobart PHS boats and Fastnet 2H IRC boats in their respective divisions) we see that there is a striking similarity in the number of boats of TP52 size and speed and more in each race. The Fastnet had 24 starters in the Canting and Zero classes (One 100′ supermaxi, TP52s, fixed keel mini maxis, Volvo 60, Swan 60, Farr 52 OD etc) whereas the corresponding classes in the Hobart attracted 23 boats, including three 100′ canters and a 100′ fixed keeler.
But in the next size down (39-46′ IRC racers like Rogers and Kers and big cruisers) the Fastnet had 52 boats, the Hobart just 17. The class after that (Beneteau 45s and 40s, etc) had 89 boats in the Fastnet and 19 in the Hobart.
In the smallest boats the disparity is even more marked; once you get under IRC 1.05-ish, (10m IRC racers, J/109s, Beneteau 36.7, Sydney 36, J/35, old IOR boats of 47′ or less) there's a staggering 184 boats in the Fastnet compared to 17 in the Hobart!
If you add in the Class 40s and Figaro IIs (one designs I left out of the above calcs as there is no comparable scene in Oz) the proportion of 'small' boats in the Fastnet increases even more.
It's also interesting to look at long-term trends. I found the '79 Fastnet and '77 Hobart fleets to compare their composition with the current fleets. At the time, the Hobart fleet (132 boats) was much healthier (compared to today and to populations) compared to the record Fastnet fleet (303 boats).
The Hobart fleet's composition was also strikingly similar to that of the Fastnet, in terms of boat size and design apart from the fact that Class I (50 to 43 foot racing boats and big old cruisers) was miles bigger in the Fastnet, partly because of the 50-ish boats that did it because of the Admiral's Cup*. For example if we look at (roughly) IOR 34-30 footers we see 116 boats in the Fastnet and 53 in the Hobart; pretty close to the ratio between overall fleet sizes.
Over time, though, the races have diverged to the Hobart's cost. In the Fastnet it looks as if the number of "raceboats" over 38′ has actually declined as the fleet has grown and people move to cruiser/racers. The number of boats of 36′-ish and less has stayed static. The growth has been in the 40 foot cruiser/racers like Benny 40s….the sort of boat so many slag off but which keep so much of the sport going.
In contrast the Hobart has a larger number of big race machines, but a vastly smaller number of small boats and a much smaller overall fleet. If the Hobart had maintained the same sort of fleet composition as it used to have, and the same sort of composition the Fastnet still has, we'd see dozens of boats like J/109s, Archie A 31s etc bouncing down to Hobart.
And why have the small boats stopped? Not sure. The Cat 1+ safety requirements have hurt. The accent is also all about the big boats, and there's no real stepping stone from small boats and small races like there used to be. I think in the last days of the "small boats to Hobart" scene there was a strong (and often expressed) feeling that anything under 36 feet just was not welcome. As another example the CYCA, which used to have a JOG division (= MORC, for boats under 31′) AND a separate half ton class, now bans any boat under 30′ from even doing day races offshore. We have nothing like the Euro/UK quarter ton and half ton scenes or UK JOG, or the smallish OODs of the USA; there's no replacement for the JOG and half/quarter scenes of yore. No owner-measured IRC certs are allowed so almost no small boat owners spend the extra bucks for full measurement and there's no PHRF, so for the small-boat owner there's only golf handicap and therefore no reason to try hard or sail well.
I sold an investment property a few months back and thought of chucking the cash into a boat for the Hobart etc, but decided there was no point when the small-boat numbers have dwindled so much that there's no one to play with. It's a vicious circle, especially when no one seems to give a fuck about stopping the spiral. So I race dinghies and boards and will do some local racing; ironically now I've moved away from Sydney's big boat oriented scene I can race my 4kt "SB" again. CBF crewing on big boats as I don't want to specialise in doing just one thing.
What the Hobart and Fastnet analysis does show, IMHO, is that increasing the proportion of big fast boats, and the emphasis on them, really does nothing to increase the race's status, viability, fleet size or competitiveness. The idea that putting in big multis will increase interest and therefore numbers falls down, IMHO, when we see that putting in big canters has done nothing to increase fleet sizes and may have reduced them. People are not getting into the race because the fast boats are getting faster….. in fact they are no longer turning up like they used to. It's no fun getting to Hobart to find that the party is over.
As is so often the case, it's the much-abused practical boats like Beneteaus that are keeping the sport strong and healthy, and the scene that concentrates on spectacular boats is the one that is sick.
And the Fastnet shows that people WILL still sail offshore in fairly small and cheap boats if they are encouraged, rather than bagged out for sailing 5 knot shitboxes. But there seems to be a big cultural difference between the RORC and CYCA these days.
All just my 2¢ worth, it'd be interesting to hear from Fastnet and Bermuda racers and guys who still do the Hobart.
* 57 boats did the AC but at least 9 or 10 of them were chartered UK boats or boats from France, Holland, Ireland etc which would have done the Fastnet even if there had been no AC.
November 1st, 2013 by admin
Enfant Terrible won the Farr 40 Worlds in Newport last week, but no one seems to have told the Class that no one cares about them anymore. Apparently some of the protest/rules/measurement shit that went down at the NYYC-based regatta makes the AC45 rules wars look tame.  And we're sure no one told Rolex that their 'product' has become  stale; they're still throwing hundreds of thousands of dollars a year into a dated, obsolete boat with no exposure, no visibility, and no future beyond club racing and a single 8-15 boat Worlds once a year.
There's nothing wrong with that, but it sure would be nice to see one of the sport's major sponsors spending all that money to accomplish something positive, rather than using it to prop up something that should have been left to its own devices years ago.   We'll have more on both these subjects soon, but in the meantime, keep your eye on boat at the top right of your screen and enjoy one of sailing's top stars (and the winning tactician from Worlds) falling right off the back of the boat. Thanks to Zerogradinord for the tip.
September 1st, 2013 by admin