Posts Tagged 'Rio'
Zika, Roussef's impeachment, and Brazil's nasty recession have taken the focus off the putrid condition of the Olympic Sailing Venue in Guanabara Bay, but a team of high level documentarians is hoping to make sure the environmental lessons learned in this debacle of an Olympics will never be forgotten.  If you believed any of the ISAF or IOC or Rio2016 bullshit, watch the beautifully produced trailer above to find out the real truth from people who really have something to lose.  Here's a deeper description from our friends at Sailors For The Sea.
We just recently helped raise the funds to send the film crew to finish filming so the documentary can be released before the Olympics. Tomorrow we are launching a crowd-funding campaign to finish production. We could really use the help of the passionate Sailing Anarchy base to get this thing off the ground. With 99 days to the Olympics I don't think it could be better timing!
Film Overview
When the world descends on Brazil this August for the Olympics, they are going to get more than they bargained for. Shopping carts and couches, offensive odors and a web of plastic pollution blanket the once iconic landscape of Guanabara Bay.
The film will document the origin of waste, from the communities where it is generated, to the streams and major tributaries that carry it into the Bay. We will define the scope of the problem and tell this story from the perspective of community members and activists who desire lasting change, such as Arthur a young sailor featured in the trailer.
We will also document community-level waste collection centers, and other localized solutions that can be scaled, as an example not only of the hope, but also of the real and prosperous future that is possible for the citizens of Rio, who call the Bay their home.
Sound Off Films' founder Annie Costner has been traveling back and forth to Rio since 2011. Intrigued by the waste issue and determined to tell the locals' side of the story—which extends beyond the concerns of international athletes competing in this summer's Olympics—she started asking questions.
April 29th, 2016 by admin
The Grael family is as close to sailing royalty as exists in South America, so people listen when they speak.  So when millions of people hear her Gold favorite Martine Grael talking pollution on ESPN's Outside The Lines, they'll listen – even if Zika and the economy have taken some of the spotlight off the continually shocking pollution problems.  From the transcript:
In August, barriers installed across more than a dozen of Rio's dying rivers will hold back garbage that otherwise might drift into the paths of Olympic sailors. A fleet of boats will patrol to keep debris from snagging on a rudder or centerboard and costing someone a medal. Some of the untreated human waste that has long fouled Rio's beaches and docks and picturesque lagoon will be diverted from competitive venues so the athletes who have to navigate them need not worry.
This is what has been promised, anyway. This is the latest stopgap wave of promises made when it was clear the first wave wouldn't be kept.
A brilliant, lowering sun silhouettes the irregular profile of the mountains behind Martine Grael as she stands on a beach strewn with sailboats after a day of racing at an international regatta on Guanabara Bay and voices her doubts. Grael, 25, is a newly minted member of the 2016 Brazilian Olympic team, the daughter of a gold medalist, a true child of these waters. She speaks with the sad conviction of someone watching a loved one suffer.
"It's very clear that water treatment and education are the biggest focus on cleaning the water, and I haven't seen almost anything being done in that way," Grael says. "I think Rio has a very big coastline and people love to go to the beach, but nobody seems to care that the beach is getting dirtier and dirtier.
"The water's still dirty and it stinks some days, and, I don't know. You don't need to study a lot to understand that it's not going well."
Read the most comprehensive story on Rio pollution yet here, or Watch the full video here.
February 18th, 2016 by admin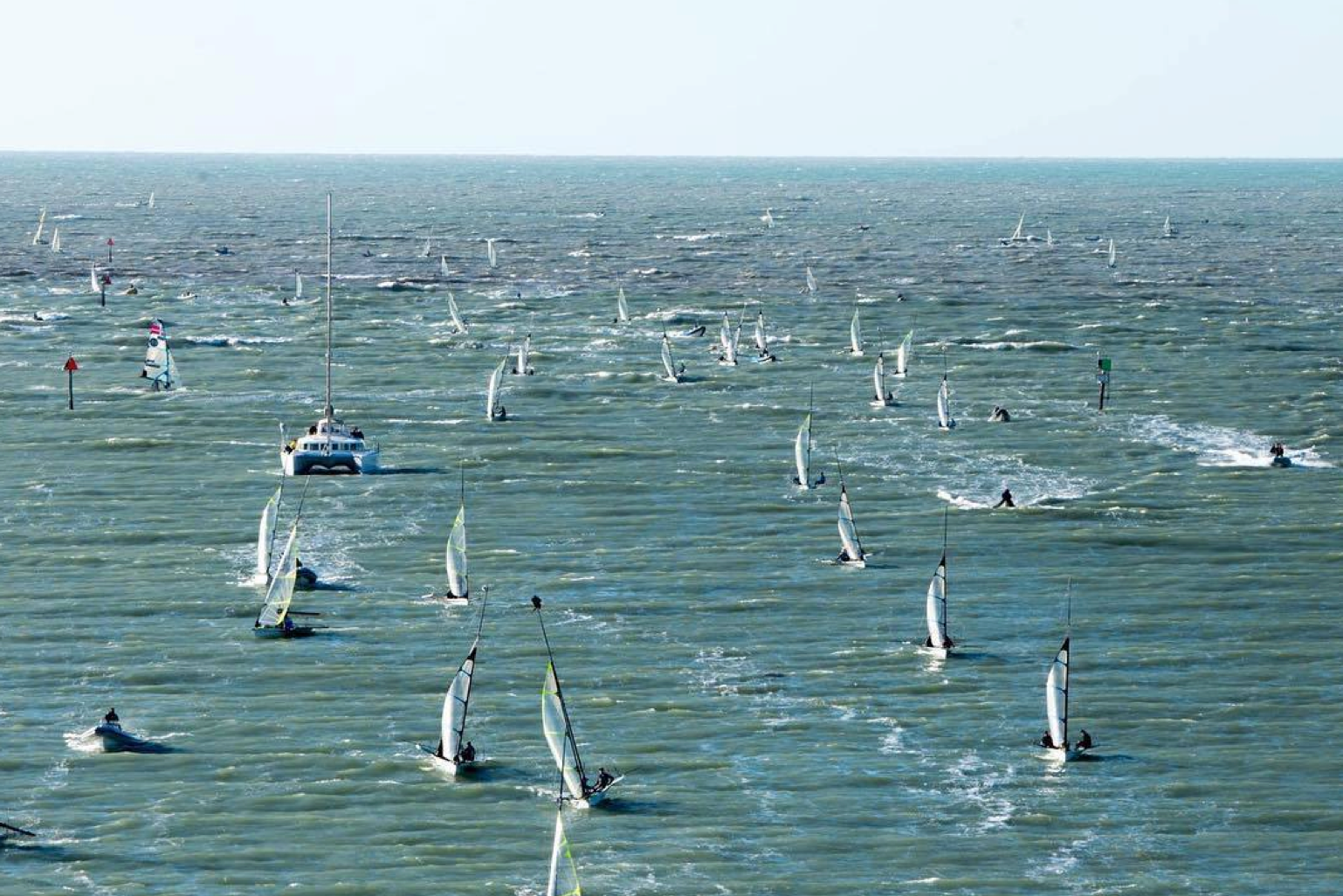 With day after day of boatbreaking conditions at the 49er/FX/Nacra 17 Worlds thanks to big winter breeze and shallow depths, Clearwater Sailing Center's race course was something of a bust, both for a double-digit number of masts and for replicating Rio conditions.  And while Paris Hencken and Helena Scutt held true to their recent form and claimed the Olympic berth for the FX, longtime favorites in both the skiff and cat took huge dives, and the final Nacra and 49er selections came as a shock to everyone in what is a life or death trials for those obsessives who put it all on the line for a shot at Olympic gold. (For instance, check out this glossy, expensively produced Sperry/US Sailing video profile of 49er favorite Brad Funk that dropped just before Worlds, when Funk and Burd sailed themselves right out of the trials and off the team.  Oops.
The American deficit in the Nacra was pretty obvious, especially when competitors Sarah Newberry and Matt Whitehead – who've held the official US Team designation for the better part of two years – came across the line as only the fifth American team in the selection trials – and near the back of the overall fleet.  Meanwhile, Mark and Carolina Mendelblatt continued their late charge for the Rio berths and offshore beach catter Mike Easton and Katie Pettibone showed their heavy air prowess while dominating the other US teams in Clearwater.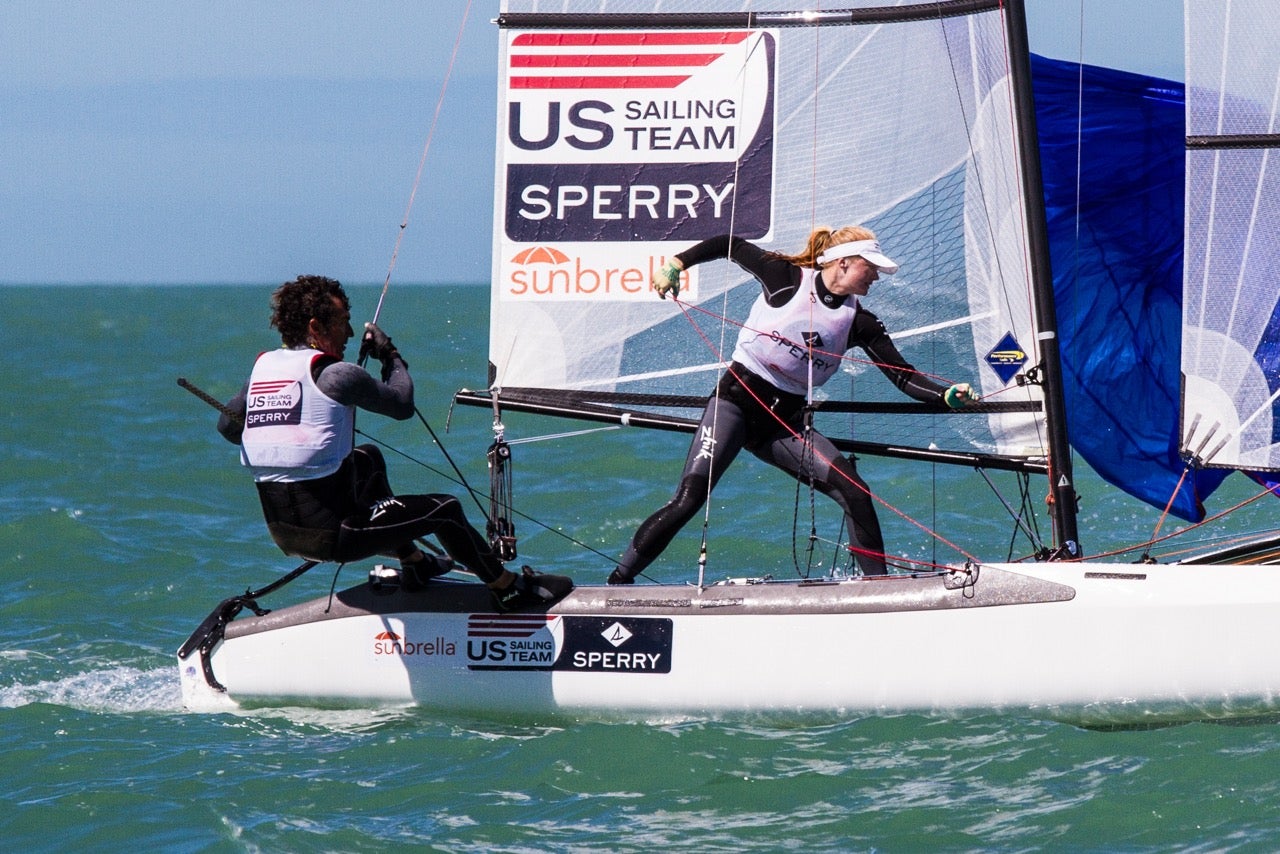 But it was one of SA's oldest friends who came through at the very, very last minute.  That's right, folks – double Moth World Champion, Melges 24 dominator, and sporty offshore navigator Bora Gulari, along with young crew Louisa Chafee, did just enough in the Clearwater event to squeak through qualifications by 2 points over Easton and just 3 over Pettibone.
Bora checked in to the SA Forums after a long hiatus from posting.  We will have a full interview with Bora when the Sailing Anarchy Podcast launches on March 1st, but until then you can check out Bora's bullet point report.  From the "US Sailing Is F&*ked" thread.
So sorry I have not posted in quite some time but some of the comments in here have motivated me to at least write a tiny bit. 
-The first time I stepped into a Nacra 17 was in the Miami OCR last year, I bought a boat 3 months later and that was the first time I was able to sail daily.
-I switched crews one week before the Miami SWC we got at high as third most of the way through the regatta and I started sailing worse once there was more off the water distractions of friends and family showing up.
-For Clearwater I had changed some foil angle setup things.  I do not have access to a VPP, so I am doing this on the fly.  The change I made was a definite mistake and boat speed showed it.
-Worlds had the most challenging sea state I have ever had to race a dinghy in, next time I will be ready for that stuff.
-There was more off-the-water distractions for me than I had ever to deal with.
-Ahead is 6 months of full-time sailing with a good teammate, great coaching, and unlimited resources from now 'till the games. If you discount me fine but I don't think I would.
It's hard to discount the best American apparent-wind helmsman of his generation (especially when he's a hydrodynamic engineer) in a very new and untested class.  It's a longshot, but outside the 470 girls and guys, they're all longshots.
Top photo from the 49er Dutchies, pic of Bora and Louisa from Will Ricketson/US Sailing Team Sperry.
February 18th, 2016 by admin
There have been precious few counterpoints to the Rio pollution monster, and while the author of the below piece is wrong about quite a few things (namely that our own SA staff spent dozens of hours in-country investigating the situation on both water and land, talking to locals, and speaking with Brazilian scientists), it's good to see some of that famous Brazilian pride come out. 
Hi there, I am a sailor from Rio. until recently on 49er campaign for the Olympics. just lost the qualifying to Marco Grael (yes, Torben's son). I see you are a big critic on Rio pollution. Not sure how much of it is to make news and get hits or how much of it is actually of interest to you.
I did notice as well that you have never talked to a single Brazilian regarding this matter. Never contacted a single club in Guanabara Bay, I dare to say you have never even sailed there. You might find some different pov.
Dont get me wrong, I am not trying to state that there is no pollution, or that people should not push for depolution. I just want to raise a point – can sailing be done in Guanabara Bay?
I think it's histerical to hear that ISAF president says he would resign if he doenst get depolution. What does he know about politics in Rio? Did you know that there are 15 municipalities around the bay? that the biggest water treatment plant in Latin America is right there, but the Mayor of that town refuses to clean the shit of the neigbour town?
Anyway, again off the point, but would just like to overstate how these brits are still thinking collonialy.
Every year, the Opti Nationals are packed with over 100 little kids. Every year Rio has the biggest fleet from all states. So this means that every year, on your opinion, really stupid parents allow their sons and daughters to face death when sailing their optis around the bay, or the lagoon (even worse polution). But aren't these the same parents who run one of the biggest economies on the planet?
Is there a chance they are not too stupid? that they know, albeit polluted, it is not as harmful as advertised?
I find it really strange that all these little kids manage to sail their way around the plastic bags, find their gusts, round their marks, and those big boys with medals and sponsors, cant even put their boats on the water.
Getting your info from germ free americans, or isaf bureocrats might not be the best source of info.
Through this Olympic Cicle I have hosted 8-10 teams from different countries and classes. Still to find 1 who says this place isnt paradise. Can you picture this with crystal clear water? I think it's just a way of making it fair with everywhere else.
Cheers from a SA follower
Thomas Low-Beer
January 29th, 2016 by admin
Sailing Anarchy Senior Editor Mr. Clean finally tracked down double gold medalist Malcolm Page, the new spokesman and Chief Marketing Officer of World Sailing, to get the inside story on all the controversies piling up in ISAF's inbox.  Page didn't always give a complete answer but he didn't back down, and a 20 minute chat turned into nearly an hour-long interview on the lawn at Coral Reef Yacht Club.  Want to know the latest directly from ISAF/WS about the Israel visa scandal and World Sailing's response?  How about the name change?  Rio pollution, the loss of spectator stands, the Zika virus, the million-dollar-a-year World Sailing TV plan, and watching the Olympics?  It's all here, along with much more.  Rather than take the time to mix the video with the audio, we're presenting this one as an audio-only podcast; you can listen above or download it for later from Mixcloud.
NOTE: Those of you looking to watch the live broadcast of the Miami medal races on Saturday need to either get a VPN or make sure your cable includes ESPN.  Contrary to what Mal told us during the interview, the live stream is NOT available in the US unless you have pay TV, but strangely, it's not even on pay TV – it's only available through online broadcaster ESPN3.  So the first shot at livestreaming this cycle in the USA begins with a non-measurable, highly restrictive internet broadcast that seems likely to reach a few thousand people at best.
Not a great start to the brilliant World Sailing TV plan to take over the world, but that's what happens when you pay a 65-year old man to distribute your media in 2016…
January 28th, 2016 by admin
"Rio vowed Sunday to protect Olympic athletes and fans from Zika-carrying mosquitoes, blamed for causing horrific birth defects." So says the AP.
Forgive us for not trusting the same Rio government that once promised a clean bay, and if you must go, pack your DEET if you ever want to have kids. Remember:
It only takes one bite, and it's coming to a neighborhood near you (and for the really good news, it seems to be sexually transmittable, too).
January 25th, 2016 by admin
With all the noise about corruption, recession, and pollution coming out of 2016 Olympic venue Brazil recently, you might have missed a little story last May focusing on a few cases of something called Zika in the deep jungle that now threatens not only any chance the Games had of helping Brazil's wrecked tourism industry, but international health.  Since those early May cases, the mosquito-borne disease has turned into an international epidemic effecting potentially millions of people and damaging the brains of the most vulnerable of all of us: Newborn babies.
The virus is generally unremarkable when a healthy adult picks it up, and it's far less dangerous and damaging than the mosquito-vectored illnesses tropical sailors are most used to; malaria, dengue, and most recently, chikungaya.  But to an unborn fetus, Zika has life-threatening consquences, and while scientists don't yet understand exactly how, the virus zeroes in on the skull of the fetus.  The resulting conditions is called Microcephaly, and it's a heartbreaking one that results in a smaller-than-normal skull and prevents proper brain development.  In just a few months, Brazil has gone from essentially zero cases of microcephaly to over 4,000, with estimates of around a million infections of Zika.  And some locals say the beleaguered government doesn't give a shit.
If you're not pregnant or intend to become pregnant soon, there's very little to worry about.  But if you are, or someone back home is, this disease is not to be trifled with, and it's not just in Brazil anymore; like most diseases spread by the nasty and ubiquitous Aegypti skeeter,  it's spreading, and fast.  The first suspected case of Zika-connected microcephaly in the US was reported last week in Hawaii, and the virus has been found in several southern states.  Further afield, it's exploding.
The CDC advised pregnant women to "Consider postponing travel to any area where Zika virus transmission is ongoing. If you must travel to one of these areas, talk to your doctor first and strictly follow steps to prevent mosquito bites during your trip.
Women who are trying to become pregnant: Before you travel, talk to your doctor about your plans to become pregnant and the risk of Zika virus infection. Strictly follow steps to prevent mosquito bites during your trip. Specific areas where Zika virus transmission is ongoing are often difficult to determine and are likely to change over time."  Their full info sheet is here.
As of Thursday, the following countries have been impacted: Brazil, Colombia, El Salvador, French Guiana, Guatemala, Guyana, Haiti, Honduras, Martinique, Mexico, Panama, Paraguay, Saint Martin, Suriname and Venezuela, as well as Puerto Rico.
More info from the Wash Post here.
January 21st, 2016 by admin
With a real recession settling into the Brazilian economy, ISAF and Rio 2016 officials sound increasingly pessimistic about any kind of real cleanup happening before the Rio Olympics this summer. If the long-promised cleanup doesn't happen, their solution – moving the boats further offshore, out of the (literal) shit – looks like a non-starter, at least if you believe the second round of water testing from the Associated Press.  Teams and staff: Make sure your health insurance is up to date.  Here's the AP:
Olympic sailor Erik Heil floated a novel idea to protect himself from the sewage-infested waters he and other athletes will compete in during next year's games: He'd wear plastic overalls and peel them off when he was safely past the contaminated waters nearest shore.

 Heil, 26, was treated at a Berlin hospital for MRSA, a flesh-eating bacteria, shortly after sailing in an Olympic test event in Rio in August. But his strategy to avoid a repeat infection won't limit his risk.

A new round of testing by The Associated Press shows the city's Olympic waterways are as rife with pathogens far offshore as they are nearer land, where raw sewage flows into them from fetid rivers and storm drains. That means there is no dilution factor in the bay or lagoon where events will take place and no less risk to the health of athletes like sailors competing farther from the shore.

"Those virus levels are widespread. It's not just along the shoreline but it's elsewhere in the water, therefore it's going to increase the exposure of the people who come into contact with those waters," said Kristina Mena, an expert in waterborne viruses and an associate professor of public health at the University of Texas Health Science Center at Houston. "We're talking about an extreme environment, where the pollution is so high that exposure is imminent and the chance of infection very likely."
Read on, and talk about it in the busy thread here.
December 2nd, 2015 by admin
We may not have come down to Brazil specifically to investigate the water pollution problems, but the situation is inescapable, and yesterday's discovery of an open sewage outfall less than 50 feet from the main Olympic Sailing Center launch ramp was, well, shocking.  Local authorities panicked and sent over an oil containment crew with a floating boom…but that ain't oil, and the inside of the Olympic harbor is now half water, half poo.  It's one thing for a huge 3rd world city to have sewage problems, and our final report from Brazil will get deep into a situation which is neither uncommon nor surprising in a Latin American metropolis, but the level of incompetence required to have thousands of gallons of untreated waste flowing in the one place that every sailor touches every day, and that every reporter sees every morning?  It simply defies belief.
And the hits keep on coming; a 5-man media team was held at gunpoint and robbed of cameras and phones while covering the cycing test event yesterday, the same day hundreds of thousands of protestors – including tens of thousands on Copacabana and Ipanema – blocked major roads across Brazil while calling for the impeachment or military ouster of recently elected president Dilma Roussef.  Think American politics are messy?  She's got an 8% approval rating…
On a much more positive note, the US Sailing Team Sperry seems to be continually improving, with a good start in the Laser and Radial, and a great start in the 470 (and a seemingly healthy team, barring a few bruises).  The US currently holds second place in three classes, in fleets that are largely the same as they'll be next year.  Peaking early, or a sign of great things to come?  We're on the ground to find the answer.  Listen to yesterday's interview with 470 chicks Bri and Annie here, and watch these pages for more.  Test Event Results here.
Onne Van Der Wal photo of new dad Stu McNay and Dave Hughes.
August 17th, 2015 by admin
Moth, skiff, and Red Bull Youth AC Anarchist Ian Andrewes checks in from his Nacra 17 action in Rio after 2 weeks of 'the most effective training camp he's ever been part of'.  It was also a trip that featured the disturbing sights of toxic sludge, a navy burial at sea right off the harbor mouth, and a fireworks display that sent a yacht club's members fleeing for their lives; in other words, a typical month in Rio. We dig Ian's take on the dilemmas of an Olympic trialler and we hope you do too.  Thank him over here, or over here.
When I first came down to Brazil in August after a last-minute decision, it was to compete in the AqueceRio Olympic Test Event. Everything was moving quickly and it wasn't until my hour-long cab ride back to the airport that I found myself looking out the window, realizing I hadn't spent enough time in this place. I didn't understand what made Rio so unique or the way it manages to stay on just this side of total madness. How could I describe it to my friends and family?
I'd get another chance when we came back down this month, and I was determined to learn this place better and try to decide how I truly feel about the controversial waters Guanabara Bay. The Bay has been called one of the most beautiful places in the world, with absolutely perfect sailing conditions, and it's been described as one of the most polluted and horrendously disgusting bodies of water in the world, completely inappropriate for any waterborne activity.  And both are correct.
My first day back this trip, one of first things I noticed was the lack of trash in the water compared to last summer; conditions that had required a rudder or board cleaning every 50 meters then.   Much can be attributed to the odd garbage scows, roaming the water like giant aquatic Roombas and scooping up everything in their path, including the odd junior in an Opti.  It struck me as a wonderful improvement, but then I started to notice the water color – not the brown of the typical estuarine bay, but the thick, particle-choked haze of the untreated sewage flowing directly into our racing area.
I do believe this place is seriously sick. The waters are not just dirty; they are toxic and poisonous. Every day thousands of dead fish have been washing up on the beaches like its the apocalypse – their rotting bodies adding to the already pungent aroma of raw sewage at low tide. The ones that aren't quite dead flop around in an epileptic dance of rainbow-hued oily sludge and sand right until their death.
I have noticed a decrease in the amount of garbage in the Bay, but there's still plenty of work to be done, and I think all the sailors are hoping their organizations keep the pressure up.
Rio is a strange place, difficult to compare easily to other cities I know. Favelas rule the politics despite being made up of the poorest squatters and the nastiest criminals. Some people seem to pay taxes, but most don't.  In Niteroi, just across the bay, you find multimillion dollar houses along the waterfront, immediately adjacent to squatting families living in shacks made of driftwood, corrugated steel, and dock scraps.  But of course the shacks are loaded with electricity, satellite TV and running water courtesy of the welfare system…All of this disparity and more yet nobody seems all that disgruntled.
In fact, most locals I've met seem generally quite happy. Maybe they complain about a politician's decision or about the bad traffic, but the conversation never seems to carry on past that. Maybe something in the water gives these people such a cheerful disposition.
We're all hoping that the Olympics will help to shine spotlight the environmental issues in Rio, and that the public attention leads to improved sewage treatment and pollution control, not for us but for the people of Rio.  They deserve better.
As sailors, we need to promote and encourage change that extends far beyond this event.. I will keep coming back to this place as my captivation with the scenery and the strangely pleasant locals only makes me want to see change sooner. I hope each trip down to this gauche city in Brazil will show that steps are being made in the right direction and that it's not too late.  I'll keep you posted.
December 24th, 2014 by admin