Posts Tagged 'Rio'
We may not have come down to Brazil specifically to investigate the water pollution problems, but the situation is inescapable, and yesterday's discovery of an open sewage outfall less than 50 feet from the main Olympic Sailing Center launch ramp was, well, shocking.  Local authorities panicked and sent over an oil containment crew with a floating boom…but that ain't oil, and the inside of the Olympic harbor is now half water, half poo.  It's one thing for a huge 3rd world city to have sewage problems, and our final report from Brazil will get deep into a situation which is neither uncommon nor surprising in a Latin American metropolis, but the level of incompetence required to have thousands of gallons of untreated waste flowing in the one place that every sailor touches every day, and that every reporter sees every morning?  It simply defies belief.
And the hits keep on coming; a 5-man media team was held at gunpoint and robbed of cameras and phones while covering the cycing test event yesterday, the same day hundreds of thousands of protestors – including tens of thousands on Copacabana and Ipanema – blocked major roads across Brazil while calling for the impeachment or military ouster of recently elected president Dilma Roussef.  Think American politics are messy?  She's got an 8% approval rating…
On a much more positive note, the US Sailing Team Sperry seems to be continually improving, with a good start in the Laser and Radial, and a great start in the 470 (and a seemingly healthy team, barring a few bruises).  The US currently holds second place in three classes, in fleets that are largely the same as they'll be next year.  Peaking early, or a sign of great things to come?  We're on the ground to find the answer.  Listen to yesterday's interview with 470 chicks Bri and Annie here, and watch these pages for more.  Test Event Results here.
Onne Van Der Wal photo of new dad Stu McNay and Dave Hughes.
August 17th, 2015 by admin
Moth, skiff, and Red Bull Youth AC Anarchist Ian Andrewes checks in from his Nacra 17 action in Rio after 2 weeks of 'the most effective training camp he's ever been part of'.  It was also a trip that featured the disturbing sights of toxic sludge, a navy burial at sea right off the harbor mouth, and a fireworks display that sent a yacht club's members fleeing for their lives; in other words, a typical month in Rio. We dig Ian's take on the dilemmas of an Olympic trialler and we hope you do too.  Thank him over here, or over here.
When I first came down to Brazil in August after a last-minute decision, it was to compete in the AqueceRio Olympic Test Event. Everything was moving quickly and it wasn't until my hour-long cab ride back to the airport that I found myself looking out the window, realizing I hadn't spent enough time in this place. I didn't understand what made Rio so unique or the way it manages to stay on just this side of total madness. How could I describe it to my friends and family?
I'd get another chance when we came back down this month, and I was determined to learn this place better and try to decide how I truly feel about the controversial waters Guanabara Bay. The Bay has been called one of the most beautiful places in the world, with absolutely perfect sailing conditions, and it's been described as one of the most polluted and horrendously disgusting bodies of water in the world, completely inappropriate for any waterborne activity.  And both are correct.
My first day back this trip, one of first things I noticed was the lack of trash in the water compared to last summer; conditions that had required a rudder or board cleaning every 50 meters then.   Much can be attributed to the odd garbage scows, roaming the water like giant aquatic Roombas and scooping up everything in their path, including the odd junior in an Opti.  It struck me as a wonderful improvement, but then I started to notice the water color – not the brown of the typical estuarine bay, but the thick, particle-choked haze of the untreated sewage flowing directly into our racing area.
I do believe this place is seriously sick. The waters are not just dirty; they are toxic and poisonous. Every day thousands of dead fish have been washing up on the beaches like its the apocalypse – their rotting bodies adding to the already pungent aroma of raw sewage at low tide. The ones that aren't quite dead flop around in an epileptic dance of rainbow-hued oily sludge and sand right until their death.
I have noticed a decrease in the amount of garbage in the Bay, but there's still plenty of work to be done, and I think all the sailors are hoping their organizations keep the pressure up.
Rio is a strange place, difficult to compare easily to other cities I know. Favelas rule the politics despite being made up of the poorest squatters and the nastiest criminals. Some people seem to pay taxes, but most don't.  In Niteroi, just across the bay, you find multimillion dollar houses along the waterfront, immediately adjacent to squatting families living in shacks made of driftwood, corrugated steel, and dock scraps.  But of course the shacks are loaded with electricity, satellite TV and running water courtesy of the welfare system…All of this disparity and more yet nobody seems all that disgruntled.
In fact, most locals I've met seem generally quite happy. Maybe they complain about a politician's decision or about the bad traffic, but the conversation never seems to carry on past that. Maybe something in the water gives these people such a cheerful disposition.
We're all hoping that the Olympics will help to shine spotlight the environmental issues in Rio, and that the public attention leads to improved sewage treatment and pollution control, not for us but for the people of Rio.  They deserve better.
As sailors, we need to promote and encourage change that extends far beyond this event.. I will keep coming back to this place as my captivation with the scenery and the strangely pleasant locals only makes me want to see change sooner. I hope each trip down to this gauche city in Brazil will show that steps are being made in the right direction and that it's not too late.  I'll keep you posted.
December 24th, 2014 by admin
We still cannot for the life of us understand what is going through ISAF, the IOC, and the dozens of governing bodies' minds when it comes to the dangerous levels of pollution that even Brazil admits it won't be able to solve as promised to the IOC by 2016, much less this summer's Test Event.  As of Monday, the problem became not just dangerous, but life threatening, when Brazil's most respected health institute said this morning that 3 of 5 test samples on the Carioca River (which flows directly into the bay) tested positive for KPC-enzyme producing bacteria, also known as 'superbugs'.  Resistant to almost all modern antibiotics, treating these critters can require extremely toxic chemicals, treatments that can be even more destructive than the infections themselves.  Don't think this is a big deal?  This shit makes MRSA look about as serious as blue balls.  And we still haven't heard word one from any of our sport's supposed caretakers…
Anyone still think the IOC and ISAF have the sailors best interests at heart?  Check the AP story here; now including quotes from a long time Canadian Anarchist!
UPDATE: Apparently IOC has more important things to deal with than the health and safety of its athletes.  Time for a gorgeous new Lake Geneva HQ building!
December 15th, 2014 by admin
As the Brazil 'pre-pre-test event' wraps up, one of our deep cover Olympic hopefuls tells us things are nowhere near as rosy in Rio as we've been led to believe.  Neither we nor our source is looking to screw over the Olympic dream, but we're not going to stand by while people get sick, either, and we don't want anyone to forget that Rio's Mayor has already said that plans to permanently reduce the shit levels in the Bay – currently some 200 times worse than US water quality levels – billed as a major legacy of the Games, would not happen.  Like Russia and China, the Brazil games look to once again expose the IOC as a body that cares only about one thing: Cash.
Photo of a 49er crew taking an accidental and potentially dangerous swim in a feces-filled stretch of water near the Rio airport, and here's our inside report:
This place IS NOT CLEAN, and after a bit of rain hit town, we saw some seriously horrendous shit in the water.  The smell of poo as you sail into the harbor every day is revolting and like nothing any of us have experienced – but no one is allowed to talk about it, and we're getting annoyed with a bunch of recent media that says how nice the water is.  We have been told specifically NOT to talk to anyone about the pollution, and always to refer the matter to a higher authority. Even coaches are not allowed to have cameras aboard for fear they will capture dead animals or some of the other shocking stuff we've seen.
What is really happening is that people are getting sick.  There are few things worse than knowing you ingested fecal matter -and all that might come along with it – on the race course.  I've had the Rio Runs since day two.  Does being an Olympian really mean you need to eat shit – literally?
This place is really beautiful, but I don't think it's right for all these people to be jumping on some kind of "Rio Is Clean" bandwagon when it's the sailors and on-water staff who will suffer the consequences.  While Organizers are making some effort, they must be spurred into action to do more than temporary fixes.  Two of the main rivers that flow into Guanabara Bay – the ones that carry ALL the shit from all the hillside favelas – have been dammed up ust for our event.  A few days after everyone is gone, they will open them back up, and locals expect the bay to become as bad as it has ever been – so bad that the government will shut down the beaches for days.
August 11th, 2014 by admin
Like a beautiful woman, Rio's got issues.  And like that same woman, when everything is just right, it's damned near perfect.  Monday saw big waves and 15 knots of breeze for the Aquece Rio Olympic pre-pre rehearsal, and American women's 470 team Annie and Brianna are crushing it, while the rest of the US Sailing Team is having quite a respectable regatta so far.  US sailors in general are having their best regatta in a long time.
There will come a day in the next two years when yet another sight of Sugarloaf Mountain will make us nauseous.  But for now, it's gorgeous, as caught by US  Olympic Team photog Will Ricketson exclusively for the Anarchists.  The sailor he caught is 2016 Laser hopeful Chris Barnard (Newport Beach, Calif.), training partner to Charlie Buckingham, who lies in 5th after three races.
August 5th, 2014 by admin
It may still be a 'toilet' full of untreated sewage, but many believe Rio will be able to pull it all together before Summer 2016.  This week, around 300 sailors (including the US Sailing Team) will compete at the first Rio event – the 'test event" before next year's Test Event – despite the water still containing dead dogs, dead cats, floating TVs, and entirely new reasons not to capsize.  
Frequent SA photo contributor Juerg Kaufman was on hand for a presentation on water quality given by Olympic organizers last week; you can read the full PDF of the presentation here to see exactly what Rio is doing to fix their waterways, and here's Juerg's more personal report (with the beautiful photo to the left thanks to US Olympic Communications Manager Will Ricketson):
After one week in Rio there are three points I can make about the water quality.
First, the water is still dirty, and it smells bad in some places.  Most of the day though, especially with the current running, it's not so bad.  The race course that will be near the bridge still has lots of plastic bags and floating debris around; those seem to be the major risk for sailors at the moment.
Second is the water quality: Days ago, our head coach took some samples and sent to an independent lab for review.  We will have final results in a couple of days, but (and this is incredible), the water quality is within normal limits!  For sure, the water quality is far, far from what I'm used to on our alpine lakes in Switzerland, but still, we saw a turtle today and some of our sailors saw dolphins, so that's good news.
Third, I remember the Star Worlds here 4 years ago here in Rio, and since then, the water quality has improved A LOT.  We had a race on the future medal course back then, and the water was so horribly brown and even black at times that I couldn't use a single photo from that race.
We can complain about the water quality, but the reality is that we are seeing a major ecological change here on Brazil's shore.  Being an outsider it is hard to predict what will happen come 2016, but if the Chinese could solve hundreds of tons worth of algae, it's not hard to hope that the Brazilians will solve their water management issues.
Best regards
Jurg
August 4th, 2014 by admin
In yet another stunning example of IOC incompetence, London has secretly been asked to be prepared to take over the 2016 Olympics if Brazil continues to make a total shambles of preparations for the Games.
According to the Evening Standard, Olympic bosses have begin informal investigations into whether enough of the 2012 London venues can be recommissioned for 2016.
Given the IOC's track record at propping up despotic regimes and endorsing human rights violations while earning billions from endorsements and TV revenue, we don't have a lot of faith that they can do anything right, especially after selecting a horribly polluted and politically corrupt town like Rio for the biggest event in sports.
We have just two questions: How do these people control the world's biggest sporting event, and why have they not all been fired?
May 9th, 2014 by admin
"Pinching off" your competition will have an entirely new meaning for 2016 Brazil Olympic sailors if you believe this Associated Press exposé on the insane levels of human shit and piss in Rio's regatta waters.  "On the edge of the future Olympic Park, the average fecal pollution rate is 78 times that of the Brazilian government's "satisfactory" limit — and 195 times the level considered safe in the U.S.", the AP writes.  They also find that 70% of Rio's sewage goes untreated, and that as many as 6000 caimans – toothy 4-8 foot cousins to the alligator and crocodile – inhabit the murky and fetid waterways of Brazil's biggest city.
Rio's Olympic Committee has pledged to clean up the waters prior to the games as you'd expect, just like China said they'd clean up their nasty waters and allow freedom of the press…neither of which happened.  The main problem is that the IOC has huge power in the venue selection process and the early stages of venue development; power to demand massive piles of cash, billions in requirements and concessions, and all sorts of societal change.  But as the Games get close, the balance of power shifts to the venue; it's not like the IOC is going to move the Games to another venue in the final year of preparation, and that's when the host cities start telling the IOC to fuck off.  Or, like in China, they just stop answering the phone.  What's the IOC gonna do when there's no feasible way to enforce the edicts of the First World?  The answer is nothing, and the only real solution is to quit holding the Olympics in places like China and Brazil.
So listen up, potential Olympians: Since the IOC won't look out for your health and welfare, we will, and below are five new exercises from Sailing Anarchy's Department of Morons and Sewage to slot into your workout regime for Rio 2016:
1) the 100 yard 'out-swim a gator;
2) the 30 second 're-tape wetsuit seams before MRSA infects you'
3) the similar 30 second 'bandage wound while on trapeze';
4) the 10 minute 'launch boat without getting any water on your skin'
5) the 1 hour 'Sail 2.4 mR with full biohazard suit on'
Got any more ideas?  Hit the thread.  Best three win petrified Brazilian poo or a cayman skull (kidding, for you literalists).
November 22nd, 2013 by admin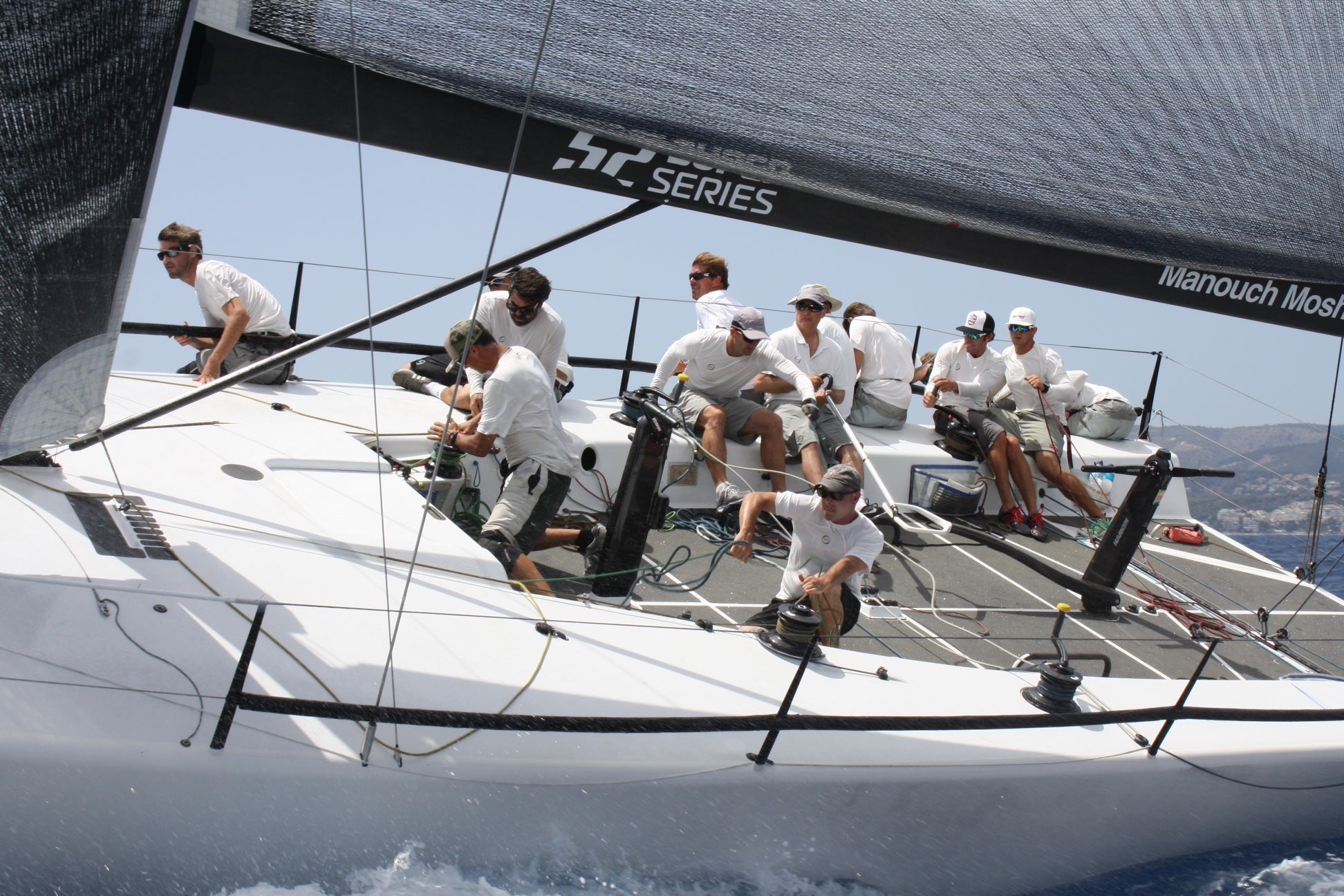 JP Penrod spins a monster of a tale from the TP52 SuperSeries/Copa Del Rey in Palma last week.  You gotta read this one.  Photos thanks to Mrs. Eduardo and Jonny GoldenNugs.
Team Rio, Manouch Moshayedi's 2011 Botin designed TP52, is screaming downrange towards the final leeward gate of the regatta. We are in 5th place, by design, as we have ignored the fleet to match race Provezza, the Turkish entry, for fourth place overall.
25 knots of Mediterranean sea breeze and accompanying wind waves have Rio fully wound up under her A2 and the time-on-layline numbers called out by our brilliant navigator Paolo Persi keep dropping at an astonishing rate: "one twenty and thirty! one and twenty! 50 and 10!" Pulses quicken and throats tighten for the bow team: Morgan Gutenkunst, bowman, myself on the midbow, and Hogan Beatie in the pit.
Strategist Johnny Goldsberry says he likes the left going up the course. Tactitian Dee Smith says he wants the left gate and a quick tack to get us going left and directly on Provezza's wind no matter how she rounds. In lighter airs this is a conversation I would never hear, being 30 feet forward, but in full-on conditions the bowmen hike at the aft quarter, waiting for the call to sprint forward 50 feet to the battlefield.
Dee calls out "straight in, left mark, and standby for immediate tack." "Ok", I think to myself, "the weather takedown is always the safest."
Flash forward 20 seconds. Mo and I are running forward, just clearing the primaries- the drop is less than 10 seconds away. The grinders are disconnecting from the primary sheets and linking to the drop system. And bang. A windshift. We are not laying straight in and a deep and slow dive down in this sea state is a very, very bad idea.
Dee screams, "JIBE DROP! RIGHT HAND MARK! DROP DROP DROP!"
What happens next takes a little bit of explaining for those unfamiliar with the modern inshore TP52. You see, we don't really "drop" kites anymore- we rip them out of the sky via belly-cords connected to all four grinders turning on an internal high speed drum. It is a pure momentum game as the system requires a mechanical disadvantage to the grinders. All the different permutations of this move from leeward to weather to jibe drop require subtle, but critical variations in timing by the driver, by the lead grinder, by the pit man, frankly- by every single person on the boat.
Our jibe drop here, at this critical moment for team Rio in the 34th Copa Del Rey Mapfre, began as a different move- and because of that the timing was wrong and it could not be fixed. And just as time waits for no one- the wind and the sea don't wait either.
I'm at the leeward rail, sucking in the clew as fast as I can. The grinders are blasting the center of the kite toward the bow hatch. Mo calls out to me, in the subtle code we've developed on the bow: "PANIC!" Instantly, I know the tack is in the water.
Perhaps I've got a bit ahead of myself- I should explain who we all are, and how we got to this critical moment.
Owner/Driver Manouch Moshayedi has been a figure in the Southern California sailing scene for years. A few years back he acquired his first Rio TP52 and sailed in the the Southern California IRC TP52 fleet: some local bouy racing, some ocean races here and there. The core of his team was boat captain Keith Kilpatrick, pit man Hogan Beatie, and lead grinder Jeff Messano. Keith knew some very strong professional rowers- Val Stepanchuk and Dave Kreuger, and recruited them for horsepower. All of these southerners are with the Rio today.
For those who don't know, you can take a northerner out of the bay, but you can't take the bay out of him. Such it is with Norcal born and raised Hogan Beatie. When Manouch looked to bring some new blood on board the old Rio, Hogan reached out to Cambell Rivers, Pat Whitmarsh, Morgan Gutenkunst, and Dan Malpas.  After a successful season in the SoCal TP circuit, Manouch was looking for a new challenge. Cambell suggested a number of options- including "totally going for it:" the TP52 Super Series.
Manouch threw down the gauntlet and bought the new Rio.  With some of his old crew unable to make the time commitment, and Dan Malpas tied down with his commitments to Oracle Team USA, I came on board along with Johnny Goldsberry as strategist and Francesco Mongelli as navigator.
Our first two Super Series events were in Florida: Quantum Key West and the Gaastra TP52 Worlds in Miami.  Rio suffered through some teething pains in those regattas, and by the time we turned towards Europe, the final shuffling of the crew occurred bringing aboard a slew of well known international pro sailors: Mike Mottl, veteran of almost every Aussie America's Cup campaign since the Kookabura, came on to trim the main; Ignacio Triay, the King of Spain's trimmer through the Med Cup on Bribon, came on to trim the kite; and Andres Soriano, Volvo Ocean Race MCM aboard Team Sanya came on as our floater.
The braintrust in the rear of the boat has rotated based upon availability. Long time tactician (and personal hero of mine) Pat Whitmarsh left us after Ibiza on account of his impending wedding, bringing on board Dee Smith who did his best to try fill Patricks massive shoes. Francesco and Paolo Persi have rotated through the navigator position as their other commitments have allowed. The two constants in the command staff have been Jonny in the strategist spot and Manouch on the helm.
The first thing I was struck with racing at this level is how damn good all these other people are. The second thing I realized, especially through those first regattas, is how close we are to reaching them. Getting a front row seat to the best bow teams on earth setting and dropping gave Mo and I a chance first to emulate them, and now to try evolve beyond them. Crucial to our development has been the unwavering support of  Quantum Racing, who have essentially treated us as their B team, putting Brett Jones aboard during a practice day to check shapes, bringing their chase boat behind us during the pre-race tune ups to comment on our trim, and giving us world class service at the regatta sites. Also crucial to our improvement, especially in the last event, was Manouch, Cambell, Mottl, Ignacio, and Quantum Racing (especially Brett Jones) collaborating to develop our sail program- because in this fleet, the difference between first and last can be measured in meters gained during the first beat.
Although our results in Barca and Ibiza didn't look a lot different on paper than the first two events, in fact those meters were slowly reeling in. In Palma, on her one lane race course, the gains finally came home and we were able to put consistency into our results, turning 7's and 8's into 5's and 6's, and 4's and 5's into 2's and 3's. As you all know- consistency is the key to this whole game.
Consistency goes deeper than just race results, however. Cambell, Mo, Patrick, Goldsberry, and I have sailed together for almost half of our lives. We've known and sailed with and against Hogan and Keith for almost as long. Likewise, Manouch, Keith, Hogan, Val, Dave, and Messano have been sailing together for years. Time in a boat is critical to success. Time together is critical for survival: especially when split seconds count.
Which brings me back to my tale from the bow. Morgan and I have a way of communicating that is almost telepathic (I am not exaggerating when I say that we have had 20-30 word conversations between each other during mark roundings that consisted of nothing but both of us shouting the exact same profanity (i.e. "f@#%! F@# %!!! F@#&!!!!"), yet we communicated volumes about the situation and our next moves. Hogan has known us long enough to pick up on it as well- slamming clutches open and closed to give us precious milliseconds of unloaded sail.
So when Morgan came sliding back to me, arms wrapped around the guts of the tack, screaming "PANIC!," I dropped the clew, wrapped my arms around the same section, and we simultaneously pulsed 100% of our strength, breaking the tack free, and gathering it into the boat.  Manouch carved a perfect arc around the right hand gate. Mo and I hit the rail, fist bumped, and looked back to see Jonny Goldsberry, standing at the aft stanchion, smiling ear to ear- because we are heading the way he had wanted to go all along.
Yeah, we crushed Provezza in that race.
August 7th, 2013 by admin