Posts Tagged 'Rio'
Racing in Rio may have been completely overshadowed by mass protests, a wave of murders, the Zika epidemic, and a government in shambles, but if you missed the story of Santi Lange and his crew Ceci, it's one you want to catch up with.  From losing part of lung to cancer to winning Olympic Gold after two-plus decades of attempts, Santi is a legend – and this piece from The Olympic Channel is a well-produced look at his battle.  Above is just a trailer – the full 10 minute mini-doc is over here.
June 23rd, 2017 by admin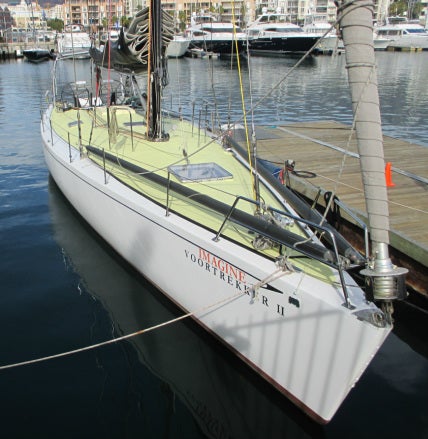 SA'er "Allan Mossop" tells stories, and this one is tough to beat.  From the 'Sinking of the Voortrekker II' thread comes this gripping real-life tale from the tough Capetown To Rio Race. 
I don't float. Something to do with percentage body fat. I'm not as skinny as I used to be but I still don't float. Not advantageous if you are a sailor. Not fat enough to float and keep you warm when your boat sinks and you have to spend a lengthily time in the drink. In the Atlantic. The Atlantic is cold. It's the Benguela current that wells up from Antarctica, scoots up the African West coast and makes hoodies and booties standard operating equipment for Capetonian waterfolk . Those that aren't a bit mal in the head that is.
So here I lie in the little tepid plunge pool on the roof of a guesthouse in Urca, Rio de Janeiro. My feet resting on the step, keeping my lungs full so I don't slip below the surface and fill my sinuses. Head back staring at the tropical puffiness of the clouds, a massive shooting star blazes across the firmament. I cast my eyes backwards up Sugarloaf Mountain and forwards across the bay to the Christ the Redeemer statue illuminated on its own granite massif. No, the statue does not sit on top of The Sugarloaf. It has its own place. A place that makes the tribute on top of Pappagaaiberg in Stellenbosch seem halfhearted.
I didn't want to be here. I felt like I didn't deserve it. I had failed. We had failed.
I crewed on WOW, a 45ft "Stealth" catamaran from Phuket in the Cape 2 Rio race that started in Cape Town on January 1st 2017. One of the longest ocean races in the world that doesn't involve a circumnavigation. We had our problems when we broke our daggerboards and although not life threatening, had to make the difficult decision to abandon the race. A difficult decision to make until we heard about "Tekker II". Originally Voortrekker II, a legendary boat in South African sailing circles. Associated with names like Bertie Reid and John Martin. Reverential names all.
I didn't want to go to Rio. I couldn't celebrate the achievement of finishing the race but my wife, Claire and I had forgotten what we learned after the tsunami in 2004 when we lived in Phuket. "If you want to hear God laugh, tell him your plans". Claire had booked a whole itinerary around our expected arrival dates and there was no bailing out. Flights and hotels were booked and paid for. So I shuffled back from Walvis Bay where the boat waited repairs, spent a few days home in Riebeek Kasteel, where I received so much love and support from the close community and booked a flight across the Atlantic. The best way to cross the Atlantic – In a Boeing. Not.
Claire convinced me I had to go to the yacht club. After all I had to return the GPS tracker. The guys from Trekker II had just arrived. We drank copious beers and caipirinhas.
This is the Trekker II story.
I swear I'm not making this up. You couldn't. It involves the words "Pan Pan", "Mayday", death, scuttling and survival. Serious words. Serious situations. Serious guys. Boytjies one and all.
Rob Hawley and Shaun Verster heard that Voortrekker II was lying slightly worse for wear in the V&A. A 40 year old legend of a boat and commissioned Mark Wannenburg, a pro sailor and instructor to get her ready for the Cape2Rio. A two year labor of love for Mark who made the boat his home as he and others got her ready for the event.
The crew were not professionals like you would find on fellow competitors like Black Pearl and Runaway. These are just guys. From all walks of life they came together in the name of adventure. Wesley was a bar man at the Saldhana Yacht Club and aspirational sailor who convinced Mark to let him help on the project. Mike project manages in Dubai and Peter sails a Muira in Simon's Town. A quiet spoken man with a big grey bushy beard, a standard 5 education and a degree from the University of Gifted Hands and Creative Minds. They call him "Papa Nuvi", Iranian for Father Christmas. Richard and Sean completed the crew of 8. Some had done this before. Others not but here they were putting their faith in a classic racer with much more pedigree than all of them combined.
The start was great and they were flying along from the Sunday start. A flotilla of motor boats followed the fleet, spinnakers coloring the Table Bay sky until the wind and choppy seas denied them any further. They rounded the mark off Table View and started the mad dash across the pond. Sights set on Rio. On Tuesday, 500 nautical miles (900km) out, everyone was settling in. Coming to terms with the nausea and finding their sea legs. Mark was steering at the helm and felt the wheel go stiff. Not good. Definitely not good. A trip below revealed that the post that connected the steering to the rudder had broken off leaving one of the most important 6 feet of the boat useless. Not only useless but now in a position to sink the boat. Freed from its support, it was now waggling about beneath the boat threatening to rip itself out the bottom leaving a big hole. Holes in boats are not a good thing. Water was coming in and there was nothing that could be done. They were not going to be able to McGyver their way out of this one. "Stay Calm and …. what?
Calls for rescue reveal that when you are more than 500 km from shore rescue is near impossible. Not if you can stump up the R1,000,000 for the recovery vessel that can't guarantee that the boat won't still sink. Rob and Shaun aren't Bill Gates. They may sell his business software in Mauritius but they don't have that kind of bank balance.
Pan pan is the call to let folks know you have a "situation". Almost everyone knows Mayday is when the smelly stuff has reached your chin and you need help fast. But this isn't Adderly Street on a Saturday morning. No quick call to resolve this one. Read on.
January 21st, 2017 by admin

The MUSTO + Torqeedo "Cleanin' Up Europe" report continues with a talk about foiling Olympic catamarans, innovations in live race coverage, Rio craziness, and how to manage an Olympic Class of racing boats.
A few months back,  the guys who've been running the 49er and FX Classes so competently for the past few years added the Nacra 17 Class to their workload.  Canadian Class Manager Ben Remocker and expat Irish President Marcus Spillane are young, innovative, and don't give a shit about politics – they consider their duty to their sailors absolute, and the vigor with which they approach their job is refreshing.
They pull no punches, either – whether it's talking about the Nacra 17's problems or the concerns about foiling, the inside stories from Rio, or explaining how to get around ISAF obstacles, these guys are always entertaining interesting and there's plenty to learn in our mostly sober talk in a hotel room in Barcelona.
Listen above, download here for later listening, or subscribe to the SA Podcast on iTunes, and as always, a big thanks to MUSTO and Torqeedo for presenting all of our Vendee, ISAF World Council, and METS coverage this month.  Also thanks to Ocean Planet Energy and Doyle Sails NZ for their support of our coverage.
November 13th, 2016 by admin
It must suck to win an Olympic gold medal in your fifties and find out you're not even ranked in the the top ten in your class!  This screenshot comes from Santiago Lange's current, official World Sailing Rankings for the Nacra 17 – apparently, the Princess Sofia is worth 100 points, but the Olympics is worth nothing at all.   Unless it's yet another in the endless parade of World Sailing fuckups?
Title shout to the Chocolate Factory and to the late, great Gene Wilder.
October 14th, 2016 by admin
Clean Report
It may be disappointing to many Americans to see the US Sailing Team struggling to recover from their historic medal shutout in London, but by almost any standard, the team is already doing better than the 2012 debacle.  We will be analyzing their performance once the games are over, but for right now, if NBC doesn't completely fuck it up again, you might just get lucky enough to watch some double-points medal racing live tomorrow.  Three US teams will sail the finale; young Caleb Paine sits just outside the Finn medals in fourth, while Paige Railey will try to move up from 10th with no chance at the podium.  Bora and Louisa will see if they can jump a few spots from 9th, and if it all happens fast enough, we might see some 470 racing (or spot a severed leg).  Read the US Sailing update from Monday here.
 live broadcast hasn't done viewership numbers any favors, but at least US Sailing's media department is using their noggins; they landed a well-written and informative story on data and the US team on Nate Silver's news and data site 538.com.  Silver's celebrity stems from his uncannily accurate predictions of major events, elections, and the like, and he's getting YUGE traffic right now.  Here's an excerpt:
The U.S. sailing team left the 2012 London Olympics without any medals — it was the first time Americans had failed to place in an event since the 1936 Berlin games. They weren't even that close, either. Sixteen sailors, across 10 events, and the best anyone managed at the 2012 London Olympics was fifth place. They were disappointed with the result, one that brought the failure of U.S. sailing — one of those sports we only really hear about every four years — to the forefront…

…While the exact location of courses on Guanabara weren't finalized until the fall of 2015, test events in the two years prior gave Team USA a pretty good sense of where the races would be.

They dropped custom current buoys both inside and outside the bay, gathering data on how the water moves at various points throughout during the day. They tracked windspeed and direction, two factors that are critical to a sailor's ability to find the fastest lane, and which can shift quickly around the mountains that flank both sides of the bay.

The three years of gathering and analyzing data culminated in what U.S. Sailing calls their "Rio Weather Playbook," a body of critical information about each of the seven courses only available to the U.S. team. They're not calling it a silver bullet, but Adams says the playbook project was one of the most comprehensive data efforts that U.S. sailing has ever done. "This is a unique undertaking for U.S. sailing," he said. "In terms of the amount of time that we collected data, it's one of the most extensive projects."
Read the rest of the story here.
August 15th, 2016 by admin
Brad Funk really is the definition of an Anarchist, marching to a completely different beat, restrained only by his own ethical compass, a love of nature, and occasional commands from the Martian overlords and vapor trail creators.  And while the Funkster may have missed out (again) on the Olympics, he made it down to Rio and already is making a bigger splash than any of the sailors.  Here's an inspiring Olympic story that hit about a thousand international publications thanks to a pickup from Reuters…
There's something in the water at the Rio Olympics. In fact, there are a lot of things — condoms, cans, shoes, diapers, plastic bags, rotaviruses, superbacteria, raw sewage and the occasional corpse.

Best not to touch, smell or swallow. If you're an Olympic sailor, best not to capsize. If you're an Olympic open-water swimmer, best to have a cast-iron stomach.

Guanabara Bay is spectacularly challenging and notoriously polluted. Sailors have a love-hate relationship with the venue of powerful currents, shifting breezes and hazardous levels of e coli. One lousy piece of debris that catches on a centerboard or wraps around a rudder can ruin a race.

But a brave and selfless man — Fort Lauderdale's Brad Funk — made it his mission to clean up the contaminated bay on behalf of his fellow sailors. It was a Sisyphean task — akin to one gardener irrigating the Sahara desert — but Funk tried. Wearing two pairs of gloves, wielding nets and baskets, Funk scooped nearly 800 pounds of junk out of the bay where his friends will compete starting Monday.

"No Olympic medal should be won or lost because of trash in the water," he said. "Rio is my favorite place in the world to sail and it would be a shame if the regatta was compromised by pollution."

Funk made his garbage-collecting forays on a boat named Ulysses. He did not encounter Cyclops or Circe. But he did have to navigate through a fetid stew of dead fish, floating furniture and submerged TVs.
August 8th, 2016 by admin
Reports out of Rio de Janeiro indicate that the Canadian sailing team has dissolved after falling into the heavily polluted waters of Guanabara Bay.
At around 2:30pm local time on Thursday, the Canadian athletes lost control during a practice run after encountering unusually turbulent waters. Witnesses say the boat capsized and the sailing duo was thrown overboard, where pieces of their bodies immediately began to disintegrate upon contact with the putrid lagoon.
"We deeply regret the pair of Canadian sailors getting liquified," said Brazil's sports minister Ricardo Leyser, noting that on the plus side, neither came back to life as a radioactive monster. "We had no way of knowing that would happen, aside from all the indications that it would."
While authorities were able to recover bits of the athletes' uniforms – all of which were tinged with a reddish, greenish, yellowish shade of fluorescent, neon purple – they have thus far failed to identify the athletes' remains amid the sprawling mass of garbage, human waste, and other, unrelated corpses. Despite the tragedy, however, the International Olympic Committee remains optimistic about the upcoming games.
Read the rest of this hilarious piece over at Bluerock Radio, but don't forget that actual bodies are being pulled out of Guanabara Bay on a daily basis,  and experts are now saying the Rio 2016 sailing venue is actually far more polluted than everyone thought, if that's even possible.  It doesn't help that one of the people in charge of making sure the sewage treatment was on schedule was murdered last year…
And for the few of you who've been wondering why the some other online sailing publications have been hiding the truth about Rio from their readers, it's because they've been bought off.  Details here.
August 4th, 2016 by admin
With the world's attention now firmly on Rio De Janeiro, things are getting more interesting by the day.   Massive anti-government protests shut down sections of the city and country over the weekend, and experts say the numbers are only increasing, with some protestors planning on marching every day until the end of the games.  In other news, Brazil's government fired the security firm charged with keeping the Games safe, citing 'incompetence and irresponsibility' due to the fact that only a few hundred security guards had been hired of the 3400 promised.
That means now the Rio Police will be in charge of all of it, including running x-ray and screening services.  That's the same police force which met incoming visitors at the airport with a huge sign that read "WELCOME TO HELL…POLICE IN RIO DON'T GET PAID…WHOEVER COMES TO RIO DE JANEIRO WILL NOT BE SAFE."  It's also the same force that's been in almost non-stop corruption scandals for as long as anyone can remember.  Most recently, a top MMA fighter said he was kidnapped and handcuffed last week by a group of police and forced to withdraw thousands of dollars from ATM machines before he was released.
More fun with theft as well; when 100 Australian athletes were evacuated from their Olympic Village apartments because of a fire in the sketchy buildings, they were robbed of a laptop and their team logo'd anti-mosquito/Zika protective shirts – possibly by fire marshals.  But of course the IOC says everything's awesome!
The hits keep on coming, but keep in mind that even if things continue to snowball, Brazil still probably won't even make the list for the 'worst Olympics ever'.  Read this for one author's picks of the 5 worst Olympics, or this smart National Geographic piece enumerating the sordid history of the Olympic Movement and the racism, sexism, corruption, and rampant displacement of the poor that it's built on. Hey – at least Tokyo's ready for 2020 thanks to their imminent election of a new Mayor following the departure of the last two…over Olympic scandals!
Athletic Supporter
While the IOC is facing plenty of pain these days and struggling to address weak interest from venues for future games, there's a much bigger wave coming, and it will no doubt change the games forever.  Paralleling hugely contentious recent controversy over the the billions in broadcast and licensing dollars received by the NCAA thanks to thousands of unpaid American college student athletes, the Washington Post yesterday took on the other elephant in the room of the Olympic 'Movement' – the abject poverty most Olympic athletes endure for a chance at glory all while hundreds of staffers, Federation employees, and IOC "volunteers" make small fortunes while living a life of luxury, protected from any kind of transparency laws by Lausanne, Switzerland's nearly nonexistent disclosure requirements for non-profit companies. Here are a few excerpts from the Washington Post piece that rekindles this important discussion:
At the very top of "the Movement" sits the International Olympic Committee, a nonprofit run by a "volunteer" president who gets an annual "allowance" of $251,000 and lives rent-free in a five-star hotel and spa in Switzerland.

At the very bottom of "the Movement" — beneath the IOC members who travel first-class and get paid thousands of dollars just to attend the Olympics, beneath the executives who make hundreds of thousands to organize the Games, beneath the international sports federations, the national sport federations and the national Olympic committees and all of their employees — are the actual athletes whose moments of triumph and pain will flicker on television screens around the globe starting Friday….

…The picture that emerges is a multibillion-dollar entertainment industry whose entertainers are, in this country, often expected to raise their own income or live in poverty. There is no comprehensive data on U.S. Olympic athlete pay, but information collected by a nonprofit last year from 150 track and field athletes ranked in the top 10 in the country in their events found an average income of $16,553. Even USOC officials concede that, with the exceptions of the handful of megastars such as Michael Phelps and Ryan Lochte who rake in big endorsement money and those who play sports with lucrative professional leagues, most U.S. Olympic athletes cannot earn enough from their sports to make a living…

…USA Swimming Executive Director Chuck Wielgus makes $854,000, and national swim team director Frank Busch makes $346,000; their swimmers competing in Rio next month can make monthly stipends that cap at $42,000 per year. USA Triathlon CEO Rob Urbach makes $362,000 while Team USA triathletes compete for stipends that range from about $20,000 to $40,000 a year. The coach of the USA Rowing women's team makes $237,000 while his rowers vie for stipends that max out at about $20,000 per year. (U.S. Olympic athletes are given an additional stipend if they win a gold, silver or bronze medal.)…

…In major American sports leagues — such as the NFL, Major League Baseball and the NBA — management typically shares about 50 percent of the revenue with the athletes. In promotional materials, the USOC advertises that more than 90 percent of its spending goes to "areas that support U.S. Olympic and Paralympic athletes." That same 2012 study by former athletes found that just 6 percent of USOC spending actually goes to athletes as cash payments.

"I was pretty shocked and disappointed, but I knew how the system worked," said Ben Barger, an Olympic sailor who led the study. "The money goes to executives first, then administrators, then coaches, and then athletes."

The reason there's a large disparity between what the USOC says it spends on "areas that support athletes" and what the USOC actually pays athletes, Blackmun explained, is because the USOC includes the salaries of many of its employees who work with athletes or raise money for the organization in the larger figure… You get the picture.  If you want more, head to the Post.
August 1st, 2016 by admin
Rio 2016 watchers never seem to have to wait long for yet another scandal; since our last piece there have been more robberies, more assaults, and on Friday the World Anti-Doping Agency suspended the only WADA-accredited lab in Brazil for noncompliance with lab standards.
Putting aside WADA's own disgusting treatment of the Russian doping issue (which included them literally turning in a whistleblower to the Russian authorities before dragging their feet for years on a problem they knew about), the latest kerfuffle likely means big delays in testing the thousands of athletes already in Brazil for the duration, and hundreds of thousands in unplanned costs to fly the samples overseas for testing.
Precisely zero people worldwide are surprised at the latest news, and we're all just wondering what the hell is next. Man-eating sharks on the rampage? Gang wars on the beach?  Armed rebellion? Zombie apocalypse?  Watch the news and you probably won't need to wait long.
June 26th, 2016 by admin
When I was little, we found a man. He looked like – like, butchered. The old woman in the village crossed themselves… and whispered crazy things, strange things. "El Diablo cazador de hombres." Only in the hottest years this happens. And this year, it grows hot. We begin finding our men. We found them sometimes without their skins… and sometimes much, much worse. "El cazador trofeo de los hombres" means the demon who makes trophies of men. 
This line from one of Hollywood's true classics is as silly now as it was when we first heard it in 1987, but somehow, it seems to describe the decaying situation in all of Brazil, but especially Rio.  With thousands of athletes on the ground training in the hot, stinky city, reports are beginning to come in showing crime, corruption, construction, and political chaos pushing towards a furious crescendo.
Nationally, President Dilma Roussef came out of hiding the other day giving her first big international interview to Glenn Greenwald, and she shows no sign of ending the political civil war that's led to millions of protestors in the street every few weeks, and a completely uncertain political future for the nation.
Closer to the Olympics, training for got a lot more hazardous recently.  One Spanish gold medal team was allegedly held up at gunpoint last week and robbed clean of gear, money, and papers last week by a band of banditos close to Olympic Sailing HQ at Marina De Gloria.  Their coach spent most of a day driving around with local police trying to find the thieves.
Also last week, a gunfight broke out in the Favela just above the grounds of the Rio Yacht Club in Niteroi; the training base for several national teams and Torben Grael's home club. The members and athletes seemed to think it was fireworks at first – until they saw the boat workers running for cover.  According to the article in Veja, authorities would have covered it up (as usual) were it not for the athletes witnessing the gunfight – including a bullet grazing the wall of the club.  Until this event, the Danish and other teams' request for more police security near the team bases were ignored.  Now, many of these teams just don't walk anywhere – a taxi takes them even when they need to go a half a mile.
Yet while the crime and political/economic uncertainty are ever-present, they're still something of a lottery; if you use your head and follow some basic rules, visitors to Brazil can minimize most risks  (and if inflation continues to skyrocket, you might actually get some incredible deals down there).  But there's one risk that no sailor can really get away from – the water.  And as the rain starts to fall, it's getting as bad as it ever has been.
On Tuesday, a new hue graced the bay – iridescent green, the color of anti-freeze, with a smell of 'burning chemicals and decomposition." (see pic below). One crew saw a huge sea turtle upside-down on the foamy green surface of the bay.  She was unsure whether it was the plastic entangling its face or the poisoned waters that killed it.
And then there is the pic that headlined this piece, shot on Friday smack in the middle of the Medal Race Course.  Well, we don't know where the dog was shot – or even if it was a gun that did him in – but the photo was definitely shot there.  If we didn't laugh, we'd cry, and aside from the poor bastards who have to compete there, our condolences go out to the proud Brazilians, their humiliation and shame on display to the entire planet – for three more months.
Brazil's current crises – and yes, that's plural – are likely to continue to worsen just as the world's eyes are all turned Southward, with the once-burgeoning economy getting pulled back into the morass that's defined so much of Central and South American politics and government for the better part of the past century.  Even if economic chaos is fairly common to much of Latin America, the confluence of factors hitting Brazil right now is something far worse.  The worst James Bond villain could never pull it all off; pollution, corruption, impeachment, Zika, a crime wave, and oil prices all crushing the country at the same time?  No way.
Were this the Winter Olympics, we'd end up shrugging our shoulders and saying, "oh, well, another fucked country," and maybe sparing a few thoughts for its inhabitants, but this time, it's different:  These are OUR friends and our families and OUR crews and our skippers in harm's way, and the more they know you're behind them, the more likely they are to stay safe.  We don't know how it is that the IOC and ISAF are immune to worldwide pressure to actually behave responsibly, but if you care about your athletes, please continue to push via social media on those organizations, the media, and the Olympic sponsors.
May 22nd, 2016 by admin