Posts Tagged 'rescue'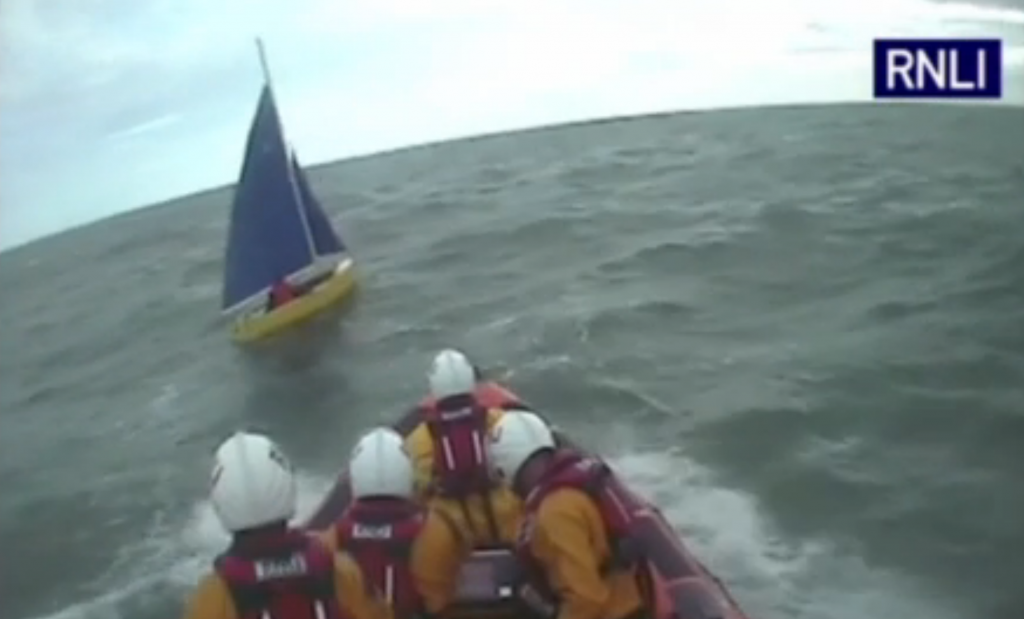 "The man bought the 14-foot dinghy on Saturday and then set off on his 3,500 mile voyage across the Atlantic…not wearing a life jacket, his boat had no lights and his only navigational aid was a street map of Southampton."
Seems like a good kit bag for most major voyages, right?  But wait – that's not all.  "He had a passport containing a US visa, hot dogs, beans and a bag of biscuits." Hot dogs?  Beans and biscuits?  Sounds like a fine transatlantic menu, as long as he's alone!
The Bulgarian man was not interesting in whatever the RNLI was selling. "When we reached the gentleman he didn't want us there, he wanted to carry on his way," refusing assistance for 45 minutes, after which "the crew dragged him on to their boat and took him to shore."
We can't be the only ones who really, really wanted to see how far he could get.  If anyone runs into this guy, let him know that next time, Sailing Anarchy fund your YellowBrick tracker, an EPIRB, and some extra provisions…
Watch the video for the full 'rescue' and thanks to Brad T for the heads up.
August 18th, 2014 by admin
One of the most interesting things to come out of an otherwise uneventful Moth Worlds was their sharing of this poignant story about Hayling Rescue's Frank Dunster.  For an explanation of this enigmatic subject, we go to the film's co-creator, Jack Pollington.  If you're motivated to contribute to such a wonderful effort, hit up Hayling Rescue on Facebook, and for more on the producers, go here.
This was a short documentary created by Alex Forbes and me as part of coursework for Farnham Film School.  Frank runs a completely voluntary, non-profit life saving operation from Hayling Island Sailing Club.  He is a vital part of what keeps that very busy and active club safe and running,  year by year, and in thanks for that, the members of the club contribute to Hayling Rescue's upkeep in an annual fundraiser.
August 15th, 2014 by admin
Clipper RTW team Derry-Londonderry-Doire show their successful recovery of Andrew Taylor after a wave knocked him off the boat during a 35-knot squall about halfway across the Pacific.  The 90-minute rescue was compounded by hail and breaking seas, but Taylor's drysuit and PFD made it a fairly textbook – if slow – rescue.  No word on what the holdup was, or whether the Clipper crew was wearing a PLRB; official news here and thanks to Richard for the heads up.
March 31st, 2014 by admin