Posts Tagged 'rescue'
What is it about King Harbor Pier?  Just 10 months ago a Martin 242 got beaten to a pulp in the same exact spot as this little S2; the Martin got the worst of it, but the S2 has some issues too.  Nice work from the Redondo Beach Fire Department rescue swimmer who dove in off their Harbor Patrol Boat.
January 22nd, 2018 by admin
Clean Report
This past Wednesday I spent an entire day (and much of the night) with recent rescuees Jen Appel, Tasha Fuiava, and their two dogs.  My motivation was partly curiosity and partly a desire to get some truth out there about these two sailors, to stop the attacks and feeding frenzy on what seem like a couple of women with little more than poor decisionmaking and sailing skills.
What I found was not that surprising: Jen Appel was just another hopeful cruiser who set off without anything like the experience or tools to complete her voyage – not unlike the half dozen who are rescued every year – while Tasha and the dogs were mostly just passengers.  I also found that they were kind people, and that unlike so many other clueless rescuees or RTW sailors – Rimas, Reid Stowe, Dr. Paris to name a few – they never sought out attention or press, and much of their debacle comes from the way they were fed to the media lions with no experience and no one watching out for them.
Would I go to sea with these women?  Probably not.  But they're not bad people, and when you dig down under the craziness of their early interviews, you find some interesting bits and bobs.  Start digging via the player above, or head over to iTunes or Stitcher to download on your mobile device.  The full SA Podcast library is here.
December 4th, 2017 by admin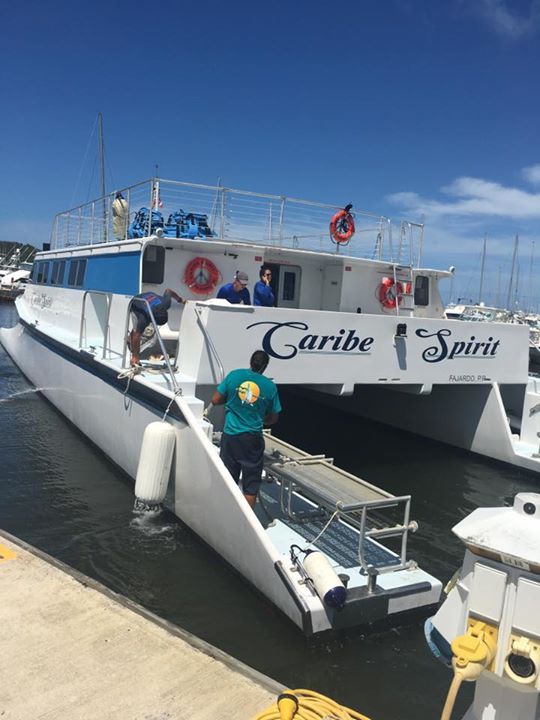 After what has seemed like months of churning, Hurricane Irma is no more. Downgraded to a Tropical Storm on her inland jaunt through Trump country, Irma's legacy will be years of rebuilding throughout the Caribbean and Florida.  While most of the Sunshine State escaped the worst-case scenarios, we all understand that a small shift in her track could have decimated the built-up centers of Tampa or Miami on an unprecedented scale.
Unfortunately, that decimation happened in St. Martin, Anguilla, Barbuda, St. Barts, the Turks and Caicos, and the US and British Virgins (and a few other islands), and the effort is just getting underway to help people who won't have communications, power or water for weeks. We've been following several relief efforts, but the most awesome info comes from Gunboat exec Nils Ericson and the folks at East Island Excursions, who've organized a Virgin Islands to Puerto Rico evacuation effort they've nicknamed 'Operation Dunkirk'.  Please donate here to help the effort, and here's an update from last night.  UPDATE: The New York Times picked up the PR rescue story here. UPDATE 2: A smaller effort led by yacht hauler John Woodruff is on its way south to begin digging out Florida boats and yacht clubs; donate money or gear here.
By today's end we will have organized a total of 7 trips to STT/STJ, delivering over $20k in supplies and evacuating about 300 people. Tomorrow, we have 6 (!) more boats delivering supplies and evacuating another +/-300 folks.
We have set up tents to serve as staging areas for supplies. If anyone wants to send supplies, send it to us here at Puerto del Rey marina in Fajardo. We'll make sure it gets to the right island. We depart daily around 8am and can transport whatever or whoever is going (more or less). PM me for details.
The crew here at East Island Excursions are working doubles and skipping days off to get it done. They're an inspiring group, ably led by Jayanne McLaughlin.
I don't see a horizon yet. The reports from people on the ground is totally heart-wrenching, and normalcy is seemingly NOT returning. The gov't in the Virgin Islands has failed the people and outside help is still needed. Fajardo is virtually 100% intact, the fuel docks have fuel, and flights are operating out of San Juan airport.
Today, private flights were allowed in and out of STT today. Hopefully the St. Thomas airport will reopen to commercial traffic soon and ferries will begin normal operation (relieving us of duty) but for now we plan to stay on the throttle.
I'm hoping to get up the road tomorrow to STJ and get eyes on my house and Soma, and hug some friends. It feels selfish to think of my own needs, but I have to say goodbye to Sailboat Soma in person.
And another update from this morning:
Alright St. John, we are coming to get you! We have departures organized throughout the day, and throughout the week. Be patient, be kind, work together, women and children first. You will ALL get off, we aren't stopping until everyone is safe and secure. To stateside family, do what you can to spread the word to your loved ones on island. If anyone on island gets this message, spread the word. We won't get everyone at one time, so please be patient. We want to fill every seat, but we want it to be a safe process for everyone. Love city.
PS: we have taxis, shelters, generous folks offering their homes, food, water, and big hugs waiting for you on the other side. See you soon.
TOMORROW'S EVAC SCHEDULE!!!
Island Flyer (40 pax): 9-10am, Cruz Bay to PR
Caribe Spirit (70 pax): 9-10am, Cruz Bay to PR
Bad girl (24 pax): 12pm, Coral Bay to STX
Betty Ann (36pax): 12:30-2pm, Cruz Bay to STX
Milemark (36pax): 12:30-2pm, Cruz Bay to STX
Adventurer* (~40 pax): 2:30-3:00pm, Coral Bay to STX
September 11th, 2017 by admin
As if Australian sailors didn't already have enough to be proud of…now they're not only the top Olympic team, they've also got a bona fide hero in their midst: Here's an excerpt of the incredible story of Simon Hoffman's lifesaving rescue at the 29er Worlds last week.  There's plenty of chatter about organizer safety considerations, knives, and the rest of what you'd expect in the same place we found this story: Facebook Yacht Club.  Thanks to our old friend Marc C for the heads up, and if you like what this Hoffman kid did, consider heading to his Facebook page to ask him how you can contribute to his Olympic aspirations.
"He was heavy," Hoffman said. "You could tell his lungs were full of water, and he was wearing a wetsuit, a lifejacket and a harness. The two of us struggled to get him up on the boat. We're very strong guys. He's 80kg, but he would have been 100kg-plus at least on the day."
Once they managed to heave him on to the boat, the prognosis did not look good.
"He was unconscious and his eyes were open," Hoffman said. "Normally eyes are blue or brown, but the middle of his eyes were white. There was no life in them. We feared he was dead — and there was water gushing from his mouth."
The boat's driver had Durcan flat on his back, and started performing compressions.
By a quirk of fate, Hoffman had received intensive first-aid training three months before, as part of his bid to become a fully fledged sailing coach. Instinct and training kicked in. He took charge of the situation.
"I said, 'We need to get him on his side, right now'," Hoffman said.
Once the initial gush of water had stopped, Durcan was then returned to his back.
"I got Santiago to do compressions with me, and the speed boat driver cut off the life jacket," he said. "We then tilted his head on its side. But every compression, it felt like a litre of water, vomit, bile and acid came out."
Two minutes in, despite their best efforts, there was little sign of life.
"I still thought he was dead, because his eyes were still open, there was no breathing and he was limp," Hoffman said.
"I was getting super desperate — words can't describe … I was doing everything I could, I was just thinking, 'I can't lose one of my best mates like this'."
Hoffman started talking to the unconscious Durcan.
"I thought he might be able to hear me," he said. "I just said: 'Come on mate, you can do this.' "
Go here for the rest of the story (or here for the writeup and award from our Irish friends at Afloat, if that link doesn't work for you)
August 17th, 2017 by admin
It's been six years since Mark Morley and Suzanne Bickel died during the Chicago Mackinac Race aboard Wingnutz, and Saturday night was very nearly Deja Vu all over again.  A nasty frontal line – similar to the one that capsized Wingnutz in 2011 – tore through the fleet from the West around Midnight.  Rather than just a big increase and righty, the line held huge, spiking gusts of well over 50 knots, shifting constantly in the turbulent boundary.
Few boats came through the squalls without damage, but the scariest report came from Bill Shellhorse's Virginia-based Farr 400 Meridian X, a perennial competitor in the Mac.  During a knockdown, they lost a crew overboard and it took a full hour to recover him.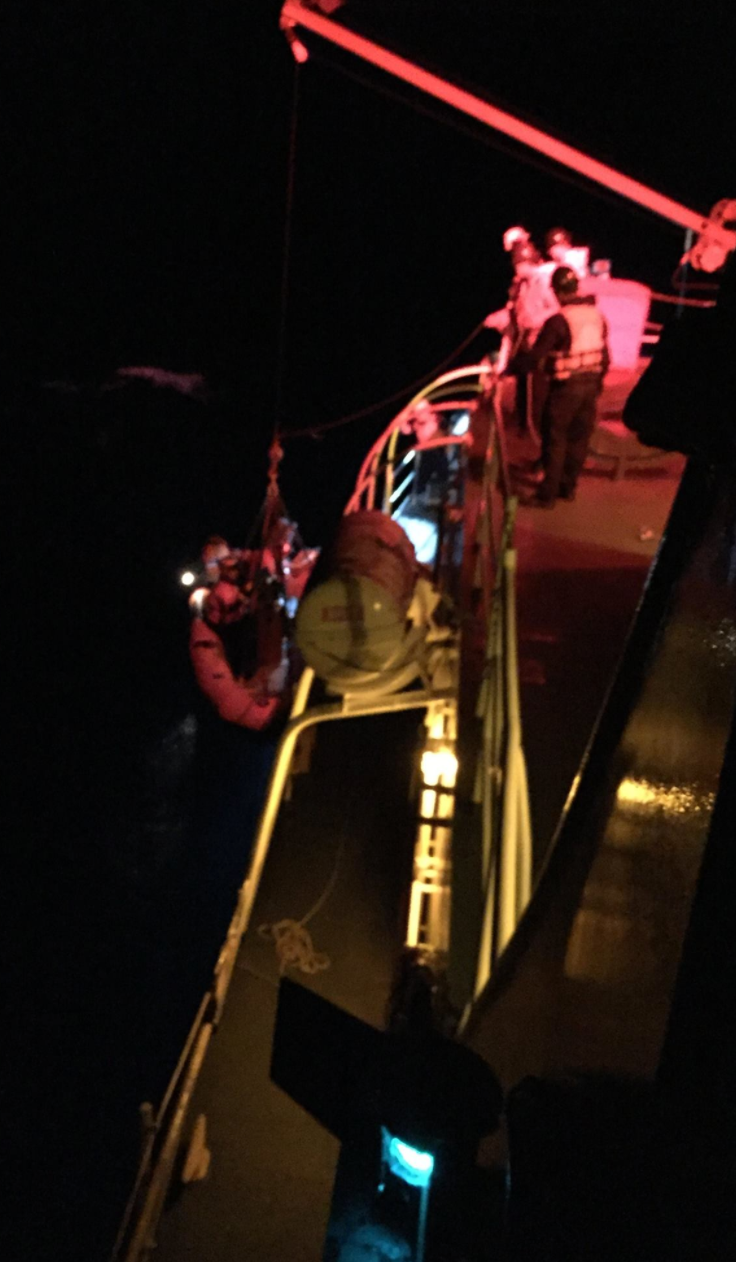 With water temps in the mid 60s and huge, short seas, it's amazing the crew was able to stay alive, and it's not a surprise to have received a tip that the rescuee was maybe a few minutes away from the worst end possible.  Despite multiple USCG assets in the area and quite a few boats trying to stand by and help, it was Meridian which recovered their crew under what must have been terrifying circumstances.
As much as a third of the fleet retired to nurse their wounds, while almost the entire multihull fleet pulled out, but not before the F31 trimaran High Priority 2 went over in a 50-knot gust and turtled; the pic to the left is of her crew being winched aboard a CG tender after they hung out on their upside-down hulls for a while.  The big showdown between the two ORMA 60s – Earth Voyager and Arete – failed to materialize, with EV pulling out with mast track problems.  Arete is just 5 NM from the finish as we speak – not of the Chicago Mac (which they finished with first racing boat and first in class) but of the SuperMac! Owner Rick Warner wrote us this morning.  "All of the Arete team wishes best wishes to
everyone forced to retire.  We are so glad the crews are all OK!  We saw plenty of wind, on the nose in the upper half of the lake.  It was steady 30s with 7-foot faces with a typical Great Lakes short period, the boat was fully out of the water at times, the main hull launching off the back of the waves and the leeward ama digging in and piercing the next one…if you know how far back the helm pods are on Arete, you understand what it means when I say that the waves were actually pounding on it…We are looking forward to the Port Huron-Mac and then the TransSuperior!"
Quantum owners the DeVos family aboard Windquest ironically retired with sail damage, with the big squall disintegrating an A3 and shredding the headboard of their mainsail, while TP52 Natalie J pulled out after destroying their jib tack, cunningham, and some odds and ends.
Thankfully there are no reports of major injuries, though the sailmaker's (and rudder repairers) bill is sure to total millions…
Tracker for both the CYC race and the SuperMac are here.   Results here.
July 17th, 2017 by admin

Massive shoutout to sharp-eyed crew of Volvo 60 Esprit De Corps IV Charlotte Rousellot, who gets the second Sailor Chick of the Week award this week for her part in the rescue of the crew of the Bermudian racer Monterey when they abandoned their 56 footer during the recent Antigua Bermuda Race. "After five days sailing day and night, the 60-foot monohull had just crossed a long and frustrating zone of weak winds when an orange glow appeared on the horizon," writes Tristan Peloquin, who says that Rousselot first thought the first flare she saw was a burning ship before realizing what it was and waking the rest of the crew.  Amazingly the V60 had a journalist from Canada's La Presse aboard, and the result is some of the best boat-on-boat rescue footage we've ever seen, as you'll note in the video above.
We think (but we're not positive) that this is Charlotte's Facebook Page if you want to give her some props…if we're wrong, apologies to the good looking sailing chick at the link.  Thanks to our friend Francois Silvestre for the heads up, and thanks to E.B. White for one of the world's best childrens' stories (and a great treatment for juvenile epilepsy).
May 31st, 2017 by admin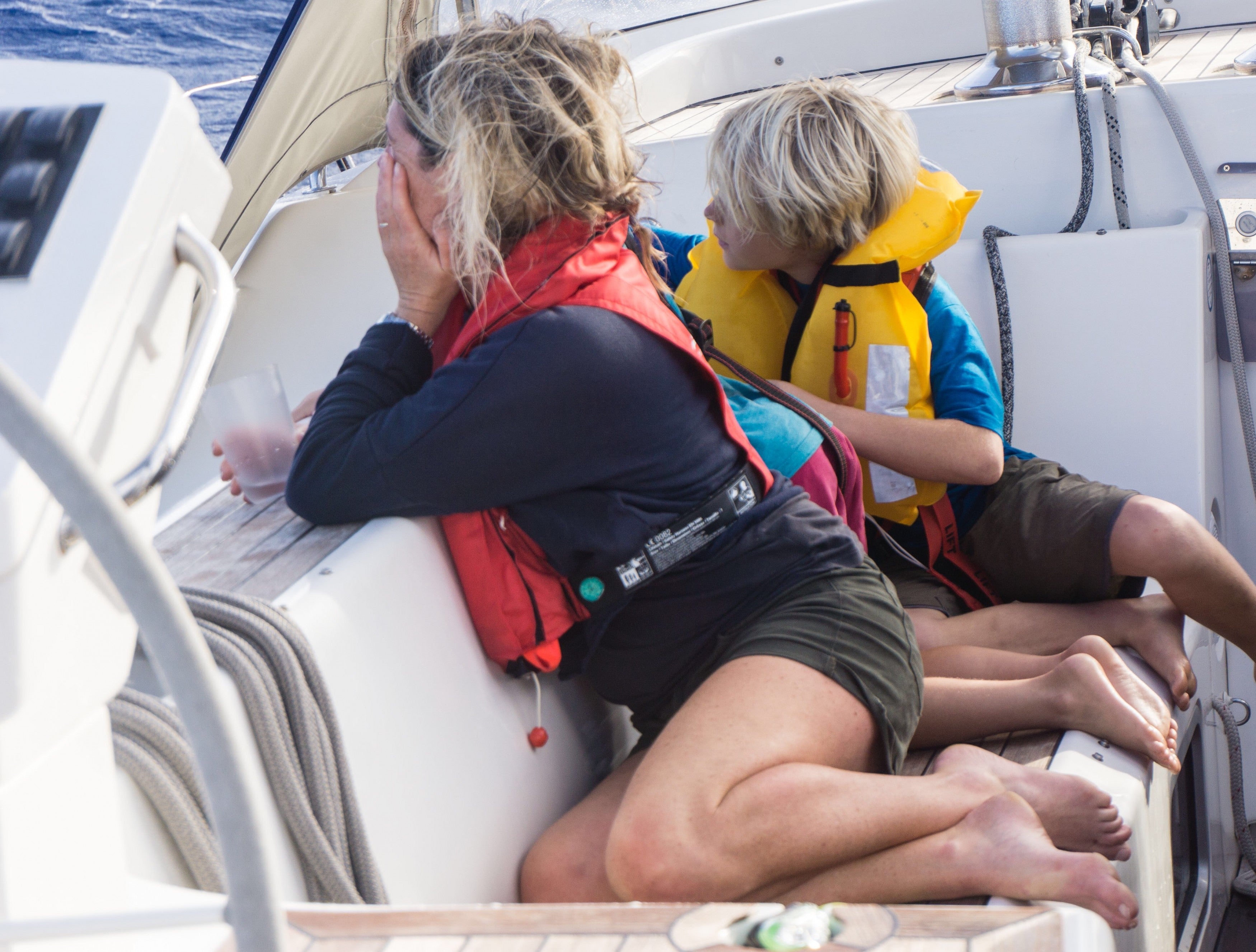 Looking for an extra $10,000 while you're lounging in the Caribbean? Read on.
A young English couple and their two adorable kids saw their cruising dream fall apart just before Christmas when they abandoned their disabled yacht Dove II in sporty conditions about 500 miles East of Antigua.  Two Chinese cargo ships couldn't make the rescue, but the lee they created while standing by helped the crew of the charter Discovery 67 Tilly Mint pull the crew of Dove to safety with a life raft.  Here's an excerpt of the rescue story from the rescuees, and head over to their blog for an extremely positive look at the aftermath of a decidedly non-positive experience.  The story begins with the disintegration of Dove's rudder, here. 
Around 5 o'clock a lot happened, Falmouth coastguard rang and advised James to leave the vessel, Fort de France followed and advised the same, Newseas Jade moved towards us, into a position to create a lee and Tilly Mint bounced around next to us looking gorgeous. When they'd radioed the night before they had sounded so professional, now we could see them and they looked professional.

We confirmed the plan on the radio and then it all happened so fast, Jim deployed the life raft off the back of the boat and then we had a moment, it was probably three seconds long but it was beautiful and broke my heart all in one and then I jumped, off the boat and fortunately into the life raft. Now I must pause here, when you think of life rafts you think I could do that, I could hang out in a life raft, drifting around, life would be fine and I'd survive. No, just no. This one was a six man raft, it was tiny and you feel incredibly exposed and open to the elements, it's sitting on a piece of plastic floating over 4000ft of sea? I got on my knees and James basically threw me Heath, he was so brave, I hadn't witnessed him and James's goodbye but he just sat where I told him, didn't scream, didn't cry, he just said "Mummy, I don't like this!"

Isla came down next and again she landed in my arms in the raft, she was very scared but she sat down next to Heath. I was saying things like " its like a paddling pool!" But as I looked at their faces they were just scared and in the end I just said repeatedly "you're fine, we're going to be ok" Tony appeared in the raft and James cut us free, we were off the boat, we were in a life raft in the middle of the Atlantic Ocean. This is a shit situation but we've got to get out of it and we unfortunately have to do that ourselves, so we all tried to stay calm.
Now, about that 10 grand: The patriarch of the Dove family posted this today: URGENT $10,000 REWARD FOR RECOVERY. Sadly we had to abandon our yacht DOVE II 460nm due east of Antigua on the 21/12/16. We are now trying to find out where it is with the hope of recovery and carrying on with our adventure.  It should now drifting towards the islands.  Could I ask people to keep a sharp lookout for it and report any sightings to myself or the coastguard. Many thanks, James.
You can read the full story of what actually went wrong on our blog.
Find out where the yacht is likely to drift by cruising the thread.  Photos from the Dove II blog.
January 9th, 2017 by admin
The crew of the Brenta B-60 Minnic dodged a big bullet over the weekend after capsizing; an impact with a rock in the Swedish Archipelago knocked off the bulb of the lightweight racer/cruiser on one of the many rocks on the East Coast.
Christopher Carlbom was with the crew who rescued them.  "A 60-foot sailboat with five people on board, including 2 teenagers, ran aground on which the keel was broken off and overturned," he wrote on Facebook. "We picked up a person from the water and rescued by another boat to get on board the other. That was the case very well, only minor injuries and a very traumatized guy."
Builder, designer, and more info on the B60 here.
Thanks to Blur.SE for the story, via SA'er 'Knut Grotske' in the thread.
August 1st, 2016 by admin
Clean Report
With three breezy and extremely lumpy (outside) days of racing, 2016 Sperry Charleston Race Week will be remembered mostly for disasters averted, and the biggest was the rescue of Orlando-based J/88 crew Patrick Daniel, whose heart stopped in the middle of Sunday's first race.  We remember when the Van Liews, Draftz, the Coast Guard, and Doctor Stephen Shapiro from Roper St. Francis hospital created the CRW Safety Plan years ago, and now they'd get to put it into action.  Spoiler alert for those who haven't yet seen my 5-minute video interview with Doc – A pulseless, breathless Daniel was breathing and talking by the time they got to the dock to transfer him to an ambulance.
Mer and I were just a couple hundred feet away when it all went down, and we immediately motored over to stand by for assistance, but it was apparent that the first responder – and then Doc – had things well under control.  The crew had CPR already started inside the 3 minutes it took the rescue boat to get alongside, and the AED was on Daniel's chest maybe 2 minutes later almost before the sails were completely down.
With a sharp uptick in racing fatalities over the past few years, it's a delight to not only hear a story about a sailor escaping death, but to watch it all happen in real time.  It's also a vindication of the hard and seemingly thankless hours that organizers spend on developing and reviewing safety plans.  Most importantly perhaps, even with a perfect performance from the crew, the EMT, the boat drivers, and the doc, there's always something to learn – and everyone knows that had the fleet been on their intended offshore course, the outcome would likely have been much more tragic.
Draftz awarded Doc Shapiro the Jubilee Cup Perpetual for sportsmanship while the crowd gave him a massive ovation.  It was well deserved.
While it paled in comparison to the potential tragedy averted on the Wando River, the weather was pretty tragic for those looking to race sausages in 6 offshore fleets on a single course outside the Charleston jetties.  All offshore racing was shut down on Friday thanks to massive, and most of Saturday was lost offshore thanks to a nasty injury on the RC boat and no easy way to transfer to a medical boat in the big waves.  When conditions continued to rage outside on Sunday morning, CRW boss Randy Draftz dug into his bag of tricks with a long morning of calls to Port Captains and Coast Guard Commanders, and had the Wando River closed down to traffic so the fleet could move under the bridge and get some racing in.
Like pretty much all regattas in the US, handicap windward/leeward racing has been falling off pretty continuously for the better part of the last decade at Charleston, even as inshore one-designs have made it the biggest regatta on the continent.  Giving those six fleets a 3-race day in gorgeous Charleston conditions may have saved the format for another few years.  Given the millions and millions of dollars that the event generates for the area, we'd try to push the local shipping orgs for a permanent Course 4 under the bridge to allow another 50 or 75 one-designs into the harbor or even some handicap fleets if the demand is still there, but then again we care more about enjoying Charleston and sleeping past 6 AM than we do about having obstruction-free race course.
There are literally dozens of videos and hundreds of photos (including some nice work from the back-on-the-water Meredith Block) along with news from all over the place over on CRW's Facebook Page.  And of course, there is a thread.
April 19th, 2016 by admin
First it was Sarah Palin.  Then it was Donald Trump.  Now it's 71-year old Bob Weise and Steve Shapiro, the latest morons to make Americans look like the stupidest people in the world.  Worse yet, like crappy sailors!  Title shout to an icon of the 80s.
Threads abound about this winter Norway to US 'voyage', but this one was first.
January 28th, 2016 by admin