Posts Tagged 'records'
UPDATE: Dario's partner Silvia tells us in response to our story that "a desalinator was aboard, but unfortunately it broke during a storm, probably taking a very strong blow.  If Dario wanted to die, he would never have come to the coast, albeit in such a daring way.  But he did it, and we thank you for your attention. See you next adventure!"
As lovers of insane, quixotic voyages we were stoked to see Italian asthete Dario Noseda take a beautiful old Star across the Atlantic, though many Anarchists were quick to note back in November that Darwin was probably aboard.  While the evolutionary chain may have been cheated of Dario's sacrifice, the Star boat wasn't so lucky; forced to seek refuge or die of dehydration when his destination changed from the Bahamas to 'wherever I can reach', Dario wrecked his star on St. Lucia.
Check Facebook for lots of stories about this nutter.  We hope he tries again without the death wish – in other words, who the hell crosses oceans without at least a hand-powered watermaker?
January 3rd, 2018 by admin
Clean Report
Shortly after rounding Cape Horn is his wrong-way circumnavigation attempt in the Nigel Irens-designed Ultim Actual (née Sodebo), Yves Le Blevec's big trimaran found itself in 50-70 knots of Southern Ocean breeze and 5-7 metre waves, and something had to give.  It turns out that the big boat had the same weakness her sistership did; the beams couldn't take the punishment, and when one of them broke, the trimaran capsized.
Fortunately the Chilean Navy and the cruise ship Stella Australis were around to help, and as you can see from the picture to the left, Le Blevec is safe and sound.  We'll have more below, but this is a good time to point out just how cursed these Irens 100s seem to be.  Despite a narrow, conservative design specifically tailored for solo sailing, all three sisterships have now behaved very, very badly, with one death to count between them and a couple more that could easily have gone that way. Let's look at each of them:
Gavignet's Oman Air Majan was built off the molds for IDEC 2 and Sodebo to become the progenitor of the Arabian 100 one-design trimaran fleet.  After snapping a beam, Gavignet was plucked off the bent deck by a commercial ship and dropped off in Europe.
Francis Joyon's RTW-record crushing Irens 100 IDEC 2 went on to Chinese ownership as China Qingdao under management of Volvo Ocean Race vet (Green Dragon) and record-breaking Chinese solo sailor Guo Chuan.  Chuan disappeared halfway into his Pacific solo record attempt last year, and the empty yacht was recovered a few months later.
Now Le Blevec is sitting in Punta Arenas while his shore team work on salvage.
Maybe it is better to just let these cursed boats die?
More info in the thread here, and official news from the Actual record attempt site.
The whole News team warmly thanks the CROSS Gris Nez, the MRCC of Chile and the crew of the Stella Australis, baffled to rescue Yves le Blevec, for their responsiveness and efficiency.
After the emotions of the first hours and the rescue of Yves, the time is of course also looking for explanations, because nothing was left to fear such events last night, when Yves doubled the hard way. He mastered the situation, sailing lightly (3 reefs, tormentin) in the weather conditions that had been estimated by his router, Christian Dumard, namely 30 knots of wind, gusts, and 5 to 6 meters of hollow.
Now that Yves is safe on the ground, the technical team is going to tackle the issue of trimaran salvage.
Given the incredibly bad luck that both of the big Irens trimarans have had
The reaction of Samuel TUAL, President of Groupe Actual  : "It is a great disappointment to the size of the challenge that we tried to achieve with Yves. I am sad for Yves and the employees of Groupe Actual who were all behind him. We knew it was going to be difficult, but I salute Yves' audacity and courage for trying. This test does not detract from our determination to meet challenges. We continue to learn and grow, and we stay the course. "
December 14th, 2017 by admin
Italian cat sailor Vittorio Malingri long ago proved himself a certified nutter, setting the singlehanded beach cat record for the Senegal to Guadeloupe transatlantic route back in 2008 at around 13 days.  It's the same route that certified French nutters Benoit Lequin and Pierre-Yves Moreau did in 11 1/2 days on their beach cat, and for Vittorio, beating their doublehanded time was a challenge he decided to take on with family.
The duo of Nico and Vittorio smashed the record on Saturday, taking more than ten hours off the Frenchies record at an average of just under 10 knots.  Sick stuff, and check out the team's Facebook page for more photos, videos, and stories (in italian) about their effort. Bravo Ragazzi!
Title shout to fathers and sons everywhere who do cool shit together, and thanks to SA'er "M26" for the tip.
April 24th, 2017 by admin
The fascinating and inspiring Lisa Blair has lost her bid to be the first woman to circumnavigate Antarctica on her final leg, dismasting about 900 miles South of the tip of Africa.  What a massive bummer for the recent SCOTW, but there's good news in it: She's physically OK and hasn't asked for help, and a rescue could be implemented from South Africa if necessary.
We wish her the best and hope she can get back out there and finish the job quickly; until then, enjoy her Cape Horn rounding video and chat in the thread.  Photo from Lisa's Facebook page.
April 4th, 2017 by admin
Far be it for us to shit on anyone's dreams, but it looks like this Oregon hipster and tall ship sailor ain't gonna be crossing oceans in his five-foot long boat any time soon.  Still, while Matthew Kent is a long way off of the $300k he's looking for, he's already raised 10 grand – which should be more than enough to buy some freeze-dried and get to work on achieving his Darwin Award!  Wanna donate and see if this salty dog can accomplish something dumb?  His Gofundme page is here. Thanks to SA'er 'full circle' for the find. Title inspiration here.
The Little Boat Project, created by Matthew Kent, a professional tallship sailor with over 8 years of sailing experience, is a design challenge to break the world record for the smallest boat sailed across the Atlantic. With the current world record set at just 5 feet 4 inches long, we are attempting to break the record by almost 2 feet with our boat of 3 feet 6 inches! 

The real challange isn't to sail the boat however, but the design that goes into it. Challenges of design have ranged anywhere from food storage and structural stability to getting enough exercise and  safely navigating over 4500 miles of open ocean.

The desiging of the vessel,  The Undaunted, began over 4 years ago. From CAD drawings to measuring the volume of granola bars it has been a remakable and unique challange so far and we are only getting started. We are planning to leave from the Canary Islands in March of 2017. 
March 10th, 2017 by admin
We teased it with a strip shot on Saturday, and now SA'er 'blunted' checks in with this phenomenal story and a great example of how to make your kids love the water as much as you do.
So how do you take an 1800 km road trip to retrieve a sailor from Mackinac island in the dog days of summer and make it fun and interesting? You try to set a world record; that's how.
This past Tuesday following the spicy trip up to Mackinaw from Chicago aboard the Pain Train known as Peerless, my wife, my two kids, and I managed to sail and swim in every one of the five Great Lakes in a single day.
The wife and kids came to pick me up in Mackinac following the race in our family Jeep with an Opti strapped to the roof. Come Tuesday morning, following a full day of "re-hydrating" on the island, we left the motel in St. Ignace at 7:00 am. Following a quick diner breakfast we jetted North for an hour to a small bay in Brimley, right on Lake Superior. The kids hopped out and launched themselves into the pristine waters to get some swimming going on while I pulled the boat from the roof rack, splashed it and got it rigged. After a few minutes we had the kids sailing back and forth in 4 knots of breeze giggling away. We yanked the boat up on shore, got the photo proof and then I set about madly derigging and loading the boat back onto the roof of the Jeep.
I had set a 45 minute turn around at each port of call so we could make our schedule for the whole day and we hit that with no problem. All four of us got a little swim in, towelled off and got rolling again quickly. Like any sailing campaign, good logistics made a world of difference. I had built a quick-and-dirty custom rack to locate the boat in just the right place every time and the same for the rig. I had set up the sheet on a quick action snap shackle for speed rigging and we'd have the kids dressed in their swim gear 20 minutes before we hit any given beach. I had mapped out all our sailing locations and also had back up locations set up in case we had issues with any places we landed.  All of this allowed us to hit our locations pretty much according to our schedule and kept things running smoothly all day long.
Following Superior, we headed South to Lake Michigan near Harbor Springs at Petoskey State Park. Then a run down the state and across the border bridge to a nice spot on Lake Huron at Sarnia Ontario, followed by Port Stanley on Lake Erie. We finished up the record at Burlington, Ontario on the West end of Lake Ontario. All in the sailing part started at 8:40 am EDT and ended at 9:45 pm EDT. We could have gone faster, but feeding a hungry mob dinner trumped getting the best possible time for our mission. In total, it was about 16 hours from door to door. While we were trying to set a record, we wanted it to be fun before anything else.
The kids were thrilled to have broken a record (even a dumb one) by sailing and swimming in all five great lakes in a day and both parents thought it was kind of fun too. We still have to ratify it with www.recordsetter.com but either way it was a fun mission to try to pull off.
Now some might argue the real reason we did this was to answer the age old questions asked by millions of teachers the world over every September, "What did you do this summer?", but for me the reality was that it was to let the kids know a few things, 1. Sailing can be fun in lots of different ways, not just racing and cruising, 2. It's not always that hard to accomplish something kind of extraordinary.
On both counts I think we succeeded.
Kudos to my daughter Cameron, my son Harrison and my wife Jen. A great job by all for our little family team.
August 1st, 2016 by admin
When the sailing community heard that French multihull phenom Yann Guichard was dating billionaire pharaceutical heiress Dona Bertarelli, plenty of jaded sailors smiled knowing smiles for the Frenchmen's good luck.  Six years, an engagement, and a hundred thousand miles or so later, we've all accepted that Dona ain't just another ultra-rich swiss sailor, and in this 15-minute interview with Mr. Clean shot last week in Sweden, the fastest female sailor on the planet shows that she's the real deal and then some.
The down-to-earth Dona talks about women in professional sailing and her LadyCat program (and whether we'll see it on the M32 circuit), where the Spindrift name comes from, the great (and not so great) things about racing around the world with your lover, whether the World Match RAcing Tour will once again become the feeder for the America's Cup, and just how likely it is to see a second Bertarelli and the first-ever female-owned team challenging for the America's Cup.  Clean's obviously crushing on this amazing role model pretty hard; watch above and you might be too.
You can watch Dona's soon-to-be husband racing all next week in the million dollar finale to the World Match Racing Tour in Marstrand, live (with Clean's gravelly voice on the mic) from the 4th to the 9th.  More here.
July 1st, 2016 by admin
"Please accept my resignation.  I don't care to belong to any club that will have me as a member" – Groucho Marx, in a letter to the Friar's Club (1958).
We're not sure whether Lending Club CEO and oceangoing record holder Renaud LaPlanche's ouster from the company he founded was the result of something shady he did, or simply the culmination of years of attacks designed to bring down the young, disruptive businessman who built the largest online vendor in the US in a few short years.  There's a DOJ investigation underway, so if their paymasters haven't been bought off by bank lobbysists, we might just get to the truth – someday.
Whether his forced resignation last month and the subsequent tanking of Lending Club stock was engineered by massive and nasty establishment banks and their minions, LaPlanche's days of assaulting records with big multihulls are over, at least for the time being.  That leaves the ever-game Phaedo and John Sangmeister's now-foiling ex-ORMA Tritium (which is racing to Alaska with former Lending Club skipper Ryan Breymaier aboard in a couple weeks) to carry the American flag in the offshore recordbreaking game.  Who's up next?
June 1st, 2016 by admin
We are total junkies for pretty much anything Paul Larsen does.  And when it has to do with foils, supercavitation, and ludicrous speed, we can't look away.  So here's a long report – with almost no sailing in it at all – that we ripped from the SailRocket site in full.  Go see Paul's creation at the Advanced Engineering Show in Birmingham, England on the 4th and 5th of November.
Well, to be honest, that all got a much closer to really happening than we expected when we set out. In the end the real show stopper was the same old nemesis of all speed sailors… the weather. The forecast changed rapidly and the stiff SW-WSW winds we were looking for simply faded away. These winds would have enabled us to run in close to the Cause-way along the shore where the water is flat and we have places to rig, launch, lower and retrieve the boat. Alex and I went out in a RIB (Thanks Tom Peel) and surveyed the course on the expected 1.25 meter tide. I haven't done this since we last sailed SR1 here in 2006. I was surprised to see how close I could get in and there was actually a lot more room than I was expecting. It was definitely do-able… almost comfortable.
THE RED LINE SHOWS THE PROPOSED COURSE WE WOULD AIM TO TAKE. WE WOULD TOW SR2 TO THE BEACH AT UPPER LEFT AND RAISE THE WING THERE. SR2 WOULD THEN BE EASED OUT AND ALLOWED TO DRIFT DOWN-WIND UNDER THE GUIDANCE OF THE SUPPORT RIB. ONCE CLEAR OF THE SHORE SHE WOULD BE RELEASED AND I WOULD TRY AND GET HER STARTED BY SAILING HER BACK INTO THE WIND TO CREATE APPARENT WIND AND ALIGN ALL THE WING SECTIONS. ONCE OVER HER LOW SPEED DRAG HUMP AND SAILING BACK IN TOWARDS THE SHORE, I WOULD CONTROL HER SPEED TO BOTH INCREASE IT AND PREPARE FOR A GOOD LINE UP WITH THE SPEED COURSE ALONG THE SHORE. THE COURSE (LONGEST STRAIGHT LINE HERE) WOULD GIVE ME A GOOD FAST 500 METER STRETCH. I WOULD THEN HAVE ENOUGH ROOM AND DEPTH TO SHEET OUT, SLOW DOWN, TURN AWAY FROM THE SHORE AND GIVE MYSELF ROOM TO ROUND UP INTO THE WIND AND STOP. FROM THERE A RIB WOULD RE-ATTACH AND TOW ME TO THE SHORE SO WE COULD LOWER THE WING. TOTAL DISTANCE 1.26 MILES.
Regardless of the fact we didn't actually get on the water, it was an excellent excercise for all of us. Sailrocket 2 now goes away completely battle ready, serviced and dry. It showed we could sail her on short notice if need be. I am also confident we could do a 50+ knot run in Portland Harbour on a decent day.
Other aspects raised their heads such as getting the Third Party liability Insurance that would be required to operate in the Harbour. The Harbour Masters Office sounded as keen as us to see us on the water but understandably wanted boxes to be ticked, a risk assessment ot be presented and to be there on site themselves to monitor it. That's all fair. Thankyou to everyone who piled in with help, advice and contacts regarding the Insurance. Only one company, Fastnet Marine Insurance, came up with anything solid we could have gone forward with on such short notice. Basically it was going to cost £1,000 or therabouts to do one run. It was a lot for what was going to be a "jolly" but once again, understandable considering  the request and the short notice. Thanks to some of you who offered to contribute to it all. I will continue the discussion with the Harbour Master and also with the Insurance companies so that we will be better prepared if a next time comes.
So that was the only weather window we had. Sailrocket 2 will have her now completed wing put on her one more time in front of the WPNSA on Thursday… just so all those at Weymouth Speed Week… and anyone else who passes by can have a good look. After that she gets stored away in her container in preparation for appearing as a guest at the upcoming Advanced Engineering Show at the NEC in Birmingham from 4-5th of November. We will be there on site to show her off.
A VISIT FROM SPEED SAILING ROYALTY…
Despite not sailing the Rocket yesterday, we did have a visit from one of the sport's true heroes. Erik Beale flew in especially to see us. Erik was the first sailor to do a 40 knot run in 1988 and he is still firing his windsurfing creations down trenches today.
We have had long Skype discussions about foils and various concepts but never met in person. The thought of having him present whilst doing a run was pretty tantalizing. Nonetheless it was great to see him and share some of our ideas. In fact, there was almost too much to talk about and I hope we get another longer chance to chat at leisure. It's always a great pleasure for me to sit and hear the stories direct from those who did it. The inside personal perspective. The little details that only they remember. It needs to be the right environment and company for it to come out. I had the chance to sit on the end of an empty bar in Walvis Bay,2007 and listen to Finian Maynard tell me of his big day. Sailrocket 1 was still sub 40's and crashing regularly. I remember walking home (well, to the container where we were sleeping) alone in the dark, strong wind. I stopped and stood in front of the silhouette of our first creation just buzzing and wondering if I would get the chance to share such a moment with some other dreamer one day.
Erik is designing, building, testing and competing with a host of foils which are trying to use similar concepts to those which we used i.e. base ventilation. He is also dealing a lot with cavitation and the various options for cross-overs. It's a fascinating puzzle and definitely one worth tackling. I described how good our concept was at showing the nature of the problem. The huge amount of stability the Bernard Smith concept gave us allowed us, at times, to just pour raw power at the foils to see if we could bust through the drag and get a higher number. We only ever did once. 52 knots was our nemesis with up to 7 different foils, 2 boats and all conditions. Our first wedge foil managed to hit a peak of 54 knots once (with a WIRED journalist in the back).
The point I'm making is that the drag becomes severe, the curve goes up hard. It's a real barrier that needs different solutions. We knew we needed power and that's why we liked the Bernard Smith concept. Whether or not the "surfers" (kite or wind) can make the foil concepts work for their applications remains to be seen. The thing is that you need to try… and be persistent. Often the solutions come from strange and unexpected places. Sometimes, it's staring you right in the face but you're looking straight through it only to laugh later when you realise. We don't show many people our 65-knot foil. I showed Erik. I like the path he has chosen and the passion with which he is still tackling it. It's inspiring. Good luck with the conditions in Luderitz, mate.
So Sailrocket and all the various Insurance companies were stood down. It was raining and the wing was left in the Hangar at the Academy. I rigged up the A-class in preparation for the lighter afternoon winds now forecast. I was desperate to go sailing on this wonderful new foiling toy. Malcolm was out sailing his latest back-yard creation and i was keen to play. There is still so much potential for this to be a great week for sailing… especially with so many amazing new dinghies coming out all making big speed claims. It's what this week is all about. Moths, Phantoms, Nacras, A's, Whispers, C-fly's, kite-boards, i-flys, AC45's… the south coast is full of them and yet they spread out almost avoiding each other. Surely this week could bring them together to line up, discuss,inspire, share and just enjoy each others company. Luca Rizzotti has done a great job with The Foiling Week so maybe he should join up with the long history of this event on these shores. The WPNSA and Portland Harbour provides a fantastic venue for all manner of craft. There's not many places that could handle all the diversity speed-sailing has to offer.
At the end of play yesterday, there were two boats on the water, Malcolm's and mine. We wove back and forth across Portland Harbour in the dramatic light enjoying our craft. The forecast we wanted for Sailrocket to run had truly not materialised but it was good enough for these two to play. I finally got in some good foiling runs on the A-class and just loved every second of it. I feel a lot more in control in Sailrocket at 50 knots than I do two feet high on an A-class at 18 or so knots. Yeah there's a lot of fun still to be had way down the range.
So that's it for now. if you want to sit in the hot-seat… then come down tomorrow. If you can't make it then come to the NEC in Early November. If you want to sit in it… just ask. If you don't ask, you don't get:) Now, if you do sit in it, you can know this: If this thing you are sitting in, as she sits today, was fired off down the right course in the right wind…and you sheet that little white rope in to that little mark…there's not a sailboat in the world that will even come close. She's good to go.
Thanks to everyone who helped. It really is appreciated. That's why we share it.
Paul
October 16th, 2015 by admin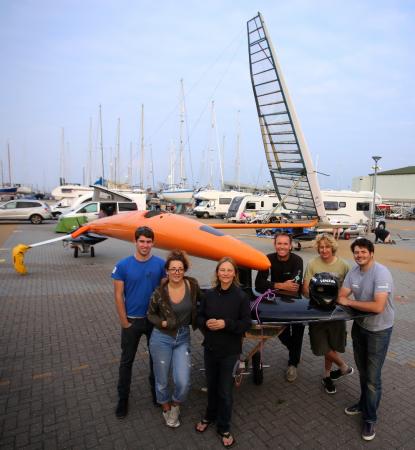 The outright sailing speed record they own is in no danger of being broken, but Paul Larsen and the Sailrocket 2 folks are wheeling the orange girl out of the shed for a go anyway.  It's not an official record attempt, but the breeze is on in Weymouth; is 70 knots in the cards?
Full details on Larsen's blog here, and the ongoing discussion of Sailrocket continues here.
October 5th, 2015 by admin