Posts Tagged 'records'
We dig this posterized shot of Manouch Moshayedi's Bakewell-White 100 Rio shot yesterday cruising up Newport Harbor as she gets ready for her run at the Barn Door Trophy when the final Transpac gun sounds off tomorrow.  As required by the Transpac There's no canting keel, powered ballast pumps, or powered winches for this bad boy, though there is a seriously stacked crew for this pure sailing machine.
In a world where it takes $35 million dollars and a diesel-burning 100-footer to beat a 7-year old record held by a 70 footer (by about 4%), and where both those records are a sad joke compared to what unpowered multihulls have been doing for a decade, we applaud Manouch's purer goal, and we wish he and the crew the best of luck.
Track the fleet here, head over here to add a few views to the almost entirely unwatched video updates and highlights from the TPYC, and head here for the much busier SA thread.
And if you don't get the title allusion, just remember: you're never too old to be crazy. Thanks to Berkley Green at SoCalSailSport for the shot.
And look for onboard race reports from boat captain Keith Kilpatrick.
July 17th, 2015 by admin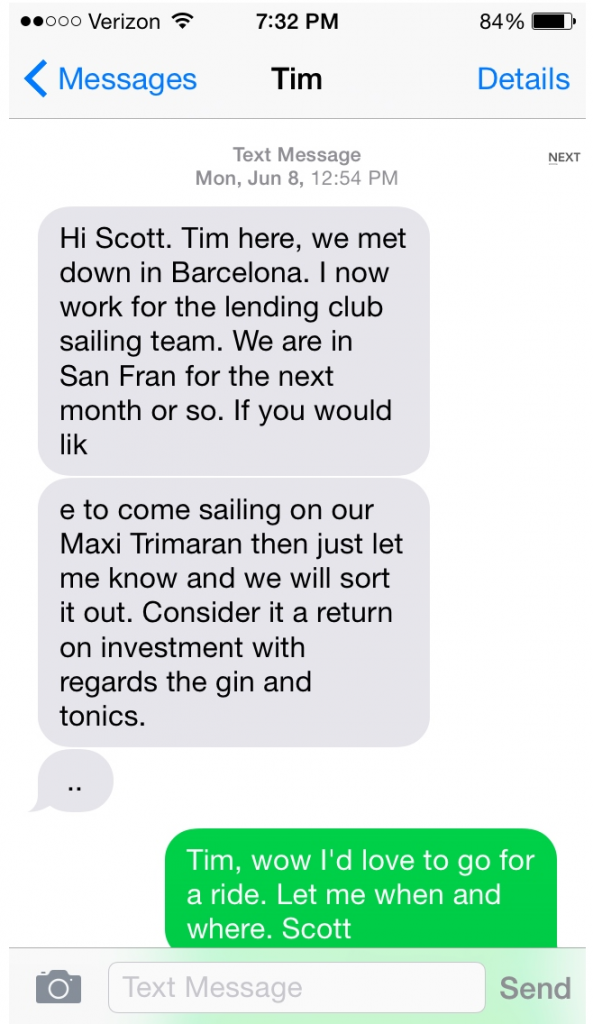 Next time you want those young racers to quiet down, or when you feel like being a cheap fuck at the YC bar, consider this story.
Here is the video from sailing on Lending Club, (ex-Groupama 3/Banque Populaire VII), a 105′ Maxi Trimaran here on the West coast getting ready to do the Transpac.  I met Tim, one of the shore crew, years ago and he had a friends and family ride slot open up last Friday.
This thing is a beast, and really fun to drive.  I hit 32 kts while driving.  Ryan, the skipper hit 40 kts at 120 deg true wind angle in 20+kts of wind.   The boat goes upwind at 45 deg true wind angle at 19.5kts in 20 kts of breeze.  We had the J2 jib and 1 reef in the main.
It was karma that got me that ride, or maybe it was Return on Investment, whichever you believe in.  Tim called it ROI, and I laughed.  But all I did was buy a bunch of drinks for a nice young racing shore crew years ago, and really enjoyed their company and stories.  Then years later, I get the text message above.  Bottom line…you really can't go wrong buying strangers a bunch of booze!
And Tim, If you are reading this [of course he is.  -ed], there are a bunch of San Francisco sailors that would like to buy you a drink.  Since you are here taking people for rides for the next 3 weeks…
June 16th, 2015 by admin
Giovanni Soldini is at it yet again, taking some of the world's best young ocean racers on yet another record attempt – this time from San Fran to China on one of the old clipper routes, aboard the turbo VO70 Maserati.  We love what Gio's doing, and with Luna Rossa gone from the world stage, he's pretty much the only Italian left at the very top end of professional racing.  We've got our fingers crossed that Soldini's campaign has been a precursor for something much more important than hunting century-old square rigger records: We (and Italy) need a real Italian team to cheer for in the Cup, the Volvo, or the Vendee.
The title for this piece comes not from the record-setting clipper that Maserati's chasing; it comes from the best movie ever (for Halle Berry fans, anyway)  Jen Edney photo.
May 11th, 2015 by admin
From the 'truth is stranger than fiction' department comes this tale of a nutty German and a goddamned funny idea.  Is it real?  You decide.
After two years of intense preparations a project which at the beginning seemed unrealistic if not impossible will become real: With a sailing boat equipped with wheels we are going to sail on the road E 40 from the southernmost end of Latin America through the pampas of Patagonia heading north for where civilization begins. For one month, a team consisting of my cameraman, a sailing expert, my co-pilot and me are going to keep sailing as far as the wind will carry us or until civilization in the form of traffic or policemen shall stop us.
As a result of the journey, a movie balancing narrative documentary and artistic film will illustrate the complex interrelations between our natural and social surroundings.  Read on.
December 2nd, 2014 by admin
We're big fans of the high-performance luxury cruiser market, and if we had an extra 5 mil burning a hole in our pockets, we might just go with something just like this.  It's the record-smashing schooner Mari Cha IV – SA's all-time favorite offshore race boat, now in Amsterdam's Royal Huisman yard to be converted to Samurai, one of world's coolest cruisers.  The RH folks wouldn't tell us more about the new owners, though we hope they're schooner people and they keep the boats' distinctive rig (the rendering does not give us optimism on that note…we like ketches too?).
 We understand the boat will have a lifting keel instead of a canter for better port access, and you can read an update in the gorgeous e-zine Inhuis from the folks at Huisman.
October 21st, 2014 by admin
We dig what Junior and Julianna are doing with the Mount Gay Around Jamestown Record; a quirky little 19-mile Newport-area record they established last year.  What makes it different?  No real rules other than than the dates; if you're the fastest when the May to October period ends, you win your body weight in rum.
It's a fun record for fun people, and one of the most fun – hip hop gangsta and recent Melges 20 monster gun Johnny "Nugs" Goldsberry – helmed the Marstrom 32 Bronco to a brand new outright record earlier this week; just over an hour for the course.  Nugs says there's a lot more in it.  "I'm just waiting for the right time to take my Moth out there and finish this thing in a half hour" he said. Goldsberry had Tom and Jono Loughborough aboard as well as Tripp Burd and past SCOTW Emma Creighton on the hiking straps.
It took 21 people including VOR winner Moose Sanderson and 5 million dollars' worth of re-masted Mini-Maxi to set the new monohull record for the same course on Wednesday; Hap Fauth's Bella Mente took an hour and 20 on their run.
The Real Round
Meanwhile, the granddaddy of all "round the islands" comes up in less than a week; the real Round The Island has been running since the 1930s and attracts over 1500 yachts and multihulls and more than 15,000 sailors to the 50 NM course around the Isle of Wight.  It's one of the biggest sailing events on the planet, and this year, we're putting our money on Paul Campbell-James at the helm of Pete Cumming's Richard Mille GC32 Racing program to foil their way past Sir Ben Ainslie's 2:52:15 RTI record on the AC45 last year.  Follow Pete, Paul, BAR Racing's Nick Hutton, and up-and-comer Adam Piggot in their attempt on Twitter @RMGC32Sailing.
June 13th, 2014 by admin
Bruno Sroka is a bit of a kiteboarding legend; the French-born sailor was the first (and still only) person to round Cape Horn on a kiteboard, he's the holder of the English Channel kiteboard record, and winner of some big championships in the early and disorganized world of kiteboard racing.
All those pale in comparison to his latest feat; a 16-hour, 240 NM hatefest from the Brittany Coast all the way to Cork, Ireland.  Of course Sroka had the luxury of waiting for the perfect weather window; something the support of title sponsor Tourism Ireland made possible.  But even so, that's one hell of a long and uncomfortable ride, and we think it's a real accomplishment.  Next up:  Transatlantic on a kiteboard?  We'll find out.
Rubber Ducky, You're The One
Meanwhile, while Sroka was screaming across the mouth of La Manche, a (presumably drunken) American tried to set his own record for stupidity by rowing and sailing a 6-foot Wal-mart dinghy from Weymouth to Bournemouth in the UK.  It's only a 36 mile trip – that should have been a piece of cake with two plastic oars and a tarp for a sail.  For better or worse Darwin was cheated of an award when a dive boat called it in to HM Coastguard – they picked him up, took him in, and treated him for burns suffered during the 15-hour tour.
A Coastguard spokesman took advantage of the opportunity to make the world a safer place. "Blow up boats and other inflatables aren't suitable for use at the seaside, as they can easily be blown far out to sea."
Thanks, Captain Obvious!
July 24th, 2013 by admin