Posts Tagged 'rambler'
She barely made the start after a long delivery from the Northeast, but Rambler 88 hit the line flying for her first-ever race, and now has a massive lead on the Lauderdale to Key West fleet in VMG running conditions.  Pic from Trey Rose. New Rambler launch video here.
January 14th, 2015 by admin
We've certainly said that before about JuanK, but there's no denying the new Rambler 88 is a work of art.  Will it perform?  Will it stay in one piece?  Who knows, but in this gorgeous shot of some rare sea smoke in Newport, she looks the business.  Big thanks to Alex Clegg for the shot.
January 8th, 2015 by admin
The SA'ers grabbed a few shots of Rambler 88 from Instagram going through her post-launch checklist on a cold New England day; latest rumors are that Oracle grinder and bow scion Rome Kirby will be boat captain for the crew's workup in the Caribbean in preparation for the 2015 Transatlantic Race.  Everything else on this orphan-sized racer over here.
 Title shout to an electronic orphan from the 80s.
December 23rd, 2014 by admin
As expected, the Anarchists got right into the Rambler discussion after we posted "Sawtooth" the other day; we know of course that there's nothing particularly new about Dr. Frank Fish's 'tubercles' – we first reported on them back in 2008.  And there's nothing new about them being on boats; after all, the guy who started the thread to discuss the Rambler's teeth yesterday designed the big Icon, which we think was the first-ever race boat fitted with tubercles on the rudder (added by hydro guru Paul Bieker after the boat changed hands a few years ago). 

Perhaps more intriguing is the fact that Juan K stuck 'em at the tips of the rudders rather than toward the stock, arguing against their use as a sort of low-drag replacement for the foil fences that can delay ventilation at high speeds.  We don't know what Juan is thinking here, but there's nothing new about that!
Come to think of it, we don't understand why you'd build an 88-footer to compete against the supermaxis, unless your goal is to win on handicap, but no one would drop that kind of coin to win on handicap, would they?  We're hoping that George didn't; maybe he told Juan his favorite marinas have a minimum draft, and that was the one number that Juan had as an absolute?
Talk about the R88 here. Major props to the awesomely named fuckyeahfluiddymanics blog for the image.
December 11th, 2014 by admin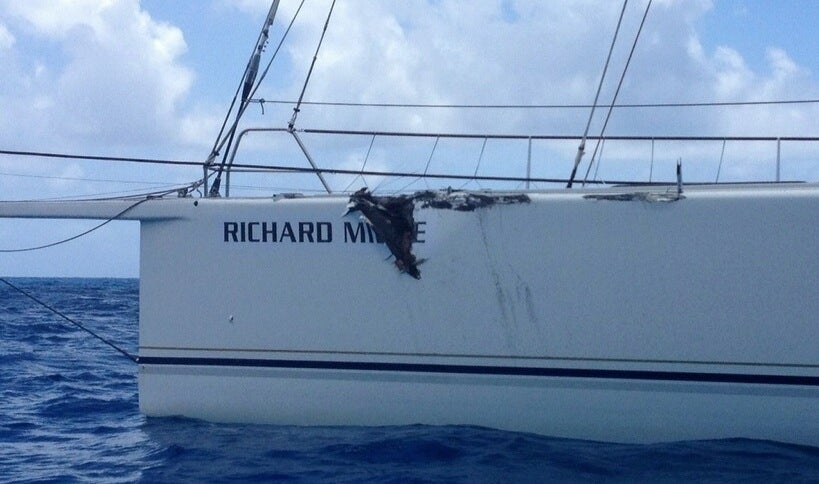 Bite One:  With a new one in the oven, It's the swan song for George David's much-conquering Rambler 90.  David's gotten more out of the big water-ballasted beast than could ever have been expected, though not at Les Voiles de St. Barths, where light air early in the week meant a distant second place behind the Aussie-stacked 69′ CAOL…something we can't pronounce.  This little boat bite was an easy early morning epoxy-and-tape fix, apparently a powerboat just had to get a closer look while the Rambler was on her mooring before Les Voiles.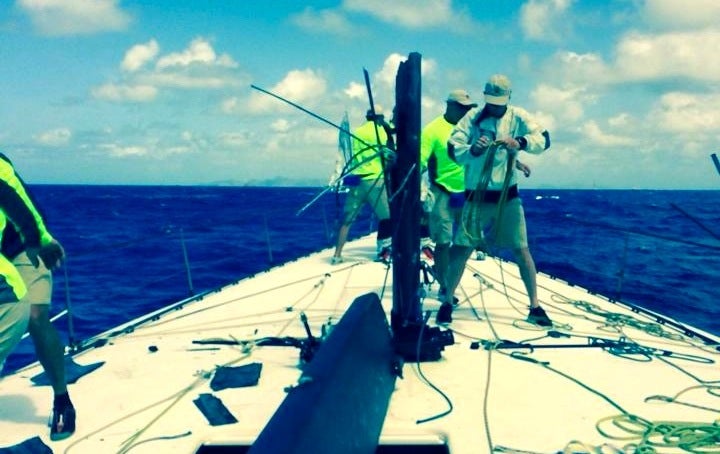 Bite Two: Last month Hap Fauth's big Bella Mente ran off to a Caribbean 600 win as explained right here by Mike Sanderson.  This month, she loses her rig on the way out to the race course on Day 3 of Les Voiles.  Fauth had a good shot to win, but not without a rig!  An expensive week for maxis at the very expensive island of St. Barths.  More in the thread.
April 21st, 2014 by admin