Posts Tagged 'racing'
The Clearwater, FL 49er and 49er FX Worlds are live for the final two days of the important qualifier.  Watch Pete Burling and Blair Tuke humiliate everyone else.  The iconic Peter Lester leads the commentary over a mix of drone and on-board video, and it's worth a watch.  Results over here.
February 13th, 2016 by admin
Repeat after me: Sailing ain't a spectator sport.  Yet another myth, busted, thanks to Petey Crawford and the Moths on the penultimate day of racing at the Moth Worlds.  One more day to go, and the dogs are already blowing down the beach, chains in tatters.
January 15th, 2015 by admin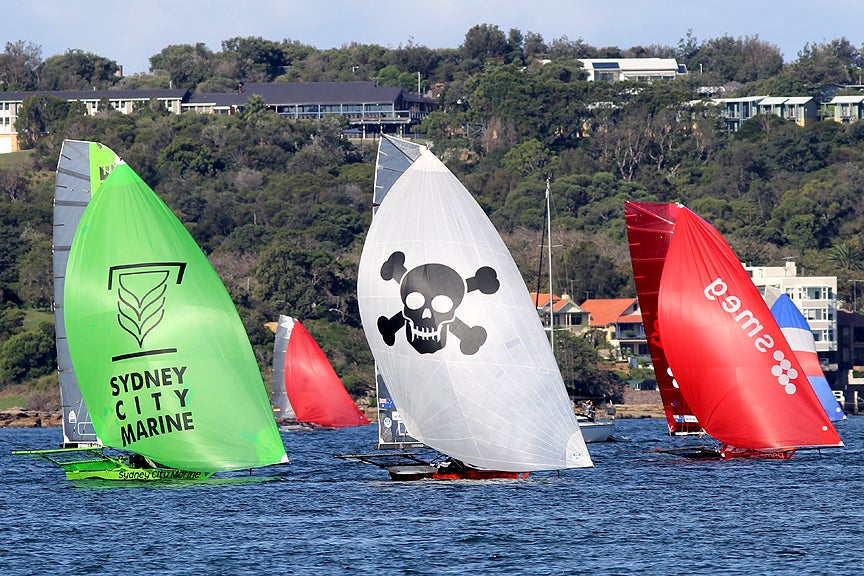 The spectacular racing of the 34th America's Cup was, at times, frustrating for we sailors, with an overhyped know-nothing commentator and an over-aged AC winner pointing out irrelevant facts and useless trivia in vain hopes of getting the 'mainstream' to buy into the live feed.  We got to see some of the most amazing sail racing ever captured on screen, but it was often better with the sound off.
This week's 18 Footer Worlds (also known as the JJ Giltinan Championship presented by Sydney City Marine) might feature some of the same faces; AC34 Regatta Director and AC35 Challenger of Record CEO Iain Murray is helping out with the commentary at times, while numerous AC sailors are spread throughout the fleet.
But this broadcast ain't for the landlubbers, it's for sailors only, and the boys behind the microphone make no bones about it.  So if you're a racer and you want to know who's on the inside of what shift, and who's got a slightly better kite drop than the other guy and the inside position at the Zone, this live coverage is for you.
Check out Day 3 of the JJ above, with all the news and current results from yesterday's racing here.  Scroll down the page for yesterday's video, and the highlight reels are here.
March 3rd, 2014 by admin