Posts Tagged 'race week'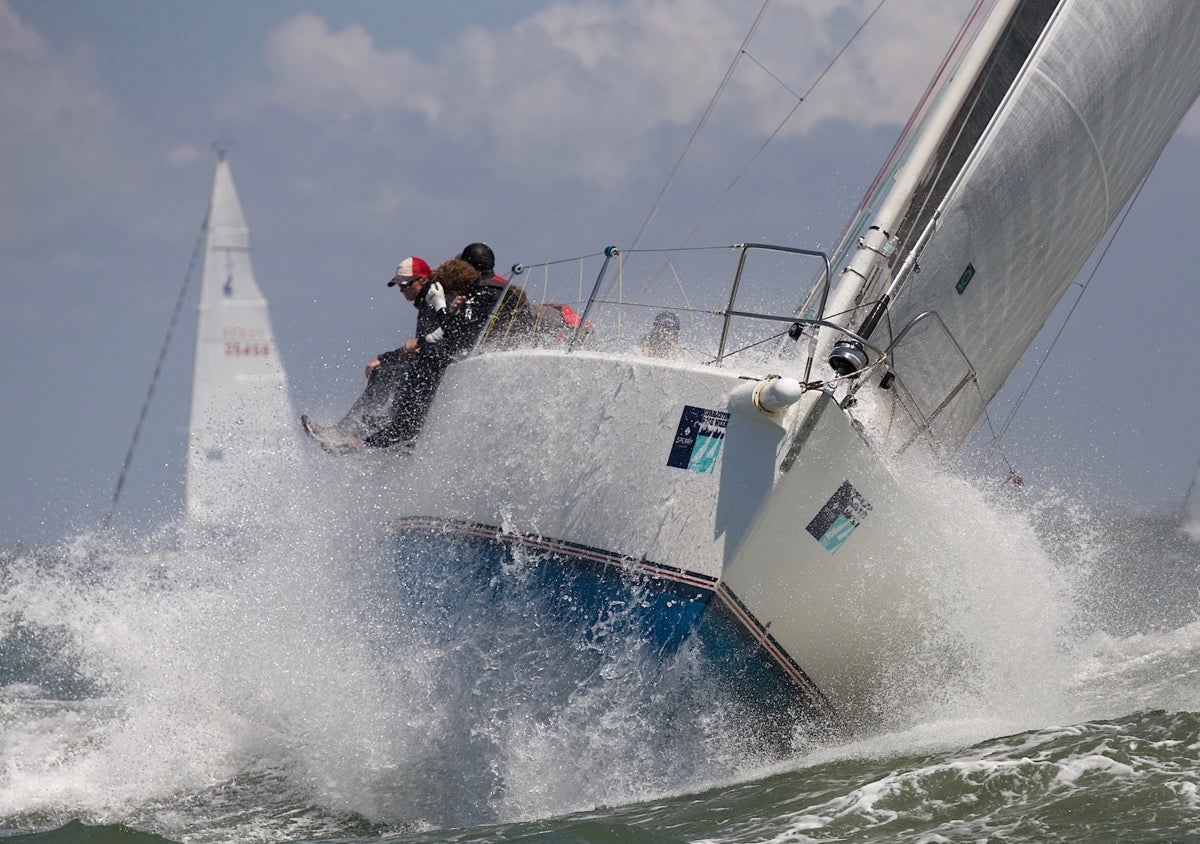 After several years with lost days and poor racing offshore, the 22nd edition of Charleston Race Week delivered 3 days of full-on racing, with moderate to big air inshore and big wind and seas outside the harbor for 212 boats at the biggest event on the calendar for many teams.  After losing around 30 boats for both 2017 and 2016, organizers are doing what others often haven't – they listened to their critics and moved things around significantly, and the 2017 event seems to have rewarded their moves.
The first move was working with the Coast Guard and Port to add a fourth circle in a harbor that many used to think couldn't even fit two, and the result was not only sailable, but it showed that there's easily room for another new fleet or two.  Stars and Lightnings are both perfect candidates, and both fleets are looking for some new venues, so we expect next year to begin growing once again.  They also moved the smaller handicap racing fleets – now all sailed under ORC – inside the harbor, and every team we spoke to will be back now that they don't have to face the long slog offshore in little boats.
As usual, Charleston reminded us that it's the only regatta party we know of with more women than men, and the diversity on the water was just as good; boats fully crewed by women, fully crewed by kids, and fully crewed by military vets and wounded warriors were all over the place, with some even winning their classes despite their bow guy/main trimmer being blind.
The overall winner was reigning J/70 World Champ Joel Ronning, who dodged a last-day protest to hang on in the biggest fleet at the event.  They almost lost it all though, when the forestay let go just before the final race.  Listen to the full story from Catapult trimmer and longtime SA fan Patrick Wilson here.
Clean and the media team posted stories, interviews, hundreds of photos and hours of video on the CRW Facebook Page here.  Full results here.  Meredith Block photo of the J/120 Illyria.
April 24th, 2017 by admin
Hurricane Matthew is close to finishing up his best impression of a Worrell 1000 race course, and the storm has now killed some 900 people (overall), done billions in damage, and left millions without power as he works his way up the Carolina Coast.  The footage above comes from the AP, and is mostly of a very wet Charleston SC.  Those gorgeous new James Island Yacht Club docks that made Charleston Race Week launching so much easier last year are smashed to pieces, while cars, boats and anything else with westerly exposure got slammed.  Fortunately the worst of the surge in CHS came with low tide, but there's plenty of rebuilding to be done everywhere Matthew has already touched.  Incredible that the US has only seen four deaths (two tree strikes and an elderly couple due to generator/carbon monoxide) despite it all.  We'll have more pics and stories of this direct hit soon, but with Matthew still lashing the southeast coast with nastiness, give a call to your friends near the water – they will appreciate it!
And for something really cool, watch the Frying Pan Shoals live stream right NOW!
October 8th, 2016 by admin
Clean Report
With three breezy and extremely lumpy (outside) days of racing, 2016 Sperry Charleston Race Week will be remembered mostly for disasters averted, and the biggest was the rescue of Orlando-based J/88 crew Patrick Daniel, whose heart stopped in the middle of Sunday's first race.  We remember when the Van Liews, Draftz, the Coast Guard, and Doctor Stephen Shapiro from Roper St. Francis hospital created the CRW Safety Plan years ago, and now they'd get to put it into action.  Spoiler alert for those who haven't yet seen my 5-minute video interview with Doc – A pulseless, breathless Daniel was breathing and talking by the time they got to the dock to transfer him to an ambulance.
Mer and I were just a couple hundred feet away when it all went down, and we immediately motored over to stand by for assistance, but it was apparent that the first responder – and then Doc – had things well under control.  The crew had CPR already started inside the 3 minutes it took the rescue boat to get alongside, and the AED was on Daniel's chest maybe 2 minutes later almost before the sails were completely down.
With a sharp uptick in racing fatalities over the past few years, it's a delight to not only hear a story about a sailor escaping death, but to watch it all happen in real time.  It's also a vindication of the hard and seemingly thankless hours that organizers spend on developing and reviewing safety plans.  Most importantly perhaps, even with a perfect performance from the crew, the EMT, the boat drivers, and the doc, there's always something to learn – and everyone knows that had the fleet been on their intended offshore course, the outcome would likely have been much more tragic.
Draftz awarded Doc Shapiro the Jubilee Cup Perpetual for sportsmanship while the crowd gave him a massive ovation.  It was well deserved.
While it paled in comparison to the potential tragedy averted on the Wando River, the weather was pretty tragic for those looking to race sausages in 6 offshore fleets on a single course outside the Charleston jetties.  All offshore racing was shut down on Friday thanks to massive, and most of Saturday was lost offshore thanks to a nasty injury on the RC boat and no easy way to transfer to a medical boat in the big waves.  When conditions continued to rage outside on Sunday morning, CRW boss Randy Draftz dug into his bag of tricks with a long morning of calls to Port Captains and Coast Guard Commanders, and had the Wando River closed down to traffic so the fleet could move under the bridge and get some racing in.
Like pretty much all regattas in the US, handicap windward/leeward racing has been falling off pretty continuously for the better part of the last decade at Charleston, even as inshore one-designs have made it the biggest regatta on the continent.  Giving those six fleets a 3-race day in gorgeous Charleston conditions may have saved the format for another few years.  Given the millions and millions of dollars that the event generates for the area, we'd try to push the local shipping orgs for a permanent Course 4 under the bridge to allow another 50 or 75 one-designs into the harbor or even some handicap fleets if the demand is still there, but then again we care more about enjoying Charleston and sleeping past 6 AM than we do about having obstruction-free race course.
There are literally dozens of videos and hundreds of photos (including some nice work from the back-on-the-water Meredith Block) along with news from all over the place over on CRW's Facebook Page.  And of course, there is a thread.
April 19th, 2016 by admin