Posts Tagged 'portsmouth'
Like the vast majority of you we have not watched much AC World Series action for a host of reasons we've documented many times before, but we're always happy to share it with you when we find it for free!  Thanks to Canal + for continuing to post full race videos like one of the Portsmouth days above; now let's see if Russell's minions allow it to stay online…
Don't hold your breath if you're looking for foiling…looking at past numbers, it appears the ACWS has seen foiling conditions on less than 40% of all official race days.  If someone at the America's Cup doesn't sacrifice a virgin to the wind gods before next summer and somehow fix their awful weather karma, a low-riding straight-foiled AC50 might just win the whole shebang in 5 knots of Bermuda High zephyrs.  Now THAT would be interesting!
July 29th, 2016 by admin
With just a month to go until the ACWS Portsmouth and Big Ben's BAR Team coming off their best performance of the series so far in Chicago, morale is high at BARHQ – or at least it was until they dropped one of their wings on the building!  Nice eyes from one of the Anarchists at Spotted Portsmouth…anyone get a better shot than this iPic from the top of the Spinnaker Tower?
UPDATE: We spoke to one of our trusted BAR pals, and he told us they got away with one – no damage to the wing.  Let's hope he's right!
June 16th, 2016 by admin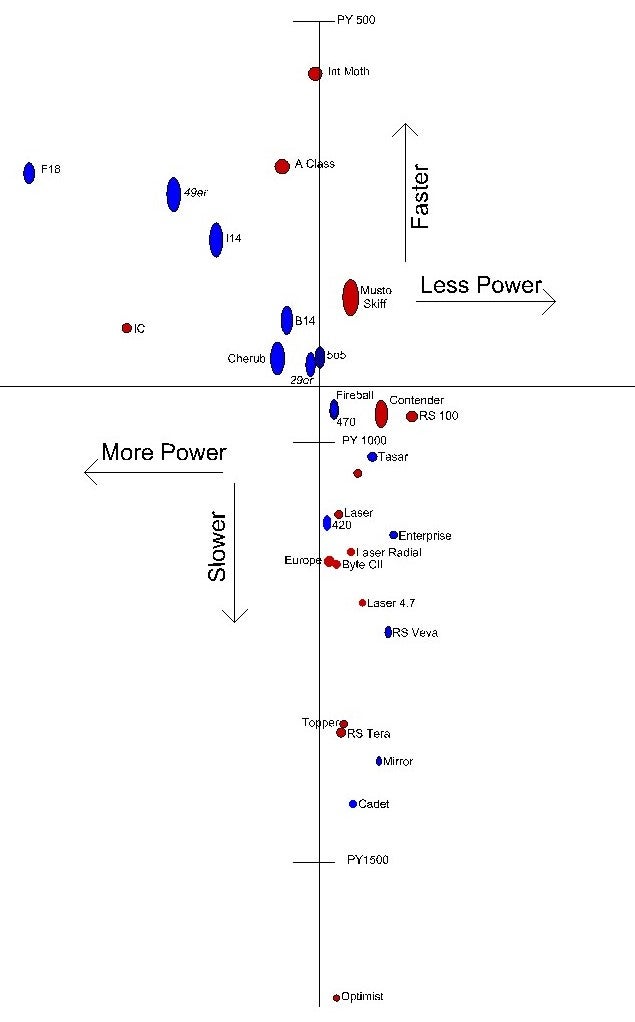 We're always happy to hear from longtime SA'er and high performance guru Julian Bethwaite.  He checked in with this interesting infographic, and here's why.
For the umpteenth time, I was asked 2 weeks ago what boats should a 12 year old Opie kid sail to best place him in a 49er when he gets into his late teens, early 20's.  This mum was very smart, with a far greater grasp of numbers than I, spreadsheets, etc., but I still struggled to get the flow across, so I generated the following graphical representation, and she has come back and said, and I quote  "Thanks for following up. Interesting graphical depiction of the relative properties of these classes of boats, brings the stats to life."
So, what I am seeking from you guys/gals is a peer review!
I could give you all my figures, but I think that would predispose a bias, which I have little doubt I will be accused of.   Instead, I plan to explain my rationale, and asked others to have a go at there own interpretation and maybe we can blend them and end up with something meaning full.
So what I have done is go to the RYA site and dig out the relevant PY [Porthsmouth Yardstick] numbers.  I have picked the boats mostly on simplicity, firstly if I did not know them, then I could not represent them.  I then went into the ISAF site and looked up the technical data.
So I have exclusively used that information unless the RYA/ ISAF data was simply wrong, in which case I went into that class's rules and gleaned it from there.
An example, 470 appears not to have a PY number, so I worked out approx where it should be.  I included the IC because its too interesting not to.  And we all know a moth sails heeled to windward and greatly increases its RM by doing so, where as a Laser, when sailed "flat" is actually heeled about 6° to leeward.  I have not imputed these shifts in CoB, I have assume the boats are all bolt upright as per their numbers.
Finally I have used the ISAF high performance definition about sailing faster than the wind, downwind, most of the time, to draw the red line. Not sure why a 470 does not do it more often (Tack down wind), but we also know a 29er does, most of the time, (and yes, I know why).
What is irrefutable is that a 5o5 and to a lesser extent a I14, spend a lot of money and effort setting their boats up so they can quite deliberately switch to HP modes both upwind and downwind, so, from my POV I consider the 5o5 to be the tipping point boat. It has has a foot in both camps, one could say the best of both worlds.
Get the full explanation from JB here in the thread.
August 17th, 2015 by admin
The AC World Series Portsmouth will be remembered not for the racing and not for the teams; instead, it will be remembered as the event when God, Nature, the Devil, and Karma looked at Russell Coutts in the face and said, "You're kidding, right?"
This is the event where we learned that the same, gorgeous live feed the world saw two summers ago was going to cost some serious money – 8 bucks for what turned out to be an hour of racing – and that in most countries, you wouldn't even be able to watch it on your laptop anyway (but you'd only find that out after you paid).
This is the event where we learned that Russell's minions are so understaffed and underqualified that they were literally wrapping up TV distribution deals this past Friday night after having TWO YEARS TO SELL THEM. And those TV deals?  A complete and total joke.  Nothing  broadcast in the defender's home country for this one.  Nothing in New Zealand, the country that supplied nearly every one of the audience from AC34 and the only country to pay meaningful money for TV rights last time around.  Nothing in sailing-crazy Australia, where the defending skipper and seemingly half the fleet is from.
"But no!" ACEA will exclaim. "We have CHINA!!!!".  I'm sure the Chinese really ate that hour of racing up.
So Russell Coutts tries, once again, to pull one over on the world, but this time, the world laughs, mother nature sweeps in overnight, and the race village is so poorly set up that a common English wind event EVACUATES THE AMERICAS CUP.
We'll have more analysis of the complete mess that was the inaugural foiling ACWS event later in the week once our friends at the ACEA have had a chance to answer thousands of fans' criticisms on Facebook, Twitter, and the forums.
Results stand after 1 day of racing, and the Sailor Girl Nic Douglass grabbed the best post-race interviews over here.  For a look at the actual evacuation conditions on video, go here.  Thanks to James Boyd's Facebook for the shot above and Cascada (and our 12 year old niece) for the title inspiration.
And by the way, you still can't watch a race replay on your computer in most countries.
July 26th, 2015 by admin
Team BAR heads down the mine as they practice for what should be a massively attended AC World Series event in Portsmouth in this awesome shot taken wednesday  by Artemis photographer Sander Van Der Borch.   City councilors predicting as many spectators as the sell-out Formula 1 Grand Prix of Silverstone last week.  Who's gonna be there, and who's gonna win?  Trash talking always welcome in America's Cup Anarchy over here.
July 15th, 2015 by admin
Those of you who still think the 'second coming' story is real will probably not get this one either; instead, you might call your realtor to put in an offer…We promise we're not kidding when we tell you that this $2 million Bermuda America's Cup special 'fixer-upper' is actually named "Uppity".  Great views of the AC course top off this beauty – and according to the video walkthrough, she's selling at a discount.  Loaded African-Americans might want to look further afield…or at least change the name.
In other Cup news, Sailing Anarchy's new favorite is now Ben Ainslie Racing.  Not necessarily because we think they're going to win, but because BAR is the only team that's really thinking long term.  And with ETNZ's constant media shit show, they're now the most 'national' team – something that we find absolutely necessary if anyone is to turn around years of media, TV, and business model fails from Larry and Russell.  Ben would be a far better steward of the Cup and the competition than a confused old Ellison or the self-concerned Coutts.  Equally important is Ben's support – Portsmouth believes in him so much that they've given the BAR Portsmouth center 10 years of free rent Remember what San Francisco was prepared to give Larry after AC34?  A kick in the ass and a bill for $11M.
March 20th, 2015 by admin