Posts Tagged 'porto cervo'
With only one race firing off before the Mistral shut down yesterday, the J/70 Worlds in Sardinia has been a frustrating look at too much breeze and not enough.  It doesn't seem to be bothering Peter Duncan though – his main competition had deep results in the finicky race on Friday, and his Relative Obscurity – crewed by Victor Diaz, Creature Van Waay, and Jud Smith – has a ten point lead going into the final two or three races.
As long as they get two in before the wind dies off, one throwout will make its presence known, and with 81 boats in both Gold and Silver fleets, a hero can become a zero in one mark rounding.  Still if Duncan can hang on, that'll make 3 out of 4 existing world champions all coming from the US of A – something the Italians won't be happy about at all.
Watch it all live – from the boat with commentary from Clean on the J/70 Italian Class Page, and from the air with Zerogradinord's drone over here.
September 15th, 2017 by admin
We believe that hell may have actually frozen over a few hours ago.
We're not sure how else to explain the fact that of the seven teams just thrown out of the J/70 World Championship for measurement violations – in Italy – five are Italian!  Organizers even have the support of the J/70 Italian Class despite the stature of the excluded owners, which includes the current Alcatel J/70 Cup champion and several top teams.   It's a sign that the folks running the J/70 are taking their little boat as seriously as they have long needed to, given how prominent and huge the class has become since their first Worlds barely 3 years ago.
As past competitors in the Class, we're not surprised to see the hammer finally drop on some of the over-the-top mods that have been creeping in since the get go, but we are definitely surprised and quite impressed to see it happen in a place that's notorious for 'turbo" Italian one-design entries that get away with it (anyone remember the Melges 24 bulb with chines or the Farr 40 that floated 2″ high of her lines? We do).  We're also not saying that the DSQ'd boats are full of outright cheaters rather than opportunists taking advantage of Class Measurement guidelines and tools that were less than precise, but the hammer doesn't care what the nail looks like, as long as it is a nail. Those rules and tools have now been tightened up, which should mean fairer racing for everyone in this huge fleet.  Bravo, J/70 Class admins and measurers, and bravo, Italia!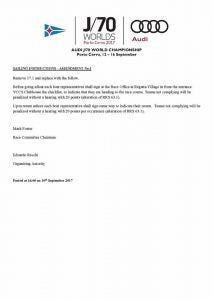 Anyway, the official notice is on your left.  From Italy, the DSQ'd boats are Achille Onorato's Mascalzone Latino Jr (Francesco Bruni, tactician), Allesandro Molla's Viva (Nicollo Bianchi, tactician), Marco Salvi's Vertigo (from Porto Cervo, the event host, with Charlie Mckee, Tactician!), Claudio Dutto's Asante Sana, prior Worlds podium finisher Carlo Alberini's Calvi Network (Branco Brcin, tactician), Mauro Mocchegiani's Rush Diletta (Matteo Ivaldi, tactician), and the Alex Semenov's Russian-owned New Territories (tactics by Portuguese J/80 and SB20 World Champion Hugo Rocha).  We're not sure whether this makes those pros more marketable or less marketable, but you might want to double check their work the next time they say 'it's legal, don't worry' before your big regatta!
Is this another case of pro sailors ruining a class, or does this kind of thing only happen when Classes slack on their measurement controls?  And is the J/70 Class's action signs of great governance to come?  We'll find out when SA brings our coverage to the J/70 Worlds on Wednesday (if the Mistral has shut down by then, that is!) . Until then, there's of course a thread…
September 11th, 2017 by admin
Clean Report 
The most democratic of big one-design racing fleets gets underway tomorrow in Porto Cervo, just days after the most exclusive racers in the world go home.  And unlike the Maxis, you can't just buy your championship with champagne and briefcases full of cash – not that some J/70 owners aren't trying!  In fact a number of top boats failed to measure in during the Worlds measurement.  It's nothing new for a J/70 Worlds, as there has been nasty chatter, cheaters called out, protests, and even measurement DSQs at every J/70 Worlds (who can forget the famous Greenwald carbon rudder in Newport?).  Never has it been at an event this big – at least not since the J/24 days and the infamous keels of a certain RI family…
With an astounding 175 boats from 24 countries on the entry list, the measurement issues at the YCCS are extreme, according to Italian sailing blog Adesso Vela, which writes that [paraphrased/translated] "almost no one will tell you about dozens of boats who disappeared after they found out boats were being failed at measurement, while others are replacing their keels completely in order to race at Worlds."
We dig the response of the Italian J/70 Class, which is not the organizer of Worlds but sure does seem pissed off about the cheaters.  And those cheaters may just include a past World Champion or two, some Olympians, and at least one of Italy's most illustrious yachting families…
September 11th, 2017 by admin
Big Pimpin'
If you like sailing with and against the best of the best in the world's best sailing destinations, have we got a boat for you!  More from their first-ever regatta in Porto Cervo at the Melges 40 Facebook Page.
June 21st, 2017 by admin
June 16th, 2017 by admin
Big Pimpin'
Check out the video from the 3rd event of Italy's Alcatel J/70 Cup for a slightly long but beautifully produced story of sportboat racing in Sardinia.  More from our old friend and Italian J/70 Class Prez Vittorio:
Quite frankly, we had a truly fantastic week-end with great racing conditions, outstanding hospitality by the Yacht Club Costa Smeralda (with a social event every night!), and lots of beachside fun for our accompanying friends and families. It was probably the best event organised by the J/70 ITALIAN CLASS so far (results here).
The week-end was also a live test for next year's J/70 Worlds (Sept 12-16, 2017). We are already working to prepare another great event for you (all of the above plus simplified logistics, group discounts on ferry boat transportation, hotels, food and entertainment). We will present the full program of next year's event during the Italian Night that we plan to host at the St. Francis Yacht Club in September during the 2016 J/70 Worlds in San Francisco. You are already invited to participate!
We are confident to have all the ingredients to host a great event next year which will be key in further growing the J/70 Class in the Med. CAN'T MISS PORTO CERVO 2017 !
June 16th, 2016 by admin