Posts Tagged 'pollution'
We don't have to feign shock at the latest comically silly behavior from the America's Cup; the release of thousands of balloons into the air to celebrate the end of the otherwise non-noteworthy America's Cup World Series Göteberg event.
It seems like just yesterday when the America's Cup had partners like Sailors for the Sea to tell them that RELEASING BALLOONS IS NOT A FUCKING 'THING' ANYMORE!  Apparently, that kind of thing doesn't matter to them anymore.  Or maybe they were jealous of all that press that Rio's been getting.
But the environment matters to us as sailors, and we have long known that the balloon industries' claims about biodegradable latex are mostly bullshit. Even the most 'eco-friendly' marketed balloons will be in the water or on the ground for months or years, doing wonderful things to the airways of fish, birds and mammals while decorating shorelines with their pretty colors as they 'break down.'   That's why no one with a conscience still releases balloons.
And even if they were biodegradable, would it matter? Cardboard boxes are biodegradable – does that give you the right to drop  thousands of them on a city from an airplane to celebrate your sailboat race?
Listen, folks – we get that the AC and its title sponsor Louis Vuitton has decided that super-wealthy are really all that matters for AC35′s bottom line.   But we don't believe that you need to take a huge, stinking blue and yellow shit all over the environment just to show that you're part of their club.
Unless…hang on a second…could it be that Russell Coutts is hunting for some of that big fat Gazprom sponsorship money? Hey Russell, here's an idea for a ceremony to end the Bermuda ACWS event later this year: The party starts with a celebratory oil spill in the Great Sound, continues on to an all-you-can-eat conch, lobster, and bluefin tuna barbecue, and concludes with the release of thousands of mourning doves.  Be careful, though – it appears the Bermudians care more about their environment than you thought when you tried to steamroll them.

Title reference to something almost as nasty as the AC's environmental stance (NSFW).
August 31st, 2015 by admin
A pair of big storms is set to drench the US, but without a major hit in some time, you can smell most of America (aside from the Weather Channel and Home Depot) getting complacent.  Are we so programmed to quickly forget the current tragedy that we're doomed to repeat it?  A look at New Orleans' rebuilt levee system says 'probably.'
Meanwhile, Florida Governor (and Midnight Oil frontman impersonator) Rick Scott declared an emergency today for the already homicidal Tropical Storm Erika, though she's likely to do little more than make a muddy state muddier.  Erika updates from the Anarchists are in the forums here.
And on the Left Coast, Hurricane Ignacio is teeing up on the Hawaiian Islands, where ancient crumbling stormwater systems, infected sewage discharges, and widespread beach closures threaten to turn American indignation at the Brazilian Olympic venue pollution into a discussion of first-world hypocrisy.  Monitor Ignacio over here.
August 28th, 2015 by admin
As Mr. Clean works on the report of his 8-day trip hanging with the US Sailing Team Sperry, combing through the pollution of Guanabara Bay, and the endless ass parade that are Copacabana and Ipanema Beach, we figured we'd share some information with you that explains why we don't ask Olympic Athletes whether they 'feel comfortable' competing in nasty and dangerous water.  Because around half of them would literally choose death in five years if it guaranteed them a medal.  From a New York Times piece on doping comes this description of the Goldman Dilemma, and here's a pertinent study.
There's a well-known survey in sports, known as the Goldman Dilemma. For it, a researcher, Bob Goldman, began asking elite athletes in the 1980s whether they would take a drug that guaranteed them a gold medal but would also kill them within five years. More than half of the athletes said yes. When he repeated the survey biannually for the next decade, the results were always the same. About half of the athletes were quite ready to take the bargain.
Only recently did researchers get around to asking nonathletes the same question. In results published online in February, 2009 in the British Journal of Sports Medicine, exactly 2 of the 250 people surveyed in Sydney, Australia, said that they would take a drug that would ensure both success and an early death. "We were surprised," James Connor, Ph.D., a lecturer at the University of New South Wales and one of the study's authors, said in an e-mail message. "I expected 10-20 percent yes." His conclusion, unassailable if inexplicable, is that "elite athletes are different from the general population, especially on desire to win."
Check back later in the week for Sailing Anarchy's carefully researched and written onclusion on the water problem.  And in the meantime, let's give new ISAF CEO Peter Sowery some props for at least getting a threat to move the racing on record.
August 24th, 2015 by admin
August 19th, 2015 by admin
We may not have come down to Brazil specifically to investigate the water pollution problems, but the situation is inescapable, and yesterday's discovery of an open sewage outfall less than 50 feet from the main Olympic Sailing Center launch ramp was, well, shocking.  Local authorities panicked and sent over an oil containment crew with a floating boom…but that ain't oil, and the inside of the Olympic harbor is now half water, half poo.  It's one thing for a huge 3rd world city to have sewage problems, and our final report from Brazil will get deep into a situation which is neither uncommon nor surprising in a Latin American metropolis, but the level of incompetence required to have thousands of gallons of untreated waste flowing in the one place that every sailor touches every day, and that every reporter sees every morning?  It simply defies belief.
And the hits keep on coming; a 5-man media team was held at gunpoint and robbed of cameras and phones while covering the cycing test event yesterday, the same day hundreds of thousands of protestors – including tens of thousands on Copacabana and Ipanema – blocked major roads across Brazil while calling for the impeachment or military ouster of recently elected president Dilma Roussef.  Think American politics are messy?  She's got an 8% approval rating…
On a much more positive note, the US Sailing Team Sperry seems to be continually improving, with a good start in the Laser and Radial, and a great start in the 470 (and a seemingly healthy team, barring a few bruises).  The US currently holds second place in three classes, in fleets that are largely the same as they'll be next year.  Peaking early, or a sign of great things to come?  We're on the ground to find the answer.  Listen to yesterday's interview with 470 chicks Bri and Annie here, and watch these pages for more.  Test Event Results here.
Onne Van Der Wal photo of new dad Stu McNay and Dave Hughes.
August 17th, 2015 by admin
With so many Olympic sailors having grown up as part of the SA community, we're especially pissed about the continuing mess in Guanabara Bay, Brazil. Longtime sailing cheerleader Glenn McCarthy is staying on top of it with one smart solution; we pulled this piece from Chicago Now.
HOW HARD IS IT TO MOVE A VENUE?
Years ago, a sailing event in Springfield, IL ran out of water in their lake due to drought, within two weeks, they had it rescheduled at Lake Geneva, WI some 250 miles away.
People who sail iceboats retain flexibility as a way of life.  A few years ago their World's Championship was scheduled to be held in Minnesota, they held out hoping for cold to freeze their lakes, with less than a week to go, they shifted their World's Championship to the Finger Lakes region of New York, 1,000+ miles away.
There are at least two open ocean venues where major regattas in Brazil have been held, one is 2 hours, 75 miles, away from Rio, another 4 hours away.  Having the sailing portion of the Olympics/Paralympics away from the host city is not uncommon.  In the 1996 Atlanta, GA Games, the sailing venue was 250 miles away in Savannah, GA.  At the 2008 Bejing, China Games sailing was held in Qingdao, China some 430 miles away.  In the 2012 London Games, sailing was in Weymouth, England about 135 miles away.
Sure moving the Olympics and Paralympics might be a tad more work, but there is over one year to do it.  That is ample time.  Rather than scrambling for housing for the competitors and race officials, a cruise ship can be rented and anchored off the beach.  A cruise ship is a floating city and can provide housing, meals, medical facility and lighters/tenders for shuttling people back to the shore.  A cruise ship was rented recently for housing for a convention in San Francisco recently.  Security can be done with a couple of Navy boats around the cruise ship.  Problem solved.
April 14th, 2015 by admin
Moth, skiff, and Red Bull Youth AC Anarchist Ian Andrewes checks in from his Nacra 17 action in Rio after 2 weeks of 'the most effective training camp he's ever been part of'.  It was also a trip that featured the disturbing sights of toxic sludge, a navy burial at sea right off the harbor mouth, and a fireworks display that sent a yacht club's members fleeing for their lives; in other words, a typical month in Rio. We dig Ian's take on the dilemmas of an Olympic trialler and we hope you do too.  Thank him over here, or over here.
When I first came down to Brazil in August after a last-minute decision, it was to compete in the AqueceRio Olympic Test Event. Everything was moving quickly and it wasn't until my hour-long cab ride back to the airport that I found myself looking out the window, realizing I hadn't spent enough time in this place. I didn't understand what made Rio so unique or the way it manages to stay on just this side of total madness. How could I describe it to my friends and family?
I'd get another chance when we came back down this month, and I was determined to learn this place better and try to decide how I truly feel about the controversial waters Guanabara Bay. The Bay has been called one of the most beautiful places in the world, with absolutely perfect sailing conditions, and it's been described as one of the most polluted and horrendously disgusting bodies of water in the world, completely inappropriate for any waterborne activity.  And both are correct.
My first day back this trip, one of first things I noticed was the lack of trash in the water compared to last summer; conditions that had required a rudder or board cleaning every 50 meters then.   Much can be attributed to the odd garbage scows, roaming the water like giant aquatic Roombas and scooping up everything in their path, including the odd junior in an Opti.  It struck me as a wonderful improvement, but then I started to notice the water color – not the brown of the typical estuarine bay, but the thick, particle-choked haze of the untreated sewage flowing directly into our racing area.
I do believe this place is seriously sick. The waters are not just dirty; they are toxic and poisonous. Every day thousands of dead fish have been washing up on the beaches like its the apocalypse – their rotting bodies adding to the already pungent aroma of raw sewage at low tide. The ones that aren't quite dead flop around in an epileptic dance of rainbow-hued oily sludge and sand right until their death.
I have noticed a decrease in the amount of garbage in the Bay, but there's still plenty of work to be done, and I think all the sailors are hoping their organizations keep the pressure up.
Rio is a strange place, difficult to compare easily to other cities I know. Favelas rule the politics despite being made up of the poorest squatters and the nastiest criminals. Some people seem to pay taxes, but most don't.  In Niteroi, just across the bay, you find multimillion dollar houses along the waterfront, immediately adjacent to squatting families living in shacks made of driftwood, corrugated steel, and dock scraps.  But of course the shacks are loaded with electricity, satellite TV and running water courtesy of the welfare system…All of this disparity and more yet nobody seems all that disgruntled.
In fact, most locals I've met seem generally quite happy. Maybe they complain about a politician's decision or about the bad traffic, but the conversation never seems to carry on past that. Maybe something in the water gives these people such a cheerful disposition.
We're all hoping that the Olympics will help to shine spotlight the environmental issues in Rio, and that the public attention leads to improved sewage treatment and pollution control, not for us but for the people of Rio.  They deserve better.
As sailors, we need to promote and encourage change that extends far beyond this event.. I will keep coming back to this place as my captivation with the scenery and the strangely pleasant locals only makes me want to see change sooner. I hope each trip down to this gauche city in Brazil will show that steps are being made in the right direction and that it's not too late.  I'll keep you posted.
December 24th, 2014 by admin
We still cannot for the life of us understand what is going through ISAF, the IOC, and the dozens of governing bodies' minds when it comes to the dangerous levels of pollution that even Brazil admits it won't be able to solve as promised to the IOC by 2016, much less this summer's Test Event.  As of Monday, the problem became not just dangerous, but life threatening, when Brazil's most respected health institute said this morning that 3 of 5 test samples on the Carioca River (which flows directly into the bay) tested positive for KPC-enzyme producing bacteria, also known as 'superbugs'.  Resistant to almost all modern antibiotics, treating these critters can require extremely toxic chemicals, treatments that can be even more destructive than the infections themselves.  Don't think this is a big deal?  This shit makes MRSA look about as serious as blue balls.  And we still haven't heard word one from any of our sport's supposed caretakers…
Anyone still think the IOC and ISAF have the sailors best interests at heart?  Check the AP story here; now including quotes from a long time Canadian Anarchist!
UPDATE: Apparently IOC has more important things to deal with than the health and safety of its athletes.  Time for a gorgeous new Lake Geneva HQ building!
December 15th, 2014 by admin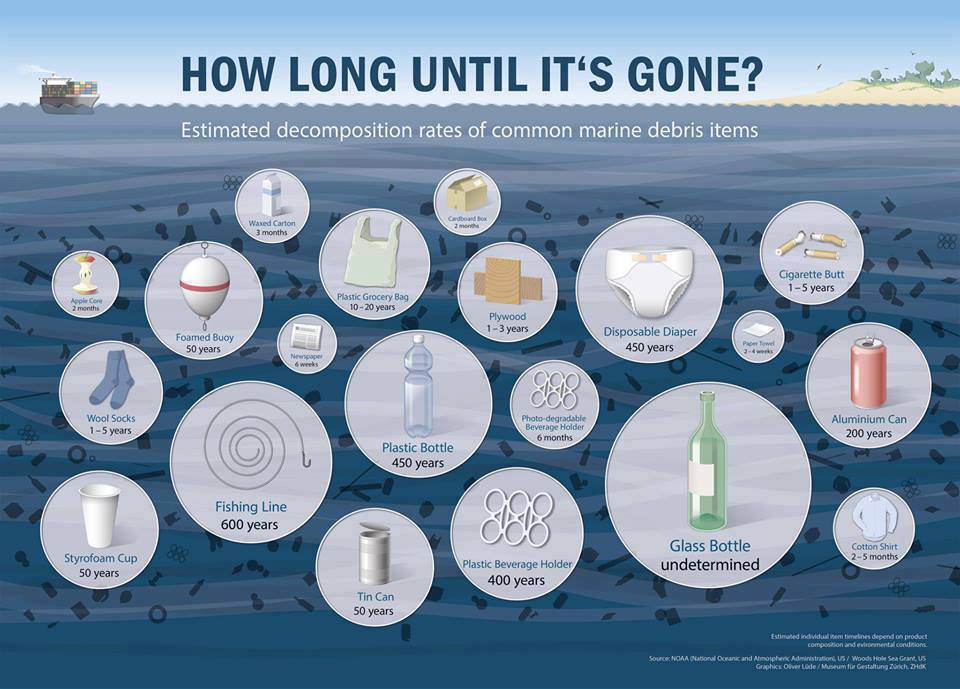 As lakes thaw and boats get loaded back into the water, take a minute to get your brain around this chart.  Maybe this year, you'll stop throwing cigarette butts over the side, or letting crew get away with tossing aluminum cans in the sea?  Everything lasts a lot longer than you might think it does, so keep it all on the boat.  Source: NOAA
April 8th, 2014 by admin
UPDATE:  In response to this story and the volume of emails received by Key West Race Week organizers, Amendment No. 1 (NOR 2.4) permitting elastic or wool bands for spinnakers has been withdrawn.  Kudos to all of you who reached out to them, and for Peter Craig for doing the right thing; it's up to all of us to make sure our own regattas follow suit.  Even if you don't take it seriously, note that the USCG does, and just one photo of a banded kite will land you a DSQ and a good chance of a nasty fine.  Your competitors aren't going to let you get away with it either; if their hoists are tougher because of Rule 55, yours had better be, as well.  
Key West Race Week Chairman Peter Craig last week further cemented his reputation as the most out-of-touch race officer we know, issuing a NOR amendment that directly contradicts the kind of environmental responsibility so embraced by not only ISAF, US Sailing, the America's Cup and basic common sense, but by dozens of the sport's newest sponsors and supporters.
We're talking about Craig's amendment last week of Rule 55, the prohibition against tossing trash into the water that ISAF clarified earlier this year as including sail stops – rubber bands or wools. NOR Amendment No. 1 suspends this ban, specifically allowing both "elastic and wool bands" to be discarded into the pristine, federally-controlled No Discharge Zone of the Florida Keys.
There's been plenty of discussion of Rule 55 already, but even the most pollution-loving dickbag would agree that tossing dozens of rubber bands into some of America's most environmentally sensitive waters ain't the right thing to do. And biodegradable wool stops are no solution at all; maybe suitable for racing out in the ocean, but a few dozen big boats just a couple of miles offshore throwing dozens of wool stops into the sea at every mark rounding is not only nasty for the reefs; it's against both Federal and Florida Law, with major fines and penalties.   We've all seen the required pollution placards on our boats, specifically telling everyone that trash doesn't go in the water; did you really think the laws that keep you from throwing coffee grounds or orange peels into the sea somehow allow you to toss rubber bands or rope strips into the same water? And what does the USCG think about all this? Is it really possible that KWRW included this info on their Marine Event Permit?
The biggest new source of sponsorship for the sport worldwide is coming from either clean energy/green manufacturing companies or businesses looking to associate themselves with the environmentally friendly image that sailing represents. And here comes Key Waste, screwing not only the reefs, but also the hundreds of events, classes, and organizations that have worked so hard to create awareness and educate sailors and the public on being good custodians of our playground on the water.
What do you think of this policy? Should we just tell the reefs, wildlife, EPA, and USCG to harden the fuck up, or does Key West Chairman Peter Craig need to man up and tell his competitors to learn to set a kite without training wheels? You can comment here, or e-mail the organizers here.
UPDATE:  SA'er dcsheb notes that other races aren't much better; for instance, the Sydney-Hobart similarly alters Rule 55 to allow 'banding/tying of spinnakers', and while open ocean distance races may cause less environmental impact than buoy races next to coral reefs, we still don't understand how, in this day and age, anyone thinks tossing rubber bands or synthetic fiber over the side is any different than a cigarette butt or a plastic wrapper.
December 30th, 2013 by admin