Posts Tagged 'pirates'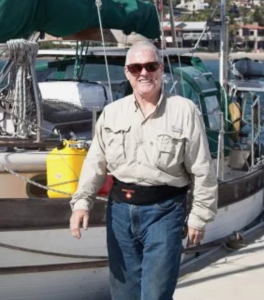 Outside Mag published an incredible story yesterday by Ali Carr Troxell about the disappearance and search for her circumnavigating dad, retired shrink Richard Carr. For its attention to detail and the dee+p dive into the kind of fear and horror faced by the family of a sailor in trouble, we urge every ocean sailor to read it. For Carr, who just days before disappearing wrote to his daughter that he would "Adveture & learn or die trying," we wish fair winds.  Here's an excerpt of this great piece.
I've spent hours trying to imagine what happened in the end. I've pictured Dad in an altered state: eyes glazed over, stoically moving about the boat as he completed necessary tasks, like dealing properly with my grandparents' ashes. Or maybe he was sobbing—heartbroken to know he would never see his family again. Then he either set the teak deck on fire or cut an intake hose, filling the boat with water and sinking it.

If he did any of these things, it was because sleep deprivation had driven him mad, making him believe that suicide was the only way to escape the pirates he'd conjured, the only way to prevent them from killing him.

He didn't have a gun on board, as far as we know, so he would have died either by fire or in the sea. Did he stay on deck as flames rose around him? Tim doubts it. He thinks Dad started a blaze, dove off the side, and swam straight down. I picture mottled moonlight reflecting on his pale skin as he descends into darkness.
November 13th, 2018 by admin
With many Rio 2016 teams now on the ground for their final six weeks of training and practice, shit is getting real – too real.  Worse yet, there's really no help available when it all goes down.  Consider this report from last week, sent in by a longtime Anarchist on the ground in Brazil (and remember, piracy ain't nothing new in Brazil).

Two Team GBR Ribs were stolen overnight from Torben Grael's Rio Yacht Club in Niteroi – the same club hit by stray bullets from a nearby gunfight a few weeks back.  They were dragged to a beach in Jurujuba, not far from the US Team's launching location.
The two British team coaches who lost the RIBs found them the next morning as they were being stripped.  Already VHFs, fuel hoses, tanks, and wiring were already gone, with outboards next to go.  The law-abiding GBR coaches' immediate reaction was to threaten the thieves with calling the police.
"You think that will help you?" the head pirate said, with a big laugh.  Considering the level of police corruption in Brazil, the British coaches were inclined to come up with another solution, which meant giving the pirates every dollar, pound, and real they had in both their wallets and backpacks.
One of the coaches surreptitiously snapped a pic of the pirates, and the Rio Yacht Club staff identified one of them as a top drug dealer in the nearby Jurujuba favela, and told the coach he was very, very lucky.  If the Olympic fleets get away without losing any lives over the next two months, they'll be very lucky indeed.
Title from a great band in a kinder, gentler world.
June 20th, 2016 by admin
This Montreal cruiser faced Haitian pirates, dismasting, a punctured hull, 70-knot winds, and days of passing boats ignoring his Mayday pleas, but he kept it together long enough for this rescue by a research vessel. The video is a good reminder that just because you've been found, it doesn't mean it's easy to actually get off the god damn boat! The fascinating story is here.
January 9th, 2016 by admin