Posts Tagged 'petey crawford'
Repeat after me: Sailing ain't a spectator sport.  Yet another myth, busted, thanks to Petey Crawford and the Moths on the penultimate day of racing at the Moth Worlds.  One more day to go, and the dogs are already blowing down the beach, chains in tatters.
January 15th, 2015 by admin
You saw it all if you watched some of our 4-hour live feed yesterday from the Moth Worlds, but you didn't see it like this.  Hear from the runaway leader and watch 7 high-intensity minutes of the single most epic dinghy racing we've ever seen – from the visual stylings of Petey Crawford…
January 11th, 2015 by admin
Is this just about the pefect embodiment of what a daily highlight reel should be?  Of course it is – it's a Petey Crawford production with Clean on the mic and Gretta on the screen.  Drones, in-water helmet cams, and a rippin' track…have at it, and go here for Carlo Borlenghi's shots of yet another perfect Miami Day.  Live coverage from Clean all day over here, as USA vs. Italy battle gets serious on the final two days of Worlds.  Jason Carroll's got a great little team of anarchists aboard and we'd love to see him two-peat the Worlds, but the parity here is ridiculous, and literally 9 boats are still in this one…
December 6th, 2014 by admin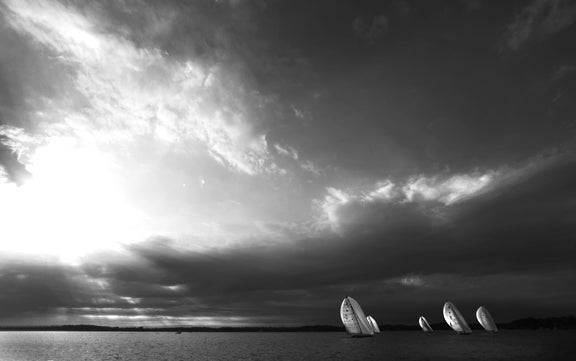 The 2014 Jaguar Land Rover A Scow National Championship is just a day away. I have just returned to Lake Minnetonka and it's a bit like a war zone.  Storms have been ripping through the area for the past week and the water level is at an all-time high. In fact, the entire lake is now a no-wake zone, which means great things for the A-Scows but bad things for spectators and our media team. We will be re-configuring the plan to make sure we bring you as much coverage as possible given the restrictions we are faced with.  Our goal is live video action from the course along with real-time results, near real-time photos, and all kinds of social action – but as usual, we'll be rolling with the flow to share the very best with you from twenty-one of the ass-haulingest inland racing boats in the world.
As you can see from the photo above, the Rodney Dangerfield Cruiser Jackass factor is at zero, and it's amazing how peaceful it is out here.  The sailors all know this might be the best A-Scow racing in history, and everyone is stoked.   Now we just have to hope for a decent weather window, which has been pretty sketchy as of late…Follow along via this front page and the Jaguar/Land Rover A-Scow Nationals Facebook Page
Petey Crawford, Regatta Chair
June 19th, 2014 by admin
The Melges 32 2014 sailing season has arrived, and the class seems to have begun its rebound from the record low turnout this winter and a cancelled Gold Cup last fall. Video stud and reigning world champ mastman Petey Crawford checks in:
With head ARGOnaut Jason Carroll taking the reigns as Class President it's a strong bet that the fleet will again find the golden fleece. Miami is host to the spring event in a few short weeks time as well as hosting the Gold Cup and the World Championship later in the year, and 3 more Melges 32 sanctioned regattas take place this summer in Newport including the US National Championship. With new blood in the fleet and some familiar faces from years past, it appears that the 32 class isn't ready to lay down just yet. Still feeling the effects of my  car vs. bike episode in Key West earlier this year, I sat out the Miami Winter regatta and produced the first of what will be a series of videos targeted to keep stoking the flames. Stay tuned.
March 18th, 2014 by admin
86 keel-less boats screaming downwind under grunty masthead kites sounds pretty good to us; it also looks good thanks to Petey Crawford's Penalty Box Production of the E-boat Nationals last weekend in Lake Geneva.  Tammy Sawyer shot a great gallery here, and Peter Hurling has a massive gallery from the regatta here.  Screw sportboats; this is Scow Country.
September 15th, 2013 by admin