Posts Tagged 'petey crawford'
It's the coolest competition in sailing, and our own Petey Crawford – the King Pimp himself – has hit the road to restore an old Melges 24 to 'like new' glory for the Pimp My Ride competition in association with Sailing Anarchy, a pile of sponsors, and the 2016 Miami Melges 24 Worlds.  The saga begins today and runs all summer long.  Who needs reality TV when we've got everythere right here on the interwebs?
May 24th, 2016 by admin
What do you get when you cross a 24 year old kiteboarder from the Great Plains, an insane creative genius videographer, and a loudmouth Sailing Anarchy editor?  It's called the Charleston Fort2Battery, and it's one of the big successes in ultra-performance sail racing of the past few years.  Watch the video for the full story, and go here to find out about the 2017 edition.
May 17th, 2016 by admin
The man in the hot seat is 2016 Miami Melges 24 Worlds Chairman Petey Crawford, and with 8 months to go before the expected record-setting fleet takes the line, our humble video guru posted the latest in his new bi-weekly series "The View From The Chair."  No communications problems for this World Championship!  From Petey:
These episodes will contain information about the event, interviews with Melges 24 teams talking about Miami sailing, killer sailing pics and footage, and a place where you can get all of the latest news from behind the scenes and on the front line as we plan for the biggest Melges 24 Worlds ever. Stay tuned for more episodes of View From The Chair.
Episode 2, Petey talks about Marriott our official hotel partner ,"Get Registered, Get Swag, Get Stoked" and official merchandise suppliers Musto and Line Honors, 114 boats and counting, Melges Madness Regatta lineup and more. Episode 3 will contain some very big news as well as some killer video and interviews from the Madness Regatta. Stay Tuned….
March 17th, 2016 by admin
Despite the astonishing worldwide explosion in podcasting, sailboat racing remains one of a tiny few pursuits that lacks even a rudimentary presence in this awesome marketplace of ideas.  We've been working to right that ship, but with the highly anticipated Sailing Anarchy Podcast still a little way off, we're extremely stoked to see our old friend and multiple US Multihull Champ John Casey getting the ball rolling for the sport this week with his own JC Worldwide podcast.  JC still doesn't have his iTunes set up yet, but you can keep an eye on the release schedule and download the first two episodes over here.
Click on episode 2 above for a great conversation between John and the guy who helped usher in the modern era of sailboat racing video, "The Rev" Petey Crawford.  Petey and JC get into some hilarious behind-the-scene stories from regattas all over the world, discuss the crazy development of drone racing, talk about media boat crashes, insider politics, Gary Jobson, and all the lips and assholes that go into making sailing media sausage.
December 22nd, 2015 by admin
Penalty Box Productions' Petey Crawford and Melges 24 Class President Jens Wathne take a short break from the action at the M24 Worlds in Middlefart, Denmark, where moth and 49er rivals Bora Gulari and Chris Rast have been battling it out all week.  Rast capitalized on yet more mostly non-planing conditions to take three bullets today, with Bora losing positions to both the Rastaman and Italy's Andrea Rachelli.  Watch it live over here for a couple more days.
Petey's got a bang-up gallery of beauty shots over here and be sure to check in on the front page for more great work from Petey during next week's J/70 Worlds in La Rochelle, FRA.
July 2nd, 2015 by admin
Clean Report
When Sperry signed on to be a part of Sailing Anarchy's year-long media World Tour of some of the most interesting events in our sport, we had no mysteries about why.  "You guys ooze the kind of passion that Sperry was founded on, and we want to help you share it with the world," said Dave, one of their marketing bosses.
That's the easy answer; there is a deeper, more painful answer to 'why?' – and it's the reason Sailing Anarchy has been the world's best sailing website for the past decade.  Because this is not our job; it is our life, and without sailing, there's a good chance that the folks who run the place wouldn't be alive today.
So click the player above and learn what sailing means. To us at SA, to Petey behind the lens, to our sponsors, to our friends, but most importantly, to all the folks who do whatever it takes to bring the next generation to this lifesaving sport.
Gorgeous work from Petey Crawford; The first two parts of the series are here and here.
April 22nd, 2015 by admin
Repeat after me: Sailing ain't a spectator sport.  Yet another myth, busted, thanks to Petey Crawford and the Moths on the penultimate day of racing at the Moth Worlds.  One more day to go, and the dogs are already blowing down the beach, chains in tatters.
January 15th, 2015 by admin
You saw it all if you watched some of our 4-hour live feed yesterday from the Moth Worlds, but you didn't see it like this.  Hear from the runaway leader and watch 7 high-intensity minutes of the single most epic dinghy racing we've ever seen – from the visual stylings of Petey Crawford…
January 11th, 2015 by admin
Is this just about the pefect embodiment of what a daily highlight reel should be?  Of course it is – it's a Petey Crawford production with Clean on the mic and Gretta on the screen.  Drones, in-water helmet cams, and a rippin' track…have at it, and go here for Carlo Borlenghi's shots of yet another perfect Miami Day.  Live coverage from Clean all day over here, as USA vs. Italy battle gets serious on the final two days of Worlds.  Jason Carroll's got a great little team of anarchists aboard and we'd love to see him two-peat the Worlds, but the parity here is ridiculous, and literally 9 boats are still in this one…
December 6th, 2014 by admin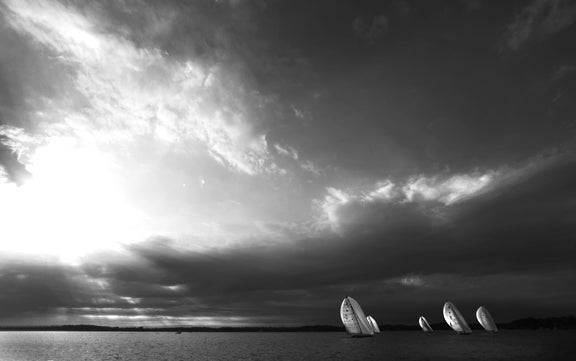 The 2014 Jaguar Land Rover A Scow National Championship is just a day away. I have just returned to Lake Minnetonka and it's a bit like a war zone.  Storms have been ripping through the area for the past week and the water level is at an all-time high. In fact, the entire lake is now a no-wake zone, which means great things for the A-Scows but bad things for spectators and our media team. We will be re-configuring the plan to make sure we bring you as much coverage as possible given the restrictions we are faced with.  Our goal is live video action from the course along with real-time results, near real-time photos, and all kinds of social action – but as usual, we'll be rolling with the flow to share the very best with you from twenty-one of the ass-haulingest inland racing boats in the world.
As you can see from the photo above, the Rodney Dangerfield Cruiser Jackass factor is at zero, and it's amazing how peaceful it is out here.  The sailors all know this might be the best A-Scow racing in history, and everyone is stoked.   Now we just have to hope for a decent weather window, which has been pretty sketchy as of late…Follow along via this front page and the Jaguar/Land Rover A-Scow Nationals Facebook Page
Petey Crawford, Regatta Chair
June 19th, 2014 by admin