Posts Tagged 'Paris'
There's only one place in the world where you'd see an 60-foot racing yacht hoisted up on a nation's most recognizable landmark, and it's no surprise that place is France.  Go here to find out what's going on with Initiatives Coeur and the Eiffel Tower this coming May.  Head to the finally-winding-down Vendee Globe thread for more info.
March 22nd, 2017 by admin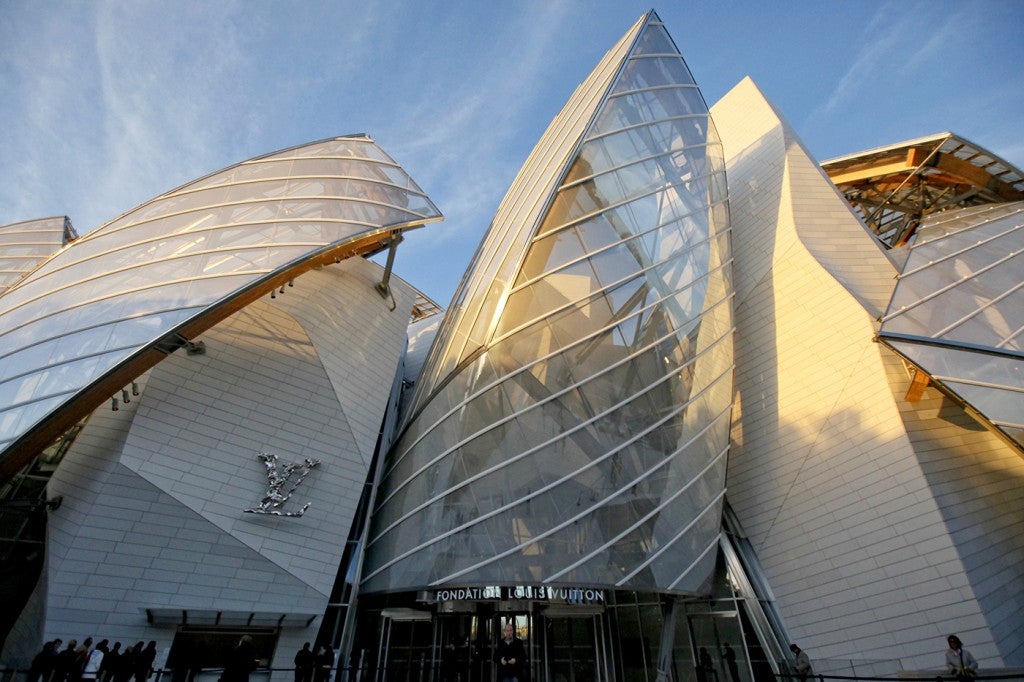 Better known for its late night ladyboy whores, Paris's Bois-Du-Boulogne is also one of the city's biggest and prettiest parks and gardens – at least during the day.  And now, after a nearly decade-long saga, it's also the home of one of the world's most interesting 'sailboats'.
Meet the Louis Vuitton Foundation's brand new art museum and cultural center, a $150-million building that's a piece of art in itself.  Designed by Frank Gehry and created to look like a stylized tall ship with dozens of flowing sails, the museum's facade features some 3,600 glass and 19,000 concrete panels, which were simulated and then molded by industrial robots.
See what you can do when you keep that America's Cup sponsorship money in your pocket?  Gorgeous work from Christophe Launay, with a big gallery here.  Video here.
November 24th, 2014 by admin
Ryan Breymaier doesn't just do huge trimarans and Open 60s; he's also got an F-18 and loves hauling ass in little boats as well as big.  Last week, the Annapolis native and now adopted French super-rigger hopped over to Paris's massive boat show – the Nautic  – for a few meetings and round table discussions with the IMOCA and Barcelona World Race folks.  While there, he checked in on a couple of extremely cool small-boat projects we've been following from afar, and he gives us a real pro's look at the first of them below.  Be sure to Like Ryan's Facebook Page here, and if you think your company might benefit from the kind of exposure Ryan's prospective Vendee Globe bid would produce, get in touch with him today!
Other than the two C-Class cats on display at the Salon Nautique De Paris, the most interesting boats by far were the Flying Phantom and the Diam 24 OD trimaran.  At first glance they may seem competitors in the small racing multihull segment, they are in reality aimed at two very different skippers.
The Diam is for the F-18, A-Cat, or sportboat skipper looking to still go fast, but to do it with a bit more comfort; in other words, no trapeze.  Next week, I'll give you my take on that sexy little trimaran from VPLP.
Today though, I'll focus on Alex Udin's flying catamaran, and it's definitely for the 'young gun' beach cat sailor ready to step up to the next level – the foiling level.  Developer and creator Alex Udin (Sail Innovation) is quoting speeds of up to 30 knots downwind and sailing upwind at 55 degrees TWA, skimming the surface like the AC72s at the end of the San Francisco fun.  Want to foil upwind?  Crack off in a breeze to around 14 knots of boat speed and pop it up, then go upwind a few feet above the surface.
Since I tend to look at things through somewhat cynical and very specialized eyes, I like to get my wife Nicola's opinion first.  She sails the F-18 with me and is a keen observer, and to her eye, the Phantom is a really, really nice looking boat!  They've followed some of the recent trends in cars; lots of graphics options and a matte paintjob that's very cool and even a bit non-skid.  Of course the bottom will be wet-sanded and polished to a mirror sheen by any serious racer, but Alex clearly spent a lot of time making sure the Phantom looked just as good as it's meant to sail.
With the subjective out of the way, I had a long look at the technical side of the Phantom.  The hulls are all carbon with a nomex core, carbon mast and carbon boom, with the hulls connected by huge alloy beams from the Cirrus F-18.  This guarantees a super-stiff platform without a lot of weight.
The hulls have a sweet profile with no distortion and plenty of volume in the bows; perhaps not so important for a boat designed to stay on the foils the vast majority of the time, but still pretty good to have when inevitable splashdown happens.
Test pilot Gurvan Bontemps is a top F-18 sailor who recently raced the Patient Lady at the Little AC in Falmouth, and he said without a smile that the boat is up on the foils in 7 knots of TWS (though he looked at my frame and said 'maybe 8 with you aboard'), and that, contrary to what you might think, it's just a bit more twitchy than a stock F-18.  A foiler for mere mortals?  It could be.
The rudders are high aspect ratio, with ultra high aspect ratio elevators that bring to mind a moth's T-rudders.  The rudders are mounted in lifting cassettes; not for adjustment underway, but for beaching and launching.  The rake adjustments come via the cassette mounts; instead of normal pintles and gudgeous, the cassettes attach to the boat with uniballs to allow the boat to be properly balanced with angle-of-attack adjustments to the entire rudder and elevator.
One of the keys to the supposedly straightforward foiling performance of the Phantom is the angle of the J-foil to the daggerboard upright; it's quite closed instead of a right angle or something even more open; combined with the increased beam of the boat (compared to the F-18), this means stable foiling, meant for mere mortals rather than just the Franck Cammases and Mischa Heemskerks of the world.
Unlike the Oracle, ETNZ, or Team Hydros boats there is no cant adjustment for the boat (inboard/outboard foil movement); the Phantom only allows fore/aft rake adjustment with an endlesss string/worm gear moving the upper foil and thereby changing AoA on the main foil.  This sets the median speed of the boat and to some extent, the ride height, with the boat self-levelling as more of the foil comes out of the water.  In a great innovation and something we saw on the gorgeous Groupama C boat, the weather board is lifted not by a block and tackle, but by the weight of the crew as he or she wires up on the new tack.  Anyone who's pulled up loaded boards knows this is a huge labor saver, and these boards are around 12 kg of pure carbon!
In the photo to the left, you can also see the camcleat for the 4:1 board downhaul – a necessity for foils developing enough lift to support the entire platform plus two crew, plus all the power generated by the very high aspect rig.  I couldn't even get a good picture of the full mast; it was well into the rafters of the Nautic convention center. Attached is a sail plan drawing that shows it off well, and in person, the sails are beautiful.
I asked the obvious question as to what happens when you 'yard sale', and Gurvan says that a high speed capsize isn't much worse than on an F-18 other than one thing: You fly a lot further through the air because you start so much higher up. In any case, the platform is as solid as can be, and according to the test sailors, it can easily take plenty of abuse.
At the boat show the cost is 32,000 Euro, which seems like a lot for a 20-footer.  But remember that this includes VAT and other shipping fees.  And when you add up the latest foil technology, the excellently-finished carbon construction, and all the design and testing work that has gone into it, I am sure it would be a bargain at twice the price.
2 boats have already been sold to one America's Cup team,  and several other prospective AC teams are negotiating for more.  TNZ were at the booth when I was, and they were at least as interested as anyone I saw.  Udin took 13 paid orders overall at the Nautic; not a bad start at all.
Will it really be easy enough to sail to gain mass acceptance?  The jury is still out on that one for a few more weeks.  But if so, I can imagine some incredible racing and a real game changer.
Get in touch with Alex Udin for more info or to order your Flying Phantom at [email protected].
December 17th, 2013 by admin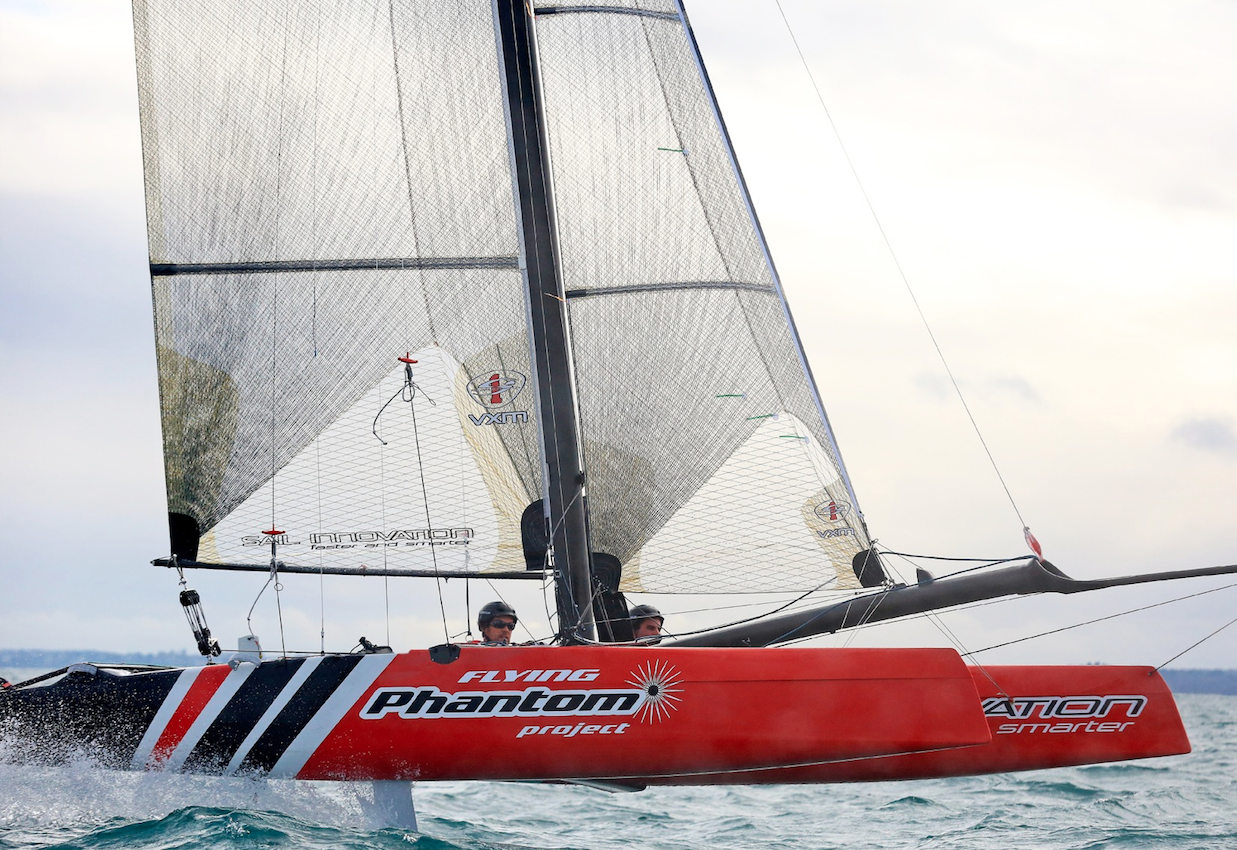 Our old pal Alex Udin officially launches his Martin Fischer-designed, Franck Cammas-tested Flying Phantom at next week's Paris Boat Show; will this sexy, well turned-out 18-footer finally open the floodgates on production foilers for the masses?  It very well might be, especially if, as we've been told, the Phantom is exceptionally stable and easy to fly.  We're also told it won't break the bank,  you can get it in about 17,000 different colors and patterns, and they've got piles of orders from everyone from old mothies to America's Cup teams.
Have a peak at this excellent official promo video out yesterday, and for a more in-depth discussion on the boat and its creator, here's a longer chat between Alex and Mr. Clean last month in England.
November 25th, 2013 by admin