Posts Tagged 'paprec-virbac'
The skipper of Annapolis, MD registered Beneteau Halcyon Daze earns himself SA's rarely-awarded and highly feared Douchebag of the Month award after crashing into the six million dollars worth of MOD-70 Paprec-Virbac in New York's Morris Canal earlier this week – and trying to flee the scene of the crime!  Fortunately, our longtime pal Bjorn Kils from NY Media Boat deputy-dogged the dickbag and brought a little justice to bear.  Here's more from Bjorn:
Yesterday we saw the 38 foot sailing vessel 'Halcyon Daze' strike the docked MOD70 trimaran 'Virbac-Paprec' in Morris Canal, causing damage to the carbon fiber hull. The captain tried to make a run for it without reporting the incident so we motored up to him to see what he had to say.
While his crew was attempting to remove the MOD70 paint evidence from their starboard hull and railing, the captain unfurled the main sail ignoring all verbal requests to return and report the damage.
An NYPD boat quickly joined us on the 4-knot "chase" down the Hudson, ordering Daze to stop. The captain tried his best to ignore the NYPD's sirens, lights, and hailer, but after a few minutes, he was forced to return to port and face the damage.
Got a story about someone who deserves some serious naming and shaming?  Hit us up.
May 30th, 2014 by admin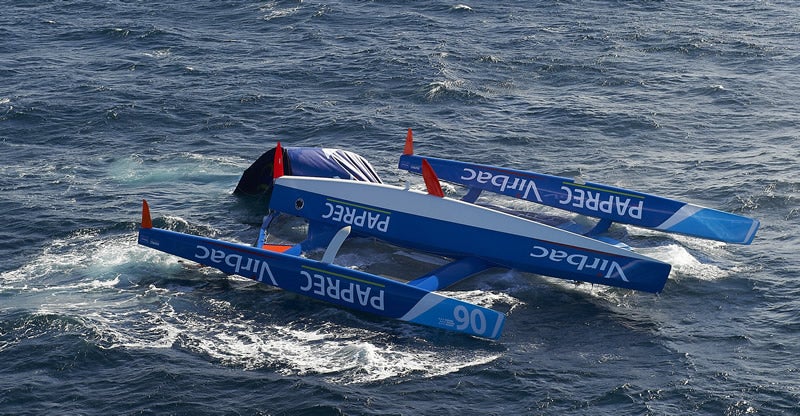 France's Equipe and Voiles-Multihull blogs are sadly reporting that Jean-Pierre Dick's MOD 70 Paprec-Virbac is up for sale after her nasty capsize before last month's TJV.  It should be the final death knell of a class that now has 7 boats built and at least 3 on the market, with no real buyers at all.  A casualty of poor management and communication by the hodgepodge Franco-Suisse bosses as much as a dire economy in parts of Europe, JPD learned what most suspected and the MOD Class discussed before the first boat was ever built:  These things really are just too much for shorthanded or singlehanded sailing.
So if you were thinking about picking up one of those ORMA trimarans, or maybe just looking for a record-breaker, and you fancy owning one of the fastest sailboats ever built, it's a buyer's market…especially if you have a spare rig lying around.  Get your wallets out!
December 10th, 2013 by admin