Posts Tagged 'outremer'
Gunboat Tech/Sales Director Nils Erickson got bored on the plane to the Caribbean and came up with this gem of a Form Guide for the high performance, HNW, hard-partying luxury cat racing class at the BVI.  This is too good a piece for plain old pimpin', but always consider the source!  
Hot on the heels of the St. Thomas International Regatta, this year's BVI Spring Regatta may well feature the hottest collection of performance multihulls ever assembled on Virgin Island waters.  This burgeoning market segment is seeing new players in what was once Gunboat's private playground, and with events not only in the Caribbean but in places like Palma (where last summer's Multihull Cup attracted 3 Gunboats, an HH-66, MC2-60 and APC78), the future of big multihull sailing looks bright indeed.
Traditionally, Gunboats have made the Heineken Regatta their winter event of choice, but this year the fleet has settled on the BVI Spring Regatta in Tortola. Nanny Cay Marina has been running the event for several years now, and it's become one of the best events on the calendar. With over 100 new slips open this season and constant improvements to the facility, Nanny Cay and BVI Spring Regatta have become a premier destination and event. This regatta will feature the fastest versions of 4 different platforms (Gunboat 60, Gunboat 62, Gunboat 66, and HH66) which should provide for some compelling action and some great stories.  With that in mind, here's my shot at an impartial Form Guide for the event, and we encourage you to follow along at Gunboat's Facebook page here.
Extreme H2O (Gunboat 66): She's the reigning queen of the West Coast performance cats having won catamaran line honors in almost every race she's entered (Cabo, Transpac, etc). She's left the Left Coast in search of stiffer competition and hopefully a new home (she's for sale). Extreme H2O will face off with her East Coast rivals for the very first time. This Morrelli Melvin designed Gunboat 66 is the most technologically advanced Gunboat out there (hybrid drive system, HUGE C boards, T-rudders, etc) and she's arguably the fastest Gunboat afloat. Weighing it at a svelte 17 tons, she's still going to need a bit of breeze to take advantage of her greater righting moment compared to lighter and smaller Elvis. Extreme H2O will be sailed by Team Gunboat, with Vincent (the LP of VPLP), Xavier, and Matthias also from VPLP, as well as some of Gunboat's French internal design and management team. Hopefully, Extreme H2O project manager Malcolm Park, skipper Hannah Jenner and her core crew can make up for the desk jockeys (myself included) that will be "trying to help". VI legend/Olympic/America's Cup/all-around rockstar Peter Holmberg will be joining to offer some local knowledge and expertise as well. He's recently purchased an Outremer for his own personal enjoyment, so he's the latest member of Gunboat's extended "family". (Photo credit Ultimate Sailing/Sharon Green).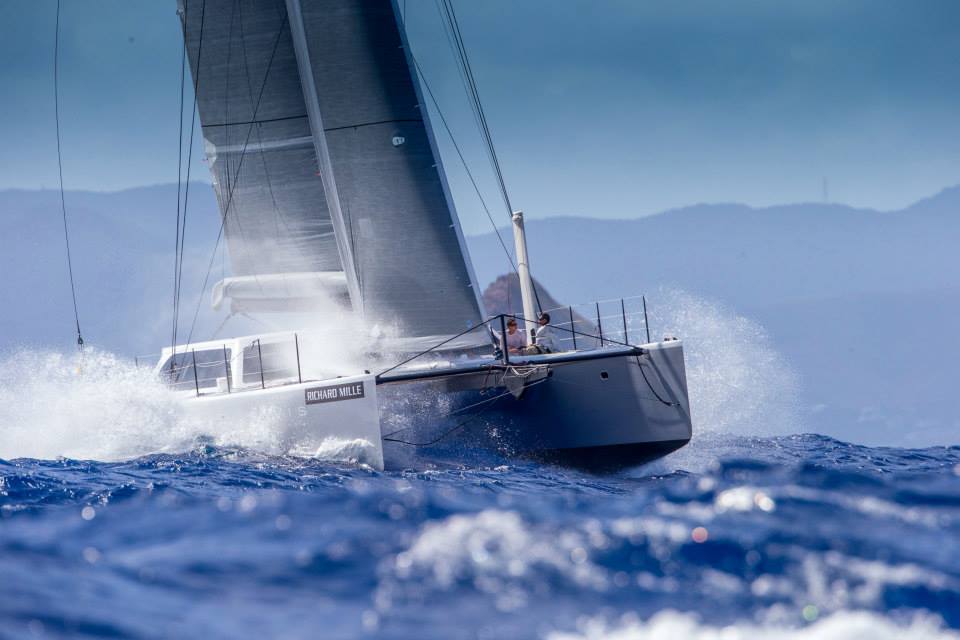 Elvis (Gunboat 62): The King. Jason and the Argonauts. Throw a dart on that boat and you'll hit a world champ. Their bench is deep with talent. Not only is Jason one of the best owner/drivers out there, he's one of the best drivers out there, period. When they aren't sailing on the Gunboat, they are busy in the GC32 circuit. When they aren't doing that, they are crushing it on the Melges 32, Marstrom 32, Viper, whatever is fast and fun. These guys rarely make a mistake on the course and they are fast into and out of the corners with superb sail-handling. At <15 tons she is powered up early, and these boys stay on the throttle up the wind range (I'm not sure they even know HOW to reef). Combined with a devoted rum tank and a booming stereo system, these guys know how to race hard, play hard.  Photo credit Christophe Jouany.
Flow (Gunboat 60): Hustle and Flow. The first Gunboat 60 to be fully optimized, she has redefined what we can expect from the Gunboat 60. There's been rigorous preparation of the boat by one of the industry's best skippers, Tony Teale. Rigging Project's Nick Black has gone through the deck gear, layout, and helped with a new Lorima ultra high mod rig, Jack Slattery has spearheaded a new suit of 3di Sails, and America's most famous multihull sailor and all around dynamo, Cam Lewis, is their own "Neal Cassidy".  Coming out of a refit that pulled 2 tons (!) out of the boat, they are sailing at the top of the game. Photo Credit Laurens Morel
Arethusa (Gunboat 60): No one better exemplifies the real benefits of a Gunboat like NYYC Commodore and Gunboat 60 owner Phil Lotz. He and his wife have spent the last several weeks living aboard, doing some racing and some cruising. They are more Corinthian in spirit, making full use of their boat before, during, and after the regattas. There's nothing like racing at 25 knots, then coming back and cooking a delicious meal and enjoying the sunset from the aft deck of the very same boat. Phil has no shortage of trophies on his mantle, and they are fantastic sailors. They've (so far) avoided the arms race, but with Phil's energy behind the new MultiRule rating rule, there should be more parity among the fleet. Photo credit: Gary Jobson
Momentum (Gunboat 60): Hide your daughters and bring your ear muffs. These Jamaicans WILL have more fun than anyone, guaranteed. The boat has 23 speakers and no shortage of Red Stripes. Legendary skipper Lucky Mike (picture a bald, S. African Captain Ron) and the rest of the crew will be the life of the party.  Photo credit: Lucky Mike
Dominator (Outremer 5x): These guys were the big surprise at this year's Heineken Regatta, beating larger (and way more expensive) boats on the water. Skippered by Gunboat 62 "Elvis" alum Dave Allen, and owned by the father of an Olympic sailor and Rolex Yachtwomen of the Year, this is a family that knows how to sail and these guys are punching way above their weight class. I expect Gunboat and Outremer owner Xavier Desmarest to be shocked at what you can do with/to an Outremer. Still in its original configuration, these guys are just sailing harder and smarter, and it shows.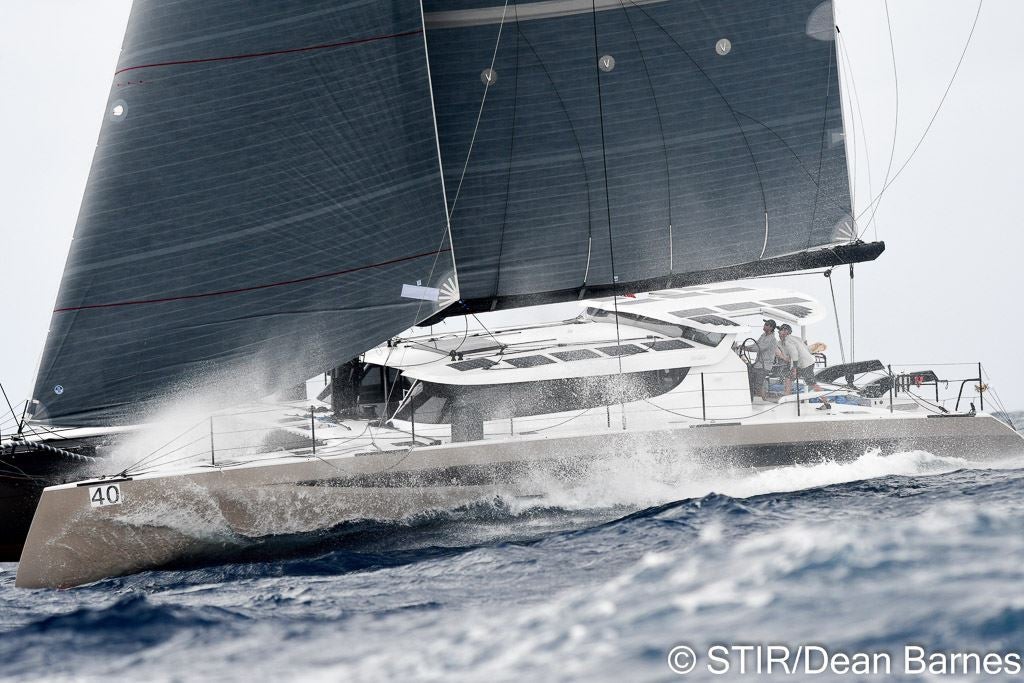 Nala (HH66): The lightest, fastest, and most turbo'd HH66, Nala will be one of the fastest boats on the course. Coming off a big win at STIR, expectations are high for the boat. Owner Jim Vos is a fantastic monohull sailor who is taking his first steps into the multihull scene. He did spend the summer training on his A-Cat, though, so he should be comfortable at the helm. With HH designer Gino Morrelli backing him up and Kenny Read in the afterguard, this boat should be a real threat for line honors. Most people think of Kenny as a monohull guy (Puma, Comanche, Stars and Stripes), but don't forget that he also owned a Marstrom 32 and previously owned my Formula 40, Soma, so multihulls are in his blood. Nala is over 3 tons lighter than her sistership R-Six, so any conclusions drawn about the HH66 based on R-Six's performance at the C600 or Heineken will have to be reevaluated after BVI Spring. (Full disclosure, I was owner's rep for the build of Nala for two years before I accepted the job at Gunboat. We pulled 3 tons out of the platform and turbo'd the mast, boom, and longeron. Despite my role with Gunboat I'm still quite proud of what we came up with. Go Nala!).  Photo credit on the shot with thanks to our old pal L for sourcing it.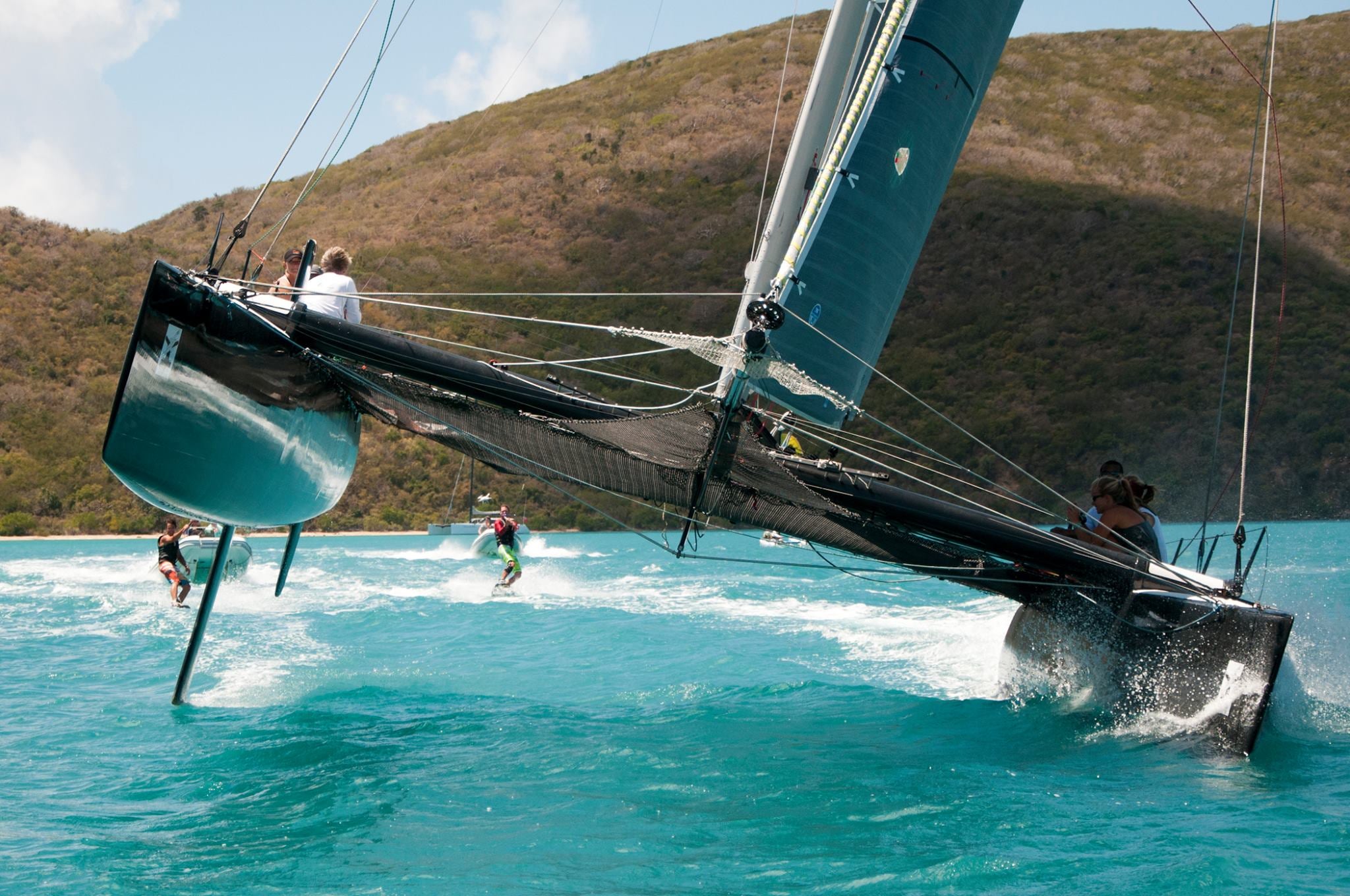 Conspicuously absent this year will be defending champ, Soma. She does have front row seats for all the action in the Sir Francis Drake Channel, though. Like Melania Trump, Soma is just a forgotten and unloved trophy wife…Photo credit: Mar Javierto
In the end, though, it's not about who's got the tallest mast or the most trophies. It has been (and hopefully will remain) about the people and times. The camaraderie on the dock, the time with friends and family, and the late-night repairs (and other shenanigans) are what make the events memorable and why people come back. We at Gunboat have got some fun events planned for the fleet that will hopefully form the backbone of a new tradition moving forward. VPLP are organizing a party at the Willy T (which should be legendary), BVI Painters and Nanny Cay are hosting a cocktail party in the new marina. Of course, Nanny Cay and the organizers of BVI Spring Regatta are responsible for all of it, so big thanks to Cameron, Miles, Emily, Judy, and everyone else there, too.
Though Gunboat invented this market segment, it's a big tent and there's room for everyone.
March 28th, 2017 by admin
While there will always be ratings complaints whenever two different boats race, it's excellent to see the high-performance cruising cat fleet playing nice with one another for the always-enjoyable St. Maarten Heineken Regatta.  Here's one Gunboat 60 sailor's breakdown of the performance and variables between the Gunboats, HH, Outremer, and the blazing fast and nosey Bieker 53 Fujin, shot above by Lorens Morel with a decent gallery here.  Hit the thread to talk to crews from many of the boats, and thanks to SA'er 'pyrat' for the report. DISCLAIMER: SA has ties to every boat in this fleet, with Gunboat (and Outremer, a related company) and HH both advertising here, and Paul Bieker a long time SAer, which is why we're not giving any opinions, and instead relying on a Gunboat sailors' report.  Got your own report from a Caribbean regatta? Send it in and see your name on the world famous Front Page.
Fujin is an entirely different beast from the rest of the class. Primarily, she's about 10 tons lighter than the lightest GB, and something like 18 tons lighter than the HH… Fujin to me is much closer to a true racing multi than 'what the rest of the world' considers an offshore/luxury/cruising multi. That said, they cruise and sail that thing offshore and big props to them – very cool boat, very well sailed, and they deserve the trophy and then some – so no hate here at all, just saying, when you get past by that thing upwind (from a GB60) at nearly double your own boat speed, you realize that it would be silly to try and gauge your performance against their mark. I think it is equally as silly to try to handicap that machine with a GB, HH, or Outremer. Its like trying to rate a Swan 60 against an IMOCA 60.
The Outremer is an impressive boat for roughly a third of the price of the larger cats. She stuck on our hip boat-for-boat every race, and corrected out on top of us each time. I will point out that it was a very heavy weather regatta, and she likely benefitted from a smaller rig & sail plan vs the GB's who required a reef some days, but still, props to them for sailing well and keeping the pressure on us on the water.
The HH was a monster upwind – walking over the entire fleet every windward leg (except Fujin) – but a total dog downwind. Word is that the next one (hull#3) is a different beast from this first one, and that 'dog' will not be among the adjectives that describe her on any point of sail. Very curious to see how she goes.
The most interesting matchup of the regatta for me was the two GB60's. Flow has gone a bit further than Arethusa in the way of turbo'ing the boat (larger & lighter mainsail, primarily), but is still very much a comfortable/luxury cruising cat, and absolutely walked away from Arethusa on every leg. Both boats were well sailed without any major fuckups, slow-downs, or penalties. While it could be argued that Arethusa has fewer miles on the course and is further back along the learning curve with performance multi racing, the gap between the boats was surprising and impressive. Props to Flow for pushing the boat hard and showing everyone what's capable on a 60 (or any of the NID boats). Hoping to see them, and eventually Arethusa, give the HH's and faster 62's a good fight in the future.
As far as ratings go – I think the new attempt is neccessary, well-intended, and properly backed. The leaders of the OA are going about it in the right way and spending the neccessary time, money, and effort on the algorithm. The behind the scenes meeting of the minds was impressive and eye-opening. The idea is to end this old argument (see above!!) about cruising vs racing multis. It is a fair argument to say that it is silly to go 'so far' with turboing a boat but not actually go all the way to 'fully stripped race boat'. Most of the owners know that and agree. BUT they bought a fast boat because fast is fun, and the racing scene is addictive and competitive, and they want to have a chance against the other boats in the class, so an arms race is inevitable. If the new system works as it is supposed to, the owners who wish to live comfortably aboard their cruising boats for regattas (no stripping weight) will be able to compete fairly against the owners who DO go all the way towards full race boat. In that way, you can make the fast/cruising cat class whatever the hell you want to suit your preferences! To the naysayers who grumble that it is absurd to race around with an interior – look the hell around!! How many boats would be on the line at ANY of the Caribbean regattas if only dedicated racers were allowed? And how many sailors would get to experience racing? And learn to sail their boat better/faster? Get real guys!
March 10th, 2017 by admin

Outremer: Pronunciation: /ˈo͞otrəˌmer/ – A name applied to the medieval French crusader states, including Armenia, Antioch, Tripoli, and Jerusalem. Origin:  From French outremer (adverb) 'overseas', from outre 'beyond' + mer 'sea'.
The secret 'stalking horse' bidder for the bankrupt Gunboat company has finally popped up in the court filings for the beleaguered American icon, and who better to take over a high-performance offshore catamaran company than the country that invented high performance offshore catamarans?

That's what Southern France's Outremer Catamarans is aiming to do if the Court accepts their $500,000 bid for the North Carolina company's molds, hulls, marketing lists, trendy swag, and quite possibly the G4 Timbalero.  Meanwhile, our old friends and the co-designers of the G4, Schickler Tagliapetra, have already moved on to develop a 'baby G4' under the Stiletto name.

Our Senior Editor says Outremer CEO Xavier Desmarest is the real deal.  "This guy oozes passion for the sport, has a refreshing and powerful concept of loyalty to his customers," said Mr. Clean, who spent a couple of hours at the Outremer factory back in 2013.  "He seems to understand the 'business of high performance cruising' far better than most, which was probably Gunboat's biggest failing."
April 13th, 2016 by admin