Posts Tagged 'ORMA 60'
Our Senior Editor has been tapped to turn the handles on this beast for next week's 2017 season opener. Be sure to keep an eye on Facebook and right here on SA to follow along and catch some live ORMA 60 racing action aboard the fastest boat in the Great Lakes next week in Lake Erie, and stay tuned for some very interesting stuff Rick and the Arete guys have been working on this winter…
May 31st, 2017 by admin
The SA Podcast returns with Episode 8, and it's a big one; over 3 hours of funny, interesting, and informative chat with some of the real characters in Midwest sailing.  First, we grabbed an hour via Skype with Bayview-Mackinac record-setting navigator Ron White from the ORMA 60 ARETE to find out about their Mack record, future plans for the fastest boat in the lakes, the likelihood of an ORMA/MOD trimaran freshwater series next year, and whether we'll soon see fleets of day-racing cats battling for the overall honors in the Chi-Mac.
After that we've got two hours of hilarity on the shores of Harbor Springs, MI with Melges 32 World Champion and longtime Anarchy videographer Petey Crawford and Detroit racer Blay Schoenherr on a multitude of subjects; the sordid details of the brutal crash between the 12-metre Courageous and a grip of boats (including Petey's) at the NYYC Round the Island race and Courageous navigator Gary Jobson's later attempt to deny responsibility for it, race reports from Blay on a 70-foot sled, the suicide of the nastiest bar owner in any sailing venue anywhere, the olympics, who drinks the most on the SA Podcast, and much, much more.
If you don't have a Podcast or can't play the episode above, head over here for the direct download link.
August 15th, 2016 by admin
Rick Warner's ORMA 60 Arete (ex-Sopra) shattered her 2015 BYC-Mack record by more than an hour, beating in everything by a long, long way (as she should).  With the speedy old Windquest mothballed for the race (some of the DeVos clan will be racing cats in Harbor Springs next week), Arete was in another time zone from the rest of the fleet. Results are here.
We'd send you to the tracker, but we're boycotting it.  Hey Bayview, is it really necessary to require us to avow that we're 21 years old to watch a tracker?  Listen – we get that Bell's wants to get the exposure, and we think it's very cool that you have a brewery – an ex
cellent brewery – sponsoring your marquee race.  But consider the message you're sending to the public and your own aging membership: It says, "Hey Kids: Either lie on the form, or you're shit out of luck."
Keep an eye on SA's Facebook Page, we're we'll be doing some live stuff from the deck of the mighty trimaran during the Round Mackinac Island Race after the CYC Mack.
July 17th, 2016 by admin
Two Bayview Mackinac race courses means two great race reports, and we've got one each from the boats that took line honors.  Tim Kent is the boat captain of longtime Great Lakes multihuller Rick Warner's ORMA 60 Arèté, which beat out the Volvo 70 and MaxZ86s to give some first-to-finish love back to the multihull community after a decade-long drought.  And long, longtime SA'er (and former Mr. Clean crewmate) Paul Hulsey was the skipper of Holy Hand Grenade, taking advantage of the new, smaller size limit for BYC-Mack boats to bring his Melges 24 home first on the Shore Course.  Here are their stories:
Higher and Faster
The start of the 2015 Bayview Port Huron to Mackinac Race promised action, if nothing else.  Weather alerts were beeping and braying from the VHF and everyone's cell phone radar app showed it – there was a nasty front heading toward the 237 boats that had just started.  A quick survey of the fleet showed skippers were of two schools; they either felt there was no reason to haul down their big kite, or they were bareheaded with reefs.
On board Rick Warner's ORMA 60 Areté, we were prepared.  Everyone was foulied up, and as the boats on the beach near Michigan's "thumb" started to show the effects of the wind, we rolled up the big gennaker and switched to the J2, deploying the leeward lifting foil even though we weren't fast enough for it – yet.  We were already blasting through the fleets ahead of us, with spotters on the low side advising Rick on whether to take boats high or low.  Our "out" – the direction we had to turn if we got blasted by a sudden squall – was down at this point of sail, and we wanted to allow plenty of room for the big girl to run if we got nailed.
When the breeze hit, we were ready.  The full main and J2 were the right call, if just barely, and Areté accelerated instantly, the leeward ama coming within inches of going full submarine.  The foil did its work, keeping the boat on its feet, and we took off at just under 30, though no one had time to give more than the shortest glance at the knotmeter; were all busy easing sheets, traveler, barber haulers, and spotting traffic.  Most of the boats in the fleet handled the transition well, but we had to dodge a few that were sailing…unpredictably.
Running the Yellowbrick Tracker replay just after this point was great fun for us; The entire fleet is bunched up like a fist and then – pop! – out comes Areté like a watermelon seed squirting between the fingers! This part of the race was all about speed, reaching hard in a fast boat. As we headed toward the Cove Island buoy, we went back to the gennaker, then down to the J1 and a reef as the wind built later in the day.  And that reef caused a major problem we'd learn about soon.
Areté has halyard locks at both full hoist and at the first reef to reduce compression on her beefy wing mast.  When it came time to shake the reef, we had to slow the boat, bring her almost head-to-wind, raise the sail and engage the lock.  It's a bit of a process that we are still learning and it does not always work the first time.  But this time it did not work the second time, or the fourth, or the tenth time.  All that time, we were bleeding miles that we had built over the big chasing monos Windquest and il Mostro.  We finally gave up, locked in at the first reef and took off, cursing the lost miles.
Before dark, with the wind clearly in full-hoist mode, we sent Mike McGarry, our ace repair guy, aloft.  Once again, we slowed the boat and tried to engage the lock.  We were communicating with Mike by VHF and after trying to engage at full hoist again…with the boat fully slowed…he told us to bring him down for parts.  The headboard car where the lock release and engagement lines had broken…up he went again and after almost an hour of painfully creeping along at 12 knots – slow for us – he had the lock fixed and – as the sun completely set – we brought him down with the main fully hoisted and set out to make up a LOT of lost time.
As we rounded the Cove Island buoy, we did so with Windquest just a quarter mile behind us.  We were going higher and faster and soon left her behind.  But we were sure that the VO 70 il Mostro was still ahead and sure enough, several hours later she turned up on AIS – ten miles ahead.  Ten miles.
As it turns out, it was not enough for her.  Areté was sailing the beat as high as she was – and faster.  As we neared il Mostro, she tacked to cover us.  We cracked sheets, blew through below her, then hardened up and headed for the Island.  So much for multihulls not going to weather.  The big mono was in sight the whole time and as we got to Bois Blanc Island we had left her behind, ultimately finishing seven miles ahead.
We had accomplished the key challenge that Rick had set for himself, the team and the boat – first to finish!  In so doing, we set the record for the fastest elapsed time ever for the Cove Island course – 23 hours, 12 minutes, 51 seconds.
We know that we left time out on the water.  The fact is that Rick and crew essentially took a boat that had been in corporate day charter for five years, sailed it across the Atlantic and through the St. Lawrence Seaway to the Great Lakes, put some new sails on it and went racing.  Evidence of years of deferred maintenance showed up all the time, and the crew McGuyvered their way through it –reveling all the time in the native speed and sheer competence of the boat.  We have a lot to learn and more speed to find, but this was an excellent way to wrap up the distance racing part of Areté's first season – first to finish and a record.  More to come if you stay tuned on our Facebook Page, and thanks to everyone watching!
-Tim Kent
Little Boat, Big Lake

Well that was a hell of a fun race!  Let me start with a small recap of the events and then I will move on to lessons learned and ideas for next year.  That's right, we're doing it again!
Heading out on Saturday Morning was pretty exciting.  Most of the other boats were very supportive but there were a few that thought we were crazy.  By all accounts the weather forecast looked fair with winds predominately predicted to be out of the south for Saturday and then shifting to westerly's by Saturday night and then going to North Westerly's on Sunday morning through late Sunday Evening.  As most of you know, there was also a rather large storm cell moving in from the west that ended up hitting about an hour into the race.
The start was a little confusing as the starting times were all jumbled due to the lack of wind.  I believe we ended up starting at 1:00pm, with a scheduled start time at 12:50.  Can't believe it but we, on HH Grenade, were called over early with two other boats and had to clear ourselves down near the pin end of the line.  At first I was a little upset, but that quickly disappeared as we were off on port tack heading at the beach with the wind filling from the west.  In about five minutes we went from dead last to the clear leader, racing alongside the M24 Gnarly Ruca as we headed down the Michigan shoreline, catching and passing nearly all the earlier starters in less than an hour.  As predicted, the storm cell moved in over the land and when the squall line was about 1/4 mile away, we dumped the kite and waited to furl the jib until the last minute.  There were reports that the wind speeds might reach as high as 50 knots so we were being a little on the cautious side, putting on life jackets and clipping in with harnesses.  When the squall hit it was pretty mild, with winds out of the west at 25 to 30 for a very short three to five minutes and then dropping rapidly to about 10 knots.  In the mess we managed to slip past Gnarly  and added about a 1/2 mile lead our class with only a very small number of boats still in front.
As the winds settled in they turned back to the South at about 11 knots.  This may sound like perfect MELGES24 weather to the uninitiated, but in fact this is some of the worst stuff for us in a mixed fleet; we have to sail angles, and the competition just squares back, eases sheets, and rumbles down the rhumb line. These conditions held from about 4pm until 10pm and we were able to hold our lead – just barely – as a few others, including the all-conquering C&C Mark2 Eliminator, were able to pull within a few boatlengths.
As predicted, Saturday night's breeze shifted into the WSW, and we were were jib reaching at about 75 degrees apparent.  Top wind speeds went to about 15 to 18 apparent.  A little better for us, as the two lead Melges24's pulled out on the fleet once again to about an 11 mile lead going into Alpena by early morning.  Alpena was a little tricky as there was a dead spot close to shore with a transition zone; on the South side winds were light out of the South and on the North side there were steady winds out of the North West.  We were a bit too conservative, passing by the zone about two miles from shore.  Gnarly decided to cut the corner (as did most of the fleet) and pulled within about 1/2 mile of us.
From there we match raced the other M24 for 50 miles on a dead beat always trying to protect the left side of the course.  We had reports of the wind swinging back to the SW and also the waves were much more manageable on the shore.  Gnarly did a great job of splitting tacks and always keeping some leverage for making small gains.  At around 8:00 PM on Sunday the winds did manage to turn south slowly allowing us to fetch and then pop a code zero for our final run into the island.  We managed to hold our 1 1/2 to 2 mile lead over the other 24 in the end but they made it pretty exciting on a few occasions coming as close a a few hundred yards.
Lessons Learned:
1.  The toughest part of the race was managing fatigue.  Despite our best efforts, there is just no sleeping on the Melges 24 in any kind of hiking conditions.  The only time that we had conditions for sleeping was on the first day while running downwind – of course, none of us were tired at that point!  We did manage to shift drivers every hour or so to keep people fresh (relative term) on the helm.  I will admit that on Sunday, during full sleep deprivation conditions, it was a bit quiet on the boat and tensions ran high whenever the other 24 pushed us.  As we got closer to the island I think the adrenaline kicked in and we were OK till the finish but there was about a 10 hour period were the mood on the boat got pretty dark.
2.  We brought way too much shit on the boat.  The MELGES24's advantage is how light it is, weighing in at under 3000 lbs with crew and all the gear.  With all the required safety gear, food, water, Fuel to motor 10 hours (Roughly 4 gallons), and clothing the boat felt really slow and sluggish.  I took about 1/2 the water that I thought I was going to need with the intensions of pulling the rest out of the lake for cooking.  In the end We drank only !/2 of the 1/2 supply that we started with.  Sure we could have done a better job of hydrating but I never felt like I was in any trouble.  Next year I think that I would limit the water to 1/2 case for the first day and then pull the rest from the lake.
3.  We ended up not taking our drysuits only because the air temp was never to sink below 60 degrees.  I was OK but I'll bet Todd would have liked to have had his drysuit on Sunday pounding through the waves and basically being wet for 1/3 of the race.
4.  We were simply not aggressive enough with our sail calls.  If I could take anything back I would have decided to run with the code zero on Saturday night.  Our code Zero was designed to operate at 75 to 50 degrees apparent with winds from 6 knots to 12 knots.  On Sunday night we were seeing winds at around 15 to 17 knots and I was worried that the sprit might break under the load so we went with only a jib and main.  If the pole breaks then you have a wide open hole in the bow of the boat and it would have ended the race for us.  Knowing what I know now I would have run with the code.  In my estimation we could have been running at a steady 12 to 14 knots instead of the 9 to 10 under jib alone.  With a 7 hour run that would have put us another 14 or so miles in front of the competition and we would have won overall pretty easily.  I think we are going to do a lot more testing with the code zero this year to figure out its limits.  Also I am going to check into the idea of carrying an extra pole.  I'm not sure if it's legal in PHRF to carry an extra pole so I will have to check into that one.
5.  We should have been way more aggressive on our tactics especially rounding the Alpena and Presque points before turning west.  We were afraid of getting caught in the dead zone near shore and as it turned out there was plenty of wind.  In fact the Flying Buffalo went inside Middle Island (That shit is crazy because the cart depth is 5 feet in some areas), reaching along the shore while everyone else beat outside.  In their estimation, they made up six miles on the fleet.  That was the move to shot them into the overall winning position.  I'm not saying that we should have done that, but with less than 5 feet of draft on the M24, some aggression with the navigation would be appropriate.
6.  I could have done a better job sealing up the boat from water.  We were completely dry until we turned up wind.  At that point we were bailing about one bucket of water every hour and finished with about two buckets still on the floor.  Made the clean up horrible after dropping the Illy Coffee can in the bottom of the boat and all the water was brown.  It looked as if someone took a huge dump in the boat.  The water comes in from the roller furling well and next to the mast where the halyards go below.  I had the material to seal them but didn't take the time to do it properly.
7.  I had plenty of power to run a laptop and should have been running Expedition.  It would have helped out a ton especially on the trip across Saginaw Bay.
8.  I think the life raft is overkill but I would not think less of anyone who decided to carry one.  I probably would have pushed the boat harder if I indeed had one.  The problem is that life rafts weigh too damn much and when you are trying to save every ounce on the boat it just becomes too difficult to fit one.
9.  Most important – it's the people that sail with you that make all the difference.  My crew was fantastic…..  It's worth saying again….  MY CREW WAS FANTASTIC.  Todd Jones, Brian Schaupeter, and Peter Shumaker were simply awesome.  These guys pushed the boat and their bodies harder than I did and I owe all of our success to these three.  in the end you can take all the safety shit you can but it comes down to having guys that you trust with your life.  I would sail anywhere with this group.
Looking forward to the comments (good and bad) about my post and I'm really looking forward to this race next year.  Congratulations to the Flying Buffalo and Eliminator or beating us on corrected time.  Congratulations to the two other MELGES24's who gave us a good run.
See you all again next year with hopefully enough boats for a one design class!
-Napoleon Dynamite
Tags: arete, bayview, byc-mackinac, holy hand grenade, hulsey, lake huron, mackinac, Melges 24, michigan, ORMA 60, warner
August 10th, 2015 by admin
As promised, BYC-Mackinac leader Areté with the morning call-in.  We'd tell you how she's doing now, but we've been having tech issues with either Yellowbrick or the BYC site for ages.  If you do too, hit the direct YB tracker link here.
July 19th, 2015 by admin
With a world record breaking trimaran headed to the West Coast and another headed to the East Coast, longtime Michigan anarchist Rick Warner's decided the Middle Coast needed a new toy, too.  Enter Arete, with big thanks to Rick for putting it into words for SA (and for offering us a ride next month).
As you have written, multihull sailing has reached a tipping point in the US.  When people see a tipping point taking place, they think it happened all of a sudden, when in fact it is evidence of momentum that has been building over time.  So it is with big boat multihull sailing in the US.
I was delighted to see the spectacle of the America's Cup, the ORMA 60s and MOD 70s that are either on or heading to the West Coast, and all of the publicity around the G4.  None of this happened overnight.  The biggest names in multihull sailing, like Brian Thompson on Phaedo3 and our mutual friend Ryan Breymeier on Lending Club are currently destroying records everywhere on US-owned boats.  To me, it's all evidence that offshore multihull sailing, popular in Europe for years, has finally found its foothold in the US.
As I told you recently, I purchased ORMA 60 ex-Sopra.  She has been christened Areté (from the Greek, meaning "striving for excellence in all things") and is on her way to the Great Lakes.  She just arrived at Newport Shipyard after sailing across the Atlantic.  After a bit of post-crossing maintenance, my crew and I will deliver her up the Seaway to Port Huron…she will be quite a sight in the Black River!
We are going to race her like a big Cheeky [Rick's previous boat, a modified Corsair F31R -Ed], with a lot of the same crew and some other friends who make up an extremely experienced group of longtime multihull, offshore and solo racers – all amateurs.  All of us are doing this for the love of the sport and the challenge that comes with multihull speeds.  The boat will be in all of the iconic Great Lakes races this summer including Queen's Cup, the Chicago to Mackinac, the SuperMac and the Port Huron to Mackinac.  We're really looking forward to the SuperMac so we can stretch her legs in a longer race.
Areté is a tipping point of her own.  I raced, cruised and lived aboard "leaners" on the Great Lakes, in Washington state, San Francisco and more.  I logged thousands of offshore miles on deliveries and on board my own boats.  When I bought Cheeky, my interest in sailing, which had frankly had begun to wane, kicked into another gear entirely.  Cheeky is a tweaky, twitchy speed demon that rewards increasing levels of skill with increasing speed, making her a delightful challenge to sail.  After several years of this, I wanted more and Areté is all that.  The French call her "la machine folle", which meanas 'the crazy machine'.  After sailing her in 49 knots of wind through the Straits of Gibraltar, I find it to be very appropriate, but that's a story for another day.  You will agree after you sail her.
Following the successful European model for which she was built, we are also offering the boat as a unique sponsorship platform who want to leverage the experience of multihull sailing.  In other words, we are looking for some baddass brands looking for a baddass marketing platform.
Check out some pics or get in touch with us via our site.  See you soon on the lakes!
May 11th, 2015 by admin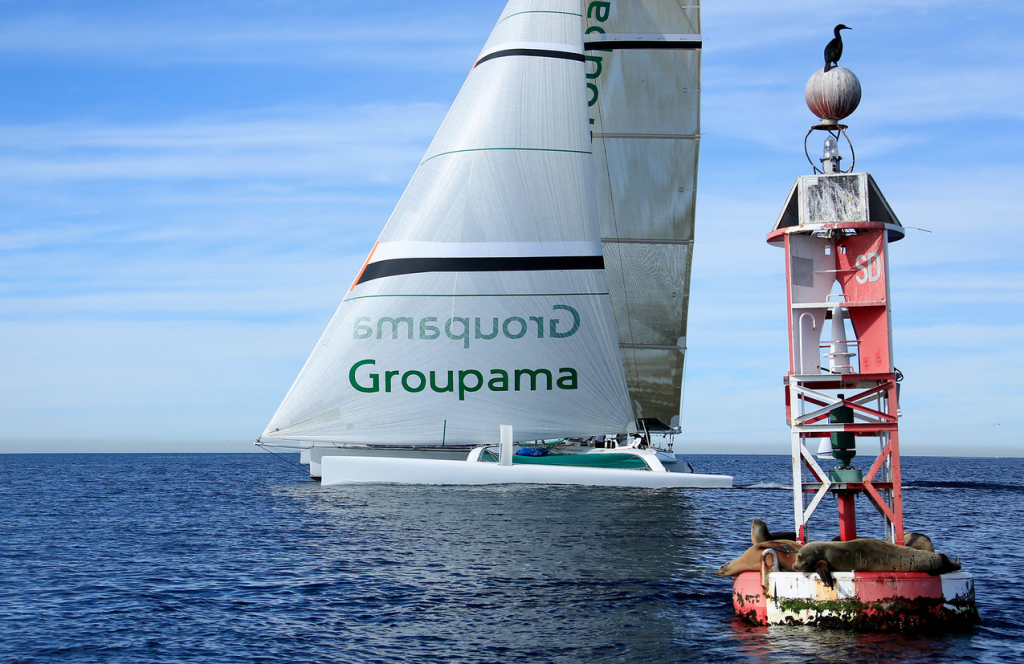 When Franck Cammas and VPLP put together the ORMA 60 Groupama 2 in 2004, the Class was already on its way to extinction.  But Franck's square-dimensioned, canting rig, lifting-foiled trimaran was so much faster, more innovative, and more expensive than the rest of the fleet that her launch pretty much ended the ORMA class right then and there.  The history is more detailed of course (and you can learn almost everything about the ORMA class here) but suffice to say, G2 is the fastest 60 foot pickle fork ever built.  And until the AC72s came around, she was still probably the world's fastest seagoing multihull in light air.
Now that G2 is long past her 'sell by' date, the former BMW/Oracle trainer has made her way to San Diego, where she'll be replacing the ex-Waterworld ORMA of Loe Enloe, who has gotten everything he can out of the ex-Waterworld boat.  That one's on the market for peanuts (pony up, SoCal sailors!), and we can now expect Enloe to crush and smash every West Coast record there is…provided she stays right side up.  Great shot thanks to Dal at Bayshots – plenty more of his excellent San Diego work here.
And hit this link to see just how fast the G2 goes in a moderate breeze.
December 19th, 2013 by admin