Posts Tagged 'Oracle'

It's an ad for DJI drones, but it's also a portfolio from one of our favorite filmmakers, so spend a minute with this sparkling aerial video shot during Oracle's Bermuda AC effort.  Sam Greenfield was the first guy to run a drone from an ocean racing boat and he's continued to innovate since. If you were wondering how his recent Volvo OBR drone work is so much better than anyone else's, look above – a year of fat budgeted training on the Great Sound helped Sam become sailing's standard in flying visuals.
December 9th, 2017 by admin
In the short drone vid above, Instagram user Ari Soffer caught Ernesto Bertarelli's motor gin palace Vava doing the slow-speed California coastal dance with Larry Ellison's ugly-ass Perini Zenji.  
With 'The Precious' now off their fingers, are these former mortal enemies rekindling their former friendship?  The weather forecast for hell may be indicating sub-zero temperatures right about now, and with insiders tapping Alinghi as an increasingly likely entry in the Jesus Lizard stakes, might Larry be close behind?
November 26th, 2017 by admin

The first of Mr. Clean's podcasts from Bermuda dropped yesterday, and while it's half the usual length, it's full of fascinating stuff from maybe the most important member of the Cup-winning New Zealand team – ETNZ wing trimmer Glenn "Lenny" Ashby.  Don't forget to subscribe to the SA Podcast here: (iTunes   Stitcher).  Show notes:
How his time as a kid, watching the C-Class cats on the beach and other ultra-fast sailboats near Melbourne, led to his career.  About wing development boss Steve Collie's work and their different design philosophy for wing handling compared to the other teams.  "You can't fly a plane with a piece of rope!"  Why no one else copied their wing system, and how many secrets are they still guarding?  How did their wing trim and foil loading give them stability without penalty, and enable their slick maneuvers.
Once and for all, were they sandbagging in the earlier rounds?  "We kept our good fruit for the end!"
How did they balance the need to push and develop the boat with the fact that any breakage in Auckland might mean an end to their campaign? "27 hours before the first race of the America's cup was the first time we had all of our good componentry on the boat". What was the actual speed difference between Oracle and ETNZ?  To what does Glenn attribute Pete's 7-1 advantage over Jimmy in the starting box?  What maneuvers could they do that no one else could?
In what conditions does the jib hurt boat speed, and why didn't they go bareheaded in their racing?  Will wing sailed boats in the future need jibs?
Why did Glenn and so many sailors take less money than other offers in order to stay on ETNZ?  Just how close did ETNZ come to shutting their doors and walking away from competition back in 2015?  Will Glenn return with ETNZ for the next America's Cup?  If he was given a free hand to pick any boat for the next America's Cup, what would it look like?
Did ACEA/Oracle's shenanigans provide additional motivation for ETNZ to fight their hearts out?
Next for Lenny: Moths? A-Cat Worlds?  Vacation?
Photo thanks to Sander Van Der Borch/America's Cup.
July 6th, 2017 by admin
Red Bull's "Raw 100" is the kind of outside-the-box thinking we dig, and they pulled together a team of folks who've frequently graced these pages  – Matt Knighton, Sam Greenfield, and Javier Salinas – to get funky with Oracle's AC50 in Bermuda. No slo-mo, no music – just some of the tightest and most interesting shots and sailing sounds you'll ever get.  How many drones did Sam wash in order to get the shot from underneath the flying hulls?  We'll never tell.
We can tell you that regardless of how you feel about 4 full-time grinders or the Cup in Bermuda, these boats are pretty goddamned insane – as is the video.  Enjoy.
June 15th, 2017 by admin
Oracle, Softbank, and Big Ben have now all splashed their AC50s this week, but it's the throwback bicycle grinders that has set the mainstream's tongues wagging all over the world.  Will bicycle power make the difference to help ETNZ overcome the obstacles they face in just a few months' time, and if so, will Oracle or another team have time to catch up to a system the Kiwis have been working on for more than a year?  And will Franck Cammas – well experienced with leg-powered racing yachts – uncover his own spinning class on Groupama Team France?
As the unveilings begin, we're finding ourselves interested again.  Watch the excellent launch video above for a look at New Zealand, head over here to listen to Glenn Ashby discuss the new systems with RAdioSportNZ's D'arcy Waldegrave, and click the player below for Mr. Clean's take on what is finally an interesting week in AC land, also with RadioSport's Waldegrave.
The America's Cup Anarchy forum is heating up as well…chat about any of your favorite teams right over here.
February 17th, 2017 by admin
We'd prefer not to support Oracle Team USA until they either drop the USA or add some American sailors, but we can't pass up this very well-done clip of sexy A-list superstar skier Lindsay Vonn and her day of sailing an AC45 in Bermuda.  Brilliant work from the always brilliant Sam Greenfield (working for the big O).
September 3rd, 2016 by admin
In perhaps the most ironic piece of America's Cup news in the history of the billionaire-attracting silver bauble, Oracle Team USA's former base on Pier 80 in San Francisco has been turned into a massive shelter for the homeless.  If you're homeless in Bermuda and Oracle stays true to form, just sit tight: You might just get an awesome, free new oceanfront address in just 15 months' time! Here's more, from KQED's story a couple of months ago:
I had to backtrack to Illinois Street to find the shelter, a cavernous warehouse once occupied by billionaire Larry Ellison's America's Cup yacht-racing team that now serves as a refuge for some of the city's most destitute residents.

Located in a desolate part of the city's southeast waterfront, the facility is surrounded by chainlink fences topped by razor wire and acres of empty asphalt crisscrossed by defunct railroad tracks. Just outside the fence, a man lies behind some bushes, apparently searching for a vein.

Initially designated by the city as a temporary shelter from expected El Niño rains, Pier 80 has been pressed into service as a destination for some of those recently forced to disband tent camps in the South of Market and Mission districts. The center has grown from 100 to 120 to 150 and now to 180 "beds" — foam mats laid in rows on the floor of a giant tent inside the warehouse.
June 20th, 2016 by admin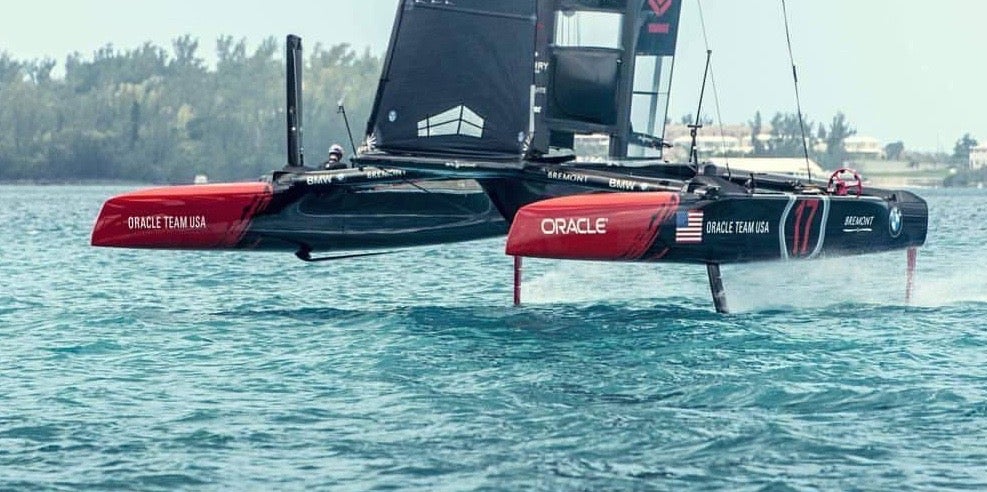 If the America's Cup were a one-design battle, we'd likely see the awesomely talented Pete Burling and his ETNZ boys run away with it, just as Pete has done against largely the same competitors in the past few years of Moth and 49er racing.  But even the highly restricted AC50 box rule allows enough design differences to likely take the ultimate prize out of the hands of the skippers, and the likeliest winner will be the team that can figure out how to get the most out of their foils, aero, and wing controls.
With variable ride control (à la the Moth) and changing foil shapes banned, designers tell us that variable foil bend characteristics may prove the key to the top speed puzzle.  You can see just how much bend the Oracle Team USA trial horse is putting into their foils, as seen above and shot the other day in Bermuda.  There's plenty of carbon bending knowledge inside the sport – see Moth, Finn masts, for example – but could the importance of flexi-foils mean the F-1 connected design team at BAR have a real head start?  After all, Formula One has been playing around with variable bend issues for a long time, most recently earlier this year.
Iron pumpers will recognize from whence comes our story title.  For the rest of you, clicky.
June 20th, 2016 by admin
We learned several hours ago that the Gunboat 55 Rainmaker has indeed been found, and here's where truth gets stranger than fiction.  The long-discussed G55, whose saga is here in all its glory, was spotted by members of Oracle Team USA while they were on a fishing trip off Bermuda!  A boat named Tenacious is slowly towing her back to base, and we'll have more when it's available.  Photo courtesy of Craig McFarlane and thanks to our friends for the heads up – you know who you are.
March 14th, 2016 by admin
Oracle just launched their test bed AC45 last week, and in just 5 days their maneuvers and boatspeed already look to have far surpassed the very similar Artemis 45 foiler.  They also look a hell of a lot smoother, more stable, and faster than what we've seen from the Luna Rossa testers months after their launch in Sardinia.  Meanwhile, Franck Cammas is playing with his C-Cat, and there's a whole lot of silence in the AC45 action from Sir Ben and ETNZ (at least on sailing issues) while Slingsby notches nearly 46 knots of boatspeed on San Fran Bay.  We sort of hate to say it, but it looks like Oracle are on their way to a 3-peat dynasty in Bermuda, assuming they don't turn any AC boats into matchsticks again a few months before the AC.
Kudos to San Fran videographer John Navas for the first 4K Ultra HD video we've ever posted here; we hope the 68 people in the world with 4K televisions love it!  More chat about the Bay in the thread.
February 26th, 2015 by admin