Posts Tagged 'Optimist'
We teased it with a strip shot on Saturday, and now SA'er 'blunted' checks in with this phenomenal story and a great example of how to make your kids love the water as much as you do.
So how do you take an 1800 km road trip to retrieve a sailor from Mackinac island in the dog days of summer and make it fun and interesting? You try to set a world record; that's how.
This past Tuesday following the spicy trip up to Mackinaw from Chicago aboard the Pain Train known as Peerless, my wife, my two kids, and I managed to sail and swim in every one of the five Great Lakes in a single day.
The wife and kids came to pick me up in Mackinac following the race in our family Jeep with an Opti strapped to the roof. Come Tuesday morning, following a full day of "re-hydrating" on the island, we left the motel in St. Ignace at 7:00 am. Following a quick diner breakfast we jetted North for an hour to a small bay in Brimley, right on Lake Superior. The kids hopped out and launched themselves into the pristine waters to get some swimming going on while I pulled the boat from the roof rack, splashed it and got it rigged. After a few minutes we had the kids sailing back and forth in 4 knots of breeze giggling away. We yanked the boat up on shore, got the photo proof and then I set about madly derigging and loading the boat back onto the roof of the Jeep.
I had set a 45 minute turn around at each port of call so we could make our schedule for the whole day and we hit that with no problem. All four of us got a little swim in, towelled off and got rolling again quickly. Like any sailing campaign, good logistics made a world of difference. I had built a quick-and-dirty custom rack to locate the boat in just the right place every time and the same for the rig. I had set up the sheet on a quick action snap shackle for speed rigging and we'd have the kids dressed in their swim gear 20 minutes before we hit any given beach. I had mapped out all our sailing locations and also had back up locations set up in case we had issues with any places we landed.  All of this allowed us to hit our locations pretty much according to our schedule and kept things running smoothly all day long.
Following Superior, we headed South to Lake Michigan near Harbor Springs at Petoskey State Park. Then a run down the state and across the border bridge to a nice spot on Lake Huron at Sarnia Ontario, followed by Port Stanley on Lake Erie. We finished up the record at Burlington, Ontario on the West end of Lake Ontario. All in the sailing part started at 8:40 am EDT and ended at 9:45 pm EDT. We could have gone faster, but feeding a hungry mob dinner trumped getting the best possible time for our mission. In total, it was about 16 hours from door to door. While we were trying to set a record, we wanted it to be fun before anything else.
The kids were thrilled to have broken a record (even a dumb one) by sailing and swimming in all five great lakes in a day and both parents thought it was kind of fun too. We still have to ratify it with www.recordsetter.com but either way it was a fun mission to try to pull off.
Now some might argue the real reason we did this was to answer the age old questions asked by millions of teachers the world over every September, "What did you do this summer?", but for me the reality was that it was to let the kids know a few things, 1. Sailing can be fun in lots of different ways, not just racing and cruising, 2. It's not always that hard to accomplish something kind of extraordinary.
On both counts I think we succeeded.
Kudos to my daughter Cameron, my son Harrison and my wife Jen. A great job by all for our little family team.
August 1st, 2016 by admin
Over and over, we hear parents complain that their kids don't want to sail, or that they can't find the opportunities.  Complaining makes you part of the problem; be like Brandon Flack and be part of the solution; here are Brandon and the MudRatz with some tips on getting kids into the game:
1. Identify a group of kids that want more sailing. Start a team with the premise that more time on the water together is good for everyone.
2. Do not duplicate, compete or conflict with local sailing programs that are already in your area. Choose times like Sunday nights in the spring and fall where there is no conflict with other sports. Strive to send the kids back to their local programs as better sailors and you will raise the bar for everyone!
3. Keep it affordable. Soccer & Baseball are normally about $150 for a season… strive to keep your costs and overhead low enough to match up with these other sports. Reaching out further then the elite kids will really grow your team.
4. Find a local sailing association or club that is willing to support your team with some seed money. All these associations are looking for ways to grow and you are going to provide it. Five hundred dollars here and there can go a long way.
5. Hire the best coaches "reasonable" money can afford. Hire the better summer coaches that are home from college or attending school nearby. Even good racing coaches in yacht club summer programs are less than $30 per hour. Coaches making a $100 every Sunday night is a great way to cover their bills from Friday and Saturday!
6. Find local clubs to act as your "host". Spread the wealth around if you have a few clubs in your area. By running practices at new locations you will get new kids to sail with your team. As you move around you pick up more and more kids that come back each season after!
7. Offer parents deals on your program in exchange for using their whaler as a coach boat.
8. Join US Sailing and get your team into the burgee insurance program to cover officers and coaches. It's not much for a small team.
9. Get the kids AND the parents together a few times away from the boats. Having the kids get to know each other off the water makes future meetings on the water that much more fun. Helping the newer non sailing parents to understand more about the sport by just sharing experiences goes a long way too.
10. Go sailing. Kids that sail as often as possible in a variety of conditions are naturally going to enjoy (and be better at racing in) those same conditions later. Keep it light and fun and they will be begging you for more.
Once you have all that come up with a cool team name and add in the uniforms, and then get on the computer and write a story for Sailing Anarchy to promote it!  We've put together our MudRatz Opti raffle to win a brand new Zim Optimist; buy a ticket today and you'll have a great chance of winning the Opti or one of the other prizes on June 15 – and thanks for your support!
May 29th, 2014 by admin
Our old friend Mike Hennessy – owner/driver of Class 40 Dragon is one of at least two Americans to be sailing one of our all-time favorite races this year. It's a race named after booze, and every four years, the world's best offshore singlehanders use the race, known as the the Route Du Rhum, to test themselves against the Autumnal gales of the Atlantic.  
If you don't yet know Mike, he's been a member of the SA family for ages, and we've watched right here from the very beginning of his Dragon's racing program; Mike has shared the highs and the lows with all of us, and we will be there in St. Malo to wish him off again this coming November.  If you have some vacation time, it's one spectacle every sailor should see; not just because of St. Malo's beauty, the mouth-orgasmic seafood/wine/desserts/women, the offshore racing history, or the ability to see and touch everything from Tabarly's legendary yachts to the biggest racing trimaran every built – which will also be sailing to Guadeloupe with just one guy aboard.  No, the reason you go to St. Malo in November is for the crowd; nearly 1 and a half million people make their way through the race village in a week, with some 500,000 watching the start in person on race day.  It's a site worth seeing, and you only get it once every four years.

March 14th, 2014 by admin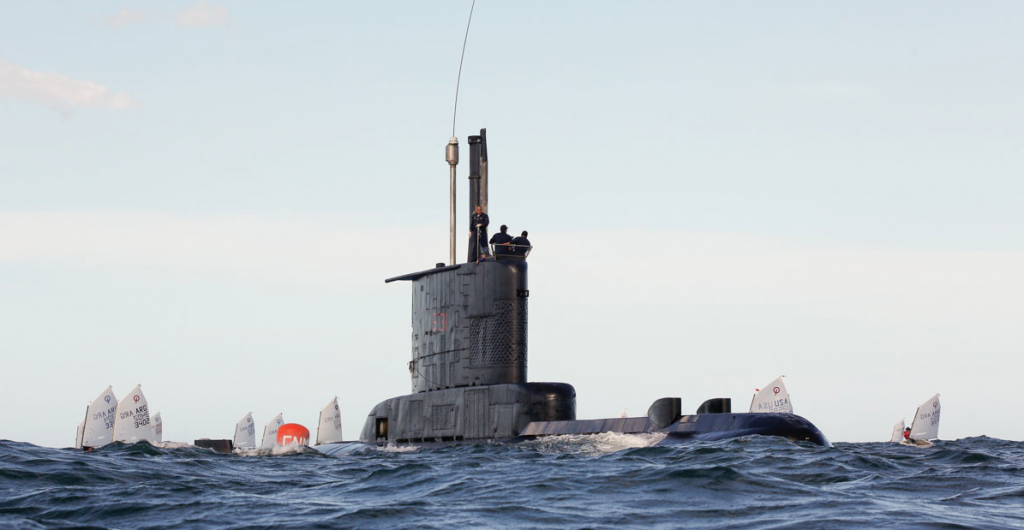 Argentine parents are taking this 'helicopter mom' thing to a whole new level.  
Get to the thread to insert your own caption of this hilarious picture and the real story.  Matias Cappizano photo from the Mar Del Plata Sailing Week.
February 7th, 2014 by admin
Today we give you the best Video Friday we've had in quite a while! We've got launching Optis, dancing Minis, crashing SB20s, a massive storm, and the final Little AC wrap.  Enjoy them all, and enjoy your weekend from everyone here at Sailing Anarchy.  Got an awesome video for next week?  Send it in.
The Mothosphere

More foiling.  More crashes.  More interviews with some of the world's fastest men and women.  And of course, more Gretta.
You've been waiting for it patiently, so here's the full, 20 minute long, 2013 McDougall + McConaghy International Moth World Championship final highlight reel from Penalty Box Productions.  Enjoy!
Opti Crush
We don't know who he is, but this Seattle grommet has bigger balls than we do!  Check this Opti-crusher out on a 30-knot day in Shilshole Bay last week, and note his smile.  Also note the distinct lack of helmets, lawyers, and nanny-state, helicopter-parent sensibility.  And someone, please let us know who this grom is; he needs some SA gear and we're gonna get him some.
Hey Jude

The same St. Jude storms that threw the Mini Transat and TJV into such disarray also did a number on Scandinavia.   The storms were the most powerful to hit Northern Europe in more than a decade, and billions in property damage, hundreds of boats destroyed, and 16 deaths are the weather's legacy.  Here's a look at what 120 knot winds look like on the Svenburg Sund in Denmark, and there's more video here.
Target Rich Environment
Sometimes, hitting those puffy inflatable tubes is just too tempting.  This from last month's SB20 Worlds in Hyeres, where someone must have painted targets all over the RIB at the pin end of the line.  Chat here and thanks to Presuming Ed for this one.
Nothing To Do But Dance

With about 6 weeks of delays, postponements, and other misadventures, the Minis are indeed restless – none more so than the handful of prototype skippers who made it to Sada while the rest of the fleet ended up…elsewhere.  They put together this little tribute to the Mini Transat Race Committee; it's sort-of called "Where's The Race Committee" and it should crack you up even if you don't speak French.  Latest on the Mini fleet (including another boat lost on the delivery) here.  Thanks to the Moody Frog for this one.
November 8th, 2013 by admin
With the Sec General of the IODA demanding answers and more facts coming to light over the Opti dodge 'em in Lake Garda, we were glad to see Brontolo skipper Filippo Pacinotti issue a public apology last night for his actions on the lake.  An unapologetic Marco De Antonio from Bribon gives a more defensive take on it and bitches about "an American blog" here.  But most laudable is the no-nonsense statement from Melges and the M32 Class.  From Class Prez Hank Stuart to the IODA and the world:
Thank you for your note expressing deep concern over the incident on Lake Garda this past weekend. Rest assure that the International Melges 32 Class Association (IM32CA) was equally upset by the video footage of the two Melges 32s racing through the Opti fleet on Saturday afternoon.
Needless to say, this footage has prompted us to proactively investigate further the actions of many including, but not limited to the Yacht Clubs (Circolo Vela Torbole and Fraglia Vela Riva), both event PROs, the members of the International Jury as well as all Melges 32 teams present.
Our findings thus far have revealed unfortunate circumstances in which were truly beyond our control. For example, despite our numerous complaints that specifically addressed safety if the race courses overlapped was completely ignored on multiple occasions. Additional concerns were also voiced by many of our owners as well as sponsor representatives, and they too were disregarded as unimportant.
Looking to the incident, the two teams highlighted in the video chose to navigate, what we now know was a dangerous path to the leeward gate. This combined with what we perceive as poor decision making in regards to where races were ran was where we have found the problem to be.
We realize that a higher level of situational awareness and a more conservative approach should have been exercised by several of the Melges 32 teams, honoring and giving right of way considering the breezy conditions. Do know that many of the competing teams did just that.
Since the incident, please know that both teams featured in the video have already, very sincerely issued public apologies regarding their actions on Facebook and through other media sources. We believe this is a step in the right direction on their part. The IM32CA is also reviewing internally what other measures may be taken to further correct the situation and prevent it from ever happening again.
We will be publishing their apologies along with this letter online at melges32.com.
You also mentioned that there were Melges 32 owners or crew that possibly spoke in disrespect to some of the young Opti sailors. Please know through our process to get to the bottom of just what exactly happened, we have not heard anything regarding this at all. Considering the caliber and league of sailor commonly found on a Melges 32, such behavior is highly unacceptable.
As we move forward, we hope that we can work with you collectively in resolving this matter peacefully and respectfully. All of our owners are regular contributors to youth foundations and sailing programs, and we know how important it is to emphasize the value of youth sailing and support the future of our sport. This is something that we hold with the highest regard.
We agree that best next step for our class' is to file a joint report to ISAF in accordance with rule 69.3 to see if any Melges 32 team breached rule 69.1(a) and that under The Racing Rules of Sailing, ISAF has the ability and authority to review this matter properly.
Kind regards,
Hank Stuart, President
International Melges 32 Class Association (IM32CA)
July 16th, 2013 by admin