Posts Tagged 'Optimist'
Our old friend Mike Hennessy – owner/driver of Class 40 Dragon is one of at least two Americans to be sailing one of our all-time favorite races this year. It's a race named after booze, and every four years, the world's best offshore singlehanders use the race, known as the the Route Du Rhum, to test themselves against the Autumnal gales of the Atlantic.  
If you don't yet know Mike, he's been a member of the SA family for ages, and we've watched right here from the very beginning of his Dragon's racing program; Mike has shared the highs and the lows with all of us, and we will be there in St. Malo to wish him off again this coming November.  If you have some vacation time, it's one spectacle every sailor should see; not just because of St. Malo's beauty, the mouth-orgasmic seafood/wine/desserts/women, the offshore racing history, or the ability to see and touch everything from Tabarly's legendary yachts to the biggest racing trimaran every built – which will also be sailing to Guadeloupe with just one guy aboard.  No, the reason you go to St. Malo in November is for the crowd; nearly 1 and a half million people make their way through the race village in a week, with some 500,000 watching the start in person on race day.  It's a site worth seeing, and you only get it once every four years.

As Mike gears up for his biggest year yet, he's sharing the branding with aspiring Anarchist Henry Clemens.  The young Norwegian – (Hennessy is his godfather) - is going to be tearing it up in the Oslo fjords in his new Opti this spring, and like any good Viking, he knows that intimidation can bring advantages in combat, including port-starboard crosses.  Mike had his graphics guys whip up a drawing, and young Henry's dragon will be hard to miss this summer.  Keep your eyes on this page for Mike's reports from the various pre-RdR events in 2014, and check out last year's stuff on his FB page.
March 14th, 2014 by admin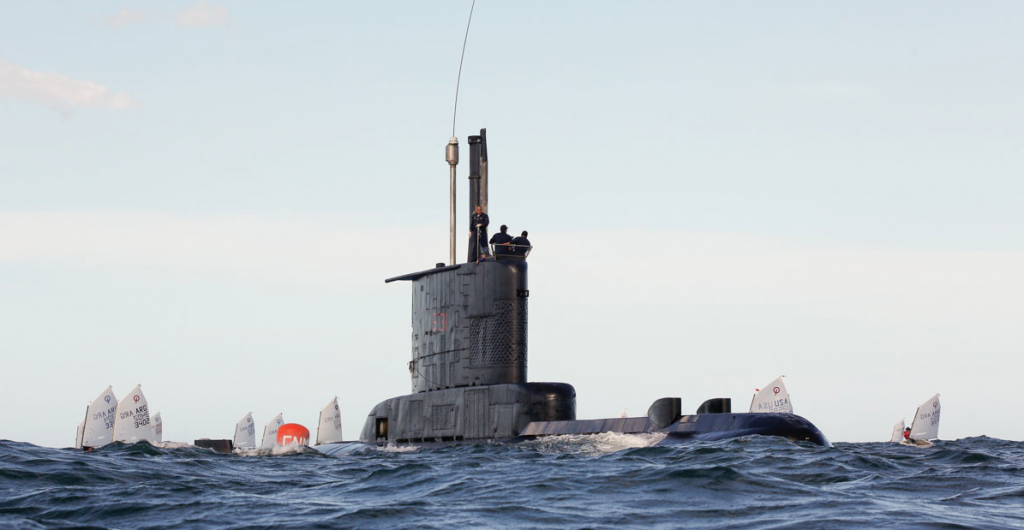 Argentine parents are taking this 'helicopter mom' thing to a whole new level.  
Get to the thread to insert your own caption of this hilarious picture and the real story.  Matias Cappizano photo from the Mar Del Plata Sailing Week.
February 7th, 2014 by admin
Today we give you the best Video Friday we've had in quite a while! We've got launching Optis, dancing Minis, crashing SB20s, a massive storm, and the final Little AC wrap.  Enjoy them all, and enjoy your weekend from everyone here at Sailing Anarchy.  Got an awesome video for next week?  Send it in.
The Mothosphere

More foiling.  More crashes.  More interviews with some of the world's fastest men and women.  And of course, more Gretta.
You've been waiting for it patiently, so here's the full, 20 minute long, 2013 McDougall + McConaghy International Moth World Championship final highlight reel from Penalty Box Productions.  Enjoy!
Opti Crush
We don't know who he is, but this Seattle grommet has bigger balls than we do!  Check this Opti-crusher out on a 30-knot day in Shilshole Bay last week, and note his smile.  Also note the distinct lack of helmets, lawyers, and nanny-state, helicopter-parent sensibility.  And someone, please let us know who this grom is; he needs some SA gear and we're gonna get him some.
Hey Jude

The same St. Jude storms that threw the Mini Transat and TJV into such disarray also did a number on Scandinavia.   The storms were the most powerful to hit Northern Europe in more than a decade, and billions in property damage, hundreds of boats destroyed, and 16 deaths are the weather's legacy.  Here's a look at what 120 knot winds look like on the Svenburg Sund in Denmark, and there's more video here.
Target Rich Environment
Sometimes, hitting those puffy inflatable tubes is just too tempting.  This from last month's SB20 Worlds in Hyeres, where someone must have painted targets all over the RIB at the pin end of the line.  Chat here and thanks to Presuming Ed for this one.
Nothing To Do But Dance

With about 6 weeks of delays, postponements, and other misadventures, the Minis are indeed restless – none more so than the handful of prototype skippers who made it to Sada while the rest of the fleet ended up…elsewhere.  They put together this little tribute to the Mini Transat Race Committee; it's sort-of called "Where's The Race Committee" and it should crack you up even if you don't speak French.  Latest on the Mini fleet (including another boat lost on the delivery) here.  Thanks to the Moody Frog for this one.
November 8th, 2013 by admin
With the Sec General of the IODA demanding answers and more facts coming to light over the Opti dodge 'em in Lake Garda, we were glad to see Brontolo skipper Filippo Pacinotti issue a public apology last night for his actions on the lake.  An unapologetic Marco De Antonio from Bribon gives a more defensive take on it and bitches about "an American blog" here.  But most laudable is the no-nonsense statement from Melges and the M32 Class.  From Class Prez Hank Stuart to the IODA and the world:
Thank you for your note expressing deep concern over the incident on Lake Garda this past weekend. Rest assure that the International Melges 32 Class Association (IM32CA) was equally upset by the video footage of the two Melges 32s racing through the Opti fleet on Saturday afternoon.
Needless to say, this footage has prompted us to proactively investigate further the actions of many including, but not limited to the Yacht Clubs (Circolo Vela Torbole and Fraglia Vela Riva), both event PROs, the members of the International Jury as well as all Melges 32 teams present.
Our findings thus far have revealed unfortunate circumstances in which were truly beyond our control. For example, despite our numerous complaints that specifically addressed safety if the race courses overlapped was completely ignored on multiple occasions. Additional concerns were also voiced by many of our owners as well as sponsor representatives, and they too were disregarded as unimportant.
Looking to the incident, the two teams highlighted in the video chose to navigate, what we now know was a dangerous path to the leeward gate. This combined with what we perceive as poor decision making in regards to where races were ran was where we have found the problem to be.
We realize that a higher level of situational awareness and a more conservative approach should have been exercised by several of the Melges 32 teams, honoring and giving right of way considering the breezy conditions. Do know that many of the competing teams did just that.
Since the incident, please know that both teams featured in the video have already, very sincerely issued public apologies regarding their actions on Facebook and through other media sources. We believe this is a step in the right direction on their part. The IM32CA is also reviewing internally what other measures may be taken to further correct the situation and prevent it from ever happening again.
We will be publishing their apologies along with this letter online at melges32.com.
You also mentioned that there were Melges 32 owners or crew that possibly spoke in disrespect to some of the young Opti sailors. Please know through our process to get to the bottom of just what exactly happened, we have not heard anything regarding this at all. Considering the caliber and league of sailor commonly found on a Melges 32, such behavior is highly unacceptable.
As we move forward, we hope that we can work with you collectively in resolving this matter peacefully and respectfully. All of our owners are regular contributors to youth foundations and sailing programs, and we know how important it is to emphasize the value of youth sailing and support the future of our sport. This is something that we hold with the highest regard.
We agree that best next step for our class' is to file a joint report to ISAF in accordance with rule 69.3 to see if any Melges 32 team breached rule 69.1(a) and that under The Racing Rules of Sailing, ISAF has the ability and authority to review this matter properly.
Kind regards,
Hank Stuart, President
International Melges 32 Class Association (IM32CA)
July 16th, 2013 by admin