Posts Tagged 'open 60'
Keep your eyes peeled if you're enjoying the balmy winter with a December crossing of the Atlantic, because you might just run into the world's biggest Christmas present: The defending champion Vendee Globe and Route Du Rhum-winning Open 60 SMA, adrift about 700 NM off Cape Finisterre!
With solo skipper Paul Meilhat's fractured ribs and pelvis forcing him into a helicopter, SMA crew launched two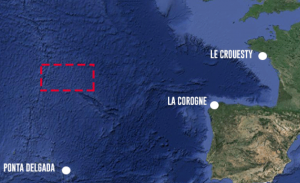 rescue attempts to retrieve the multi-million-dollar pedigreed purebred; an especially nasty December in Biscay laughed at them and sent them crying for home.  A third team of four insane Frenchmen (and quite possibly Marcus Hutchinson) has now set off from Brittany to try to succeed where a 66-meter oceangoing tug failed.
If that sounds like impossible odds to you, it just means you don't know any Bretons.  Seb Josse won the carnage-filled St. Barth-Port La Foret (which most skippers have told us they hate), scoring the first real offshore success for a Dali foiler. Head over here for Seb's video (with translation from SA'er 'surlepont').
December 24th, 2015 by admin
Nandor Fa's Spirit of Hungary, the skipper-designed, home-built Open 60 that limped around the world in a 110-day Barcelona World Race continues to prove her poor reliability after a lap around the world and then some; dismasted off Madeira last month during the carnage-filled Transat Jacques Vabre, her skipper sat in Funchal for the past few weeks, finally sorting out a very short replacement to get him back North to get a new rig for the Vendee Globe.
Slow and steady will never win a race like the Vendee Globe, and while the fans love a late, late finisher, we sure hope Fa's lifetime of experience will continue to get him through the seemingly endless problems with SoH.
Chat endlessly about the latest and greatest in IMOCA world right over here.
November 29th, 2015 by admin
Vento Di Sardegna only had a few months with an Italian name before being taken over by Mich Desj's Mer Agitee management company, and while we continue to operate under rumors that a Dutch sailor will make a run at the Vendee in this beast (and we think it's this guy), no one seems to be able to confirm whats coming for this new VPLP/Verdier just yet.  Similarly, the 5 new builds in the 2015 TJV are staying mum about their issues and findings, so for now, we have only Alex Thomson's frank account.  Fortunately, our Senior Editor is headed to Europe to the METS show next week on a factfinding expedition, and no one can hide from Mr. Clean…
Think you can spot what's wrong with the Persico build of Vento?  We can't, but we do love time lapse.
November 10th, 2015 by admin
November 4th, 2015 by admin
This shot from the floor of Jean-Pierre Dick's Virbac St.Michel shows the broken ribs that knocked the new-gen foiling Open 60 out of the Transat Jacques Vabre last night; the fourth retirement out of the 5 VPLP/Verdier fliers and a clear sign that someone in the design office seems to have gotten these multi-million-dollar beats wrong – very, very wrong.
One of the major innovations in the new boats is a transverse version of the approach to hull design that we first saw in Comanche; instead of a few large stringers in a structural grid over a relatively thick hull, the VPLP solution uses these small semicircular ribs to support an extremely thin hull (4mm in some spots).  It's a significantly lighter way to do it, but if the difficult production process isn't micron-perfect or if the ribs aren't taking the load in unison, things go ugly quickly, as JP and Fabien discovered when they went down into the sail locker.
While four foiling boats are out, the final "Mustache" boat is showing why they all bothered, with the new Banque Populaire XVCCIVXIICL sailing an average of more than a knot faster than the ultra-quick previous generation PRB in the same stretch of ocean on a nice run.  In a Vendee, that would translate to a couple of weeks' lead…assuming BP can avoid the speed bumps…
To The Orphanage For You
Our sentimental favorites aboard Adopt-A-Skipper have unfortunately also pulled the plug thanks to a blown out backstay, with Ryan and Nico headed back to Concarneau.  What a yard sale this TJV has become!  Chat and crowdsource all the TJV news here.
Thanks to SA'er 'chasm' for grabbing the shot from Virbac before they pulled it from their site.
October 30th, 2015 by admin
UPDATE: After unsuccessfully attempting a repair for several hours at sea, Alex Thomson and Guillermo Altadill onboard HUGO BOSS have made the difficult decision to proceed to Vigo. This partial repair will not allow the duo to cross the Atlantic serenely.The technical team is currently en route to Vigo, Spain, to join the crew and try to consolidate repairs.More information tomorrow.
With two of the newest VPLP/Verdier foiling 60s already out of the TJV, it comes as no surprise that a third is now on the ropes.  With just a few days of sailing under her keel before the start of the race, Alex Thomson's Hugo Boss is the newest of all of 'em all, according to Facebook, Alex and Guillermo Altadill will spend the next few hours hove to in the North Atlantic as they dig into unspecified technical issues and try to save their race.  On one hand, the attrition rate of the new boats is a big failure for the teams; on the other hand, reliability is never great at the extreme edges of any development box…especially on the first real outing as they build up to the big dance next year.
Our Senior Editor sat down with Thomson just before the Boss left for France earlier this month to chat about everything Open 60, with questions mostly provided by you Anarchists.  It's another great chat between Clean and AT, and there's plenty to listen to as you wait to see if they get back in the race.  You can download the full video from Vimeo here to play later. Track the TJV fleet here.
October 28th, 2015 by admin
While the Macif foils have finally been revealed, details on the latest and greatest VPLP/Verdier Open 60s remain scant, in part because the secrecy in IMOCA world is exceeded only by that of the America's Cup.  Fortunately we've got connections, and our Senior Editor headed over to England last night to become (we think) the first reporter in the world to sail on an offshore foiling monohull.  He's headed offshore tonight with the one guy who continues to keep the torch lit for anyone who wants to see a non-Frenchman take the Vendee Globe trophy: Alex Thomson.
Alex and his Hugo Boss team have had unprecedented success with sponsors and the media over the past decade, but less so on the race course, with Alex able to grab a few victories in low-profile events and a couple of hard-fought 24-hour solo distance records. Bad luck ended his two strong chances to win the Barcelona World Race, but his 3rd place in the last Vendee (with a now 3-generations old boat) cemented his credibility as a potential race winner, if he could only build a competitive ride.
That has now happened, and we've got a couple of days to dig into Alex's program and his new boat, and more importantly, to answer any questions you guys can come up with – as long as they're not about the details on the foils, and if we told you about them, we'd have to kill you.  We'll have a report on the boat and on the new Mercedes-Benz stickered Hugo Boss before the TJV begins, and if you ask your questions today over in this thread, we'll put them to the team. 
For a fond look back at the two-generations old Farr Open 60 that Alex took his Vendee podium with (and Ryan Breymaier is about to doublehand across the ocean), check out the very cool video above. 'cause boats have souls…
October 13th, 2015 by admin
The always-positive Andrea Mura has been tooling around Europe for the past few years in various singlehanded boats called Vento Di Sardegna (Sardinian Wind), and we were extremely enthused to see some Italian blood finally returning to the Class that called Gio Soldini one of its founding members.  Unfortunately, the lack of Frenchness continues to be a huge handicap, and Mura seems to have bitten off way more than he could chew with his 2016 attempt at the Vendee Globe in a latest-gen IMOCA boat.
His Italian sponsors paid for a gorgeous, brand new VPLP-Verdier Open 60, but according to Velablog, he's broke, can't get to the starting line for the TJV, and the boat is up for sale.  Bad news for anyone who wants to see IMOCA as more than a Francais-only men's club, but great news for anyone looking to get a last-minute entry with a latest-generation foiling 60 to next year's Vendee starting line.  MichDej, perhaps, just in time to defend his record against either of his two protegées?
Latest goss in the thread.
September 22nd, 2015 by admin
Alone in the sea of brand-new foiling(ish) Open 60s is the UK's Alex Thomson and his new Mercedes-Benz sponsored Hugo Boss, the sort-of sistership to the new VPLP/Verdier monsters that are dropping in the water seemingly every week as the TJV gets close.   Speaking of the French doublehanded classic, there are a jaw-dropping 21 IMOCAs registered for the start in Le Havre.  Will you be there?  Sailing Anarchy will.
We're a bit shocked to see the Hugo Boss change color from the silver that we assumed was such a perfect fit for Merc (and its silver arrows racing brand) but we forgot to check in on the team that HB seems to get all its design inspiration from.  Sure enough, they just turned black this year as well.
More pics on the ATR Facebook page, and the world's best source of breaking information about the IMOCA fleet is, of course, right here in the Ocean Racing Anarchy forums. Title shout to a great song for a blind date…or a stalker.
September 5th, 2015 by admin
Reviving a famous rivalry between the Royal Galway and Royal Cork Yacht Clubs; the 2015 Galway Plate was a brilliant race between two IMOCA 60s. Kilcullen Voyager, skippered by Enda O'Coineen faced off with Alex Thomson's Hugo Boss in Cork Harbour.
July 15th, 2015 by admin