Posts Tagged 'open 60'
Reviving a famous rivalry between the Royal Galway and Royal Cork Yacht Clubs; the 2015 Galway Plate was a brilliant race between two IMOCA 60s. Kilcullen Voyager, skippered by Enda O'Coineen faced off with Alex Thomson's Hugo Boss in Cork Harbour.
July 15th, 2015 by admin
One of the well-proven adages in business is to spend, spend, spend during a recession.  Marketing hard and growing fast when the markets are down is a great way to build market share, and it seems that the big names in the United Kingdom sailboat racing business are doing just that, despite all kinds of fears about austerity measures and deficit problems.  Here are three quick bits to illustrate.
The Great Contender
Russell Coutts chased off the most serious challenger for the next America's Cup.  Then he pulled the rug out from both his own hometown and the team that came a couple of minutes away from ending his run at AC34.  Just one of those is fully funded by a billionaire, but it's the less well-funded one – Ben Ainslie Racing – who currently has the best chance of ending Larry Ellison's reign of bullshit and the constantly waffling hypocrisy from the Russell Coutts Flying Circus.
Why, you ask?
Because Ben and his team are genuinely not in it for cash, but for nation, for country, for all those things that the rest of the world finds quaint and anachronistic.  Their hashtag is #BringTheCupHome, and that resonates like a motherf&%*ker.
That's how he got longtime Mclaren Formula 1 team boss Martin Whitmarsh involved, and that's where Red Bull Formula 1 designer and aerodynamic wunderkind Adrian Newey came in.
And perhaps most importantly, Ben will have home field advantage, as we'll see during next month's ACWS event in Portsmouth.  Bermuda is unfailingly British, and there are we cannot find anyone from the United States who wants to see the betrayal of Ellison and Coutts go unpunished.
Don't underestimate the power of the crowd; unlike the almost entirely mercenary teams (and Oracle Team NOT-USA just added yet another non-american to the mix), Ben can get talent like Whitmarsh and Newey to help him despite being unable to pay them what they made when they worked for the F1 juggernaut.  And the more one-design the boat, the more cerebral the game becomes – and the more morale and confidence come into the mix.  If you don't know what we mean, head over to Portsmouth and listen to what an estimated half a million people sound like when they are cheering.  The biggest questions remain about Ben himself; is he a fast enough driver in foiling boats?
Longtime pommie sailing boffin Matt Sheahan wrote a solid profile of the team and its obstacles over at howtospendit.  Check it out here.
Long Overdue
The Extreme 40 has been long in the tooth for the better part of 5 years, but much of that time was devoted to ensuring the Extreme Sailing Series survival and OC Events future cash flow.  As the rest of the world's catamarans innovated, the Extreme Sailing Series looked more every season like a race for lorries in a downtown parking lot.  But Mark Turner's stature as one of the sport's best organizers doesn't come from his generosity; he is a master of spending only when necessary.  Thanks to a few years of downturn and the ineptitude of his ostensible competitors, the X40 got a bit of breathing room – but not anymore.
And while Turner has been saying for years that 'foiling is not for them,' on Wednesday the ESS announced just the opposite; 2016 and beyond will likely see the new Extreme boat flying.  Turner says they have 'four options' that they haven't distilled down yet, but the clock is a-ticking.  The X40 hulls are a mess, with dozens of repairs adding weight and reducing stiffness throughout the fleet, and one-design something of a joke.  The design itself is as dated as you'll see in a modern event, as you'd expect from a boat created more than a decade ago for the 2005 Volvo Ocean Race; the event that re-launched stadium sailing (though not a new concept; cf. the Formula 40 series in the 90s, the wildly successful 150,000-person Match Cup Sweden in the late 90s and early 2000s, the One-Design Grand Prix circuit, the…well, you get the point).
So there are a lot of reasons for a new boat and it's almost imperative for it to happen quickly, but it is already pretty late for one of the brand new designs being evaluated by OC to impact the 2016 season.  Enter the GC32, currently the front-runner for the Extreme series next year.  It's a bit small for much of the corporate PR and VIP work that's the bread and butter for Turner, but Martin Fischer's flying boat is furious and exciting in anything over 8 knots of breeze.  Perhaps more importantly, two years of now-solved foil issues has taken much of the value out of the GC32, and having spent millions on the creation of his dream boat and a relatively low-budget series, GC32 creator Laurent Lenne is ready to get back to racing instead of running a sailboat marketing company.  That could mean 'bargain' to the famously cost-conscious Turner, solving all his problems for 2016.  The only other option for next year is to modify the truck-like X40 for foils, but that's crazy talk.
And for 2017, look for an all-new X36/X37/X38 – a straight or foiling daggered monster that looks as modern as possible.  Whether you are talking about markets, boat types, or formats, the world is a-changing, and Mark Turner and his group will continue to be one of the most important drivers of those changes.
Watch the final day of ESS racing from Cardiff today.
He's Got The Look
Since we couldn't get a new rendering from the Alex Thomson Racing team, we'll keep this one short, but a monster piece of sailing sponsorship news hit the wire this week providing further evidence that a good look, a strong marketing team, and a few successful PR stunts are far more important than performance when it comes to finding big money for sailing.  Thomson's team announced on Thursday that Mercedes-Benz had joined the Hugo Boss/ATR racing program as a 'Core Sponsor' in advance of this summer's launch of Thomson's brand new VPLP/Verdier Open 60 HUGO BOSS.  The move comes on the heels of last years defection of Hugo Boss from the McLaren F1 team to the all-conquering Mercedes Silver Arrows, marking the end of F-1′s longest team sponsorship deal.  The best part about it?  Thomson doesn't even need to change his color scheme.
With Alex scoring a 3rd in the last Vendee in a last gen boat, and telling us numerous times that he's getting a bit old for all this noise, and with golden boy Francois Gabart sitting this one out in favor of a much faster singlehander, 2016 will mark Thomson's best chance ever at the biggest win ever for an Englishman since Sir Robin beat Moitessier in 1969, nearly 50 years ago.  That is, if he can finish, unlike the last BWR, or the one before that, or…
June 21st, 2015 by admin
Did anyone expect the first bluewater foiler to be a monohull? We sure didn't, but Morgan Legraviere's new Open 60 Safran looks ready for takeoff.  Sick work from the dominant duo of Verdier and VPLP, and you can hit the "New IMOCA" thread for video and more pics.  Oh – and you'll like what Verdier calls them; 'Dali Moustache' foils.  We're a little confused though; When did dropping hundreds of balloons into the sea become ok? Biodegradable or not, seems like a bit of a dick move.
March 8th, 2015 by admin
Ask An Expert
A reader from Washington State asks "With Tesla Motors opening up its advanced battery patents to the world, will we see some major advancements in size/weight/capacity in the world of offshore power and storage?"  We turn to RTW racer and now energy guru Bruce Schwab from Bruce Schwab Energy Systems for an answer.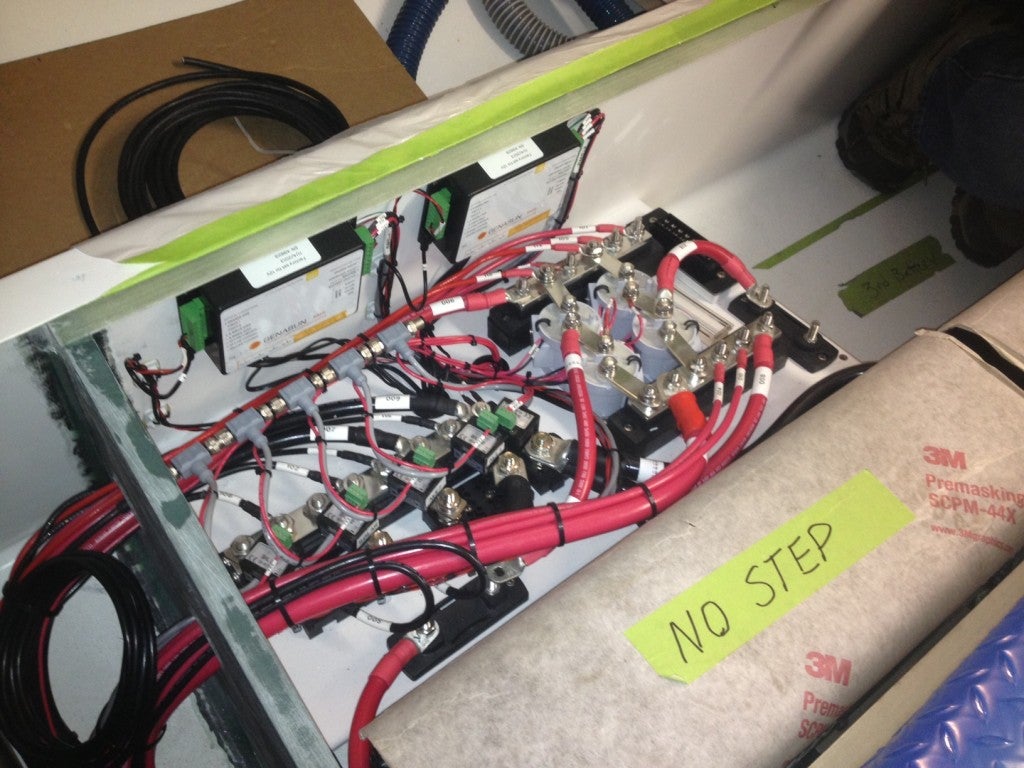 Thanks for the question, and I wish I had more exciting news, but the reality is that I don't think Tesla's move will have much effect on the marine market. Why? Because what makes Lithium (Li) battery systems expensive is not the "battery" cells themselves (usually four cells per 12V battery); rather, it is the application-specific "BMS" (Battery Management System) that makes the system useable and safe…and the lack of "scale" in the marine market to drive down costs. While the performance of lithium batteries is superior to Lead (Pb), if you run them flat or overcharge them that could cause them to fail prematurely. While it's not good to over/undercharge Pb, they typically will just lose capacity from such abuse and not necessarily become "finished".
The BMS in a car battery system has very different requirements than for a boat, first of all being much higher voltage. A boat typically has its own special issues, such as multiple charging sources (alternator, AC/DC charger from shore/genset, solar panels, hydrogenerator, wind generator, etc.) and multiple loads as well. So the system configurations are different, and even between top marine Li battery brands, the BMS philosophies differ.
For instance, Genasun marine battery system uses a dual positive bus, separating the charge sources from the loads. While this adds some work to an installation, in the long run it offers several advantages and protects both the battery investment and the boat. See attached pic of an very nice Genasun GLi installation in the IMOCA 60 Great American IV, by Steve Ecker of Maine Yachting Center here in Maine. Not the kind of thing a typical boat owner does on their own…;-) Of course, you can find and use an Li battery with a Pb-style physical format & terminals, and just plug it in. However the operation of such packs is far less graceful at the top and bottom ends of the charge/discharge cycles. Here is a diagram that partially explains a dual-bus configuration.
While Li battery performance is spectacular, they are not for everyone on the water. There are certainly many options and choices out there with Pb: AGM, gel, flooded, etc. each with their own attributes and disadvantages. and there are versions of AGM that the marine market has yet to discover. The primary weaknesses of Pb (aside from being so darn heavy) is the susceptibility to permanent internal sulfation (from undercharging) and corrosion (from overcharging), which usually spells the end of their useful life. Extended PSOC (Partial State Of Charge) operation…which is very common in marine use…leads to sulfation that is often impossible for the battery to recover from. However you will soon see Pb batts utilizing internal carbon grids/plates/etc. to help prevent this and/or allow complete recovery without high-voltage "Equalization" sessions. Equalization can help recover some capacity, however this must be carefully done or it can shorten cycle life as well.
Speaking of battery technology, and specifically Pb/AGM…the first to use a carbon foam grid internally (about seven years ago) in an AGM was Firefly batteries. These AGM's seem to have great resistance to permanent sulfating, making them good for the marine use. However for some reason, they never got any exposure in the marine market, despite burning through a lot of VC capital and a even going through bankruptcy way back in 2007. We are looking into offering a new version of the Firefly they are developing with input from us here at OceanPlanet Energy. Knowing that Lithium is great, but for the foreseeable future not for everyone, we want to have the next best thing as an option, and we'll be sure to share it with the Anarchists.
Ask a simple question….get a sales pitch in reply…sorry!
-Bruce Schwab
Ocean Planet Energy Systems
July 17th, 2014 by admin
As always, Ryan Breymaier is as honest and refreshing as they come, and as the first American to win an IMOCA event in a long time, he's got plenty to say.  About his race and NYC's sendoff (and what NYTimes' Chris Museler has on his plate after crossing with Ryan), about big moves in the Open 60 fleet, about the soon-approaching Barcelona Race, and why he'll be in Marine City, MI for a while this summer.  A half hour with Mr. Clean for the SA Innerview.
June 18th, 2014 by admin
Thanks to Safran's bad luck with a few broken ribs and a confirmed abandonment this morning, Ryan Breymaier and Pepe Ribes find themselves in the lead of the NY-BCN Race aboard the shiny grey Hugo Boss. Ryan and New York Times sailing correspondent Chris Museler called in to flu-ridden Mr. Clean for a quick chat as they passed the Rock of Gibraltar this afternoon; their chat got cut off but here's 9 minutes with both of them that's worth a listen. Track the final three or four days here.
June 12th, 2014 by admin
OG Open 60 gangsta and Hugo Boss Skipper Ryan Breymaier hits the Sunday New York Times today, thanks to longtime Anarchist and NYT journalist Chris Museler.  Ryan, Pepe Ribes, and Museler head to Barcelona today; all the details are here.  Photo from Thierry Martinez/Sea&Co.
At 3 a.m. Wednesday, Ryan Breymaier had been prone on a two-inch foam pad for barely 30 minutes when the call came for him to get up. He was delivering the 60-foot racing sailboat Hugo Boss from Newport, R.I., to Manhattan as training for the Imoca Ocean Masters New York to Barcelona race, in which he and Pepe Ribes of Spain will sail across the Atlantic against four other teams starting Sunday.
Breymaier, a tall American with a mop of blond curls, winced as he sat up, keeping his head low to avoid the raw carbon fiber ceiling only inches above.
"You're going to have to get someone else on the grinders," he calmly transmitted above the banging of waves against the hull, referring to the shore crew that came along to help test equipment. "I don't know what I did to my back."
June 2nd, 2014 by admin
American solo sailor Ronnie Simpson checks in from Hawaii with the latest and greatest ocean racing news.  Mark Lloyd photos.
An unflappable Hugo Boss sailed into New York's North Cove Marina yesterday, mast repaired, to join the rest of the IMOCA Ocean Masters' New York – Barcelona fleet. You can't keep a good man down, as co-skippers Ryan Breymaier and Pepe Ribes quickly proved by winning today's Hugo Boss Watches charity race with Newport- New York prologue winner Neutrogena finishing second and Safran third. The inaugural New York- Barcelona race starts this Sunday June 1st with American Vendée Globe hopeful and avowed Anarchist Ryan Breymaier looking tough to beat. Go Ryan!!!
The IMOCA fleet aren't the only game in town right now though, with Armel Le Cléach and his maxi tri Banque Populaire VII arriving a week ago and immediately going on standby to tackle Francis Joyon and IDEC's 2013 Solo Transatlantic west-to-east record of 5d 2h 56m. Since finishing second in the Vendée Globe last year and entering the realm of chasing solo sailing records, Le Cléach has been dominant to the tune of shattering both the Trans-Mediterranean, Transatlantic east-to-west (Route of Discovery) and the 24-hour record. If Armel and BP VII are successful in this Transatlantic west-to-east, then they would have broken three of Francis Joyon's four major records in just one season.
Breaking the record won't be easy, nor will it be straight forward, requiring a very specific weather window. Having said that, 'Cléach' and BP VII have shown a serious speed advantage over IDEC on almost all points of sail, having knocked nearly two days off Joyon's Route of Discovery record earlier this year. Working alongside the legendary weather router Marcel van Triest, Le Cléach must wait for the proper weather window to present itself; a challenge made more difficult by a brutally cold winter leaving broken ice off the coast of Newfoundland. Not yet able to follow a direct route to England, the team is watching and waiting for a combination of melting and moving ice and a depression to form off of Newfoundland that will allow them to ride the leading edge of it on starboard tack in solid breeze and flat water.
Currently en route to Newport to attempt the same record, albeit crewed, is the fastest offshore racing yacht ever built; Spindrift 2 (ex-Banque Populaire V). Departing La Trinité-sur-Mer on Monday, the 40-meter monster is due into Newport on Tuesday to go on standby to attempt one of the most notorious modern records in existence; Banque Pop's 2009 North Atlantic record of 3d 15h 25m in which they sailed an incredible 908 nautical miles in 24 hours. Having put the boat on a serious diet, Spindrift 2 has chopped some 6 meters off the rig, built a new sail inventory, done the requisite multihull work in swapping in new foils, a new centerboard and constant optimization during their post Discovery Route re-fit. Co-skipper Yann Guichard claims a 3-5 knot increase in boat speed above 30 knots due to the new c-foils' lift and Spindrift's lighter weight, though the 23-ton 40-meter tri is not truly "foiling".
These two simultaneous record attempts are just the latest in what is a stunning lead up to this November's Route du Rhum that includes Sodebo Ultim's recent launch and Seb Josse's recently relaunched near-foiling MOD 70 Edmond de Rothschild, which is currently making it's debut against fellow MOD 70 soloist Sydney Gavignet and Oman Sail- Musandam in the Armen Race. We'll let you know when Banque Populaire VII and Spindrift 2 get ready to leave, but for now, check out the New York- Barcelona! Go Ryan and Hugo Boss!
May 30th, 2014 by admin
"Back" as in back sailing again! A quick repair of Hugo Boss' broken spar gets Ryan Breymaier and Pepe Ribes ready for the start of the OCEAN MASTERS New York to Barcelona Race on June 1. Great to see them back on their feet so quick. Here's the Tuesday morning update from Ryan, with nice photos from mstrsail, and be sure to check Ryan's search for Vendee Globe partners here.
Since breaking the rig about 400 miles from Newport, it has been a stressful journey to get back on the water.  We were very lucky the break happened where it did, as the spreaders and most of the rigging remained sound, and allowed us to reuse them, and there was not one broken stitch on any of the sails.
Fortunately we were coming to Newport; if you have to break a mast, this should be the destination.  When we arrived at Newport Shipyard, all the concerned parties were there and ready to help.  Jimmy and Jay from the Shipyard have been great, Scott and Dave from Composite Rigging, Chuck, Mike, and the rest of the Southern Spars team, and Stew, Vinny, and Dan from Al Fresco composites are all great guys at the top of their respective games, and each put in long hours to see us back on the water as soon as possible.
Of course, there is no way any of this would have happened without the Hugo Boss shore team, who are each expert in their field, and have been above and beyond, putting in many 20 hour days.  You cannot say enough about these guys and their dedication to our success.
It has been a great sojourn here in Newport, irrespective of the rigging problems, and I can honestly say that the Hugo Boss has never been in better shape.  As you can see from the photos, we have been out for our first sail, and are confident in the repair.  The mast sets up beautifully, the sail shape is even better than before, and we are ready to leave this morning for New York City and our pro-am race on the 29th.
It looks like 15-20 upwind for the trip, (as expected) which should be fine, as it allows us to make good time getting there.
This whole process has been a drag for everyone involved, but positive thinking and hard work are putting us in a great position to still win the NY-Barcelona!  I am looking forward to putting on that Hugo Boss suit as we cross the finish line in first place.  With everything that the team has dealt with here, that will be the ultimate success.
It is a few days off, but it looks like a very classic North Atlantic crossing at present, riding low pressure system across in 30 knots of breeze, just what Boss loves and is set up for.  We can then tackle the Med, which is Pepe's home turf, and I know quite well.  The race is ours to lose.
Please do not hesitate to come down to North Cove Marina in Manhattan to check out the boats.  If we are not super busy (or if you have kids along), you might just get a look around."
Ryan Breymaier
May 26th, 2014 by admin
The exciting news that our good friend Ryan Breymaier would be taking Alex Thomson's place aboard Hugo Boss for the upcoming NY-Barcelona double handed race is a bit less exciting today after news came in this morning that they've broken their mast.  Alex, Ryan, co-skipper Pepe Ribes and preparateur Willy Altadill (Guillermo's boy) will sail directly to Newport and, we imagine, get some of the Hall guys down to see just how much work it'll be to get the boat ready for the June 1 departure from the Big Apple.  The boat was in plenty of breeze – well over 40 knots, according to weather files, but this is not a common failure point for Open 60 rigs.  Maybe Alex should quit running up and down the mast?  Here's the official news:
The shore team were contacted by the boat early this morning and were informed that the Southern Spar mast is broken above the top spreader. We are relieved to announce that the four crew members on-board are safe and we have notified their families and our sponsors.
We could not have a better team on the boat to deal with this and members of the shore team are planning to meet the boat upon its arrival to Newport this weekend, and will carry out an assessment to determine if the boat can be repaired in time to enable us to take part in the New York to Barcelona race.
May 8th, 2014 by admin