Posts Tagged 'open 60'
Did anyone expect the first bluewater foiler to be a monohull? We sure didn't, but Morgan Legraviere's new Open 60 Safran looks ready for takeoff.  Sick work from the dominant duo of Verdier and VPLP, and you can hit the "New IMOCA" thread for video and more pics.  Oh – and you'll like what Verdier calls them; 'Dali Moustache' foils.  We're a little confused though; When did dropping hundreds of balloons into the sea become ok? Biodegradable or not, seems like a bit of a dick move.
March 8th, 2015 by admin
Ask An Expert
A reader from Washington State asks "With Tesla Motors opening up its advanced battery patents to the world, will we see some major advancements in size/weight/capacity in the world of offshore power and storage?"  We turn to RTW racer and now energy guru Bruce Schwab from Bruce Schwab Energy Systems for an answer.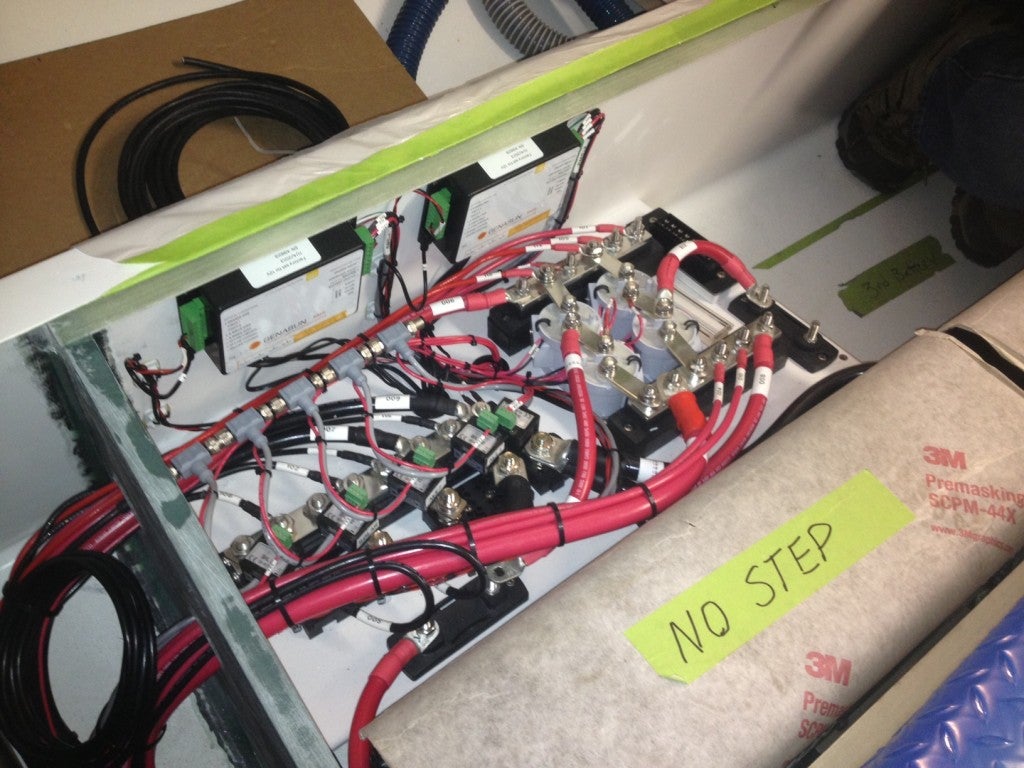 Thanks for the question, and I wish I had more exciting news, but the reality is that I don't think Tesla's move will have much effect on the marine market. Why? Because what makes Lithium (Li) battery systems expensive is not the "battery" cells themselves (usually four cells per 12V battery); rather, it is the application-specific "BMS" (Battery Management System) that makes the system useable and safe…and the lack of "scale" in the marine market to drive down costs. While the performance of lithium batteries is superior to Lead (Pb), if you run them flat or overcharge them that could cause them to fail prematurely. While it's not good to over/undercharge Pb, they typically will just lose capacity from such abuse and not necessarily become "finished".
The BMS in a car battery system has very different requirements than for a boat, first of all being much higher voltage. A boat typically has its own special issues, such as multiple charging sources (alternator, AC/DC charger from shore/genset, solar panels, hydrogenerator, wind generator, etc.) and multiple loads as well. So the system configurations are different, and even between top marine Li battery brands, the BMS philosophies differ.
For instance, Genasun marine battery system uses a dual positive bus, separating the charge sources from the loads. While this adds some work to an installation, in the long run it offers several advantages and protects both the battery investment and the boat. See attached pic of an very nice Genasun GLi installation in the IMOCA 60 Great American IV, by Steve Ecker of Maine Yachting Center here in Maine. Not the kind of thing a typical boat owner does on their own…;-) Of course, you can find and use an Li battery with a Pb-style physical format & terminals, and just plug it in. However the operation of such packs is far less graceful at the top and bottom ends of the charge/discharge cycles. Here is a diagram that partially explains a dual-bus configuration.
While Li battery performance is spectacular, they are not for everyone on the water. There are certainly many options and choices out there with Pb: AGM, gel, flooded, etc. each with their own attributes and disadvantages. and there are versions of AGM that the marine market has yet to discover. The primary weaknesses of Pb (aside from being so darn heavy) is the susceptibility to permanent internal sulfation (from undercharging) and corrosion (from overcharging), which usually spells the end of their useful life. Extended PSOC (Partial State Of Charge) operation…which is very common in marine use…leads to sulfation that is often impossible for the battery to recover from. However you will soon see Pb batts utilizing internal carbon grids/plates/etc. to help prevent this and/or allow complete recovery without high-voltage "Equalization" sessions. Equalization can help recover some capacity, however this must be carefully done or it can shorten cycle life as well.
Speaking of battery technology, and specifically Pb/AGM…the first to use a carbon foam grid internally (about seven years ago) in an AGM was Firefly batteries. These AGM's seem to have great resistance to permanent sulfating, making them good for the marine use. However for some reason, they never got any exposure in the marine market, despite burning through a lot of VC capital and a even going through bankruptcy way back in 2007. We are looking into offering a new version of the Firefly they are developing with input from us here at OceanPlanet Energy. Knowing that Lithium is great, but for the foreseeable future not for everyone, we want to have the next best thing as an option, and we'll be sure to share it with the Anarchists.
Ask a simple question….get a sales pitch in reply…sorry!
-Bruce Schwab
Ocean Planet Energy Systems
July 17th, 2014 by admin
As always, Ryan Breymaier is as honest and refreshing as they come, and as the first American to win an IMOCA event in a long time, he's got plenty to say.  About his race and NYC's sendoff (and what NYTimes' Chris Museler has on his plate after crossing with Ryan), about big moves in the Open 60 fleet, about the soon-approaching Barcelona Race, and why he'll be in Marine City, MI for a while this summer.  A half hour with Mr. Clean for the SA Innerview.
June 18th, 2014 by admin
Thanks to Safran's bad luck with a few broken ribs and a confirmed abandonment this morning, Ryan Breymaier and Pepe Ribes find themselves in the lead of the NY-BCN Race aboard the shiny grey Hugo Boss. Ryan and New York Times sailing correspondent Chris Museler called in to flu-ridden Mr. Clean for a quick chat as they passed the Rock of Gibraltar this afternoon; their chat got cut off but here's 9 minutes with both of them that's worth a listen. Track the final three or four days here.
June 12th, 2014 by admin
OG Open 60 gangsta and Hugo Boss Skipper Ryan Breymaier hits the Sunday New York Times today, thanks to longtime Anarchist and NYT journalist Chris Museler.  Ryan, Pepe Ribes, and Museler head to Barcelona today; all the details are here.  Photo from Thierry Martinez/Sea&Co.
At 3 a.m. Wednesday, Ryan Breymaier had been prone on a two-inch foam pad for barely 30 minutes when the call came for him to get up. He was delivering the 60-foot racing sailboat Hugo Boss from Newport, R.I., to Manhattan as training for the Imoca Ocean Masters New York to Barcelona race, in which he and Pepe Ribes of Spain will sail across the Atlantic against four other teams starting Sunday.
Breymaier, a tall American with a mop of blond curls, winced as he sat up, keeping his head low to avoid the raw carbon fiber ceiling only inches above.
"You're going to have to get someone else on the grinders," he calmly transmitted above the banging of waves against the hull, referring to the shore crew that came along to help test equipment. "I don't know what I did to my back."
June 2nd, 2014 by admin
American solo sailor Ronnie Simpson checks in from Hawaii with the latest and greatest ocean racing news.  Mark Lloyd photos.
An unflappable Hugo Boss sailed into New York's North Cove Marina yesterday, mast repaired, to join the rest of the IMOCA Ocean Masters' New York – Barcelona fleet. You can't keep a good man down, as co-skippers Ryan Breymaier and Pepe Ribes quickly proved by winning today's Hugo Boss Watches charity race with Newport- New York prologue winner Neutrogena finishing second and Safran third. The inaugural New York- Barcelona race starts this Sunday June 1st with American Vendée Globe hopeful and avowed Anarchist Ryan Breymaier looking tough to beat. Go Ryan!!!
The IMOCA fleet aren't the only game in town right now though, with Armel Le Cléach and his maxi tri Banque Populaire VII arriving a week ago and immediately going on standby to tackle Francis Joyon and IDEC's 2013 Solo Transatlantic west-to-east record of 5d 2h 56m. Since finishing second in the Vendée Globe last year and entering the realm of chasing solo sailing records, Le Cléach has been dominant to the tune of shattering both the Trans-Mediterranean, Transatlantic east-to-west (Route of Discovery) and the 24-hour record. If Armel and BP VII are successful in this Transatlantic west-to-east, then they would have broken three of Francis Joyon's four major records in just one season.
Breaking the record won't be easy, nor will it be straight forward, requiring a very specific weather window. Having said that, 'Cléach' and BP VII have shown a serious speed advantage over IDEC on almost all points of sail, having knocked nearly two days off Joyon's Route of Discovery record earlier this year. Working alongside the legendary weather router Marcel van Triest, Le Cléach must wait for the proper weather window to present itself; a challenge made more difficult by a brutally cold winter leaving broken ice off the coast of Newfoundland. Not yet able to follow a direct route to England, the team is watching and waiting for a combination of melting and moving ice and a depression to form off of Newfoundland that will allow them to ride the leading edge of it on starboard tack in solid breeze and flat water.
Currently en route to Newport to attempt the same record, albeit crewed, is the fastest offshore racing yacht ever built; Spindrift 2 (ex-Banque Populaire V). Departing La Trinité-sur-Mer on Monday, the 40-meter monster is due into Newport on Tuesday to go on standby to attempt one of the most notorious modern records in existence; Banque Pop's 2009 North Atlantic record of 3d 15h 25m in which they sailed an incredible 908 nautical miles in 24 hours. Having put the boat on a serious diet, Spindrift 2 has chopped some 6 meters off the rig, built a new sail inventory, done the requisite multihull work in swapping in new foils, a new centerboard and constant optimization during their post Discovery Route re-fit. Co-skipper Yann Guichard claims a 3-5 knot increase in boat speed above 30 knots due to the new c-foils' lift and Spindrift's lighter weight, though the 23-ton 40-meter tri is not truly "foiling".
These two simultaneous record attempts are just the latest in what is a stunning lead up to this November's Route du Rhum that includes Sodebo Ultim's recent launch and Seb Josse's recently relaunched near-foiling MOD 70 Edmond de Rothschild, which is currently making it's debut against fellow MOD 70 soloist Sydney Gavignet and Oman Sail- Musandam in the Armen Race. We'll let you know when Banque Populaire VII and Spindrift 2 get ready to leave, but for now, check out the New York- Barcelona! Go Ryan and Hugo Boss!
May 30th, 2014 by admin
"Back" as in back sailing again! A quick repair of Hugo Boss' broken spar gets Ryan Breymaier and Pepe Ribes ready for the start of the OCEAN MASTERS New York to Barcelona Race on June 1. Great to see them back on their feet so quick. Here's the Tuesday morning update from Ryan, with nice photos from mstrsail, and be sure to check Ryan's search for Vendee Globe partners here.
Since breaking the rig about 400 miles from Newport, it has been a stressful journey to get back on the water.  We were very lucky the break happened where it did, as the spreaders and most of the rigging remained sound, and allowed us to reuse them, and there was not one broken stitch on any of the sails.
Fortunately we were coming to Newport; if you have to break a mast, this should be the destination.  When we arrived at Newport Shipyard, all the concerned parties were there and ready to help.  Jimmy and Jay from the Shipyard have been great, Scott and Dave from Composite Rigging, Chuck, Mike, and the rest of the Southern Spars team, and Stew, Vinny, and Dan from Al Fresco composites are all great guys at the top of their respective games, and each put in long hours to see us back on the water as soon as possible.
Of course, there is no way any of this would have happened without the Hugo Boss shore team, who are each expert in their field, and have been above and beyond, putting in many 20 hour days.  You cannot say enough about these guys and their dedication to our success.
It has been a great sojourn here in Newport, irrespective of the rigging problems, and I can honestly say that the Hugo Boss has never been in better shape.  As you can see from the photos, we have been out for our first sail, and are confident in the repair.  The mast sets up beautifully, the sail shape is even better than before, and we are ready to leave this morning for New York City and our pro-am race on the 29th.
It looks like 15-20 upwind for the trip, (as expected) which should be fine, as it allows us to make good time getting there.
This whole process has been a drag for everyone involved, but positive thinking and hard work are putting us in a great position to still win the NY-Barcelona!  I am looking forward to putting on that Hugo Boss suit as we cross the finish line in first place.  With everything that the team has dealt with here, that will be the ultimate success.
It is a few days off, but it looks like a very classic North Atlantic crossing at present, riding low pressure system across in 30 knots of breeze, just what Boss loves and is set up for.  We can then tackle the Med, which is Pepe's home turf, and I know quite well.  The race is ours to lose.
Please do not hesitate to come down to North Cove Marina in Manhattan to check out the boats.  If we are not super busy (or if you have kids along), you might just get a look around."
Ryan Breymaier
May 26th, 2014 by admin
The exciting news that our good friend Ryan Breymaier would be taking Alex Thomson's place aboard Hugo Boss for the upcoming NY-Barcelona double handed race is a bit less exciting today after news came in this morning that they've broken their mast.  Alex, Ryan, co-skipper Pepe Ribes and preparateur Willy Altadill (Guillermo's boy) will sail directly to Newport and, we imagine, get some of the Hall guys down to see just how much work it'll be to get the boat ready for the June 1 departure from the Big Apple.  The boat was in plenty of breeze – well over 40 knots, according to weather files, but this is not a common failure point for Open 60 rigs.  Maybe Alex should quit running up and down the mast?  Here's the official news:
The shore team were contacted by the boat early this morning and were informed that the Southern Spar mast is broken above the top spreader. We are relieved to announce that the four crew members on-board are safe and we have notified their families and our sponsors.
We could not have a better team on the boat to deal with this and members of the shore team are planning to meet the boat upon its arrival to Newport this weekend, and will carry out an assessment to determine if the boat can be repaired in time to enable us to take part in the New York to Barcelona race.
May 8th, 2014 by admin
It took us longer than we thought to get this up and we thank you for your patience, but it's worth it; this hour-long Sailing Anarchy Innerview with Hugo Boss skipper Alex Thomson tells the secrets behind his mast walk stunt (and whether it was a stuntman who did the big dive) and gets into dozens of other subjects thanks to your excellent questions; Alex shares his plans for 2014 and the next Vendee Globe, tells us who has new boats coming in the IMOCA world, and gives us the low down on his Caribbean 600 race on a Beneteau 40.  You can grab audio only via your smartphone or browser here on the Mixcloud, or download an MP3 file for later listening here.
We highly recommend you check out the "Behind the Mastwalk" video here as well; it's even better than the other one.
March 20th, 2014 by admin
With his his excellent mast walk video rapidly approaching a million Youtube views, long time Sailing Anarchy fan Alex Thomson wants to answer all of of our reader's questions, and there's always plenty to ask the charismatic British offshore racer.  He's agreed to do an exclusive AMA (Ask Me Anything) with us on Friday, with questions coming via the SA Forum, Facebook, and Twitter, so here's your chance to get all the info on the mechanics of the mast walk,  the value of PR Stunts, how to keep a sponsor happy, what it's like being the top Brit in a Frenchman's game, what his plans are for the various IMOCA/Ocean Master events this year, what's the goss on the UK's chance at an America's Cup, and anything else you like. We'll add up all the questions and get AT to hit them one by one in a Skype chat with Mr. Clean that we'll have up and running by the end of the weekend.
Post questions right here in the forum, or send them in to our Twitter page or on Facebook with the hashtag #mastwalk before Friday at 0900 GMT/0500 EDT.  And while you're at it, we highly recommend you have a look at the Aussie Sailing Team's video piss-take of AT's mast walk posted a few days back.  Hilarious stuff, and a good example of why Sailing Anarchy gets along so well with Australia.
March 12th, 2014 by admin
Alex Thomson and the Hugo Boss team have proven masters at the art of the publicity stunt.  With the widespread success of his various suit-adorned keel walking stunts, you'd think the rest of the yachting media would've long ago caught to this extremely effective PR tool.  But the severe lack of creativity in those circles means no one else has, and that leaves us waiting every year to see how the Boss boys will outdo themselves.  That brings us to this coming week, when we'll see the full video of Alex Thomson doing something none of you has ever seen; a deck-to-masthead run and exit aboard the Farr-designed Hugo Boss that AT brought to an unlikely and hard-fought podium finish in the last Vendee Globe.  Keep your eyes right here for the movie shot in Cadiz, Spain and first reported by Voile.  Mark Lloyd photo.
Title from a TV show that you might've never seen, but you should have.  Here's a hint.
March 2nd, 2014 by admin
Having followed Bernard Stamm and his Cheminees Poujoulat program for years, we have a few lessons to share with prospective Open 60 skippers.
1) "Win or Break" may be a silly axiom, but when it comes to sponsor exposure, nothing is truer.  And "Just Break" may be even more effective, especially when you pick the wrong designer and have no chance to win.  Proof:  Bernard and his sponsor have gotten more press since his Juan Yacht Design cracked in half on a delivery sail in December than he ever received sailing around behind the lead pack in any major race – except for when he crashed into an island.  And then again he got a lot of notice when disqualified by the Vendee Globe for outside assistance.
2)  As a follow-on to (1), if you want lots of exposure for your major race campaign, bring in JuanK to your design team.  We're not saying that any of the recent disasters were his fault – after all, a big boat is a big project – but between the Artemis AC72 disaster, Cheminees implosion,, and Rambler 100s capsize and near-death experience, nothing can get those journalists fired up quite like a JuanK boat.
3) Nobody takes care of their boats like the French (and their kissing cousins, the Franco-Suisse like Bernard).  What American, Italian, or British skipper would spend months finding and recovering a boat that won't even work as a garden planter? Remember during the infamous Route Du Rhum when half the ORMA 60 fleet was lost?  Only French boats made it back, often upside down and useless.  And guess what?  Some of those boats are still sailing today.  It's no wonder the French can keep finding sponsors – the French sailors will just about die for them!  And you'll never catch a Frenchman polluting on the ocean.  Unfiltered cigarette butts don't count.
We joke, but only just.  Keep up with the latest on Stamm's busted up ride here.
February 19th, 2014 by admin
IMOCA's Open 60 rule has a maximum width rule for the front of the boat; its goal is to prevent the 'scow-bowed' type of design that has proven so successful (at both racing and raising hackles amongst sailors) on David Raison's TeamWork Mini.  We're not sure why IMOCA felt the need for the rule other than the fact that most sailors find blunt noses fugly, but to that, we say 'speed is beauty', and we salute German Class 40 performer Joerg Richers for having the balls to get it done.
We're told that you're looking at Joerg's last-generation Farr-designed Open 60 Mare (ex-Foncia) under refit at the old stomping grounds of the recently departed Hubert Desjoyeux – CDK Technologies, which recently announced they won the build contracts for the new Safran (now without quick-release keel!) and Banque Populaire.  And here we thought France was broke!
Mare will sail the singlehanded Route Du Rhum this November as well as the doublehanded Barcelona World Race a month later.  Will a blunt weapon be a dangerous one?  We'll find out this winter.  Stay in tune with the latest and greatest coming out of IMOCA world in the thread.  Big thanks to secretive Anarchist "Kalitmotxo" for what we think is a world's first look at the scowbilly Open boat.  More discussion in here.
February 7th, 2014 by admin
One of the most popular foreigners in the IMOCA fleet, Swiss sailor Bernard Stamm continues to find himself cursed with the same bad luck that saw him DSQ from the last Vendee Globe and destroying his bow against a cargo ship in an earlier race.  And this time, it nearly killed him.
Stamm and co-skipper Damien Guillou were delivering Stamm's Open 60 Cheminees Poujoulat – a pre-fab metal chimney manufacturer with a creepy black cat as its logo – home from Brazil after the TJV, running ahead of a not-unusual winter storm with winds to around 50 knots and seas of 30 feet, according to the British Coast Guard (it turned out to be the deepest low recorded in the British Isles since the 1880s).  When his JuanK designed boat fell off a wave, the boat literally cracked in half forward of the daggerboard casings, and only by immediately shutting the watertight crash doors did Guillou and Stamm keep the boat afloat long enough to be rescued.
The rescue itself was a super sketchy affair, with two helicopters and a plane attempting to either pull the sailors out of the sea or drop them life rafts – all efforts failed thanks to a lack of light and the huge seas.  One aircraft remained on station, guiding a Norwegian cargo ship to the stricken Open 60 and rescuing the sailors as the boat sank underneath them.  We'll probably never know whether it was a design or construction defect that led to this near-fatal accident, but we do know this:  After Rambler 100, Artemis Racing, and now Cheminees Poujoulat, Juan K might might be either a woeful designer or just unluckier than Bernard Stamm.  And they both might be looking for a new career soon.
Here's an interview we did with Stamm in happier days, before the last Vendee Globe, and get into the thread for more news and information on the rescue.  Photo from Stamm's earlier Velux 5 Oceans-winning 60, mostly to show you the kitty.
December 26th, 2013 by admin
A couple of days ago in the doldrums, Open 60 PRB – probably the lightest Open 60 ever built, caught up to Gabart and Desjoyeux aboard Macif, who'd been leading almost from the gun.  Young Francois and the grizzled veteran Michel showed what they and their latest gen VPLP/Verdier boat could do that night, putting almost 20 NM on the orange boat by morning.  But maybe they are a bit too fast.
Macif continued to stretch her lead until yesterday when her rig went over the side, not all that far from where the same pair last lost the rig off the nearly identical boat during the Barcelona World Race (though that was Foncia, sistership to Macif).  The duo cut the mast away and are proceeding under jury rig to Salvador de Bahia, and they are still fast, sailing almost six knots with no mast at all.  Check the short jury rig video here, and track PRB, Maitre Coq, and Safran as they fight for the win with just one day left on the course.  More from Gabart:
"We were sailing on port tack under full main and big gennaker in 15-20 knots with a small seaway coming from behind.  An hour or two before we'd had some gusty wind but the wind was stable when the mast broke.  We were under autopilot with myself in the cockpit and Michel resting inside when the mast went, breaking a dozen meters above the deck, meaning 18 meters of mast in the water.  The standing part was supported by the cabin top/coachroof.
We turned downwind, fortunately all safe when it happened.  It took about an hour to separate the upper part from the lower part, making sure we could preserve the boom for a jury rig.  We're both in the same state of mind: Sad and disappointed, but we are forward looking people and at these times it's better to do that than to dwell on problems.
The Failure
Within two seconds of the first noise, the mast was down, so it's hard to speculate on what might have happened…I suspect it was a tube failure rather than fittings or attachments.  We were definitely pushing the boat but in a very usual way and in normal conditions; certainly not the first time I've pushed this boat since her launch!
After the Vendée Globe, we stepped a lighter mast that would hopefully not sacrifice reliability, but it was maybe a bit more fragile in the harsh conditions of this TJV.  I don't want to second guess much, because maybe the Vendee Globe mast might have been fine, but maybe it would have broken too.  
I don't think our match race with PRB had any impact on how we pushed the boat.  We took a step back at times, our goal was to sail better consistently. We did not want to overdo it, we wanted to sail cleanly and even if PRB had been a few miles ahead, or behind, then nothing would have changed."
Second time unlucky
"I have had two dismastings in my life, both in IMOCAs between Brazil and Africa and both sailing two up with with Michel . We think of the dismasting which happened two years ago in the Barcelona World Race. But the reasons are different. But there is the same feeling of sadness because all of a sudden everything just stops. At the same time we look to the positives, it could have happened at any other time and that would have been worse for us and for the boat. It's been great since it happened in the Barcelona . There is no reason why we can't follow on the same after this second dismasting."
November 21st, 2013 by admin
Open 60-obsessed Ronnie Simpson gave us his look at the IMOCA fleet on Friday; Ryan Breymaier gets into the rest of the fleet below in a great 'insider' view of the Transat Jacques Vabre fleet, which is now postponed until at least Thursday with yet more nasty depressions battering the Atlantic.  Remember to get in touch with Ryan's Project USA if your company is looking for a new way to get some prime exposure, or some of your or contacts might be interested in helping fund his Vendee Globe bid.  TJV thread is over here if you want to talk about the race.
The TJV start in Le Havre has been very similar for the last several years.  Rain, with periods of clearing, windy, and squalls of hail.  In between dodging hailstones, there are plenty of interesting boats on display, attracting huge crowds of French fans  (mostly there for the crepes and pommes frites with a celebratory beer at the end of a lap of the huge basin), directly in the center of town.
The fleet this year includes 2 MOD 70s, 6 Multi 50 trimarans, 9 IMOCA 60s, and 25 Class 40s.   While the other classes are interesting in their own right, the 25 strong class 40s are the most interesting, with a large variety of designers  and boats.  They are also interesting because they represent the type of boat that most of the SA readers would have the easiest chance of getting involved with.
In a mirror of the situation facing the class today, the easiest way to have a look at the 40s is to split them into the pro teams with experience, boats and budgets allowing the possibility of a podium, and the largely amateur teams who are there to participate, but who either are missing one of the three factors above to get on the podium.
In alphabetical order, here are the teams in the first category:
| | | |
| --- | --- | --- |
| Campagne de France | Halvard Mabire, Miranda Merron | Pogo S2 |
| Concise 8 | Ned Collier Wakefield, Sam Goodchild | Ker Custom |
| DUNKERQUE-PLANETE ENFANTS | Bruno Jourdren, Thomas Ruyant | Tyker 3 |
| GDF SUEZ | Sébastien Rogues, Fabien Delahaye | Mach 40 |
| Mare | Jörg Riechers, Pierre Brasseur | Mach 40 |
| Tales Santander 2014 | Alex Pella, Pablo Santurde | Botin Custom |
Campagne de France  is perhaps the closest to the original spirit of the class.  Halvard and Miranda live aboard the boat much of the time, while still keeping it in pure racing trim, and have a very limited budget.  The huge experience of the two skippers and the careful tuning of a very strong  boat keep them in the leading pack.
Concise 8 is the newest boat in the fleet, and its two young English skippers will be giving it their all to be first to the line in Brasil.  Ker's first Class 40 design is notable for its huge batwings on the transom corners.  This feature is taken from the latest generation Volvo 70 designs as a way to dodge the average freeboard demanded by the rules,  as well as creating a better sheeting position for the gennakers.  The lower CG created by getting the freeboard down and the ACC style interior structure have allowed the Concise team to create a very powerful hull shape, which should, if they can keep it together for the first couple days of the race, stand them in good stead on the way to Itajai.  Teething troubles in a variety of areas have hampered their sailing days pre race, and Ned and Sam have been feverishly working to be in good shape come start day.
Dunkerque-Planete Enfants is the first example of the latest Verdier series design, the Tyler Evo 3.  Bruno Joudren and Thomas Ruyant are two very accomplished Class 40 sailors, and the Tyler is a great boat from French open designer Guillaume Verdier.  This boat is capable of winning the TJV, with perhaps a slightly easier passage through the waves than the Mach 40, which is the favorite of most observers.  The roof also offers significantly more protection than the Mach, which should allow the skippers to spend a bit more time outside monitoring boatspeed.
Skipper Seb Rogues has taken the experience of the first two Mach 40's and tried to improve on it with his GDF Suez  He has taken the same hull as Mare, moved the keel aft a little, added a bit more rake to the mast, and has eliminated the central winch, island and twin companionways in favor of just 2 winches on each side deck, with all lines lead around the roof through friction organisers.  He has also gone for a classic swept spreader rig, eliminating the controversial adjustable headstay and straight spreader rig that the two first boats featured.  His boat also lacks the kick up rudders of the first two; a lighter solution, but possibly a race ending choice in the event of a collision with debris.
Mare is the Mach 40 of German skipper Jorg Reichers and Pierre Brasseur, an excellent mini and Multi 50 sailor.  This is the most successful Class 40 of the last several years,  with wins in the Solidaire du Chocolat and Atlantic Cup [which Ryan was aboard for -ed], as well as a second in the Quebec St. Malo.  While not underestimating their skill and will to win, Jorg and Pierre have their work cut out for them against the other top boats, as Jorg's concurrent IMOCA 60 campaign has taken much of his time and resources, while the competition has been training hard and working continually on improving their boats.
Last but certainly not least is TALES Santander 2014, which combines the first effort off the drawing board of Marcelino Botin with a deck including a carbon copy of the Mach 40 cockpit.  This is intentional, the team came to the Solidaire start in 2012, and found the layout which they felt was the most ergonomic and efficient, and used that as a basis for the new design, having been new to the class.  An immaculate build, strong team, and great pedigree saw them far ahead of most of the fleet in this years Fastnet, with only Suez able to keep up.  In fact, they beat a custom IRC 46 to the rock upwind!  One to watch for sure.
These boats all have a great chance of being on the podium; the designs are all similar enough to keep up with one another, and the pre race preparation and skill of the skippers in mitigating problems along the way will be the deciding factor in the final rankings.
 Boat Porn
The two most interesting things I have seen in the Class 40 were the electric motor in ERDF – Des pieds et Des mains (see
pic).  The motor is the white Oceanvolt cylinder in the middle, and half of the 8 green batteries are visible in front of it.
It produces the same power as the diesel it replaces, and with the batteries, weighs the same.  It is recharged at the dock, and is nearly silent in operation.  It can be recharged by hydrogenerator or solar panels, and actually can recharge the batteries itself while sailing.  Obviously this is not done while racing as it produces significant drag, but is perfect for deliveries.  Best of all a lower center of gravity, and no fooling around with diesel tanks.
The other interesting thing is a new instrument system found on the Austrian entry Vaquita:
The displays look like Ipads but are not, and can change colors for night sailing, they are hard wired only for power, and the data transmits wirelessly.  They can take input from any NMEA source, and have their own dedicated brain.  Power drain is 1amp at 12 volts per display.  More at Sailmon.com.
As for the multihulls, the TJV start in Le Havre showcases the best of the French offshore scene for this year, with the notable exception of a couple MOD 70 teams who are recovering from capsizes.
MOD MODS
Remember that the MOD 70 is not really designed for shorthanded sailing, and a few modifications have been made to the two remaining boats to keep them from suffering the fate of the two MODs that have capsized already this season.
On deck, they have added constrictor rope clutches to the gennaker tack lines in order to not have to go on the bow to open the t-bone loop holding the 3:1 tackling.  As well, around the cockpit they have added diverter sheaves and camcleats on the fronts of the grinders and at each helm station for the headsail sheets.  This puts them in easy reach of the helmsman while on deck alone.
Virbac 70 was trialling a system (before her capsize) that included a 2:1 jibsheet of much smaller diameter, which would allow a much easier and more controlled ease of the jib in the event of sudden gusts.
In safety terms they have come up with one-line 'failsafe' to prevent any more capsizes; they now have a single line to pull to open the valves for both the mainsheet and rig transfer hydraulics, so that if they pull the line at the helm, the mainsheet eases, the canting rig transfers to leeward, and the valves remain open (easing) until the system is physically reset in the cockpit under the roof.  It's taken a couple of high-profile tips to get it working, but this system should make capsizing a much less frequent occurrence for the MOD.
They have also added a 350 liter water ballast tank in the transom of each boat, in the interests of keeping the bows out.  Unfortunately this might encourage the teams to push harder downwind!
They have also added curtains around the roof and repeater nav screens to the inside of the roof, allowing the skipper not driving to "live" under the roof and be in closer communication with the guy on deck.
The match race between Gitana and Oman Air will should be worth watching.
The Multi 50 class is enjoying a nice period of growth as well, testament to the low-tech class rule, and good management, as well as interest from many skippers in a boat which goes faster than an IMOCA 60, for less than half the price. (1.2-1.5m euros as opposed to 3.5-4m)
There are a wide variety of designs in the class, mostly from VPLP, with the most recent boat being an interesting looking and quick design from Neyhausser/Verdier, Region Aquitaine/Arkema.  This boat won this years Route des Princes, and its notable features are a complete lack of foredeck forward of the front beam, and a crazy looking, but probably very protective roof.  The foredeck is replaced by a net going from the bow pulpit to the front beam, with the hull coming to a point under the net with lashing connections for the headstays.
November 4th, 2013 by admin
Update: the TJV is postponed to now start Monday at 2:15pm France time – Hannah Jenner took us through the weather here…
As ocean racing classes get more and more powerful, their wind range continues to shrink; first the 'bulletproof' minis lose an entire month to 'waiting for the weather' only to see their race abandoned after the start and a total clusterfuck of minis spread across Biscay.  Now, a TJV organization already feeling the pinch after JP Dick's MOD went over has thrown in the towel for the Saturday start of the world's biggest double handed race, hoping for a Tuesday reprieve, while the MODs are doing some kind of 'coastal' thing while they wait for something less than terrifying for the ultra-fast trimarans to sail off in.  The start was already kind of strange; the huge Classe 40 fleet lobbied the TJV organization for a much earlier start than the rest of the fleet for this edition; finally they might get to the finish in time to see the faster boats.  
It was a nice dream, anyway!  Most of the skippers are happy with the call, but a million-odd fans and hundreds of French media that help keep this event at the forefront of French sport won't be.  Is this the new reality of the French shorthanded scene, or just an incredibly unlucky autumn for North Atlantic racing?  We don't know, but we do know that you now have time to read Ronnie Simpson's excellent form guide to the TJV, which follows.  Photos from Christophe Launay, with a gallery here.
With no Vendée Globe, Barcelona World Race or Volvo Ocean Race this winter it would be easy to think that there's not much going on in the world of top-flight professional ocean racing right now. Fortunately for all of us Anarchists, you would be sorely mistaken with this assumption as the Transat Jacques Vabre is preparing to begin its thrilling 11th edition on Sunday. With a fleet of 44 boats spread out amongst four one-design and box rule classes, this classic Transatlantic throwdown is celebrating it's 20th anniversary with twenty-six class 40's, ten IMOCA 60's, six Multi 50 trimarans and two MOD 70's racing doublehanded from Le Havre, France to Itajal, Brazil.
One of the premier offshore yacht races on the planet, this year's TJV fleet reads like a who's who of sailing while boasting one of the most technical, challenging and tactical courses in all of ocean racing. Beginning from the famed Paul Vatine Basin in Le Havre, France, the course takes sailors first through the English Channel which can be downright gnarly this time of year with intense weather, massive tides and fully one-fifth of all the world's shipping traffic all positioned within one narrow, confined passage between two major coastlines. If the fleet manages to survive this first daunting test, they must next brave the often treacherous and boat-breaking Bay of Biscay, which has been battered by intense gales and low-pressure systems all season long, with more on the way as the fleet heads out. Once rounding Cape Finisterre, if they're lucky, the fleet can turn downwind and begin running before the Portuguese trades.
Don't assume it's all fun and games from here on out though. Not only must the fleet navigate more heavily-trafficked waters, but they must do it in what is often a carnage filled heavy-air downwind romp, all the while battling their competitors through the first major tactical challenge of the race; negotiating the Azores High. After this first major battle of wit and strategy, the fleet will finally see some tradewind sailing before entering the doldrums near the equator, which is oftentimes a complete crap shoot. If the boys and girls in the race are lucky enough to escape without losing, or even better yet, gaining positions, then they will lock into a tradewind drag race in the southeast trades south of the equator.
Concentrating on boat speed, boat speed, boat speed, this fleet of nearly four dozen boats will then face one final challenge from Cabo Freo to Rio and beyond to the finish in Itajal as small low-pressure systems oftentimes rip across these waters, wreaking havoc on competitors both due to challenging conditions and the painfully slow glass-off calms left in their wake. Only one thing is for sure in this 11th edition of the Transat Jacques Vabre; there will be drama, action and suspense from start to finish. Here's SA's class by class guide of who to watch and why.
IMOCA/Open 60
There is a clearly defined "A" fleet and "B" fleet in the TJV. The top 5 programs (MACIF, Maitre Coq, PRB, Safran, Cheminees Poujoulat) have all been training doublehanded out of Port La Foret over the past couple of months and the class winner will almost surely come out of this group. Of these 5 boats, 4 are VPLP's with Cheminees Poujoulat being the exception. (Juan K design)
MACIF: With two Vendée Globe winning sailors on one Vendée Globe winning boat, MACIF is the boat to beat in the premier IMOCA 60 fleet. Reigning VG champ Francois Gabart has again teamed up with his Barcelona World Race partner and mentor Michel Desjoyeaux onboard the VPLP designed rocket. The duo recently won the Open 60 division in the Rolex Fastnet and have been training their asses off with 4 other boats out of Port La Foret (PRB, Maitre Coq, Safran, Cheminees Poujoulat).
Maitre Coq: Having acquired Armel Le Cleac'h's VG runner-up Banque Populaire as the new Maitre Coq, Jeremie Beyou has a point to prove in this race. The two-time Figaro winner now has a sistership to MACIF and is keen to prove that he can win in the IMOCA class. Finishing an über-close second in the Fastnet race and putting in some solid work during the "pre-season", Jeremie looks to exorcise the demons that have plagued hims since entering the class.
Cheminees Poujoulat: Just like in last year's Vendée predictions, Bernard Stamm and "the sooty pussy" are again our dark horse pick. (The boat's logo is a black cat sponsored by a chimney company…) The Juan K-designed boat was hampered by hydrogenerator problems in the last VG, but aside from that, has shown some serious potential. In the extreme and gnarly upwind and close-reaching conditions of the English Channel and Biscay, CP could excel and may prove to have an advantage over the VPLP's, while also being notoriously fast when the shit hits the fan in the potentially heavy-air downwind Portuguese trades. Besides, Stamm is the man and an avowed Anarchist. Gut instincts tell us that Bernard likes the heavy air forecast for the start and may be able to push extra hard where other boats are throttling back a bit.
PRB: Many in the IMOCA scene believe PRB to be the fastest boat in the fleet, owing much to its light weight. The big question remains whether or not the boat is "too" light and fragile; a question we asked in Les Sables d'Olonne last year and are still asking after PRB broke in the VG. Skipper Vincent Riou is a tactical genius and Vendée Globe winner, and in teaming up with Jean Le Cam and his incredible hair, the duo may present the single biggest challenge to MACIF. If they can keep the boat together, watch for them to seriously contend for the win.
Multi 50
One of the most exciting divisions in this year's TJV will be that of the Multi 50's. With their biggest fleet for a major race in a while; six boats on the startling line; any of three or four could realistically win, making this fleet a fantastic one to track. Picking a favorite is no easy task in this class. The newest and arguably fastest boat in the fleet is Arkema-Région Aquitaine. A 2013 build in which Guillame Verdier had a hand, Arkema won the inaugural Route des Princes, besting three of the other Multi 50's that will contest the TJV. Defending TJV champ Actual is also in it to win it. Skipper Yves Le Blevec has teamed up with VG star Kito de Pavant to form a formidable challenge at a title defense onboard their four year old boat. The third major contender is that of FenêtréA Cardinal. Also a 2009 build, the crew consists of skipper Erwan La Roux and two-time Figaro winner Yann Elies. Having mounted one of the greatest comebacks in all of sport to win two consecutive Solitaire du Figaro's (2012 and 2013) just a few years after breaking his femur in the Southern Ocean and being rescued in the 2008-09 VG, Elies is an SA sentimental favorite any time he shows up to a starting line.
MOD 70
Arguably the most high-profile boat in the race is the one that won't be sailing, after JP Dick and Roland Jourdain's dramatic capsize onboard Virbac Paprec 70 a few weeks back. With their capsize, dismasting and resulting withdrawal from the race, just two MOD 70's will be taking to the start in Le Havre on Sunday. No worries, if this summer's AC taught us anything, it's that two 70 foot multihulls can provide incredibly close racing and the TJV should be no different. The two MOD's in this race are fortunately the cream of the crop, having finished 1-2 in the Route des Princes this summer. Skipper Sébastian Josse and crew Charles Caudrelier just won the TJV prologue onboard Edmond de Rothschild while their sole competitor OMAN AIR-MUSANDAM need no introduction. Skipper Sidney Gavignet and co-skipper Damian Foxall are arguably the two most accomplished ocean-going multihull sailors in the entire TJV. While short on boats, the MOD 70 class may ironically end up being the most exciting.
Class 40
Not only is the Class 40 division big, but it's also full of quality. Boasting the biggest fleet in the race and with any of probably twelve or more boats that could win, expect the leading Class 40's to gross gybes all the way to Itajal. The odds-on favorite certainly has to be Sebastian Rogues and his current generation Manuard designed GDF SUEZ. The former Minista has been on an absolute tear this season, winning five of the last six Class 40 events leading up to the TJV. But don't count out class standouts like last year's Atlantic Cup winner Jorg Reichers aboard MARE, who is likely sailing in one of his final Class 40 events before moving into the IMOCA class. Another SA favorite will be that of 11th Hour Racing. Skipper Hannah Jenner is not only one of the most beautiful women in all of sailing, but she is also one hell of an ocean sailor. Having teamed up with an American to claim a hard-fought podium in the last TJV, she is using that same recipe for success this year in teaming up with another American; Rob Windsor. Windsor has established himself as a Class 40 guru and top-tier ocean sailor. We expect big things from them. Another one to watch will be the entry of DUNKERQUE – PLANETE ENFANTS. Winner of the last Route du Rhum in a 44-boat Class 40 fleet and '09 Mini Transat winner Thomas Ruyant is co-skipper alongside skipper Bruno Jourdren and the duo will present a major challenge from the get go. The slowest fleet in the race, the Class 40's will likely be battling a major incoming tide with up to 7 knots of current during the first night in the English Channel. Blink and you may miss a world class 26-boat navigational face off before Biscay. Stay tuned to SA for all your updates over the next three weeks as the drama and suspense unfolds in real-time. -
Ronnie Simpson
November 2nd, 2013 by admin

Our old friend and Polish sailing superstar Gutek set off yesterday just a few seconds behind Marc Guillemot to see who can set the IMOCA transatlantic record.
Gutek's Energa is possibly the most powerful Open 60 that will ever be built while Safran is a much more agile instrument.  For a great profile on Gutek check out this link; Gutek's tracker doesn't work so well, but Safran's ahead – track him here.
Big thanks to Bjoern Kils, New York Media Boat for being our eyes on the Big Apple.
Hit him up if you need any commercial or sporting work done in the NY area.
June 28th, 2013 by admin
To say Bernard Stamm had a frustrating Vendee Globe would be an understatement, but after seeing this video of multiple accidental gybes and other mayhem while he cavorted around the transom, the Swiss mountain man is lucky to be alive, much less finished the course five days ago despite the DSQ.  Fast forward to around 0:54 if you're in a rush.
More crazy stuff from the craziest race there is…don't believe us?  How about a little Tanguy Lamotte doing underwater basket weaving and McGyvering up a new bilge pump?  Meanwhile, he's just a few days out and has added 160,000 friends to the Initiatives-Coeur Facebook page.  That is 13 children whose lives Tanguy and his fans have saved thus far.  Still a bit to go – please go LIKE HIS PAGE to save some more lives.
Just a few more days to go before this one is in the books, and the ultra-marathon Vendee Globe thread continues to stay interesting…
February 10th, 2013 by admin
While millions around the world are paying attention to ocean racing via the closest Vendee Globe in history, the folks at the FNOB  - the organizer of the Barcelona World Race – are jumping on the live streaming bandwagon today to capitalize on the attention.  This is without a doubt one of the world's best races, and when we heard a couple of months ago that the woeful Spanish economy wouldn't end the race after just two editions, we gave a little cheer.  Apparently, they've found some kind or replacement for the King's "yacht racing tax rebate" that caused such an uproar amongst the Spanish public, meaning possibly another strong fleet of 12-15 boats racing doublehanded around the world.
But that's all still almost two years away – in the meantime, the FNOB is hosting a couple of hours of live streaming chat today on their site on the subject of 'Ice Gates & Climate Change in the Southern Ocean' with some of sailing's most storied navigators, and you can participate in it via social media, per the promo.  There's also a preliminary Notice of Race available – will you be the next Francois Gabart? Here's one way to find out.
February 5th, 2013 by admin