Posts Tagged 'one-design'
Mcconaghy's MC38 is yet another bit of proof that a beautiful design and good value don't mean shit when it comes to selling boats. We raved about the super sportyacht when she first launched, but without an organized international marketing plan and the ridiculous ouster of  Jono Morris, the quick one-design never caught on outside of Sydney.  It is also worth mentioning that the idiots who now run Mcconaghy won't even return our e-mails regarding advertising with us. A sad state of affairs of a once great builder
Fortunately for some of New South Wales' best-known team owners and the hotshot pros and amateurs they fill them up with, most of the boats ended up racing in a nice little fleet in and around Sydney, and Bob Fowler caught this shot of one of them during the first MC38 Winter Series event in Pittwater over the weekend.  Croaky took the win with Maserati.
A long, weird video from the regatta is over here.
May 9th, 2017 by admin
Big Pimpin'
Many of our younger readers know J/Boats as the "establishment brand" of asymmetric racer/cruisers typified by the J/70, 80, 88, and 111 that dominate inshore one-design fleets and the 120, 122, 109, and 105 that typically make up somewhere around half of most handicap fleets.  But few of them realize that with the launching of the J/24 Ragtime, the Johnstones were the original Sailing Anarchists of the 70s.  Happy Anniversary to the J/24 – here's a note from the celebration, with a title shout thanks to Sublime.

Family and friends gathered yesterday in Stonington, CT to commemorate the 40th anniversary of the launching of the 24' sloop RAGTIME – Rod Johnstone's garage-born, dream boat built by hand over a 17 month period, and launched on May 15th, 1976.  There were lots of stories shared as most who were gathered had helped either build, launch or sail RAGTIME during the memorable summer of '76.  After launching, RAGTIME and her family crew (mostly under the age of 16), would go on to win 15 of 17 races in Eastern Connecticut that summer and inspire enough people to want a sistership, that Rod quit his job, asked Everett Pearson to build them, his brother Bob to sell them, and the J/24 (and J/Boats) was born.
May 17th, 2016 by admin
Enough SA'ers watched the Star Sailors League Lausanne event that we're back for more, this time from the SSL Finale in Nassau, Bahamas.  With $200,000 in cash prizes up for grabs for the world's best plus-size racers, there's plenty to cheer for as you sit in your cold, wintery homes.
The commentary team gets a shot in the arm with our own Mr. Clean joining the fun, and he's reunited with former Sailor Chick of the Week and OTW Anarchy/VOR/AC presenter Genny Tulloch to help spice up the action for the venerable Star fleet.
We'll have the live show for you right here on the front page in a few hours – until then, you can keep up with video features and more rolling through on the Event Stream.
December 2nd, 2015 by admin
The folks at Wakayama Sailing Center pulled in 23 Japanese teams together for their 2015 J/24 Nationals, which served as a dry run for next year's Japan Worlds, which we would urge you to enter if we could find a website for it. Japanese Nationals report from Koji Matsuomoto, the new owner of the former Clear Air, Rossi Milev's almost-world-champ several times over.
23 boats from all over Japan gathered a week before the racing to be sure their boats would measure thanks to IJCA Technical Committee Tim Winger. We had an unusual light wind ranging from 5-12kt throughout the 3-days regatta. Gekko (Tokuma TAKESUE) that finished 4th overall for the 2015 Worlds in Germany won the very close regatta with Gekko Diana (Tomomi HATAKEYAMA) in 2nd, and last year's champions Siesta (Nobuyuki IMAI) on the 3rd. There were several new boats helmed by past J/24 and Snipe national champions, keeping the regatta exciting. The Siesta team has been organising sailing clinics at Wakayama regularly to help bring everyone's knowledge of local winds and currents up to the same level, setting the stage for a very exciting and unique World Championshiop next year.
November 29th, 2015 by admin
Drizzle doesn't dampen the mood for Charleston Race week. It didn't stop the ridiculous Sperry/Sailing Anarchy party last night, and racing commenced on time and on pace today. Under dark morning clouds, an eight knot northwesterly greeted the inside fleet and held enough to get high quality racing in. And what's Charleston Race Week without current. The ebb was flowing hard today, with teams jockeying for shallow water position all day. Who played it the best?
It's not Cinco de Mayo yet, but the J/70 Mexican team Flojito Y Cooperando helmed by Julian Fernandez celebrated early with two bullets today to set themselves apart in this talent laden fleet. Elvind Astrup's Norwegian Steam stayed consistent with a 1, 6, 5 to hold on to an early second. The top and only US team currently on the J/70 podium is Joel Ronning's Catapult. Since there are 78 J/70s racing in four separate fleets, the points add up quick and the scores are really close with eight boats tied in one way or another in the top 15. The fleets will be reset tomorrow for more qualifying racing.
Continuing the south of the border but north of the fleet tone, the lone Brazilian Melges 20 entry, Portabello, led by Cesar Gomes Neto, threw down some spicy upwind skills to keep ahead of Bruce Golison's Midlife Crisis by three points. Midnight Blue sailed well in today's darker conditions to keep it tight on the podium, behind second by only one point. Only eight points separate the top six in this wide-open class.
Guy Mossman's name is on the Melges 24 score sheet, but he's mending a broken hand from a 'being a nice guy' moment.  Lesson: Don't punch a fighting pit bull in the head. In his place on Battle Rhythm is Will van Cleefe, who earned a four point lead today over Brent McKenzie on Ex-Kahn, followed closely by Bruce Ayres on Monsoon.
Watch the full replay of all the live racing action here, and if the wind ever fills in, we'll have Saturday's racing for you on this page.
Brian Carlin photo of the sexy C&C 30 and the rest of PHRF A offshore, and seriously big, badass galleries from Brian and Sander Van Der Borch are over here.
And the Team Vestas Wind award goes to Christian Koppernaes in the VX-One fleet, who took the 'short tack the shore' move a little too far.  Sander Van Der Borch photo.
Results after day one here, and of course a huge thanks to our friends at Sperry for making SA's extended coverage of Charleston's action.
-John Casey
April 18th, 2015 by admin
Longtime SA'er and A-Cat, Moth, and 18 footer sailor SimonN begs for it, though the vote is already likely over. Agree or disagree?
I know that members of a number opf teams read this forum, so i address this to them in the hope of avoiding what i believe will be a disaster for the America's Cup. I would welcome others posting as well, but please don't let this thread degenerate like the other threads. Well thought out support or rejection of the One Design ideas are welcomed. let's prove that SA can have a sensible voice that is work listening to.
First, it goes against the very spirit of the Cup which has always been about who can design, build and sail the better boat on a 1 on 1 basis. Changing that turns it into any other match race championship, even if it is in the fastest match race boats.
However, my biggest concern is that this move will drive away followers and reduce the interest in the AC. Each "package" that becomes one design has a significant impact on how the viewers see the boats, If, as suggested, we see a one design platform married to a one design wing but with free development on foils and systems, the general public will see boats that look identical going at different speeds for reasons that are hard to explain. The motor racing analogy would be having everybody driving the same car but that tyre development is free. With AC34, it was easy for people to understand there was a rule and that ETNZ and OTUSA had developed different boats within that rule. The discussion as to which was better was pretty transparent. It will not be if the new rules come in.
If these rules are brought in, the America's Cup will no longer be at the forefront of cat development. That will go back to the C Class and A Class. While I cannot comment on the C's, I know that in the next 2-3 years in the A's, we will see some pretty interesting stuff. Instead of it being trickle down from the AC as it has been from AC34, we will see the AC boats needing to play catch up in AC36. The chances are that by 2017, the AC boats won't even be the most advanced cats around.
Finally, if costs really are the reason for going down this route, why aren't we seeing efforts to cut costs in other areas. the boats mustn't take the full force of the need for economy. They aren't even the most expensive part of the whole campaign. Of course, we all know the real reason why other costs aren't being tackled and that is because the biggest single cost, the one that is easiest to regulate, is wages and the very people making these decisions would be the ones who see their wages reduced, even if it is from some highly inflated number that is beyond the wildest dreams of any of them when the were young.
The only reason to support the one design ideas is to preserve the money earning opportunities for the sailors. I appeal to the sailors and decision makers to put aside their personal greed and remember why the America's Cup was such a dream for them. I believe that every single sailor dreamed of sailing in the AC not for the money, but because it was the ultimate challenge, because of the acknowledgement of the history and traditions. To kill those in order to maintain the viability of teams is simply wrong.
March 31st, 2015 by admin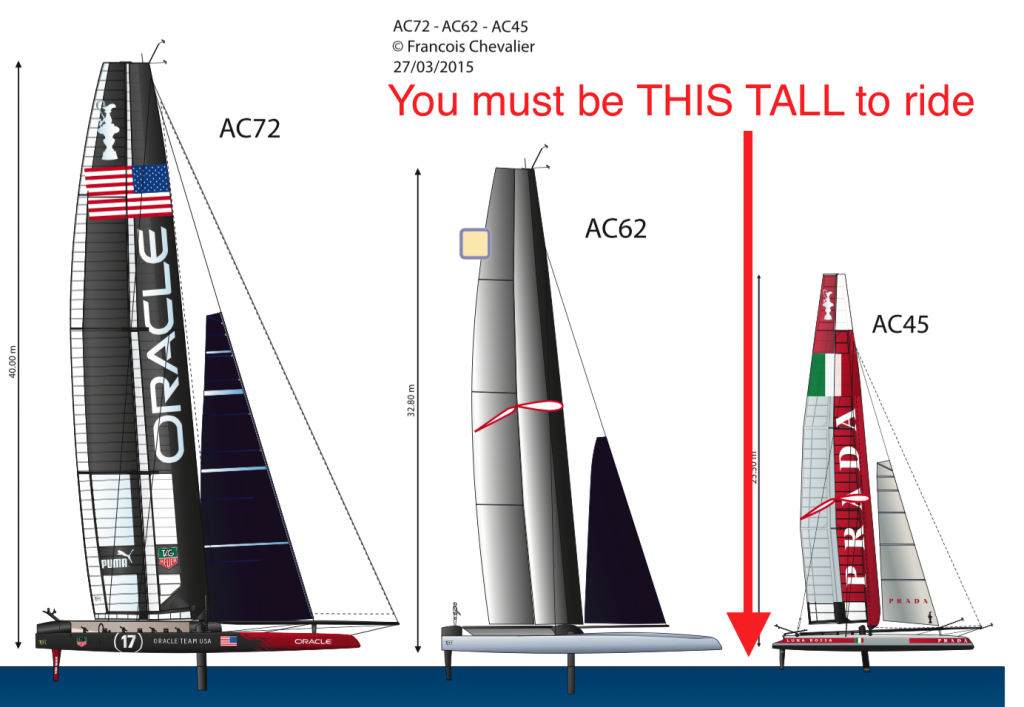 As Ferrari finally gives Italy something to cheer for in top level racing, the fanatical Italian fans are on the verge of losing their maritime standard bearer Luna Rossa thanks to the impending vote on the new America's Cup One-Design 48. That's right, folks, and you heard it here first, of course: The next AC will be sailed in one-design boats – at least if Tuesday's Challenger vote goes the way we forecast.  And Emirates Team New Zealand may follow Prada right out the door, making Russell Coutts the most hated man in New Zealand for the second time, and in Italy for the first.
The SA Army has been working overtime since Coutts' proposal reached the teams on Saturday, and we think we've nailed it thanks to some of our less enthusiastic friends inside (otherwise enthusiastic) teams.  So meet the new boat:
-Strict one-design hull/platform, 48 feet long x 30 feet wide,
-Strict one-design wing, similar proportions as Oracle AC45T,
-Strict one-design daggerboard location and case,
-Strict one-design rudder location and case,
-Open main foil design,
-Open rudder design (minimum horizontal area)
-Hulls and wings to be built by teams with strict ACEA controls (weight, dimension certs, etc.)
It may shock you readers who think we are perpetual AC antagonists, but we actually are fully in favor of the move to a smaller boat.  We have never and will never 'hate' the America's Cup – we're just embarrassed to part of a sport when open, public greed and repetitive incompetence govern the pinnacle event, and that's why we let them know constantly.  But we love fast boats, and we dig foilers, and we're stoked to see flying get so much love.
Meanwhile, the boat will be very sexy, but crucially, having the development dollars go exactly where they can be most effective – the foils – is extremely clever.  There should be no barrier to AC48s hitting similar speeds to the AC72s downwind and upwind, and while open-design foiling AC62s would unquestionably be quicker and a great deal more spectacular than the new 48, the majority of the public wouldn't be able to tell the difference.
While we like the new boat, and we like the idea of a fun regatta in beautiful Bermuda, we are quite sure AC35 will be a flop, if only because it's part of Russell Coutts Flying Circus.  We've learned to always bet against Russell when it comes to business and marketing, and never bet against him in sailing.
In addition, we can't help noticing that ACEA has caught itself in a massive conflict: On one hand, they have an edict from Larry to 'make the event self-supporting', in other words, MAXIMUM CASH INTAKE, and hence, Bermuda's $72M in cash and prizes.  On the other hand, Larry and Russell want to see an event with a long-term future, in other words, maximum public, TV and sponsor interest – which would mean a major population center in a transportation hub with tons of media.  That ain't Bermuda, and that's all you need to know about Ellison's priorities.
Tuesday morning, the five teams of the Challenger Committee will vote on the new design.  If, as we expect, Team France, Ben Ainslie Racing, and Artemis all vote 'yes', we should see another team enter – a Japanese entry that will be a partner to the Oracle boys.  Luna Rossa will probably make good on its promise, killing off the team with by far the most time and money in the next Cup and the AC62 design – something we think Russell has been wanting to do since they made him look like an incompetent boob in San Francisco.  It makes us sad, but we have ZERO pity for Luna Rossa – as the second-in-time challenge, they had the right to take over for the embarrassment that was Team Australia and become Challenger of Record and prevent ALL of this.  Instead, the Italians chose to sit on their ass and be part of a committee, and they have no one to blame except themselves.
As for ETNZ, despite Doc Harvey already saying that ACEA would ignore its written contract to bring the qualifiers to Auckland, we think Coutts will use this tremendous leverage to get ETNZ on board with the change.  Dalts can 'toe the line' for his Italian friends during the vote and still remain part of the new AC48 Cup, if it will get the qualifiers back in Auckland – and his coffers filled.
Many of the die-hards think this move is the death knell for the America's Cup, and if public sentiment depends on a real design competition, they're right.  We think the spirit of the AC died a long time ago, and this move could turn it into something useful, at least.  What do you think?
March 30th, 2015 by admin
2013 Melges 32 World Champion mast man and SA Staff Videographer Petey Crawford dusted off his sailing gloves for a little fall action this past weekend, and in our first piece of today's Midwest Madness, he reports from the 18-boat Lake Geneva Melges 24 Fall Champs, with great pics from LGYC's Michael Moore and a small gallery over here.
This past week I got a call from some friends in Western Michigan, and they asked if I wanted to go Melges 24 racing in Lake Geneva, Wisconsin.  After rescheduling a couple of things I jumped at the chance – I used to come to this even more than a decade ago when it was all J/24s, and Buddy Melges' home club is always a great time.  The lake's empty of powerboats, the fall colors are popping, the breeze is almost always on, and the blue-collar LGYC never disappoints.
Imagine my surprise to pull up to the parking lot and find the clubhouse gone, and replaced with a construction site as the new Buddy Melges Sailing Center takes shape. With no facilities available at LGYC, the event moved across the lake to Gage Marine in Williams Bay, with the Gage staff doing a great job hosting every one of the ten out-of-town teams making the trip.
The Saturday forecast was a little on the brutal side, with expected temps in the high 30s to low 40s, and a mix of rain and snow. You heard that right – SNOW. Despite the hard core forecast, all 18 teams piled on the layers and sailed out through the wall of steam rolling across the water. The RC cranked off 4 races with wind ranges in the 12-18 knots, and it really wasn't that bad once you got into it. My biggest problem was visibility; glasses on or glasses off, you couldn't see much  through the rain, but it was marginally better than getting the full wintery mix right into my eyeballs.  It was a really fun day of sailing with good friends, and we were off the water by 2pm. That opened up the afternoon for us, and we took full advantage to up the fun factor. We were staying at a Methodist church retreat, and along with our upstairs neighbors from Muskegon, we  probably broke just about every rule they had with all that time to kill before the 6 PM regatta party. We had about 3 hours of playtime on the shore of the lake with frisbees, volleyballs, wiffle balls, horseshoes, and even acorns flying through the air from all directions. It was pretty chaotic at times and I'm pretty sure we provided more than one topic of discussion for the group of college students who were staying there on an actual Methodist retreat.  But goddamn, did we had fun.
Sunday morning started out with a similar forecast but with less warmth and less wind, but with the sun shining, it felt a comparative heat wave.  The RC got us two more races to close out this year's event and again, like it was on Saturday, it was a great day of sailing. Brian Porter and the Full Throttle team fully throttled us all and won every race but 1, but we won the most important race of the week, getting to the hoist first after an early finish in the final race.
We had a brand new VHF radio that must have been on a half-price sale because it only half-worked; we could transmit but could not receive. That was a problem all event, but especially when we were OCS on the last race; by the time the windward boat rolled us and we could hear them telling us we were over we were pretty far back. We swung the bat hard on the first beat hoping to make a gain to get back in the race, but with the breeze cranking, the boats in front of us hooked up on the downwind and were gone, we didn't stand a chance of passing anyone and decided to take the extra point and get on the trailer first.
This is a great event and a beautiful time of the year to be racing sailboats, I have missed these events over the past few years with living in California and then Florida, and it was just perfect to be out there with friends, racing hard and having fun…even if it felt like we were inside a refrigerator.
-The God Damned Reverend, Out
October 6th, 2014 by admin