Posts Tagged 'oman'
Allah frowned on the Sultanate of Oman this past weekend after the beautiful town of Muscat provided yet another dismal showing for the beleaguered ACWS.  Fortunately, only a few gullible AC junkies paid to watch The World's Fastest Boats drift around at 7 knots in another mind-numbingly bad pay-per-view production of The World's Best Everything, and local spectators were nonexistent.
ISAF kindly waited for Russell Coutts' Drifting Circus to end before releasing the news that proved ACEA is just as incompetent as ISAF at picking venues; after learning that they were required to guarantee equal treatment of all member nations' sailors – even the Jews – Oman has officially withdrawn from their hosting of the 2016 ISAF Youth Worlds.
This is the same Oman that's already spent tens of millions of dollars on the Oman Sail initiative to help transform the Sultanate into an international yachting destination while reintroducing Oman's sailing heritage into the national culture.  Apparently, the Sultan just isn't that into sailing any more – at least not if it means his kingdom needs to play by the same rules as everyone else.
Oman Sail CEO David Graham seemed to miss the news.  According to him, "The feedback…from the Louis Vuitton America's Cup World Series Oman has been extremely positive. Let's do it again!"  At least so long as the Jews stay home?
Several hig-ranking Israelis have  told us that without Sailing Anarchy's highlighting of a little story on a little Tel Aviv news network back in November, this disturbing trend of anti-Israeli discrimination in international yachting may have continued unnoticed, and without thousands of you guys calling, writing, social media shaming, and otherwise holding ISAF and your national authorities' feet to the fire; it's a great example of the people taking their organization back from power-hungry bureaucrats and the vendors who curry their favor.
We also encourage you not to let up, and to continue to push back against the man who has presided over the most embarrassing period in ISAF/World Sailing history: President Carlo Croce.  While our sources have told us he is a passionate sailor who joined the ExComm to do good things, we've also seen how quickly power can corrupt at the top level of any sport.  Croce is currently caught in a massive and blatant conflict of interest that never should have been allowed — he continues to sit as both President of the Italian Sailing Federation AND President of Italy's most prestigious yacht club — it's time for a major change, starting with the man responsible for much of the opacity and intransigence of sailing's governing federation.
Those who care about the governance of the sport and about sailing's international reputation, we encourage you to get educated, and a good place to start is a deep look into the summarily inadequate Minutes of ISAF's Executive Committee meeting from February 12th in Rio.  What's the next big drama?  We think there are more than a few clues in here.
February 29th, 2016 by admin
It turns out you don't need to drop 25 bucks on any more America's Cup racing, so spend your money on something that's actually worth it! (Hint: Not the AC World Series!).
France's Canal + is the only broadcaster publishing the full races online, and here's some light action ave the rights to broadcast the full replays on their DailyMotion page.  Between snooze-inducing commentary (with a welcome back to Todd 'squeaky' Harris) and exceedingly limp racing on Day 1 in Oman we're not recommending it, but since it won't cost you anything, ya might as well take a look.  Oman discussion group over here.
February 27th, 2016 by admin
PHONE IT IN (definition from Urban Dictionary) – 
1) Perform an act in a perfunctory, uncommitted fashion, as if it didn't matter.
2) to put in a half-assed effort at something, but complete it. Often pertaining to work which is complete and pretending to have worked a long time on, when in fact little to no effort was put into it.
3) Derived from deciding to not physically attend a meeting in, but rather to be present by phone only.
4) The level of effort put forth by dispirited and deflated marketing, media, sponsorship staff, and executives at America's Cup Event Authority.
Example 1:  "Unless Luna Rossa is back in the Cup and Dean Barker is still driving the All Blacks, the Oman ACWS marketing department is really phoning it in."
Example 2: "You'd think "America's Cup" in a headline on Americascup.com could be spelled right.  Even their spellchecker is phoning it in."
February 20th, 2016 by admin
As we pointed out last week, ISAF WORLD SAILING's mealy-mouthed response to Malaysia's violation of ISAF and IOC rules in their discrimination against Israeli sailors didn't actually say much, nor, in our opinion, will it prevent a repeat violation amongst the Israel-haters hosting many of ISAF's coming events.  As far as we can tell, ISAF WORLD SAILING hasn't even invalidated the World Championship status of the Langkawi event despite clear noncompliance with the Racing Rules of Sailing and the ISAF/Malaysia's Host Venue Agreement – and the fact that two of the perennial medal winning juniors couldn't attend.
We're not sure why World Sailing is so weak-kneed and impotent, but usually these things flow downward from the top; perhaps President Carlo Croce is too busy? Remember, this guy – ostensibly running the organization governing the entire world's sailboat racing – is also the President of the Italian Sailing Federation and the President of Italy's biggest yacht club.  Busy man?
Like us (and anyone else who's been paying attention), the Israel Sailing Association has no faith in ISAF World Sailing, and they're not going to hide quietly by while their athletes are unlawfully excluded from this Olympic-funded sport.  After reading the World Sailing statement on Malaysia's malfeasance,  the ISA asked on Monday for a guarantee from Croce that Israeli sailors won't be excluded from any future ISAF events.
"We are very concerned that their decisions have no teeth," ISA President Gili Amir told The Jerusalem Post. "If we don't remain on guard, we will find ourselves in the same situation ahead of the championships in Oman as we did in Malaysia.
"There are a lot of politics involved, and everyone just wants to get away with the minimum required. The president is facing an election in November and this is all politics. He wants everyone to support him. No one knows what will happen the day after the president is chosen and we are concerned.
"If there isn't a proper warning period to make sure host countries act according to the Olympic Charter and that if they don't they will lose the competition or be barred from taking part in the Olympics or sanctions of that sort which can change their stance, there is no point to this entire episode."
Israel's Yoav Omer and Noy Drihan did not have an opportunity to defend their titles at the Youth World Championships in Langkawi, Malaysia, earlier this month after the ISA said that it will not be participating in the event due to the demands made by the organizers and the fact the surfers had yet to receive visas.
The ISA claimed that it was told the surfers would not compete under the Israel flag, wouldn't be allowed to use any symbol identifiable with Israel on their cloths or surfboards and that the national anthem would not be played should an Israeli win a gold medal.
"We are disappointed that Malaysia hasn't been punished," said Amir.  "We are also skeptical whether World Sailing plans to enforce its own decisions.  We are afraid that this is all politics and we only trust ourselves."
After investigating the matter, World Sailing wrote in a statement last week that "all World Sailing championships involve an element of country representation, and at all these regattas, flags shall be displayed and winners' anthems played. They shall be displayed and played equally for all competitors.
Organizing Authorities who are not able to meet this requirement should not bid, and will not be selected, to host future World Sailing championships."
The sport's governing body said that it "deeply regrets" that Israel's representatives were unable to compete "due to the conditions imposed by the Malaysian authorities," but also added that the ISA's conduct contributed to the unfortunate outcome.
"That is complete nonsense. We did exactly what we were supposed to," insisted Amir. "They received our letter 24 hours before we sent it to the media. They are telling tales. They had to somehow appease the Malaysians so they wrote that nonsense. It is entirely inaccurate. We went exactly by the book and they are looking for excuses after not meeting their obligations."
Amir believes money is ultimately the source of the problem.
"Organizing an international sailing competition is an expensive business and World Sailing chooses countries in which it makes money," explained Amir. "Places like Oman, Malaysia or Abu Dhabi pay World Sailing a lot of money to host events. They don't even have any sailors so what incentive do they have other than a political one?
"This is a growing trend in recent years, with more rich Muslim countries bidding for competitions. We are waging a battle for all of Israeli sport and this shouldn't be the case because this isn't our private war. Israel has a Foreign Ministry, Sports Ministry and Prime Minister's Office and I see this as their responsibility. They don't give us the support we need. We shouldn't even need to deal with this."
Read the rest of the story here.
January 21st, 2016 by admin
ISAF World Sailing today issued the formal report and recommendations for the Langkawi Youth Worlds in Malaysia we've all been waiting for.  You remember – just a day ago, they told us it would be some groundbreaking shit, and we told you not to hold your breath.  It's not complete crap, and it certainly moves the conversation forward.  But as you'd expect from a report written by an obviously conflicted party working for ISAF, it's mostly a whitewash, and pretty much every 'fact found' had already been published in the Sailing Anarchy Forums or Israeli press days or weeks before.  Let's have a look (Report excerpts are indented):
So Sorry
World Sailing deeply regret that 2 sailors from the Israel Yachting Association (IYA) were unable to compete at the 2015 Youth World Championships due to the conditions imposed by the Malaysian authorities, in order for them to be allowed permission to enter the country and compete at the regatta. 
They're sorry!  We cannot remember the last time ISAF apologized for anything.  That means more than you might think.
Toothless
The key facts are set-out below and as a consequence of the investigation World Sailing re-affirms and defines more explicitly, the requirements of its "no discrimination" regulations on all regatta organizers. In summary, going forward, in the event of a breach of the "no discrimination" regulations at a regatta, World Sailing shall at its discretion impose sanctions on the Member National Authority (MNA) concerned. These may include:
• non-selection as a future venue;
• denial of appointment of World Sailing race officials to future regattas in the country, and / or
• cancellation of membership of World Sailing.
Notice these 'sanctions' are not mandatory despite the use of the term 'shall…impose'; the words are gutted by the loose legalese 'at its discretion' and 'may include'.  It's an old trick a lawyer uses when they think you're stupid and they are trying to fool you.  This loose language absolves World Sailing from imposing any sanctions on any MNA as long as they don't feel like it, and allows them to impose only the most token of sanctions if they want.  It also ignores perhaps the most important sanction of all: Invalidating the regatta where the discrimination occurred.
Organized Chaos
Countries who do not have diplomatic relations with the country of a chosen venue, and officials who know they may have difficulty over entry into a country, shall accept the need to highlight these challenges well in advance. Such countries shall be prepared to select sailors and plan participation early enough for arrangements to be made.

Changing venue after selection is never desirable. In future, World Sailing staff will explicitly report on the implementation of its "no discrimination" requirement at a World Sailing regatta to the committee responsible so that any emerging difficulties can promptly be escalated to the Council of World Sailing. 
Instead of a hard requirement that a suspect nation's Minister of Immigration or State Department Chief or King or Chief Avenger sign a Host Venue Agreement (including the nondiscrimination clause) guaranteeing immigration status to all competitors, Chris Atkins' report calls for 'highlighting these challenges well in advance'.  So no real timing guidelines for the revolving door of ISAF volunteers who run these events, more of a call for someone to 'say something, so emerging difficulties can be escalated.'  T.P.S. Reports, anyone?
Spread It Around
The conditions required by the Malaysian authorities breached Article 7 of the World Sailing constitution. The late starting of the process to enable Israeli sailors to participate, delays and poor communication by all parties during that process, and the late notification of the conditions, contributed to the outcome and made it impossible for World Sailing and IOC to resolve the incident before the championships.
Here's another tricky passage that calls to mind ambassadors and diplomatic statements rather than a sport enforcing its laws.  It starts off so strongly: "Malaysia, you broke the fucking rules."  But then it all falls apart in the time-honored method of cowards and diplomats everywhere – creating fictitious blame and spreading it around.  Despite their own timeline saying otherwise, Atkins blames both Israel and Malaysia for 'delays', even though the Israelis notified Malaysia of their team 2 and a half months before the event – plenty of time to get a visa in any country, and precisely the amount of time Israel needed to complete the regattas they used to select its team.  It was Malaysia who then waited almost two months before telling the Israelis the odious 'conditions' they'd need to meet if they wanted to compete: No public presence, no purchasing of anything, no attendance at the event off the water, no anthem, national sail identification, and so on.  Atkins somehow has the nerve to write that it was the 'late notification of the conditions…' that contributed to the outcome; but it wasn't.  It was the despicable, discriminatory conditions themselves that created the problem, and ISAF and the IOC's lack of spine that allowed it to go on.  End of story.
The Five Commandments
• All sailors at all sailing events shall be entitled to race with their country code letters on their sails. A requirement for sailors to enter any sailing event under "World Sailing" or other disguising title breaches World Sailing regulations.
• If country flags are to be displayed, anthems played, or national team clothing worn, this shall apply equally to all sailors from all MNAs.
• All World Sailing championships involve an element of country representation, and at all these regattas, flags shall be displayed and winners' anthems played. They shall be displayed and played equally for all competitors. Organizing Authorities who are not able to meet this requirement should not bid, and will not be selected, to host future World Sailing championships.
• The principle also applies to officials appointed by World Sailing to regattas. An Organizing Authority or host country MNA shall not seek to restrict such appointments on the grounds of race or any other discrimination.
• With regard to security, World Sailing believes that security is the responsibility of the host country; and there shall be no obligation to accept other nations' security personnel. Security considerations may mean sailors from different countries are treated differently ashore.
We like this concise list of the kind of behaviour that's prohibited as it doesn't leave much up to interpretation.  But neither do the current IOC or ISAF rules, and Malaysia (and Oman, and Abu Dhabi) ignored the hell out of those.  Remember, the danger here is some vague possibility of sanctions levied on a whole nation by a body that's shown no stomach for it; does anyone think that this won't be a problem five or ten years down the road when the next country decides it wants to exclude people for whatever reason?
The final bullet above is a direct reference to the excuse that Malaysia gave for the Israeli situation – like George W. Bush, they trot out the old 'risk to security!' to explain their visa conditions.  Israel presumably said "fine – we'll send our own bodyguards".  Malaysia didn't like that, and ISAF is trying to head the problem off with this term.  Let's all keep our fingers crossed that we don't have to revisit this one anytime soon.
Days of Future Past
While the report conveniently ignores the string of ISAF screwups that led to Malaysia being awarded the Youth Worlds without an ironclad nondiscrimination guarantee despite their knowledge that it was a potential problem, it does clearly lay out what's prohibited in a way that can't be ignored, and it should be commended at least for doing that job somewhat competently.  But what about the 900-pound elephant in the room?
We're talking, of course, about the validity of not just the Youth Worlds, but also last year's RS:X Worlds in Oman (an Olympic qualifier) as well as the 2014 and '15 Sailing World Cup Finale in Abu Dhabi – all regattas with discriminatory visa issues that excluded top Israeli sailors.  The Atkins report itself cites an October statement from the International Olympic Committee – the body from which ISAF and MNAs get much if not most of their funding from – addressing the problem head-on.   The IOC wrote that for all competitions taking place under the auspices of an International Federation or National Olympic Committee or their continental or regional associations, it has to be ensured that all athletes from all their members can enter a country to compete and are treated equally. It was agreed that should this rule not be respected, the event in question cannot serve as a qualification event for the Olympic Games or any other championship. [emphasis ours]."
The Atkins report adds that "World Sailing confirms it will apply this guidance strictly to all future sailing regattas."  But what about the qualification events that just happened?  How are they somehow considered valid despite clearly violating the IOC rules?"
Next Crisis
All in all, the ISAF World Sailing Report on Malaysian discrimination has holes big enough to drive an RS:X through.  That being said, it's more direct and clearer than almost anything ISAF has done in years.  When one has been fed a diet of rotten food and offal for as long as one can remember, a piece of Wonder Bread tastes like the finest gourmet meal.  With Oman on deck for the Youth Worlds and Israel scheduled for the year after, here's to the hope that the next meal is something a little better, and the one after that, better still.
January 13th, 2016 by admin
The Malaysian visa denial scandal has started a full-fledged political brouhaha in Malaysia's government, but there's plenty going on under ISAF's roof as well, with a crucial emergency meeting coming up on the 8th of January.  We turn to SA'er "Rail Meat" for a more analytical look at the situation, and what you can do to make your opinion heard before the ISAF meeting. To really dig into it and find all the links and public statements, read the SA Forum thread.

In what is normally a quiet week, there has been a lot of activity in the halls of the various organizations that govern sailing.  I honestly did not expect to see as much action as we have seen, given the fact that most of the world disconnects between Christmas and New Year's.
Since Sailing Anarchy first lit up the story about Malaysia injecting politics into a World Championship sporting event, there has been progress made.  Several National Authorities including US Sailing, the Danish sailing federation, the German national sailing authority, the Dutch national sailing authority and the New Zealand national sailing authority have all made public statements that rejected Malaysia's actions and forcefully urged World Sailing (ISAF) to take action.  Some have wished for additional or different language in their responses, but in my view it was pretty remarkable that five significant national sailing authorities were able to quickly mobilize the necessary quorum to publish these statements in a timely fashion.  It highlights the apparent failure of other significant sailing authorities to similarly support fair play in sailing, with no political influence.
I have also been heartened by the degree to which US Sailing President Bruce Burton has been wiling to engage in direct dialogue on the topic.  He responded to an email I sent him on the topic, and engaged in an on-going dialogue that has been notable for its honesty, candor and desire to see something done about the type of politics that we saw play out in the Youth World Championships.  He certainly had better things to do with his holiday week than to engage with me, and the level of detail he was willing to get into suggests to me that there is a forthright desire to see World Sailing make changes in future events.  The actions taken to date by US Sailing along with the direct communication I have had with President Burton goes a long way towards restoring faith in US Sailing, and makes it far easier for the US Class 40 to renew its membership.
World Sailing's initial response, while reasonably quick, was weak.  Dispatching someone to Malaysia who was probably already going to be there is hardly a endorsement of the values we as sailors want to see in this situation.  The fact that they have convened an emergency board meeting for January 8 is a positive sign that they are taking the situation seriously, or are at least engaged enough to understand that there is real anger across the sailing community over this situation.  But their statement of December 31 has some worrisome language.
When they wrote that "[World Sailing] acknowledges that delays in communication by both Israeli and Malaysian officials in the lead up to the regatta have contributed to the situation spiraling into the current controversy" is a poor attempt to obscure the fundamental reason for this "current controversy".  The only reason there is any controversy is because Malaysia initially denied the Israeli athletes visas, then would only grant visas if the Israelis accepted intolerable and embarrassing restrictions that no other countries' athletes were subject to.  World Sailing's language suggests that the Israelis were some how at least partially responsible for the outcome, a completely false canard that seems to be World Sailing's way to spread blame and take the focus off of Malaysia and World Sailing's culpability.
It is too late to take any action that will impact this year's Youth World Championships.  It will forever be tainted by this controversy with its host country rightfully being scorned by the world wide sailing community and its participants unfortunately never able to have the satisfaction of knowing that their accomplishments were achieved against the all of the world's best.
It is not, however, too late to hold World Sailing accountable to make the kind of changes so that this will not happen again.  This will not be easy.  The very structure of World Sailing insulates its decision makers from that accountability.  National Sailing Authorities have important influence, but even their ability to drive action is indirect at best.  The IOC certainly has a strong influence in the form the financial contribution it makes to World Sailing, and maybe for the first time, the world's sailing community can actually be heard, and bring more conversation to the issue.
So what can you do?
1) IF you're in a country whose National Authority has not yet made a statement on the Malaysia visa issue, reach out directly to your national MNA via phone, email, or social media, and let them know what their membership wants to see and what you will do if you don't see action.
2) When your authority has made a public statement, hold them accountable for following through on it.  Far too frequently, these statements become lost in the shuffle, their makers forgetting promises almost as soon as they make them.
3) Contact the key parties in World Sailing directly!  They do this ostensibly because they love sailing, and their job is to represent their members.  You can submit a general contact via the ISAF website, or reach out to Carlo Croce, Nazil Imre, George Andreadis, Chris Atkins, Adrienne Greenwood, Gary Jobson, Quanhai Li, and W. Scott Perry – the full Exec Committee – via social media or your own contacts.
4) Reach out directly to the people who have the most contact with these types of situation -the Events Committee – and tell them how you feel.  It's a small smart and a big committee, so you might know some of them, and their contact info is here.  Conversation and discussion can only help these hard-working volunteers do the right thing.
5) ISAF and the Events Committee get a significant amount of operating budget from their sponsors.  If you're not happy with ISAF's response, let those sponsors know via social media or e-mail.  They may not even know that the event they sponsor has  discriminated against Israeli athletes.
As you'd expect, a wide variety of thoughts have been shared on the Sailing Anarchy thread about the "correct" course of action that should be taken by World Sailing, but a few ideas seem to be consistently repeated:
1) Malaysia should be censured, perhaps by being denied the right to host any future events (including the Monsoon Cup) for the next several years
2) World Sailing/ISAF should enhance their screening process to look for such things as governmental policies that prohibit visas to citizens of certain countries or are discriminatory in other ways.  Another enhancement would be cooperation with other sporting authorities to determine if athletes in other hosted events have experienced unfair practices.
3) A demand from World Sailing that if awarded an event the national authority and the government guarantee that all athletes will be treated equitably, and an understanding that failure to follow through on this commitment could result in loss of the event or a ban on hosting future events.
4) The understanding that if sanctions are taken by World Sailing against a country, then those actions will be shared with the governing authorities for other sports for their own evaluations.
Given by an apparent history by both Oman and Israeli in holding up visas for athletes in prior events, World Sailing should require a commitment from both countries in order for them to keep the events scheduled in each over the next two years.
If you are going to share your thoughts, do it soon.  January 8 is coming up quickly.
Michael "Rail Meat" Hennessy
Tags: Abu Dhabi, Carlo Croce, discrimination, equality, ISAF, israel, jew-baiting, jews, malaysia, oman, world sailing
January 4th, 2016 by admin
As usual, it takes an Anarchist to put things much more rationally than the hothead editors of Sailing Anarchy.  Longtime SAer and solo racer "Railmeat" gives us a sober answer to the question we've now been asked by several hundred readers: "What can I do about ISAF and the Israeli visa situation?"
ISAF, on its own, won't be able to change a country's policies. But what it can and should do is use its influence to ensure that the sport under its purview is kept free of those politics. And that starts with ensuring that it does not sanction events in countries that to not welcome athletes from all UN recognized countries, and welcome them on equal terms.
ISAF is funded through several revenue streams, but in no small part through all of us, the sailors. They receive revenue streams from associations, and through national sailing authorities, and those organizations are directly funded by all of us.
If you agree that sports should hold to the naïve but worthy goal of being free of these types of politics, then the answer is simple. Take action with your national authority, and the associations you are part of. Make them put pressure on ISAF to do the right thing. Make them commit that if their representatives, our representatives, are part of the decision making process then they are making the right decision on which countries are rewarded with sanctioned events.
Make those thoughts known by emailing your representatives, and make it known by with holding your dues. Speak your mind, and speak loudly.
The USA Class 40 will not be renewing it's US Sailing membership until they forcefully and publicly state that their reps will not vote for events in countries that engage in this type of discrimination and that they, as our national representatives insist that ISAF make a similar commitment. I will also be sharing that action with the full board of the Class40.
Likewise, my own personal membership renewal arrived in the mail this past week and I will not be renewing that membership to US Sailing until they take those actions. I will also suggest to every organizer of an event that I participate in this year that they should not make US Sailing membership a requirement for participation, nor confer benefit for such membership until US Sailing takes a stand against this type of behavior.
Make your voice heard, and not just in these forums.
Michael Hennessy
More answers here, and don't forget the power of your social media account!  Twitter and Facebook activism WORKS, especially when you include the big sponsors in your hashtags. 
December 29th, 2015 by admin
Another light air regatta gives way to an early breeze for today's final at the Extreme Sailing Series in Oman – the first real breeze we've seen all season.  Morgan Larson continues to lead but But Ainslie, McMillian, ETNZ, and SAP are on the move and any one of them can take this one with just a couple of hours of racing left in Act 2 of the 2014 season.  It's all on, live, above, and worth watching.
March 22nd, 2014 by admin
Mad Men
It doesn't matter how lazy, nepotistic, incompetent, or corrupt you think ISAF is; its World Sailor Of The Year award is still the biggest honor that can be bestowed upon a sailor for his or her performance over the course of a year.  So it's kind of a big deal (even though you win some shitty mid-range watch as an award).  The public nominated the slate of potential awardees, but of course the only voting happens at this week's ISAF meeting in the bastion of yachting that is Muscat, Oman.
We think it would be a miscarriage of justice if anyone besides Paul Larsen wins the men's award this year.  To so utterly destroy the most important record in the sport (by 20%!), and then go on to sail a recreation of Shackleton's voyage weeks later, is just incredible.  Adding to all that is Larsen's undeniable stature as one of sailing's best communicators and cheerleaders; he does more for the sport every time he gets in front of a news camera (and it happens a lot) than any other talking head.
Francois Gabard's accomplishment winning the Vendee at age 29 could have landed him the award, but ISAF delegates don't like the French; you'll note that no French man has ever won.  Besides, he'll get one when he breaks Francis Joyon's solo RTW record with his new boat in a couple of years.  As for the rest of them, Heineken's accomplishments are awesome, but in a discipline that's in its infancy with extremely inconsistent competition.  Williams wins the WMRT in a year when much of his best competition is racing catamarans.   And Matt Belcher had some kind of good results in something called a 470, whatever that is.  Go Larso!
Pro-Choice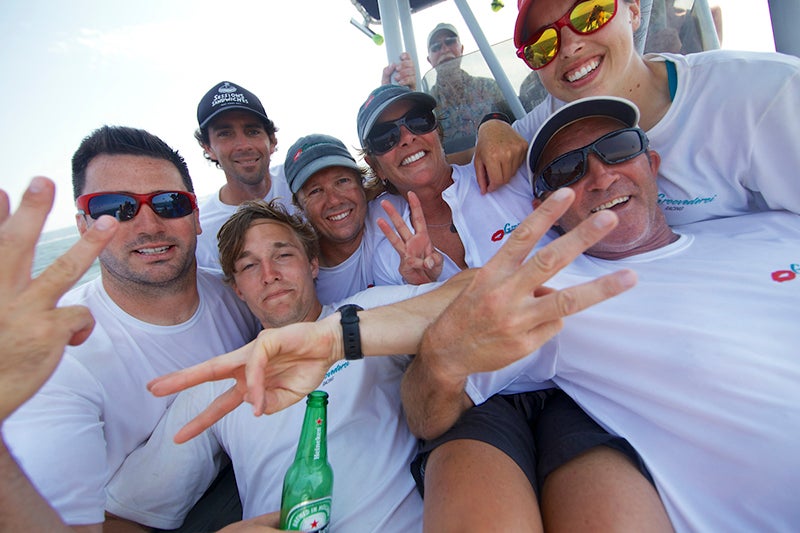 For the women, the choice is even easier; Deneen Demourkas dominated the Farr 30 Worlds, becoming the first 3-time World Champion in the class, beating some of the world's top male owner/drivers and tacticians in the process.  She also brought the class back from the brink of disaster, leading it to new growth in the US as well as Southern Europe and Scandinavia.
Competing with Deneen for the award is a Omani girl whose sole accomplishment seems to be that she is female and a sailor (quite an accomplishment in arabia, but still), another course-racing kiteboarder (same family name as Johnny, same reason she shouldn't win), and a couple of girls that got some kind of good results in something called a 470, whatever that is.
So there you have it:  The two sailors that should, without a doubt, win this year's mid-range luxo-watch.
And all joking aside, every one of these nominated sailors wins our respect.
November 12th, 2013 by admin