Posts Tagged 'Olympics'
We've never been bashful about our huge crush on former Sailor Chick of the Week and US Yachtswoman of the Year Steph Roble, and we're stoked to see her join up with musclebound fury Maggie Shea as they make their run at Olympic gold. Unfortunately their first major event together hasn't gone quite as planned, with a crazy day 3 of qualifications killing their chances at making it to Gold Fleet here at Euros.  Watch Steph and Maggie get stuck on the top mark in this painful vid, and watch the gold fleet racing action live from 1100 CET right over here.  Hit up Steph and Maggie on Facebook here.
August 2nd, 2017 by admin
Talented and shredded sailor chicks, tales of stolen cars and inter-squad rivalries, and a guy who can't seem to lose as long as he has a female driver are the guests on today's Adidas Morning Show at the 2017 49er/FX/Foiling Nacra Euros.  Check out Clean and the team, LIVE from the deck of the 1972 Olympic Sailing admin building as Day 2 of the event begins.  Check out Facebook for more action from the fleets.
July 31st, 2017 by admin
The fastest Olympic boats have joined forces for their European Championship (and beyond, we expect), and with our own Mr. Clean moonlighting as their broadcast host, there's bound to be some interesting stuff coming from the site of the 1972 Olympics in Kiel.  The first three days feature a morning show and some social media content, while full tracking, live video with commentary, and the rest of the bells and whistles will come in on Wednesday for the important half of the regatta.
The 49er or Nacra 17 Facebook Pages are probably the best place to keep track of it all.
July 29th, 2017 by admin
Racing in Rio may have been completely overshadowed by mass protests, a wave of murders, the Zika epidemic, and a government in shambles, but if you missed the story of Santi Lange and his crew Ceci, it's one you want to catch up with.  From losing part of lung to cancer to winning Olympic Gold after two-plus decades of attempts, Santi is a legend – and this piece from The Olympic Channel is a well-produced look at his battle.  Above is just a trailer – the full 10 minute mini-doc is over here.
June 23rd, 2017 by admin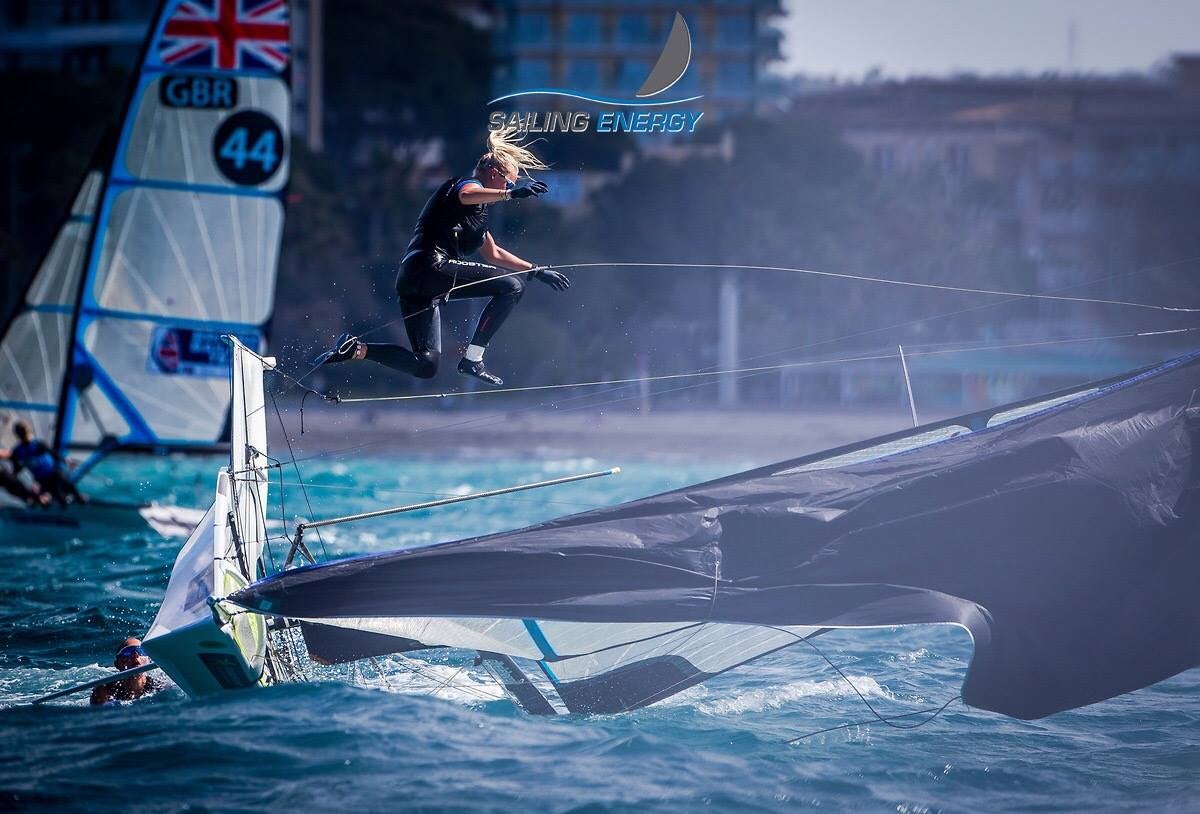 Our Sailor Chicks of the Week are 49er FX team Rebecca Netzler and Klara Wester from Western Sweden. Sure they look good, and yeah they kick some ass on the chick's skiff, but how about the form of this dismount during last week's Princess Sofia in Palma?  While we can't score the landing, Klara gets a solid 10 for amplitude and flight time, and the successful attempt to create a show for the crowd when the capsize became unsaveable. and despite the DNF they took in the medal race, the blonde-and-blue girls took 4th…
Get to know them better or support the team on their website here, and Becca's got all the pics from the flight sequence – as well as tons more – on their Facebook page, which we highly recommend you follow.  Or if you're under 30, there's IG.
Excellent shot from our old friend Jesus Renedo/Sailing Energy
April 5th, 2017 by admin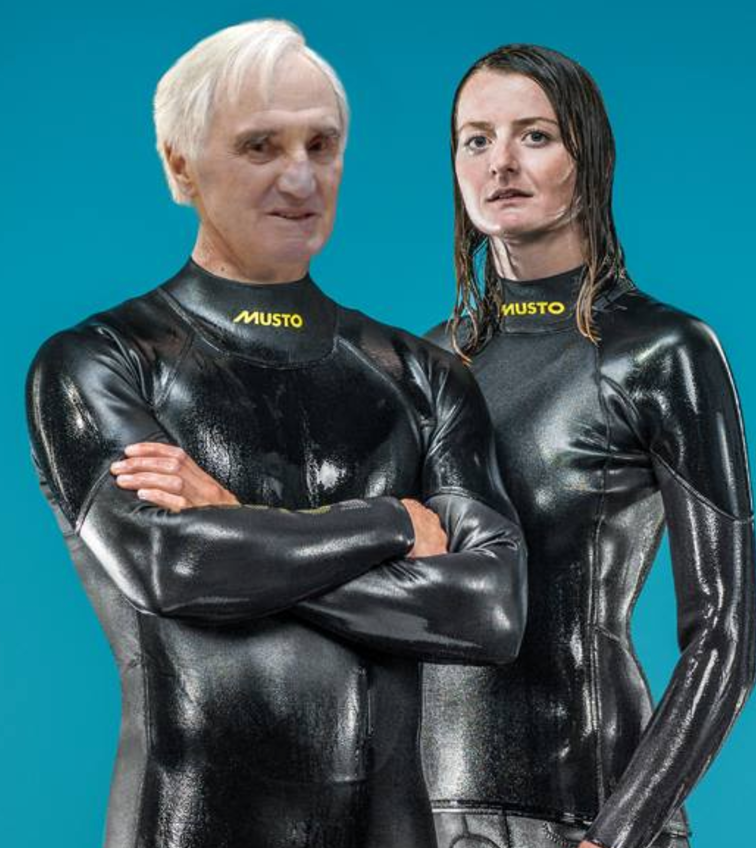 Santi Lange's astonishing Rio success in the Nacra 17 at a spry 56 years of age has inspired a whole raft of age-impaired sailors to come back and show the world that 50 is just the beginning, but even we were surprised that 81-year old Silver medalist (Tokyo, 1964) Keith Musto is launching a fully-funded campaign to return to Japan to take gold more than a half a century after his medal run.  From the news release:
Being such a dominant figure in the history of sailing, the British Sailing Team also dismissed reports of unrest amongst team members at the news of his return, with some reported to be nervous at the thought of Keith taking their spot. To claim gold in Tokyo, the team will need power, experience and precision – and Keith Musto ticks every box, despite the fact he will be almost 85 years old by the time the Tokyo Olympics take place.
Keith said: "It's an exciting opportunity for me to return to the water and aim to go back to Tokyo doing what I love – sailing. My age may raise a few eyebrows, but I bring a wealth of experience and knowledge to the team. Bring on the challenge, I can't wait to get on the foiling Nacra 17 later this year.  Age shouldn't be a barrier – the older I get, the faster I want to go".
Not only is Keith aiming to become the oldest Olympian ever at Tokyo 2020, but he is also aiming to qualify in the cutting edge Nacra 17. With Musto kit leading from the front, utilising the latest technology to create revolutionary sailing wear, the game may have moved on, but legends do not.
April 1st, 2017 by admin
In news that will make even the most cynical US Sailing Team spectator rejoice, Anna Tunnicliffe has entered her Laser  in the Sailing World Cup Miami next week for the first step in what everyone hopes is a huge comeback.  By most accounts the fittest sailor in the world (and possibly the single fittest athlete on the entire US Olympic Team back in '12 according to USOC staff), Tunnicliffe famously ditched her 2016 campaign for a life of Crossfitting with her significant other (and you really want to see that photo…)
Tuna did well in the huge world of Crossfit but failed to set the world on fire,  and we're praying a good result in Miami will get her sailing passions rekindled for the 2020 cycle.  Anna is an absolute beast on the water and she'd be an immediate medal favorite anywhere she competes, but she adds a lot more than that to any team: Her work ethic, mentoring ability, and team leadership are legendary. Anna's already been working out with the team in Miami, and she's picked up right where she left off.  Please, Anna!
January 17th, 2017 by admin
Christmas in Spain means big wind and waves, and Johnny McGovern clearly has the shutter skills to get some of the best foilless flying boat shots we've ever seen.  These 470 shots come from the Palamos Christmas Race.
Title because eighties.
December 24th, 2016 by admin
As many US Sailing Team fans will already have noted, Managing Director Josh Adams has left for greener pastures, (though he is assisting with the transition to new leadership) while today,  two-time Aussie gold medal crew Malcolm Page was named new US Sailing Team Director.
A college dinghy and team racer who came to the team after years as a magazine publisher, Adams was charged with what may have been an impossible task for someone with his experience level; to bring the US Team back from its dismal, zero-medal performance in London and make a real impression in Rio.  Despite what seemed like a good plan for Brazil, the team's 2016 performance was only tolerable in comparison to the 2012 debacle, and something had to change for the next quad.
Fortunately, US Sailing finally did what we've been begging them for a decade –  quit hiring your management consultant and magazine publishing pals from New England for this essential job, and find someone with a proven history of winning – even if you have to headhunt them from somewhere else.
Enter Mal Page, who aside from being the most decorated dinghy sailor in Aussie history, may be the only sailor to ever win a gold medal with two different skippers.  Page walks away from one of the toughest jobs in sailing – Marketing Director for ISAF – to take on another extremely tough job, but one he's uniquely prepared for.  We say this not because Page has led a big team to success; we say it because he was part of one of the winningest Olympic sailing teams in modern history, and a very clever lad.
Perhaps more importantly, he comes from a decade worth of training under the world's best olympic sailing coach – Victor "The Medal Maker" Kovalenko (pictured with Page, above).  While it's too much to hope that Victor will defect to the USA as part of the deal (Kovalenko has famously turned down some huge international paydays to stick with his adopted homeland downunder), Page should have all the tools he needs to recreate the winning culture enjoyed by the US Sailing Team up until the past decade.
You guys always come up with the best questions, and I'll be speaking to Mal tomorrow morning for this week's SA Podcast.  What do you want to know about the 2016 performance, the plans for Tokyo 2020 and the team, about Malcolm in general, or whatever?
This post has been edited to reflect the fact that Josh Adams was not fired, but resigned instead.  We note, however, that numerous sources inside both the governing body and the team were extremely dissatisfied with the team's performance and in our opinion, Adams was not long for the job.
November 28th, 2016 by admin
Clean Report
The MUSTO + Torqeedo "Cleanin' Up Europe" report moves from sunny Barcelona to grey, misty Amsterdam, but not before a short chat with the newly elected World Sailing President Kim Andersen from Denmark.  Andersen took the top spot in the sport away from an incumbent for the first time in the history of the organization, though considering the litany of missteps from the previous board, it's not a huge surprise.  The Dane's mantra has been about transparency, equality, and the growth of sailing – not just the growth of Olympic Sailing and revenue streams.
We'll have plenty more on the interesting developments that came out of the 2016 World Sailing Conference, and trust us – despite the general, all-talk/no-action nature of conferences, plenty of shit went down and plenty of it was good.  In the meantime, we'll be using Facebook Live for the next two days to bring you the latest and greatest kit from the METS show in dreary Holland. Keep an eye on the page as interviews and product spotlights pop up in our video feed.
Big congrats to Torqeedo for winning their second DAME award in four years!  And a big thanks to them and MUSTO for presenting all of our Vendee, ISAF World Council, and METS coverage this month.  Also thanks to Ocean Planet Energy and Doyle Sails NZ for their support of our coverage.

November 16th, 2016 by admin