Posts Tagged 'Olympics'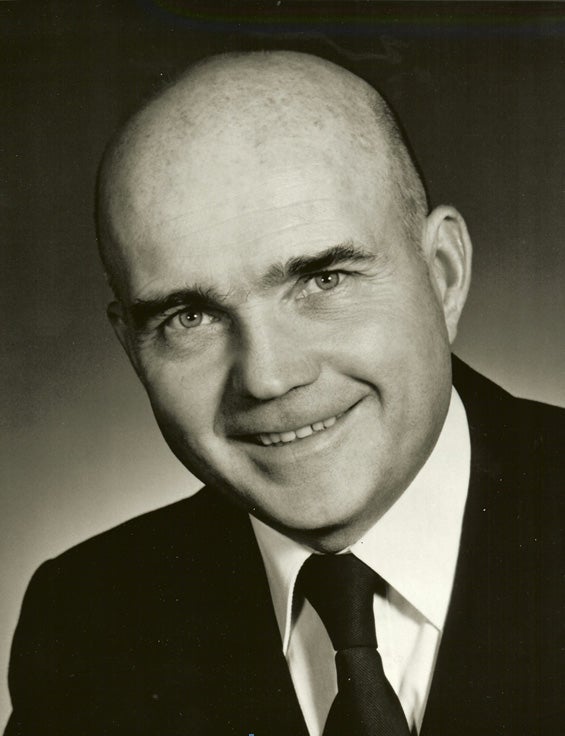 We've been documenting some of the shady battles surrounding kiteboarding's fight for sporting recognition for years now.  The first controversy came all the way back in 2009 between the IKA and IKF, and more recently, IKA began behaving badly again toward the fledgling PKRA, this time with ISAF's help.  The world would likely ignore all the fighting is this was about anything but the Olympics, and with kiteboarding already having been selected – and then dropped – during the last round of IOC confusion, kiteboarders and the ISAF paymasters pushing the new discipline can smell the blood – and money – in the water.
There are plenty of insiders who call Paul "The Pope" Henderson a disgruntled old timer, but we don't know whether his grenade-throwing comes from frustration at the one-time iron ruler of ISAF's current lack of relevance or from actual anger at where the sport is going.  Whatever his motivation, he's a smart dude with a well-formed argument that kiteboarding ain't sailing, and if it is going to be in the Olympics, it should come to Tokyo as part of the new Surfing events. We're not sure where Paul was when ISAF slid in and grabbed ownership of kiteboard racing, and we don't really agree with his point (if you've ever watched foilboard course racing, it sure looks like sailboat racing!), but we do agree that these conversations are essential if World Sailing is ever going to repair its reputation for ruining the sport with opacity, nepotism, and self-interest.  The Pope speaks:
The overview position that I support is that World Sailing is a membership organisation and not a company! Staff responds to the needs and the wishes of the members (the sailors). Not the other way around!
Please understand that I am not against any new concept sport. What I am against is that a new monopoly concept; Kite-Surfing uses Sailing as their avenue to Olympic Status which negatively impacts our sport.  Kite-Surfing is using Sailing to accomplish their Olympic goals.  Convertible Kite-Surfing or Formula Kites or other names are confusing so I will use Kite-Surfing.
About 6 years ago Kite-Surfing appeared at ISAF and naively were taken in as a new extreme sport. Then ISAF Council was told that they would try and become Olympic but only if the IOC would give to Sailing two additional Medal Events and therefore would have no impact on existing events.  All appeared to be acceptable to the usually forthright ISAF Council [/sarcasm -ed].
ISAF then went through a revolving door of what are now called CEO's with 3 in less than a year.  New CEO Mr. Andy Hunt returned from an IOC meeting stating that unless Sailing accepted Kite-Surfing with their "riders" not sailors all hell would break loose.   Sailing would have its events dramatically cut back or even dropped by the IOC. It was stated that the IOC in their Agenda 2020 were going from a sport focus to an event focus.
The next move was that "panic" set in and that Kite-Surfing must be made an event of Sailing in TOKYO2020 and that immediately the now World Sailing policies must be altered negating the previous World Sailing commitment that their would be no changes in events for 2020 after the unfortunate deletion of keelboats which had ripple effect of Sailing being dropped from the Paralympics. This also resulted in two new monopoly pieces of equipment being inserted
for RIO2016  which has caused great problems.
There was then a quickly conceived E-Mail vote to change the policy so that Kite-Surfing could use 2 of the 10 now Sailing events and not be only for extra events if awarded by the IOC. The World Sailing staff initiated a phone campaign to Council to get the required vote to ensure this change passed. The rumours spread fast that the Finn would be dropped and the 470 made Mixed so that two slots opened up for Kite-Surfing. It should be noted that the Finn and 470 are the only 2 classes which are now not commercial monopolies.
There was a great reaction from several of the other International Olympic Sports to the IOC focus on events not the sports. The IOC Executive Board issued a clarification of their Agenda 2020 stating that the IOC new direction would not
impact the existing 25 Olympic core sports of which Sailing is one. The threat that Sailing is on the way out is not true.
The IOC has totally refuted the World Sailing panic.
What the IOC has done is to increase the number events to 310 from 301 and to state that the number of athletes will be
10,500. They have also added 5 new sports to the existing 28, Baseball/Softball (Now 1 Federation), Karate, Skate Boarding, Sports Climbing, and Surfing.  Another issue is the IOC stating they want "Gender Equality".  Baseball will have 25 athletes for the Men's event of Baseball and 15 athletes for the Women's Event of Softball.  The observation here is that the IOC makes general statements but all are adaptable to the specific needs of the sports which is why "Gender Equity" is more appropriate.
Conclusion:  Kite-Surfing with their "riders" and off-the-beach sport fits into the new IOC confirmed sport of "Surfing".
They can develop all their "convertible concepts" free from the constraints of World Sailing which have evolved over decades.
"Surfing" is the International Sport Federation Kite-surfing must use to get their desire to be Olympic and not totally disrupt Sailing.  I trust World Sailing will go to the IOC and ask that this be the direction followed by Kite-Surfing as everyone wins but more importantly is that Sailing is not totally disrupted again as happened with the keelboat issue..
Personal:
Over the last several months I have asked for clarification and answers to several questions posed to the World Sailing staff and been told that I am just a sailor and have no position at World Sailing.  The result of this staff position is that I will put forward my name again as President in hopes that I might finally get some answers.
The next few months are crucial to the future of Sailing and that at least till November I will have a podium to put forward my concerns.
Regards,
Paul Henderson
A Concerned Sailor
September 3rd, 2016 by admin
We know you've all been waiting for the Sailing Anarchy take on Rio 2016 and the US Sailing Team, so strap on your listening helmets and get ready for Sailing Anarchy Podcast # 9.  We grabbed Nacra 17 helm Bora Gulari to find out how all his Olympic gear was stolen (in Detroit), how he got it back, and everything Olympic we could cram into 2 hours of slightly inebriated yapping.  Find out about his DNFs, medal race craziness, what it's like to live amongst 10,000 other ultra-fit athletes, and why, at 40 years old, Bora's finally found his place in the sport.  Detailed discussions about the overall performance of the US Team and where it's headed; this one has it all.  Maybe our best podcast yet; listen above, download here for later listening, or subscribe on iTunes.
If you appreciate the fact that some random chick found all Bora's stolen Olympic gear on the street, brought it inside, and called to return it, check out her GoFundMe page for some kind of operation she needs and reward her.
August 30th, 2016 by admin
Guanabara Bay is now 'Caleb's House' after the 26 year old Caleb Paine's blinder of a Finn finale.  The SoCal native grabbed a right shift to horizon job the fleet from mark 1 to the finish, jumping over Max Salminen and knocking Croatian Ivan Gašpić out of the medals to claim the first US sailing medal in 8 years.  Ironically, it was Gaspic whose protest against Paine was thrown out after video evidence showed it was total bullshit – what goes around sometimes really comes does come around (and no, Gary Jobson had nothing to do with it; the team was reviewing the footage hours before Jobson's 'research' bore fruit).  Paine's win provides the all-important objective improvement the US team has been hoping for; with two more legitimate shots at medals in the 470s, we might even beat the oddsmakers.
It was amazing to watch Giles Scott reeling in Paine on the final run like he was in a different class of boat; the genetic freak of a man showed why he didn't even need the medal race to take the Gold, and he'll be back to defend his title for a long time to come.
In other Olympic news, Pete Burling clinched the 49er Gold two races before the qualis are even over.  If the 2017 America's Cup comes down to a helmsman vs. helmsman battle, you're all going to need to book tickets to Auckland for the 2020 Cup.
NBC coverage here.  Google for the rest of ya. Big thanks to Amory Ross and the US Sailing Team for getting this shot to us so fast.
August 16th, 2016 by admin
Clean Report
It may be disappointing to many Americans to see the US Sailing Team struggling to recover from their historic medal shutout in London, but by almost any standard, the team is already doing better than the 2012 debacle.  We will be analyzing their performance once the games are over, but for right now, if NBC doesn't completely fuck it up again, you might just get lucky enough to watch some double-points medal racing live tomorrow.  Three US teams will sail the finale; young Caleb Paine sits just outside the Finn medals in fourth, while Paige Railey will try to move up from 10th with no chance at the podium.  Bora and Louisa will see if they can jump a few spots from 9th, and if it all happens fast enough, we might see some 470 racing (or spot a severed leg).  Read the US Sailing update from Monday here.
 live broadcast hasn't done viewership numbers any favors, but at least US Sailing's media department is using their noggins; they landed a well-written and informative story on data and the US team on Nate Silver's news and data site 538.com.  Silver's celebrity stems from his uncannily accurate predictions of major events, elections, and the like, and he's getting YUGE traffic right now.  Here's an excerpt:
The U.S. sailing team left the 2012 London Olympics without any medals — it was the first time Americans had failed to place in an event since the 1936 Berlin games. They weren't even that close, either. Sixteen sailors, across 10 events, and the best anyone managed at the 2012 London Olympics was fifth place. They were disappointed with the result, one that brought the failure of U.S. sailing — one of those sports we only really hear about every four years — to the forefront…

…While the exact location of courses on Guanabara weren't finalized until the fall of 2015, test events in the two years prior gave Team USA a pretty good sense of where the races would be.

They dropped custom current buoys both inside and outside the bay, gathering data on how the water moves at various points throughout during the day. They tracked windspeed and direction, two factors that are critical to a sailor's ability to find the fastest lane, and which can shift quickly around the mountains that flank both sides of the bay.

The three years of gathering and analyzing data culminated in what U.S. Sailing calls their "Rio Weather Playbook," a body of critical information about each of the seven courses only available to the U.S. team. They're not calling it a silver bullet, but Adams says the playbook project was one of the most comprehensive data efforts that U.S. sailing has ever done. "This is a unique undertaking for U.S. sailing," he said. "In terms of the amount of time that we collected data, it's one of the most extensive projects."
Read the rest of the story here.
August 15th, 2016 by admin
T
he first sailor sickness has been reported due to Rio's sewery water, though according to London Bronze Medalist (Laser Radial) Evi Van Acker's coach, she caught it back in July training on the bay.  He also thinks Evi's dysentary has contributed to her poor results thus far.  The Belgian OC said "she has not fully recovered. It makes it difficult for her to go through long periods of sustained effort."  While several contacts with debris affected other racers, no other sicknesses have yet been reported.  Read the full story from our old friend Bernie Wilson (who's down at the Games) at the AP here.
Caleb, Pained
In another kind of unwell, the US team is performing exactly where the oddsmakers had them; on the outside looking in, without a single sailor in the top 5 of any class. US Finn rep Caleb Paine port-tacked the fleet yesterday on his way to a 2nd for the race and an awesome 4th overall – that is, until he was flicked from the race at an evening protest hearing for a port/starboard on that spectacular start.  Now he's in 15th, and the highest performing American team are the chicks' 470, with Annie and Bri in 6th.  Go here for the US Sailing daily report, and to get to know America's most likely medalist skipper, watch this just-posted Mr. Clean video interview with Annie from last summer in Rio.  Here are Team USA's standings as of Friday morning; number in parentheses is change from yesterday's standing (With special thanks to TFE):
RS:X M – 30 (same)
RS:X W – 12 (-2)
LASER M – 15 (same)*
LASER W – 7 (same)*
FINN – 15 (-8)
470 M – 10 (-2)
470 W – 6 (+1)
NACRA17 – 16 (-5)
49er M – *
49er W – *
*LASER M/W did not race Thursday. 49er M and W have yet to race; their first races are Friday.
August 12th, 2016 by admin
Brad Funk really is the definition of an Anarchist, marching to a completely different beat, restrained only by his own ethical compass, a love of nature, and occasional commands from the Martian overlords and vapor trail creators.  And while the Funkster may have missed out (again) on the Olympics, he made it down to Rio and already is making a bigger splash than any of the sailors.  Here's an inspiring Olympic story that hit about a thousand international publications thanks to a pickup from Reuters…
There's something in the water at the Rio Olympics. In fact, there are a lot of things — condoms, cans, shoes, diapers, plastic bags, rotaviruses, superbacteria, raw sewage and the occasional corpse.

Best not to touch, smell or swallow. If you're an Olympic sailor, best not to capsize. If you're an Olympic open-water swimmer, best to have a cast-iron stomach.

Guanabara Bay is spectacularly challenging and notoriously polluted. Sailors have a love-hate relationship with the venue of powerful currents, shifting breezes and hazardous levels of e coli. One lousy piece of debris that catches on a centerboard or wraps around a rudder can ruin a race.

But a brave and selfless man — Fort Lauderdale's Brad Funk — made it his mission to clean up the contaminated bay on behalf of his fellow sailors. It was a Sisyphean task — akin to one gardener irrigating the Sahara desert — but Funk tried. Wearing two pairs of gloves, wielding nets and baskets, Funk scooped nearly 800 pounds of junk out of the bay where his friends will compete starting Monday.

"No Olympic medal should be won or lost because of trash in the water," he said. "Rio is my favorite place in the world to sail and it would be a shame if the regatta was compromised by pollution."

Funk made his garbage-collecting forays on a boat named Ulysses. He did not encounter Cyclops or Circe. But he did have to navigate through a fetid stew of dead fish, floating furniture and submerged TVs.
August 8th, 2016 by admin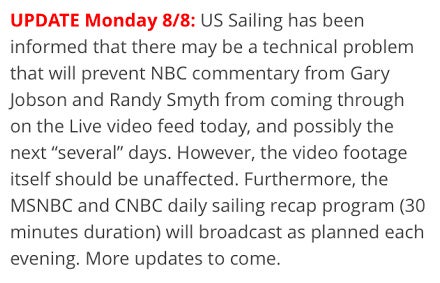 While overall US ratings are down an astonishing 32% from London, it's amazing how every other sport has superb coverage, yet sailing always seems to have some sort of fuckery associated with it. Not hearing Jobson, however, is hardly a loss at all, but let's face it – while a few hardcore watchers are happy with pretty pictures alone, sailing video without informed commentary will struggle to hang on to real fans, much less earn one new interested observer.  The production team's fuckup reaches monumental proportions against the political backdrop: After London's production of the sailing events ranked almost at the bottom of all Olympic sports in total viewership, the IOC told World Sailing they needed to figure out how to pull their weight or risk consequences, and their solution; hire the same producer who pulled those shit ratings, and hope he doesn't fuck anything up…
From Anarchist Bill: Olympic streaming commentary: just watched the RS:X race. Really outstanding video, and wonderful without commentary. I don't need someone telling me what's going on, particularly as their occasional graphics were excellent. Gary and Randy may be great, but sailing is so much better without talking heads.
Americans with cable can watch the coverage, for what it's worth, over here.  Those without can find legal, free streams through one of these links.  Sketchier stuff for our visitors from far-off lands with good anti-spoofing software and smart clicking, you can brave these spam-filled feeds for live sailing.
August 8th, 2016 by admin
Reports out of Rio de Janeiro indicate that the Canadian sailing team has dissolved after falling into the heavily polluted waters of Guanabara Bay.
At around 2:30pm local time on Thursday, the Canadian athletes lost control during a practice run after encountering unusually turbulent waters. Witnesses say the boat capsized and the sailing duo was thrown overboard, where pieces of their bodies immediately began to disintegrate upon contact with the putrid lagoon.
"We deeply regret the pair of Canadian sailors getting liquified," said Brazil's sports minister Ricardo Leyser, noting that on the plus side, neither came back to life as a radioactive monster. "We had no way of knowing that would happen, aside from all the indications that it would."
While authorities were able to recover bits of the athletes' uniforms – all of which were tinged with a reddish, greenish, yellowish shade of fluorescent, neon purple – they have thus far failed to identify the athletes' remains amid the sprawling mass of garbage, human waste, and other, unrelated corpses. Despite the tragedy, however, the International Olympic Committee remains optimistic about the upcoming games.
Read the rest of this hilarious piece over at Bluerock Radio, but don't forget that actual bodies are being pulled out of Guanabara Bay on a daily basis,  and experts are now saying the Rio 2016 sailing venue is actually far more polluted than everyone thought, if that's even possible.  It doesn't help that one of the people in charge of making sure the sewage treatment was on schedule was murdered last year…
And for the few of you who've been wondering why the some other online sailing publications have been hiding the truth about Rio from their readers, it's because they've been bought off.  Details here.
August 4th, 2016 by admin
With the world's attention now firmly on Rio De Janeiro, things are getting more interesting by the day.   Massive anti-government protests shut down sections of the city and country over the weekend, and experts say the numbers are only increasing, with some protestors planning on marching every day until the end of the games.  In other news, Brazil's government fired the security firm charged with keeping the Games safe, citing 'incompetence and irresponsibility' due to the fact that only a few hundred security guards had been hired of the 3400 promised.
That means now the Rio Police will be in charge of all of it, including running x-ray and screening services.  That's the same police force which met incoming visitors at the airport with a huge sign that read "WELCOME TO HELL…POLICE IN RIO DON'T GET PAID…WHOEVER COMES TO RIO DE JANEIRO WILL NOT BE SAFE."  It's also the same force that's been in almost non-stop corruption scandals for as long as anyone can remember.  Most recently, a top MMA fighter said he was kidnapped and handcuffed last week by a group of police and forced to withdraw thousands of dollars from ATM machines before he was released.
More fun with theft as well; when 100 Australian athletes were evacuated from their Olympic Village apartments because of a fire in the sketchy buildings, they were robbed of a laptop and their team logo'd anti-mosquito/Zika protective shirts – possibly by fire marshals.  But of course the IOC says everything's awesome!
The hits keep on coming, but keep in mind that even if things continue to snowball, Brazil still probably won't even make the list for the 'worst Olympics ever'.  Read this for one author's picks of the 5 worst Olympics, or this smart National Geographic piece enumerating the sordid history of the Olympic Movement and the racism, sexism, corruption, and rampant displacement of the poor that it's built on. Hey – at least Tokyo's ready for 2020 thanks to their imminent election of a new Mayor following the departure of the last two…over Olympic scandals!
Athletic Supporter
While the IOC is facing plenty of pain these days and struggling to address weak interest from venues for future games, there's a much bigger wave coming, and it will no doubt change the games forever.  Paralleling hugely contentious recent controversy over the the billions in broadcast and licensing dollars received by the NCAA thanks to thousands of unpaid American college student athletes, the Washington Post yesterday took on the other elephant in the room of the Olympic 'Movement' – the abject poverty most Olympic athletes endure for a chance at glory all while hundreds of staffers, Federation employees, and IOC "volunteers" make small fortunes while living a life of luxury, protected from any kind of transparency laws by Lausanne, Switzerland's nearly nonexistent disclosure requirements for non-profit companies. Here are a few excerpts from the Washington Post piece that rekindles this important discussion:
At the very top of "the Movement" sits the International Olympic Committee, a nonprofit run by a "volunteer" president who gets an annual "allowance" of $251,000 and lives rent-free in a five-star hotel and spa in Switzerland.

At the very bottom of "the Movement" — beneath the IOC members who travel first-class and get paid thousands of dollars just to attend the Olympics, beneath the executives who make hundreds of thousands to organize the Games, beneath the international sports federations, the national sport federations and the national Olympic committees and all of their employees — are the actual athletes whose moments of triumph and pain will flicker on television screens around the globe starting Friday….

…The picture that emerges is a multibillion-dollar entertainment industry whose entertainers are, in this country, often expected to raise their own income or live in poverty. There is no comprehensive data on U.S. Olympic athlete pay, but information collected by a nonprofit last year from 150 track and field athletes ranked in the top 10 in the country in their events found an average income of $16,553. Even USOC officials concede that, with the exceptions of the handful of megastars such as Michael Phelps and Ryan Lochte who rake in big endorsement money and those who play sports with lucrative professional leagues, most U.S. Olympic athletes cannot earn enough from their sports to make a living…

…USA Swimming Executive Director Chuck Wielgus makes $854,000, and national swim team director Frank Busch makes $346,000; their swimmers competing in Rio next month can make monthly stipends that cap at $42,000 per year. USA Triathlon CEO Rob Urbach makes $362,000 while Team USA triathletes compete for stipends that range from about $20,000 to $40,000 a year. The coach of the USA Rowing women's team makes $237,000 while his rowers vie for stipends that max out at about $20,000 per year. (U.S. Olympic athletes are given an additional stipend if they win a gold, silver or bronze medal.)…

…In major American sports leagues — such as the NFL, Major League Baseball and the NBA — management typically shares about 50 percent of the revenue with the athletes. In promotional materials, the USOC advertises that more than 90 percent of its spending goes to "areas that support U.S. Olympic and Paralympic athletes." That same 2012 study by former athletes found that just 6 percent of USOC spending actually goes to athletes as cash payments.

"I was pretty shocked and disappointed, but I knew how the system worked," said Ben Barger, an Olympic sailor who led the study. "The money goes to executives first, then administrators, then coaches, and then athletes."

The reason there's a large disparity between what the USOC says it spends on "areas that support athletes" and what the USOC actually pays athletes, Blackmun explained, is because the USOC includes the salaries of many of its employees who work with athletes or raise money for the organization in the larger figure… You get the picture.  If you want more, head to the Post.
August 1st, 2016 by admin
April's collapse of the new "Olympic Bike Path" killed two people.  Saturday, waves flooded out a newly constructed Beach Volleyball TV studio. Sailing wasn't immune from negligent construction, either; above is a shot of the this massive, brand new Marina De Gloria dinghy launch ramp that lasted a grand total of one day. You can read the typically ridiculous comments from officials in this news piece, while our own sources on the ground have their own take:
Hey Clean,
Biggest swell that we have seen yet in Rio this weekend. Surfers all around inside Guanabarra Bay.
The attached pics are of the progressive demise of the very large main launching ramp in Marina Gloria. The ramp was completed (in haste) on 29 July and collapsed on 30 July in the swell that made it into Marina Gloria.
The attached pics are at 9am and 530pm where the patient was pronounced dead at the scene.  A rough day, for numerous reasons!
-Deep throat
To athletes like Megan Kalmoe, intent on whining to 'Leave Rio Alone!", next time you decide that the media's reporting on Olympic incompetence is hurting your little game, try to remember the dozens of lives that will be lost in total so that you can get on TV and try to win a piece of metal and ribbon.  For you, it's a sport.  For Brazil, it's life, death, and the future.

July 31st, 2016 by admin