Posts Tagged 'Olympics'
We still cannot for the life of us understand what is going through ISAF, the IOC, and the dozens of governing bodies' minds when it comes to the dangerous levels of pollution that even Brazil admits it won't be able to solve as promised to the IOC by 2016, much less this summer's Test Event.  As of Monday, the problem became not just dangerous, but life threatening, when Brazil's most respected health institute said this morning that 3 of 5 test samples on the Carioca River (which flows directly into the bay) tested positive for KPC-enzyme producing bacteria, also known as 'superbugs'.  Resistant to almost all modern antibiotics, treating these critters can require extremely toxic chemicals, treatments that can be even more destructive than the infections themselves.  Don't think this is a big deal?  This shit makes MRSA look about as serious as blue balls.  And we still haven't heard word one from any of our sport's supposed caretakers…
Anyone still think the IOC and ISAF have the sailors best interests at heart?  Check the AP story here; now including quotes from a long time Canadian Anarchist!
UPDATE: Apparently IOC has more important things to deal with than the health and safety of its athletes.  Time for a gorgeous new Lake Geneva HQ building!
December 15th, 2014 by admin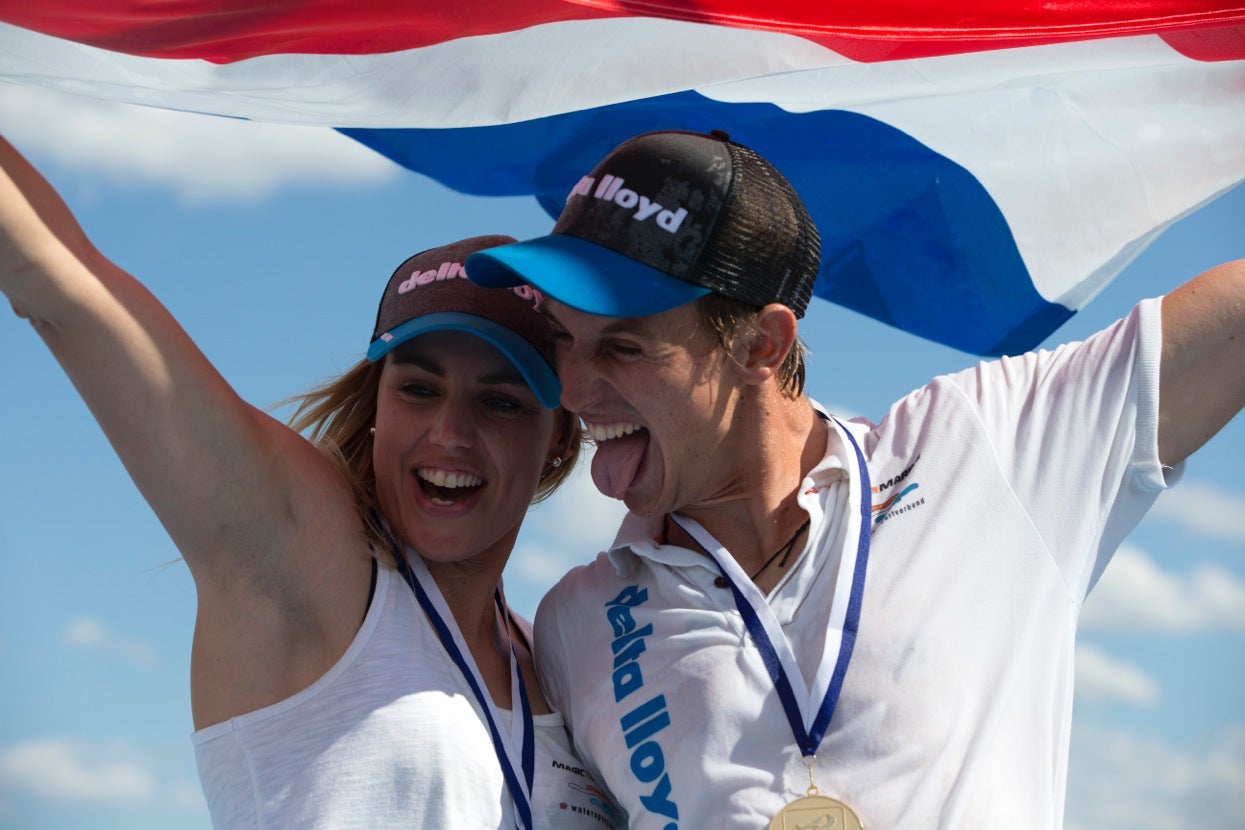 Holland hit well above its weight at the Santander World Cup Champs with former SCOTW Merit B taking gold in Laser Radial and Nicholas Heiner doing the same in full rig.  No medals (again) for the US team, though solid top tens in 4 classes and some awesome racing from another past SCOTW – Erika Reineke – bode well for the future.  We hope.  Beautiful work from R&R at Ocean Images, and title inspiration goes to a truly badass song from one of the punk-chick greats.
September 22nd, 2014 by admin
The final race for the second Melges 20 World Championship went off during Garda's crisp, beautiful northerly morning wind with John Kilroy, Paul Goodison, and Jeff Reynolds taking the easy bullet and the title; after winning M32 Worlds in San Francisco a couple years ago, Kilroy now owns two Melges Worlds titles in the builder's only two amateur owner/driver classes…we can only imagine what's next in the owner/driver bucket list for JK.  Meanwhile, four nations in the top four spots is a great indicator of this classs's international strength, though the Italians can't like being smacked down on their home turf.  Hey – there's always next year!  Watch the full awards show here, and scroll down on the Livestream Page to check out the racing as it happened; apparently (at least from their numbers), they forgot to tell anyone they were live streaming the racing.  There's also an 11-minute video over here from the Riva Sailing Club, but we haven't watched it because our attention span is max 4 minutes.
Above is another fab Stefano Gattini shot – the galleries from this event have been some of the most beautiful we've ever seen, so check them out here.  Thanks to Melges Europe and Studio Borlenghi for the exclusive coverage this week;  According to the sailors we spoke to, "This is how a World Championship should always be."
August 30th, 2014 by admin
Monday sucks.  And Tuesday is only slightly less sucky. These videos might be the cure.  Today weve got high performance boats, low performance boats, crashes, flooking around, and kids – lots and lots of kids.  Welcome to Video Anarchy.
Mac Art
A little production value can do wonders to transform some basic GoPro video into something quite beautiful, as the boys and girls from Froeter Design showcase in this video of the Chicago Mackinac aboard the Beneteau Chief. 
Check Yourself
You've seen the scores of young Anarchists (and these kids have been SA junkies since about kindergarden) Ian and Nicolas representin' enroute to their US Youth Nationals.  Here's the movie.  Turn down the music unless you're nostalgic for your dentists' soundtrack…and here's an audio interview with the nippers.
Swedish Bikini Team
The 'new age' of video storytelling has slowly crept into the top end of sailing, with producers (and those who pay them) finally understanding what we've been screaming about for years:  You have to put the audience right there in the trenches with the subject or you're just wasting your time.   We've seen plenty of nasty pictures come out of the Brazil test event, but for many Olympic hopefuls – those without the runs, at least –  it was an amazing adventure in one of the world's most exciting countries.  Above is a look at the beauty and skill of the Swedish team, and no dirty water.  Thanks to Swedish mothy Magnus Gravare for the heads up.
Joie De Vivre
Another essential aspect of video storytelling is about charisma; the camera loves those who have it.  Example?  This excellent Team GBR/Volvo Cars-sponsored Rio Test video from our old friends Richard Langdon nd Rachel Jesperson, focusing on always-smiling and ultra-charismatic silver medallist Luke Patience.  Also starring in this one are his excellent Aberdeen accent and a couple of Nacra 17 sailors.  Have a look at two more charismatic intros from the same team over here.
flook off
Brilliant, stupid, or a hoax?  You decide.
August 26th, 2014 by admin
As the Brazil 'pre-pre-test event' wraps up, one of our deep cover Olympic hopefuls tells us things are nowhere near as rosy in Rio as we've been led to believe.  Neither we nor our source is looking to screw over the Olympic dream, but we're not going to stand by while people get sick, either, and we don't want anyone to forget that Rio's Mayor has already said that plans to permanently reduce the shit levels in the Bay – currently some 200 times worse than US water quality levels – billed as a major legacy of the Games, would not happen.  Like Russia and China, the Brazil games look to once again expose the IOC as a body that cares only about one thing: Cash.
Photo of a 49er crew taking an accidental and potentially dangerous swim in a feces-filled stretch of water near the Rio airport, and here's our inside report:
This place IS NOT CLEAN, and after a bit of rain hit town, we saw some seriously horrendous shit in the water.  The smell of poo as you sail into the harbor every day is revolting and like nothing any of us have experienced – but no one is allowed to talk about it, and we're getting annoyed with a bunch of recent media that says how nice the water is.  We have been told specifically NOT to talk to anyone about the pollution, and always to refer the matter to a higher authority. Even coaches are not allowed to have cameras aboard for fear they will capture dead animals or some of the other shocking stuff we've seen.
What is really happening is that people are getting sick.  There are few things worse than knowing you ingested fecal matter -and all that might come along with it – on the race course.  I've had the Rio Runs since day two.  Does being an Olympian really mean you need to eat shit – literally?
This place is really beautiful, but I don't think it's right for all these people to be jumping on some kind of "Rio Is Clean" bandwagon when it's the sailors and on-water staff who will suffer the consequences.  While Organizers are making some effort, they must be spurred into action to do more than temporary fixes.  Two of the main rivers that flow into Guanabara Bay – the ones that carry ALL the shit from all the hillside favelas – have been dammed up ust for our event.  A few days after everyone is gone, they will open them back up, and locals expect the bay to become as bad as it has ever been – so bad that the government will shut down the beaches for days.
August 11th, 2014 by admin
It may still be a 'toilet' full of untreated sewage, but many believe Rio will be able to pull it all together before Summer 2016.  This week, around 300 sailors (including the US Sailing Team) will compete at the first Rio event – the 'test event" before next year's Test Event – despite the water still containing dead dogs, dead cats, floating TVs, and entirely new reasons not to capsize.  
Frequent SA photo contributor Juerg Kaufman was on hand for a presentation on water quality given by Olympic organizers last week; you can read the full PDF of the presentation here to see exactly what Rio is doing to fix their waterways, and here's Juerg's more personal report (with the beautiful photo to the left thanks to US Olympic Communications Manager Will Ricketson):
After one week in Rio there are three points I can make about the water quality.
First, the water is still dirty, and it smells bad in some places.  Most of the day though, especially with the current running, it's not so bad.  The race course that will be near the bridge still has lots of plastic bags and floating debris around; those seem to be the major risk for sailors at the moment.
Second is the water quality: Days ago, our head coach took some samples and sent to an independent lab for review.  We will have final results in a couple of days, but (and this is incredible), the water quality is within normal limits!  For sure, the water quality is far, far from what I'm used to on our alpine lakes in Switzerland, but still, we saw a turtle today and some of our sailors saw dolphins, so that's good news.
Third, I remember the Star Worlds here 4 years ago here in Rio, and since then, the water quality has improved A LOT.  We had a race on the future medal course back then, and the water was so horribly brown and even black at times that I couldn't use a single photo from that race.
We can complain about the water quality, but the reality is that we are seeing a major ecological change here on Brazil's shore.  Being an outsider it is hard to predict what will happen come 2016, but if the Chinese could solve hundreds of tons worth of algae, it's not hard to hope that the Brazilians will solve their water management issues.
Best regards
Jurg
August 4th, 2014 by admin
Luna Rossa skipper Francesco Bruni shares a few words with the SAers about a giant in Italian sailing, who died over the weekend after a long fight with cancer. 
Valentin Mankin was one of the greatest people in our sport. He won 3 gold medals and 1 silver in 3 different classes – that's not something that happens to anyone!
My memories of this great man are not only linked to his victories, but to the way he taught me how to always fight for every win. I will always remember him saying: "Do you have a problem with gybes? No problem! Do 10000 of them and you will see that the problem will be gone!" He would wake up at 5am every day and start drawing on dozens of pages all his crazy ideas for the day's training. His scribbles were very difficult to read and understand, but they were obviously the work of a genius.
Val was the hardest worker I have ever met in my life, and if I had just listened to him more and had 10% of his mental strength, I would have achieved a lot more in sailing.
For me and many Italians on the Olympic teams of the past, Valentin was far more than a coach. He was a mentor, he was a life teacher, and he was a friend. Thanks you Valentin! You will always be in our hearts!
June 4th, 2014 by admin
In yet another stunning example of IOC incompetence, London has secretly been asked to be prepared to take over the 2016 Olympics if Brazil continues to make a total shambles of preparations for the Games.
According to the Evening Standard, Olympic bosses have begin informal investigations into whether enough of the 2012 London venues can be recommissioned for 2016.
Given the IOC's track record at propping up despotic regimes and endorsing human rights violations while earning billions from endorsements and TV revenue, we don't have a lot of faith that they can do anything right, especially after selecting a horribly polluted and politically corrupt town like Rio for the biggest event in sports.
We have just two questions: How do these people control the world's biggest sporting event, and why have they not all been fired?
May 9th, 2014 by admin
We've already explained how Rio's Olympic sailing venue is literally full of crap.  Yesterday, our friends at Sailors For The Sea took aim at this nasty little problem; check out Tyson Bottenus's take on it. 
Last December Alan Norregaard, a Bronze medalist from the 2012 London Olympics, was just barely edging out Nico Delle Karth for first place as he approached the windward mark in the 2nd race of the 2013 Intergalactic Championships in Guanabara Bay, a rather large protected bay outside of Rio de Janeiro.
And then disaster struck when his 49er shuddered to a halt. He and his crew watched helplessly as the entire fleet passed by. Backwinding their mainsail, they peered into the murky water to see what had happened and what they saw was both infuriating and outrageous: their 49er was stopped dead in the water by a large plastic bag wrapped around their centerboard, floating haphazardly in the bay.
"I have sailed around the world for 20 years and this is the most polluted place I've ever been," Norregaard told reporters after the race. He isn't the only one complaining. This February, the Irish Sailing Team put out a request for funding to bring a doctor with them to Rio de Janeiro to assess "potential health concerns posed by untreated sewage water." Stories and anecdotes are cropping up of dead horse carcasses and mattresses floating along the racecourse.
"The sewage is visible and we have identified it as a significant health risk to our athletes," said James O'Callaghan, ISA Performance Director, to the Irish Times this February.
In 2016, sailing teams from all over the world will descend upon Brazil to take part in the Summer Olympics. Individuals and teams from around the world have been training for most of their lives for their chance to earn a medal. The least that can be hoped for is clean waters to compete.
Human impacts dating back to the late 1880s were found by a team of researchers when they analyzed sediment samples from the bottom of Guanabara Bay. But when these researchers looked closely, they found a significant increase in heavy metals dating back to the 1950s – approximately when Rio's population began increasing exponentially. From 1950 onward, Rio's population has ballooned more than 400%.
The effects of this population growth can be seen. According to the Associated Press, nearly 70% of Rio's sewage goes untreated. Guanabara Bay is also the center point of a complex river drainage basin. Over 50 rivers flow into the bay bringing the untreated sewage and any disposed waste dumped from the 14,000 industries, 14 oil terminals, 2 commercial ports, 32 dock yards, more than 1,000 oil stations and 2 refineries that surround the bay.
A little more than a third of the 13,000 tons of solid waste produced every day in the Rio de Janeiro area is ejected directly into Guanabara Bay where it's expected to make its way out with the tide. (Haven't we learned that the solution to pollution is not dilution?) More often than not however, the trash ends up on Rio's beaches and enmeshed in the meager mangrove forests that are left along the coast.
On top of that, three major oil spills have left a dirty mark on Guanabara Bay. While entering the Sao Sebastiao terminal in Guanabara Bay in 1975, an oil tanker from Iraq ran aground and spilled 70,000 barrels of oil. At the time it was the worst oil spill to ever occur in Brazil.
Twenty years later the Brazilian refinery operator Petrobras reported that a leaking pipeline had spilled over five times that amount. This put an immense strain on fishermen and their livelihood on the bay. Three years later Petrobras again admitted fault in yet another oil spill, this time because they had failed to install modern sensors on their pipelines.
The result was utter devastation. Brazil experienced an economic downturn as Guanabara Bay's fisheries collapsed, leaving fishermen to find other sources of income. Environmental groups were furious at the level of incompetency demonstrated by Petrobras as Greenpeace protested by leaving oil-soaked birds and by chaining themselves to the railings outside of Petrobras's headquarters.
As of today, there are less than two years till the 2016 Olympics. Can Brazil clean up over a century of economic development in the blink of an eye?
The Olympic Games have long been derided from an environmental standpoint as an unsustainable event. Think about all the resources that go into making the Games happen. Stadiums need to be erected, ski slopes must be carved, vast quantities of bottled water need to be on hand. It's safe to say that the relationship between sport and sustainability is not always the most harmonious.
But if Rio is serious about it's commitment to cleaning up Guanabara Bay, then this commitment has the potential to change the relationship between sport and sailing. For the sailing to happen, change must happen alongside. Only time will tell what kind of legacy Rio 2016 will leave behind.
March 20th, 2014 by admin
Well, there you have it, folks.  ISAF has shown that it knows exactly where its bread is buttered, once again selecting olympic class sailors over everyone else for the sport's highest honor.  Out of 40 recipients of the award since its inception, this marks the 25th and 26th time that Olympic class dinghy sailors have won.  This year's pick:  I-470 helm Mat Belcher and I-470 helm and crew "Jolly" as its male and female 'World Sailors of the Year'.  That's the same ISAF that, without funding from the International Olympic Committee and IOC partners,  would consist of three old guys in an office wearing blue blazers and nice watches.
Neither of the teams selected for the award won an Olympics during the qualification period, because there was no Olympics.  So what, exactly, did they do?  They won their respective dinghy class Worlds in 2013, along with some other ISAF-pimped events that no one in the world – except for 470 sailors and their families – cares about, or will ever care about.  Yes, they are great sailors, the best in the world in their classes.  But the World Sailors of the Year?  Gimmeafuckingbreak.
Hey, at least ISAF is consistent. Consistent in their ability to screw up anything they touch.
New name suggestion for next year's award?  The 2014 ISAF WORLD SAILOR OF THE YEAR PRESENTED BY THE INTERNATIONAL OLYMPIC COMMITTEE®.
November 12th, 2013 by admin
Two-time Olympian Mark Clarke (Laser and Finn) from the Cayman Islands is unlikely to still be alive after disappearing days ago, police say.  The longtime racer and sailor left the island for a solo fishing trip on Monday, with his 25-foot Badger washing up on a reef yesterday and no trace of the well-known waterman.
Police are appealing for anyone who saw Mr. Clarke or his sailboat between 7 a.m. on Monday and 10 a.m. on Tuesday to contact Sergeant Richard Scott on 325-8092.
October 26th, 2013 by admin
If you don't like the Nacra 17, or you can't stand how John Casey is always smiling, or if you think Sarah Newberry is just too adorable for you, you're gonna have a hard time reading the front page of Sailing Anarchy for the next 3 years.  We're putting our Olympic medal money on them, and that means plenty of exposure right here.  This sweet teaser from the Miami OCR comes from the editing desk of Petey Crawford/Penalty Box Productions, and he's doing some of the best video work of his life lately.  Check out JC and Sarah's page here.
February 18th, 2013 by admin