Posts Tagged 'Olympic Sailing'
The JC Worldwide podcast continues with this week's guest, US Sailing Team physical therapist, acupuncturist, and chiropractor Dr. Julio Pardave.  Learn about new and old sports therapy for sailors and whether acupuncture and chiro are not [always] horseshit!  Some great tips too on injury prevention and healing for racers, how Dr. P has x-ray vision, and how JC can turn acupuncture needles to lightning bolts!  Road warriors can look up JC's Podcast on iTunes and subscribe today, just in time for a crazy chat with crazy Olympic 49er sailor Brad Funk!
January 18th, 2016 by admin
Russia's recent sporting exploits include allegedly fixing the bid along with FIFA for the 2018 World Cup and using the Sochi Olympics to divert attention from an armed buildup that would turn into an invasion and annexation of a sovereign neighbor, so it shouldn't surprise anyone to learn that the Russian government has run a huge state-sponsored doping scheme for its Olympic athletes.  But even the most jaded Russophobe might still be shocked at just how big and pervasive the program was.
The doping scheme was uncovered by a German TV report almost a year ago, and in the meantime,  WADA – the independent agency charged with investigating and preventing doping in the Olympics and many other high-profile events – spent a small fortune investigating the charges. This morning, they released their over-300 page report, and it's nasty.
The New York Times wrote that "Members of Russia's secret service intimidated workers at a drug-testing lab to cover up top athletes' positive results."  FSB agents "impersonated lab engineers during the Winter Olympics in Sochi last year." A lab once destroyed more than 1,400 samples to keep them from the investigation.  "Athletes adopted false identities to avoid unexpected testing. Some paid to make doping violations disappear. Others bribed the antidoping authorities to ensure favorable results, and top sports officials routinely submitted bogus urine samples for athletes who were doping."
The report implicates athletes, coaches, trainers, doctors, and the Russian institutions and government agencies that helped engineer and fund the program, and we're still reading to find out whether it was as big and unethical as the Soviet and East German programs of the 60s and 70s that are credited with creating modern blood doping.  Interpol is starting criminal investigations, WADA discredited Russia's national testing lab, the IAAF are discussing Russia's punishment while everyone's trying to figure out who gets their medals stripped – and who becomes a newly-crowned medalist.
Finally, Olympic Sailing finally gets some freedom from the pollution limelight – but only because the Russian Sailing Team needs a lot more than steroids and adderall to start winning.  Surely ISAF is praying that their prominent partner had nothing to do with the doping despite being a major sponsor for the Russian National Team…'cause Gazprom doing something unethical would be a huge surprise…
And of course, old Vlad is denying the whole thing as either a fabrication or a conspiracy. Just like those fabricated tanks in Crimea.
You can download the full report here.
November 10th, 2015 by admin



Willie McBride and Dane Wilson were born to the sea; two quintessential California watermen with a long, long sailing future ahead of them.  Will that future begin in Rio?  Only time will tell, but we love the fact that these young studs are already pushing the limits with their training and their organization.  More from Willie below, and have a look at their good-looking website and donate to their cause here.
For those of you not currently following the daily tweets and posts of your favorite Olympic hopefuls or don't live in Long Beach, CA, the traveling circus that is currently masquerading as the US Sailing Team arrived nearly unannounced in May at Alamitos Bay Yacht Club, and immediately began setting up camp to take advantage of the clockwork-like sea breeze and messy seas west of the LA Harbor breakwater.
For Dane and me, this was the first chance to train shoulder to shoulder with the other 49er teams vying for a spot on the 2016 Olympic Team. We're relatively new to the fray, having only been sailing the 49er for the past 10 months, but opportunity knocked, so we packed up our gear and abandoned our daily training grind in Santa Barbara to see where we fit in the fleet.
Day one was a bit jittery for us, as the other teams hoisted their sails plastered with sponsor logos, Olympic rings, and gigantic US flags. We were sporting an old set of Canadian sails. No matter – never judge a book by its cover – off we went. The agenda for the day was to speed test upwind until we ran out of runway, then turn around and send it downwind, best man wins. Somewhat to our surprise we hung in with the "senior class," so much so that by the end of the session Luther and Fuzz awarded us the title of "greatest rookie team of all time." We weren't entirely sure if they were encouraging us or hazing us. Either way, day one was under our belt and all was well.
The highlight of the month was the private coaching bestowed upon us by the famed McKee brothers – legends to any high-speed sailor on the West Coast. We'd been staying on the water after the group sessions each afternoon to solidify the day's lessons, and one afternoon Charlie and Jonathan stayed out to chase us around in a coach boat, with Charlie analyzing our crew work and Jonathan critiquing driving techniques. We made several changes that smoothed out a lot of the boat handling and helped with the rudderless aspects of our maneuvers. We were stoked to get the attention and hopefully to put it all to good use. Part of that process was sharing debriefs each night with longtime supporter and mentor Howie Hamlin. Howie was gracious enough (as always) to provide a roof over our heads while we were staying in Long Beach, and served up heaping bowls of ice cream each evening as we mused over the daily sessions, discussing tuning techniques unique to skiffs, boat handling nuances, and even the means by which we can collaborate more effectively in order to leap frog the US skiff talent in general, as he has always encouraged us to do in the 29er fleet. If that weren't enough, he even volunteered to ferry around our buddy, and epic young gun photographer John Kelsey in his ridiculously cool helicopter to shoot some aerial stills and video. The footage in this video is just a snippet from our time in Long Beach. Expect to see a lot more from John in the near future as we're collaborating on a movie about our collective love of the ocean.
In the end, it was an intense month of learning. We've now been training for nearly a year in the 49er and by far our biggest challenge has been getting good, consistent information and data to help us progress. It would be incredibly helpful if there were easily accessible institutional knowledge available for young teams here in the US, but unfortunately that knowledge base doesn't exist yet. In our own program we've been compiling, tracking and archiving all of our training sessions, lessons learned, testing procedures and Ah Ha! moments throughout our campaign. It's a bit of a mish mash of data at this point, but in time we hope to establish a baseline of open information that will be available to new teams getting started on the Olympic skiff path. Anyone willing, able, or interested in helping out can peruse our extended mission at www.FromWhenceWeCame.org.
Big thanks to Trevor Moore for letting us use the American flag sail for the video and to all who made it a great month of training: Leandro, Luther, the McKees, Oakcliff, ABYC, and of course Sailing Anarchy for always highlighting young teams like ours.
-Willie
June 27th, 2014 by admin
If the US Sailing Team can race as well as Amory Ross can shoot video, Brazil is going to be full of shiny golden trinkets for our Americans. Get to know the team in the first excellent Olympic sailing video we've seen this cycle, and props to Sperry for throwing down the coin to get this kind of film made.  Show your support here.
May 29th, 2014 by admin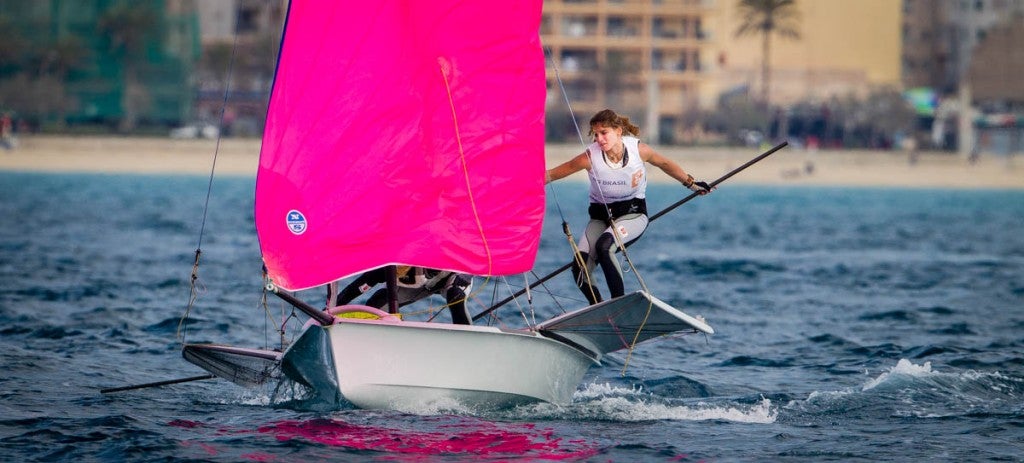 Check out the moves from Martine Suffiatti-Grael, daughter of Brazil's ultimate rock star sailor Torben Grael as she takes her first Sailor Chick of the Week award!  The young Brazilian, with Kahena Kunze on the front, took the win yesterday by over 30 points as the Arenal Training Camp Trophy wrapped up in Palma.  This event – the prelude to the Pricess Sofia Olympic Class event – has exploded in popularity recently despite a tiny budget, pulling a strong mix of next week's World Cup competitors and young sailors who want to share the same line.  The US team didn't enter, though after Miami we have high hopes for them at next week's event, and French and British sailors dominated the event with Spain taking some scalps as well, most notably in the 30-boat Nacra 17 class.  Full results here.
In other Palma news, the World Cup re-branding continues to prove how incompetent ISAF can be, with costs continuing to explode, still more format changes for seemingly every event, and dismal worldwide interest except in a few sailing-crazed nations.  To make matters worse, most of the live coverage from Palma promised to the public is now gone along with title sponsor MAPFRE; the Spanish company chose to spend their millions on a new Volvo Ocean Race campaign rather than throwing good money after bad on a dinghy regatta with a comparatively tiny ROI.   This is the last year of the Palma event's contract with sailing's international overlords, and if the island still has to come up with the money that ISAF wants to remain part of the 'World Cup" for 2015, our sources tell us the awesome Mediterranean venue will be out of the running.  Frankly, as great a venue and event as the Palma regatta is, we'd be surprised if the event isn't just as big without ISAF as it is with them.
Thanks to one of Europe's best sailing photographers – Spain's Jesùs Renedo – for the shot of the wonderful Martine, and get over to her campaign's Facebook page for more info.
March 17th, 2014 by admin
Olympic Breaking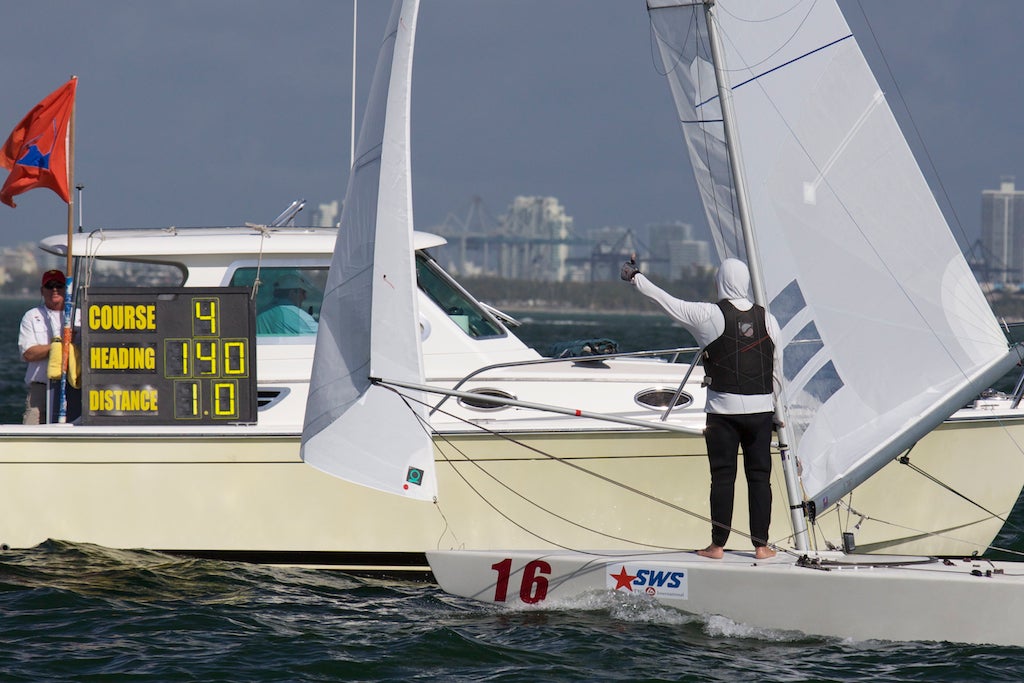 We've heard the rumors for a long time now, but today we confirmed that the ink is dry on an agreement to bring the Star back to the Olympics for the 2016 games.  No other class will be displaced; it's all thanks to a strange IOC quirk that allows the host country to add an event of their choosing to the games.  We're told that Rio will need to pay for the costs of running the Star racing; a small price to pay for a very likely Robert Scheidt/Bruno Prada medal.  Meredith Block photo of Magnus Liljedahl giving a thumbs up as he crosses the finish line of the Star Winter Series.
February 21st, 2013 by admin