Posts Tagged 'oceanvolt'
Big Pimpin'
Oceanvolt Systems are now being offered on new Elan E3, E4 & E5 models!
"The motor is just amazing, the maneuvering in the harbor, torque, the silence. Better than we ever expected!" – owners of the first electric Elan E4, bunaluna.ch
Oceanvolt electric motor systems are standard on more than 90 boat models, both monohull & multihull, represented by 45 different boat manuf
acturers worldwide. In addition to Elan this list includes brands like McConaghy Boats, J/Boats, Dufour Yachts & Alerion Yachts to mention a few. The systems are highly reliable, silent, maintenance free & create energy while sailing. The batteries of the propulsion system can be charged using the hydro generation feature on the motors, solar power, shore power or a small DC generator. Because the systems are 48V they can be installed by anyone without any special electrical certification.
Contact Springline Yacht Sales ([email protected]) in the US to get more information about the different electric motor packages on the Elan models.
May 14th, 2016 by admin
Few sailors have made the kind of sacrifices Conrad Colman has in his pursuit of solo ocean racing glory. We love his story, we love his passion, we love his attitude; "I'll sail the shit out of this boat, or die trying."  Conrad's looking for some love from the SA community, so give yourself something to root for in the next Vendee Globe and throw some cash his way.  Get to know Conrad in depth in this SA Innerview we did with him during the hate mission that was his Barcelona World Race, and enjoy his writing, as we do.
Sick of the election? Want to focus on something cool in November? Come vote with your wallet and help get me into the Vendée Globe. As some of you will know from previous posts here, I won the Global Ocean Race and co-skippered Nandor's boat in the last Barcelona World Race. I am now signed up for the Vendée Globe, the solo non-stop race around the world that starts in November. I have secured a boat, completed a refit, and will be sailing across the Atlantic next week to participate in the solo race from NYC at the end of May.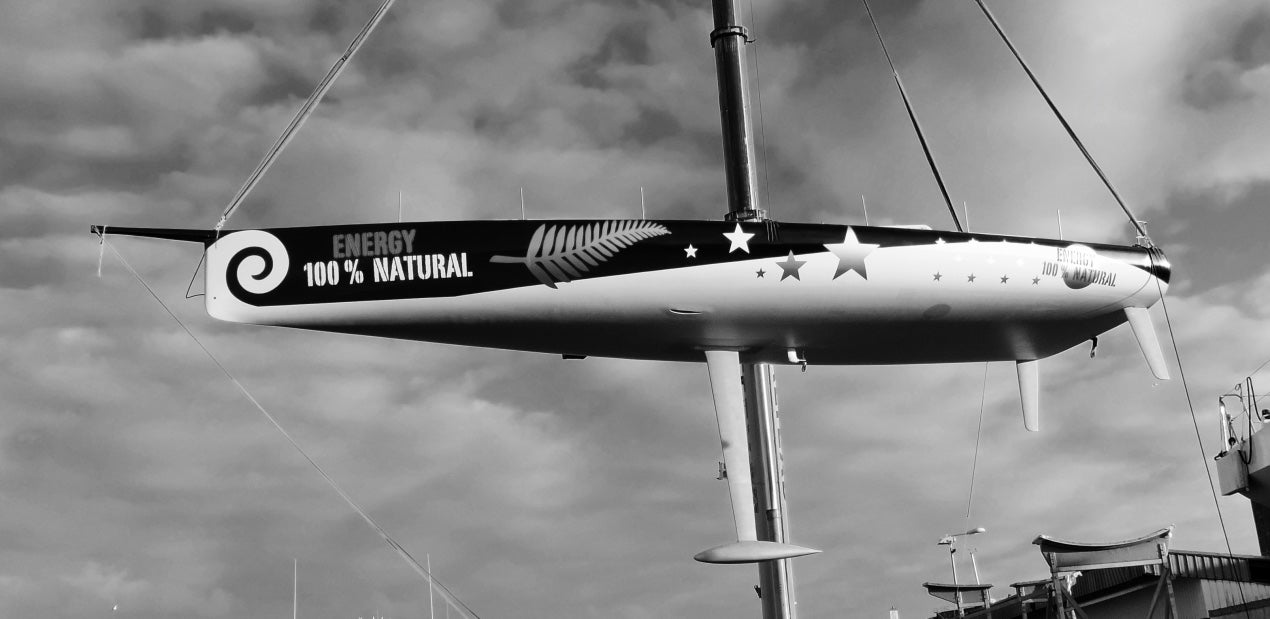 After the BWR I don't need to do another race to qualify but as one of the only English speakers in this class I am coming to the States to share my campaign and the Vendée Globe with as many of you as possible. I am still looking for a title sponsor and have launched a crowdfunding campaign to help keep the wheels on until I do. Please click here to participate by signing up for a T-shirt or to join me on board a real Open 60 for the pro-am races in Newport and NYC to experience life in the IMOCA fleet – first hand.
In a professional racing class defined by big budgets as much as fast speeds, I am one of the few projects scraping through on the smell of an oily rag. This winter most skippers checked in on their refits once a week whereas I have been pulling 16 hour days in the boatshed with one day off since the new year, and have personally sanded the bottom, painted, laminated, screwed, wrenched and cursed my way through the winter. Number of full-time employees at Gitana? 35. Number of full-time employees at team C? 3 (Me, my wife and one preparateur).
In addition to repainting the whole boat, repairing the mast, servicing the keel fin, replacing the electronics and redoing the rigging we ripped out the diesel engine! That's right, we're going fully electric and zero emissions for the race around the world. In partnership with Sailing Anarchy advertisers Oceanvolt, Power Sails, Super B batteries, Gori propellers and Fischer Panda (to get through the IMOCA tests) I will race around the world without burning diesel with only solar panels in my mainsail and the hydrogenerator function on the motor providing clean limitless energy.
Why go green? Because we should! Sailing is the only clean mechanical sport, and from Tesla to the COP21 the world is going electric and zero emissions. It's also lighter than an engine and fuel, with less moving parts and provides a huge buffer of stored energy that buys me time to find solutions in the case of problems. In comparison with the tricky prototypes on the Acciona boat four years ago, all the technology is off the shelf and I hope my race around the world will show that its a good solution for the general yachting population.
I hope you join me in this crazy adventure, either online here on SA, by participating in my crowdfunding campaign or by becoming a sponsor of the campaign. The Vendée is one of this year's biggest international sporting events, I'm one of the only English speakers and I have a TV deal to top it all off!
Send me an email if you would like to browse a sponsorship proposal, or if you have any ideas or questions about solo sailing, eco-friendly energy solutions, or just want to say 'hi'!
April 29th, 2016 by admin
Big Pimpin'
One of the things we're excited to check out at the METS show is Oceanvolt's new smartphone app to go along with their very sexy electric motor and management systems.  We've got a treehugging streak, but even for the environmentally apathetic, these things have some phenomenal benefits over traditional diesel systems. More from our pals in Finland:
Oceanvolt's award-winning electric motors and energy management systems for sailboats and catamarans are silent, lightweight and maintenance free. Oceanvolt offers both sail drive and shaft drive motor models.  The Oceanvolt SD system has a patented, flexible mounting to attach the motor to the sailboat hull to absorb vibrations. This feature also makes it possible to refit or install the electric motor system on any boat between 20-80ft.
Oceanvolt systems create energy while sailing – up to 4000W per motor, monohull or catamaran. This will recharge the batteries quickly. Complemented with solar power and shore power, there is rarely any need to use a generator while sailing.  Compared
to traditional diesel motors, Oceanvolt electric motors have no gears or components that wear out or parts that need to be replaced in yearly service.
Oceanvolt has also developed a smartphone app that will show you the system's state of charge and status, as well as the location of your boat and other useful info, anywhere in the world. This same system is also used by Oceanvolt's service team to monitor, diagnose and remotely service customer boats. It is called Oceanvolt RSI- Remote Service Interface.
Learn more the Oceanvolt website, and like them on Facebook here.
November 13th, 2015 by admin