Posts Tagged 'ocean racing'
Clean Report
For episode # 20, we caught up with three guys who represent some of the brave new thinking in the sport of sailing.  Longtime SA'er Chris Woolsey runs the reborn Miami Havana Race for a reborn SORC, and we get into the whys and hows of recreating this complicated international race to one of the world's most unique race destinations.  After that, we catch up with Tim Fitzgerald, founder of Charleston's Fort2Battery Race, to talk about his motivations for creating the successful harbor sprint.  We also get into Tim's experience as one of the drivers behind Selden Masts growing dinghy business, discuss the first new hardware change in the 420 in years, and learn what Tim's learned about getting millennials and Gen Z excited about sailing.  Finally, we turn to one of those Z'ers, young Peter Cronin of the Mudratz.  This clever kid discusses the team's experience sailing amongst the big dogs in the Melges 24 and J/70 Class and the philosophy behind their growing Mudratz youth sailing movement in the Northeast.
Our next Sailing Anarchy Podcast will come to you from Havana Cuba, and you won't want to miss that one!  Don't forget to subscribe to the SA Podcast for instant notifications when each one drops.  (iTunes   Stitcher)
March 14th, 2017 by admin
A pile of the West Coast sled Merlin's alumni got together to celebrate Merlin's Ruby anniversary, and thanks to SA'er sleddog, we got pics. No matter how frankenturbo'd the Bill Lee classic gets, she'll always be magic, and she'll always have history.
A sunny afternoon for MERLIN's 40th Birthday celebration at Santa Cruz Harbor. Many familiar faces among 150 paying homage, with docks filled, tours below, and MERLIN's cockpit filled with smiles, guitar and mandolin music. Much emotion too, realizing we are all 40 years down the road. Yay, MERLIN, bringing us together again!
Hit the thread for Merlin's fan club and chat group.
 
March 5th, 2017 by admin
It's damned tough to get any real info out of Havana right now, but a quick look at the results for the furiously promoted 'Revival of the Historic St. Petersburg to Habana Race' reveals that they probably should have waited another year.
Of the 80-odd entrants, just 22 boats finished, and we can't even tell who won – the Tampa Bay Reporter claims the TP52 Conviction led from wire to wire, while the USMMA Sailing Foundation says their pimped out, pro'd out chartered Carkeek 40 FOMO took line honors by a few minutes thanks to a better angle over the TP.  Actually, who are we kidding?  Of course we believe the King's Point guys over some fucking local news guy.  Thankfully, we've got the St. Petersburg Yacht Club's entire body of work on this high-profile race to show us what the reality was – all 19 seconds of it…
What we know for sure  is that nearly the entire fleet DNF'd, but how much is due to phantom registrations and how much is the fault of starting an ocean race in Tampa Bay: Where The Old and Wind Go To Die™ ? we'll  just never know.  More than half the boats were quick to fire up the donkeys and head to Havana for some legendary partying, so not all is lost.
If you're looking for a real race to Cuba, there's just one left in 2017, and it's the longest and raciest of them all.  And Sailing Anarchy will be there to tell you the story.
March 5th, 2017 by admin
Our continued coverage of the Vendee Globe is brought to you by Musto, Torqeedo, Doyle Sails New Zealand, And Ocean Planet Energy.
With Vincent Riou limping off to safety after cracking his keel, Seb Josse losing hours to repair UFO-damaged rudder linkage last night, and Alex Thomson somehow holding on to a 100+ mile lead with just a stub of a starboard foil, it's clear that the biggest hurdle to winning the 2016 Vendee Globe may very well be floating – or swimming – in the water.  With PRB down it's also clear that it ain't just a foil thing, and don't forget the famous secrecy of some teams; we may only be hearing a portion of the actual damage reports.
With Thomson seeming to easily hold off Banque Populaire at sustained speeds of 20+ knots, we asked his team for a photo of the Hugo Boss damage to address some of the speculation that Alex is playing head games with other teams and that there was no collision.  We were told there were no pics yet because the stump is under water and spray at 20 knots, and said we'd all see pics and video of Thomson's foilectomy when the weather moderated.  We've also just learned exclusively that the non-French ocean racing world's biggest hope may not be over at all, thanks to a spare starboard foil aboard the Boss!  Alex will attempt to cut away and jettison the remaining stub and insert the spare downward from the deck openings ; it is a very tricky operation but they've practiced it at least once, and it's the reason for their unique deck/foil exit configuration.
The reality of the situation is dramatic enough, but we loved SA'er 'nedev's explanation of Thomson's problem way more.
To be honest, structural failure and hitting stuff in the open ocean both seem quite unlikely to me… After all, the engineers know what they are doing right? And in that vast ocean, what is the chance to hit a teeny tiny floating object?

If you ask me, I think the most likely thing that has happened is that aliens visited AT and try to abduct him and perform scientific experiments on him. In his blind panic, AT ripped off his own foil with his bare hands and used it as a blade to fight off the extraterrestrial intruders. Stunned by this display of will power and strength, the aliens didn't know what to do and decided that there would probably be easier test subjects to be found elsewhere on this weird planet. What they didn't know was that during their stay on the big black boat, one of the landing lines of the UFO got wrapped around the rudder. So when they tried to fly away, the rudder got pulled up and the UFO got destabilised mid flight, causing it to crash into the ocean and sink into the depths.

So I think we should all be grateful for Alex's heroic actions, saving humanity from the alien invasion. Quite possibly, humanity would have been wiped off the planet if AT hadn't sacrificed his own foil to save us all!
Talk about these discoveries and more in the Vendee Globe thread.
November 23rd, 2016 by admin
Alex Thomson's trilogy of sailing stunts – the mast walk, the keel walk, and the sky walk – have succeeded beyond all expectations, but the next generation is even better at this shit.  Check out young Stan Thuret and his extremely creative Frozen Kite Walk.  If you want a little of the real deal, here's a Facebook Live Q&A that Alex did a few minutes ago from the balcony next to our desk…
November 4th, 2016 by admin
An epic story of a piece of history's restoration ends with a splash…with thanks to sleddog;
Last evening, as the sun set into a thick fog, the acerbic and perpetually weird Bill Lee's iconic 'Fast is Fun" MERLIN was lowered into the Pacific at Santa Cruz Harbor after an absence of many years in Great Lakes waters.
Bill and crew spent recent months removing the dysfunctional canting keel, daggerboard, hydraulics, and massive internal structure, and installing a new, Alan Andrews designed, torpedo type keel. Bill had a broad smile last evening when he saw MERLIN floating evenly and exactly on her original, 1977, designed lines, indicating a displacement of 25,000 pounds had been met.
MERLIN will compete in next summer's Transpac, 40 years after breaking the Transpac elapsed time record.
Welcome Home, MERLIN! A re-christening ceremony will be held February 26, all invited. Regarding questions about the paint job, cabin shape, and other refinements, Bill would say MERLIN remains a "work in progress," with nothing off the table, but jesus, can't  ya at least paint the god damn thing something other than that? Say, white?
It is worth noting that design hack Leif Beiley is the one who orchestrated the butchery, as noted above, to virtually destroy as much of the originality of Merlin as possible. Y'all remember that tool, don't ya?
October 14th, 2016 by admin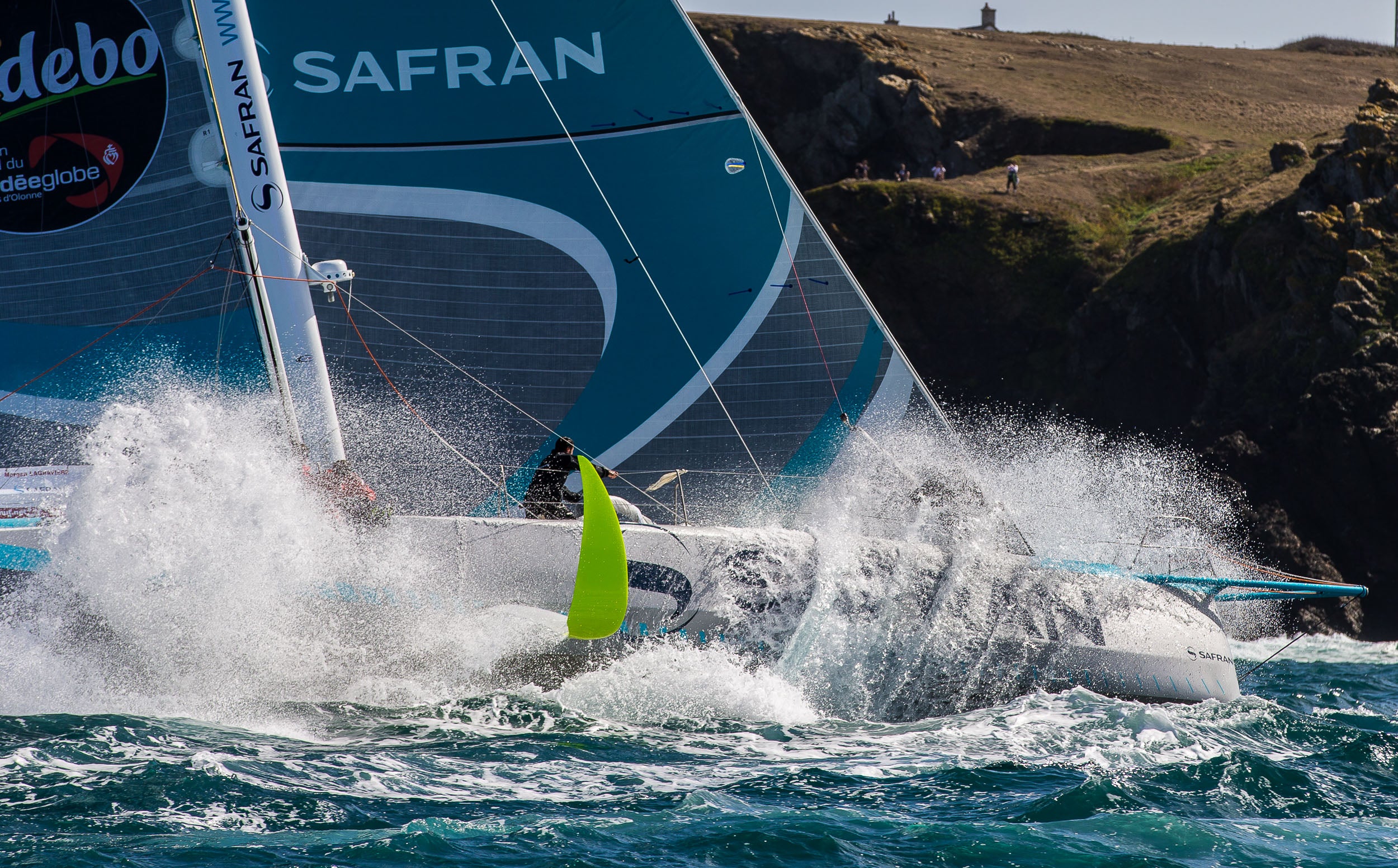 There's never been anything quite like the latest generation of Open 60s, and in just a couple of months, we'll learn how they perform in anger when the Vendee Globe kicks off.  We haven't been this excited by a monohull class in years, and we recommend you take some time to catch up with the latest; here's the Ocean Racing Anarchy forum thread, full of info.  Here's the most reliable Facebook Page under the Vendee umbrella.  Here's the latest promo/trailer video for the race, and here's a pretty good Conrad Colman documentary from the NY-Vendee Race. Brian Carlin photo, with more from this past weekend's Azimut Race here.
September 26th, 2016 by admin
It seems every TJV starts off with a nasty gale in Biscay, and the 2015 edition is no exception, with today's biggest news being the flipping of the Ultime class trimaran Prince De Bretagne.  If two of the most skilled multihull skippers in the world weren't up to the task of keeping one of the least extreme of the Ultime trimarans on her feet in the North Atlantic, how the hell is a fleet of solo sailors going to get around the world?  Lemonchois and Bilou are in the inverted boat safe as their shore team decides how best to effect a recovery, and at 120 miles off La Coruna, Spain, there's some time.  More here.
The first foiler in the IMOCA fleet is also out, with Seb Josse and Charlie Caudrelier headed for port to repair unspecified damage aboard Rothschild rather than try a fix when they're balls deep in the shit.  The Dali-foiled Safran's headed home too, while Jeremie Beyou's Maitre Coq headed in to Roscoff to try to repair a busted headstay, abandoning shortly thereafter.
The Class 40 Concise is on her way to port as well, with the rest of the Class 40 fleet headed into the suck shortly.  Expect a busy night for press releases and loved ones, and our best wishes to all the skippers out there.  Stay tuned to the latest in the TJV thread in Ocean Racing Anarchy.
October 26th, 2015 by admin
Who says beach cats can't race offshore?  Randy Miller's M32 catamaran horizoned the 100-ish NM Santa Barbara to King Harbor fleet this weekend, beating Bill Gibbs 52-foot cat Afterburner by almost three hours and the first monohull – a TP52 – by almost two and a half. Here's Randy's report, from the thread.
We deployed our gennaker right from the start and that kept us moving through the glass at 6-8kts but at least 15 degrees lower than most everyone else.  We made two short miserable tacks back to the fleet through about 120 degrees and then made up our minds that we needed to just keep the boat moving down the course, sail our own race, and that patience and perseverance would win the day.  Credit to our most excellent navigator. So we followed the beach with the gennaker up trying to sail as tight as we could without parking the boat and waiting for the pressure to build and clock North.  It finally happened at around 14:30.  The wind began filling in and clocking North and we got lifted right up to the West end of Anacapa doing 12-15kts close reaching in the light but building breeze.
Near Anacapa we saw a ton of wildlife.  Several whales, a large pod of dolphins, seals jumping out of the water, big fish jumping out of the water.  All very cool to see.
On the back side of Anacapa the wind was steady and mostly West with still some South I think so no lee off of Santa Cruz Island.  We bore away around Anacapa but stayed on Starboard for another 45 minutes making 17-18kts with great VMG towards King Harbor.  Then we gybed in for Malibu and slowly accelerated up to 20-22kts.  We had to gybe twice to clear a freighter in the channel but kept on building speed until we blasted by Pt Dume doing 24-25kts.
From Pt. Dume we had just about a perfect layline all the way into King Harbor that allowed us to come up at the end into the fading breeze to keep the speed on all the way to the bell buoy.
Even with 150lbs of extra safety gear and a painful start, we kept the boat moving and had a blast sailing 97.7 miles at an average speed through the water of 13.4kts.  We had a great crew that sailed well and stayed focused for the whole day.  This after 3 straight days of loading, and trailering, and building, and launching, and staging vehicles and driving around LA.  What a mission! Thanks guys.
This was my first mid-distance race on the boat and it was a fantastic experience.  I can't wait to do more.  Hopefully the ORCA guys didn't mind us playing in their sandbox.  Thank you ORCA for helping me satisfy the safety requirements for the race.  Santa Barbara and the whole coast and waters were absolutely beautiful.
The only negative was getting a call from the race committee this morning delivering the infuriating news that one of the TP52s (guess which one) lodged a protest against us saying they were "sure [I] didn't complete the proper course in the Santa Barbara race and should withdraw."  And that I "should have rounded Anacapa Island."
I replied by providing my GPS track.  This satisfied the race committee but not these guys because according to them, "not one person in the fleet saw [us] round Anacapa Island."  Apparently, the mind cannot comprehend that inshore and in coastal waters an M32 beach cat crushes a TP52 lead mine all day long.
Despite the annoyance of managing the protest today I still managed to take my wife, uncle, and 93-year-old grandpa for a joyride out of Marina Del Rey and get down to King Harbor for the party and to pick up my winning silver octopus cupcake stand trophy.  Good times!
July 28th, 2015 by admin
Unlike almost every other sailing website, we're loathe to cut-and-paste press releases on our front page.  But this one is such a good counterpoint to Rolex and the CYCA's moronic and secretive handling of the banning of reporter Sue Neales from the Sydney-Hobart media center that we just had to run it.  And it's not every day you see Jimmy Spithill building a jury rig.  Why our downunder friends on either Team Vodafone or Team Australia can't keep a rig up is a story for another day.
In a sudden disappointing turn of events in the Club Marine Pittwater to Coffs Yacht Race, race leader and multihull record holder Team Australia's 100-foot mast came down late this morning when the trimaran was 10 miles out to sea south of Port Macquarie.  The crew of eight men on board the Sydney based 60-footer are all OK.
"It's a shock given we had we weren't doing anything unusual, we were just starting to get going properly," said Langman via mobile phone at 1300hrs. "It's disappointing and not over yet, we still have to get in. We are heading back south as it's too difficult to motor straight up wind.
"The carbon fibre made a hell of a noise when it cracked. It ended up in three bits so it's not really repairable. Jimmy [Spithill] was steering at the time, he was telling everyone to stay down below. It would have been a much worse situation if any of the guys were hurt. We are all good and now playing with jury rigs so we can get going."
January 2nd, 2015 by admin