Posts Tagged 'ocean racing'
Unlike almost every other sailing website, we're loathe to cut-and-paste press releases on our front page.  But this one is such a good counterpoint to Rolex and the CYCA's moronic and secretive handling of the banning of reporter Sue Neales from the Sydney-Hobart media center that we just had to run it.  And it's not every day you see Jimmy Spithill building a jury rig.  Why our downunder friends on either Team Vodafone or Team Australia can't keep a rig up is a story for another day.
In a sudden disappointing turn of events in the Club Marine Pittwater to Coffs Yacht Race, race leader and multihull record holder Team Australia's 100-foot mast came down late this morning when the trimaran was 10 miles out to sea south of Port Macquarie.  The crew of eight men on board the Sydney based 60-footer are all OK.
"It's a shock given we had we weren't doing anything unusual, we were just starting to get going properly," said Langman via mobile phone at 1300hrs. "It's disappointing and not over yet, we still have to get in. We are heading back south as it's too difficult to motor straight up wind.
"The carbon fibre made a hell of a noise when it cracked. It ended up in three bits so it's not really repairable. Jimmy [Spithill] was steering at the time, he was telling everyone to stay down below. It would have been a much worse situation if any of the guys were hurt. We are all good and now playing with jury rigs so we can get going."
January 2nd, 2015 by admin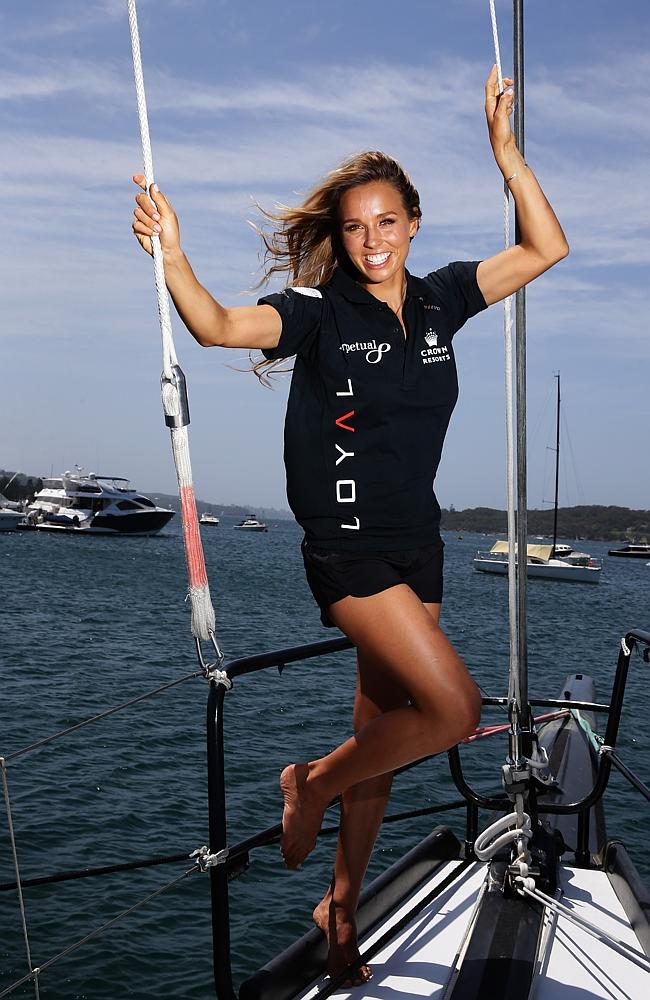 Sure, Wild Oats XI has only been beaten to Hobart twice, and her skinny bottom means she's one of the best all-rounders ever built for the coastal races she was created for.  And sure, Comanche has Stan Honey, Jimmy Spithill and Kenny's entire Puma Team, and a design that should be faster than the once-frightening Perpetual Loyal (ex-Speedboat).  But Loyal has several secret weapons – among them Sydney supersailmaker Michael Coxon and a brand new kite said to be 'the biggest spinnaker ever built'. Plus, they have a new website!
And then there's this weapon – ASP surfing world title contender Sally Fitzgibbons, who joins Anthony Bell's charity-driven campaign for this year's crowded Hobart race (remember when Clean grabbed a midnight interview with Jess Watson aboard Loyal last winter?).  She'll certainly add some motivation to the boys, and they'll likely not waste a chance to have another crew hiking and packing kites.  She'll also add thousands more eyeballs – and hopefully, the donations that go along with them – to one of the greatest spectacles in yachting: Sydney Harbour on Boxing Day.  And this year, it might be the greatest ever.  At least until they let the multihulls in.
Lou Reed is responsible for the title.
December 4th, 2014 by admin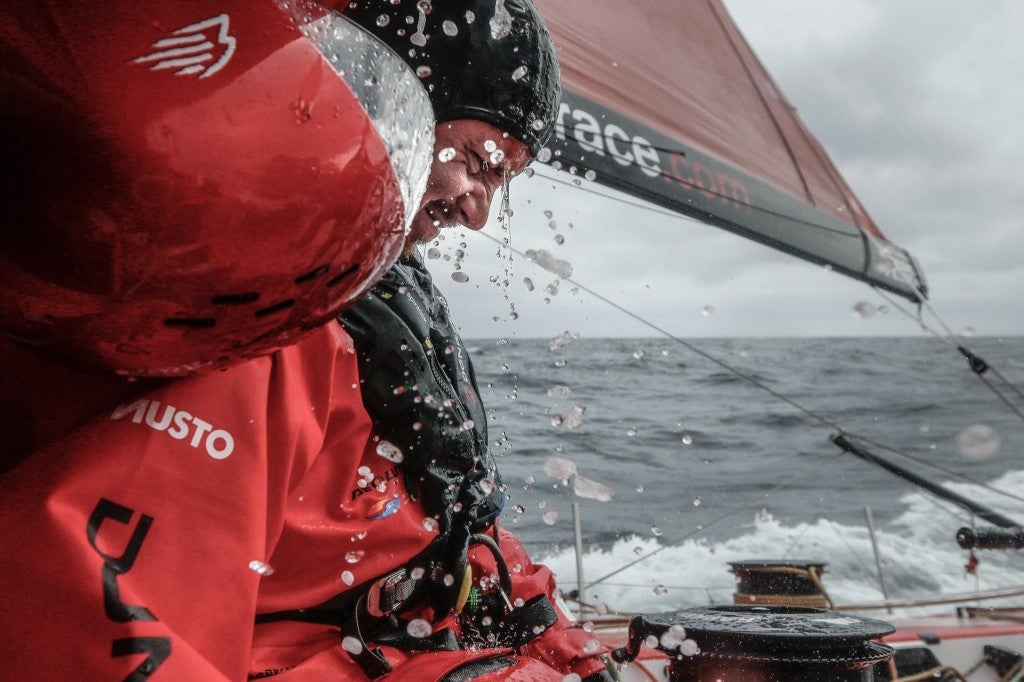 Unlike the vast majority of the world's sailing editors, we stay away from re-printing press releases and mass e-mails.  After all, we're not lazy piles of crap.  But on a rare occasion, one of 'em is so good that we have no choice.  Such is the report we got from Team Dongfeng yesterday from the Round Britain & Ireland Race; rather than the wooden and self-serving PR we got used to over the course of the last race, this thing is honest, painful, and brings the fans to the boat, rather than the boat to the fans.  Check it, and watch 'em on Facebook.  Ironic title from one of the last real storytellers of rap.
Today we broke a sail.
Today our entire comms system went down.
Today we were in 3rd place and dropped to 4th.
Today we have decided that life onboard is not always easy.
In fact, today, it is really quite complicated.
First email from the Volvo Ocean 65 'Dongfeng' boat early this morning reported:
"Difficult conditions last night and this morning. 30 knots. Life onboard complicated. Problems with onboard media system. Difficult conditions to troubleshoot, chances of success no more than 50%."
Followed by an email from Team Director, Bruno Dubois:
"Just got a call from the boat. We've broken a sail, it's split and completely unusable. Probably doesn't make any difference in terms of sailing tactics, but not ideal. The media system doesn't work anymore – they're fighting to get it back to send pictures and videos. The boat is full of water in the back… One of our Chinese guys is not really in good shape. Team, I'm sure you realise this but it's quite rough for the people and the equipment out there."
Twenty-four hours into the 1,800 mile Round Britain & Ireland Race and the pace has been fast and furious. Starting from The Solent in the south, Dongfeng was parallel with Aberdeen in the north of Scotland covering 500 miles by 0900 BST this morning. But with speed, and the weather systems that deliver the strength to propel the boats fast, so comes the potential for damage; and the North Sea delivered boat breaking conditions last night in strong winds and steep seas forcing three competitors to retire, including sailing legend Sir Robin Knox-Johnston who is living proof age has no limits! [other than the limit that he got his ass kicked and retired -ed]. In the early hours of this morning the team's Fractional Code 0 ripped, rendering it unusable forcing the team to switch to the large jib – not the optimum sail for the conditions.
A brief phone call with Dubois, Skipper Charles Caudrelier elaborated further on the difficulties onboard. "We are on J1 and, for sure, losing some ground against the others. We are missing Pascal [Bidegorry, who got his finger sliced open and took stitches aboard] for the manoeuvres and with a reduced team we are a little bit slow in the transitions. We made a small mistake while sailing along the coast yesterday and we lost touch with the two leaders. Good news is team spirit is still in tact despite difficulties."
Dongfeng Race Team is one of the five Volvo Ocean 65s currently flying around Britain and Ireland at a speed of 23 knots [45/KPH]. Ian Walker's Abu Dhabi Ocean Racing is leading ahead of Team Campos who have pulled out a 20-mile lead over Dongfeng and Alvimedica. Tiredness will be kicking in now after such a rough, opening ride and the rookie Chinese sailors onboard will have to dig even deeper. But this is ocean racing and with three days left anything can still happen.
August 13th, 2014 by admin
Volvo Ocean Race Breaking News
We're extremely stoked to be able to report to you with 100% confidence that Chris Nicholson will get another shot at winning the Volvo Ocean Race this coming October!  VOR fans will remember the affable Aussie sailing to a runner-up spot in the last two editions of the race, including an incredible run from the back to nearly a win in the previous race as skipper of Camper.  
Multiple sources have told us the the former 49er standout is the guy with the helm for the final Volvo 65, and the fact that we haven't been able to reach him despite blowing up a dozen connections over the past two days might even provide a little confirmation in itself (we're told he is 'out of internet range').  This confirms what we reported hearing back in June, but there's a new twist; rather than Russian sponsorship as we opined, it now appears that one of a select few Danish corporate giants will be footing the bill as title sponsor for a Danish-flagged Volvo 65.
It isn't hard to name the Danish companies with deep involvement in the Volvo; Satcomm giant Thrane & Thrane and shipping behemoth Maersk have been major corporate partners and sponsors for the race for years, and if the VOR allowed them, either would probably be happy to be a title sponsor for a team put together by a two-time runner-up in the race.  But our favorite rumor, and one that we think may be the real deal, is that monster windpower manufacturer and installer Vestas will be behind the effort.
The name Vestas is probably better-known to our readers than many sailing sponsors thanks to an extremely effective branding campaign with Paul Larsen's wildly successful  Sailrocket world speed record program, and a Volvo team makes some sense for them; while they still are at the top of their field, significant competition has seen their market share erode since the mid 2000s despite their growth throughout the world.  A major international effort in a green sport like sailing could help drive the Vestas name to a wider audience, while the hospitality part should be easy; Volvo has been accommodating the folks at Maersk and Thrane for years.
While we're not as sure of the Vestas connection as we are of Nicho's appearance, allow us some wishful thinking; how cool would it be to have a giant windpower sponsor – one we already dig because of their support of the batshit-crazy overachiever Paul Larsen –  in the sport's most visible ocean racing challenge?  And with one of the sport's coolest customers and best racers at the stick?
We love it, and fans of great racing should love it, too.  While it is indeed the 11th hour, with just 8 weeks left until the gun sounds in Alicante, we have zero doubt that Nicho can put together a shit-kicking team, and with Neil Cox back in his role as one of the world's most highly regarded shore/team managers in the game, we expect the Vestas boys to be damned fast, out of the box.  Bouwe, Ian, Iker, and Nicho all have some seriously unfinished business ahead of them, and it just got a lot tougher to win.
This is going to be war…and we just got a new favorite for the win.
MORE BREAKING NEWS
In another bit of somewhat astonishing news that continues to throw the early form guide into disarray, we have also recently learned that France's most famous and legendary living sailor, Michel Desjoyeaux, will indeed race aboard the Spanish Team Campos, as a Watch Captain, filling in for Iker as skipper during the two or three legs when he'll be off on Olympic duty in the Nacra 17.  Not many people can say they've got MichDej sailing for them as a watch captain.
Want more?  Hit the thread.
August 2nd, 2014 by admin
Big Pimpin'
Rather than get into protracted trademark litigation with some asshat in an entirely unrelated business, our pals and longtime advertisers at YellowBrick have just announced a name change, and we're passing it along so that everyone knows where to find the most reliable offshore tracker in the sport.  From now on, they'll be known as YB Tracking, and you can find them at www.ybtracking.com.  We're also stoked to learn that more and more events will be offering free mobile tracking as well, solving the only gripe we have about the YB program. Here's more from Nick @ YB:
Aside from our name, absolutely nothing else is affected. Our staff, products and service delivery remain unchanged and our business will continue as normal. Your primary contact for any assistance should be [email protected]  Thank you for your continued support, and we look forward to serving your next race, event or expedition as YB Tracking.
July 25th, 2014 by admin
On July 6th, the Tassie yacht Alive smashed the record for the 1885 nautical mile ocean race across the South Pacific from Melbourne to Port Vila, the port capital of the tropical islands of Vanuatu.  Here's what it looked like.

July 17th, 2014 by admin
Clipper RTW team Derry-Londonderry-Doire show their successful recovery of Andrew Taylor after a wave knocked him off the boat during a 35-knot squall about halfway across the Pacific.  The 90-minute rescue was compounded by hail and breaking seas, but Taylor's drysuit and PFD made it a fairly textbook – if slow – rescue.  No word on what the holdup was, or whether the Clipper crew was wearing a PLRB; official news here and thanks to Richard for the heads up.
March 31st, 2014 by admin
Breaking News: Having just recently received a comprehensive refit with new floats and center hull and a new mast for the now-80 foot Prince De Bretagne trimaran, Lionel Lemonchois was setting a stomping pace Southward on his "Mauricienne" record attempt from Port Louis, France to Port Louis in Mauritius.  And now he ain't, after flipping her about 800 NM East of Brazil and jettisoning the rig to ease any puncture danger to the boat.  Prince was sailing on the wind in boisterous trades – have a look at his pre-flip video here – and he is now sheltering in the center hull of the trimaran as he awaits his shore team's organization of a salvage effort.  His team writes that he has plenty of food and water and is safe and has only a minor injury to his hand; keep an eye on the thread for the latest.  Photo from Prince De Bretagne Sailing. 
January 28th, 2014 by admin
Ronnie Simpson checks back in with Part 2 of his Sydney-Hobart adventure.  You can read Part One here, and check back on this page for a final and probably debaucherous Hobart wrap-up later this week from the inimitable Mr. Clean.
Back to a non-poled out jib top in 40 knots, I remained on the helm and we managed more 16-18 knot surfs, but at horrible angles with the poor reaching jib flogging itself to death in the lee of the main. As the breeze dropped slightly, we hoisted the A3 and eventually chose to go back to the A2 around dinner time. I was off watch and down below when I heard the crew preparing for the peel. With just one tack line on the bow-sprit, we can not do proper kite peels and must douse and then re-hoist the new kite. Hoisting bareheaded the A2 wrapped itself around the headstay in what became the worst kite wrap i've ever personally seen. In one of those moments when a racing sailor sheds a tear of compassion for both the boat and the owner, we sent Ben up the rig to cut away the kite while myself and Rod "Fergo" Ferguson cut away the kite at the bottom. Eventually, we got the remains of the kite down into the forward hatch. More time lost. Things were going from bad to worse and the wheels were falling off for One for the Road and her crew. Back into the A3, we were under-wicked and slow, gybing dead downwind to remain where we thought we wanted to be.
Watching the barometer continue its rapid decline, we were expecting the breeze to go light and then instantly shift to the W-SW and quickly build with a forecast 50-60 knots on the leading edge of the front. Ben spotted the quickly approaching cloud line around sunset. Light refracted by the approaching moisture lit up the sky into a million fiery shades of pink and orange shrouded in an ominous grey cloud cover. It looked nothing like the lead-colored, cigar-shaped cloud line that I had read would indicate a southerly buster. Watch leader Jeff Shute made the call "kite down now! #4 jib on deck, deep reef the main!". In a scene straight out of Rob Mundle's book "Fatal Storm" (about the '98 Hobart race), we were all on deck for our chinese fire drill, which we pulled off in just 3 minutes. The main was double, then triple-reefed as we expected the blow. The shift was immediate and with 20 knots we sailed slowly for half an hour before it built to 30. Then 35. Then 40.
Less than two hours after dropping the kite, we were in the full force of the front with breeze in the mid-40's puffing into the 50's. Adrian was driving as I began thinking to myself that it must be hard to drive as his normally spot-on helming was up and down of course. Handing me the wheel, I was confronted with the reality of how challenging the driving was. Driving half my shift 4-hour shift with 3 reefs in the main and #4 jib up, it was some of the most full-on, gnarly sailing i've ever experienced. Waves slammed into and broke over the boat with a spray that made it nearly impossible to keep my eyes open. Driving almost entirely by feel, I merely tried to keep the boat on course and avoid upwind wipeouts.
Exhausted from both physical and mental exertion, I fell asleep in my soaked foulies as soon as I got off watch. When I came back up on deck a couple of hours later, we were sailing bald-headed with the #4 lashed to the rail. I was not happy to see this as it meant we had continued to bleed miles to our rivals for an untold number of hours. I called for the storm jib. The boys agreed, so Ben and I went to the foredeck to tee it up. Coming out of the bag twisted and with the long pennant wrapped around the sail, Ben and I faced a monumental struggle just merely getting the sail ready to hoist. 50 knots of breeze, intense saltwater spray and breaking waves battered the two of us for what felt like an eternity before we were ready to put it up. Once we got the storm jib hoisted, boat speed went from 4 knots to 7+. We were racing again. Back in the cockpit, Ben clenched his fists and grunted "ahhh!!!, I live for this shit!!!". A kindred spirit…
With the new sail configuration, the boat drove like a Cadillac while she tore through the building seas like a race horse on crack, leaping up and over each wave. With no light pollution and the strong clearing breeze, the stars were amongst the most brilliant i've ever seen while every wave that broke over the boat brought a million bright green specks of bio-illuminescence. It was beautiful heavy-weather sailing and while the breeze remained in the 40's, the seas stopped building as we sailed into the lee of Flinders Island, just north of Tasmania.
I went off watch and when I came back up, the sun was up and the breeze had moderated significantly, now down into the high 20's and low 30's. Back to the #4 and we started shaking reefs. Within another hour, we were reaching along in champagne conditions about 13 miles east of land. By 9 am, we hit a transition in the breeze and became almost becalmed in a lumpy, confused sea state with residual slop that had rounded the corner from the west only to meet several variations of southerly swell coming up from the Southern Ocean. We chased the breeze, attempting to sail from wind line to wind line; not an easy task when nearly becalmed in lumpy seas. Big John Searle the rugby player and dinghy sailor shined in the tricky tactical conditions and kept the bus rolling.
With our bottled drinking water nearly gone, we prepared to make the switch to the water tank. In a race where even the easiest of tasks turned into monumental struggles, even this normally mundane chore became an arduous ordeal. With no manual water pump, pumping water would require electricity. Electricity that we barely had. After a brief debate, we flipped the water pump switch and began filling water bottles. The water came out brown. Our lone water bladder that we left full before leaving Sydney had ruptured during the rough night and become contaminated by the endless procession of water that ran through the boat in the hectic crossing of Bass Strait. We were now faced with a grim reality: 6 liters of bottled water now had to last 10 people more than 24 hours.
In what was one of the most challenging days of sailing in my recent memory, we had to fight highly variable, shifty conditions all the way down the coast of Tasmania. Were we too far inshore? I don't know. None of us knew as we were on very limited weather data, with only the electrical capacity to receive verbal forecasts via the SSB radio sched's. With 4 knots of breeze gusting to 25 out of every possible variation of south, we soldiered on in a tack – tack – sail change – tack – sail change fashion with up to half a dozen other boats in sight at times. Boats inshore would catch a puff lift and put a mile or two on us, while the boats outside would die off. The scenario would then exactly reverse itself in this navigator's nightmare.
The breeze began to fill and solidify from the west during the very early morning and by day break, we were reaching along with a full main and #3. The jib top would have been the right call, but it was still on strike after it's massive flogging in the strait. Things felt a bit cruisy, so we put up the #2. Things still felt a bit cruisy so we put up the A1, which we knew would be a bit dicey as the angle and pressure would put us on the edge. Kym drove us on the ragged edge of control. I was off watch, so after the kite was up and the jib was back down, I went down below. A few minutes later, I heard a sail flogging and a lot of yelling, so I jumped on deck to see the A1 coming down behind the boat. The tack line's block on the end of the retractable bow-sprit had broken off the sprit. The design is that of a threaded pad eye attached into the end of the sprit and the pad eye broke flush with the sprit. The kite partially went into the water, but we managed to get everything back on board while the #2 was re-hoisted. With a freshening breeze, we were back in the #3 within a few minutes. So much for my final off watch, which I was desperately hoping for so that I could be rested for the final approach to the finish.
We rounded Tasman Island at about 10:30 in the morning, hardened up on the breeze and began beating into Storm Bay. We each took a sip of Drambuie and toasted to the Newcastle-based 40-footer Aurora, who donated the bottle to us after missing their first Hobart in 15 years. Throwing in a couple of tacks, we were again disheartened to find another problem. A mainsail batten was working it's way out of it's pocket and moving forward with half the batten in the pocket and the other half working forward towards the mast. We contemplated sending Ben up the rig but it would be doubtful that one man aloft could fix the problem. We dropped the main, shoved the batten back in it's pocket and re-hoisted, which is always a difficult chore on a bolt-rope main. More boats slipped by and more time was lost.
Sailing upwind on starboard tack, famed Tassie photographer Richard Bennett flew by in his airplane less than a hundred meters over the water to capture an image of One for the Road. We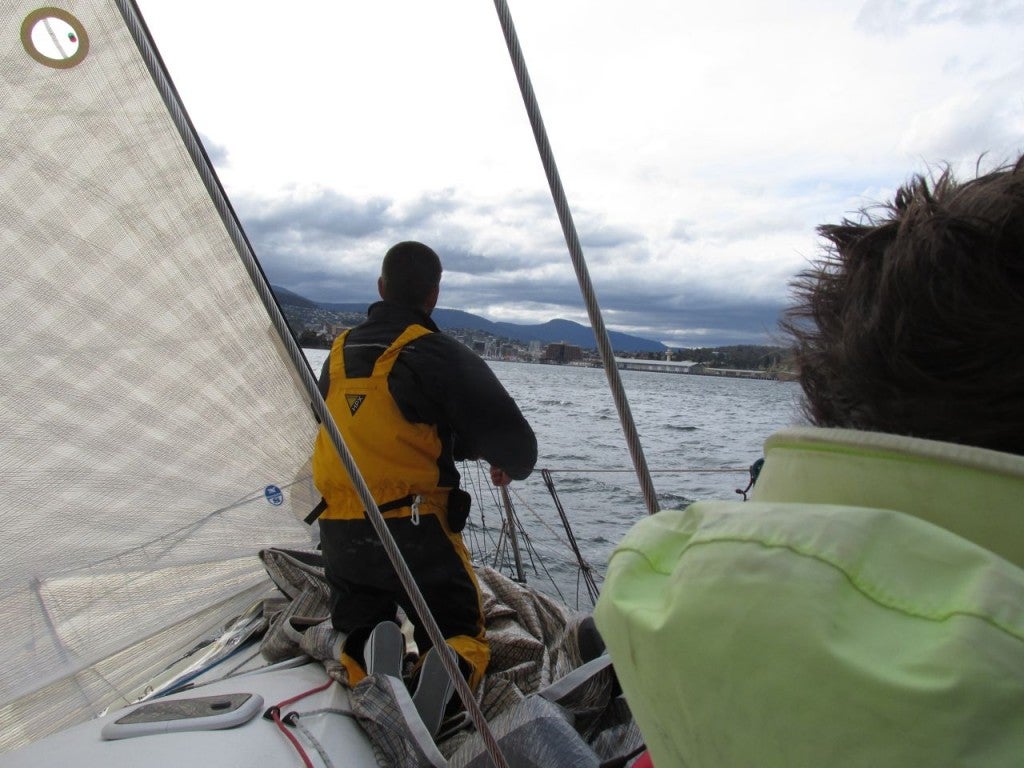 tucked in and shook a reef twice before the breeze shut off again. Becalmed in the middle of Storm Bay, we scanned the clouds over head and watched other boats sail in different breeze as we created a strategy. Big John again shined as inshore tactician. We worked to a wind line and saw another boat sailing 90 degrees higher than us on port tack, about a mile away. Our angle was atrocious and we all wanted to tack to starboard and try to get into the same breeze. Kym urged us to wait a moment longer before tacking and as we stuck our nose further into the pressure we were initially knocked and then the lift came. Pressure again increased, and we had a beautiful port tack beat straight towards the River Derwent.
We threw in a couple quick tacks to clear the Iron Pot and then passed a bottle of Pusser's Rum down the rail. Our third sip of the liquor in 4 days. One for the Road was almost home. We cracked sheets as the river turned right, as I again longed for the jib top. Approaching Hobart, I got a proper introduction to the River Derwent. There were holes everywhere, powerful gusts coming down and contradictory current that built as we made our way deeper into the river. We chased a Beneteau the entire time until they picked up a lift and sailed across the finish line. Minutes later, our private puff came down, we took a major lift on port and hardened back up towards the line. The puff tapered off, but before it died completely, we crossed the finish line just before 7 pm.
It was over. I mentally broke out a black marker and added a large check to my bucket list, just as I added "do ten more Hobarts" and "win division in Hobart" to the ever-growing list. (Sail in the Vendée Globe is still written in 100-font bold print at the top…) Life is like working on a race boat, I suppose. Every time that I cross something off the list, I have to add two more and the process repeats itself as the work is never actually done.
We achieved another goal of ours after the finish as we had enough electricity to use the engine to motor into the harbor and not require outside assistance. We dropped the main and lashed down the two headsails that were on deck. Motoring into the harbor, we cruised past the wharf which was filled to capacity with the annual "Taste of Tassie" festival. The lead singer of the band that was performing stopped his song early and recognized One for the Road for completing the journey from Sydney. The massive crowd on the wharf stopped what they were doing, put down their food and drink and stood to clap and cheer for us. A lone voice yelled "hip hip" and the crowd would respond "hooray!". It was the most beautiful and heartwarming reception i've ever received at the end of a yacht race.
We placed 17th out of 21 boats in our division, and about two thirds of the way down in the overall standings. It's one of the worst results i've ever achieved in an ocean race and while the competitor in me is upset with our result, the sailor in me deeply proud and grateful to have sailed, and finished, this great race. Things don't always go your way when you set to sea, but by working together, we all achieved something that is much more important than any poor result on paper. No two people on the boat ever argued with one another and all ten of us got off the boat much better friends than when we started. In my mind, we are all champions.
As an American who has done quite a bit of sailing on the west coast, traveling to Australia to sail in the Sydney- Hobart has been one of the best experiences of my life and only increases my love for the sport and my resolve to constantly learn more and improve as a sailor. There were a million lessons learned and lessons reinforced during this race, but that constant learning curve is what keeps sailing fresh and exciting. This race was not just a race, it was a beautiful adventure that released the emotions that only true adventure can. That feeling that compels us to undertake challenging races; when you're profoundly grateful for simple things like seeing the sun rise after a rough night at sea, when a sip of water tastes like fine wine, when a $6 meat pie on the street tastes like a gourmet 5-star meal.
If I still have your attention after this marathon recap, I want to thank Kym Butler for this incredible experience and all of the crew on One for the Road. Rockstar sailors we were not, as we found ourselves thoroughly tested, but even if I were to hand-pick a crew I could not pick a more enjoyable bunch to spend four days with than the nine strangers that i'm now honored to call friends.
It's the Sydney-Hobart, and whether you are a boat owner, crew, or just a random guy or gal looking for a great adventure; put it on your bucket list and make it happen.  You will never regret it.
-Ronnie Simpson
January 7th, 2014 by admin
This evening – nearly seven weeks after the scheduled start of the Mini Transat in Dournenez, Benoit Marie crossed the finish line in Guadeloupe at the head of the fleet, and the reputation of the most grueling trans-oceanic race just keeps getting bigger and meaner.  Marie also does his part for yachting aesthetics, proving that the "Scow Bow" of Giancarlo Pedote isn't necessarily the end-all/be-all of Mini design (though until yesterday when light air VMG conditions rolled in, it looked like Pedote had the win in hand). Pedote did finish second. The skipper of Prysmian crossed the finish line at Pointe-à-Pitre at 20h 41mn 30s local time is (00h 41mn 30s, GMT). He finished 2h 55mn after the leader.
 Marie, the French engineer earned the hell out of this one, and our biggest congratulations to him!  Get in on the Mini Transat thread in Ocean Racing Anarchy to talk about it.
Senior Editor Mr. Clean caught up with the young Frenchman 20 minutes after he hit the dock in Pont-A-Pitre for this excellent (if slightly muffled) Sailing Anarchy Innerview.  Check it, and have a peek at Benoit's excellent blog, Facebook page, and Twitter to share your congrats.
December 1st, 2013 by admin
Update: the TJV is postponed to now start Monday at 2:15pm France time – Hannah Jenner took us through the weather here…
As ocean racing classes get more and more powerful, their wind range continues to shrink; first the 'bulletproof' minis lose an entire month to 'waiting for the weather' only to see their race abandoned after the start and a total clusterfuck of minis spread across Biscay.  Now, a TJV organization already feeling the pinch after JP Dick's MOD went over has thrown in the towel for the Saturday start of the world's biggest double handed race, hoping for a Tuesday reprieve, while the MODs are doing some kind of 'coastal' thing while they wait for something less than terrifying for the ultra-fast trimarans to sail off in.  The start was already kind of strange; the huge Classe 40 fleet lobbied the TJV organization for a much earlier start than the rest of the fleet for this edition; finally they might get to the finish in time to see the faster boats.  
It was a nice dream, anyway!  Most of the skippers are happy with the call, but a million-odd fans and hundreds of French media that help keep this event at the forefront of French sport won't be.  Is this the new reality of the French shorthanded scene, or just an incredibly unlucky autumn for North Atlantic racing?  We don't know, but we do know that you now have time to read Ronnie Simpson's excellent form guide to the TJV, which follows.  Photos from Christophe Launay, with a gallery here.
With no Vendée Globe, Barcelona World Race or Volvo Ocean Race this winter it would be easy to think that there's not much going on in the world of top-flight professional ocean racing right now. Fortunately for all of us Anarchists, you would be sorely mistaken with this assumption as the Transat Jacques Vabre is preparing to begin its thrilling 11th edition on Sunday. With a fleet of 44 boats spread out amongst four one-design and box rule classes, this classic Transatlantic throwdown is celebrating it's 20th anniversary with twenty-six class 40's, ten IMOCA 60's, six Multi 50 trimarans and two MOD 70's racing doublehanded from Le Havre, France to Itajal, Brazil.
One of the premier offshore yacht races on the planet, this year's TJV fleet reads like a who's who of sailing while boasting one of the most technical, challenging and tactical courses in all of ocean racing. Beginning from the famed Paul Vatine Basin in Le Havre, France, the course takes sailors first through the English Channel which can be downright gnarly this time of year with intense weather, massive tides and fully one-fifth of all the world's shipping traffic all positioned within one narrow, confined passage between two major coastlines. If the fleet manages to survive this first daunting test, they must next brave the often treacherous and boat-breaking Bay of Biscay, which has been battered by intense gales and low-pressure systems all season long, with more on the way as the fleet heads out. Once rounding Cape Finisterre, if they're lucky, the fleet can turn downwind and begin running before the Portuguese trades.
Don't assume it's all fun and games from here on out though. Not only must the fleet navigate more heavily-trafficked waters, but they must do it in what is often a carnage filled heavy-air downwind romp, all the while battling their competitors through the first major tactical challenge of the race; negotiating the Azores High. After this first major battle of wit and strategy, the fleet will finally see some tradewind sailing before entering the doldrums near the equator, which is oftentimes a complete crap shoot. If the boys and girls in the race are lucky enough to escape without losing, or even better yet, gaining positions, then they will lock into a tradewind drag race in the southeast trades south of the equator.
Concentrating on boat speed, boat speed, boat speed, this fleet of nearly four dozen boats will then face one final challenge from Cabo Freo to Rio and beyond to the finish in Itajal as small low-pressure systems oftentimes rip across these waters, wreaking havoc on competitors both due to challenging conditions and the painfully slow glass-off calms left in their wake. Only one thing is for sure in this 11th edition of the Transat Jacques Vabre; there will be drama, action and suspense from start to finish. Here's SA's class by class guide of who to watch and why.
IMOCA/Open 60
There is a clearly defined "A" fleet and "B" fleet in the TJV. The top 5 programs (MACIF, Maitre Coq, PRB, Safran, Cheminees Poujoulat) have all been training doublehanded out of Port La Foret over the past couple of months and the class winner will almost surely come out of this group. Of these 5 boats, 4 are VPLP's with Cheminees Poujoulat being the exception. (Juan K design)
MACIF: With two Vendée Globe winning sailors on one Vendée Globe winning boat, MACIF is the boat to beat in the premier IMOCA 60 fleet. Reigning VG champ Francois Gabart has again teamed up with his Barcelona World Race partner and mentor Michel Desjoyeaux onboard the VPLP designed rocket. The duo recently won the Open 60 division in the Rolex Fastnet and have been training their asses off with 4 other boats out of Port La Foret (PRB, Maitre Coq, Safran, Cheminees Poujoulat).
Maitre Coq: Having acquired Armel Le Cleac'h's VG runner-up Banque Populaire as the new Maitre Coq, Jeremie Beyou has a point to prove in this race. The two-time Figaro winner now has a sistership to MACIF and is keen to prove that he can win in the IMOCA class. Finishing an über-close second in the Fastnet race and putting in some solid work during the "pre-season", Jeremie looks to exorcise the demons that have plagued hims since entering the class.
Cheminees Poujoulat: Just like in last year's Vendée predictions, Bernard Stamm and "the sooty pussy" are again our dark horse pick. (The boat's logo is a black cat sponsored by a chimney company…) The Juan K-designed boat was hampered by hydrogenerator problems in the last VG, but aside from that, has shown some serious potential. In the extreme and gnarly upwind and close-reaching conditions of the English Channel and Biscay, CP could excel and may prove to have an advantage over the VPLP's, while also being notoriously fast when the shit hits the fan in the potentially heavy-air downwind Portuguese trades. Besides, Stamm is the man and an avowed Anarchist. Gut instincts tell us that Bernard likes the heavy air forecast for the start and may be able to push extra hard where other boats are throttling back a bit.
PRB: Many in the IMOCA scene believe PRB to be the fastest boat in the fleet, owing much to its light weight. The big question remains whether or not the boat is "too" light and fragile; a question we asked in Les Sables d'Olonne last year and are still asking after PRB broke in the VG. Skipper Vincent Riou is a tactical genius and Vendée Globe winner, and in teaming up with Jean Le Cam and his incredible hair, the duo may present the single biggest challenge to MACIF. If they can keep the boat together, watch for them to seriously contend for the win.
Multi 50
One of the most exciting divisions in this year's TJV will be that of the Multi 50's. With their biggest fleet for a major race in a while; six boats on the startling line; any of three or four could realistically win, making this fleet a fantastic one to track. Picking a favorite is no easy task in this class. The newest and arguably fastest boat in the fleet is Arkema-Région Aquitaine. A 2013 build in which Guillame Verdier had a hand, Arkema won the inaugural Route des Princes, besting three of the other Multi 50's that will contest the TJV. Defending TJV champ Actual is also in it to win it. Skipper Yves Le Blevec has teamed up with VG star Kito de Pavant to form a formidable challenge at a title defense onboard their four year old boat. The third major contender is that of FenêtréA Cardinal. Also a 2009 build, the crew consists of skipper Erwan La Roux and two-time Figaro winner Yann Elies. Having mounted one of the greatest comebacks in all of sport to win two consecutive Solitaire du Figaro's (2012 and 2013) just a few years after breaking his femur in the Southern Ocean and being rescued in the 2008-09 VG, Elies is an SA sentimental favorite any time he shows up to a starting line.
MOD 70
Arguably the most high-profile boat in the race is the one that won't be sailing, after JP Dick and Roland Jourdain's dramatic capsize onboard Virbac Paprec 70 a few weeks back. With their capsize, dismasting and resulting withdrawal from the race, just two MOD 70's will be taking to the start in Le Havre on Sunday. No worries, if this summer's AC taught us anything, it's that two 70 foot multihulls can provide incredibly close racing and the TJV should be no different. The two MOD's in this race are fortunately the cream of the crop, having finished 1-2 in the Route des Princes this summer. Skipper Sébastian Josse and crew Charles Caudrelier just won the TJV prologue onboard Edmond de Rothschild while their sole competitor OMAN AIR-MUSANDAM need no introduction. Skipper Sidney Gavignet and co-skipper Damian Foxall are arguably the two most accomplished ocean-going multihull sailors in the entire TJV. While short on boats, the MOD 70 class may ironically end up being the most exciting.
Class 40
Not only is the Class 40 division big, but it's also full of quality. Boasting the biggest fleet in the race and with any of probably twelve or more boats that could win, expect the leading Class 40's to gross gybes all the way to Itajal. The odds-on favorite certainly has to be Sebastian Rogues and his current generation Manuard designed GDF SUEZ. The former Minista has been on an absolute tear this season, winning five of the last six Class 40 events leading up to the TJV. But don't count out class standouts like last year's Atlantic Cup winner Jorg Reichers aboard MARE, who is likely sailing in one of his final Class 40 events before moving into the IMOCA class. Another SA favorite will be that of 11th Hour Racing. Skipper Hannah Jenner is not only one of the most beautiful women in all of sailing, but she is also one hell of an ocean sailor. Having teamed up with an American to claim a hard-fought podium in the last TJV, she is using that same recipe for success this year in teaming up with another American; Rob Windsor. Windsor has established himself as a Class 40 guru and top-tier ocean sailor. We expect big things from them. Another one to watch will be the entry of DUNKERQUE – PLANETE ENFANTS. Winner of the last Route du Rhum in a 44-boat Class 40 fleet and '09 Mini Transat winner Thomas Ruyant is co-skipper alongside skipper Bruno Jourdren and the duo will present a major challenge from the get go. The slowest fleet in the race, the Class 40's will likely be battling a major incoming tide with up to 7 knots of current during the first night in the English Channel. Blink and you may miss a world class 26-boat navigational face off before Biscay. Stay tuned to SA for all your updates over the next three weeks as the drama and suspense unfolds in real-time. -
Ronnie Simpson
November 2nd, 2013 by admin