Posts Tagged 'ocean racing'
Our continued coverage of the Vendee Globe is brought to you by Musto, Torqeedo, Doyle Sails New Zealand, And Ocean Planet Energy.
With Vincent Riou limping off to safety after cracking his keel, Seb Josse losing hours to repair UFO-damaged rudder linkage last night, and Alex Thomson somehow holding on to a 100+ mile lead with just a stub of a starboard foil, it's clear that the biggest hurdle to winning the 2016 Vendee Globe may very well be floating – or swimming – in the water.  With PRB down it's also clear that it ain't just a foil thing, and don't forget the famous secrecy of some teams; we may only be hearing a portion of the actual damage reports.
With Thomson seeming to easily hold off Banque Populaire at sustained speeds of 20+ knots, we asked his team for a photo of the Hugo Boss damage to address some of the speculation that Alex is playing head games with other teams and that there was no collision.  We were told there were no pics yet because the stump is under water and spray at 20 knots, and said we'd all see pics and video of Thomson's foilectomy when the weather moderated.  We've also just learned exclusively that the non-French ocean racing world's biggest hope may not be over at all, thanks to a spare starboard foil aboard the Boss!  Alex will attempt to cut away and jettison the remaining stub and insert the spare downward from the deck openings ; it is a very tricky operation but they've practiced it at least once, and it's the reason for their unique deck/foil exit configuration.
The reality of the situation is dramatic enough, but we loved SA'er 'nedev's explanation of Thomson's problem way more.
To be honest, structural failure and hitting stuff in the open ocean both seem quite unlikely to me… After all, the engineers know what they are doing right? And in that vast ocean, what is the chance to hit a teeny tiny floating object?

If you ask me, I think the most likely thing that has happened is that aliens visited AT and try to abduct him and perform scientific experiments on him. In his blind panic, AT ripped off his own foil with his bare hands and used it as a blade to fight off the extraterrestrial intruders. Stunned by this display of will power and strength, the aliens didn't know what to do and decided that there would probably be easier test subjects to be found elsewhere on this weird planet. What they didn't know was that during their stay on the big black boat, one of the landing lines of the UFO got wrapped around the rudder. So when they tried to fly away, the rudder got pulled up and the UFO got destabilised mid flight, causing it to crash into the ocean and sink into the depths.

So I think we should all be grateful for Alex's heroic actions, saving humanity from the alien invasion. Quite possibly, humanity would have been wiped off the planet if AT hadn't sacrificed his own foil to save us all!
Talk about these discoveries and more in the Vendee Globe thread.
November 23rd, 2016 by admin
Alex Thomson's trilogy of sailing stunts – the mast walk, the keel walk, and the sky walk - have succeeded beyond all expectations, but the next generation is even better at this shit.  Check out young Stan Thuret and his extremely creative Frozen Kite Walk.  If you want a little of the real deal, here's a Facebook Live Q&A that Alex did a few minutes ago from the balcony next to our desk…
November 4th, 2016 by admin
An epic story of a piece of history's restoration ends with a splash…with thanks to sleddog;
Last evening, as the sun set into a thick fog, the acerbic and perpetually weird Bill Lee's iconic 'Fast is Fun" MERLIN was lowered into the Pacific at Santa Cruz Harbor after an absence of many years in Great Lakes waters.
Bill and crew spent recent months removing the dysfunctional canting keel, daggerboard, hydraulics, and massive internal structure, and installing a new, Alan Andrews designed, torpedo type keel. Bill had a broad smile last evening when he saw MERLIN floating evenly and exactly on her original, 1977, designed lines, indicating a displacement of 25,000 pounds had been met.
MERLIN will compete in next summer's Transpac, 40 years after breaking the Transpac elapsed time record.
Welcome Home, MERLIN! A re-christening ceremony will be held February 26, all invited. Regarding questions about the paint job, cabin shape, and other refinements, Bill would say MERLIN remains a "work in progress," with nothing off the table, but jesus, can't  ya at least paint the god damn thing something other than that? Say, white?
It is worth noting that design hack Leif Beiley is the one who orchestrated the butchery, as noted above, to virtually destroy as much of the originality of Merlin as possible. Y'all remember that tool, don't ya?
October 14th, 2016 by admin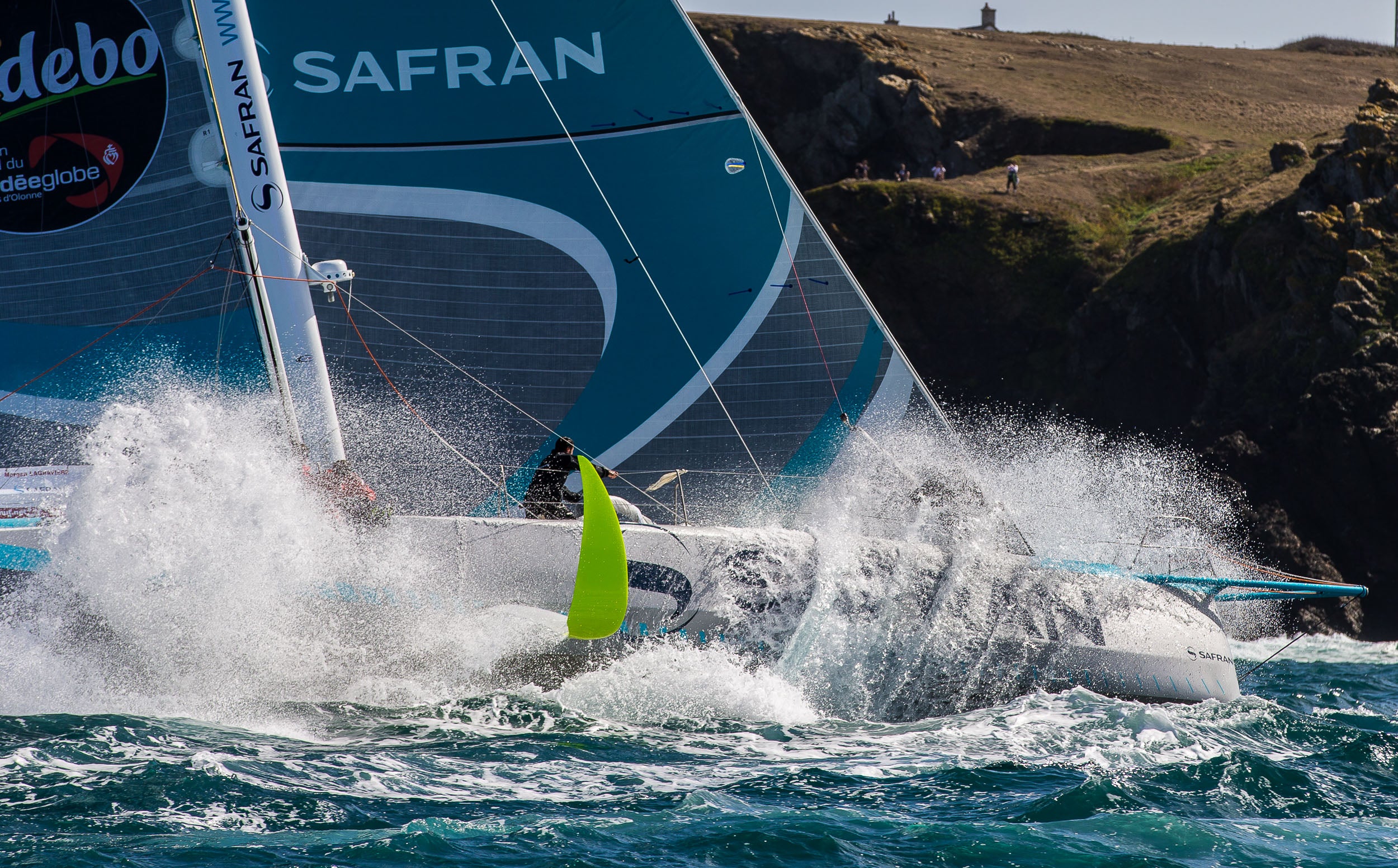 There's never been anything quite like the latest generation of Open 60s, and in just a couple of months, we'll learn how they perform in anger when the Vendee Globe kicks off.  We haven't been this excited by a monohull class in years, and we recommend you take some time to catch up with the latest; here's the Ocean Racing Anarchy forum thread, full of info.  Here's the most reliable Facebook Page under the Vendee umbrella.  Here's the latest promo/trailer video for the race, and here's a pretty good Conrad Colman documentary from the NY-Vendee Race. Brian Carlin photo, with more from this past weekend's Azimut Race here.
September 26th, 2016 by admin
It seems every TJV starts off with a nasty gale in Biscay, and the 2015 edition is no exception, with today's biggest news being the flipping of the Ultime class trimaran Prince De Bretagne.  If two of the most skilled multihull skippers in the world weren't up to the task of keeping one of the least extreme of the Ultime trimarans on her feet in the North Atlantic, how the hell is a fleet of solo sailors going to get around the world?  Lemonchois and Bilou are in the inverted boat safe as their shore team decides how best to effect a recovery, and at 120 miles off La Coruna, Spain, there's some time.  More here.
The first foiler in the IMOCA fleet is also out, with Seb Josse and Charlie Caudrelier headed for port to repair unspecified damage aboard Rothschild rather than try a fix when they're balls deep in the shit.  The Dali-foiled Safran's headed home too, while Jeremie Beyou's Maitre Coq headed in to Roscoff to try to repair a busted headstay, abandoning shortly thereafter.
The Class 40 Concise is on her way to port as well, with the rest of the Class 40 fleet headed into the suck shortly.  Expect a busy night for press releases and loved ones, and our best wishes to all the skippers out there.  Stay tuned to the latest in the TJV thread in Ocean Racing Anarchy.
October 26th, 2015 by admin
Who says beach cats can't race offshore?  Randy Miller's M32 catamaran horizoned the 100-ish NM Santa Barbara to King Harbor fleet this weekend, beating Bill Gibbs 52-foot cat Afterburner by almost three hours and the first monohull – a TP52 – by almost two and a half. Here's Randy's report, from the thread.
We deployed our gennaker right from the start and that kept us moving through the glass at 6-8kts but at least 15 degrees lower than most everyone else.  We made two short miserable tacks back to the fleet through about 120 degrees and then made up our minds that we needed to just keep the boat moving down the course, sail our own race, and that patience and perseverance would win the day.  Credit to our most excellent navigator. So we followed the beach with the gennaker up trying to sail as tight as we could without parking the boat and waiting for the pressure to build and clock North.  It finally happened at around 14:30.  The wind began filling in and clocking North and we got lifted right up to the West end of Anacapa doing 12-15kts close reaching in the light but building breeze.
Near Anacapa we saw a ton of wildlife.  Several whales, a large pod of dolphins, seals jumping out of the water, big fish jumping out of the water.  All very cool to see.
On the back side of Anacapa the wind was steady and mostly West with still some South I think so no lee off of Santa Cruz Island.  We bore away around Anacapa but stayed on Starboard for another 45 minutes making 17-18kts with great VMG towards King Harbor.  Then we gybed in for Malibu and slowly accelerated up to 20-22kts.  We had to gybe twice to clear a freighter in the channel but kept on building speed until we blasted by Pt Dume doing 24-25kts.
From Pt. Dume we had just about a perfect layline all the way into King Harbor that allowed us to come up at the end into the fading breeze to keep the speed on all the way to the bell buoy.
Even with 150lbs of extra safety gear and a painful start, we kept the boat moving and had a blast sailing 97.7 miles at an average speed through the water of 13.4kts.  We had a great crew that sailed well and stayed focused for the whole day.  This after 3 straight days of loading, and trailering, and building, and launching, and staging vehicles and driving around LA.  What a mission! Thanks guys.
This was my first mid-distance race on the boat and it was a fantastic experience.  I can't wait to do more.  Hopefully the ORCA guys didn't mind us playing in their sandbox.  Thank you ORCA for helping me satisfy the safety requirements for the race.  Santa Barbara and the whole coast and waters were absolutely beautiful.
The only negative was getting a call from the race committee this morning delivering the infuriating news that one of the TP52s (guess which one) lodged a protest against us saying they were "sure [I] didn't complete the proper course in the Santa Barbara race and should withdraw."  And that I "should have rounded Anacapa Island."
I replied by providing my GPS track.  This satisfied the race committee but not these guys because according to them, "not one person in the fleet saw [us] round Anacapa Island."  Apparently, the mind cannot comprehend that inshore and in coastal waters an M32 beach cat crushes a TP52 lead mine all day long.
Despite the annoyance of managing the protest today I still managed to take my wife, uncle, and 93-year-old grandpa for a joyride out of Marina Del Rey and get down to King Harbor for the party and to pick up my winning silver octopus cupcake stand trophy.  Good times!
July 28th, 2015 by admin
Unlike almost every other sailing website, we're loathe to cut-and-paste press releases on our front page.  But this one is such a good counterpoint to Rolex and the CYCA's moronic and secretive handling of the banning of reporter Sue Neales from the Sydney-Hobart media center that we just had to run it.  And it's not every day you see Jimmy Spithill building a jury rig.  Why our downunder friends on either Team Vodafone or Team Australia can't keep a rig up is a story for another day.
In a sudden disappointing turn of events in the Club Marine Pittwater to Coffs Yacht Race, race leader and multihull record holder Team Australia's 100-foot mast came down late this morning when the trimaran was 10 miles out to sea south of Port Macquarie.  The crew of eight men on board the Sydney based 60-footer are all OK.
"It's a shock given we had we weren't doing anything unusual, we were just starting to get going properly," said Langman via mobile phone at 1300hrs. "It's disappointing and not over yet, we still have to get in. We are heading back south as it's too difficult to motor straight up wind.
"The carbon fibre made a hell of a noise when it cracked. It ended up in three bits so it's not really repairable. Jimmy [Spithill] was steering at the time, he was telling everyone to stay down below. It would have been a much worse situation if any of the guys were hurt. We are all good and now playing with jury rigs so we can get going."
January 2nd, 2015 by admin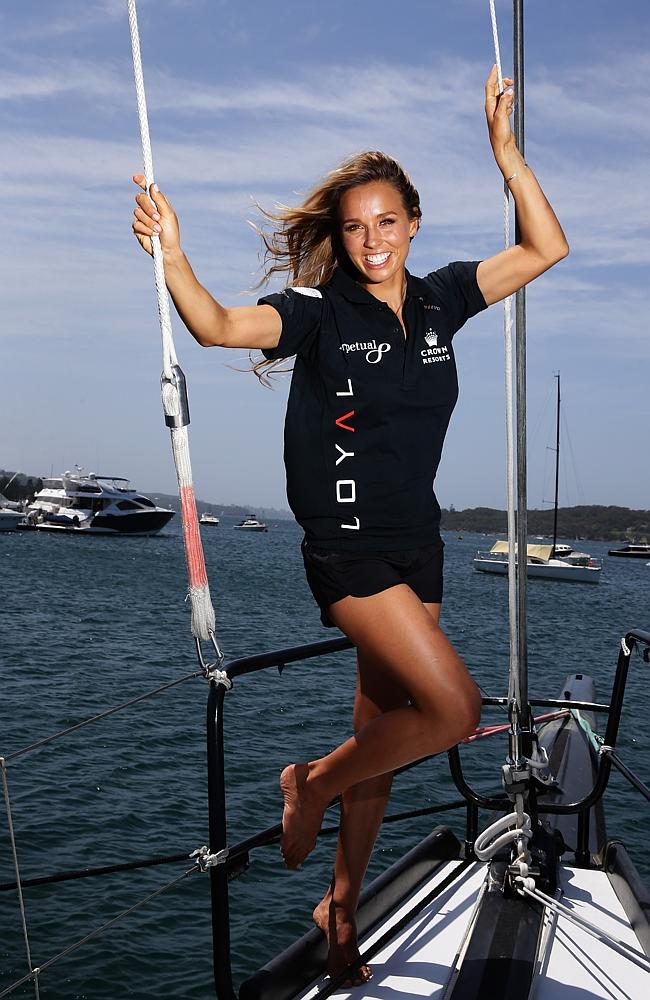 Sure, Wild Oats XI has only been beaten to Hobart twice, and her skinny bottom means she's one of the best all-rounders ever built for the coastal races she was created for.  And sure, Comanche has Stan Honey, Jimmy Spithill and Kenny's entire Puma Team, and a design that should be faster than the once-frightening Perpetual Loyal (ex-Speedboat).  But Loyal has several secret weapons – among them Sydney supersailmaker Michael Coxon and a brand new kite said to be 'the biggest spinnaker ever built'. Plus, they have a new website!
And then there's this weapon – ASP surfing world title contender Sally Fitzgibbons, who joins Anthony Bell's charity-driven campaign for this year's crowded Hobart race (remember when Clean grabbed a midnight interview with Jess Watson aboard Loyal last winter?).  She'll certainly add some motivation to the boys, and they'll likely not waste a chance to have another crew hiking and packing kites.  She'll also add thousands more eyeballs – and hopefully, the donations that go along with them – to one of the greatest spectacles in yachting: Sydney Harbour on Boxing Day.  And this year, it might be the greatest ever.  At least until they let the multihulls in.
Lou Reed is responsible for the title.
December 4th, 2014 by admin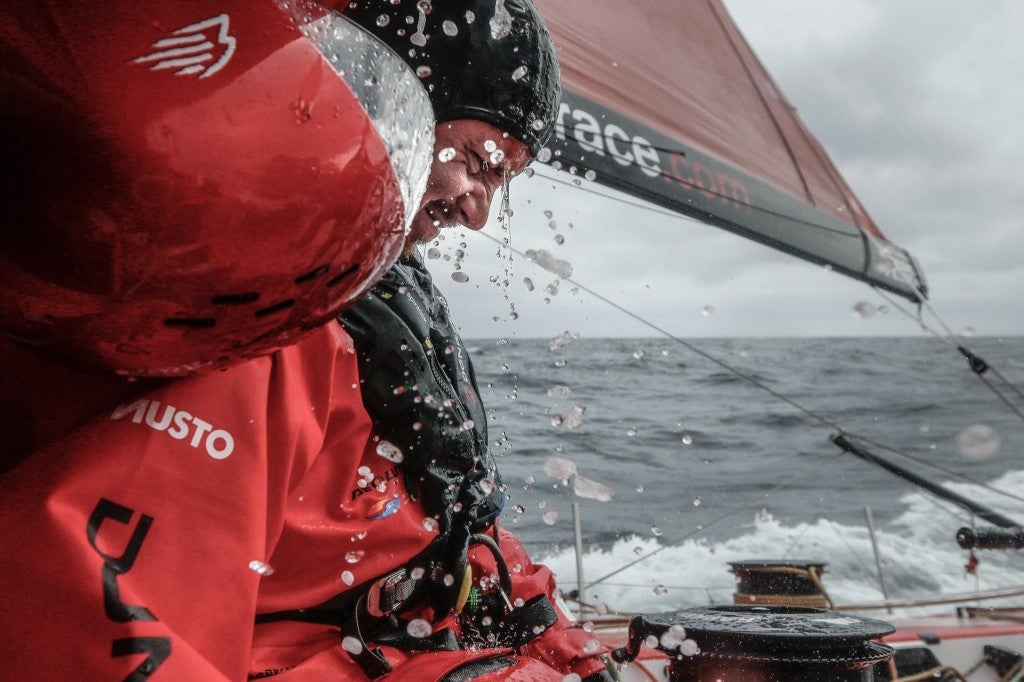 Unlike the vast majority of the world's sailing editors, we stay away from re-printing press releases and mass e-mails.  After all, we're not lazy piles of crap.  But on a rare occasion, one of 'em is so good that we have no choice.  Such is the report we got from Team Dongfeng yesterday from the Round Britain & Ireland Race; rather than the wooden and self-serving PR we got used to over the course of the last race, this thing is honest, painful, and brings the fans to the boat, rather than the boat to the fans.  Check it, and watch 'em on Facebook.  Ironic title from one of the last real storytellers of rap.
Today we broke a sail.
Today our entire comms system went down.
Today we were in 3rd place and dropped to 4th.
Today we have decided that life onboard is not always easy.
In fact, today, it is really quite complicated.
First email from the Volvo Ocean 65 'Dongfeng' boat early this morning reported:
"Difficult conditions last night and this morning. 30 knots. Life onboard complicated. Problems with onboard media system. Difficult conditions to troubleshoot, chances of success no more than 50%."
Followed by an email from Team Director, Bruno Dubois:
"Just got a call from the boat. We've broken a sail, it's split and completely unusable. Probably doesn't make any difference in terms of sailing tactics, but not ideal. The media system doesn't work anymore – they're fighting to get it back to send pictures and videos. The boat is full of water in the back… One of our Chinese guys is not really in good shape. Team, I'm sure you realise this but it's quite rough for the people and the equipment out there."
Twenty-four hours into the 1,800 mile Round Britain & Ireland Race and the pace has been fast and furious. Starting from The Solent in the south, Dongfeng was parallel with Aberdeen in the north of Scotland covering 500 miles by 0900 BST this morning. But with speed, and the weather systems that deliver the strength to propel the boats fast, so comes the potential for damage; and the North Sea delivered boat breaking conditions last night in strong winds and steep seas forcing three competitors to retire, including sailing legend Sir Robin Knox-Johnston who is living proof age has no limits! [other than the limit that he got his ass kicked and retired -ed]. In the early hours of this morning the team's Fractional Code 0 ripped, rendering it unusable forcing the team to switch to the large jib – not the optimum sail for the conditions.
A brief phone call with Dubois, Skipper Charles Caudrelier elaborated further on the difficulties onboard. "We are on J1 and, for sure, losing some ground against the others. We are missing Pascal [Bidegorry, who got his finger sliced open and took stitches aboard] for the manoeuvres and with a reduced team we are a little bit slow in the transitions. We made a small mistake while sailing along the coast yesterday and we lost touch with the two leaders. Good news is team spirit is still in tact despite difficulties."
Dongfeng Race Team is one of the five Volvo Ocean 65s currently flying around Britain and Ireland at a speed of 23 knots [45/KPH]. Ian Walker's Abu Dhabi Ocean Racing is leading ahead of Team Campos who have pulled out a 20-mile lead over Dongfeng and Alvimedica. Tiredness will be kicking in now after such a rough, opening ride and the rookie Chinese sailors onboard will have to dig even deeper. But this is ocean racing and with three days left anything can still happen.
August 13th, 2014 by admin
Volvo Ocean Race Breaking News
We're extremely stoked to be able to report to you with 100% confidence that Chris Nicholson will get another shot at winning the Volvo Ocean Race this coming October!  VOR fans will remember the affable Aussie sailing to a runner-up spot in the last two editions of the race, including an incredible run from the back to nearly a win in the previous race as skipper of Camper.  
Multiple sources have told us the the former 49er standout is the guy with the helm for the final Volvo 65, and the fact that we haven't been able to reach him despite blowing up a dozen connections over the past two days might even provide a little confirmation in itself (we're told he is 'out of internet range').  This confirms what we reported hearing back in June, but there's a new twist; rather than Russian sponsorship as we opined, it now appears that one of a select few Danish corporate giants will be footing the bill as title sponsor for a Danish-flagged Volvo 65.
It isn't hard to name the Danish companies with deep involvement in the Volvo; Satcomm giant Thrane & Thrane and shipping behemoth Maersk have been major corporate partners and sponsors for the race for years, and if the VOR allowed them, either would probably be happy to be a title sponsor for a team put together by a two-time runner-up in the race.  But our favorite rumor, and one that we think may be the real deal, is that monster windpower manufacturer and installer Vestas will be behind the effort.
The name Vestas is probably better-known to our readers than many sailing sponsors thanks to an extremely effective branding campaign with Paul Larsen's wildly successful  Sailrocket world speed record program, and a Volvo team makes some sense for them; while they still are at the top of their field, significant competition has seen their market share erode since the mid 2000s despite their growth throughout the world.  A major international effort in a green sport like sailing could help drive the Vestas name to a wider audience, while the hospitality part should be easy; Volvo has been accommodating the folks at Maersk and Thrane for years.
While we're not as sure of the Vestas connection as we are of Nicho's appearance, allow us some wishful thinking; how cool would it be to have a giant windpower sponsor – one we already dig because of their support of the batshit-crazy overachiever Paul Larsen –  in the sport's most visible ocean racing challenge?  And with one of the sport's coolest customers and best racers at the stick?
We love it, and fans of great racing should love it, too.  While it is indeed the 11th hour, with just 8 weeks left until the gun sounds in Alicante, we have zero doubt that Nicho can put together a shit-kicking team, and with Neil Cox back in his role as one of the world's most highly regarded shore/team managers in the game, we expect the Vestas boys to be damned fast, out of the box.  Bouwe, Ian, Iker, and Nicho all have some seriously unfinished business ahead of them, and it just got a lot tougher to win.
This is going to be war…and we just got a new favorite for the win.
MORE BREAKING NEWS
In another bit of somewhat astonishing news that continues to throw the early form guide into disarray, we have also recently learned that France's most famous and legendary living sailor, Michel Desjoyeaux, will indeed race aboard the Spanish Team Campos, as a Watch Captain, filling in for Iker as skipper during the two or three legs when he'll be off on Olympic duty in the Nacra 17.  Not many people can say they've got MichDej sailing for them as a watch captain.
Want more?  Hit the thread.
August 2nd, 2014 by admin