Posts Tagged 'ocean racing anarchy'
Solo Figarists Nick Cherry and Henry Bomby continue with Sailing Anarchy's 2014 Route Du Rhum coverage, sponsored by Bruce Schwab Energy Systems. Please get in touch with the Vendee veteran to find out how his energy storage, solar power, and charging systems can benefit your cruising or racing boat today, and enjoy Nick and Henry's latest analysis.  Hit the thread for all the latest news, photos, videos, and analysis.
Big conditions meant a premature end to the huge 'thank f*** they're gone' party for Route Du Rhum shore crew and race staff in St. Malo on Sunday night, just as it has for some 13 official abandonments on the race track.  A further 20-odd boats are in less-dire-but-still-bad shape, headed to port or to find some shelter in order to fix damaged sails, rudders, and bodies.  Obviously the weather has been heinous, with two solid fronts kicking the fleets in the face with gusts reported up to 60 knots and some nasty seas, especially rounding the corner at Brest. The most high-profile casualty has been Thomas Coville, who managed to prang a cargo ship in the night just in front of the TSS off Ushant. With closing speeds between the ship and trimaran of 40 knots, dark skies, and awful visibility, it's a wonder that more of these guys haven't hit anything. It's yet another blow for the Sodeb'o campaign, which adds this failed attempt to something of a pile of them over the past few years.  Coville may be one of the world's best, but we wonder if he didn't piss off an old gypsy woman sometime over the past decade…
Perhaps most worrying amongst the early dropouts are two keel losses/failures on the new Sabrosa Mk II Class 40 sisterships of Francois Anglouvant (picked up by a chopper from his capsized hull) and Marc Lepesqueux, who managed to fill ballast, drop sails and sail downwind to Guernsey. I'm no mathematician but the chances of both these guys hitting a submerged object seems pretty low, and we guess their design and build team (which included Anglouvant) is trying to figure out what happened right now, while thanking their lucky stars that no one was killed.
The decision by race director Gilles Chiorri to send the fleet off into this storm is refreshing in the light of so many big races being delayed in recent years. Many skippers – particularly in the handicap Rhum class –  chose to do something we rarely see these days; they waited out the worst of the storm before going yachting.
Ultimate Update
All the fleets have spread out by now, but none more so than the Ultimes, where Loic Peyron is having an absolute blinder aboard BPVII, steadily pulling out a sixty mile lead over Yann Guichard on the Spindrift (who isn't showing any signs of using his extra nine meters of length to catch up). Watching these guys go off the start was jaw dropping, with Coville looking picture perfect early on and Sydney Gavignet giving the spec fleet some 'oohs' and 'aahs' flying his center hull as he weaved through the spectator boats.   We caught up with Sidney here; click the link for a video interview where we chatted about 'Oh, Sheet' release systems and weather routing.
Given that sailing a big multi alone is a full-time job, these guys are aiming not to go downstairs at all during the race. Yann Ellies on Paprec has a staff of three top guys holed up in a house in Brittany running a watch system looking at forecasts and on-board data basically playing a full-on version of the virtual race game. He's planning to have Skype messenger on 24/7 and regular sat phone calls, leaving him free to ease sheets off one of these bollard/cleat arrangements at any time. Whatever you think of shore-based routers they are here to stay, and this race pits the best weather guys against each other across the Ultime fleet.
Macif Attack
Francois Gabart is, once again, showing why no one has been able to touch him for the past couple of years; 30 miles over Jeremie Beyou in a sistership and 50 over Marc Guillemot aboard Safran. Vincent Riou and Tanguy De Lamotte are all but out of this race with mainsail track issues and rudder damage respectively. These guys are in for a fast crossing with few passing lanes; look for Gabart to continue to push his lead right through the finish line.
Rogue Racing
True to form over the last couple of years, Seb Rogues in GDF Suez is leading the way as the 40s reach down towards Cap Finisterre. There's been a definite split in this class, with the first fifteen or so boats who made it out of the channel in good shape having put some serious miles on the B fleet of stragglers as they get into better and better breeze.
Fifty First Dates
The prize for most dropouts goes to the Multi 50 fleet, where currently only six out of eleven starters are left in the running, with the three favourites occupying the top spots. On the dock some of these boats looked like they might be better off in a museum than a storm and it seems that maybe Neptune agreed!?
Fast Forward
Looking ahead at the weather, things are starting to calm down for the big trimarans and IMOCA fleet, and with the Azores high still located quite far north, these skippers should be able to sail a fairly direct route for the next few days before the wind drops a little and goes further aft.  Then it'll be lots of gybing to line up their approach to Guadeloupe.  The slower boats will have to negotiate another (hopefully less violent) front toward the end of the week, which could create some lanes for some of the early losers.  We'll keep you posted.
-Nick and Henry
UPDATE: DAMAGE REPORT FROM DAYS 1-3
Sunday 2 November
-9h00 : Luc Coquelin (Classe Rhum) hit by dive boat when at anchor, damaged bowsprit.
-13h15 : Jean-Édouard Criquioche (Class40) rig problems, starts at 1900hrs.
-15h00 : Ricardo Diniz (Classe Rhum) diesel problem and other issues. Arrived back in Saint-Malo at 1800hrs left Monday 1700hrs
-19h00 : Charlie Capelle (Classe Rhum) stops in Saint-Quay Portrieux to let worst of weather go, restarts Monday 0800hrs
-19h45 : Jean Galfione (Class40) strikes unlit buoy off Bréhat and damages hull. Arrives Saint-Quay Portrieux at 5h30 Monday, aims to leave 19h Monday
-20h15 : Giancarlo Pedote (Class40) sail problems heads for Roscoff. Arrives at 7h, leaves Monday 11h
-23h00 : Marc Lepesqueux (Class40) loses keel fills ballast heads to Guernsey under engine arrives 10h Monday Abandon.
-23h30 : François Angoulvant (Class40) loses keel, helicoptered off at 00h40 Monday to Brest. Abandon.
-23h35 : Loïc Féquet (Multi50) float damaged, towed by SNSM to l'Aber Wrac'h at 8h Monday. Abandon.
-23h45 : Thomas Coville (Ultime) hits a cargo ship. Damages main bow and starboard float. Arrives Roscoff at 11hrs Monday. Abandon.
Monday 3 November
-0h30 : Bertrand Delesne (Class40) has problems with sails halyards and headsails. Heads to Perros-Guirec then Roscoff. Arrives 9h, depart 13h.
-1h15 : Bob Escoffier (Classe Rhum) sail and rig problems. Heads to Roscoff, arrives 08h Monday. Aims to leave Tues 06h.
-1h45 : Thierry Bouchard (Class40) wrist injury, heads to Saint Malo. Arrives 16h Monday. Abandon.
-4h20 : Brieuc Maisonneuve (Class40) pilot problems, heads to Roscoff arrives 10:45 Monday.
-5h35 : Gilles Buekenhout (Multi50) breaks rudder, towed by SNSM to Roscoff arrives 16h Monday
-6h30 : Nicolas Troussel (Class40) twists ankle, routes to Brest arrives 15h Monday. Abandon.
-7h00 : Hervé de Carlan (Multi50) breaks daggerboard, heads to Saint-Brieuc.
-7h15 : Erik Nigon (Multi50) shreds mainsail, heads to La Rochelle, Abandon.
-8h10 : Pierre-Yves Lautrou (Class40) loses two wind vanes. Heading to Camaret. Arrives 17h Monday.
-8h45 : Alan Roura (Class40) water ingress, other varied problems. Heads to Roscoff, ETA 19h
-9h45 : Tanguy de Lamotte (IMOCA) rudder damage, route towards Brest since 1400hrs.
-10h00 : Vincent Lantin (Class40) various problems, heading to Camaret.
-10h10 : Patrick Morvan (Classe Rhum) various problems heading to Camaret. due 18h30 Monday
-10h15 : Alain Delhumeau (Multi50) dismasted, heading to Brest Abandon.
-10h45 : Julien Mabit (Classe Rhum) pilot and electronics problems heading to l'Aber Wrac'h. Arrives 14h00.
-12h00 : Bertrand de Broc (IMOCA) pilot problem and injured elbow. Heading to Lorient. Abandon.
-14h00 : Arnaud Boissières (Class40) crack on deck and other pbs heading to Les Sables d'Olonne. Abandon.
-15h00 : Philippe Fiston (Class40) technical problems. Arrived Camaret at 17h Monday
-14h00 : Benjamin Hardouin (Classe Rhum) arrived Roscoff to repair leak, plans to restart Tuesday 06h
-16h00 : Conrad Humphreys (Class40) arrives Camaret 16hrs sail problems, batten car damaged
-16h30 : Nils Boyer (Classe Rhum) arrives at Roscoff to replace life-raft
-17h15 : Vincent Riou (IMOCA) damaged mainsail track mounting, heading downwind slowly to repair.
Tuesday 4 November
-Afternoon: Pierre Antonie (Multi 50) lightning strike; holed.  Airlifted to safety.
November 4th, 2014 by admin
Our old pal Andy Pilcher from Doyle NZ checks in from aboard the J/111 Django after one of the most exciting ocean racing finishes of the year.  A great yarn from an excellent group; check out the Auckland-Fiji Race results over here. Photos from C Brad Davies/LiveSailDie Media.  Title appropriate to the best song the Beach Boys ever wrote.
Who remembers the 1995 Rugby World Cup Semi-Final between the All Blacks and England?
 The one where Jonah Lomu ran rampant right through the whole team and scored four tries, including that most memorable one where he bowled right over the top of Mike Catt?
  Keith Quinn, the veteran broadcaster with decades of experience, was so lost for words that all he could say – live on air – was "Jonah….. JONAH…..Oh!!!……Oh!!!!!"
Well, try saying this in your best Keith Quinn voice: "Django….. Squealer……. Oh!!!!……..Oh!!!!!!"
That's what we were looking at during the Auckland Fiji Race after almost 1400 miles and nearly a week of racing.  Two middleweights standing toe to toe, slugging it out, neither giving an inch.   In the White corner we have Django Racing, the younger, better looking of the two, dancing and jabbing, sticking and moving, trying to wear their opponent down.
 In the (toxic) Lime Green corner, the clever old veteran, gnarled by age and years of fighting, and looking, searching for the knockout blow.
The bout started off in a typically brutal manner, with both fighters taking a beating during the first four rounds (days). 
Eventually things calmed down a bit, and a searching, tactical battle was underway.  Django scored the first major points with a swift left hook, right across Squealer's nose, early in the fifth. 
They thought this could give them a decent advantage, but you don't get to be older and wiser without learning a few dirty tricks, and sure enough, the pugilists from Tauranga Bridge Marina eventually wore them down and scored a few back themselves. 

Deep into the sixth round, the fighters got up close and personal after fighting blind for most of the bout; after that, it was all on!
The teams stood right in each others faces, neither one wanting to let the other slip away and gain an advantage.  No one let up, with stamina and endurance being pushed to the absolute limit. Both teams pushing harder than they ever thought possible, somehow finding reserves of energy they didn't realize they had. 

Squealer used all their collective years of cunning to gain an advantage late in the seventh, and it looked like this would carry them to a famous victory. 
But Django wasn't giving up that easily, and with barely a minute to the final bell pulled their last move of the fight, launching a straight right across the face of Squealer, seemingly dropping them on their arse for the final time.
 Surely there was nothing left to give…but Squealer had other ideas.
They picked themselves up off the canvas and launched one final assault on the young pretenders. 
Django tried holding them off with a series of jabs, but Squealer countered with a brutal right hook just on the final bell. 

So who won? 
Well, it took a while for the ref's decision to come in and it was eventually announced over the public address system (also known as the VHF Radio) that Squealer had taken out the narrowest of points victories – beating Django by 10 seconds. 

Both fighters fell to the floor, exhausted, before picking themselves up one final time for an embrace that lasted well into the night.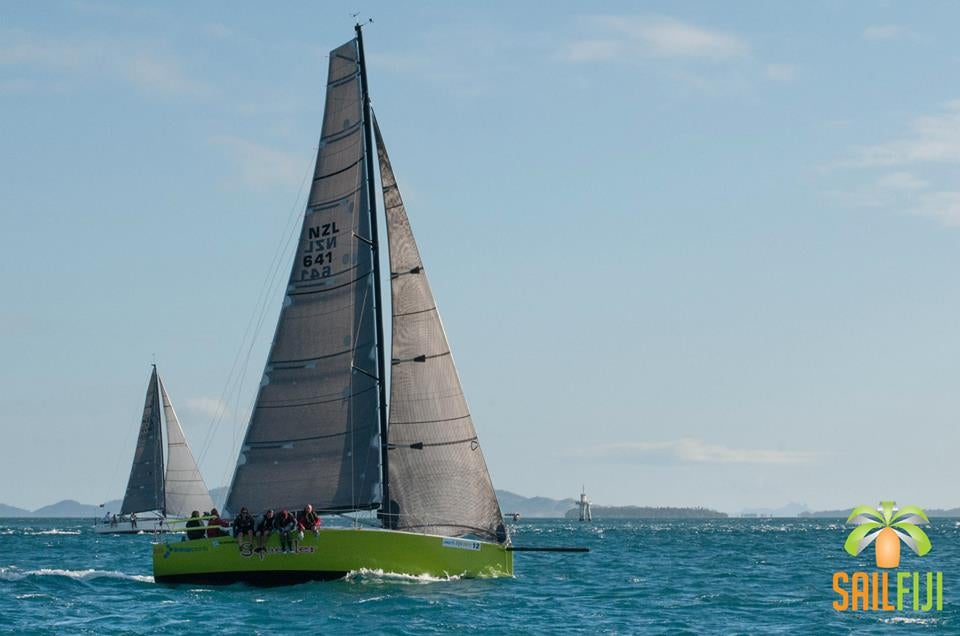 After a race that lasted just a few hours shy of a full weak and some 1370 NM, Squealer really did beat us over the line by 10 seconds. This photo was taken from the finish boat, showing their nose crossing the line, with us barely a boatlength behind. 
It was hard to comprehend at the time what we were involved in, but for all of us, this was the race of a lifetime, and it was only more poignant because of the battle raging between two boats full of good friends.  
I have known some of these guys for the best part of 20 years, and can genuinely say that we could not have hoped to be beaten by a better team.
For those that don't know, the DDF Syndicate that owns Squealer is a team of seven mates, most of whom are old school friends from Tauranga. This is the third boat they've owned, over a period of around 15 years, with their ultimate goal of competing in an offshore race.
That dream was cruelly cut down just 120 miles from the finish of last years race to Fiji, when the mast fell down as they were pushing hard for an overall win. 
So to see the joy on their faces at the finish line really did make everything worthwhile, and (almost) made us forget our awful first half of the race!
Well done guys, it was an absolute pleasure trying to knock the shit out of you, and we cannot wait to do it again.
Django Racing out.
June 25th, 2014 by admin
Wild Oats XI may have added yet another Line Honors victory to her long and illustrious career, knocking back the nastiest fleet of challengers to her throne yet in the SOLAS Big Boat Series.  It's hard to take the results too seriously of what is essentially a practice start for the Hobart, but there's no doubt at all that Loyal (a/k/a Speedboat) had WOXI's number in around 20 knots of breeze, sailing away from the 100 foot maxi upwind and down.  That is, until a late douse of a headsail that owner Anthony Bell called a "North R-1" that turned rapidly into $150 grand worth of North-branded tarpaulin.  Here's the best video of the sail implosion, while here's some from a different angle, and here's some more.  Note the Black Jack (ex-Telefonica) flying down the track ahead of both maxis; when you remember that Volvo 70s own pretty much every offshore monohull speed record, you find it harder and harder to dismiss them regardless of the length advantage for the 100 footers.
Bell said they already had another big reaching sail being sourced from the US; either way, it was a great outing for the big JuanK boat that perhaps will presage what we'll see in the race:  The Speedboat hauling the mail until she blows a gasket, when either WOXI, Beau Geste, or one of the Volvos will sail on by.  As much as we dig the thing's beastly nature and raw look, we have to remember that Speedboat/Rambler/Loyal has broken in more races than she's finished.  Like a Volvo 70 only more so, you spend most of the time slowing the boat down rather than speeding her up.
Even the bookies agree; betting odds for Loyal have decreased to just over 2$, while WOXI is up to 1.80.  Place your bets and post your thoughts on everything Hobart in the all-encompassing thread, and note that Sailing Anarchy is finally doing something about the canned coverage of the Hobart we all suffer through every year:  We're sending The Cleans down to bring you interviews, photos, and live (or near-live) video of the dock and start for the 2013 race, making it the most comprehensively covered Hobart Race in recent memory.  With the support of McConaghy Boats (and using their Facebook Page to bring you rich reports from the Harbor and beyond) and with embedded reporters throughout the fleet, our coverage begins on Christmas day and runs right through New Year's.
Photo thanks to "Brit down under", with a full gallery of his pics here.
December 11th, 2013 by admin