Posts Tagged 'ocean planet'
Clean Report
The MUSTO + Torqeedo "Cleanin' Up Europe" report moves from sunny Barcelona to grey, misty Amsterdam, but not before a short chat with the newly elected World Sailing President Kim Andersen from Denmark.  Andersen took the top spot in the sport away from an incumbent for the first time in the history of the organization, though considering the litany of missteps from the previous board, it's not a huge surprise.  The Dane's mantra has been about transparency, equality, and the growth of sailing – not just the growth of Olympic Sailing and revenue streams.
We'll have plenty more on the interesting developments that came out of the 2016 World Sailing Conference, and trust us – despite the general, all-talk/no-action nature of conferences, plenty of shit went down and plenty of it was good.  In the meantime, we'll be using Facebook Live for the next two days to bring you the latest and greatest kit from the METS show in dreary Holland. Keep an eye on the page as interviews and product spotlights pop up in our video feed.
Big congrats to Torqeedo for winning their second DAME award in four years!  And a big thanks to them and MUSTO for presenting all of our Vendee, ISAF World Council, and METS coverage this month.  Also thanks to Ocean Planet Energy and Doyle Sails NZ for their support of our coverage.

November 16th, 2016 by admin
Clean Report
The MUSTO + Torqeedo "Cleanin' Up Europe" report continues with this hour-long jaunt in Western France.
If there's two things I spend most of my pre-regatta time on, it's dock walks and form guides.  So with one day to go until the Vendee Globe begins, I decided to create some efficiencies and combine these two indispensible tools for following the world's best race.  The result is this video tour of every one of the 29 entries for the VG.
We grabbed the most knowledgeable English speaker we could for this one; Ryan Breymaier is the rigger for overall contender SAFRAN, and he never pulls punches – listen to Ryan's analysis of each boats' strength and weakness and each skipper's history and chances.  Wanna know the best foils, the dark horses, the hopeless dreamers, and the real podium contenders?  This is the place to go.
Thanks also to Bruce Schwab and Ocean Planet Energy for his support of our coverage.
November 5th, 2016 by admin
Ask An Expert
A reader from Washington State asks "With Tesla Motors opening up its advanced battery patents to the world, will we see some major advancements in size/weight/capacity in the world of offshore power and storage?"  We turn to RTW racer and now energy guru Bruce Schwab from Bruce Schwab Energy Systems for an answer.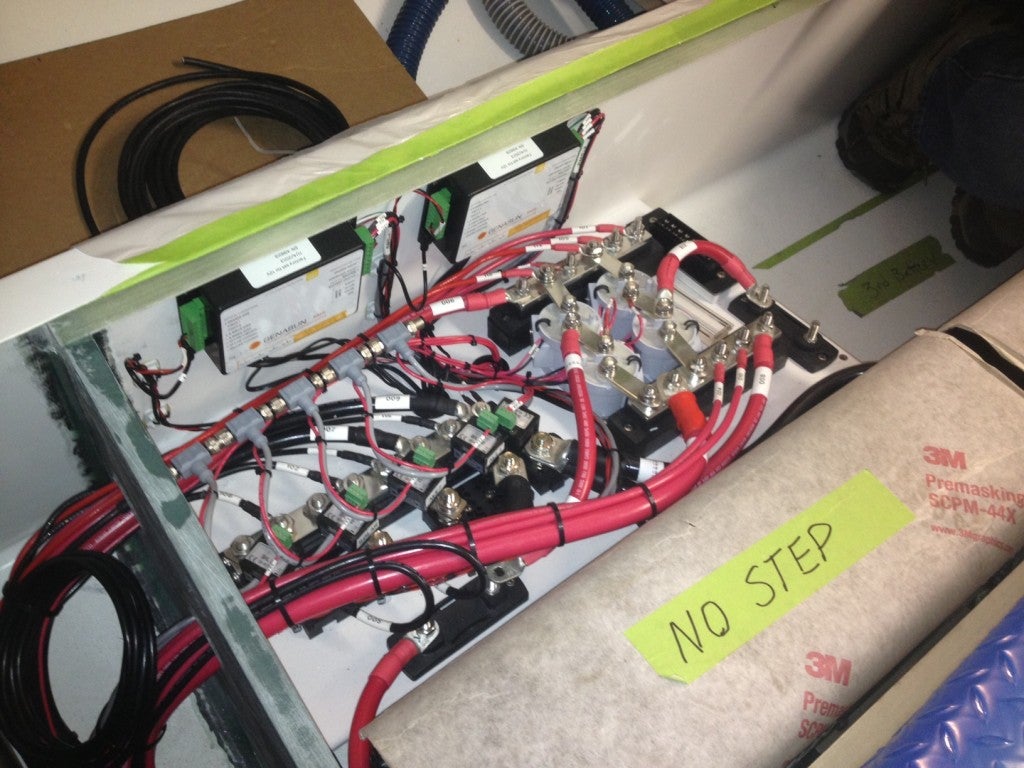 Thanks for the question, and I wish I had more exciting news, but the reality is that I don't think Tesla's move will have much effect on the marine market. Why? Because what makes Lithium (Li) battery systems expensive is not the "battery" cells themselves (usually four cells per 12V battery); rather, it is the application-specific "BMS" (Battery Management System) that makes the system useable and safe…and the lack of "scale" in the marine market to drive down costs. While the performance of lithium batteries is superior to Lead (Pb), if you run them flat or overcharge them that could cause them to fail prematurely. While it's not good to over/undercharge Pb, they typically will just lose capacity from such abuse and not necessarily become "finished".
The BMS in a car battery system has very different requirements than for a boat, first of all being much higher voltage. A boat typically has its own special issues, such as multiple charging sources (alternator, AC/DC charger from shore/genset, solar panels, hydrogenerator, wind generator, etc.) and multiple loads as well. So the system configurations are different, and even between top marine Li battery brands, the BMS philosophies differ.
For instance, Genasun marine battery system uses a dual positive bus, separating the charge sources from the loads. While this adds some work to an installation, in the long run it offers several advantages and protects both the battery investment and the boat. See attached pic of an very nice Genasun GLi installation in the IMOCA 60 Great American IV, by Steve Ecker of Maine Yachting Center here in Maine. Not the kind of thing a typical boat owner does on their own…;-) Of course, you can find and use an Li battery with a Pb-style physical format & terminals, and just plug it in. However the operation of such packs is far less graceful at the top and bottom ends of the charge/discharge cycles. Here is a diagram that partially explains a dual-bus configuration.
While Li battery performance is spectacular, they are not for everyone on the water. There are certainly many options and choices out there with Pb: AGM, gel, flooded, etc. each with their own attributes and disadvantages. and there are versions of AGM that the marine market has yet to discover. The primary weaknesses of Pb (aside from being so darn heavy) is the susceptibility to permanent internal sulfation (from undercharging) and corrosion (from overcharging), which usually spells the end of their useful life. Extended PSOC (Partial State Of Charge) operation…which is very common in marine use…leads to sulfation that is often impossible for the battery to recover from. However you will soon see Pb batts utilizing internal carbon grids/plates/etc. to help prevent this and/or allow complete recovery without high-voltage "Equalization" sessions. Equalization can help recover some capacity, however this must be carefully done or it can shorten cycle life as well.
Speaking of battery technology, and specifically Pb/AGM…the first to use a carbon foam grid internally (about seven years ago) in an AGM was Firefly batteries. These AGM's seem to have great resistance to permanent sulfating, making them good for the marine use. However for some reason, they never got any exposure in the marine market, despite burning through a lot of VC capital and a even going through bankruptcy way back in 2007. We are looking into offering a new version of the Firefly they are developing with input from us here at OceanPlanet Energy. Knowing that Lithium is great, but for the foreseeable future not for everyone, we want to have the next best thing as an option, and we'll be sure to share it with the Anarchists.
Ask a simple question….get a sales pitch in reply…sorry!
-Bruce Schwab
Ocean Planet Energy Systems
July 17th, 2014 by admin