Posts Tagged 'ocean masters'
Videographer Stan Thuret gives us this 2 minute tease of a longer NY-Vendee Race movie to come in a couple of weeks.  Pretty stuff from a pretty old boat and an Anarchist skipper we really dig.
August 4th, 2016 by admin
The Sailing Anarchy Podcast is back, and this week Mr. Clean gets into the business behind the single biggest event in the entire sport: The Vendee Globe.  This 100-minute episode # 6 is a mix of insider chat from Clean and four interviews he grabbed last month in New York with interesting Vendee figures: IMOCA Ocean Masters Commercial Director Alex Mills, Canadian Ocean Racing grom Morgan Watson, Irish skipper and storyteller Enda O'Coineen, and Team SMA media man Brian Carlin.
Episode # 6 will drop next week and it'll be all about the Race 2 Alaska.  If you've got something to say about the R2AK, let us know and we'll add you to the show.  Subscribe to the Podcast here.
June 22nd, 2016 by admin
Damage to the 15-boat fleet killed the media-friendly Newport to NY "Prologue" race for the NY-Vendee program last week, but when we were down on Friday, everyone looked ready for the long haul to Europe.
Fast forward 36 hours, and debris and UFOs have taken out a third of the fleet in just a couple hundred miles – the pic to the right is Banque Populaire headed back to shore after destroying a foil.  Just 8 of 14 starters remain on the course, and that doesn't include at least one boat whose whale strike prevented them from even making it to the line.  That's the attrition rate for a full RTW race, and right now the skippers and designers have to be stressing about the biggest race of their careers in just a few short months.  Is there any way to prevent the problem?  Is it more whales, quieter foils, or increased speeds that have turned the fairly reliable IMOCA into boats with an 50/50 chance of finishing even a short Atlantic crossing?  Does anyone have a solution besides slowing the hell down?
The next SA Podcast tackles this subject head on, and much much more, including the OSM push and where it's going, the recent sacking of both the longtime Managing Director of the Vendee Globe and its Race Director Denis Horeau, and the controversy over media crew.  Look for it this week.
Track the race here, and discuss the craziness here.
May 31st, 2016 by admin
Keep your eyes peeled if you're enjoying the balmy winter with a December crossing of the Atlantic, because you might just run into the world's biggest Christmas present: The defending champion Vendee Globe and Route Du Rhum-winning Open 60 SMA, adrift about 700 NM off Cape Finisterre!
With solo skipper Paul Meilhat's fractured ribs and pelvis forcing him into a helicopter, SMA crew launched two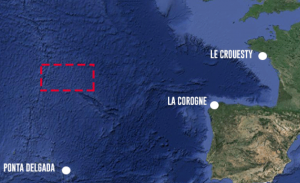 rescue attempts to retrieve the multi-million-dollar pedigreed purebred; an especially nasty December in Biscay laughed at them and sent them crying for home.  A third team of four insane Frenchmen (and quite possibly Marcus Hutchinson) has now set off from Brittany to try to succeed where a 66-meter oceangoing tug failed.
If that sounds like impossible odds to you, it just means you don't know any Bretons.  Seb Josse won the carnage-filled St. Barth-Port La Foret (which most skippers have told us they hate), scoring the first real offshore success for a Dali foiler. Head over here for Seb's video (with translation from SA'er 'surlepont').
December 24th, 2015 by admin
As always, Ryan Breymaier is as honest and refreshing as they come, and as the first American to win an IMOCA event in a long time, he's got plenty to say.  About his race and NYC's sendoff (and what NYTimes' Chris Museler has on his plate after crossing with Ryan), about big moves in the Open 60 fleet, about the soon-approaching Barcelona Race, and why he'll be in Marine City, MI for a while this summer.  A half hour with Mr. Clean for the SA Innerview.
June 18th, 2014 by admin
Thanks to Safran's bad luck with a few broken ribs and a confirmed abandonment this morning, Ryan Breymaier and Pepe Ribes find themselves in the lead of the NY-BCN Race aboard the shiny grey Hugo Boss. Ryan and New York Times sailing correspondent Chris Museler called in to flu-ridden Mr. Clean for a quick chat as they passed the Rock of Gibraltar this afternoon; their chat got cut off but here's 9 minutes with both of them that's worth a listen. Track the final three or four days here.
June 12th, 2014 by admin
When good things happen to good people and we have a hand in it, that makes us smile…here's some excellent news from our pal Ryan Breymaier.  Mark Lloyd photo.
Thanks in large part SA's support and promotion, everyone here knows I have been working with Alex Thomson Racing's management company 5 West in my search to find a partner for my Vendee Globe Project USA. Our cooperation took another step recently, when I was asked to race onboard HUGO BOSS for the upcoming Ocean Masters race, a double-handed transatlantic from New York to Barcelona, starting on June 1st.
Alex needs to be home for the birth of his second child, due in the first week of June and has asked me to take his place. This is an incredible opportunity for me, and I am very proud to have Alex and HUGO BOSS put their trust in me to fill his shoes in such an important way.
The boat is the ex Virbac-Paprec 3, sailed to 4th place by Jean-Pierre Dick in the last Vendee Globe. It's a latest generation VPLP-Verdier design; the same hull as winner Macif with a different deck layout.
It is a quantum leap ahead of Neutrogena that Boris and I sailed to fifth place in the 2010 Barelona World Race, and one of the fastest boats in the fleet today.  Each time we have been out sailing I am just floored by its sheer speed and ease of handling.
Along with such an incredible boat, I have the privilege of sailing with Pepe Ribes, who really does not need much introduction here.  FOUR times around the world in the Volvo Ocean Race, at least TWO Americas Cup campaigns, and 4th place (just ahead of me) in the last Barcelona World Race, Pepe is a wealth of knowledge and experience. He's hugely competitive and a great guy to go sailing with.  As serious on the water as he is relaxed off it, I could not ask for a better team mate.
I have been in Gosport, UK at the Alex Thomson Racing base working with the team for the past few weeks, training and helping prepare the boat. We are due to leave for the US on April 22nd.
We will be in New York at North Cove Marina from approx. May 11th -19th and will arrive in Newport on May 20th to prepare for the warm up race from Newport back to New York starting on May 24th. From May 26th there will be a race village set up at North Cove and on the 29th we have another 'friendly' race on the Hudson.  If you are in the area, come and see the boats, and feel free to say hello!  I am happy to answer questions, and I'm very serious when I say that I would love to meet every NYC and Newport anarchist, sailing enthusiast, singlehanded hopeful, ambitious junior sailor – whatever.  Come and say hello, please.
As for the race itself, what an awesome racetrack;  leaving iconic New York City to hook into a depression, ride it to the Portuguese trades, and then through the tactically challenging Mediterranean to my favorite European city of Barcelona, which also happens to be Pepe's current hometown.
We're going to be gunning for a HUGO BOSS win, and all the pieces are in place to make it happen!
April 15th, 2014 by admin