Posts Tagged 'obit'
A beautiful obituary for what sounds like a beautiful character in a sport that's got quite a few of them.  With thanks to SA'er 'dacapo' for the notice and the photo.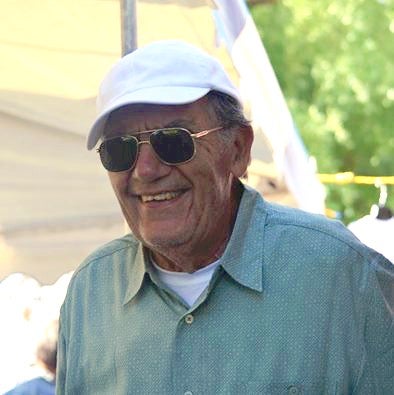 You may not have known know Sal, but I'm sure you knew someone like him.  Sal was a real competitor.  The twinkle in his eye as he herded you to the wrong side of the course to get stuck in a wind hole that only he knew was developing as he tacked back into pressure.  The loud crazy Italian whose arms flailed as he prodded his crew to work harder, faster as they win the start and never look back at the rest of the fleet.  The fountain of knowledge who would pull me aside and call me foolish for tacking too soon…as he sailed to the layline and made the perfect tack to the mark.
Sal won in whatever boat he owned at the time. In the 1960-70's, he raced a lightning with his family.  Then, for a short time in the 70's he regularly won in the  Ensign Fleet. As Sal got older, he bought a Catalina 25…and encouraged 6 other to do the same.  They raced in a O/D fleet until they all decided to go bigger…and they all traded up to Catalina 30's.  Mother Goose has won more races on the Hudson than any other club-owned boat that I know…correcting over the big boys with race boats was his favorite challenge. His boat sailed above its handicap; he could nudge out that extra 1/10 of a knot , when everyone else couldn't seem to find it.
Sal was the first person to call you a chooch if you fucked up, but he was also the first guy to lend you a hand if you needed anything.(except for extra crew 😉  Sal treated his crew like family. Making dinner for them every Wednesday evening before racing and bringing wine and cheese after every weekend race.
He knew the race results before the scorekeeper did.  He knew the standings and what it took to win a series or regatta.  his mind was always sharp.
Sal won his final race of the 2016 season 3 weeks ago, making him our 2016 overall club champion by percentage points and today he passed away from cancer.   I will miss Sal very much on and off the water.
8 Bells, my dear friend
October 21st, 2016 by admin
Best known for his straight talk and perhaps the most beautiful ocean racing boat in history, Jim Kilroy died last night in hospice care according to multiple sources.  The Alaska-born Californian became one of California's most successful real estate owner/developers, but his passion for the sea never dimmed.
Jim's memoir is a lot like the man; brash and honest with a touch of vainglory; buy a copy and read one of the most interesting sailing/business stories around; Jim donated all proceeds of that book to youth causes, including sailing.
Here's one tribute from Aussie SA'er 'recidivist': "In the bar of the CYCA after a Southern Cross Cup race back in the early 70's (in which race Ted Turner cheekily put American Eagle inside Kialoa on a mark rounding – without rights), Ted entered the bar to be greeted by Jim Kilroy lifting him off the ground by his shirtfront and saying "You ever try that again and you'll have 2 fucking six-metres".  Jim put him back down and walked out."
Here's another, from 'Hitchhiker': When asked if maxi racing isn't a rich man's sport, Jim said, "No. there's one rich man aboard and 25 poor men, and they enjoy it more than the rich man does!"
Share your own Kilroy and/or Kialoa stories, pics, or what have you in what should be a legendary thread about a legendary man.
September 30th, 2016 by admin
Ted Irwin was both an innovator and an icon in the heyday of the fiberglass yacht Ted Irwin passed away yesterday. He was a true innovator as a designer and an industry icon.  Here's a little about Irwin from the Irwin Yachts support website; read the full story to appreciate just how much impact Irwin had on sailing.
At fifteen, Ted started building boats of his own design in his backyard. From this self-taught experience came the knowledge that was to later enable him to design a "moth". In that boat he won the North American and the world championships in its class.
After several years of formal education, painting, and backyard boat building, Ted landed a job as a draftsman, illustrator and part-time builder with Charlie Morgan. Ted was twenty-one. By 1963, Ted had served a stint in the Coast Guard, done some more studying and decided that it was time to go out on his own.
Ted rented a small Quonset hut on St. Petersburg Beach for $75 a month. There he built his first commercial sailboat. It took an arduous six months to build his first 31 footer, but it was an effort well spent. That boat, named Voodoo, was to launch Ted's career by logging an astounding racing record.
Voodoo raced for two years in the Florida Ocean Racing Association, 1964 to 1966, and swept all honors. Ted, sailing Voodoo, won twenty-four out of twenty-eight races during that period. Voodoo and her crew did so well that a sailing editor said, "All the other boats were racing only for second place". Other successes followed. Some of his famous racing yachts with names known the world over include: Voodoo, Black Magic, La Pantera, Razzle Dazzle and R2D2.
Read on, and thanks to Frank McCarthy for the heads up.  Top pic from the Irwin site, let us know if you are the author of the pretty one.
February 8th, 2015 by admin