Posts Tagged 'NYYC'
The SA Podcast returns with Episode 8, and it's a big one; over 3 hours of funny, interesting, and informative chat with some of the real characters in Midwest sailing.  First, we grabbed an hour via Skype with Bayview-Mackinac record-setting navigator Ron White from the ORMA 60 ARETE to find out about their Mack record, future plans for the fastest boat in the lakes, the likelihood of an ORMA/MOD trimaran freshwater series next year, and whether we'll soon see fleets of day-racing cats battling for the overall honors in the Chi-Mac.
After that we've got two hours of hilarity on the shores of Harbor Springs, MI with Melges 32 World Champion and longtime Anarchy videographer Petey Crawford and Detroit racer Blay Schoenherr on a multitude of subjects; the sordid details of the brutal crash between the 12-metre Courageous and a grip of boats (including Petey's) at the NYYC Round the Island race and Courageous navigator Gary Jobson's later attempt to deny responsibility for it, race reports from Blay on a 70-foot sled, the suicide of the nastiest bar owner in any sailing venue anywhere, the olympics, who drinks the most on the SA Podcast, and much, much more.
If you don't have a Podcast or can't play the episode above, head over here for the direct download link.
August 15th, 2016 by admin
Extreme 2 continued her dominant ways in the C&C 30 class at the NYYC Annual last week, with mast man Petey Crawford continuing his ultra-high octane videography with this highlight reel from the regatta.  What isn't on camera was a stellar Round-The-Island Race crash when the 12M Courageous sailed headlong into the rocks at Fort Adams, but not before t-boning a J/88 and knocking Extreme 2 skipper Dan Cheresh to the dirt with its spinnaker pole.
Courageous retired from the race and didn't even bother showing up to the protest hearing despite being notified in person (and they lost, of course) but the old boat's tactician has now claimed it wasn't their fault.  We've invited said tactician and several crew and on-shore spectators to provide their view before sharpening up the pitchforks…
June 22nd, 2016 by admin
The annual New York Yacht Club Cruise is back, and as usual, there's plenty of drama, and yet more reasons to watch it when you see the burgees coming through your piece of water.  This time, the drama is in limerick form, thanks to SA'er 'Left Hook'.  To add your own limerick (and there are already several good ones) or for the full story of the sinking of Concordia 40 #11, hit the thread hard.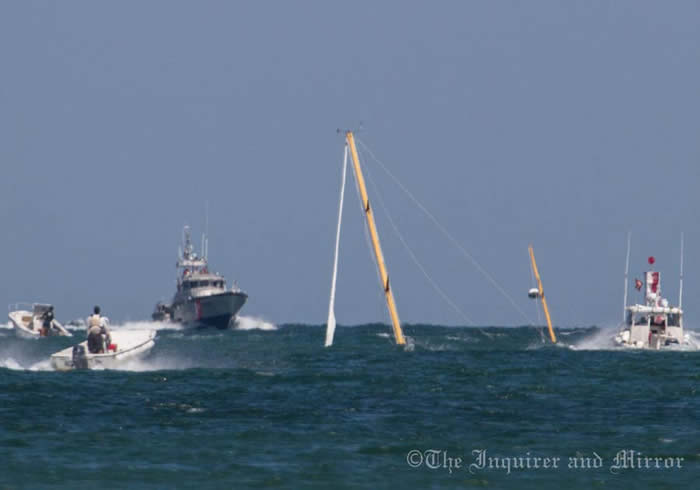 Title is more about Dice than limericks, but hey – fuck it.
There once was a man on Nantucket
Whose Swan was so big he said "fuck it!"
So he went down the line,
spied Winnie so fine,
and said "crap, we're on port, we should duck it!"
August 15th, 2014 by admin
Scribbler, sailmaker, boat designer, and waterman Ted Hood passed back in June.  Come down to Newport next week to celebrate the life of one of the real legends. From the family:
"In honor of Frederick E. "Ted" Hood  (May 5, 1927 – June 29, 2013)  the Hood family cordially invites all he has touched to a Celebration of His Life to be held at the New York Yacht Club, Harbour Court, Newport, RI  Friday, September 20, 2013 at 11:00 am.
"Parking may be limited, with overflow available on Wellington Ave., and further at the Underwood School, located just past the yacht club.  There will be people on hand to help assist in parking.  Carpooling where possible and arriving early is suggested.
"The family welcomes and greatly looks forward to seeing all that have touched his life and family."
September 9th, 2013 by admin