Posts Tagged 'North Carolina'

Outremer: Pronunciation: /ˈo͞otrəˌmer/ – A name applied to the medieval French crusader states, including Armenia, Antioch, Tripoli, and Jerusalem. Origin:  From French outremer (adverb) 'overseas', from outre 'beyond' + mer 'sea'.
The secret 'stalking horse' bidder for the bankrupt Gunboat company has finally popped up in the court filings for the beleaguered American icon, and who better to take over a high-performance offshore catamaran company than the country that invented high performance offshore catamarans?

That's what Southern France's Outremer Catamarans is aiming to do if the Court accepts their $500,000 bid for the North Carolina company's molds, hulls, marketing lists, trendy swag, and quite possibly the G4 Timbalero.  Meanwhile, our old friends and the co-designers of the G4, Schickler Tagliapetra, have already moved on to develop a 'baby G4' under the Stiletto name.

Our Senior Editor says Outremer CEO Xavier Desmarest is the real deal.  "This guy oozes passion for the sport, has a refreshing and powerful concept of loyalty to his customers," said Mr. Clean, who spent a couple of hours at the Outremer factory back in 2013.  "He seems to understand the 'business of high performance cruising' far better than most, which was probably Gunboat's biggest failing."
April 13th, 2016 by admin
Aside from a precious few standouts, mainstream US news does a pitiful job of covering sailing – a sport that can be arcane and esoteric for anyone not born to it, and one that comes with a presumption of rich, white douchebaggery.  So when a local newspaper in the middle of nowhere publishes a full feature on a small Moth regatta, it stands out. And when that reporter – the area's most senior journalist – captures exactly what happened, it's a small miracle.  It shouldn't be too much of a surprise, though: New York Times reporter and longtime SA'er Chris Museler joined the fleet recently, and between his knowledge and new US Moth Class media queen Lara Dallman-Weiss's enthusiasm and social media skills, we expect plenty of new interest and solid growth over the next 12 months.  And pieces like this one can only help.
Some sailors will tell you that if you want to go fast, you should get a power boat. That presumes that boats with sails are, by nature, pokey.

But not all.

Consider the Moth.

A small boat capable of 30 knots, Moths fly above the water thanks to hydrofoils.

Moths are the kind of boat that makes you look twice, their hulls held aloft by hydrofoil legs, high above the water that other boats ply.

In mid-November there was a chance to see Moths in action in Pamlico County waters. For a few days, just off of Steve Benjamin's newly-opened Minnesott Beach Sailing Center, the Moths zipped along several feet above the Neuse River.

Steve knows about sailing a boat fast – in early November he'd placed 2nd in the World Etchells Championships in Hong Kong – but these Moths were faster still and he'd invited the Moth sailors to come here for a weekend Moth camp with an important mission. It would be their one last training and practice in advance of a December regatta in Bermuda where they'll face sailors with Americas Cup experience.

The Neuse was perfect for practice this time of year says Anthony Kotoun, the US champion Moth boat sailor. That's because the river has the same kinds of sailing conditions he and other Moth sailors expect to encounter in Bermuda.
November 25th, 2015 by admin
New York Angels founder Brian Cohen has made his mark on the business world by investing in over 200 disruptive start-up companies, though he is perhaps best known for being the original investor in Pinterest. So when it came time for Cohen to replace his Swan, the investment legend knew it was time for something a little more… disruptive.  Even Anarchist.  Very little in today's sailing market intrigued Brian until he discovered Gunboat, and the excellent new Gunboat 55.  We rarely publish gushing reports, but given the stature of this author and our love for all things Gunboat, we thought we'd share some glowing positive sentiments from a happy new boat owner. And to Brian: Keep disrupting, bro.  And for you grommets who don't know what we're referring to in the title of this piece, get educated, and don't forget to watch the video below Brian's thoughts.

My life has always involved technology disrupters. Little wonder that meant my sailing life would also be disrupted by the extraordinary vision of Peter Johnstone and my new Gunboat family of 100 artisan boat builders in North Carolina. From the moment RAINMAKER left the dock in Wanchese, headed for NYC, I knew my life would never be the same. Being the honored owner of the very first GUNBOAT 55 comes with the great responsibility of sharing its luxury, speed and grace with whomever I could. The sailing world has forever changed!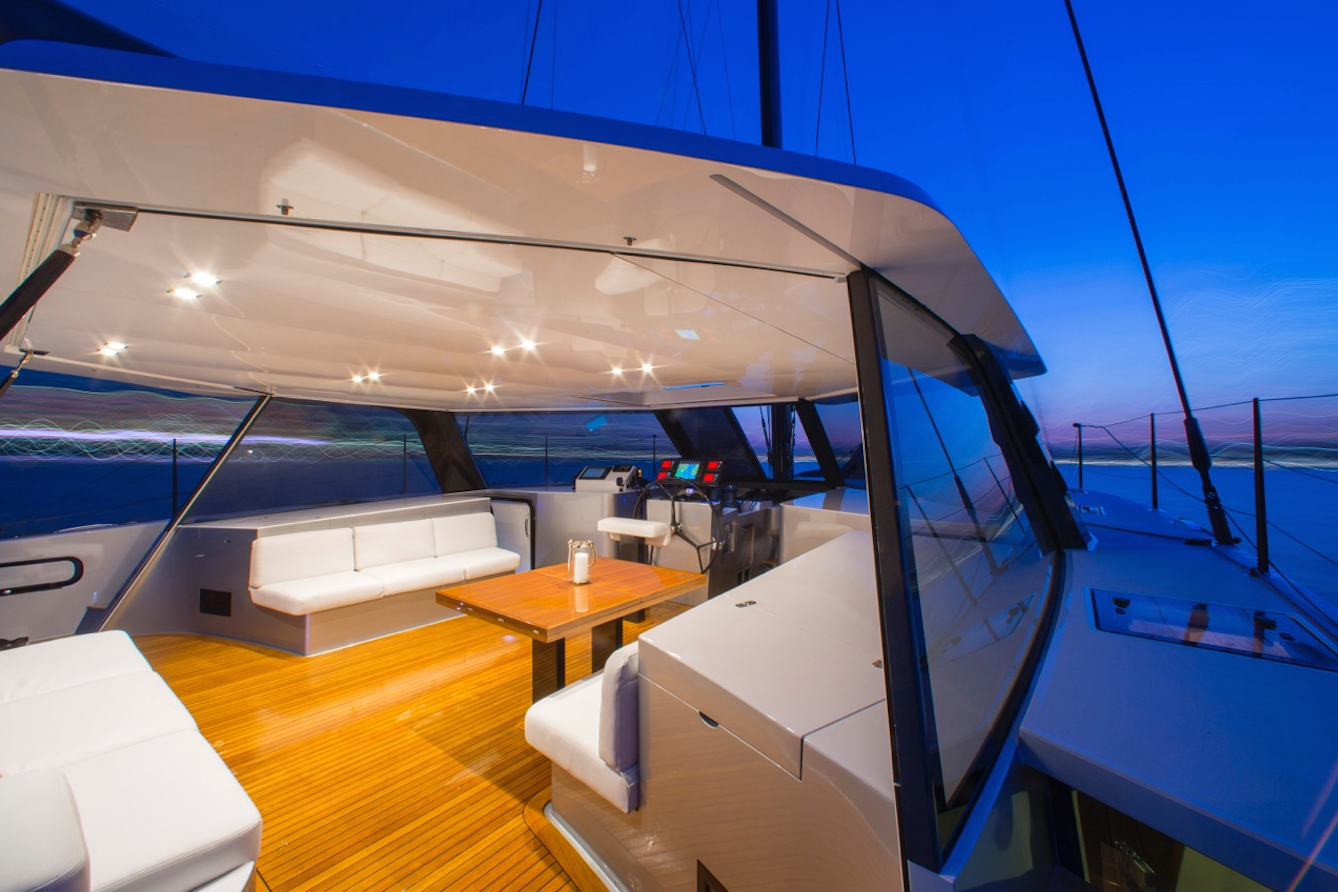 On Father's Day I took the first sail with my family on Long Island Sound and anchored in Huntington Harbor. If a sailing experience can be magical, this one was, and we all shared it together. We toasted the moment and then took turns at the wheel, sailing past every one, countless wide-eyed faces trying to figure out just exactly what it was that they were seeing.
On board we shared the exhilaration as RAINMAKER's speed dramatically accelerated, 12 knots, 13 knots, 14 knots, and screamed in harmony as she hit her stride at 18 knots. Screams gave way to giggles, everyone thoroughly enjoying the rush of fear and excitement of such an unknown experience. The boat's ease of use and power have created a new level of quality and performance expectation in the sailing universe.
My urge to sail RAINMAKER is very intense. I live in the West Village and have reserved a slip just 15 minutes away via the PATH train at the beautiful Newport Marina. Against the backdrop of the Manhattan skyline, and amongst the many 100'+ motor yachts, RAINMAKER's sailing power and luxury feel right at home.
We are fortunate to have the young but very experienced chief Gunboat skipper Chris Bailet onboard, who is quickly connecting with RAINMAKER's mind, as I become its soul. This past weekend with winds nearing 25 knots, we seamlessly climbed through speeds in the high teens and into the twenties, eventually flying faster than the wind!
I'm looking forward to getting RAINMAKER out on the racing circuit as soon as possible, our first test being the ALIR in late July, a race I won in 2002 aboard my Swan 40. If our early experiences are an indication of our potential, RAINMAKER will become a regular sight on the race course.
In the meantime, we'll be enjoying evening and weekend sails on the Hudson. If you happen to be in the New York Harbor, please come by and say hello.
-Brian
July 9th, 2014 by admin
Ben Moon takes the lead on a very breezy Friday at the A-Cat NAs. Check it.
June 14th, 2014 by admin
With racing abandoned on day 2 of the A-Cat NAs, Houston cat racer Bruce Mahoney took the chance to trial his brand new flying J/boards in 12 knots of breeze and a beautiful evening in the OBX.  Here's the interview and Bruce's explanation, along with a look at what a stable 18-20 knot ride looks like on an A-Class.
June 13th, 2014 by admin
The low country of the OBX means you can always find flat water and cheap seafood, and calms are rare; here's the first video look at racing for the largest A-Cat fleet ever assembled for a North American Championship, thanks to Richard and Rachel from Ocean Images.  Photo gallery here, news release here, and keep an eye on the SailNC Facebook Page for updates.
June 11th, 2014 by admin