Posts Tagged 'north american championship'
Day One of the Tartan 10 North American Championship sponsored by Skyway Yacht Works in Chicago, IL came to a screeching halt when a microburst unleashed on the fleet two miles offshore. Ron Kallen's M*A*S*H was dismasted when winds peaked at 67.3 knots. The storm developed only minutes after the fleet completed the second race of the day.
"We saw the storm developing to the north and it started raining lightly, but then it clocked back around and the wind shifted 180 degrees from south to north," described Regatta Co-Chair and co-owner of Meat, Brian Kennalley. "Some of the fleet didn't even have time to take their sails down before the rain started blowing sideways. You couldn't see anything past your own bow after that. We're just thankful that everyone is okay."
M*A*S*H has had a streak of bad luck over the past month when they were dismasted in the Chicago Race to Mackinac after a line of storms blew through causing two thirds of the fleet to retire. "During the Mac, it was just the forestay that broke and we were able to simply replace that," said Kallen. "Today, we didn't even have a chance to take our main down before the storm hit. So, we just kept running down on it with the boom getting sucked into the water. We think the pressure of the boom and main dragging in the water is what caused the mast to snap in four places." Race Committee abandoned racing for the day after the first squall rolled through and the radar showed that more were to follow.
After two races, 2016 North American Champion Perfect, is currently sitting in first two points ahead of Don Wilson's Convergence. "This morning we sailed out and it was pretty light from the south with some leftover swell then it built and continued to move to the right. We were excited to win the first race today and we actually had it right from the start," said Pinkerton. "We took the pin at the start with a couple boats on our hip and we continued to point higher and faster than them."
"I've had my fair share of carnage in my T-10 career," continued Pinkerton. "The boats that experienced it need to isolate the biggest problems first and try to move on the best you can. Sometimes the carnage is fixable and sometimes it's beyond control. I look forward to seeing everyone who is able back out on the water tomorrow."
The forecast for Day Two is calling for sustained winds out of the west at 25 knots. Accompanying the breeze is a 20-degree temperature drop into the 50s and 60s. "Tomorrow will be a day where people who can handle their boats will make moves on the fleet. It'll be a challenge, and we're ready for it," said Regatta Co-Chair and co-owner of Meat, Craig Roehl.
August 3rd, 2017 by admin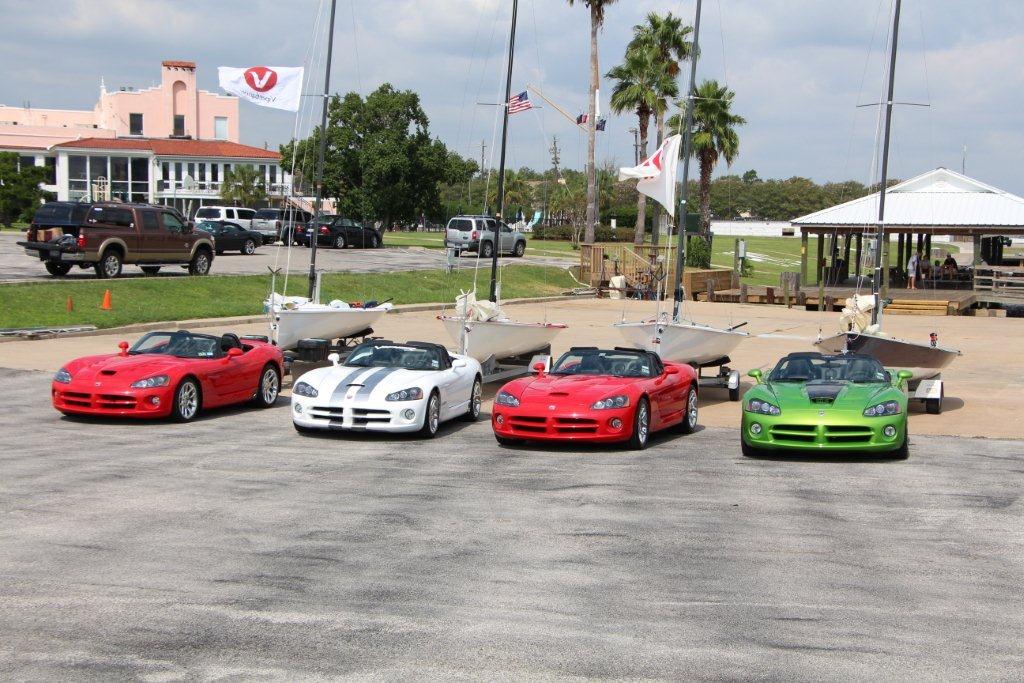 This week it's the Viper 640 North Americans at Houston Yacht Club. Texans believe that two Vipers are better than one, Babe.
Two Melges 32 owners tied for first after the second day. Two leaders are better than one, Babe.
Jason Carroll driving his Viper 640 Argo with crew Chad Corning and Danny Pletsch is tied with Malcolm Geftner's Celeritas with Willem Van Waay and Victor Diaz Deleon. Both teams are fresh from the Melges 32 worlds where Jason was crowned Champ; the Viper program is a tiny fraction of the cost of a Melges 32 program but it continues to attract some of the best sportboat sailors on the planet as both a great cross trainer for big boat owners and double the pleasure for half the cost for everyday one design sailors. In third,  Jay Gollison with Ched Proctor and Steve Flam are only two points behind the leaders, and they are closely chased by Luke Lawrence in Arethusa, Kevin Taugher in Hot Mess and Brad Boston in Jackpot. It's a field laden with talent and Anarchists.
Oh and for those Vipers that couldn't make it to Houston this year, there are another 30+ Vipers registered at the HPDO this weekend! Two Regattas are Better than One, Babe.
Title Credit from a song so old that we can't even find it online, and huge kudos to the Houston Viper fleet for creating this great cover shot at the HYC parking lot, and to KO Sailing for an incredible Texas Open Pit BBQ!
October 11th, 2013 by admin