Posts Tagged 'NOAA'
We're not sure whether the new Geostationary Lightning Mapper (GLM) will ever be able to give boat owners real-time warnings when their masts are at risk, but as you can see in the NOAA video posted today, the capability ain't far off. From the excellent NOAASatellites Youtube channel:
Lightning observed by the GLM illuminates the storms developing over southeast Texas on the morning of February 14, 2017, in this animation of GLM lightning events overlaid on Advanced Baseline Imager (ABI) cloud imagery. Frequent lightning is occurring with the convective cells embedded in this severe weather system. The green cross indicates the location of Houston, and green dotted lines indicate the Texas coastline. This animation, rendered at 25 frames per second, simulates what your eye might see from above the clouds. GLM perceives the scene at 500 frames per second, and can distinguish the location, intensity and horizontal propagation of individual strokes within each lightning flash. Monitoring the flash rate from convective cells and their extent can help forecasters improve tornado and severe weather forecasts and warnings and their impending threat to the public. At the time of this animation, the storm cell in the center of the frame was reported by the NWS to have spawned one of a number of tornadoes and damaging winds spawned by the storm complex.
March 6th, 2017 by admin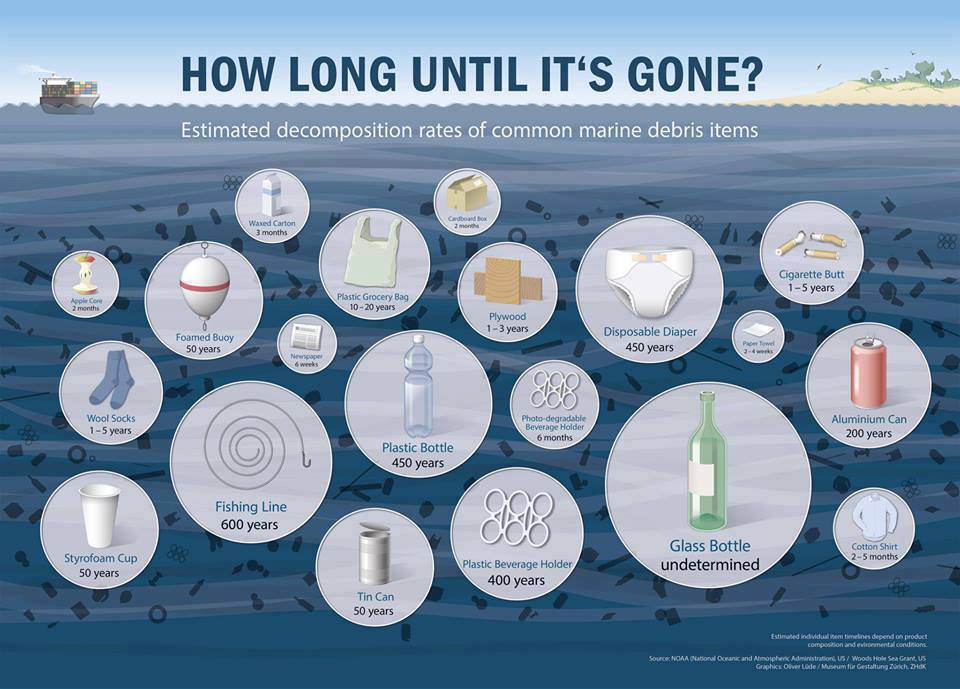 As lakes thaw and boats get loaded back into the water, take a minute to get your brain around this chart.  Maybe this year, you'll stop throwing cigarette butts over the side, or letting crew get away with tossing aluminum cans in the sea?  Everything lasts a lot longer than you might think it does, so keep it all on the boat.  Source: NOAA
April 8th, 2014 by admin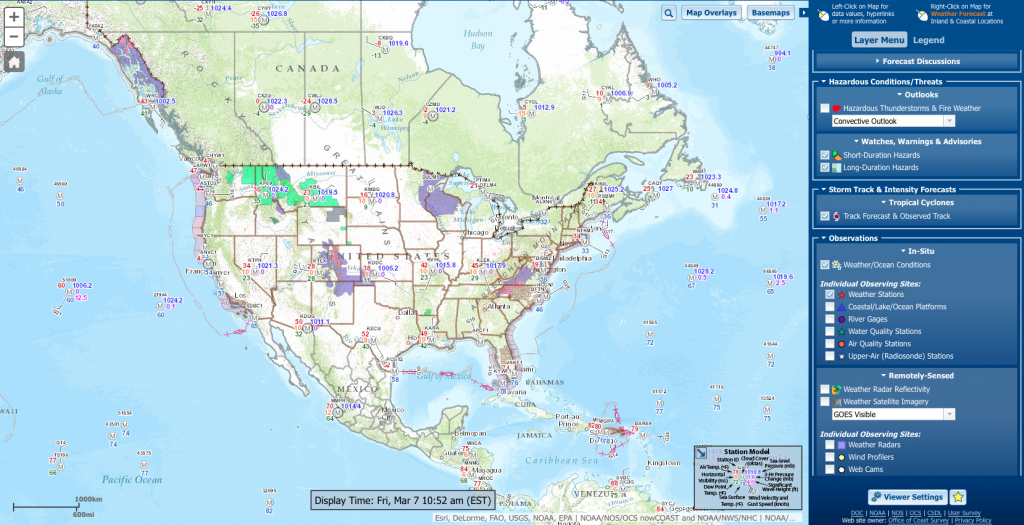 It's so rare to have anything useful come out of the US government lately that we were almost shocked to find an intricate new tool available from the friendly folks at NOAA.  Called NowCOAST, it's a forecasting tool that has similar capabilities to the tools that NOAA forecasters have on their own computers, and is a huge upgrade to the dated and crappy forecast functionality that's been anchoring the NWS for years.
NOAA says that "nowCOAST provides situational awareness on present and future environmental conditions for coastal and marine users by integrating data and information from across NOAA, other federal agencies and regional ocean and weather observing systems. For example, users can assess present conditions by creating maps of the latest in-situ weather/marine weather observations, weather radar reflectivity mosaics, cloud images from satellites, surface wind and sea-surface temperature analyses, and precipitation amounts for the last few hours. In terms of future conditions, users can obtain maps of critical weather and marine weather advisories, watches, and warnings, weather forecasts, tropical cyclone track and intensity forecasts, and forecast guidance of water levels, temperature, salinity, and currents from oceanographic forecast models."
There's more details on what the NowCOAST is about here, and after just a few minutes of playing around with it, we encourage you to do the same.  It's powerful, very rich with information, and looks quite good.  Thanks to SA'er "Estar" for the heads up; bounce ideas off him and the rest of the meteo-obesessed Anarchists in the thread.
March 7th, 2014 by admin