Posts Tagged 'new zealand'
There's a lot going on in this Emirates Team New Zealand video of the start of the Auckland-Russell Coastal Classic, and whether you're into analyzing AC50 designs, love watching 'old vs. new' shots, or you just want to see one of the world's ultimate sailing destinations in glorious HD drone shots, this short is not to be missed.  And maybe there's fodder for the "Which is better, Auckland or Newport debate" over here?
October 30th, 2016 by admin
Kiwi A-Cat sailor and past Olympian Murray Philpott died in a glider crash in central Otago, NZ yesterday.  SA'er 'TornadoALIVE' posted this obit from IACA Technical head Graeme Harbour.
The International A Class Association is deeply saddened by the death of New Zealand A Class sailor Murray Philpott in a tragic gliding accident on the 6th February.
Murray was an active long time A Class sailor for over 25 years and a regular competitor at World, European, New Zealand and Australian Championships. He was a fierce competitor who excelled in heavier weather and five top ten results at World Championships and ten National titles in New Zealand over his A Class sailing career pay testament to his ability.
He was an innovator and always looking for improvements. His latest boat in which Murray played a big part in design and construction attracted a lot of attention at the Punta Ala Worlds.
Murray was known, respected and admired by sailors from all parts of the world. His deep knowledge of the sport was guidance to all levels of sailors, from club racers to Olympic sailors and Americas Cup contenders.  He gave his knowledge happily and openly to all that sought his council.
As an active long time IACA and Technical Committee member Murray was instrumental in framing the guidelines we operate under today and could always be relied on to offer sound advise on the many issues faced by the class.
A devoted husband to one of the worlds best trolley dollies, Christine, and loving father to son Daniel and his two beautiful daughters Gabriel & Georgia.
In recent years one of Murray's greatest pleasures was racing Daniel in the A Class fleet, he was secretly becoming more and more concerned that Daniel was increasingly at the finish before him.
Murray, you will be sadly missed by all and you can take comfort in knowing that the whole A Class fraternity is here to care and look after your family.
February 9th, 2016 by admin
49er crusader Ben Remocker checks in from Porto and the Europeans.
It's been almost an entire quadrennial since Peter Burling and Blair Tuke stood anywhere but the top of the podium after a regatta.  They stood second in London, and since then, it's been 16 victories in a row, a record for any 49er sailor of any era.  But their run is in jeopardy on the final day of racing at the 2015 49er European Championship in Porto.  Just a day ago, the record looked set to continue, with Burling and Tuke having a solid day in Gold fleet when nobody else could, pushing themselves into a nearly 20-point lead.
49er championships are long, however, and Burling and Tuke have long maintained it's not been as easy as it's looked.  On the second day of their gold fleet, they muddled along with middling result, looking like normal gold fleet 49er sailors do when they each are up against the best in the sport every day.  They finished the day in first, but their lead had dwindled to 7 points, just clearing London 2012 Gold medalists Nathan Outteridge and Iain Jensen and Brit test event representatives John Pink and Stuart Bithell, Stuart also a Silver medalist from London in the 470.
A three way protest between the top three teams in the regatta brought things to a boil.  The media room was intense as all three teams reviewed the live broadcast of the incident and then took it to the jury room.  Rarely has one seemingly inconsequential mark rounding gotten so much scrutiny from so many amazing sailors.
The jury deliberated for almost an hour in the incident.  In the end both the New Zealanders and British were disqualified from the race, pushing Pink/Bithell back to 8th while Burling/Tuke are still in the hunt, only five points back in 3rd.
Over the past 30 months of Burling and Tuke dominance they have won by wide margins and small, they've won world Championships and local events, they've even won the Intergalactics, where the crews race the final double point race, but they have rarely had to come back and beat Nathan Outteridge head to head on the final day.
Join us for the final day live broadcast of the 2015 European Championship from the mouth of the river Douro in Porto, Portugal for three 25 boat medal races and a medal race in the river itself to decide the championship.  Racing starts at 10:25 local time with the medal race at 15:30.  Fantastic conditions are expected with another typical Porto day of clear skies, large swell, and strong winds.
July 12th, 2015 by admin
For our money Auckland is probably the second-best city in the world for yacht racing.  It's like San Francisco with a fraction of the shitty weather and pretentious douchebags, and we've got an hour of cityfront racing coming to you live from The City of Sails…now.
For the pre-race Press Conference, head over here.
March 13th, 2015 by admin
We've expected Barker to get eased off the helm of ETNZ for quite some time now, and the only nasty or surprising part of the affair was the shitty way he found out.  Kiwi's biggest radio station RadioTalkZB gave our Senior Editor a call to discuss the controversy over Barker's axing this morning; listen to the six minutes with host Rachel Smalley by clicking the player above.
February 26th, 2015 by admin

The Franco/Chinese team aboard Dongfeng can't seem to put a leg wrong, stringing together a brilliant day to win yesterday's Sanya In-Port Race in front of their home crowd.  And now, the real race begins yet again with the Sanya to NZ leg ready to go.
Watch yesterday's full replay below (or here), and get ready for more tight action with Chris Nicholson guest-commentating and our old pal (and 5-time RTW'er) Mase helping call the shots from the booth.
February 7th, 2015 by admin
At this point, former Oracle Team USA grinder and 5-time AC sailor Matty Mitchell's allegations against the AC34 jury and fellow competitor Simeon Tienpont are all he said/she said at the moment, but take a few minutes and listen to what the Kiwi has to offer in this excellent interview with NZ Channel 3.  He's believable as hell, and his story is frightening.  Railroaded by ISAF, burned at the altar by his team, and stabbed in the back by a lying crew mate – and now he's fighting back.  Collusion, blackmail, all sorts of nasty shit – given the way ISAF has been conducting itself lately, anyone surprised out there?  And then there's the part Oracle played…but that's another story.
It's great to see an honest discussion rather than the media-trained corporate speak we've gotten used to from Cuppers; we're hoping to speak to Matty soon, but we're not sure we need to after this comprehensive chat! Want to know more or share your view?  Hit the thread in America's Cup Anarchy.
February 6th, 2015 by admin
As the 35th America's Cup "Deadline Day" hit us here in the US,  The Royal NZ Yacht Squadron became the first team to formally announce that it ponied up the millions required for a challenge to Golden Gate Yacht Club, and that Emirates Team NZ would be their representatives. "We look forward to working with the other teams to create a great event. [emphasis ours]".  
The solo Kiwi news release, along with Dalton's emphasis on 'working with the other teams' tells us that Russell and Grant definitely haven't kissed and made up; you can expect a more coordinated flurry of news today as 'Russell's Four" – the teams that pledged their lukewarm support to Coutts and the Cup a couple of weeks ago – are likely to have worked with AC AlphaWhat on a distribution schedule.  In other words, when the Cup is ready to tell you who challenged and who is the new Challenger of Record, they'll fucking tell you, you impatient twat!
Meanwhile, RadioSport NZ's D'arcy Waldegrave grabbed Mr. Clean for a morning drive time chat about the challenges the Kiwis face on "The Sauce", also known as "New Zealand's Loosest Sports Radio Show".  Listen to it above.
August 8th, 2014 by admin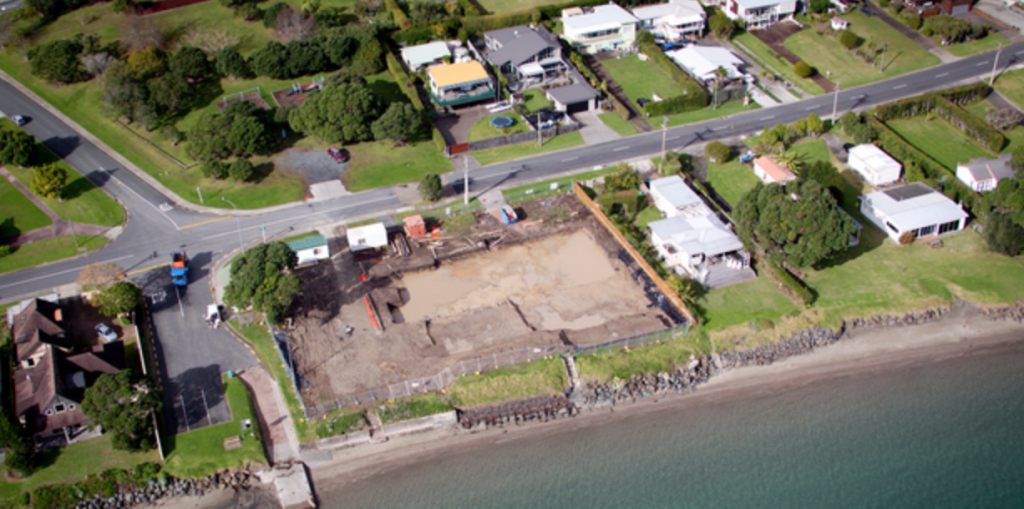 Any of you kids thinking about going into professional sailing after college?  Do it well, and you just might be able to build a $10M beachside mansion like Sir Russell Coutts!  Check it out; according to the NZ Herald, Coutts' contractors have just finished their demolition of the three houses on Tindall Beach in North Auckland to make the property ready for Sir Russell's 5-bedroom, 6-bath, 667 square meter (7200 s.f.) home.  This goes into a Coutts' real estate portfolio that includes apartments in Auckland and homes and farmland in Otago; he ain't Larry Ellison, but not too bad for a 52 year old sailor…
July 7th, 2014 by admin
It's been another interesting week in the wide world of sailing on screen; here are the pieces we liked the most:
brand new friend
The number of Americans going sailing is still very near an all-time low, but as of this week, we're in what may strike you as a surprisingly good mood about the state of the sport here in the good old US of A.  Why?  Because, based on Senior Editor Mr. Clean's time at the 3-day US Sailing Leadership Forum in San Diego, we truly believe that, for the first time since Sailing Anarchy's birth 15-odd years ago, our sport's governing body seems to be on the right track – a track that, if it continues, will lead to real growth in the part of the sport that really matters – the base.
All the Yacht Clubs and all the regional racing authorities and all the 'welcome newbies" programs can't change the fact that we need far more people sailing recreationally to get more people racing, and one of the most impressive parts of the Leadership Forum was the makeup of the 600-odd attendees; almost half were female, with a median age of less than 40.  US Sailing doled out over $7000 in travel subsidies to help dozens of community sailing staffers show up, and they were overwhelmingly young and often female; these are the folks in the trenches bringing thousands of new faces into sailing every year.
If there is one criticism of the event's format, it's that there were perhaps too many seminars and breakouts in too short a time, and while the vast majority consisted of valuable, engaging content and speakers, a handful were nothing more than disguised corporate promotions for various service providers – something tough to tell from the titles of each session, but easy to tell when you sat down and found a business card on your chair.  But aside from that – and perhaps from the Hilton's price-gouging that left the younger folks and community sailing staffers unable to have a single drink at any of the parties or even the hotel bar – Event Director  Katie Ouelette seems to have found a formula for an annual meeting of stakeholders that's fun, exciting, and advances the sport forward in a way that's been both sorely lacking and desperately needed.
Even the Yacht Club crowd was a younger and more vibrant group than we've ever seen at any non-youth US Sailing gathering, and like everyone else, they were treated to an information smorgasbord from a distinguished group of young and old speakers including our very own Mr. Clean.  That fact alone should tell you that US Sailing is clearly on a new path; it's taken more than a decade, but we welcome them to the 21st century.
If you'd like to know what US Sailing is up to, and why we think you should drop the 60 bucks and join them for 2014, watch the 16-minute interview between Clean and US Sailing Executive Director Jack Gierhart above.  Give them a shot at doing good things with your money, and we'll circle back around in early 2015 and tell you if they are living up to their promises – and you can get into the spirited discussion about it all here.  Title shout to Lloyd Cole, and look for the full directory of both the interviews we did and the useful videos posted by US Sailing next week – including Clean's face off with other leading sailing media peeps.
find out why
Until November (and beyond, really), the Volvo Ocean Race is only as good as the stories it tells.  That's why we're overjoyed that they've pilfered one of SA's videographer gems – young Sam Greenfield sucks you into the US/Turkish Team Alvimedica in this excellent piece posted yesterday.  Check it out above, and go and like Sam's page here.  Whether or not the Volvo can handle his unconventional and no-compromise style, he'll always be welcome here.
may the force 10 be with you
Who says you can't sail in a hurricane?  Not the Red Bull Storm Chasers, and after a ridiculous 3rd stop in winds of ludicrous speed, France's Thomas Traversa is the new king of the hurricanes.   There's an excellent full report of the final stage of the three-event world-girdling event here.
mind over matter
Big money and big restrictions flowing from the Cup has stagnated most sailing videography over the past couple of years, and that only makes the sexy stuff coming out of UK production house RedHanded TV look even better; check out this trailer from the upcoming windsurfing movie Brutal Addiction.
neither fish nor fowl
The boys from ETNZ continue to crush the A-Class Cat Worlds fleet, in an odd Takapuna Worlds where some of the fleet is foiling some of the time, and none of the fleet is foiling in anything you'd call 'control'.  This is largely because the daggerboard designs are limited to the non-acute angles of board that can be 'fit in from the top', as required by A-Class rules, and without a stable Groupama C or ETNZ-style 'J' board, or a sophisticated system of controlling the more open "L" boards (like OTUSA or Hydros), the boats fly in fits and starts.  It's still faster to fly than drag in the breeze they've had, and aside from one DNF due to a rudder hardware failure, Ashby is on the verge of adding another one of these to his trophy closet.  This vid from Argentina Marine Media is the best we've seen yet, and you can find some great Cathy Vercoe pics here, and some video from Beau Outerridge here.  Of course there is plenty more first-hand reporting and debate about the recently defeated vote for a proper foiling rule in the thread, which will continue to rage on until someone makes a bold move either towards, or away from, the light. 
Former US A-Class Prez Bob Hodges put together a succinct note summarizing his views:
For those on this thread who are currently not active A-Class sailors and/or who have never sailed the boat.
The decision of the class as a whole to not change the current rules is because we are a cautious and conservative lot that do have a vested interest in how the boat and class evolves. I don't think you can appreciate that perspective until you own an A-Class and you actively sail and race it.
It's important to note that the top five at the WC currently are paid pro sailors. Theyare great guys, very approachable, and very supportive to their fellow sailors. But they do enjoy the advantage of someone else paying the bills when it comes to the equipment they are racing in this event. They understand the implications of what can happen if the class rules are changed to where the average A-Class sailor's financial means cannot keep up with the development. How many of you can afford to race a C-class?
I consider myself in great physical condition for my age (55 years old). We have a huge range of sailors in this class from their 20's to their 70's that have been able to race the boat across the wind range of our class rules (5-22 knots). The boats have become much easier, safer, and more enjoyable to sail with the addition of curved daggerboards and rudder winglets. But there is no doubt that foil packages that actually fly the boat will raise the physical requirements to sail the boat. I'm excited but at the same time concerned that I may not have the physical stamina and agility to competitively race the boat at the performance levels I am seeing at this WC. If the physical requirements to sail the boat increase by say 25%, we could see a vacuum created that would need to be filled by younger sailors who probably do not have the financial means to own the boat (a Moth is 1/2 the price if you want to foil).
As the boats start to fly and the speeds increase to the low to mid 20's, mistakes will be harsh on not only the sailor's bodies but on the structure of the boat itself. The current boats are amazingly strong and durable. If we start to routinely fly, it remains to be seen whether the boat's can handle the different load and torque dynamics on a routine basis. Crashing at over 20 knots of boatspeed will be hard on a boat that only weighs 75 kg and has a 29′ tall lever arm pushing the bows down, totally different dynamics than a Moth going over the cliff. If breakages and failures get out of control as the boats begin to fly, there is the potential for another vacuum to get created both in terms of losing sailors but also builders who get driven out of business because they cannot keep up with the warranty claims. There is also the insurance question. If the A-clas becomes a boat that has the potential for substantial damage in a routine "crash", no insurance company will want to offer coverage. Some will not insure our boats due to mast breakage claims.
From my own standpoint, I don't need to foil for the pure sensation of speed. I own a quiver of sailboards that in 15-18 knots are capable of sailing faster that an A-Cat will ever go even on foils and I can do that at a lot cheaper cost and at much less risk to my body and my financial investment in equipment. That is a perspective that I believe many in our class share.
I'll speculate that it's possible Landy's strategy for racing a "conventional" boat is to not only sail what he is the most comfortable with but also to be a benchmark in this championship that will be important for the direction he leads the class as its class president. Scott Anderson's performance so far is a great reference point as he typically does not trapeze downwind nor is he sailing a foiling package I believe. Scott is also in his late 50's so represents what is possible competing against the younger guns in the top five that have the financial support of TNZ. If the breeze truly lightens to the 5-8 knot range for racing later this week, it will be very interesting to see how Landy and Scott perform. This is an exciting but kind of scary moment for the class. I hope we make the right choices to keep the class as vibrant as it currently is.
Bob Hodges – A-Class USA 230
February 13th, 2014 by admin