Posts Tagged 'new zealand'
As many of us prayed for, the next America's Cup will indeed be a flying one.  No keel, ballasted foils, and a bow profile that looks more like an alien critter than a boat.  All in all, we dig, and how about the fact that it's actually early?  Discuss here, full release from ETNZ here.
To go back and listen to Dalts explaining all about their decisionmaking process, go back to this podcast from earlier in the fall.
November 20th, 2017 by admin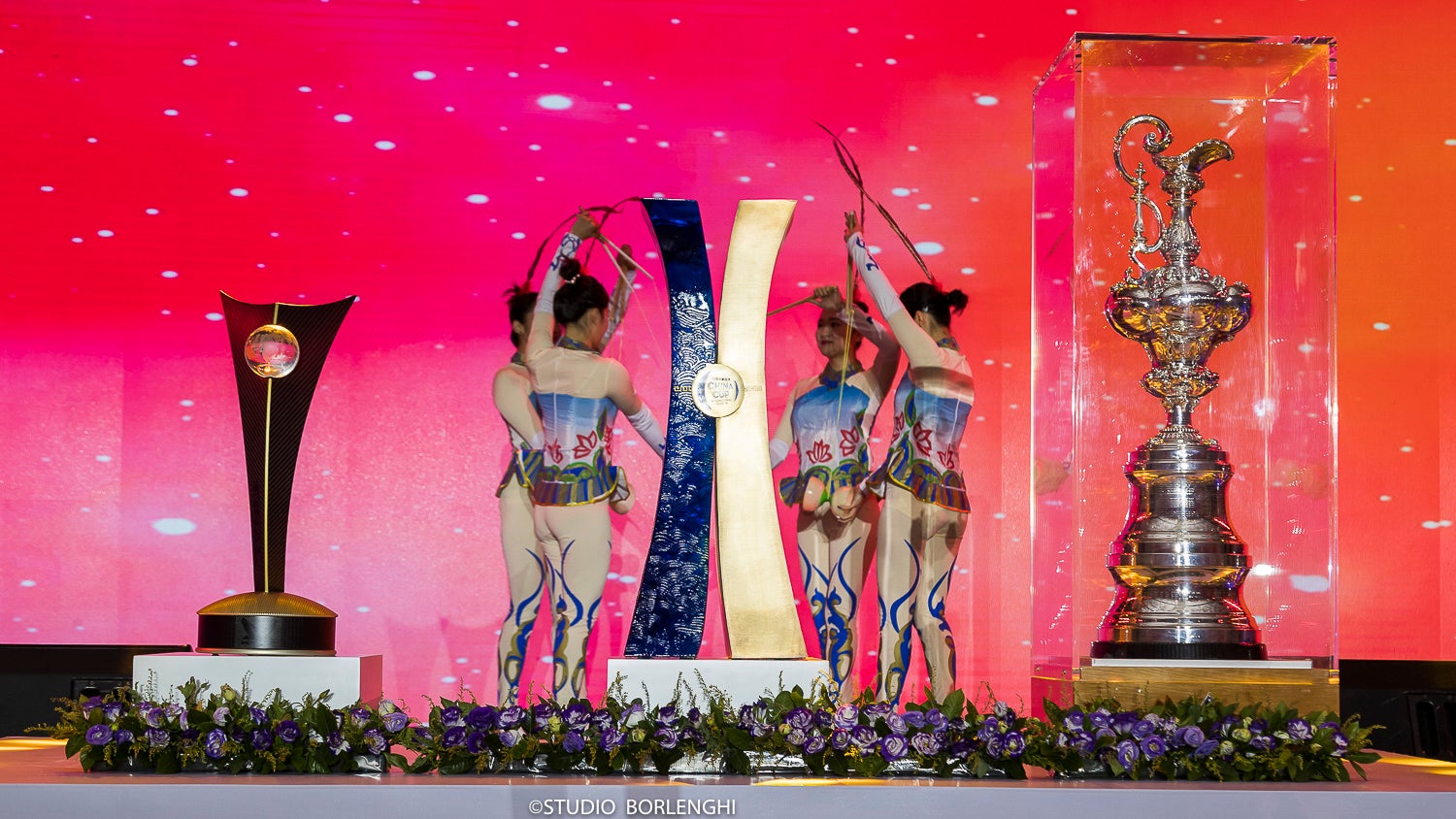 We're not sure what to make of the China Cup (or this Borlenghi pic) other than noticing that the regatta seems to have spent a few million dollars to pull off what's become quite a big fixture in this neophyte sailing nation. Now in its 11th year, the regatta attracts racers from around the Western Pacific, and for 2017, Team New Zealand entered a partnership with China Cup organizers  and sponsors, bumping turnout and spectators for the big boat, one-design, and World Match Racing Tour portions of the week.  The Kiwi team brought the America's Cup to be displayed all week at the event site and entered an all AC-crewed Beneteau 40.7 in the prestigious (for China!) Bennie one-design fleet – and unsurprisingly, they won.  Meanwhile, just a couple of years after the World Match Racing Tour tried to change the world with million-dollar payouts and multihull match racing, the Match Racing World Title is struggling to find relevancy in this post-cat America's Cup World – and based on the prize money actually awarded for the event, they're struggling to find money as well.
The Chinese don't have that problem at all, with an over-the-top production of just about everything at the event that far exceeded anything done in previous years.   By bringing in sailing's top photographers and video crews, loading up boats and venue with thousands of pieces of branding, and hosting incredible parties, shows, and ceremonies, are Organizers trying to prove to their new partners that China is ready to put together a team for its second-ever America's Cup?  Check out more weird shoreside and good on-the-water pictures from Carlo Borlenghi in the gallery here.
In other Kiwi/Far East news,  two NZL teams took gold and two bronzes at Japan's first Olympic 'test' at the site of the 2020 Games.  More noteworthy for the typhoons that bracketed the event week than the actual racing, the Kiwis are back on form with Meech/Maloney (FX) and Tom Saunders (Laser) taking golds and two others teams taking bronze medals – and that's without huge favorites Burling/Tuke even on the entry list.  Details here.
October 30th, 2017 by admin
Anarchist yl75 caught a juicy little tidbit in the very latest edition of french sailing rag Voiles & Voiliers about the next America's Cup.  The French editors are typically quite credible, and while this rumor stretches the bounds of reality a bit, it actually gybes with what we've heard: A giant, lead-free beast that will be tough to keep from falling over in light air, while foils will create righting moment to deal with the forces in the heavy.  Here's the translation of the French piece:
"From a well-informed source, we can already announce that the AC75 will have a total beam of 18 meters (due to gigantic foils) and no keel, for a total displacement of 5 tons.  Imagine a 75-foot sailing dinghy flying over the water with the possibility of capsizing…"
Read more in the AC Anarchy thread.
October 28th, 2017 by admin

We learned a few key things in today's AC36 protocol announcement in Auckland.  UPDATE: PROTOCOL HERE.
RNZYS Commodore Steve Nair should never, ever try to pronounce an italian name again.
The boat is a 75-foot long monohull, and the design details will be complete by next spring
Cost containment is a fundamental principal
The boats will need to be build in the country challenging.
Nationality rule: Citizenship requirement is a mere 20%, the rest of the sailing team needs a strict residency requirement in the country they are representing. "It's not a strict thing, but it's an attempt
Cup is Auckland 2021, but there's no infrastructure or plans yet.  2019 and 2020 there will be pre-regattas.
Two boats allowed per team.
Challenger series will be organized by the CoR.  AC will be organized by the defender.  Joint group for broadcasting/sponsorship/umpiring and other common issues.
Facebook Live means journalists can stay at work or at home, cause they sure didn't show up to the press conference.  Thank you ETNZ!
"They might be" foiling.  The next boat will be presented in November and it 'definitely will be an exciting boat'.
Some one-design componentry, some supplied parts likely.  Development 'open in the really important areas'.
10-12 crew, bicycles allowed.
No tank testing allowed, no wind tunnels.
If for any reason, it can't be in Auckland, it'll be in Italy.
Prada Cup.  Yes, Louis Vuitton is gone, and Prada is not only title sponsor of the challenger series, but presenting sponsor for the big one.  Does LV have the balls to return on a Challenger's sails?
Independent regatta directors and race management, similar to Bermuda setup for RM.
Longer races, ~40 minutes.  Longer pre-start, upwind start.
Watch it all above, and weigh in here.  We're talking to Dalts tomorrow for the SA Podcast, so add your questions for him here.
September 28th, 2017 by admin
In a move that's been telegraphed since we first reported on some of the inter-team intrigue while in Bermuda, Luna Rossa boss Patrizio Bertelli announced in an interview with La Stampa yesterday that America's Cup 36 will indeed end the reign of the America's Cup multihull in favor of something significantly slower.  ETNZ was forced to send out a confirmation of the lead-assisted future after Bertelli broke the news, explaining that ETNZ design coordinator Dan Bernasconi has been working on a number of 'exciting monohull concepts' with potential challengers and designers .  The Kiwis maintain that the new Protocol will be available by the end of September.a
The decision is as depressing as it is exciting:  The last three cycles have seen more innovation in high performance sailing than in the previous 30, with the Cup going from a dopey exhibition of obsolete design and sailing technique to an honest-to-goodness extreme sport whilst dragging the entirety of the sport along with it.  Consider: Without the DoG battle, there's no AC72.  Without the AC72, there's no foiling multihulls and no L/J foils.  There's no foiling A-Cat, no GC32/EXSS foiler, no Phantom, no foiling Nacra in the Olympics, and the monohulls aren't immune to the effect; the foiling IMOCA/Volvo Super 60 owes its existence to the ETNZ innovation.  Literally every exciting development in fast sailing since 2012 has come directly from the AC cats, and their inclusion in Sailing's 'pinnacle' finally gave credibility and respectability to multihullers – sailing's redheaded stepchildren for a century.
On the other hand, with the true 90% ballast ratio'd leadmines finally dead and buried, the new focus on what we expect to be an upwind-and-downwind foiling monohull may drive a new age for monohull sailing, and that's something to celebrate.  For far too long, the Moth has been the only monohull foiler to set the world on fire, and a few hundred million in development could work wonders towards bringing their level of performance that much closer for the average dinghy or (lightly) ballasted monohull.
So what will it look like?  We'd love to think it's wide open, with the ETNZ board and Bertelli's management allowing all sorts of development variations.  Centerline T-foils, mixed horizontal and vertical appendages, powered control surfaces – all the gadgets.  Unfortunately, that ain't reality, and there's no way Dalts is going to give away his biggest competitive advantage – Guillaume Verdier's knowledge of big monohull foilers – by allowing an outlier design the room to shock the world.  Look for something like the Volvo's Verdier design brief, but with lighter weight, more appendages, and a clever control system. We expect AC36's racers to look far more like cats than any monohull you've ever seen.
September 11th, 2017 by admin
Like flies to honey, the chance to solve a big civil engineering problem always draws out the clueless creative types, and the 36th America's Cup is no exception.  Auckland's architects and thinkers are now flooding the media with ideas on where, exactly, to hold the AC in a town that's busting at the seams.
Ignoring the total lack of understanding of the scale of a race course is the above 'stadium sailing' proposal from this Noted article, and it's not the best or the worst – just the most fun.  The blurb for the stadium pitch is below, and 7 others are in the piece.
Herbst Architects  like the idea of the Cup being a catalyst for the development of infrastructure, and they've identified two key pieces that are missing from the city: a second harbour crossing for mass transit rail, and a stadium. Their cup proposal provides both, positioning a stadium as a feature in the Waitematā between the city and the North Shore, loosely aligned with Wynyard Wharf. The stadium would be designed with a playing field that can be dismantled to allow America's Cup races to be run between the grand-stands. Access to the stadium is via the mass-transit rail tunnel beneath.
August 10th, 2017 by admin
It's about twice as long as it needs to be, but this slow-mo video of ETNZ fans' agony and ecstasy in 2013 and 2017 digs straight into your heart no matter where you call home.  We've got plenty more AC content coming your way over the next week, but nothing like this – a window into just how much winning the AC means for a tiny nation at the end of the world.
July 1st, 2017 by admin
Clean Report
With Pete Burling and the kiwis just one win away from the rematch of 'sporting's greatest comeback' and a seemingly unsurmountable speed advantage over Nathan Outerridge's Artemis Team, today will likely see Emirates Team New Zealand skate through to another America's Cup.  Radiosport NZ's Darcy Waldegrave gave me a call last night to dig into the Burling vs. Outerridge starting dynamic on the air as well as to go over some of  TNZ's reliability issues and some interesting AC Organizer drama…listen to it as you get ready to watch the Scandinavian team's last hurrah today at around 1300 ET.
To talk about the live action and get updates, clicky.  If you miss it, clicky to catch up.
June 12th, 2017 by admin

The buzz in Bermuda is that the Kiwis are not just ready; they've rebuilt their boat stronger than before, and both Emirates Team New Zealand and Softbank Team Japan sit on 3-1 scores going into a busy day on the Great Sound.  12-16 knots will greet the four teams at 1 PM East Coast time, and Barker and Burling can both wrap things up by taking two of the three races scheduled today.  For a great look at how the team came together to handle a huge 'fix-it' list to be ready for yesterday's called-off racing, watch this Vodafone vid.
With Barker sailing a stellar regatta, ETNZ's decision to take on Big Ben before the BAR team figured out how to get rid of their case of 'The Slows' is looking smart indeed, and if Outteridge and Percy can't get their shit together, the storyline for the Louis Vuitton Cup is compelling, indeed.  The upstart Japanese with the legendary Kiwi skipper taking on the behemoth he once bled for, and which canned him after the debacle in San Fran.
Will the pretty blue boat make it a match?  Will Burling get manhandled again on the start line?  We don't know, but the racing is damned good and we're certainly gonna watch.  You can, too.
June 8th, 2017 by admin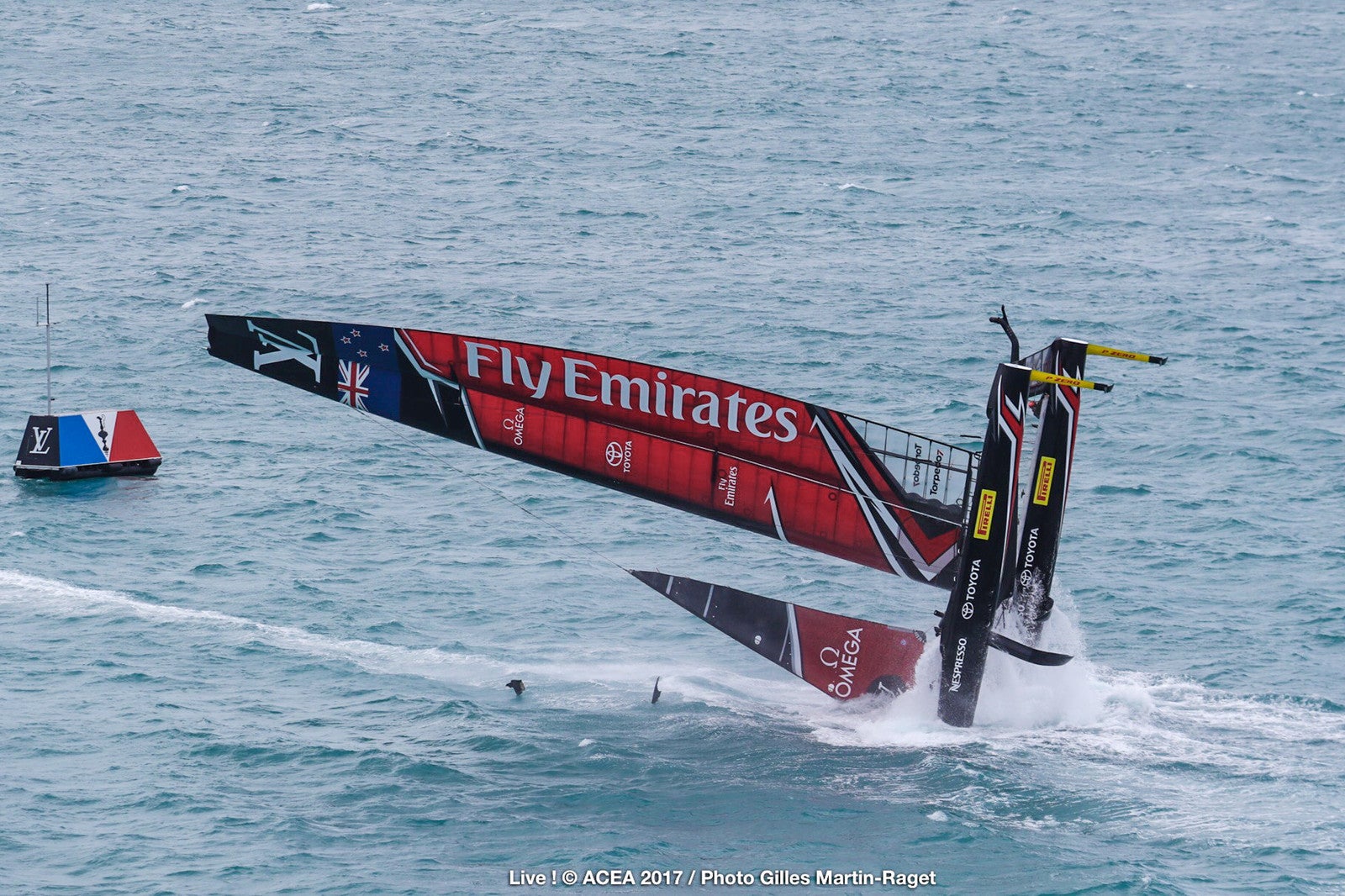 Gilles Martin-Raget was in the right spot at the right time to get this shot of Emirates Team New Zealand in the most stable position possible; on their side with a wrecked wing, destroyed fairings, and likely plenty more damage.  Burling pitched it into the piss at the start of their final race of the day after easily handling Sir Ben in the earlier race, and now we get to see just how their smaller budget has effected the New Zealand spares supply.
Artemis shit the bed a bit, dropping two more to Dean Barker's laid-back bunch in a fun and expletive-laden couple of races that included a 30-knot squall and spectator boats on the race course.  In real breeze, the issues change completely with these boats, and with more dogs-off-chains stuff likely for the rest of the series, those that can stay in one piece may just find themselves battling for some Louis Vuitton jewelry next week.
Analysis and chatter here.  How to watch replays here.
June 6th, 2017 by admin