Posts Tagged 'New York'
A beautiful obituary for what sounds like a beautiful character in a sport that's got quite a few of them.  With thanks to SA'er 'dacapo' for the notice and the photo.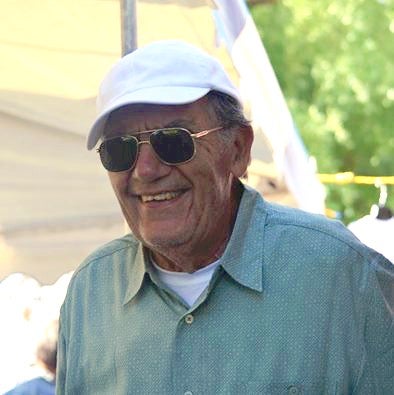 You may not have known know Sal, but I'm sure you knew someone like him.  Sal was a real competitor.  The twinkle in his eye as he herded you to the wrong side of the course to get stuck in a wind hole that only he knew was developing as he tacked back into pressure.  The loud crazy Italian whose arms flailed as he prodded his crew to work harder, faster as they win the start and never look back at the rest of the fleet.  The fountain of knowledge who would pull me aside and call me foolish for tacking too soon…as he sailed to the layline and made the perfect tack to the mark.
Sal won in whatever boat he owned at the time. In the 1960-70's, he raced a lightning with his family.  Then, for a short time in the 70's he regularly won in the  Ensign Fleet. As Sal got older, he bought a Catalina 25…and encouraged 6 other to do the same.  They raced in a O/D fleet until they all decided to go bigger…and they all traded up to Catalina 30's.  Mother Goose has won more races on the Hudson than any other club-owned boat that I know…correcting over the big boys with race boats was his favorite challenge. His boat sailed above its handicap; he could nudge out that extra 1/10 of a knot , when everyone else couldn't seem to find it.
Sal was the first person to call you a chooch if you fucked up, but he was also the first guy to lend you a hand if you needed anything.(except for extra crew 😉  Sal treated his crew like family. Making dinner for them every Wednesday evening before racing and bringing wine and cheese after every weekend race.
He knew the race results before the scorekeeper did.  He knew the standings and what it took to win a series or regatta.  his mind was always sharp.
Sal won his final race of the 2016 season 3 weeks ago, making him our 2016 overall club champion by percentage points and today he passed away from cancer.   I will miss Sal very much on and off the water.
8 Bells, my dear friend
October 21st, 2016 by admin
In this piece, Brian Hancock analyzes the coming NY-Vendee Race for Open 60s after Mr. Clean went over to the Big Apple for a few hours to do some interviews and finally get that ride on Hugo Boss.  They did not win the exhibition/charity race (Mich Dej/Paul Meilhat on SMA caned it), but at least the 14 stallions were able to run a little bit in a rare 8-12 knots of reliable breeze in NY Harbor, and it was a site no one has ever seen before (though as with the ACWS, New York doesn't really give a crap).  Clean's race video is in here and SA Podcast # 6 next week will include some excellent interviews and a detailed discussion about the good, the bad, the conflict, and the controversy of the Vendee Globe – fans of solo ocean racing won't want to miss this one.  Big thanks to former "The Beat" host Katy Nastro for the production help, with photo credit to George Bekris for the shots above and below.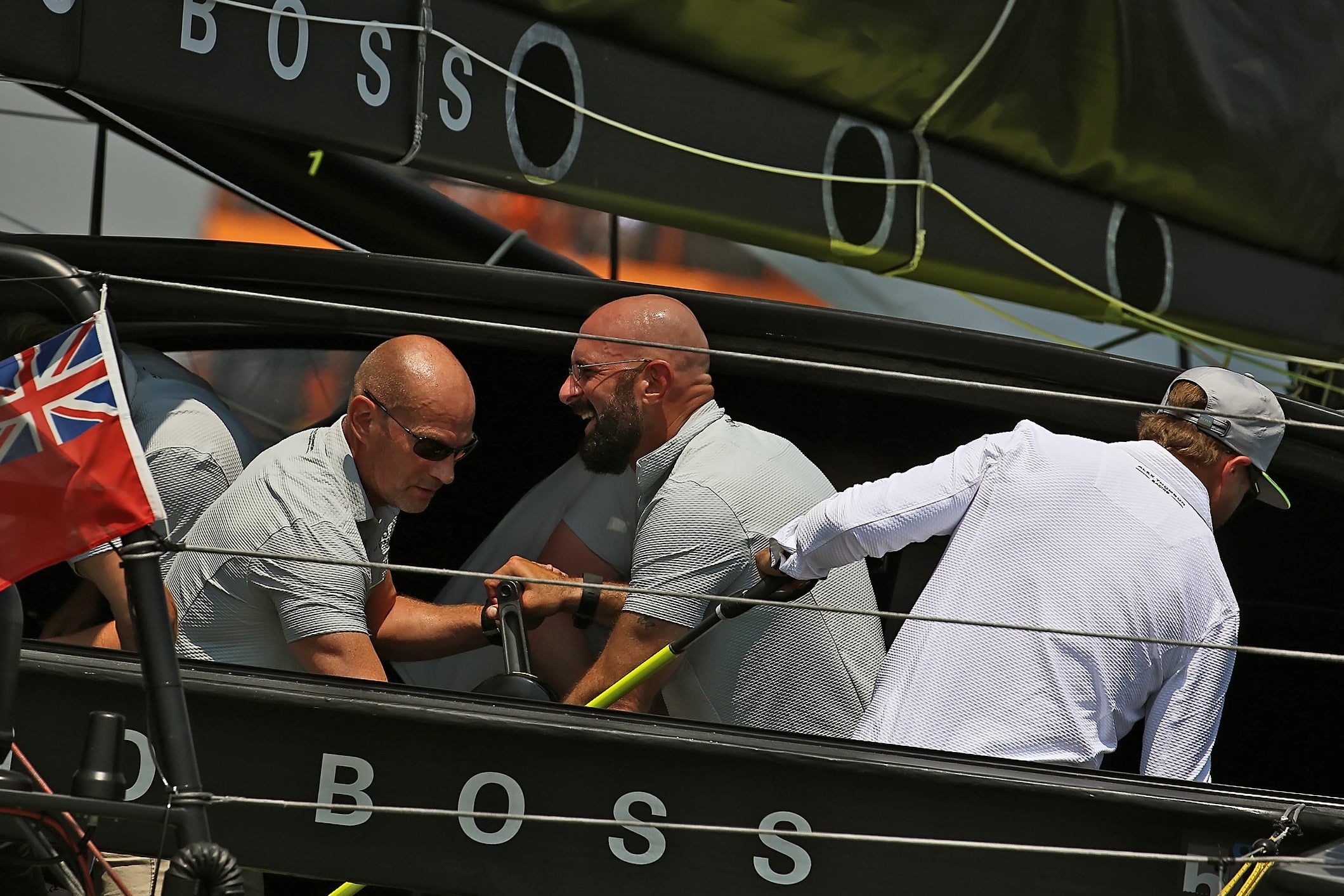 This coming Sunday New York City will be the backdrop to one of the newest ocean races on the calendar. The New York-Vendée race is essentially a feeder race for the Vendée Globe which starts in five months from France. It will provide an opportunity for the skippers to complete their qualifying voyage in order to take part in the Vendée Globe. The turnout for this inaugural event is very good with 14 IMOCA 60s lining up for the start. Among them are the who's who of solo sailing including previous Vendée Globe winner Vincent Riou on PRB and Armel Le Cléac'h on Banque Populaire. Le Cléac'h finished second in the last Vendée Globe and is the odds-on favorite for the next one. Also competing will be Alex Thomson aboard Hugo Boss. Thomson finished third in the last Vendée and is back with a brand new boat.
The race starts at 14:00 EST on the Hudson River and exits the mouth of New York harbor at Sandy Hook before crossing the Atlantic to finish off Les Sable d' Olonne on the west coast of France some 3,100 nautical miles away. It's going to be a very interesting test for both skippers and their boats. Until now most of the head-to-head racing that they have done has been upwind. This race will be a downwind sail and designers and pundits alike will be keeping a close eye on whether those boats equipped with foils will do better than those that do not have them. The conditions of the New York-Vendée race will be more similar to those of the Vendée Globe.
Of the 14 entries, 9 are French with the rest from New Zealand, Finland [Finn Air entry has withdrawn and manned the HB pedestal with Clean all Friday -ed], the Netherlands, UK and my old friend Kojiro Shiraishi from Japan. Only Thompson from the UK stands a chance of a podium finish otherwise it's going to be a French dominated race. The first boats are expected to arrive in Les Sable d' Olonne in a little over a week.
May 28th, 2016 by admin
Thanks to SA'er 'Francis' in the Saxophone piece below we've already heard how much better the AC folks – with help from NY Organizers – have gotten at the overall ACWS atmosphere – at least if you are on the ground.  Unfortunately for the sport and fans of competitive sailboat racing, they seem to have gotten worse at everything else.  Here's what the world – and the Anarchists – had to say about the actual race viewing in Manhattan.
Manhattan Mixer
Ben Ainslie echoed the sentiments of all sailors in this piece decrying the ridiculous race management necessitated by choosing an idiotic venue, and wondering how much more the AC is going to sacrifice in the name of the almighty dollar, and how far down on his knees Russell Coutts is in search of the almighty dollar.  SailorGirl Nic Douglass caught up with Ben here.
SA'er '_____' brought his family, with a mostly negative review:
We were there on Sunday. The damn buildings…completely wrecked what would have been a puffy enough NWerly.  The course was too short. The boats looked like pinioned ducks trying to fly off the pond.  The crowd cheered to "let's hear it for team USA". Which I found bemusing.

I said to my kids, "I'm cheering for the French Team–I bet there are Frenchmen on it!" Apparently there was a french couple near us that heard me. Not sure they appreciated that bit of boorish Yankee humor–I'll never know (my kid speaks french but didn't hear anything other than a few words here and there).  There were a lot of foreign languages–I heard French, German, Spanish, possibly Russian. Lots of people there.

I was glad to have seen it, but frustrated by what was obviously a PR spectacle.  The Newport event without hydrofoils was much better in last go around–the boats got up to speed at least.

It feels like these toys are expensive, and the guys paying for them need their exposure, and that that is more important than making a viable set of races. Which is too bad. At least NASCAR builds tracks big enough.  The ferry terminal with the tarpaulin design got in the way of watching. So did the sculpture. And the buildings on far side problem.  Not sure this is such a perfect location. Somewhere else along the river would have been better perhaps. Maybe not really.
'6924' snarks in:
I was there all day Sunday, great event, plenty of noobs, plenty of brooze, and beaucoup ladies. My group got pleasantly tipsy, watched a little sailing, and tried to behave adult.

Only a killjoy would complain about the corporate vibe, the stupid courses, the dumb Sh"t commentary, and the overbearing security

They should do this every year – maybe have a night race with flaming torches on board the boats or topless dancers on a barge in the river too.
Live: Dead
'pwormwood' summed up the wholesale failure of the live racing feed, echoing hundreds of comments on SA and the various social channels.  We searched high and low, in three different languages, and still could not find even a remotely positive review of the broadcast, whether you paid for it on the app or watched it on pay TV.
Unbelievably bad TV programming – they interrupted 11 minute races with 2 minute commercials, completely missing the finish of one race and spoiling the ever changing plot in the other two.  Then they fill the time between races with fluff bullshit rather than get the commercials out of the way.  WTF – the commercials so destroyed the continuity that it was frustrating rather than pleasurable to watch the racing.  With three 11 minute races in an hour of programming, there are 27 other minutes for commercials.  A normal TV show has about 15 minutes of commercials, so there is more than enough time for commercials without interrupting the racing.  It is amazing to me that a good sailor like Russel can watch that hour of programming and think to himself: "I can't wait for my sailing buds to watch this – they'll love how we captured & clarified the racing…".  Frankly, I was embarrassed for having invited a sailing friend over to watch it…and I won't do that again.  Fortunately, with the M-32's, the GC 32's, the TP 52's, and even the Stars, there's plenty of performance sailing to watch that allows you to view an entire race, start to finish.  In terms of quality of content, the AC is looking up at ALL of those programs.  I was glad to hear that the on-site experience was much better; but you are not going to develop a sustainable financial model just filling the "stadium".  If you're going to completely bastardize the racing to fit a TV program, you ought to at least make it a good TV program.
In an unrelated note, Longtime SA'er and New York Times reporter Chris Museler stayed away from criticism and grabbed a meaty look at how the young guns were displacing veterans in this piece.
People like the fawning Jimmy Spithill and the foreign sailing press can be forgiven for their ignorance of the realities of New York; the 'huge crowd' along the water was anything but impressive to folks who know a hundred thousand new yorkers and tourists will turn out to watch paint try if it's colorful enough.  When we asked a highly respected journalist about the AC's claim that '75,000 spectators lined the banks on Saturday', he gave us a great answer: "If bullshit were music, they'd be the Kings of Jazz!"
And while surely the handbag-sellers, watch-purveryors, and financial product pushers will be overjoyed with the b-to-b and hospitality trips that New York makes so easy, but by any logical metric, the ACWS New York failed to deliver anything of value to the sport or to a meaningful portion of the public.  Friends of Sailing Anarchy at the NYFD estimated around 50,000 people combined over two days, which would be a great number in a small town, but in New York, isn't much higher than the number that would be through there on a typical weekend.  Remember when 50,000 people for the Volvo Ocean Race Miami was a huge failure?  New York makes Miami look like a country town, and with the joke of a competition put on by the event, there's not much to build on when and if they return.
Once again, the Bermuda America's Cup cycle confirms what we've said all along; the greater public, the sailing community, and the sport are all just an afterthought, and you should feel lucky that they give you and the rest of the peons even this piddling amount of consideration.  While the in-person experience is worth the trip if the venue allows decent sailing, the rest of the decisions – format, venue, TV and internet, marketing, commentary – are destined for history's dustbin as soon as someone competent takes over in (hopefully) a year and a half's time.
Read the ACWS NY thread for the most complete wrapup of the event.
#nevercoutts
May 11th, 2016 by admin
America's Cup organizers continue to face the karmic consequences of the theft of the event from American shores, with the latest face slap coming from New York City's weather.  Sunny and bright last week turned to torrential and winter-like this one, with more rain and temps in the 50s on call for the big ACWS show this weekend.
America's leading sports commentator and long time NBC Olympic anchor Bob Costas made headlines during an otherwise quiet press conference when he summed up America's understanding of yacht racing in a question to French skipper Franck Cammas, "Does the French team have plenty of wine and cheese onboard?"
Page six said there were 'gasps from the audience' who wondered whether Costas would next ask if Sir Ben had Yorkshire Pudding aboard his boat, not understanding that Americans don't know what Yorkshire Pudding is, and that the latest Louis Vuitton mess has only made the public's perception of yachting worse – an almost impossible accomplishment.
For your own slice of pudding, watch the full presser here, with thanks to Nic the Sailor Girl.  We'd send you over to watch the racing if we thought it would be worth it.  Spend your time (and not your money) here instead.
May 6th, 2016 by admin
New York Angels founder Brian Cohen has made his mark on the business world by investing in over 200 disruptive start-up companies, though he is perhaps best known for being the original investor in Pinterest. So when it came time for Cohen to replace his Swan, the investment legend knew it was time for something a little more… disruptive.  Even Anarchist.  Very little in today's sailing market intrigued Brian until he discovered Gunboat, and the excellent new Gunboat 55.  We rarely publish gushing reports, but given the stature of this author and our love for all things Gunboat, we thought we'd share some glowing positive sentiments from a happy new boat owner. And to Brian: Keep disrupting, bro.  And for you grommets who don't know what we're referring to in the title of this piece, get educated, and don't forget to watch the video below Brian's thoughts.

My life has always involved technology disrupters. Little wonder that meant my sailing life would also be disrupted by the extraordinary vision of Peter Johnstone and my new Gunboat family of 100 artisan boat builders in North Carolina. From the moment RAINMAKER left the dock in Wanchese, headed for NYC, I knew my life would never be the same. Being the honored owner of the very first GUNBOAT 55 comes with the great responsibility of sharing its luxury, speed and grace with whomever I could. The sailing world has forever changed!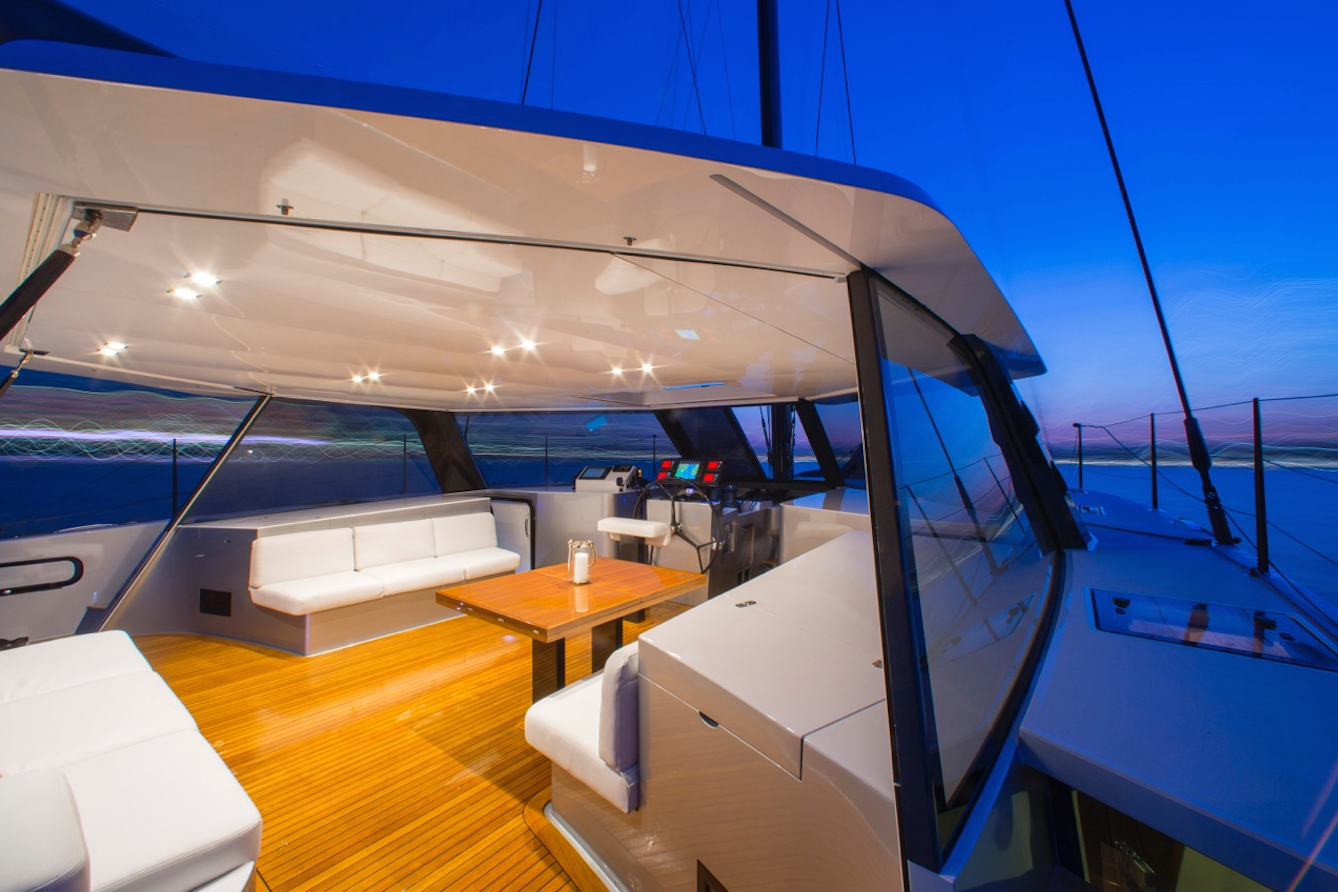 On Father's Day I took the first sail with my family on Long Island Sound and anchored in Huntington Harbor. If a sailing experience can be magical, this one was, and we all shared it together. We toasted the moment and then took turns at the wheel, sailing past every one, countless wide-eyed faces trying to figure out just exactly what it was that they were seeing.
On board we shared the exhilaration as RAINMAKER's speed dramatically accelerated, 12 knots, 13 knots, 14 knots, and screamed in harmony as she hit her stride at 18 knots. Screams gave way to giggles, everyone thoroughly enjoying the rush of fear and excitement of such an unknown experience. The boat's ease of use and power have created a new level of quality and performance expectation in the sailing universe.
My urge to sail RAINMAKER is very intense. I live in the West Village and have reserved a slip just 15 minutes away via the PATH train at the beautiful Newport Marina. Against the backdrop of the Manhattan skyline, and amongst the many 100'+ motor yachts, RAINMAKER's sailing power and luxury feel right at home.
We are fortunate to have the young but very experienced chief Gunboat skipper Chris Bailet onboard, who is quickly connecting with RAINMAKER's mind, as I become its soul. This past weekend with winds nearing 25 knots, we seamlessly climbed through speeds in the high teens and into the twenties, eventually flying faster than the wind!
I'm looking forward to getting RAINMAKER out on the racing circuit as soon as possible, our first test being the ALIR in late July, a race I won in 2002 aboard my Swan 40. If our early experiences are an indication of our potential, RAINMAKER will become a regular sight on the race course.
In the meantime, we'll be enjoying evening and weekend sails on the Hudson. If you happen to be in the New York Harbor, please come by and say hello.
-Brian
July 9th, 2014 by admin
As always, Ryan Breymaier is as honest and refreshing as they come, and as the first American to win an IMOCA event in a long time, he's got plenty to say.  About his race and NYC's sendoff (and what NYTimes' Chris Museler has on his plate after crossing with Ryan), about big moves in the Open 60 fleet, about the soon-approaching Barcelona Race, and why he'll be in Marine City, MI for a while this summer.  A half hour with Mr. Clean for the SA Innerview.
June 18th, 2014 by admin
Thanks to a string of boat and mast problems in the Mini fleet, we've called young solo/shorthanded offshore racer Jeffrey Macfarlane 'one of the unluckiest guys in the sport', but as of Monday, Jeff's luck seems to be changing.  Below is an SA exclusive from Jeff on his victory and leg record on Leg 2 of the Atlantic Cup, with a Billy Black photo to the left, and galleries of the whole race here.  You can check in with the racers tomorrow night at the party at Jamestown FISH, and say hello to Clean and Mer if you show up.  And Newport locals can watch them out racing this weekend alongside the International Moths and the Open 60s.  
My co-skipper, Jake Arcand , and I were looking for redemption in leg 2 and we got it! Our first leg was disappointing. We blew up our A2 spinnaker and lost all of our electronics for the majority of the 600+ mile race. Thanks to generosity of Steve Benjamin we were starting leg 2 with a one spinnaker – he donated an old Spookie kite to our program [that's the one with the Swisher cigar logo -Ed] and we were able to get a last-second sail recut, just in time to replace our irreplaceable A2.
At the start of the second leg, the breeze was fairly light and we decided to stay on the south side of New York harbor to take advantage of a slightly stronger tide and freshening breeze. But, it was not until after the bridge that our strategy began to pay off and we started to leg out on Dragon and Pleiad, more to the North. We led the fleet out of the harbor and planned to take the Swash channel. Everything was going perfectly to plan, but after seeing Pleiad choose to take the more inshore Sandy Hook Channel, we reevaluated and decided to cover. Unfortunately, they were able to stretch some distance on us, but once we were clear of the channel we slowly began to chip away at their lead, eventually passing them.
Most of the fleet chose an offshore route on the way south to the Barnegat Light buoy, but I positioned us more on the beach side of the course, anticipating the wind shifting West. Our strategy worked, except for the brief period of time when there was no breeze in a wind transition. Mike and Rob on Dragon stayed very close to us and they handled the transition a bit better, reaching the new breeze before us.  We rounded the tuning mark just behind, and began the night jockeying positions with them. We took a northerly course from rhumb line anticipating the breeze would head us come morning, and when morning came we were a mile or two in front of Dragon. However, the wind did not head us like all of the weather models predicted and we found ourselves in yet another wind transition zone where Dragon, who was further offshore, managed to pass the transition zone quicker, and passed us in the processl. From then on, it was all drag race – a speed run to Montauk Point during which time we desperately tried to regain our lead. As we sailed inside Block Island we kept going higher in order to get more speed on Dragon. Frustratingly, she matched us until we both began to sail as deep as possible in order to make Point Judith. The breeze offered us ideal downwind conditions on the way to Point Judith and we sailed downwind straight to Newport at 15-17 knots.
As we approached Narragansett Bay, we were still just a few boatlengths behind Dragon on port gybe and very close to the shore. The wind began to lighten and we matched Dragon's every move, hoping to get an advantage on them. We did not get the advantage until we both gybed and they came out a bit higher. I was able to take a few puffs and soak just a few degrees deeper than them, and we were able to get below them on the inside gybe. We took advantage of any depth we could get and we tried to get more separation from Dragon, covering their every gybe. It worked! We ended up in very light winds approaching the finish just 80 seconds in front of Dragon. We not only won the leg, but we also set a new course record by over 6 hours.
Jake and I could not have been more pleased, and what a result for one of the oldest Class 40s in the fleet, donated for my use by the inimitable Ralfie Steitz from the USMMA Sailing Foundation.  Ralfie and the King's Point program continues with its mission to help young, up and coming sailors get more opportunities in the limited American shorthanded sailing scene.  By coupling his support with that of Oakcliff Sailing, our team has fulfilled this mission proudly.  There is a very long list of sponsors and supporters that have had an instrumental part in the success that I have had over the past few years.
We have a fantastic inshore team consisting of Phil Garland – our mast manufacturer and sponsor from Hall Spars, Ross Weene – one of the boat's designers from Roger Martin Designs, Chris Poole – fellow Oakcliff sailor and top ranked match racer, as well as Oakcliff graduate Ervin Grove. We are looking forward to combining our strengths to find more success in the final, inshore leg of the Atlantic Cup this coming weekend.  We are hoping to win the inshore series and pull out an overall Atlantic Cup victory.
Wish us luck!
-Jeff
May 22nd, 2014 by admin
When good things happen to good people and we have a hand in it, that makes us smile…here's some excellent news from our pal Ryan Breymaier.  Mark Lloyd photo.
Thanks in large part SA's support and promotion, everyone here knows I have been working with Alex Thomson Racing's management company 5 West in my search to find a partner for my Vendee Globe Project USA. Our cooperation took another step recently, when I was asked to race onboard HUGO BOSS for the upcoming Ocean Masters race, a double-handed transatlantic from New York to Barcelona, starting on June 1st.
Alex needs to be home for the birth of his second child, due in the first week of June and has asked me to take his place. This is an incredible opportunity for me, and I am very proud to have Alex and HUGO BOSS put their trust in me to fill his shoes in such an important way.
The boat is the ex Virbac-Paprec 3, sailed to 4th place by Jean-Pierre Dick in the last Vendee Globe. It's a latest generation VPLP-Verdier design; the same hull as winner Macif with a different deck layout.
It is a quantum leap ahead of Neutrogena that Boris and I sailed to fifth place in the 2010 Barelona World Race, and one of the fastest boats in the fleet today.  Each time we have been out sailing I am just floored by its sheer speed and ease of handling.
Along with such an incredible boat, I have the privilege of sailing with Pepe Ribes, who really does not need much introduction here.  FOUR times around the world in the Volvo Ocean Race, at least TWO Americas Cup campaigns, and 4th place (just ahead of me) in the last Barcelona World Race, Pepe is a wealth of knowledge and experience. He's hugely competitive and a great guy to go sailing with.  As serious on the water as he is relaxed off it, I could not ask for a better team mate.
I have been in Gosport, UK at the Alex Thomson Racing base working with the team for the past few weeks, training and helping prepare the boat. We are due to leave for the US on April 22nd.
We will be in New York at North Cove Marina from approx. May 11th -19th and will arrive in Newport on May 20th to prepare for the warm up race from Newport back to New York starting on May 24th. From May 26th there will be a race village set up at North Cove and on the 29th we have another 'friendly' race on the Hudson.  If you are in the area, come and see the boats, and feel free to say hello!  I am happy to answer questions, and I'm very serious when I say that I would love to meet every NYC and Newport anarchist, sailing enthusiast, singlehanded hopeful, ambitious junior sailor – whatever.  Come and say hello, please.
As for the race itself, what an awesome racetrack;  leaving iconic New York City to hook into a depression, ride it to the Portuguese trades, and then through the tactically challenging Mediterranean to my favorite European city of Barcelona, which also happens to be Pepe's current hometown.
We're going to be gunning for a HUGO BOSS win, and all the pieces are in place to make it happen!
April 15th, 2014 by admin