Posts Tagged 'Neptune Racing'
Monday sucks.  And Tuesday is only slightly less sucky. These videos might be the cure.  Today weve got high performance boats, low performance boats, crashes, flooking around, and kids – lots and lots of kids.  Welcome to Video Anarchy.
Mac Art
A little production value can do wonders to transform some basic GoPro video into something quite beautiful, as the boys and girls from Froeter Design showcase in this video of the Chicago Mackinac aboard the Beneteau Chief. 
Check Yourself
We recently just finished up at the Chicago Match Race Centre Grand slam event, where we came away with a 3rd. One innovation that CMRC  have incorporated brilliantly is using their new drones to capture the pre-starts and racing. In our Petit Final against Christ Steele from 36 Below Racing, we had a major crash; fortunately for us, we managed to get the better of the next races and came away with the podium finish.  CMRC's drone caught it all on video, and over the last few days almost 2,000 people have seen it and began a discussion.  It's already generated plenty of discussion, and we encourage you to watch it too; please join the discussion on our Facebook Page.
Thanks,
Sam Gilmour, Neptune Racing
EXTRA CRISPY
Youth of Today
You've seen the scores of young Anarchists (and these kids have been SA junkies since about kindergarden) Ian and Nicolas representin' enroute to their US Youth Nationals.  Here's the movie.  Turn down the music unless you're nostalgic for your dentists' soundtrack…and here's an audio interview with the nippers.
Swedish Bikini Team
The 'new age' of video storytelling has slowly crept into the top end of sailing, with producers (and those who pay them) finally understanding what we've been screaming about for years:  You have to put the audience right there in the trenches with the subject or you're just wasting your time.   We've seen plenty of nasty pictures come out of the Brazil test event, but for many Olympic hopefuls – those without the runs, at least –  it was an amazing adventure in one of the world's most exciting countries.  Above is a look at the beauty and skill of the Swedish team, and no dirty water.  Thanks to Swedish mothy Magnus Gravare for the heads up.
Joie De Vivre
Another essential aspect of video storytelling is about charisma; the camera loves those who have it.  Example?  This excellent Team GBR/Volvo Cars-sponsored Rio Test video from our old friends Richard Langdon nd Rachel Jesperson, focusing on always-smiling and ultra-charismatic silver medallist Luke Patience.  Also starring in this one are his excellent Aberdeen accent and a couple of Nacra 17 sailors.  Have a look at two more charismatic intros from the same team over here.
flook off
Brilliant, stupid, or a hoax?  You decide.
August 26th, 2014 by admin
While Ryan and the St. Mary's nippers grabbed the Governor's Cup on the East Coast, Aussie junior match racer Sam Gilmour continued his run to the limelight with a win at the Balboa YC's Governor's Cup and a strong finish at the Royal Van's Kintec Invitational.   Here's his report, with title props to Wilco.
Following our racing at the Chicago Match Race Centre, we traveled to Orange County, California for the Governor's Cup. Being the oldest youth match racing regatta in the world, the club always puts on a big show for the regatta, so it was an event the team were all really looking forward to.  This year saw an impressive lineup of teams at the Balboa YC; it's definitely one of the most competitive youth regattas in the world.
An unusually strong seabreeze of 15 knot blew on the first day of racing, though we saw the expected local conditions throughout the rest of the regatta; 5-8 knots or so.   We knew that our advantage lay in our match race experience and boat handling, so we concentrated on taking on a race-by-race approach to the sailing. With 5 days of racing on tap, the regatta progresses fairly slowly; ensuring your heads are in the game is essential.
Our record of 16-2 in the round robins was enough to push us through to 2nd for the semifinal, and the 'first to three' format pitted us against the Balboa YC's own team skippered by Ryan Davidson. We were able to win each start, and protect the favored side of the course, advancing to the final with 3 straight wins, and our team benefited with a big boost in confidence for our boat speed and tactics going into the next day.  RNZYS edged out AJ Reiter's team from San Diego Yacht Club, in a semi that went down to the 5th race.
Conditions were light for the finals – just 4-7 knots or so – so we knew boat speed would be crucial.   In the first race, we made an unforced error and gave Steele the chance to force a penalty on us, which he promptly did.  We took the lead but never enough to clear our penalty, and the Kiwi team jumped to the early lead.  Race two saw the opposite occur, and we were able to lead the entire race to take the win. In the third race, we once again took a penalty in the pre-start, but were able to get a large enough lead to eventually wipe it off; another point for Neptune Racing, just one more to go!
With everything on the line, Steele and his team were over the line early, and we easily led them around the course to take the race and the overall win.  Meanwhile, Ryan and the BYC team took the all-California petit-final to place 3rd.  The week was great fun onshore, and to take the win on the water made it that much sweeter.
Following this, we began our trip up towards Vancouver, with a short stopover in San Francisco to check out some Louis Vuitton Cup action.  After a long drive, we arrived at the Royal Vancouver Yacht Club for the Kintec Summer Invitational Match Race.
Our solid performance in SoCal gave us high hopes for the Kintec.  We knew that the competition would be at a similar level, with the top 3 teams from California all sailing in Vancouver. A different fleet of boats meant  quite a few adjustments to our sailing style- adjustment's we just didn't make as well as some of the other teams.  While we struggled in the early action, Ryan Davidson and his BYC came out strong, winning all of his races in the round robin. Chris Steele and the RNZYS guys weren't far off having just one loss. We ended up 5-3, and knew we needed to change some things and improve others as we went into the semi-finals.
Having qualified 4th, we raced Davidson in the semi-final, but it seemed the Californians were always a step ahead of us, and they put us away in two straight races.  Our Kiwi pals won their semi-final 2-0 against Royal Van local Ben Mumford. This matched us up against Mumford in our petit final, and only then did we seem to snap together as a team.  We won the petit 2 to nil, feeling fast all around the course.  In the final, Davidson continued his magical run, always seeming to have something extra despite Steele's Kiwis sailing very strongly.   seemed only then, that we managed to snap together in the boats, winning 2-0, and feeling fast all the time around the race course. The final was close, and both of these well-sailed teams put on an exciting show, but , but Davidson managed to always have something extra and won 3-2.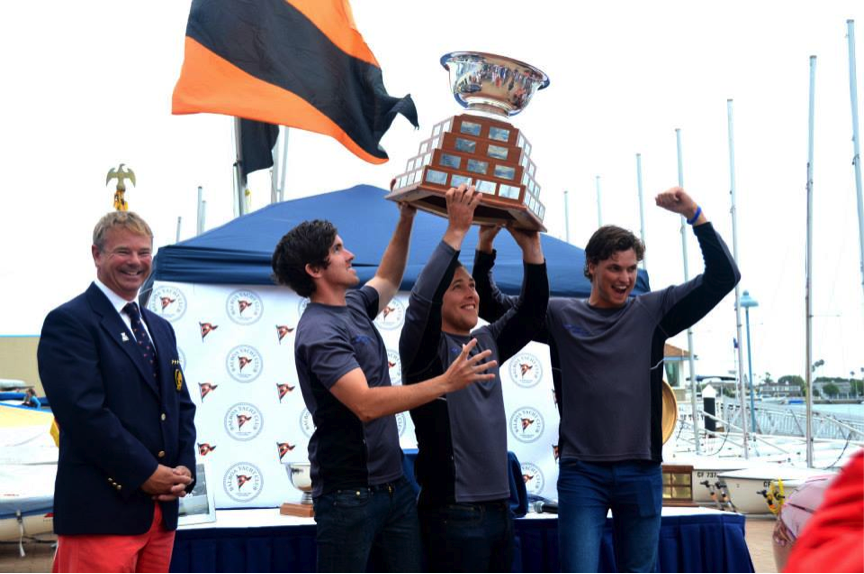 Our summer tour of the US and Canada was incredible – what a way to spend (our) winter!  We met dozens or hundreds of great new people, learnt massive amounts about match racing from a wide variety of great sailors, and figured out what we will need to get to the next level.  We truly appreciate all the interest from the Anarchy community, and encourage you to stay in touch with us via our Facebook Page or you can email us here if you'd like to know more, or you're interested in sponsoring Neptune Racing.  We'll be posting updates from the Aussie and Youth Match Racing Nationals at the end of September.  Wish us luck!
August 6th, 2013 by admin