Posts Tagged 'navigation'
Our 2017/18 Volvo Ocean Race coverage is presented by Musto, Official Apparel Provider of the VOR. 
No one's quite sure whether it was the inclusion of Grant Wharrington's local knowledge, Libby Greenhalgh's excellent navigation, or straight up luck that gave Hong Kong Scallywag the all-important victory into the team's home port (and with a secret press conference today where questions weren't even allowed from reporters, no one's going to find out soon).  We have learned, however, that if not for a well-timed message from Race Control, Witty and friends may have spent a few days sitting 0n a reef – or far, far worse.  Here's the Jury's decision regarding the unquestionable 'outside assistance' that kept Scally safe enough to pull a rabbit out of their hat at the leg finish.  To watch the replay of the incident, head to the Leg 4 tracker and backtrack to 0900 UTC on 6 January.
Question from Race Director Phil Lawrence Regarding Rule 41:

"On Leg 4 Race Control noticed that SHK Scallywag was on collision course with a reef and sent the boat the e-mail below:

Hi Libby/Dave:

Just so I can relax a bit here in Race Control, tell me you are happy with you course in relation to Nerues Reef on Landsdown Bank. The Australian Charts have the Reef extending to 160 35E which is further east than the C-Map charts show.

-Rick Tomlinson, Race Control

Race Control did not give SHK Scallywag any further navigation advice.  SHK Scallywag lost 50 miles whilst the crew worked out a way around the reef.

Does this constitute outside assistance under RRS 41 as the crew were in danger? Please would you consider and advise."

Answer:

The Jury advises that Race Control's action did not result in a breach of rule 41 by SHK Scallywag. SHK Scallywag did receive help from an outside source, in this case the Race Control.

However, the help given is permitted under rule 41(d). The information was not requested by SHK Scallywag so it was unsolicited information. The source, in this case a member of the Race Control, was a disinterested source for the purposes of rule 41 because he had no personal or other interest in the position of SHK Scallywag relative to other boats in the race. Nor would he gain or lose in any way as a result of the position of SHK Scallywag in the race.

The source was an employee of Volvo Ocean Race who, as a member of Race Control, has a responsibility for the safety of all competitors. Asking the question he did was therefore a proper action for him to take.

-International Jury, Hong Kong

25 January 2018
January 30th, 2018 by admin
Mariners in Rhode Island seem to be channeling their inner redneck this week, with USCG buoy tender Ida Lewis discovering the second shot-up-and-sunk navigational buoy this week sitting in a few feet of water near Block Island.
The crew was conducting regular aids-to-navigation maintenance when they approached Clay Head buoy number 7 and found it submerged. They raised the 12,000-pound buoy and found a sight much more likely in the Florida panhandle than the liberal elite enclave of New England: 20 bullet holes in a government mark.
The can – Clay Head # 7 – marks a rock 3 feet below the surface, and sits in a busy area for ferries and recreational craft, and due to the damage, the buoy was taken out of service for repairs.  And while shooting shit is fun and plenty anarchic, anything that might cause a family to wreck on a rock probably ain't even remotely cool.
So to the Patriots fan killing marks off Block Island, do yourself a favor before you get busted and charged with a felony – Find an old Laser or Sunfish to drag out on the water as a target toy.  Play Rambo with something that deserves an ignominious death rather than something that keeps people alive.
And if you saw these jerkoffs shooting big green and you don't mind being a Narc, call The Man and let him know.
April 29th, 2017 by admin
Barely a year into its new relationship with American sailors, the addition of Cuba to the winter racing is already pumping new life into South Florida distance racing.  Today saw the start of the St. Pete-Havana Race, a predominantly cruising fleet of 70-odd boats headed to the Havana Yacht Club, while March will see the more race-oriented Miami to Havana Race swamp the communist island nation with sailors looking for a good time in a beautiful and unique country.
An interesting development in offshore navigation has been brewing in the background; longtime SA reader, Morning Light alum, SAR helicopter driver, and offshore navigator Chris Branning has been busy working in his spare time on something very cool for anyone who relies on GRIB files to cruise or race.  It's an app that provides a way to significantly increase the accuracy of the GRIBs you use to predict and route tour race, and hence significantly decrease your time on a passage or around a race course.  It's all hieroglyphics to many of us, but if you're the guy who runs the laptop or tablet, this shit is for you.
Chris put together a page of interesting meteorological and current info for those of you watching the St. Pete-Havana Tracker or headed to Cuba yourself next month – check it out over here.  Branning also invited Expedition users to drop him a line on Facebook  to learn more about the system he and his team created to make you a much faster navigator.
February 28th, 2017 by admin
Lloyd Thornburg's mighty MOD 70 Phaedo was well on her way to the rare triple victory in the Rolex Middle Sea Race last night, with a big lead over Giovanni Soldini's non-foiling (for-the-moment) Maserati and what appeared to be a couple of hours in hand on the outright race record of a hair under two days. And then they did something you almost never, ever see at this level: They sailed around the wrong mark, costing Phaedo the win, the all-important record, and plenty of embarrassment.  Phaedo co-Skipper Brian Thompson wrote to organizers that "we scored an 'own goal'", allowing Soldini and his crew (which includes Monaco's prince and playboy Pierre Casiraghi) to easily win the race despite their boat problems on the delivery to Malta.
Phaedo is just about finished, while Maserati is likely showered, shaved, and already on the piss.  You can play back the tracker yourself to watch the gaffe unfold (or watch the slower boats still competing), or just watch the GIF above for the money shot.
Results will be updated here.
October 24th, 2016 by admin
App of the Week
If you buy one iPhone/iPad this year, this is the one.  For just $2.99, Starmap 3D+ provides you with an absolutely foolproof way to find every star, planet, comet, satellite, and constellation you could ever want to see.  Using your iDevices's compass and accelerometer, the app lets you point your phone at the sky and labels everything in your view.  Punch in a star if you want to find it, and you'll get arrows taking you to exactly the right spot.  Fire up your telescope with the kids and use Starmap to make you seem way smarter than you are.  Glance at it on a first date and let her think you are a master navigator rather than just a masturbator.  And of course use it for your celestial navigation if you are one of the nineteen people left on Earth who knows what that means.
We spent about 2 hours outside last night with a pile of 3-4 year olds just exploring the sky with this thing, and we're excited to do a lot more of it soon.  The first paid app we've bought in six months is worth every penny.  Video explanation here, and find it in iTunes here.
Title shout to NIN, of course.
April 21st, 2014 by admin
Big Pimpin'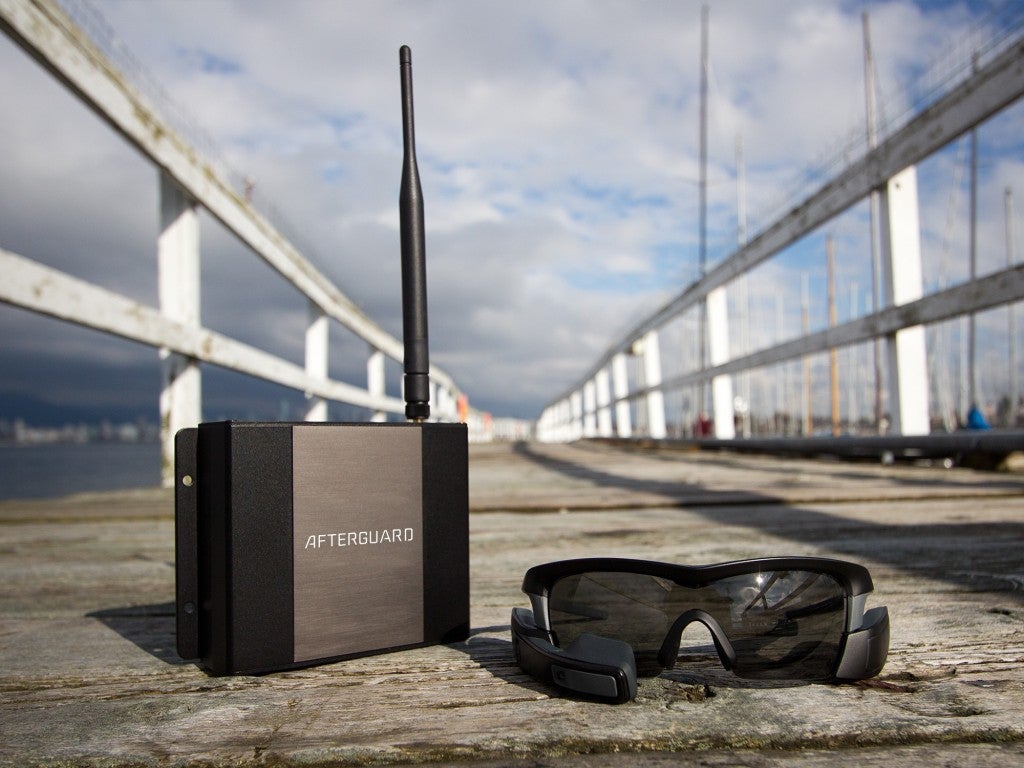 It's a good time to welcome Sailing Anarchy's newest advertiser, Afterguard! These guys have created the first really exciting new navigation/tactical technology in a long, long time, and they're the only company offering a heads-up display for sailing.  This is no fly-by-night piece of vaporware, either; we spent a long time talking to Alex and his Afterguard team as well as the folks at Recon who build much of the hardware, and they're definitely for real.
We recommend having a peak at the Afterguard website to learn more, have a look at this HD sizzle reel from their Miami testing with the TP52 fleet, or click on one of the banners you now see around SA.  We are pretty sure they'll sell out their first production run pretty quickly, so order yours today if you want to be at the front of the line.  Here's a quick Q&A with Afterguard boss Alex Moret.
SA: The Afterguard HUD has been called 'trickle-down' technology from the America's Cup, but your tech is a long way ahead of the semi-secret HUD sunglasses and backpack that Jimmy Spithill wore in the Valencia AC.  Can you explain what Jimmy used, and how Afterguard differs?
AM: The screen Jimmy used in the America's Cup was groundbreaking. It was very cool and certainly an exciting step forward for technology in our sport, however, it was really just a one-off. It wasn't a system that was ready for the consumer – the glasses were hard-wired to a computer that had to be carried in a backpack. It was bulky and quite technical to run. It was definitely inspiring and got the world excited, but it had a long way to go. Our technology is built right into the glasses – no wires, no backpacks, no technical experience needed to operate and very easy to integrate with your current boat instrumentation. With the advancements that have been made in miniaturization and wifi technology, we are finally able to bring to market a Heads Up Display that is small, light and powerful, so that you don't have to sacrifice mobility or maneuver with something that is distracting and cumbersome.
SA: What intrigues us most is Afterguard's "Virtual Tactician" feature, which can actually tell you whether you will safely cross a starboard tacker, or whether you will lay a mark, all without screwing around with a tablet around your neck or a laptop down below.  This is potentially game-changing stuff, so can you explain how the sensors, processors, and software can accomplish this very complex task?  How accurate, and therefore, reliable, is it?
AM: What the patent pending Virtual Tactician does is really simple and intuitive. How it does it is quite a bit more complicated. The Afterguard Heads Up Display integrates a 9-axis accelerometer and magnetometer that very precisely tracks the movement of your head and combines it with the information pulled from your boat instrumentation. With all of this information, the system knows what direction you are looking and what your boat is doing relative to the conditions and targets. The magic of the Virtual Tactician is that it allows you to simply turn your head, line up a mark or another boat and make a clearing decision.
SA: What led you down this path of developing something so highly specialized?
AM: Heads Up Display is something that both Ross and I have been dreaming about for years. When we first saw it in the America's Cup, we knew that it would be killer to have something like that on our own boats. In the last few years, Heads Up Display technology has really started to mature, and the cost of miniaturized sensors and components has become affordable enough that this no longer had to be a dream. Although the market is niche, we believe the product is the kind of game-changer that grabs the imagination of anyone who's raced a sailboat.
SA: Does it work for those of us who wear prescription eyeglasses?  What about the lens tint – is it variable, or are their options for foggy/clear/dark sails?
AM: The screen itself is set to optical infinity, which means that most individuals, regardless of whether they are short or long sighted, are able to read the display. The lens of the sunglasses themselves are not prescription at this time, but it may be something we introduce in the future. At the moment, we just have one set of polarized lens that we have found work best in most environments. In the future, we plan on having a selection of lenses that you can swap out.
SA: Are they battery hogs?  How will the Afterguard work for longer races, where you might want each rotating driver to slip into them as they start their stint?
AM: The system has been designed to be very power efficient, so users will get about 4-6 hours out of a battery. The batteries themselves are interchangeable, so with a couple of backup batteries, the Afterguard would be good to go even during a long offshore race.
SA: Is Afterguard's "Performance Dashboard"  a repeater of on-board instruments, or does it do its own calculations?  Can the display incorporate GPS info and navigation aids like XTE and CMG? How much overall customization is available for the display?
AM: The Afterguard system pulls the data directly from your onboard instruments, so any data that you see in the HUD is consistent with what you see on your existing instruments. However, for situations where your onboard systems aren't providing a particular piece of the data, the HUD will use its own sensors to augment each of the screens. Regarding GPS, XTE and CMG, the system receives all of the raw data from the onboard instruments, but currently doesn't incorporate all the data it receives into the screens.
SA: How much wet can the glasses take?  Any plans to do a leaner, and fully waterproof dinghy/moth/olympics version?
AM: The Heads Up Display has been designed to a standard called IP65 which means it is splash resistant, but can not withstand full immersion under water. Basically, it can get pretty wet, but you won't want to take it for a swim. We're definitely toying around with the idea of a fully waterproof HUD, maybe even something that could also work for kite boarders and wind surfers.
SA: Is there a way to record video with the HUD info for later coaching/debriefing?  If not, is this in the plan for future upgrades?
AM: Yes, the hardware is already there with a built-in HD camera, so there is definitely a plan for future upgrades.
SA: When can we expect the first units to ship, and how do folks get on the order list?
AM: We're only doing a limited production for the first run, so there is a small quantity available for preorder on Afterguard.co for early adopters who want to be the first to get their hands on an Afterguard system. We've already placed orders for all the necessary components and have booked manufacturing time, so we should be on track to ship the systems in the fall.
SA: What's the discount for SA's early adopter techno-boffins?  Got any high-profile customers you can share with us on the 'first run' list?
AM: For those lucky enough to get one of the preorder systems, we're giving a pretty hefty discount of $600 off of the retail price. The solo Afterguard system that includes the Central Communications Unit and one Heads Up Display is going for $1899, instead of the $2499 retail pricetag. We want to reward the sailors who are willing to get behind us and the product, and who are as excited as we are to start racing with the system.
SA: Thanks Alex – we're stoked to see the first units and sign us up for a test drive.
AM: You got it, and thanks so much for your interest!
April 3rd, 2014 by admin